San Francisco Mayor Reflects On Early Steps To Curb The Spread Of Coronavirus
Play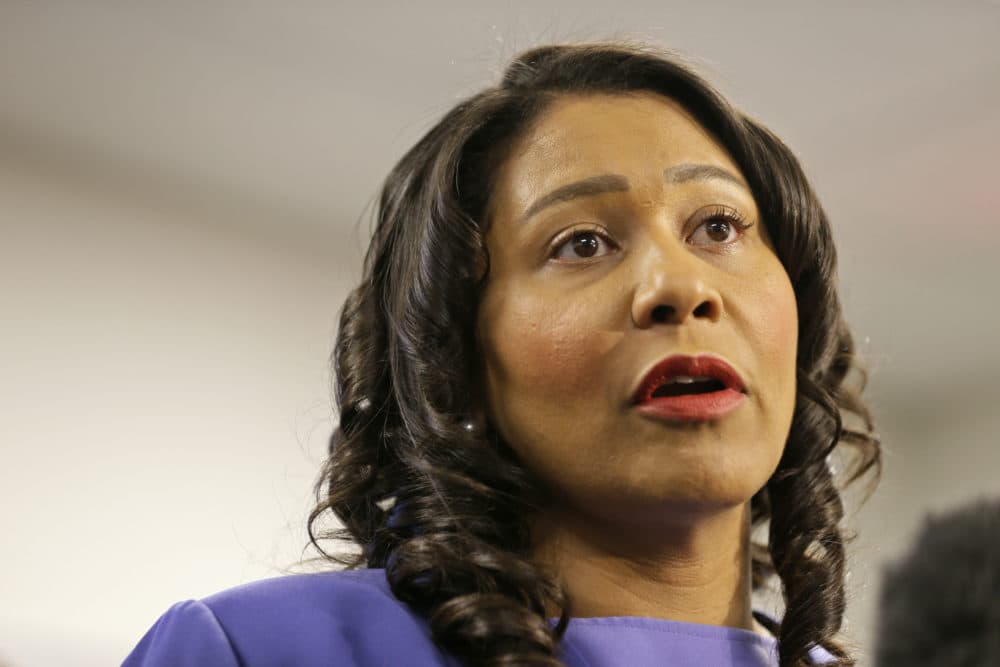 This article is more than 2 years old.
San Francisco Mayor London Breed was early to act in the coronavirus crisis.
In late February, before the city had reported a single case of the virus, Breed declared a state of emergency. In a press conference, she said the decision was "all about preparedness."
But the move sparked major backlash, especially once Breed banned gatherings of 1,000 or more people, effectively ending the Golden State Warriors' season before the entire NBA would be called off.
The mayor says she also heard from other economic leaders who told her the closures would deeply disrupt the city's economy. But Breed held her ground.
"Based on what we saw, there was no other choice but to prioritize public health over the economy at that time because of what we knew the impacts could be if there was a significant outbreak in our city," she says.
Today, the city has relatively flattened its curve with cases doubling about every 12 days, according to data from the Los Angeles Times. And though the city has a higher case rate per capita than many other California cities, New York Times data shows that the rate of cases has been decreasing for weeks.
Interview Highlights
On early closures and cancelations
"It definitely had everything to do with listening to the people who're on the frontlines of this pandemic, people who understand the science. They understand the data. They were instrumental in my decision to move forward in this direction, but I will tell you, just to back up a little bit, I was pushing more so for this decision because we were reducing the number of events with a certain arbitrary number of people, which I didn't think would make a big difference. But it did, I think, prepare people for what was inevitable. And that is, the ultimate shelter-in-place that we issued in the city in March."
On the economic impact of early closures
"In San Francisco, Chinatown in particular and businesses that are owned by people who are of Asian descent, they were already feeling the effects of discrimination because of what was happening in Wuhan. So financially, they were already struggling. And there was definitely a lot of pushback from the hotel industry, from our businesses, from retail, and I definitely understood that and I was definitely concerned.
"If we get too comfortable, if we get complacent, we could see a resurgence that could exceed anything that we thought was possible."

London Breed
"But I want to caution people that even though it may look like we are flattening the curve, the fact is, there are still people who're walking around who have the virus. If we get too comfortable, if we get complacent, we could see a resurgence that could exceed anything that we thought was possible."
On the outbreak within the city's homeless population
"The homeless challenges that we faced before this pandemic have become increasingly worse. Those problems of mental illness and substance [use] disorder, they don't just go away because there's a pandemic. We're moving people into hotel rooms, and we are experiencing a lot of the same challenges with, sadly, people who suffer from substance abuse disorder. When you have a drug problem, there is no way that we are gonna be able to hold you hostage in a hotel room. It is not as simple as setting up staff people to monitor and manage these situations because those people are scared themselves. We have to be able to protect our workforce that we're asking to put their lives on the line, and a lot of people are doing it, but there is still a lot of fear. This is a pandemic that could impact anybody at any given time, and there is no easy solution. And we are doing what we can based on making sure we have the capacity to manage and contain the challenge.
"Sadly, I have family members who have struggled with addiction and who still struggle. I've lived through it for years. I've been frustrated by it for years. And what I had to realize is that, sadly, many of these people who are suffering with this disease, they are not necessarily going to use the same kind of logic that you or I would use in making a decision in our own best interest. We're not gonna be able to put everyone in hotel rooms and think that's gonna solve the problem because it's not."
---
Francesca Paris produced and edited this interview for broadcast with Kathleen McKenna. Lynsey Jeffery adapted it for the web.
This segment aired on April 15, 2020.