On The Eve Of Free Virtual Gala Performance, NY's Public Theater Muses On Art's Future
Play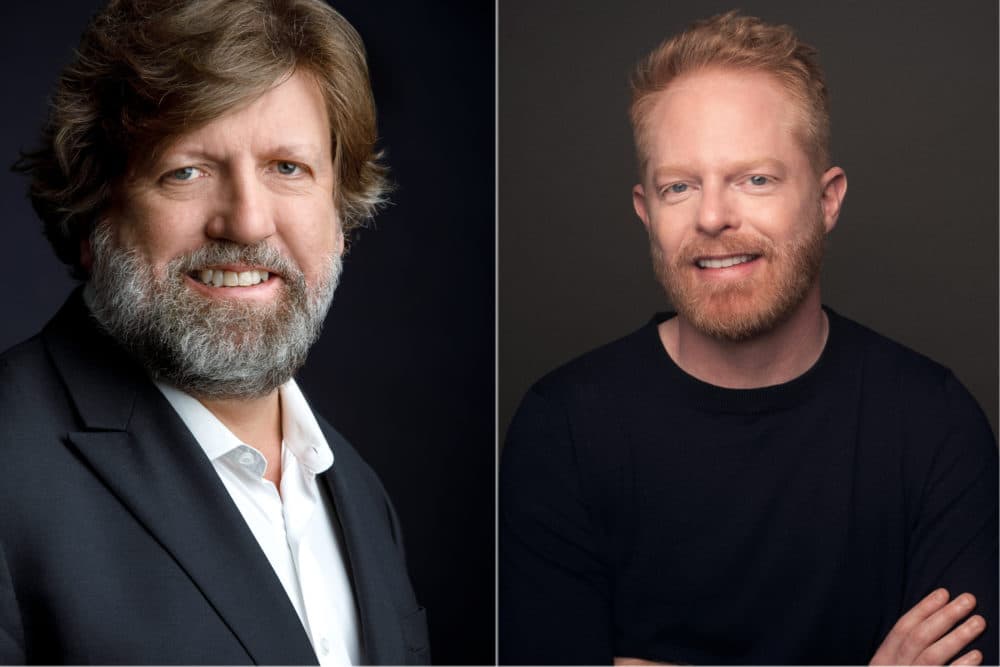 This article is more than 2 years old.
New York's Public Theater is known for cutting edge performances and popular off-site programming, including the beloved "Shakespeare in the Park."
On June 1, The Public Theater will hold a virtual star-studded gala performance. "We Are One Public" will be a free, one-night extravaganza showcasing music, drama and storytelling artists like Glenn Close, Claire Danes, Sting, Audra McDonald, Anne Hathaway and more.
It's also a benefit for the theater, which, like all New York City theaters, has had its curtains closed since March 12.
Jesse Tyler Ferguson, the red-haired Mitchell Pritchett on ABC's "Modern Family," is co-hosting the event with Oskar Eustis, The Public Theater's artistic director. Ferguson was supposed to be the co-star of the new Broadway show "Take Me Out," which would have opened in April.
During a dark time for live theater, Eustis says he wanted to create an event that was accessible for all. "We Are One Public" is also a chance to financially support the theater's work.
"My basic hope is that the people who can afford it, who can afford even small amounts, will contribute to us, but everybody will get to see it for free," he says. "And that's actually a wonderful way to greet an audience."
With about three dozen performers in all separate locations, what could go wrong? Ferguson says the spirit of live storytelling is that "the show must go on" despite any glitches.
Theater in a post-pandemic world might look and feel different for a while. Eustis says theaters are positioned similarly to the rest of the world — it can either go back to normal ways or define new paths forward. He envisions a progression toward a "collective action that's more equitable and more loving than what we did before."
To start, that means meeting the audience where they're at, he says.
"The first thing The Public's going to do when we're allowed to gather again is send out five mobile units to all the different [New York City] boroughs so that the first invitation is not 'you come back into our theaters,' but we're going to go to you, to your neighborhoods and perform for you," he says.
Because of the "tough" economy performers will be working in, he says the need to demonstrate live theater's importance is more crucial than ever.
"If we're not able to demonstrate that we are as important as we claim we are, we're going to get left behind," he says.
For now, Ferguson says live theater has to find a balance of envisioning a new world while also using the means they have to adapt virtually. Right now, actors and artists are seeking out creative ways to fulfill their work without an audience, he says.
"We create arts to be in that space with an audience, and it's a communal thing," he says. "And we're having to figure out another way to do that right now."
That's not to say Zoom performances will be forever, Ferguson says, but "while we're in the space, we have to find ways of sharing that art with each other because that's what's going to keep us alive."
Eustis agrees. He says he spent the first two weeks of the stay-at-home orders feeling pessimistic about keeping the spirit of theater alive and well without a live audience. After several weeks, he realized sulking about the problem was "ridiculous."
"Just because we're in a plague, just because we're in difficult circumstances, does not relieve me of the obligation to try to fulfill the mission of the theater," he says. "Like always, we're fulfilling it under different circumstances."
"We have to find ways of sharing that art with each other because that's what's going to keep us alive."

Jesse Tyler Ferguson
While Eustis can't see a reality where directing and acting under social distancing measures would work, he says that doesn't stop him from imagining it. To fully experience live theater again, he says he feels in his gut it won't be until the audience isn't worried about getting sick.
"Once we're not in a shelter-at-home state, I promise you, we'll be figuring out how to test the boundaries and make theater that takes advantage of whatever circumstances are ethically and medically and legally possible for us," he says.
As excitement mounts for "We Are One Public," Ferguson says he's ready for a performance free from technical mishaps.
With the talent lined up, "all of whom love The Public," including Meryl Streep and Lin-Manuel Miranda, Eustis says "I don't believe anything will go wrong technically."
So for now, audiences everywhere can sit back, relax and enjoy the show from the best seat in the house.
---
Karyn Miller-Medzon produced and edited this interview for broadcast with Peter O'Dowd. Serena McMahon adapted it for the web. 
This segment aired on May 28, 2020.