Defunding The Police Can Achieve 'Real Accountability And Justice,' Black Lives Matter Co-Founder Says
Play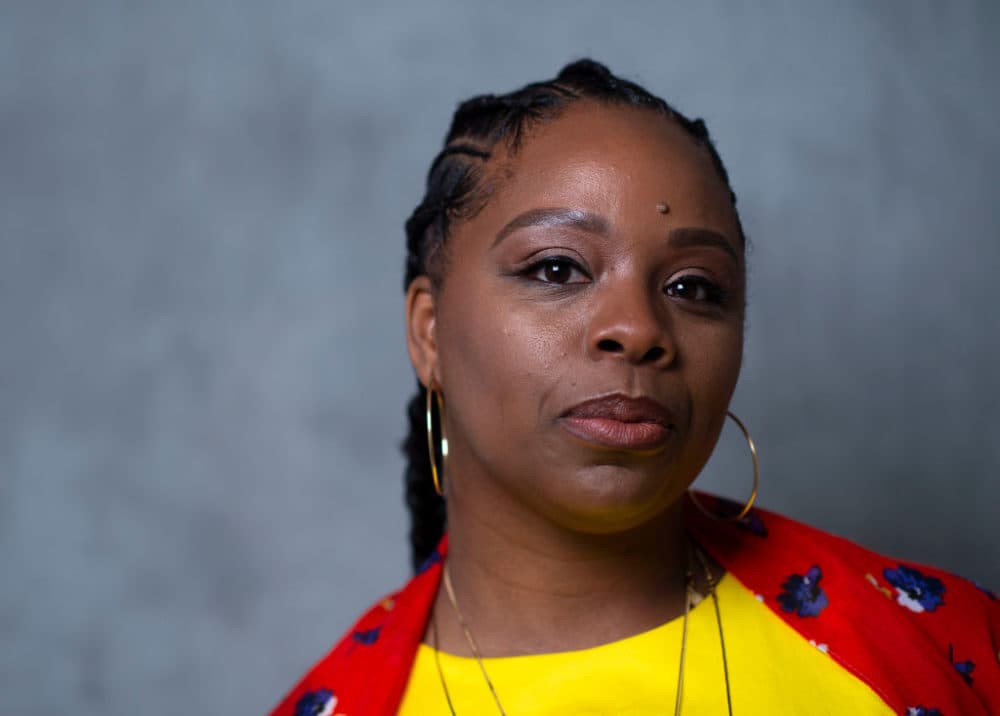 This article is more than 2 years old.
As protests show no signs of halting more than a week after George Floyd's death, Black Lives Matter co-founder Patrisse Cullors says only "radical shifts" can stop law enforcement violence.
While she understands the desire to hold individual officers accountable for their actions,  Cullors says the demand to defund law enforcement and reinvest the money in black communities is what can achieve justice for black Americans.
"The demand of defunding law enforcement becomes a central demand in how we actually get real accountability and justice," she says, "because it means we are reducing the ability of law enforcement to have resources that harm our communities."
Many viral videos from protests display police officers kneeling in solidarity and marching with protesters.
Cullors says she doesn't take the "disingenuous" act of police officers taking a knee seriously. She recalls that taking a knee to call attention to how law enforcement violence impacts black people lead to the end of Colin Kaepernick's career in the NFL.
"[Police officers] taking a knee is not stopping the deaths of our community members," she says. "We need transformation. These things don't happen through police taking a knee at protests and then right after they take a knee, getting up and tear-gassing us and rubber bulleting us and beating us with batons."
 Interview Highlights
On what would constitute justice for this moment
"For a lot of people, they want accountability for what these officers have done. Some people are asking for prosecuting law enforcement. I think that's a fine demand and that's not a demand rooted in us being able to change this system, it's holding an individual accountable for their actions. An individual that is tied to an institution that has caused a lot of destruction. I get that demand.
"But I do think that the demand of defunding law enforcement becomes a central demand ... And, with that demand, it's not just about taking away money from the police, it's about reinvesting those dollars into black communities. Communities that have been deeply divested from, communities that, some have never felt the impact of having true resources. And so we have to reconsider what we're resourcing. I've been saying we have an economy of punishment over an economy of care."
On the argument for restructuring police funding to help the communities they serve, rather than defunding law enforcement
"It's not possible for the entity of law enforcement to be a compassionate, caring governmental agency in black communities. That's not the training, that's not the institution. We have spent the last seven years asking for training, asking for body cameras. The body cameras have done nothing more than show us what's happened over and over again. The training has done nothing but show us that law enforcement and the culture of law enforcement is incapable of changing.
"And so what we're asking for is a reinvestment in how we understand what's needed in our communities. Why is law enforcement the first responders for a mental health crisis? Why are they the first responders for domestic violence issues? Why are they the first responders for homelessness? And so those are the first places we can look into. Let alone, let's talk about law enforcement's ability to surveil the community and how much money they're given in surveillance dollars every single year. We have allowed, the public has allowed, for us to have militarized police forces in our communities and we have to stop it."
---
Chris Bentley produced and edited this interview for broadcast with Kathleen McKenna. Allison Hagan adapted it for the web.
This segment aired on June 3, 2020.