How Elderly People Are Left Behind During Medical Care Rationing
Play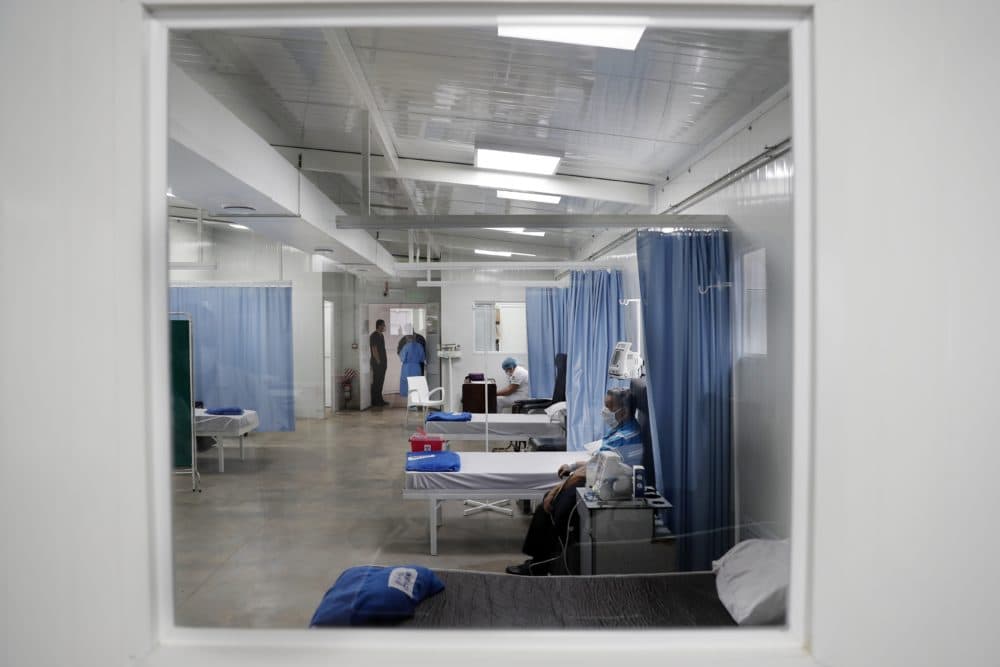 This article is more than 2 years old.
With hospitals in places like Arizona running short on intensive care beds for coronavirus patients, health care officials must make critical decisions about which coronavirus patients get priority.
Some older adults are worried that the odds are stacked against them. The Centers for Disease Control and Prevention reports people over 65 years old make up 80% of COVID-19 deaths.
Last month in Arizona, where virus cases are surging, the state allowed hospitals to activate the crisis standards of care, which essentially allows hospitals to do triage based on the likelihood of survival.
Dr. Sharon Inouye, a geriatrician with Harvard Medical School, says although there's no age cutoff in the state's crisis standards of care, the issue still becomes difficult because of people's biases regarding age.
She says "the devil is in the details" of how the system is implemented and whether or not it will harm elderly patients in need of high-demand hospital resources.
"The problem is those people implementing the plan may decide that a given older adult doesn't have an adequate survival ahead of them in order to justify the use of the scarce resource," she says. "And that may not be based on facts."
Some locations are using a lottery system to ration ICU beds and ventilators, which is "extremely out of the ordinary" in U.S. health care. She blames these decisions on poor planning and enforcement of health measures such as social distancing and mask requirements.
"We didn't prevent this from happening and we already saw it happening in other countries, in other hot spots," she says. "And really, we knew what needed to be done and we didn't implement it."
Interview Highlights
On why the coronavirus is so deadly and dangerous for the elderly
"That's a question that I think is on everyone's mind. I think there are immunologic changes that happen to older adults that make them more susceptible to the infection. They also have more chronic conditions. And I think they often live in congregate facilities like senior housing or assisted living, which can make them more susceptible to the spread of infection."
On patients in their 70s and 80s being left out of COVID-19 treatment and vaccine trials
"The justification when I talk to the clinical trialists is, well, it's dangerous for them and we don't want to expose them to any risks. And I think also it's harder to enroll older adults into clinical trials because many of them walk with walkers or need hearing aids. And so they're slow or they have trouble hearing and you need to repeat the instructions. And so it makes clinical trials more difficult to do. It slows them down."
On whether scientists can create a successful vaccine if it's not tested on elderly COVID-19 patients
"I say no — that you must develop it on the target population or else you, number one, won't know if it works, and number two, you won't know the side effects in that population. … It's absolutely not what we should do. But I think with the pressure for expediency and for good results very quickly, I think what's happening is older adults are being excluded from clinical trials. So it is a really unfortunate circumstance."
On advice for seeing older loved ones
"It's such a difficult dilemma. And true confession, I have a 91-year-old mother who I absolutely would love to see, but none of us in the family have visited her. We talked to her several times a day, but the risk is just too high right now. I think that once we have a vaccine, then, of course, we will be able to, no question, lighten up on these restrictions.
"But I think in the meantime, we need to be extremely careful. I think that people can be educated. And when protective equipment becomes more widely available, such as N-95 masks, and we could train both the visitors and the older person themselves to make good use of those things will be much safer because, you know, 99% of the time it's spread by respiratory droplets. So with good mask precautions, that risk should be able to go down to really small.
"I think that if your loved one is in good health and can follow instructions and wear a mask, a regular mask, and you can stay six feet away and particularly be in an outdoor location, then I think the risk is really small. And I think that could be safe. I think the situation is more risky in an indoor, such as nursing home, setting where there may not be good ventilation. The loved one, the elder, may not be able to completely follow the instructions and keep the mask on and observe the restrictions. That can be more dangerous. And so the family would have to be very trained and very cautious.
"But I do think there are family members who are perfectly capable of being trained and know exactly what to do and keep their loved ones safe. That's the situation that I've been advocating for, particularly if a family caregiver has been caring for someone in the home routinely who maybe has dementia or Alzheimer's disease, maybe is disabled, then that caregiver really isn't a visitor. They're an essential health care professional, and I really think those are people that need to be able to be allowed to be with their loved one, their elder, in whatever facility they're in."
---
Ashley Locke produced and edited this interview for broadcast with Tinku Ray. Serena McMahon adapted it for the web. 
This segment aired on July 10, 2020.