Black Curators Reimagine Future Of Museums During Pandemic, Protests
Play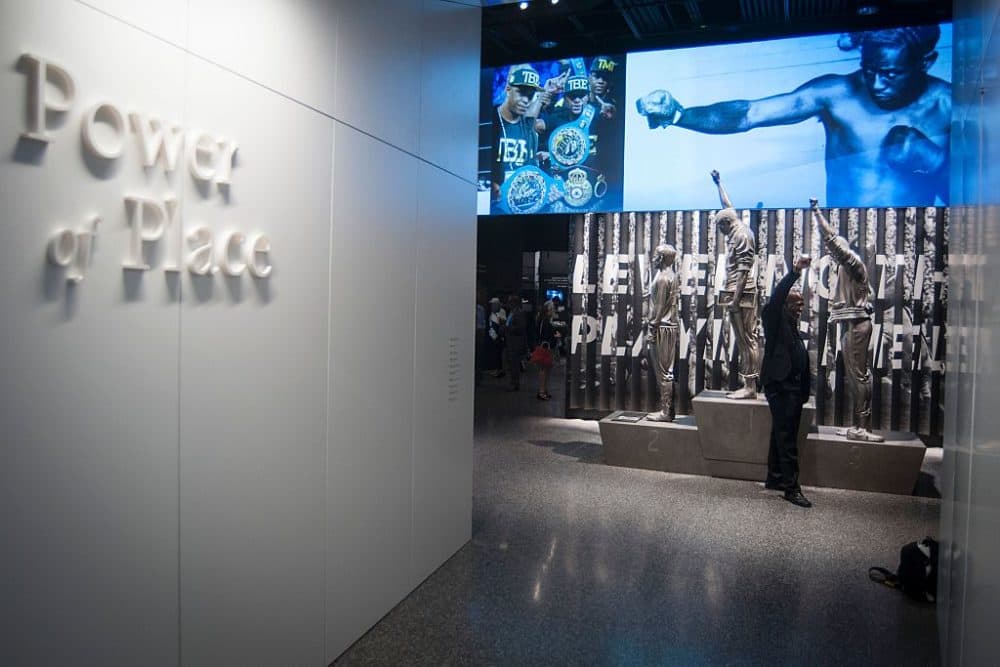 This article is more than 2 years old.
After months of being closed due to the pandemic, museums around the country are slowly starting to welcome back visitors. The world they are opening their doors to, however, has changed markedly.
Curators are now thinking deeply about how to reflect reality amid the coronavirus crisis and renewed calls for racial equality — and the roles museums play in society.
Tyree Boyd-Pates, an associate curator of Western history at the Autry Museum of The American West in Los Angeles, has been recentering Black history within museum spaces for years now. He says curators are "seeking to rise to the occasion" within this historical moment of racial reckoning.
At the Autry Museum, he's reimagining who, in fact, inhabits the American West. He says his new initiative looks at COVID-19 as well as Black Lives Matter protests in the West.
Known as "Collecting Community History," the archival historical project aims to "aggregate and generate content from the communities that surround the museum so that we can better retell this moment for future generations," he says.
The initiative celebrates what many museums have historically left out in their exhibits — Black artists and innovators.
Porchia Moore, assistant professor of museum studies at the University of Florida and co-creator of Visitors of Color, points to Boyd-Pates' work as dismantling whiteness within museum spaces.
The efforts of Boyd-Pates and others across the country, she says, show how cultural heritage institutions can "rise to the occasion in helping us to think about how we can actually really grow and evolve and transform to 21st-century cultural heritage information centers."
That means museums can — and should — promote "necessary 21st-century literacy," including historical, civic, digital and racial literacies, Moore says, to decenter whiteness.
Interview Highlights
On Visitors of Color, an initiative that pushes museums to think of visitors as active participants and not just donors or patrons of the arts
Moore: "The Visitors of Color Project is a counter-narrative project. It's our sort of offering to help museum professionals especially understand the ways in which we have to problematize this notion of welcoming and belonging, the ways in which we unintentionally other our visitors, and helping us to understand the ways in which we think about everything from our behaviors, our collective behaviors — so the ways in which we sort of police Black bodies in white spaces, the ways in which we do or do not promote joy, the ways in which we tell narratives that actually can be traumatizing or triggering."
On decentering whiteness in museums
Boyd-Pates: "I'm thinking of communities of color, particularly the Black community, at the top of mind. I always want to make sure that their stories are centered on the gallery walls, that they feel dignified and elevated when they see representations of themselves on those walls, as well as an opportunity to further investigate what their history has always been, irrespective of who has chosen to center it."
"... Most recently, I curated, alongside a fantastic team at the California African American Museum, an exhibit entitled Cross Colours Black Fashion in the 20th Century. In that exhibition that I co-curated alongside Taylor Bythewood-Porter, was an exhibition that reclaimed the narrative of Black fashion in America. But in fact, focusing on the ways in which a hip-hop apparel brand based out of Los Angeles, Cross Colours, actually was able to contribute to a billion-dollar fashion industry. But what the exhibition did specifically, beyond just showing textiles across the 5,000 square foot space, it actually reclaimed the ways in which Cross Colours and their design choices actually parallel larger social movements over the course of 100 years from Marcus Garvey all the way to Bruno Mars. And so these kind of reclamation pieces, and also having mannequins with Black skin throughout the entire space race, enters the African American community in a very engaging way that doesn't only center them, but also gives them the privilege that society tends to steal from them, oftentimes in other spaces."
On the role of museums during the pandemic when physical spaces are not accessible
Boyd-Pates: "This work absolutely expands beyond the brick and mortar. I believe, in fact, with the brick and mortar closing, for the most part, institutions again have to rise to be an occasion to not only engage with the stakeholders they've always had, but the future stakeholders that they've always desired. And I think with this larger reckoning that we're having racially in this country, these institutions are understanding their complicity in larger institutional discrimination and oppression. And it behooves them to again incorporate musicological approaches like community curation, where they, in fact, partner with the community in larger museum decision-making processes. So these communities, in fact, can feel reflected not only through exhibitions but public programing and other endeavors. And I believe that this moment digitally allows these institutions to meet people where they are with the content that their holdings have always expressed."
Moore: "I tend to look at examples by museums such as the Smithsonian Asian Pacific American Museum that created what they are calling Culture Labs and they have something called a Culture Lab Manifesto, which is essentially going back to Terry's point about this, the power of co-creation. So they had this sort of mantra, 'Nothing about us without us.' And I feel like in this particular moment, museums have a vast opportunity to now directly engage with all of these different community members that they've previously been unable to reach. We can really examine the ways in which we can use social media platforms in a way to not only create dialogic spaces but also kind of create digital events and happenings.
"I mean, look at all of the different DJs that were able to kind of basically help everyone heal in real time. We can kind of apply that same methodology to the ways in which our museums and their social media platforms can kind of go beyond the walls and kind of create not only a sense of community, but, again, a sense of belonging, a sense of healing. It's a place where we can explore different ideas. We can sort of open up the vaults. We can go behind the scenes, pull out different objects, curate conversations. Even if visitors aren't necessarily allowed into the physical space, we can still allow the museum as an actual institution to then reframe its actual function and purpose. So I'm thinking specifically about, I believe it was, the Brooklyn Museum that allowed its site to be a food distribution center. So we can think about the ways that the museum is not just a sort of physical space, but that it actually can go beyond that. So this notion of a museum without borders."
---
Cristina Kim produced and edited this interview for broadcast with Tinku Ray. Serena McMahon adapted it for the web.
This segment aired on September 14, 2020.