Police Morale Across The Country Is Falling. Are Cops Pulling Back As A Result?
Play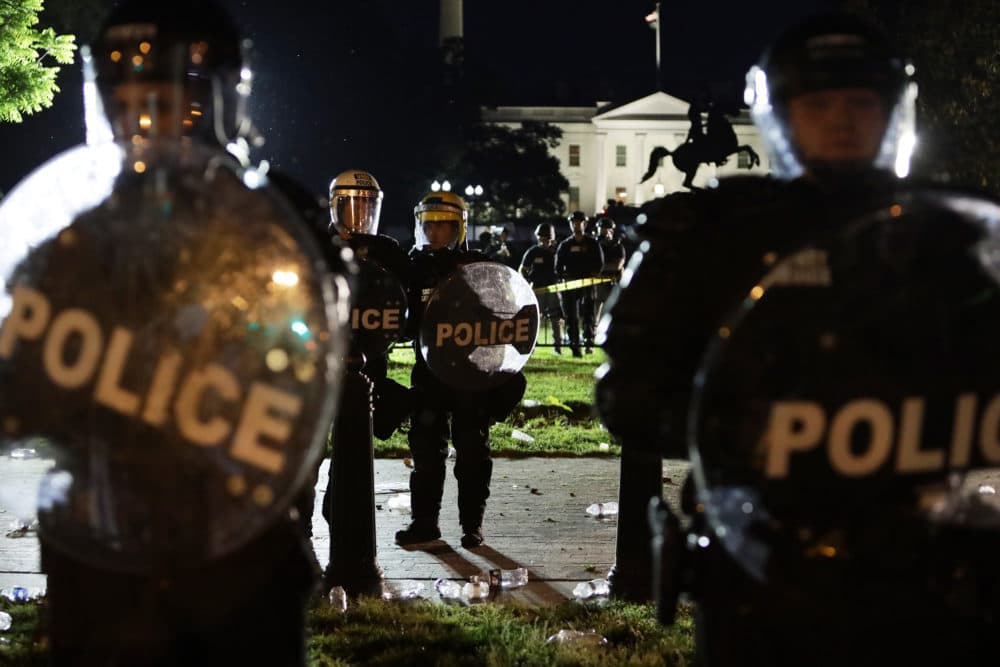 This article is more than 2 years old.
Two Los Angeles County sheriff's deputies are expected to survive after someone shot them both in the head at close range over the weekend.
The search continues for the gunman who ambushed the officers while they were sitting in a patrol vehicle in Compton. This year so far, 34 officers have died as a result of gunfire, according to statistics from the Officer Down Memorial Page.
The recent shooting is the latest reminder about the dangers of policing, a job that Chuck Wexler, executive director of the Police Executive Research Forum (PERF), says is now even more challenging with the rise of nationwide discontent over police conduct. PERF, a nonprofit group of law enforcement officials and others, is dedicated to improving the professionalism of policing.
"I don't think there's been a more challenging time to be a police officer for a whole set of reasons," Wexler says. "Policing is complicated to begin with."
He says police are facing "enormous" pressure after the killing of George Floyd in Minneapolis and as other videos of police brutality surface.
"And on the other side, you have these two deputies in Los Angeles who are just sitting in a car and someone comes in and tries to kill them," he says. "So, you know, getting up every morning, putting on your uniform and sort of thinking out loud, 'What's today going to be like?'"
In New York, several city council members from areas such as Brooklyn and Queens have said they're getting complaints that police aren't responding to calls. At the same time, those areas are watching arrest numbers drop off compared to last year as shootings increase.
Some have asserted that because police are pulling back, it could be part of why deadly shootings are spiking in cities across the country.
The situation is complicated, Wexler says, adding "it's fair to say that police are far more cautious for all sorts of reasons."
One of the reasons is the possibility of an officer being videotaped making a mistake during an arrest, he says, something they should be held accountable for.
Police units were also underprepared for the widespread upheaval, he claims. In cities such as Portland, Seattle and Chicago, he says police weren't ready for the level of violence that occurs at night after peaceful demonstrations conclude.
"No one predicted that would happen," he says.
He points to the fatal shooting of Michael Brown by a Ferguson police officer in 2014, where violent unrest mainly transpired within the limits of St. Louis County, he says. Police departments didn't anticipate current uprisings to spread to major cities across the country.
The calls for police reform also come into play, he says, because no one within the industry foresaw defunding the police as a main solution to the problem.
There is no clear cut solution for change, Wexler says. Defunding the police means less police will be hired, he says, adding that younger, more diverse hires would likely help spark change within policing culture.
However, Wexler says he remains hopeful that informative discussions will come from this period of uncertainty.
"All I can tell you is that we need humane, good police," he says. "But we also have to think about the cops themselves who get up every morning, put on that uniform and have to deal with some of the most difficult problems in society, risk their lives, risk losing their reputation."
---
Cassady Rosenblum produced and edited this interview for broadcast with Peter O'Dowd. Serena McMahon adapted it for the web.
This segment aired on September 16, 2020.