'I Can't Be Anyone Else But Me': Architect Frank Gehry And His Unique Style
Resume
The new Dwight D. Eisenhower Memorial, designed by architect Frank Gehry, is being dedicated Thursday in Washington, D.C.
The memorial's centerpiece includes a woven steel tapestry depicting Pointe du Hoc on the Normandy coast. Eisenhower, known by his nickname "Ike," was the Supreme Allied Commander during World War II and led the D-Day invasion of Normandy — a turning point in the deadliest war in history.
The 91-year-old world-renowned architect, who is best known for his sculptural, undulating buildings, says he was captivated by Eisenhower's tenacity and grit during World World II. Eisenhower was able to take on the "formidable" task of working with Europe's most powerful generals — who "all kind of had their own egos and complications and accomplishments" — to successfully take back the continent during wartime, he says.
Gehry, who was in the Army at Fort Benning during Eisenhower's presidency, says once he dived into Ike's history, he knew he had to conceive a memorial in his honor.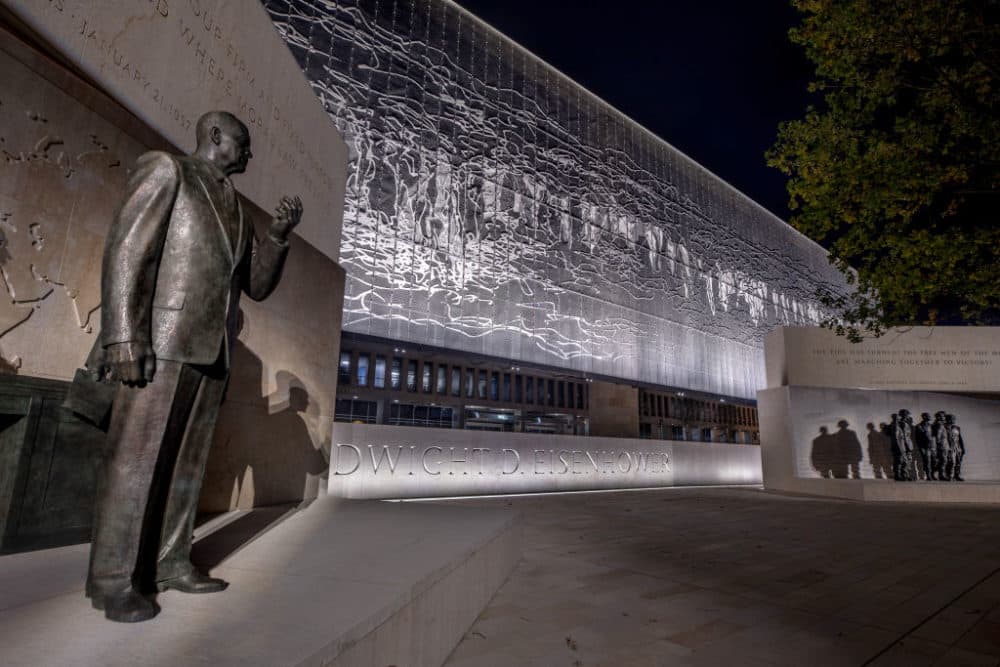 When he first laid eyes on the planned site for the memorial, challenges arose immediately, he says. The site sat in the middle of a parking lot surrounded by government buildings that were utilized daily — the Department of Education, Department of Health & Human Services and the Federal Aviation Administration.
"So it wasn't enticing from that standpoint," he says.
He brainstormed ways to avoid blocking out these buildings. Then-Secretary of Education Arne Duncan, who met with Gehry during the design process, had a request: "Please don't block the windows," Gehry recalls Duncan saying.
Gehry was up for the challenge. Because these important buildings couldn't become a background to the memorial, he decided to use tapestries to "modify the site without hurting the other buildings" yet still configure a site filled with "gravitas and importance," he says.
"Most tapestries are ... woven with materials and they're solid. You can't see through them," he says. "Here we needed to devise a way to make a tapestry that was semi-transparent, that did not block the light, that was like a veil. And I had no clue how to do it."
To accomplish this, he collaborated with Tomas Osinski, an architect who created a machine to weld steel wires that passed General Services Administration longevity requirements.
The final creation — Eisenhower at Pointe du Hoc — wasn't always the project's vision. The first plan was to honor Eisenhower's hometown of Abilene, Kansas, but he says that didn't hit on all of the 34th president's accomplishments.
"Pointe du Hoc is a solid piece of ground, solid Earth. And how do you make it into a transparent tapestry?" he says. "We tried everything."
Through "trial and error and just dogged determination," Pointe du Hoc came to life on Independence Ave, he says.
A Look Into Gehry's Life
Gehry, who says he grew up poor, started his career using cost-effective materials such as corrugated metal and galvanized wood framing — and still does so to this day. He says he gets a bad rap because people assume the curvature of his buildings are expensive.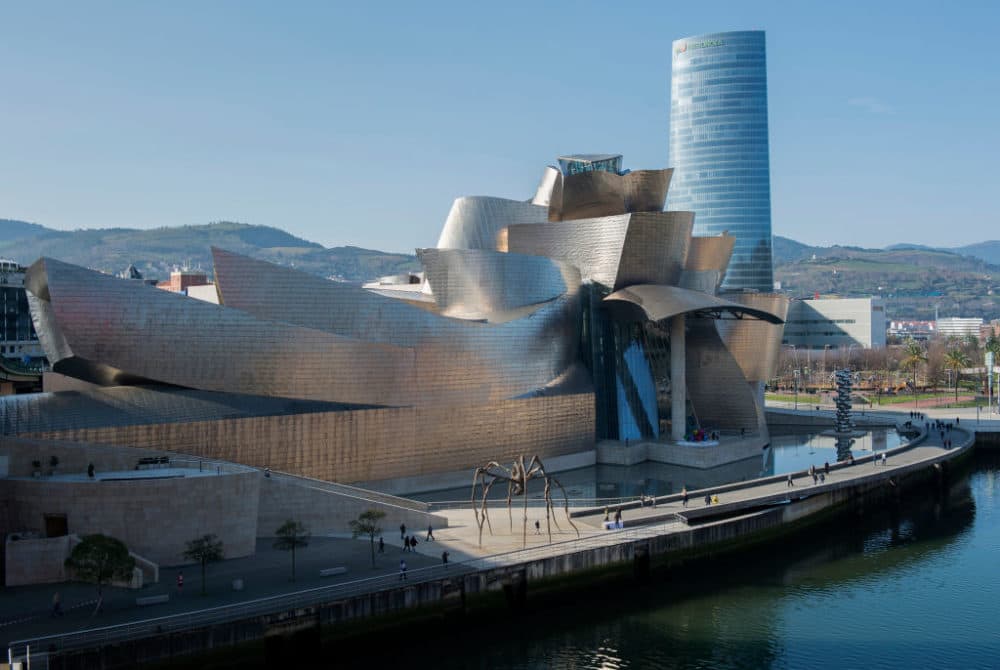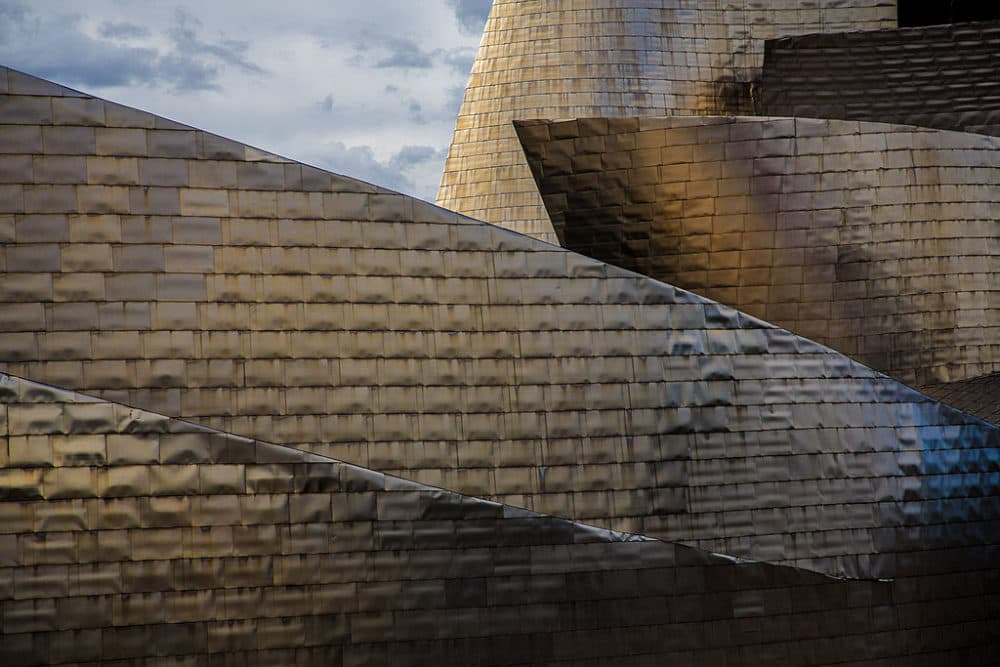 But one of his most famous works, the Guggenheim Museum Bilbao in Spain, was inexpensive, he says, totaling about $300 a square foot in 1997.
By using a specific architectural software system, his team can "demystify the building of those shapes and can do them very inexpensively," he says. "So I guarantee, I'd say 90% of my buildings are on budget."
He "absolutely" thinks the kind of technology he was able to use to bring the most complex imagined forms into built reality could, and should, be utilized to make architecture more responsive to present-day challenges such as climate change and inequality.
While he says he can't change every aspect of the industry, Gehry says "the computer systems — and they're getting better and better — allow you to do things that are much easier to do now that you couldn't do in the past."
The "cookiecutter," template apartments that have sprung up in almost every U.S. city reveals a "commentary on us," he says. With slight alterations, a simple condo building can transform into an architectural piece of art that doesn't come at a cost, he says.
"But that's my battle cry. You can't change people," he says. "It starts with who commissions the building and their values and then the public demands. The public doesn't demand better architecture. Most people aren't even aware of it."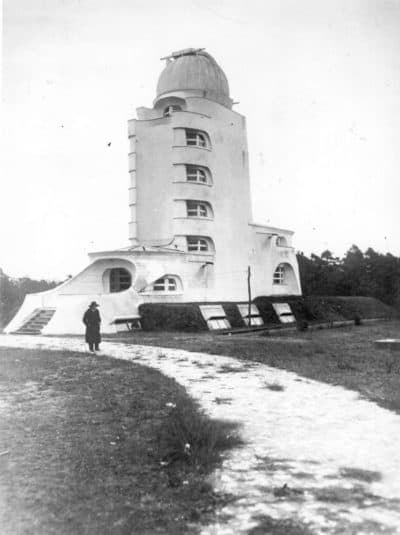 The Einstein Tower by German architect Erich Mendelsohn is one of Gehry's favorite structures. The observatory, located near Berlin, is "a masterpiece in placement in urban settings," he says. Mendelsohn was able to place the building on a hill, he says, where visitors would naturally come upon it as they ascended the summit. The stucco-covered building, although never used by Einstein, is still utilized as a solar observatory to this day.
His advice to up-and-coming architects: Don't aim to be the next Frank Gehry and stay true to yourself.
He recalls a time as a teacher when he had students write down their own signature. When he spread out the signatures in front of the class, he pointed out how each had their own aesthetic and style, he says.
"Let your designs come naturally out of you and you'll prevail and become who you are," he says. "Now, whether anybody is going to like it, I can't guarantee. But, you know, somebody is going to like it somewhere."
At 91, Gehry remains as busy as ever. Choosing his favorite project in the works is like picking a favorite child, he says, but he does point to his ongoing work with a museum of medicine in Taiwan as an invigorating project.
"It's a beautiful site. And I'm trying to create a facade with natural light that looks like a watercolor," he says. "I've done pieces of that before in other buildings, but this one is an opportunity to do it in a special way. So I'm excited about that."
---
Julia Corcoran produced and edited this interview for broadcast with Peter O'Dowd. Serena McMahon adapted it for the web. 
This segment aired on September 17, 2020.