COVID-19 Survivor Thanks 116 Doctors, Nurses Who Saved His Life
Resume
Jeff Gerson was admitted to NYU Langone Tisch Hospital in mid-March with a high fever and a cough. The next day, doctors put him on a ventilator.
When he woke up from his treatment, he had no memory of being intubated. He wanted to thank the more than 116 hospital workers who attended to him when he was sick with COVID-19.
But that proved to be a monumental task. Doctors and nurses' names and contact information weren't readily available to him.
"I felt the need to say thank you for the heroic treatment, and yet the circumstances were denying me that," Gerson says. "Every morning I would cry in gratitude and wonder, 'Why did I survive?' And so part of my … emotional recovery was to say thank you."
To track down the people who saved his life, Gerson began with the MyChart app, which displayed the names of the doctors who ordered the more than 750 blood tests, electrocardiograms and X-Rays he underwent. The app was "a saving grace," he says.
He also looked to his insurance company's explanation of benefits, which provided the first initials and last names of all the doctors who billed for his treatment.
Doctors told Gerson to express his gratitude via the hospital's feedback hotline. When he called, the person who picked up said they were writing his comments down to post on the walls of the hospital.
But Gerson wanted to thank each and every person who had been involved in his care, so he wrote a long letter. In the letter, he details the lengths he went to identify the doctors and nurses who saved his life. He describes the full and complete recovery he has made from COVID-19 and thanks them for their efforts.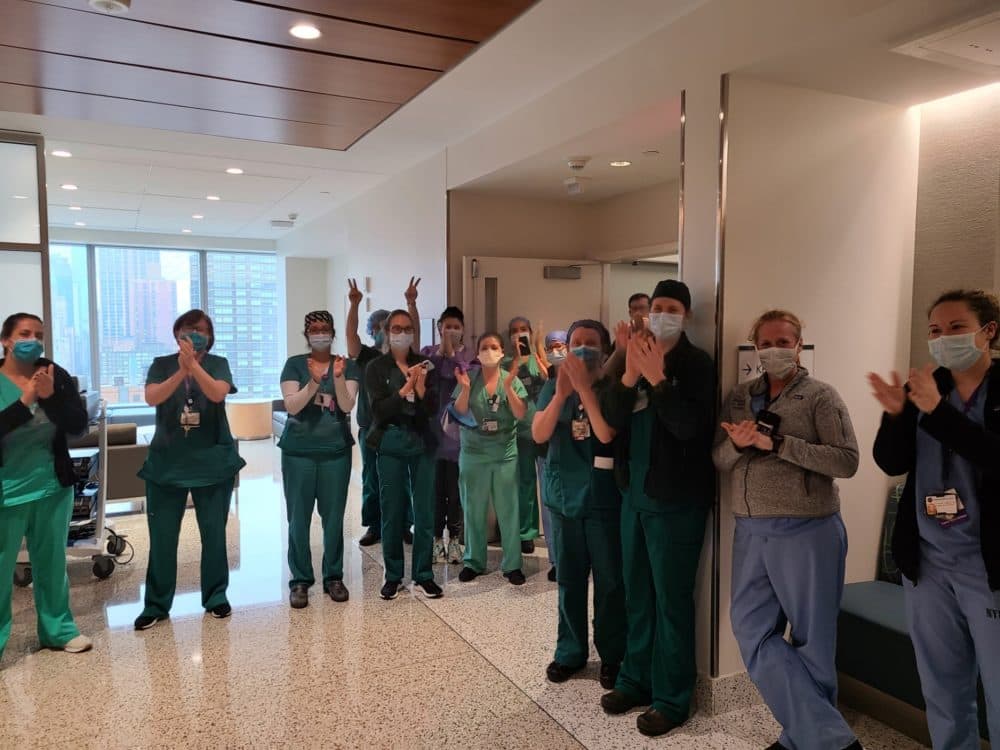 The extracorporeal membrane oxygenation (ECMO) treatment Gerson received hadn't been approved by the Food and Drug Administration on an emergency basis for COVID-19 treatment until two weeks after the hospital administered it to him. ECMO adds oxygen to a patient's blood and helps the patient's heart work for them.
"I was just trying to recount how grateful I was that all the stars aligned — that I ended up there, that they had the equipment, that they were trying it, and that I received that cutting-edge care," he says.
There was one doctor Gerson couldn't reach: Dr. Sydney Mehl, who saw patients until he tested positive for COVID-19 and died of the virus 61 days later, as Katie Couric recounts.
"He treated me the very first day I was in the hospital on March 20," Gerson says. "I read [in the Couric piece] how he was treating patients right up until the day he himself checked in on March 20. So it occurred to me that I was certainly one of the last patients that he saw, if not the last, and it underscored for me that he was working right up until the last minute."
Since sending the letter to 116 recipients, Gerson has heard back from doctors and nurses who were overjoyed to learn of his recovery and know that they made such a difference.
"I received your letter and have never once thought any of my patients would remember us, let alone well into their recovery phase out of the [intensive care unit] and subsequently the hospital," a physician assistant manager wrote to him. "I was pregnant in my first trimester when treating you. And while I was internally anxious and scared, your healthy recovery makes me realize that the struggles I had to go to work every day were 100% worth it."
Gerson has made a full and complete recovery, and he's not suffering from any lingering effects of COVID-19. Since his discharge, he has ridden his bike in Central Park for more than 850 miles. He's able to continue raising his son.
Gerson never expected his letter to earn him attention on the cover of the New York Daily News or on Here & Now.
"My objective simply was to say thank you, and coming as it did during Thanksgiving and as the number of cases [spikes], I hope at the very least it reminds everybody that there are still heroes out there, still on the front lines, still fighting to get the pandemic under control," he says. "They often go without appreciation, and the point of my letter was to give them the recognition that they're due."
(Note: Jeff Gerson is the uncle of Here & Now intern Elie Levine.)
---
Elie Levine produced and edited this interview for broadcast with Tinku Ray. Levine also adapted it for the web. 
This segment aired on December 2, 2020.