Masks Work — But What Makes Them More Effective? The Latest On Layers, Filters And Particles
Play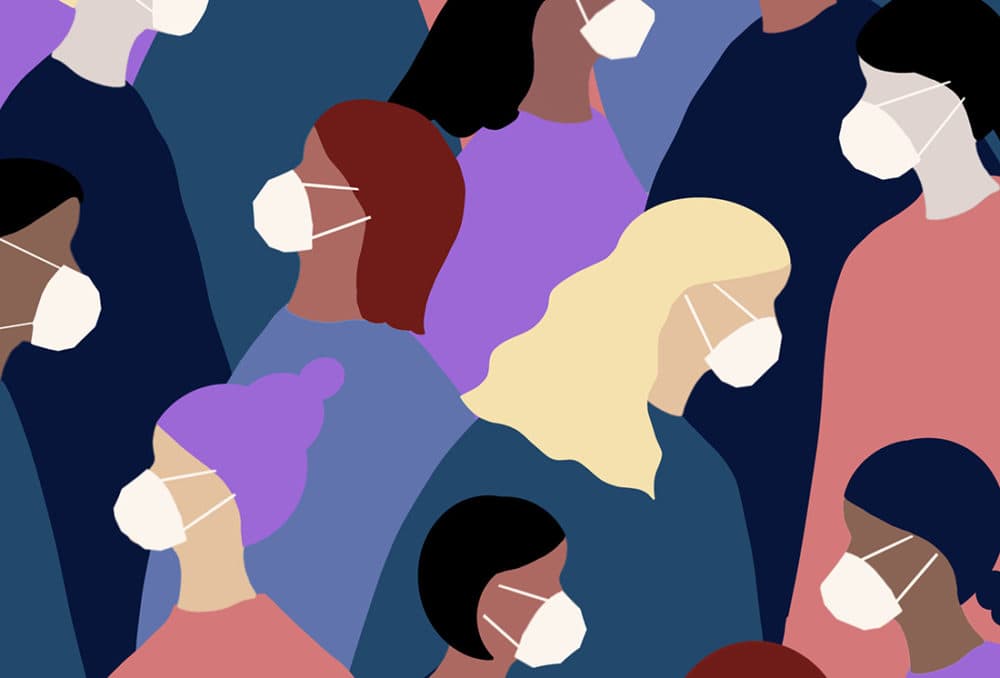 This article is more than 2 years old.
The Centers for Disease Control and Prevention has long asked Americans to wear masks in public spaces, but last Friday they advised to wear a mask everywhere outside of your home.
We know that masks work in helping to slow the spread of COVID-19. And a new study at Virginia Tech led by Linsey Marr, the world's leading expert on aerosol science, details ways we can make masks even more effective. New York Times health writer and author Tara Parker-Pope fleshes out the details in her recent article, "Time to Upgrade Your Mask?"
Marr's research finds that adding a third mask filter — sandwiching a filter layer in between two pieces of fabric — makes a difference in protection, Parker-Pope says. The filter can be anything from a coffee filter, paper towel or vacuum bag, she says, just make sure to test your filter choice for breathability.
Double masking is also another way to layer for maximum protection. Parker-Pope personally uses a disposable surgical mask — normally colored blue and white — underneath her regular mask.
Unlike woven cloth masks, surgical masks are made from non-woven fibers, meaning it's able to do a better job at blocking particles, she explains. Parker-Pope says she carries around an extra surgical mask if she finds herself in a situation that makes her feel uncomfortable.
"As I was walking home [recently], I got sort of caught in this crowd of people following a band. It was a crazy New York experience. And I was like, I don't love this," she says. "And so I had an extra mask, and I double masked until I could get out of that situation."
Marr's study also finds that tie masks are more effective than masks with ear loops. Because tie masks allow for a tighter fit, researchers observed less particles escape from tie masks than ear-loop masks.
"If it's fogging up your glasses a lot, it means that there's a lot of air escaping around the top of it," she says.
If you find that your mask has gaps near your nose or mouth, Parker-Pope says to double up with a surgical mask or to find one with material that will stretch snug across your face.
For runners, Parker-Pope says to double layer a gator mask, also known as a buff.
"These gators and buffs got kind of a bad rap early on," she says. "People thought they were not useful, but Dr. Marr actually studied those, too. And it's better if you double it and not single."
Face shields, she says, should not be worn as a substitute for face masks. Marr's research finds wearing face shields instead of masks are "a disaster. It fails in every possible way," she says. That's because particles can escape easily from face shields.
"Wearing a face shield is useful when you add it to a mask," she says. "The face shield definitely can give you added protection, but it's not enough to wear a face shield alone."
The caveat for face shields, she says, is if a caregiver needs to communicate with someone with a hearing impairment or if a child with a developmental disability won't wear a mask. Companies have also created masks that have clear plastic over the mouth for this purpose. Take Rafi Nova's Smile Mask, which leaves the mouth fully visible, for example.
When the pandemic first hit, the original messaging on masks muddled the conversation around outward and inward protection from the virus, she says. But Marr's study at Virginia Tech underscores what leading health experts have been saying: Masks protect the wearers as well as those exposed to them.
The study measured particles going out and in while wearing a mask, and found protection against germs going both ways, she says.
Parker-Pope points to the superspreader event at a Starbucks in South Korea, where a coronavirus positive patron infected dozens at the coffee shop. However, the four Starbucks baristas working that day wore masks, dodging coronavirus infection.
"We know that when a sick person wears a mask, we are protected," she says, "and we know that when we add the mask, we have additional protection."
---
Karyn Miller-Medzon produced and edited this interview for broadcast with Tinku Ray. Serena McMahon adapted it for the web.
This segment aired on December 7, 2020.