6 Classy And Classical Venues That Make For A Sensual Summer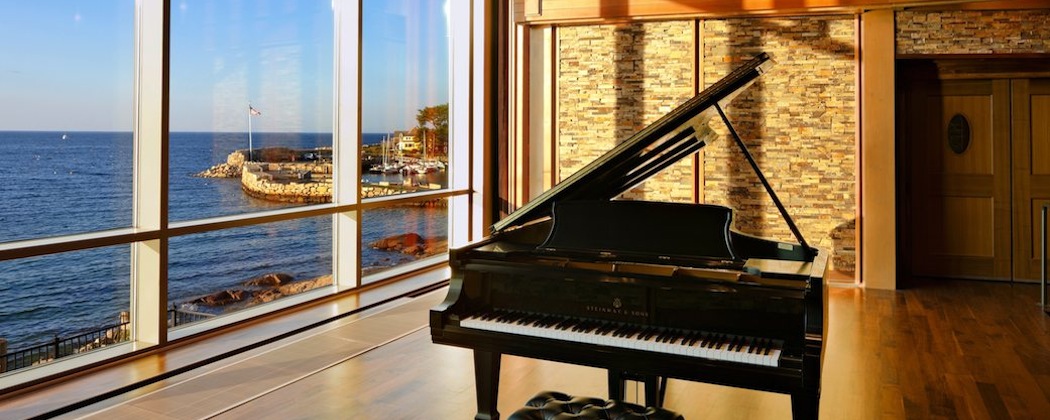 This article is more than 7 years old.
Tanglewood doesn't have all the action to itself when it comes to classical music in the summer, though it does have an intriguing-looking summer season. One of the question marks with incoming Boston Symphony Orchestra music director Andris Nelsons is his dedication to the music of our time and he, and other Tanglewood programs, have a promising sprinkling of contemporary music.
While I spend as much time as I can in the Berkshires during the summer other venues are also calling, including the Shalin Liu Performance Center in Rockport and Marlboro Music in Vermont. Then there are summer events right in the city, including the Boston Landmarks Orchestra on the Esplandade as well as Boston Midsummer Opera and Odysseys Opera indoors.
1. Shalin Liu Performing Arts Center
The Emerson String Quartet has been the go-to string quartet for decades, even after the departure of the group's charismatic cellist David Finckel. They'll be performing at the Shalin Liu gala with new bro, Paul Watkins, June 6 as well as at Tanglewood July 10 with five, count 'em five, Shostakovich quartets. Finckel became overwhelmed with other projects, including making beautiful music with his pianist wife, Wu Han. They'll be performing at Shalin Liu June 8. Here they are performing Beethoven's Sonata No. 1 in F Major, though they'll be performing his Opus 102, No. 1 in C Major in Rockport:
The Emersons aren't the only ones doing the Rockport to Lenox south by southwest trip this summer. Jeremy Denk, one of the most interesting pianists around, will be playing Bach's Goldberg Variations and Ives' Concord Sonata June 29 at Shalin Liu and Aug. 13 at Ozawa Hall in Tanglewood. He's recorded both of them and they're among my favorite CDs of the past few years. He makes Bach swing and Ives accessible.
Here's what I mean:
2. Odyssey Opera, Boston University Theatre (Huntington)
Gil Rose has picked up with Odyssey Opera where he left off with Opera Boston — specializing in opera that you don't see in traditional opera houses. They'll be doing a mini-festival June 11-14 at the Boston University Theatre on Huntington Ave. with Verdi's "Un Giorno di Regno" June 11 and 13 with James Maddalena and a double-bill of Mascagni's "Zanetto" and Wolf-Ferrari's "Il Segreto di Susanna" June 12 and 14. I checked out another version of Verdi on YouTube. Don't know if there'll be live bathing in Boston.
3. Tanglewood
The official Tanglewood season begins in earnest July 5 with a Renée Fleming concert. Unfortunately, "You'll Never Walk Alone" from the first Obama inaugural isn't on the program. But "Summertime" is. The singing begins at 1:15.
Andris Nelsons takes up residence for a couple of weeks with the BSO July 11, joined by Anne-Sophie Mutter in an all-Dvorak program, but we're particularly interested in his contemporary choices — Rolf Martinsson's "Bridge" Trumpet Concerto No. 1 July 19 and Christopher Rouse's "Rapture" July 20. Joshua Bell is on the latter program with Lalo. His concerts coincide with the annual Festival of Contemporary Music July 17-21.
Here's a bit of "Rapture" from the other BSO, in Baltimore, under Marin Alsop:
Dawn Upshaw arrives at Tanglewood July 23, joined by the Knights for Maria Schneider's "Winter Morning Walks" and a selection of songs from Joni Mitchell to Kurt Weill.
If you're in the Berkshires July 26 you don't want to miss Christoph von Dohnanyi leading the orchestra in Mahler's Second. It was a sizzling performance at Symphony Hall and even if the acoustics aren't as good in Lenox, the gates of heaven are wider than in Boston. Leonard Slatkin is another good BSO friend and he'll be celebrating his 70th birthday Aug. 8 performing some English (Elgar) and American specialties, including a world premiere by William Bolcom and the luscious Samuel Barber violin concerto with another Barber-ian, Gil Shaham.
More fun at Tanglewood follows with Nicholas Phan and Frederic von Stade in "Candide" Aug. 16 in a concert performance, but that shouldn't deter you. A similar version on DG home video makes a better case for the piece than any fully performed one I've seen. Keith Lockhart leads the Boston Pops Orchestra in live accompaniment to "The Wizard of Oz" Aug. 22. Last summer's BSO accompaniment to "West Side Story" was spectacular.
4. The Esplanade
I've long given up on the July 4 Esplanade concert being either classical or classy, but maybe that'll change with CBS out of the picture. I am excited, though, by the Boston Landmarks Orchestra's residency on the Esplanade on select Wednesdays with several interesting programs including the "On the Waterfront" suite and Carmina Burana" July 16 and "From the New World: The Legacy of the Spirituals" Aug. 13 with the New England Spiritual Ensemble and One City Youth Choir performing in the first half and the Dvorak "New World" in the second. Check out the website for other concerts around the area.
5. Boston Midsummer Opera
One of our favorite composers, Kaija Saariaho, from Finland, is this summer's composer in residence at Marlboro Music in Vermont, July 23-28, though it was unclear what music of hers will be performed while she's there. As we said when the BSO performed "Circle Map" a couple of years ago, "Some of the words used to describe [Finnish composers'] music are ravishing, lustrous, dramatic, emotional — words not always attributed to contemporary works." Here's a piece where all those adjectives apply — "Prelude for Piano."
More Summer Previews
11 Theaters To Hit This Summer — It's Time To Gas Up
13 Concerts To Brighten Your Boston Summer
ARTery's Ultimate Guide To The Boston Music Underground This Summer