15 Events To Attend When You Ring In The New Year With First Night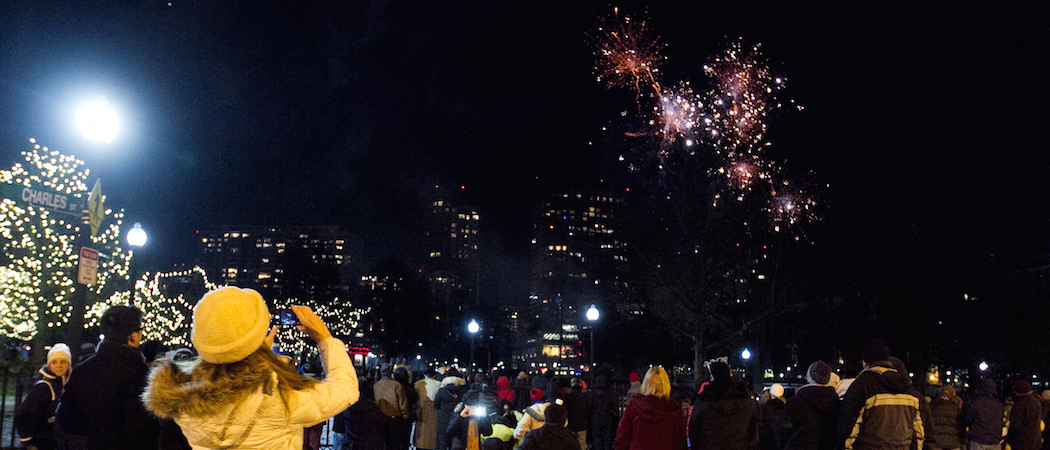 This article is more than 6 years old.
If you only know First Night Boston as the one day the MBTA is free, here's a rundown of what happens: arts and entertainment programs run from 1 p.m. on Dec. 31 through midnight on New Year's Day. All outdoor events are free. Full or discounted admissions to indoor events are available to those wearing a special First Night button. You can snag one for $10 at participating CVS and Bank of America locations or BosTix booths in Copley Square and Faneuil Hall Marketplace.
Over 200 events, spanning from ice sculptures to shoegazing, will be playing out in less than 12 hours. Here are the 15 events I suggest going to at First Night:
Winter on the Waterfront offers six unique schedules of morning and afternoon programming for families at six different locations around Boston. From Downtown to Charlestown, the festivities include jaunts to the USS Constitution and ukulele lessons.
10 a.m.– 5 p.m.
Six locations around Boston
Simply Circus is teaching adults and kids about circus arts with a workshop and some demos. Kids 3 years old and up are welcome to marvel at fancy cartwheels, tight-wire walking, and aerial tricks (a failed hula-hooper can dream).
1:00– 1:30 p.m. (Workshop), 2:30– 3:30 p.m., 4:30– 5:30 p.m.
Hynes Convention Center
The First Night Jubilee Concert commemorates the anniversary of Lincoln signing the Emancipation Proclamation and the bicentennial of the Handel and Haydn Society, America's oldest performing arts organization. The first 50 button holders will be able to view this collaboration between the Museum of African American History and H&H for free.
1 p.m. and 2 p.m.
Historic African Meeting House
Greater Boston Chinese Cultural Association Workshop gives visitors a chance to make lanterns, firecrackers, and traditional figurines.
1- 5 p.m.
Hynes Convention Center, Hall A
Boston Public Library opens its doors for a look at its art and architecture highlights. This is a free abridged version of the usual offering.
Every 15 minutes from 1- 5 p.m. (last tour starts at 4:30pm)
Tour starts at McKim Building vestibule
Grooversity and Inta Afrika bring Boston to its feet with two performances from the African and Brazilian percussion groups.
1:15– 1:45 p.m., 3:00– 3:45 p.m
.
Hynes Convention Center, Ballroom C
Leave your skates at home for the First Night Skating Spectacular at the Frog Pond. Local and national skating stars, including members of the Skating Club of Boston, will provide the entertainment.
6:00- 6:50 p.m.
Boston Common Frog Pond
Can't hold out until midnight? Boston Family Fireworks, presented by Mayor Marty Walsh and the Mugar Foundation, hosts a ten-minute display for those turning in early.
7:00- 7:12 p.m.
Boston Common Baseball Field
Boston Saxophone Quartet, which has gained recognition throughout New England, finds young talent from the Boston Public Schools and offers them the chance to compose an original work or rearrange an existing piece for the First Night concert. The student winner will perform his or her work with the quartet.
7:30– 9:30 p.m.
Hynes Convention Center, Room 310
Roger Miller and The Surrealists Games have made the rounds at all the big New England contemporary art museums. Now they are coming to the Hynes Convention Center with their illusions and mind tricks, originally created by Andre Breton and gained popularity in the 1920s and 1930s.
7:30- 11:00 p.m.
Hynes Convention Center, Room 201
Dom Flemons has impressed crowds from the Newport Folk Festival to Bonnaroo. At First Night, he's bound to thrill the folk with his breezy banjo twang and unaffected confidence.
8 p.m.
Berklee Performance Center
Brite Lite Brite, an electronica duo composed of Berklee alumni Andrea Stankevitch and Luke Johnson, offers an energetic mix of house and dubstep music to keep you moving while you wait in the cold for 2015.
8:10- 9:00 p.m.
Copley Square
Organ Fireworks, a concert by Heinrich Christensen on King's Chapel's C.B. Fisk Organ, will fire up the evening with tunes from Bach, Mendelssohn, and Dupré.
9:00– 9:45 p.m.
King's Chapel
Indie rock favorite Yo La Tengo rounds out the last night of 2014 with selections from the wide-ranging repertoire that have kept them comfortably just below the radar.
9:30- 11:00 p.m.
Hynes Convention Center, Ballroom B
Street Dogs is a band probably familiar to Dropkick Murphys fans out there. The DMs' former lead singer Mike McGolgan will front a special acoustic performance of Street Dogs in Copley Square.
10:30- 11:10 p.m.
Copley Square
Holly Van Leuven is a writer, publisher and musical theater historian in Boston. She is the recipient of the inaugural BIO/Hazel Rowley Prize for her forthcoming book on Ray Bolger.
2014 In Review