Local Theater In 2014: Sadists, Swindlers And Other Necessary Monsters
Is there any such thing as a baker's ten — the conventional ten-best list plus one? Maybe not, but this is not a conventional list, its assembler having been absent from the scene for significant chunks of the year, missing such reported highlights as the Huntington Theatre Company's smart-sounding "Smart People," Nora Theatre Company's classy-sounding "Emilie: La Marquise du Châtelet Defends Her Life Tonight," and Gloucester Stage Company's resounding "Fences." So, okay, this was an easier list than most to get onto — congratulations, anyway.
"Absence" (Boston Playwrights' Theatre). The BU-affiliated BPT fielded Megan Schy Gleeson's effectively filmy world-premiere staging of Peter M. Floyd's moving yet antic portrait of a feisty lady not going gentle into that good night of dementia. The play found inventive ways to dramatize the inevitable dwindling of self, and Joanna Merlin and Anne Gottlieb packed a mighty mother-daughter confrontation into a scene consisting mainly of gibberish, with Bill Mootos popping in and out as a sort of medical Mr. Marmalade.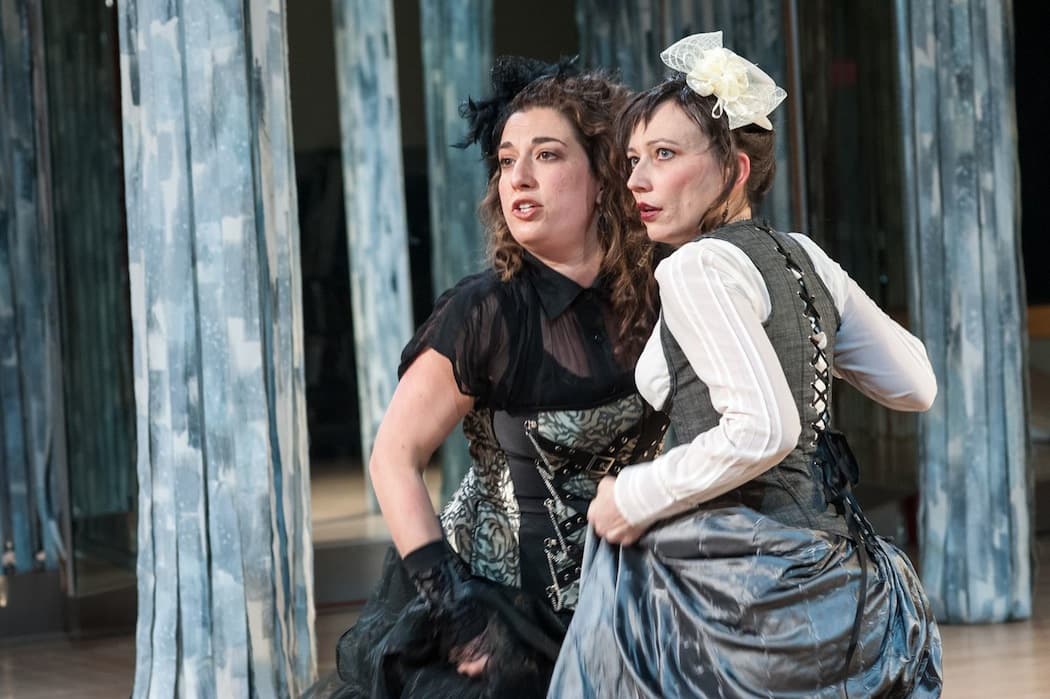 "As You Like It"/"The Cherry Orchard" (Actors' Shakespeare Project). The artistic itinerants of ASP planted the Forest of Arden — tricked out in tree trunks and tin foil — in a former dance studio atop Medford's Springstep building and located the title real estate of Chekhov's valedictory just outside stately if fading Founders Hall at Pine Manor College. The settings worked splendidly, and both Robert Walsh's exuberantly gender-bent staging of the Bard's comedy and Melia Bensussen's elegiac nod to Chekhov's poignant vaudeville were beautifully acted, with Paula Plum and Jennie Israel standouts in the woods, Marya Lowry and Marianna Bassham particularly affecting among the orchard's unmoored gentry.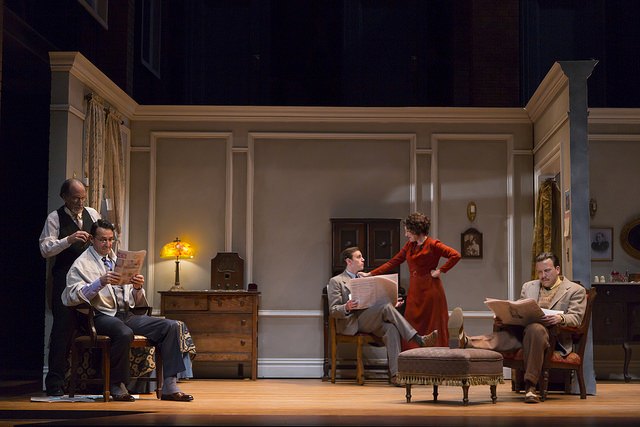 "Awake and Sing"/"Venus in Fur" (Huntington Theatre Company). These two productions had about as much in common as Lee Strasberg and Gypsy Rose Lee. But Melia (there she is again) Bensussen's superb revival of Clifford Odets' rallying plea that life not be printed on dollar bills and Daniel Goldstein's orchestration of David Ives' cat-and-mouse game built on Leopold von Sacher-Masoch's 1870 S&M primer boasted acting of the highest order. Will LeBow, his fervent elder pumped up on Caruso and Marx, lead the excellent ensemble reawakening Odets. And Chris Kipiniak and Andrea Syglowski crackled as Ives' condescending playwright and a mysterious actress who shows up for an audition wearing little more than some very big boots.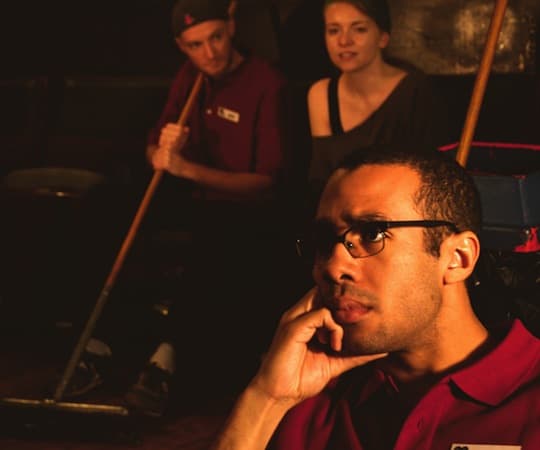 "The Flick" (Company One). Artistic director Shawn LaCount was at the helm of this near-perfect staging of Annie Baker's Chekhovian melange of millennial comedy, movie trivia, and inarticulate yearning set in a central Massachusetts theater where three employees sweep up popcorn and try to find their bearings in a dead-end world where life is lived through dreams, most of them on celluloid. Alex Pollock, Brenna Fitzgerald, and Peter Andersen flinched at neither the longing nor the long pauses.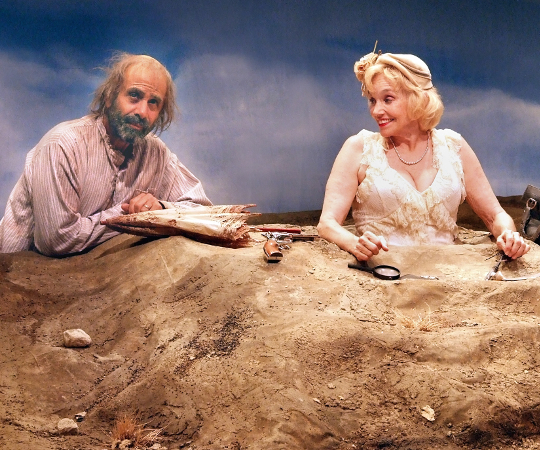 "Happy Days" (Commonwealth Shakespeare Company). As its first indoor production in Babson College's Carling-Sorenson Theater, the guardians of free Shakespeare on the Common imported Andrei Belgrader's lovely production of Beckett's 1961 two-hander from Pasadena's The Theatre @ Boston Court. Stage, film, and television vet Brooke Adams put her able wit and malleable countenance at the service of heroine Winnie, buried in dirt to her waist and then to her chin but acting up a cheerful storm with what bits of her showed. And as Winnie's hole dwelling insignificant other, Adams' real-life husband (and Emmy-winning Monk star), Tony Shalhoub, may have been the most hilarious and scrofulous Willie ever.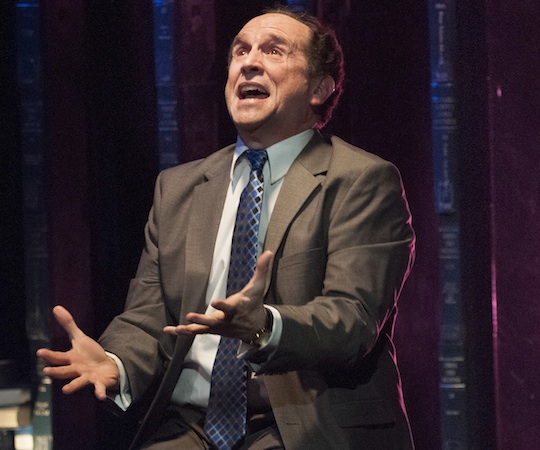 "Imagining Madoff" (New Repertory Theatre). Deborah Margolin's imperfect play gives Ponzi schemer and convicted felon Bernard Madoff his due, as both seducer and Satan. At New Rep, he was impeccably played in Elaine Vaan Hogue's well-calibrated production by Jeremiah Kissel in a suit to encase the tail and wingtips to hide the cloven hooves. This play of ideas pits Madoff against a poet, Talmudic scholar, and Holocaust survivor, though it's hardly a fair fight since lip-smacking evil proves far more charismatic than folksy good — and Kissel, though playing a prisoner, took none.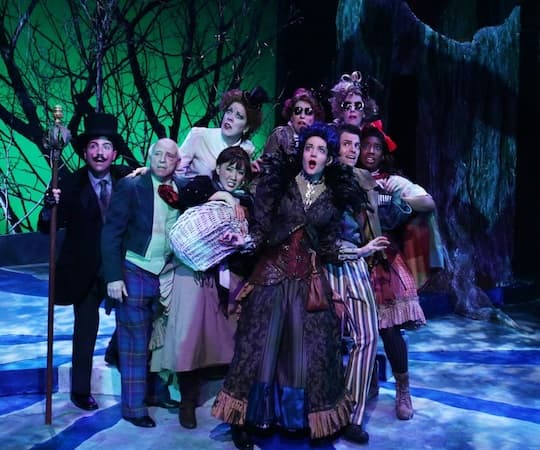 "Into the Woods" (Lyric Stage Company of Boston). It was almost fulltime Sondheim at the Lyric this year. I missed last fall's "Sweeney Todd," but spring 2013 brought artistic director Spiro Veloudos' sumptuous if Meryl Streep-less revival of Stephen Sondheim and James Lapine's 1987 mash-up of Bruno Bettelheim and the Brothers Grimm. The show counsels us to be careful what we wish for, but one could not have wished for a more delightful journey into woods a-rumble with Freudian echoes and giants' footsteps than this. Mixing Disney-esque design with a more rueful sensibility, the show was piquant, ironic, and very skillfully sung. And who needs movie stars when you have Aimee Doherty, Erica Spyres, and Lisa Yuen?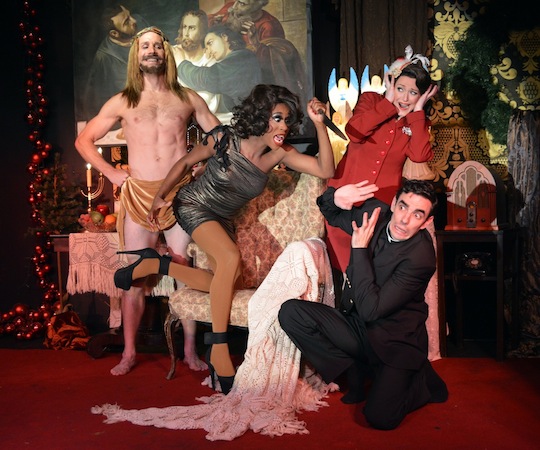 "Jesus Christ, It's Christmas!"/"Snow White and the Seven Bottoms" (Gold Dust Orphans). It was a vintage year for the Ramrod Center for the Performing Arts, where irreverent impresario Ryan Landry sent Walt Disney spinning in his grave, then brought the Savior down to earth for a sexy spin. Spoofing first the 1937 animated film about a puff-sleeved sweetheart, her seven height-challenged protectors, and a very mean apple purveyor, then the 1947 Cary Grant vehicle "The Bishop's Wife," Landry and the Orphans swiped the plots from their shows' progenitors, then dressed them up in prodigious production numbers and plenty of lunatic lewdness, along with Scott Martino's luscious costumes and Landry's own leering villainesses.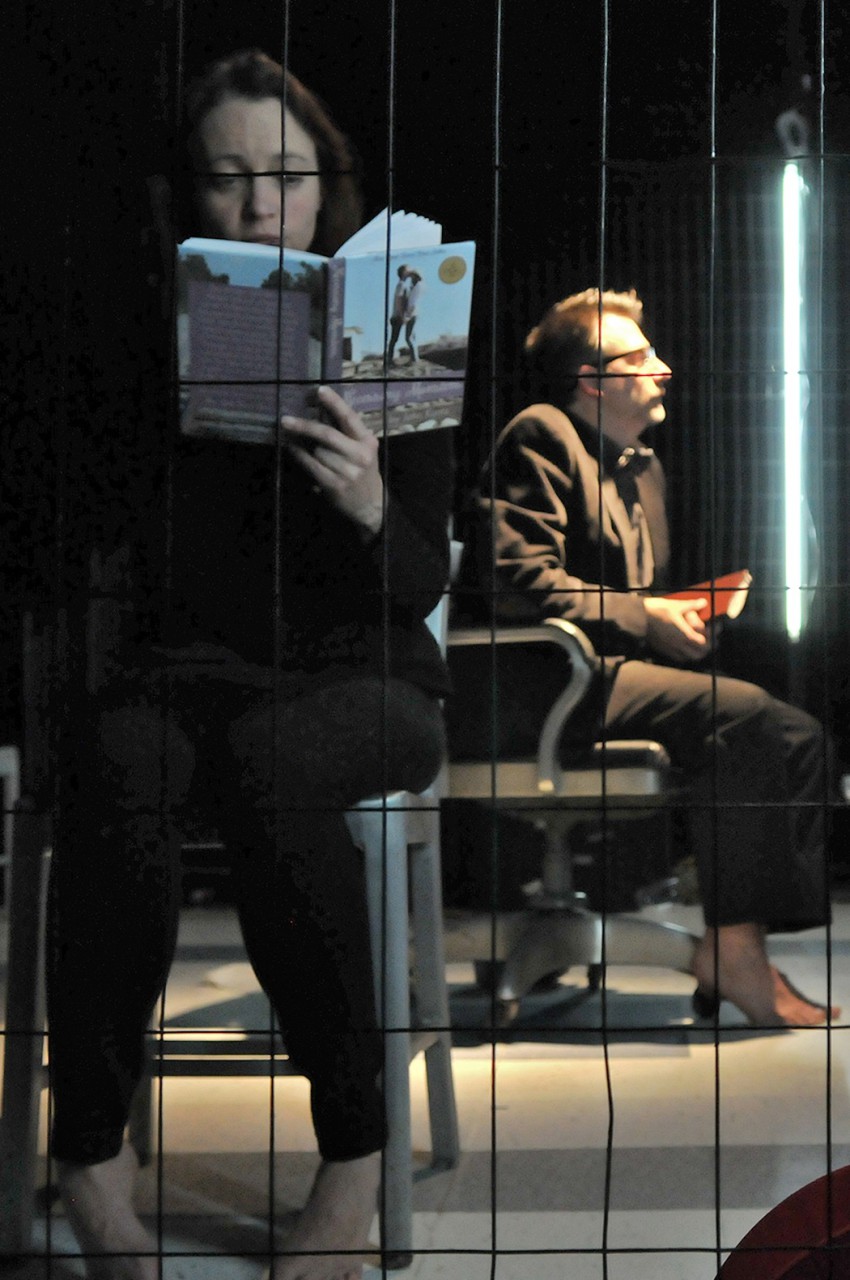 "Necessary Monsters" (SpeakEasy Stage Company). The mind of John Kuntz has finally been put behind bars, where it arguably belongs. Director David R. Gammons put Kuntz's title characters — along with their fragmented, intertwined dramas — in a wide wire cage, where the metaphorical monsters wafted and strutted in and out of one another's subconscious and stories rooted in film noir, horror movies, detective fiction, and kids' TV. Inspired by Jorge Luis Borges' "The Book of Imaginary Beasts," Kuntz's mix of intrigue and dream may not be easy to map, but its byways of wit, whimsy, and sinister suggestion were well worth following. Moreover, the author, who also appeared in the play, couldn't have asked for better support. The impressive ensemble had a handle on this poignant, powerful mash-up even when not all of the audience did.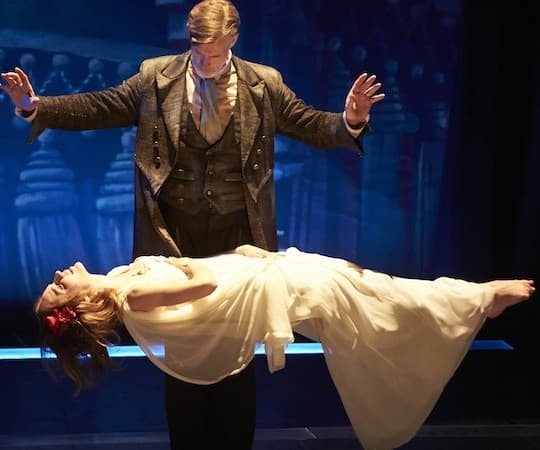 "The Tempest" (American Repertory Theater). There was magic both "rough" and smooth in this surprisingly apt adaptation of Shakespeare's valedictory by Aaron Posner and Teller, the silent, illusionist half of Penn & Teller. The tunes from the catalogue of Tom Waits and Kathleen Brennan were mostly about love, loss, and dying, but the play itself did more than survive the overlay of levitation, card tricks, and disappearing acts. It was actually enriched by the vivid enactment of the relationship of Prospero to his magic. Seldom has the Bard's farewell to art seemed as painfully valedictory as Tom Nelis's Prospero, abetted by Nate Dendy's otherworldly Ariel and a two-man Caliban, made it.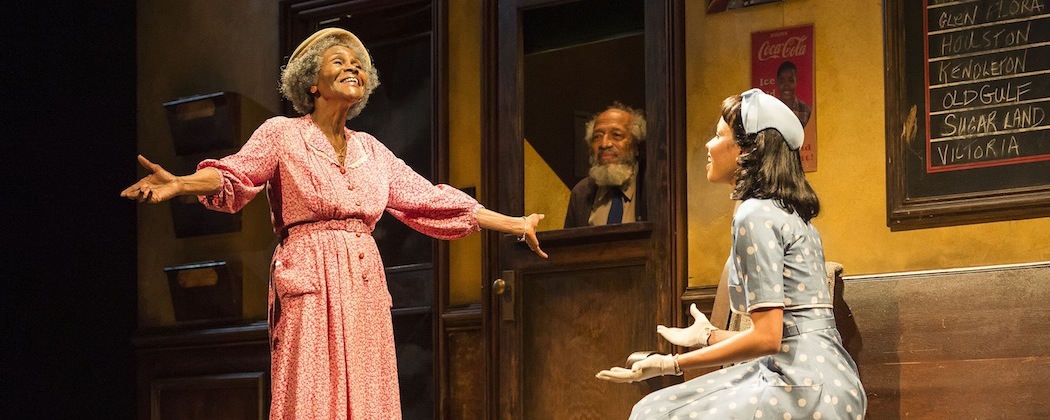 "The Trip to Bountiful" (Jonathan Reinis Productions and LA's Theatre Center Group, presented by ArtsEmerson). An old-fashioned and sentimental journey, this 1953 work, which began as a teleplay for Lillian Gish, is not Pulitzer and Oscar winner Horton Foote's finest. Its tale of an old woman trying to get back to the crumbling Texas nowhere she came from is, however, a vehicle that the right actress can transform from mid-century bus into thespian Ferrari. And octogenarian Cicely Tyson, reprising her 2013 Tony-winning turn as Mrs. Carrie Watts, showed us how it's done. Originally written for a white actress but toting the universal burden of late-life longing for home, the character of Mother Watts evolves from worn-out if still crafty resignation to a heartbreakingly brief burst of ebullience when reunited with the old farmstead. And Tyson virtually reeled with the giddiness of escape, the joy of fulfillment, and the grief that came with getting busted back to Houston.
More ARTery Top Choices