From Museums To The Streets—Boston's Best Visual Art Of 2014
While much remained steady in the Boston art world over the past year—local museums once again displayed their excellence with showcases of old (Goya, Turner) and modern masters (Calder, Ramberg); the FBI once again claimed it was hot on the trail of the 1990 Gardner Museum art heist—it felt like a year of transitions.
The Harvard Art Museums in Cambridge and the Clark Art Institute in Williamstown reopened after major renovations. Museum of Fine Arts Director Malcolm Rogers announced in February that he would be leaving the Boston landmark after leading it since 1994. Helen Molesworth, chief curator at Boston's Institute of Contemporary Art, departed. Katherine French is retiring from the Danforth Art Museum in Framingham. And Julie Burros arrived from Chicago to become the city of Boston's new chief of arts and culture in December riding a wave of excitement in the city's cultural community about possibilities for art to be a driving force in making a more meaningful and wondrous town.
Below, as I run down the best art I saw around these parts this year, one of the things that stands out is that, among Boston artists, energy reached outside galleries to public projects—projects that challenged racism in America, poked fun at gentrification in Boston, and transformed the city, if only for a night, into an adult playground.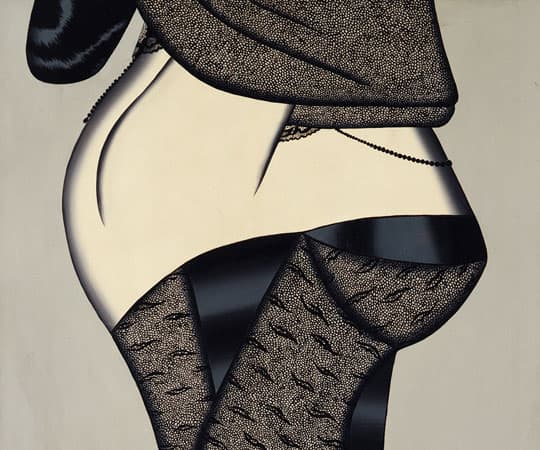 Christina Ramberg at Boston's Institute of Contemporary Art
A concise show of the great Chicago fetish-finish painter of midnight desire who died in 1995 at just age 49. She didn't want to be known as a feminist—or at least just a feminist—but her paintings remain charged with a woman reconsidering women's bodies that are at times objects of desire, at times awkward or broken, at times mutant or vulnerable.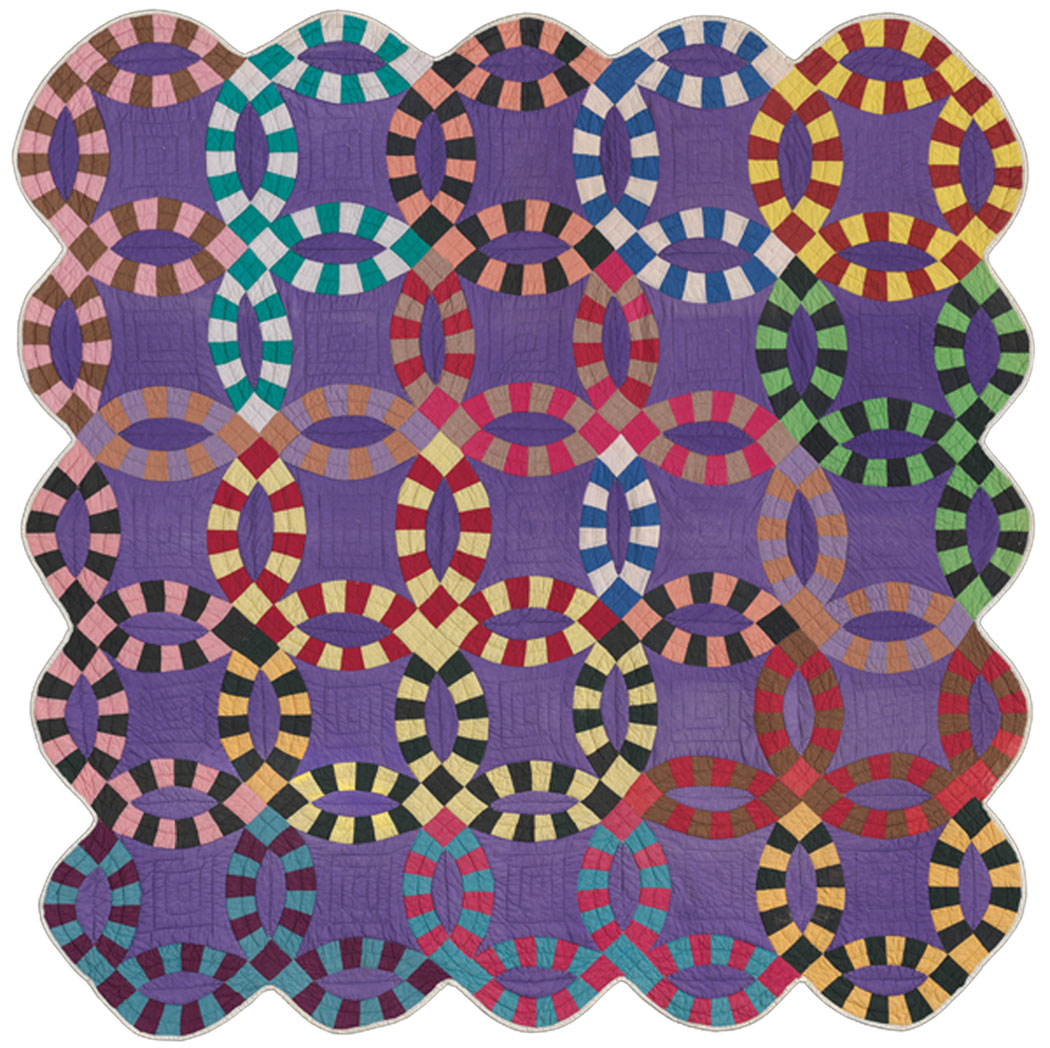 "Quilts and Color" at Boston's Museum of Fine Arts
There's an old cliché that begins, "These aren't your grandmother's…" that's usually used to pat ourselves on the back for being so much more dazzlingly hip than our ancestors. But the jitterbugging fabric patterns and visual pyrotechnics in these 19th and early 20th century quilts on view at the MFA last spring showed that these grandparents and great-grandparents had it going on.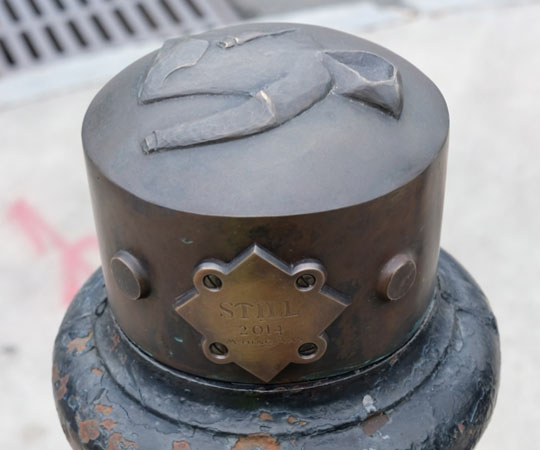 Matthew Hincman's "Still, 2014" in Jamaica Plain's Monument Square
At the start of June, the Boston artist surreptitiously installed a hockey-puck-sized metal relief of a hoodie atop an old, broken lamppost at the corner of Eliot and Centre streets in Boston. It was a small and quiet, but formidable street art monument to Trayvon Martin, the unarmed African-American teenager who was gunned down in 2012 while walking though a Florida neighborhood. It would have been easy for it to go overlooked, but it captured the imagination of people across Europe and North America trying to make sense of race in the United States today.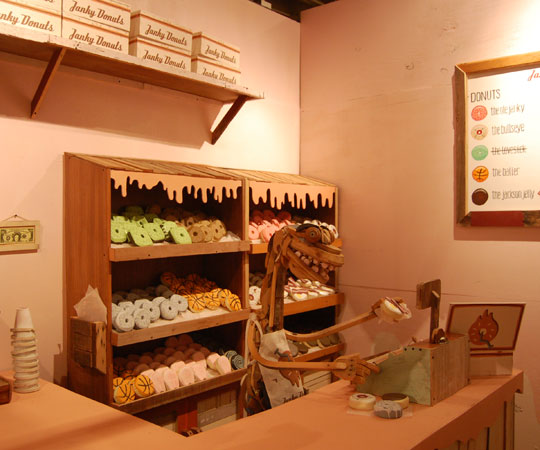 !nd!v!duals' "Janky Donuts" at Boston's Lot F Gallery
If you climbed the stairs to Boston's Lot F Gallery last August, you found it transformed by the local art collective into a walk-in cartoon of a doughnut shop, staffed by lizard-people, that served as a front for an illicit gun shop in the back room. The whole space—a dream in ramshackle wood—was open for exploring. You could even fire target practice on the air-rifle range in the back.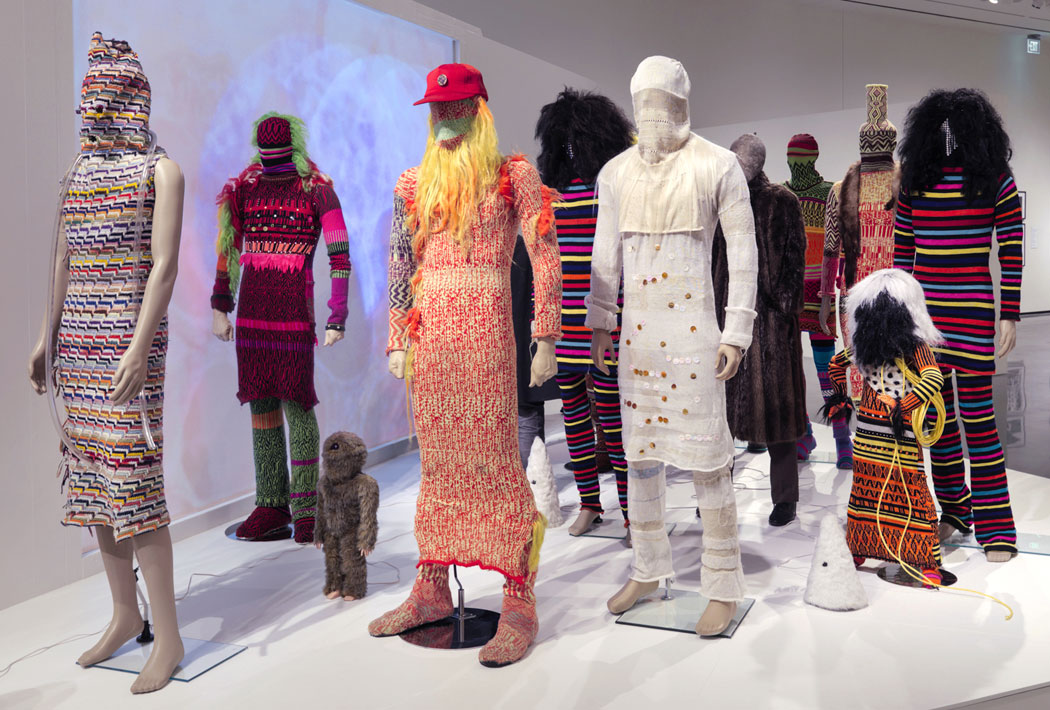 "What Nerve! Alternative Figures in American Art, 1960 to the Present" at Providence's Rhode Island School of Design Museum
A close-up look at cool, oddball art gangs from Providence, Chicago, San Francisco and Detroit over the past half century. This sharp survey offered electrifying glimpses of an art history of America that is often overlooked because of the New York and Los Angeles markets' and academies' control of the story. The exhibit continues through Jan. 4.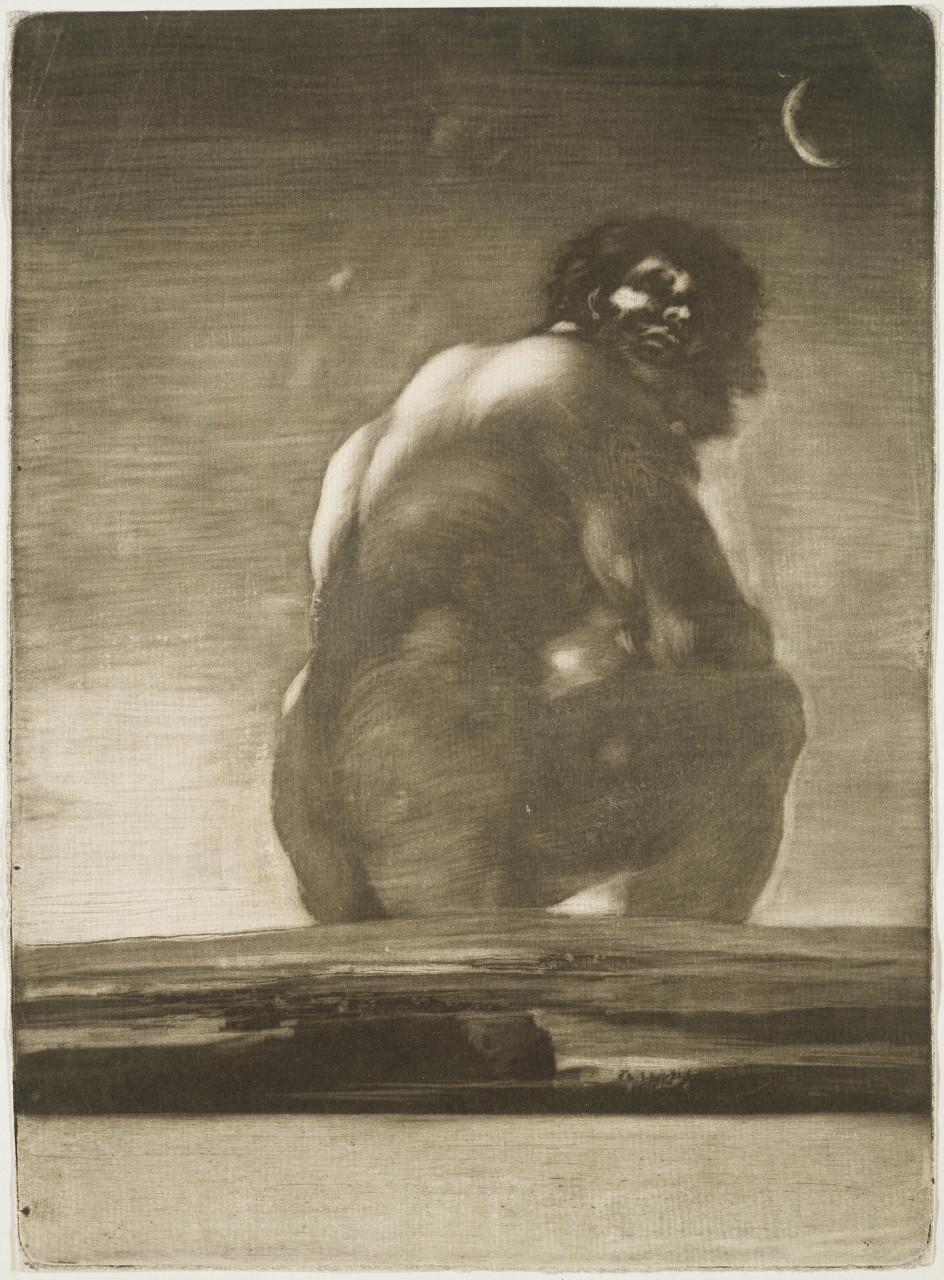 "Goya" at Boston's Museum of Fine Arts
A court painter clinging to the center(s) of power during a tumultuous era of revolution in 18th century Spain and France. Upfront in the exhibition, which continues through Jan. 19, are portraits of stuffed shirts who lead Spanish society. Then, as if bubbling up from the culture's unconscious, Goya reveals nightmares of war, massacres, torture, madness, sickness, witches and ghosts.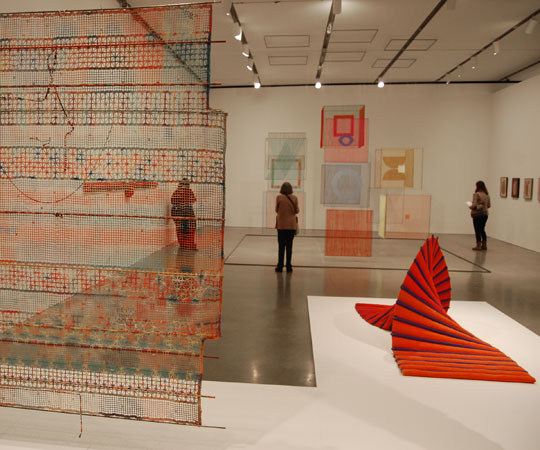 "Fiber: Sculpture 1960-present" at Boston's Institute of Contemporary Art
A major reconsideration of the history of Western fine artists working in fiber, primarily in the 1960s and '70s, who moved away from traditional craft and fashion and took on monumental sizes as they endeavored to make woven, braided and knotted constructions that would give the established fine art canon (paintings, sculpture) a run for its money. The show continues through Jan. 4.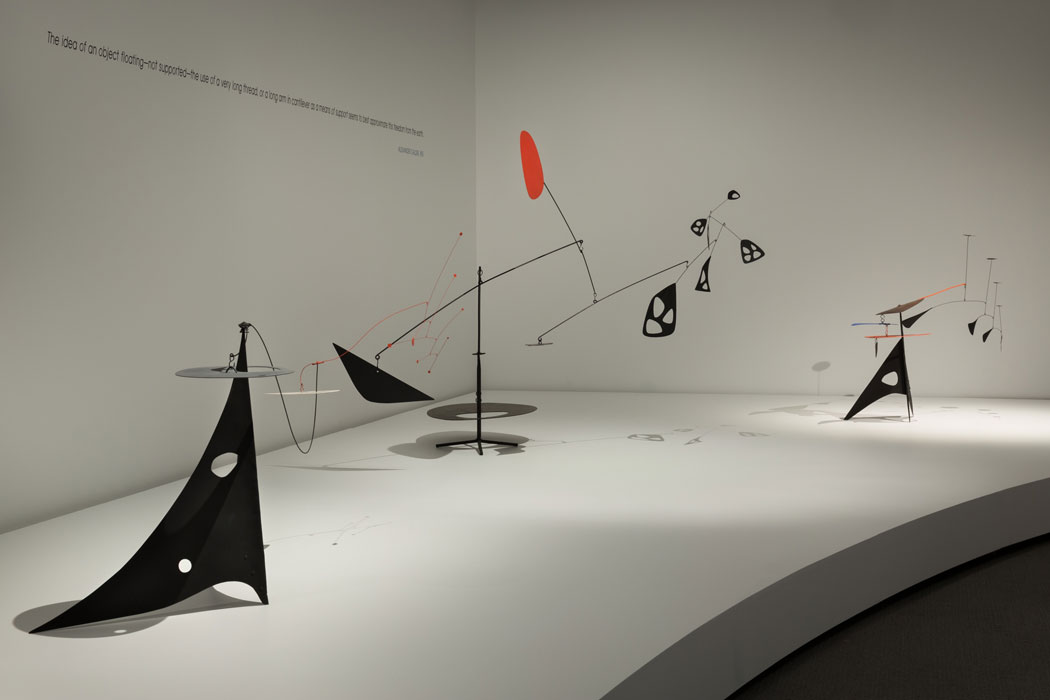 "Calder and Abstraction" at Peabody Essex. Museum, Salem
A strikingly fresh survey of Alexander Calder—claimed as the inventor of the mobile—at his mid-career peak. The sculptures are modern and industrial, but hand-cut and bolted; dashingly abstract, but resonant with memories of leaves on water or snow in the air; rigorous, yet irresistibly charming. The show, which continues through Jan. 4, was one of many great exhibitions at the Salem museum, including a survey of Joseph Mallord William Turner's maritime paintings and "California Design: 1930-1965."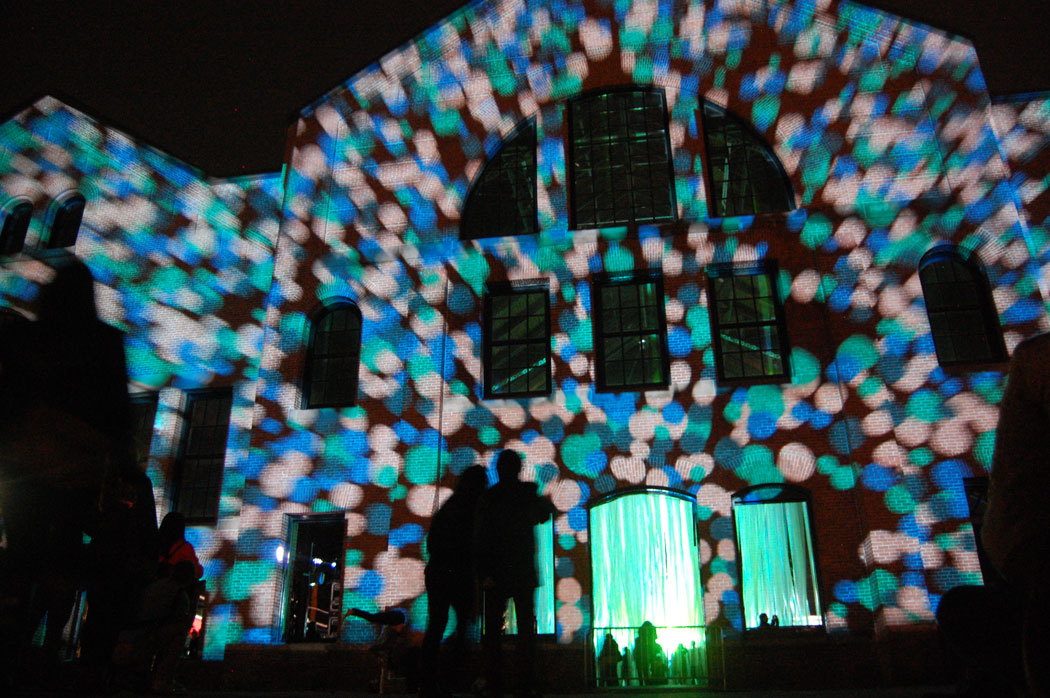 "Illuminus" festival in Boston
This one-night spectacle of giant, animated imagery projected on and inside South End buildings was a hit attracting thousands. It was part of a year of striking public art around Greater Boston—including the new Edgar Allan Poe monument in downtown Boston, light-up swings at the Boston Convention and Exhibition Center, Chris Burden's colonnades of antique street lamps outside Brandeis University's Rose Art Museum in Waltham, and the proposal for a monument to the late disco queen and Boston-native Donna Summer. In these range of public projects—and the promise symbolized by the arrival of Boston Chief of Arts and Culture Julie Burros in December—it felt like something new is about to break out in Boston.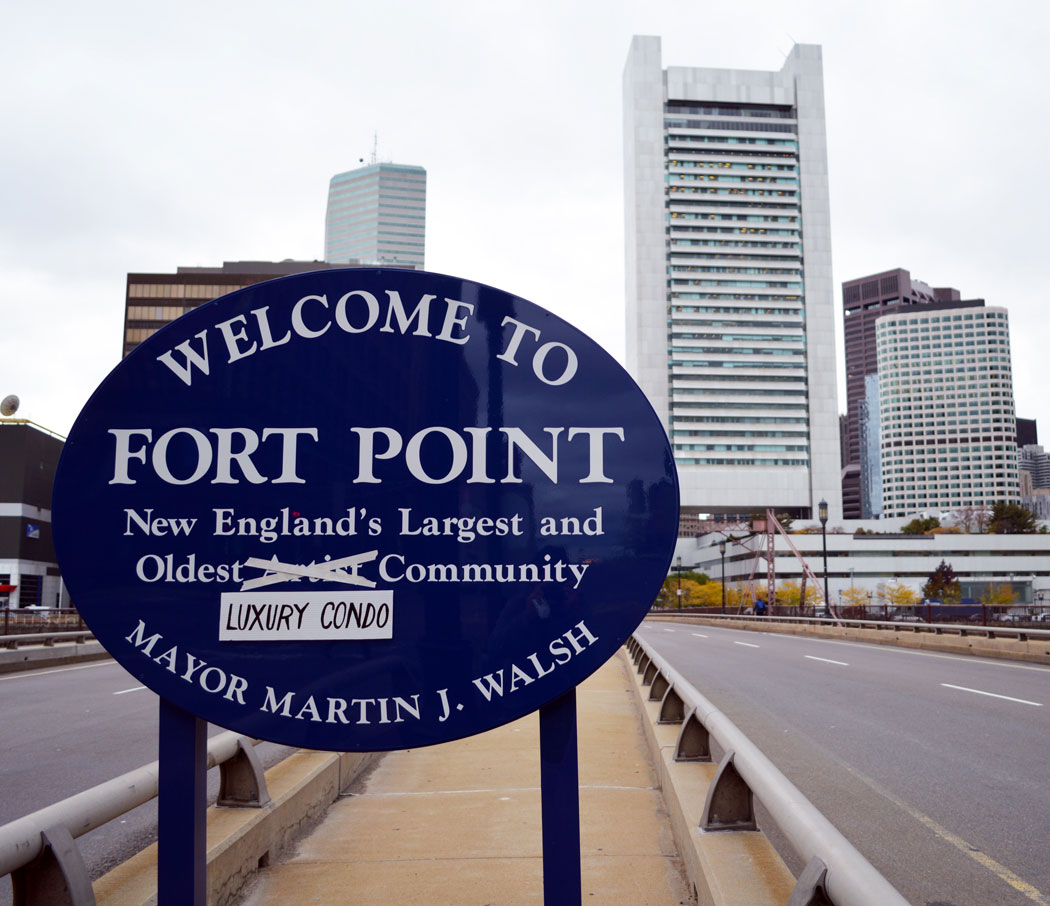 Pat Falco's "Untitled November" via a residency at the Boston Center for the Arts
Each day in November, the Boston artist debuted a new public artwork—signs with laconic, but thorny pokes at civilization today. His subjects include gentrification of Boston (on the city's sign reading "Welcome to Fort Point: New England's Largest and Oldest Artist Community," he crossed out "Artist" and inserted the words "Luxury Condo" instead), questioning police (on a fence across from a police building he posted a sign "To 'Serve' & 'Protect'"), and doubts about love (a sign attached to a garbage can read "A Mailbox for Your Love Letters"). Falco's "temporary contemporary art museum," a U-Haul displaying art by local folks, is scheduled to drive in Boston's First Night Parade on Wednesday evening and then be parked at Copley Square for viewing the rest of the night.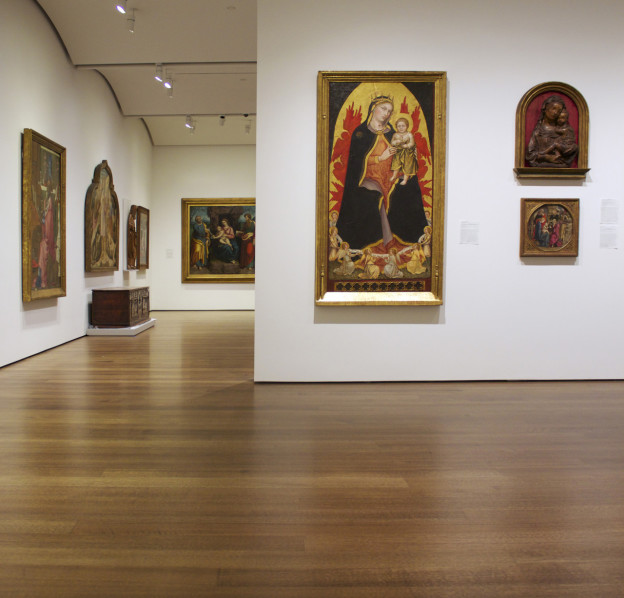 Renovated Harvard Art Museums reopen
One of the great art collections in America had fallen off the radar for many in our transitory local art community after being partly or totally closed since 2008. When it reopened in November, the airy Renzo Piano-designed renovation and expansion was rightly at the center of much of the conversation. But the best part was finally having this great art legacy—spanning from ancient cultures to vanguard art today—available once more to the community.
Greg Cook is co-founder of WBUR's ARTery. Be his friend on Twitter @AestheticResear and on the Facebook.
More ARTery Top Choices