The High Notes Of Classical Music In 2014
There were many excellent concerts, productions and recordings in 2014, but this list includes only the ones that have especially stayed with me, and consists mostly of performances I didn't get a chance to review at the time.
The major classical music news item this year is, of course, the arrival of Andris Nelsons as the new music director of the Boston Symphony Orchestra, ending a period of rudderlessness after the resignation of James Levine. But the BSO concert that gave me the most pleasure this past year was not conducted by Nelsons, but by the celebrated French conductor François-Xavier Roth, making his American debut last April, filling in at the last minute for the indisposed Danielle Gatti. The pinwheel of a program included Bach's First Brandenburg Concerto, Stravinsky's "Symphony of Psalms" (along with Bartók's Concerto for Orchestra, one of the two most famous pieces commissioned by the BSO), plus Beethoven's rarely heard choral elegy, "Elegischer Gesang" and his insouciant Fourth Symphony.
It helped that Roth's seating plan, like Levine's, separated the first and second violin sections antiphonally, so that we could clearly hear the numerous "conversations" between them. The sharply honed Stravinsky held its own against some of the best BSO performances of the past and far surpassed Nelsons' soft-focused and unidiomatic version at Tanglewood. But the whole program had a rare freshness, stylishness and sense of musical engagement. Everything came alive. Everything sparkled. I can't wait to hear him again.
And if any orchestral performance was even better, it was Riccardo Chailly leading the Leipzig Gewandhaus Orchestra (for the Celebrity Series of Boston) in an evening of music by Leipzig's most famous composer and conductor, Felix Mendelssohn, plus the Beethoven Violin Concerto—closing with two scintillating encores from Mendelssohn's music for "A Midsummer Night's Dream." Chailly is a profound artist, and he knows how to invest every phrase with meaning. He too employed antiphonal first and second violins, and he conducts orchestras as if they were chamber ensembles. We could hear everything, and the playing was uncannily articulate and ravishing. How often do we find Mendelssohn electrifying?
I regret not reviewing in detail two memorable concerts at the Isabella Stewart Gardner Museum. In January, pianist Jeremy Denk played a program of pieces he loved (he said so), which included probing versions of two Mozart sonatas, three glittering and hair-raising Ligeti etudes, and an edge-of-the-seat performance of Schumann's greatest piano piece, "Davidsbündlertänze," with its heart-stopping shifts between the Apollonian and Dionysiac sides of Schumann's own character.
Then in October, the Gardner's guest artists were British baritone Mark Padmore, fresh from his triumph at the Armory in New York as the Evangelist in Bach's "St. Matthew Passion," with the Berlin Philharmonic led by Sir Simon Rattle and inspired staging by Peter Sellars. Pianist Jonathan Biss was more partner than mere accompanist.
They gave us thoroughly felt, deeply poignant readings of two Schumann cycles, including the familiar "Liederkreis," and the later, less familiar "Sechs Gedichte und Requiem," and Sir Michael Tippett's "Boyhood's End," a setting of W.H. Hudson's memories of his own childhood (it's a kind of British counterpart of Samuel Barber's "Knoxville: Summer of 1915.)" They ended with an unforgettable and insinuating performance of Fauré's magically nuanced, seductive setting of Verlaine poems, "Le Bonne Chanson," with Schubert's famous "Serenade" as the perfect encore. Such song recitals are rare these days, and this level of insight and intimacy even rarer.
My ARTery colleague Ed Siegel chose as one of his recommended holiday gift items Sony's boxed set of Pierre Boulez's Complete Columbia Album Collection. I'd like to second the motion. This set is a treasure, and two of the 67 discs include material never before issued on CD. One was Boulez's only Beethoven recording, the moving cantata, "Calm Seas and Prosperous Voyage," and an astonishing performance of the Fifth Symphony, a controversial object lesson in the total re-thinking of the most familiar music. You've never heard any version of the opening four notes with quite such weight and power and deliberation. You might hate it. I love it.
In 1976, Elliott Carter, after 25 years, returned to composing vocal music, in this case "A Mirror on Which to Dwell," a setting of six poems by one of his favorite living American poets, Elizabeth Bishop. The recording appeared on LP shortly after the world premiere, and it's a marvelously effective performance by Speculum Musicae and an extraordinary singer now better known as a conductor, Boston's Susan Davenny Wyner, who not only understands all the words but also sings them magnificently.
Opera Boston broke its many admirers' hearts when it ran out of money and closed shop. But music director Gil Rose bounced back with a new company, Odyssey Opera, and this year's concerts and productions consolidated the impression it made in the fall of 2013 with its stirring concert version of Wagner's early epic, "Rienzi."
In June, Odyssey returned with a thoroughly satisfying fully staged production of Verdi's neglected early comedy, "Un Giorno di Regno," and two even greater rarities, a double bill of a lusciously sentimental Mascagni romance, "Zanetto," and Wolf-Ferrari's charmingly timely double-entendre comedy about the evils of smoking, "Il Segreto di Susanna." This fall, Odyssey returned to the concert format with a stunning performance of Korngold's gorgeous fin-de-siecle masterpiece, "Die Tote Stadt," with two young stars of the Metropolitan Opera; then gave us a double bill of fully-staged Dominick Argento one-act chamber monodramas, "Miss Havisham's Wedding Night" and "A Water Bird Talk," with soprano Heather Buck rising to the vocal stratosphere of hysteria as Dickens's benighted spinster (unfortunately there were no supertitles and the high tessitura obliterated most of her words) and baritone Aaron Engebreth's infinitely touching lecture on birds he identifies with only too well in the painful frustration of his marriage (the composer's own libretto is the unlikely dovetailing of Chekhov and Audubon).
Then only a couple of weeks later, Rose was back with his Boston Modern Orchestra Project in an utterly delightful, imaginatively-costumed concert version of Tobias Picker's "The Fantastic Mr. Fox," perhaps a little too grown-up for some of the many youngsters in the audience, but delicious for the grown-ups themselves, full of wittily suggestive verbal and musical jokes.
The terrific cast included John Brancy and Krista River as Mr. and Mrs. Fox; Elizabeth Futral as the erotically quivering Miss Hedgehog and Theo Lebow as her inamorato Mr. Porcupine; phenomenal Russian countertenor Andrey Nemzer as the hilariously unstoppable Agnes the Digger; and Andrew Craig Brown, Edwin Vega and Gabriel Preisser as the villainous farmers Boggis, Bunce and Bean. But maybe best of all were the Boston Children's Chorus as the Chorus of Trees, who had the most haunting music in the opera. Rose and the BMOP Orchestra were at the top of their form.
And you didn't have to go to New York to see, on a Met "Live in HD" telecast in local movie theaters, the wonderful old production of Wagner's great epic comedy "Die Meistersinger," conducted with unflagging energy, ebullience and moving interiority by James Levine.
For once, the TV camera caught exactly what you wanted to look at, and what a treat not to have to be distracted by unnecessary staging during the noble overture. The telecast included an impressive group of character-singers, especially German baritone Johannes Martin Kränzle in his Met debut as the inept villain Beckmesser, and although the production didn't offer the most convincing or beautifully sung young lovers, German baritone Michael Volle delivered one of the truly great and heartbreaking performances of our generation as the wise shoemaker-poet Hans Sachs. Alas, Günther Schneider-Siemssen's richly-detailed set, which includes the cobble-stones and half-timbered houses of a 16th-century Nuremberg street, is being retired after this season's run, so this video, which will undoubtedly turn up on PBS, is also an important time capsule.
One of the surprise hits of the year was Bridge Records' terrific CD "All the Things You Are," with veteran pianist Leon Fleisher playing (at the age of 85) mostly works for the left hand, most of them composed directly for him by such major 20th-century composer friends as the late Leon Kirchner and George Perle. The disc ranges from Bach's profound solo violin Chaconne arranged for piano left hand by no less than Johannes Brahms to such romantic gems as George Gershwin's "The Man I Love" and Jerome Kern's "All the Things You Are." It's a thorough delight. And another delight on Bridge is "Moments of Love," a collection of mostly French songs sung by the sublime soprano Dominique Labelle accompanied by her longstanding recital partner, composer-pianist Yehudi Wyner. The irresistible repertoire includes songs by Ravel, Saint-Saëns, Reynaldo Hahn, a selection of Benjamin Britten's marvelous cabaret songs and Wyner himself.
And finally, what better way to end the year than with a new recording by the late Lorraine Hunt Lieberson singing a Bach cantata, "Vergnügte Ruh" ("Delightful Rest"), BWV 170, which she performed with the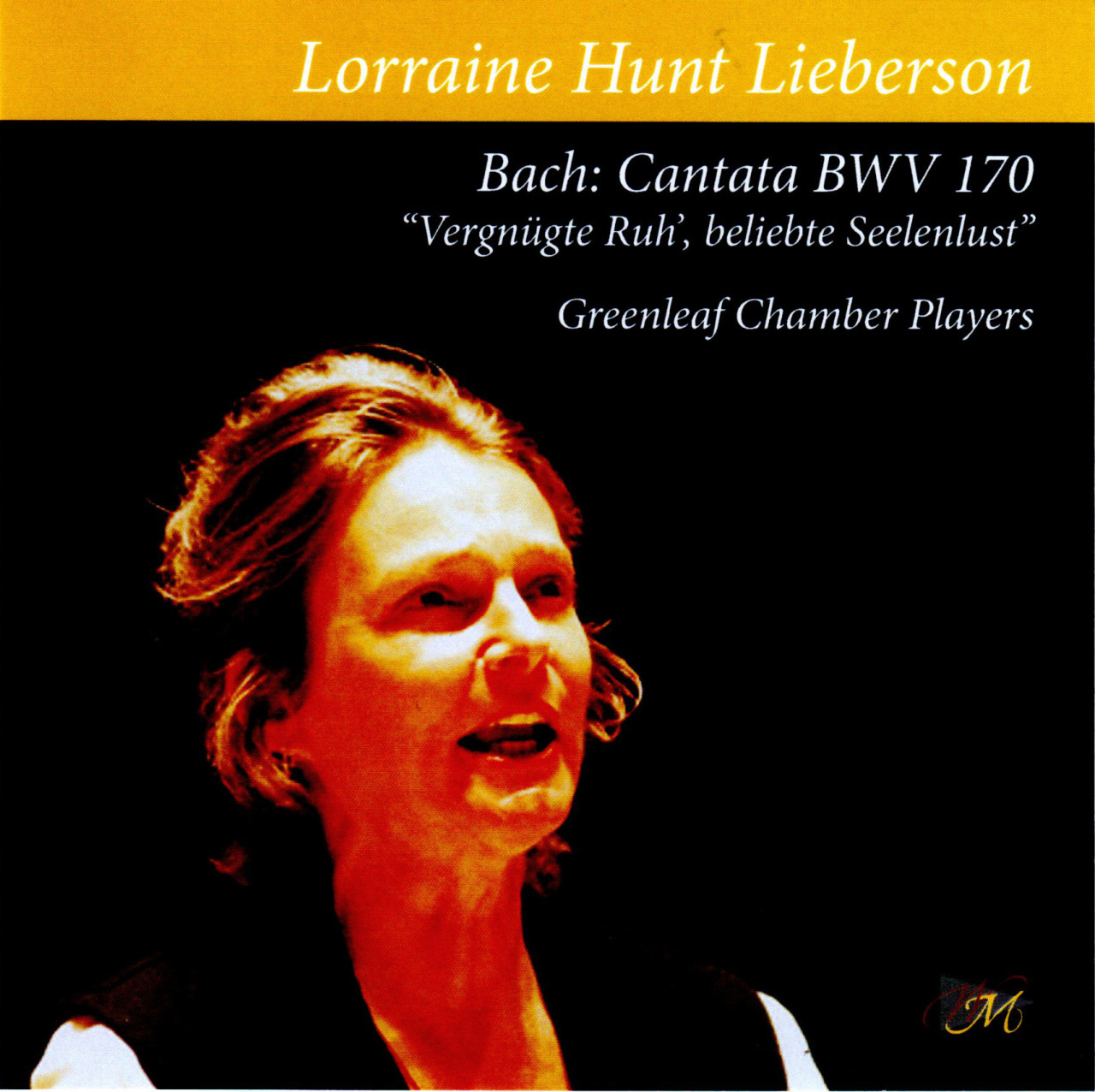 Greenleaf Chamber Players at SUNY Purchase in 1996. Peggy Pearson, stellar oboist and artistic director of Winsor Music, who produced this recording, apologizes that instead of Bach's original organ accompaniment for several of the cantata's movements, the instruments are oboe d'amore and strings. When the oboist is Peggy Pearson, with her long-spun-out lines matching Hunt Lieberson's own soulful and expressive singing, no apology or excuse is necessary. Pearson and Hunt were longtime colleagues in Craig Smith's Emmanuel Music, and they breathe as one. This cantata, with its dark/joyous wish for Death to relieve the singer of earthly sins, is a stunning addition to Hunt Lieberson's recorded repertoire. It's a gift to have it. All the proceeds from sales will go to Winsor Music's educational programs for gifted young musicians, often from the inner city.
More:
More ARTery Top Choices: