CDs In 2014: The Past, Present And Future (?) Of Classical Music
Considering the death of the classical CD, the past, present and future seemed to be healthfully represented on disc in 2014, particularly at Deutsche Grammophon, the long-time classical class act.
The label put out two mega-sets that beautifully captured past grandeur; a set of concertos by Unsuk Chin, one of the best contemporary composers; and pointed to the future with a group of composers who seem headed in their own direction — Max Richter, Richard Reed Parry, Bryce Dessner and Jonny Greenwood.
Past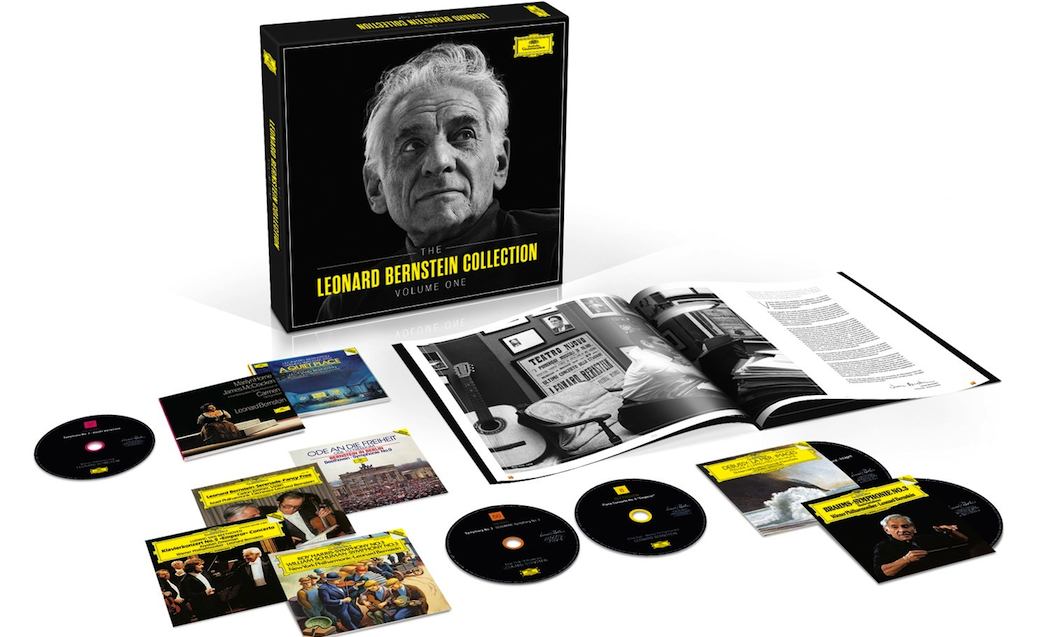 "The Leonard Bernstein Collection, Volume One." DG certainly captured the brilliance of Bernstein's post-New York Philharmonic career with the first installment (Beethoven-Liszt) of his complete recordings on the yellow label. Oddly, the alphabetical breakdown works perfectly, letting you immerse yourself in his scintillating late Beethoven recordings, leading in turn to a near-complete traversal of his own underrated compositions.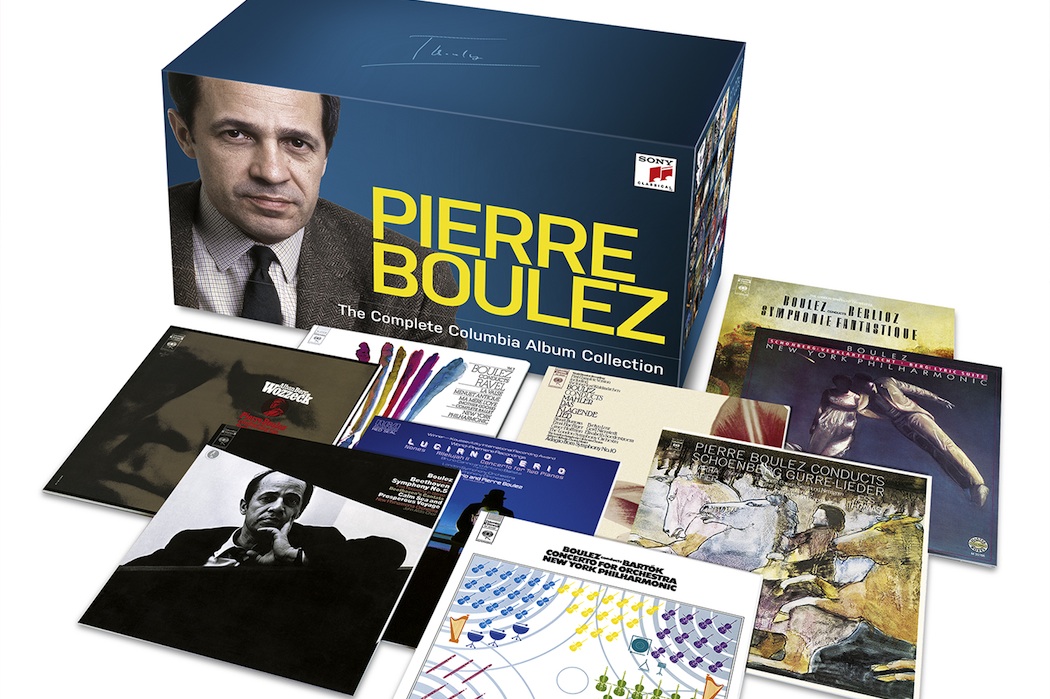 "Pierre Boulez: The Complete Columbia Album Collection." Pierre Boulez was Bernstein's antithesis, and even his nemesis as they grew increasingly snarky toward each other. Like Bernstein, Boulez migrated from Columbia to DG where he became more eminence grise than enfant terrible. But listening to all his bracing modern masterpieces makes you realize he wasn't all that terrible in his Columbia years. You need both conductors to understand music in the 20th Century, but for Bartok, Stravinsky, Debussy, Ravel and the Second Viennese School of Schoenberg, Berg and Webern, you can't do better than Boulez and this package may be the best introduction to musical modernism there is.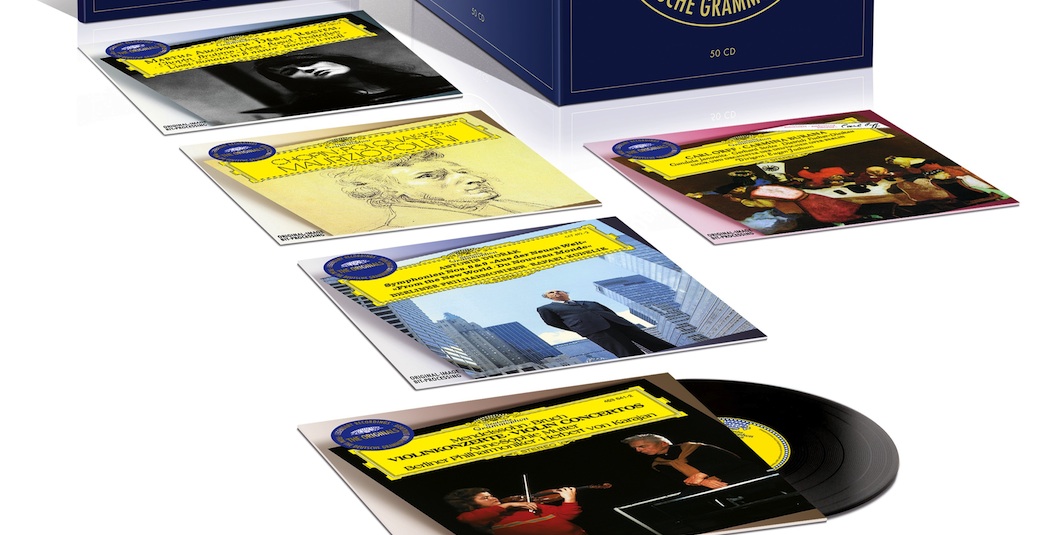 "The Originals: Legendary Recordings from the Deutsche Grammophon Catgalogue." Bernstein and Boulez may represent the eccentric extremes (and I mean that in a good way) of conducting and composing, but there is brilliance aplenty closer to the accepted norms from the likes of Herbert von Karajan and Carlos Kleiber in this collection, mostly from the standard repertory. Add in great performances from Martha Argerich, Anne-Sophie Mutter and Wilhelm Kempff and you can't go wrong with this set. Like the above two sets the original covers are a big plus. And the lack of librettos and liner notes are a minus. (The Boulez set has the liner notes in miniature type, but no librettos.) Mutter and Argerich are, of course, very much with us. Argerich had two memorable collaborations on DG, with Daniel Barenboim (two pianos) as well as with the late Claudio Abbado.
---
Another great conductor, Esa-Pekka Salonen, made what's left of our hair stand on end after his collaboration with the late Patrice Chéreau and Evelyn Herlitzius as "Elektra" on a BelAir DVD and with Michelle DeYoung and John Tomlinson in Bartók's "Duke Bluebeard's Castle," a Signum Classics CD.
One other great guide to music of both the 20th and 21st Century is violinist Gidon Kremer, particularly when it comes to Russian, East European and Baltic composers who had been held back by Soviet censorship. This year Kremer and his Kremerata Baltica released a two-
CD set of music by Mieczysław Weinberg, a Polish-born contemporary and friend of Shostakovich, who passed away in 1996. Wolfgang Sandner in his liner notes calls these pieces "astonishing gesture(s) of life-affirmation, though without suppressing the horror [of life under the Nazis and Soviets]."
Present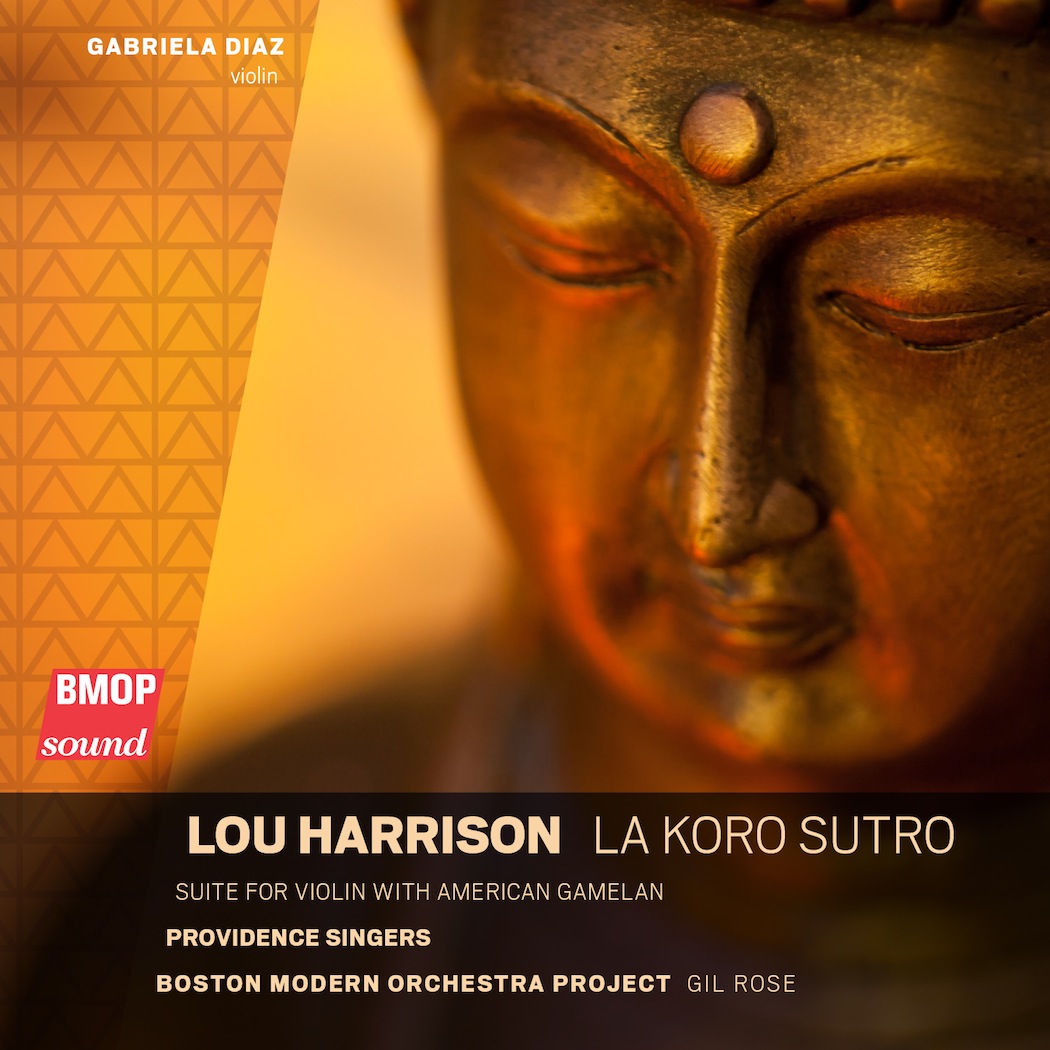 Meanwhile, there's no shortage of champions for contemporary music and we have a great one in our midst, the Boston Modern Orchestra Project led by Gil Rose. If Bernstein and Boulez are great ways to immerse oneself in 20th Century music then the BMOP's recordings are a lesson in music of the 21st. They had a stunning CD this year, with the late Lou Harrison's "La Koro Sutro," paired with his "Suite for Violin (Gabriela Diaz) with American Gamelan." Like most of the survivors of the 20th century survivors of the tonal vs. atonal culture wars, Harrison, who died in 2003, looked to other non-European sources, in his case Asian music. His incorporation of gamelan music is particularly beautiful.
Rose's counterpart at the Boston Symphony Orchestra, Andris Nelsons, has, of course, a more conservational if not conservative mission — to maintain the BSO's legacy while leading them into the 21st Century. The signs from his early concerts were favorable, including a powerful Sibelius Second, which the BSO made its first disc under Nelsons.
Violinists have been at the forefront in the past 10 years or so of championing new music — in the past couple of years there've been excellent sets by Mutter and Hilary Hahn. No one is more important to the cause than Kremer. Georgian Lisa Batiashvili has followed in his footsteps. Batiashvili, who'll be performing in an upcoming Celebrity Series concert, has a thoughtful CD of Bach on DG, but, more interestingly, joined forces with Adrian Brendel and Till Fellner on ECM to explore the "Chamber Music" of Harrison Birtwistle, a British composer whose works suggest the primitive mystery of Stonehenge — he lives in Wiltshire — and the bracing modernism of Boulez.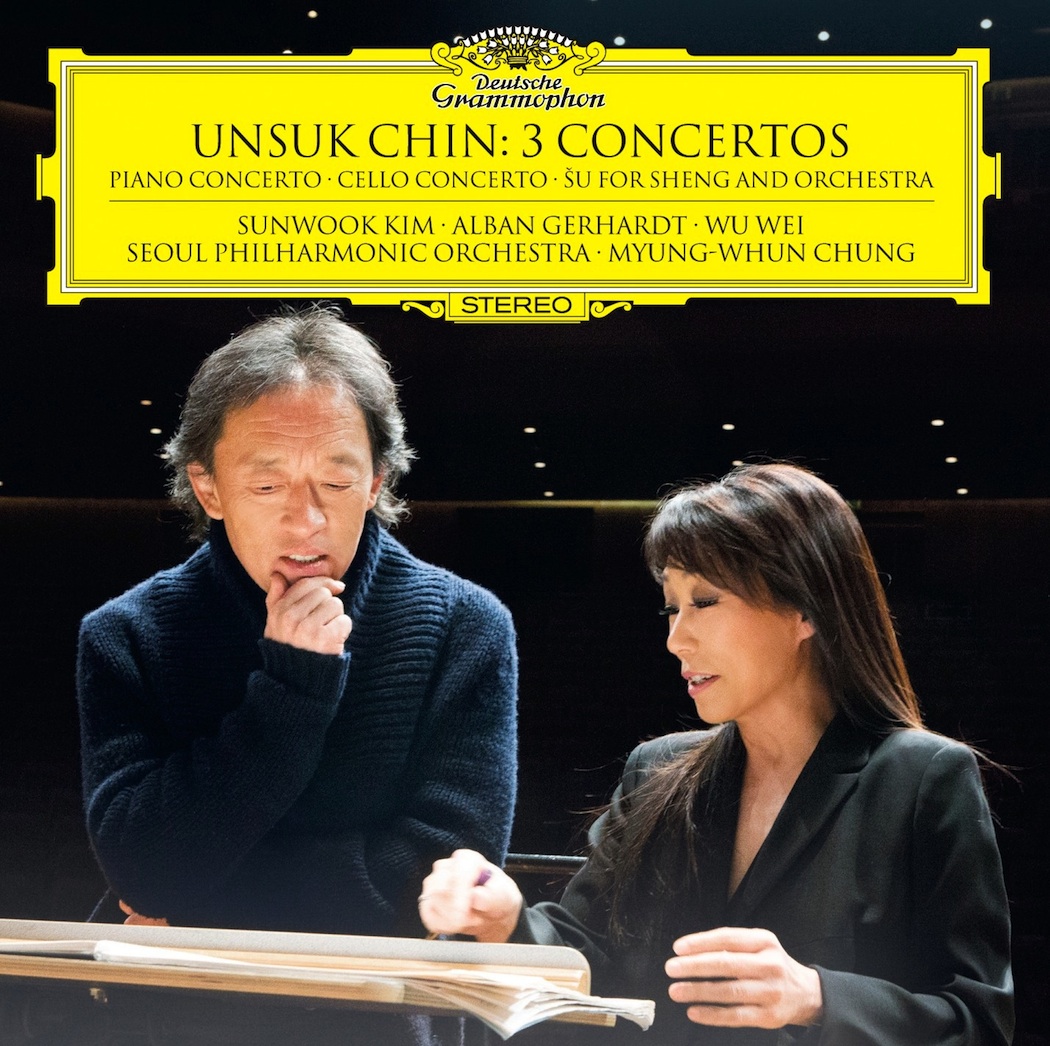 One of the composers DG is still championing from its 20/21 series from some years ago is South Korean native Unsuk Chin. For good reason. The three world premiere concertos here have splashes of Bartók updated with bursts of Ligeti. But the uses she gets out of piano, cello and sheng in contrast to the orchestra — the Seoul Philharmonic under Myung-Whun Chung — are all Chin. Kudos to the three accomplished soloists — Sunwook Kim (piano), Alban Gerhardt (cello) and Wu Wei (sheng). And I love the retro full DG banner on the cover.
Future
There's nothing retro about the new composers DG has been featuring of late. Max Richter, Richard Reed Parry, Bryce Dessner and Jonny Greenwood all have both classical and rock bona fides so to even call them classical stretches the boundaries of the form. Boulez dismissed the music of John Adams as movie music and no doubt would do the same with Richter, who indeed wrote the striking soundtrack for HBO's "The Leftovers."
But listening to these guys does make you think they could at least be another stream of classical music, like the minimalists before them. Richter, in fact, called his early music post-classical, and the Boston Modern Orchestra Project says that its label "explores the evolution of the music formerly known as classical."
Richter's music evokes Brian Eno's ambient '70s and '80s music as much as any classical form and the four-CD "Retrospective" put out by DG puts his music of the 21st century's first decade in ear-catching relief. Paul Morley cites "the mystical links he recognizes between Purcell and Aphex Twin, Bartók and Björk, Satie and Sigur Rós … between the string quartet and Kraftwerk." And then there are Richter's melodies, sometimes sentimental, but more often sublime.
Richard Reed Parry is a multi-instrumentalist best known for his work with Arcade Fire, but "Music for Heart and Breath" has him working with the Kronos Quartet and Nico Muhly, another composer who straddles the line between rock and classical. As, of course, do the Kronos-ians. On this CD, the heart and breathing rates of the players determine the tempos, resulting in what Parry calls a musical "pointillism." You can't get much more Zen than the music composed here; it seems as far removed from the anthemic Arcade Fire as you can get. Except for the hypnotic effect it can have on the listener.
Bryce Dessner is also on the Parry CD as well as on another DG release pairing "St. Carolyn by the Sea" and two other pieces with Jonny Greenwood's "Suite from 'There Will Be Blood.' " (Muhly and Greenwood also had important releases on Nonesuch this year.) Dessner is a guitarist with The National, but his classical training is extensive.
Greenwood, of course, is best known for his work with Radiohead, but his soundtracks from "There Will Be Blood" to "Inherent Vice" are among the best in the business. That said, this CD isn't as compelling as those by Richter and Parry. Dessner's music, in particular, seems like a diminishment of classical and rock rather than a form that promises a brave new world of sound.
Still, I hope DG – and others – continue to experiment with the present and future while honoring the past as well as it has this past year.
Rock, Etc.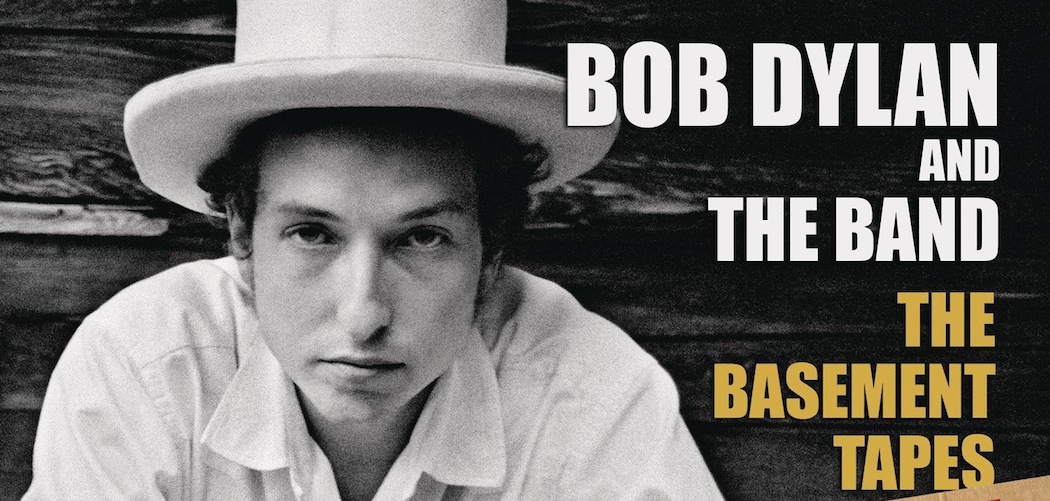 Thanks to Seth Rogovoy for joining me in listening to "The Basement Tapes: Complete" and "The Basement Tapes: Raw"; Renee Graham for turning us on to the latest from D'Angelo; Michael Busack for turning us on to the latest from Ryan Adams;David Byrne for turning us on to St. Vincent; Amelia Mason for turning us on to the most exciting new sounds around and to Leonard Cohen and Abdullah Ibrahim for just continuing to turn us on.
More ARTery Top Choices