Company One Goes To Town In 2014; ArtsEmerson Is A Great Host
Like Carolyn Clay, not to mention Nigel Tufnel, I have to go to 11 with my list for local theater.
And that's not counting the best time I had in the theater all year — "Here Lies Love" at the Public Theater in New York. David Byrne's disco-tinged tale about the rise and fall of Imelda Marcos was also a salute to the People Power movement that drove them out of power. More than that, "Here Lies Love" was  the best piece of immersive theater I've seen since "Sleep No More," as groundbreaking a musical as Talking Heads were a rock group. I'm proud to say I shook Imelda's hand and fist-pumped at a Benigno Aquino rally.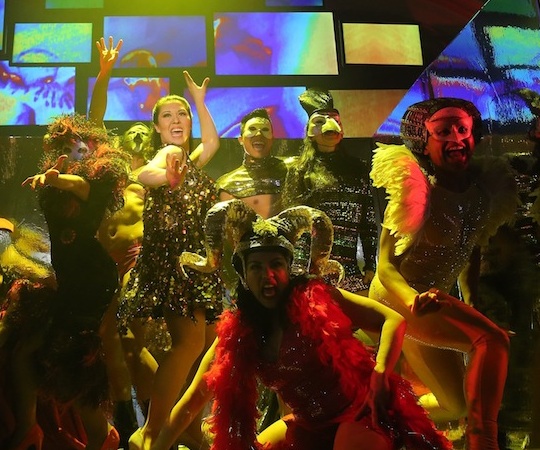 Not that you had to go to New York to see great theater, theater that haunts you for days. Here are the 11(ish) that haunt me still.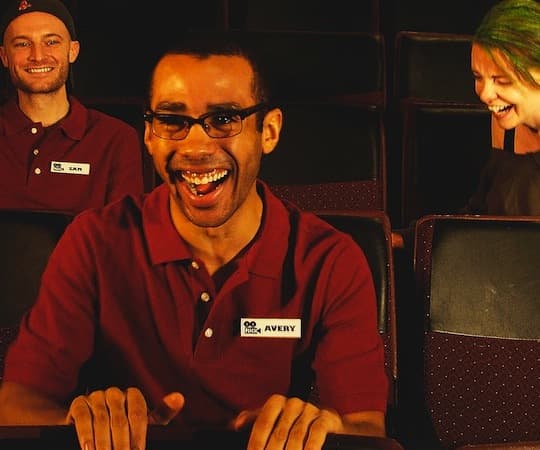 1. The Flick, Company One. Annie Baker is such a wonderful writer and Shawn LaCount, artistic director of Company One, gets her perfectly. Every pregnant pause, every perceived slight, every poignant attempt at reaching for something of sustenance resonated soulfully in this play set in an independent movie theater where Baker's trio prove to be more than lost souls.
2. "We Are Proud to Present a Presentation About the Herero of Namibia, Formerly Known as Southwest Africa, From the German Sudwestafrika, Between the Years 1884-1915." Company One and ArtsEmerson have done so much to expand the boundaries of theater in Boston that it seemed just right when the two combined forces for this play that not only traced a German genocide in Africa, but made it relevant to race relations in America as well. The company usually hangs out at the Boston Center for the Arts, but moved to Washington street for "The Flick" at the Modern Theatre. Company One's Summer L. Williams did a superb job with Jackie Sibblies Drury's imaginative and provocative script next door in the Paramount's Jackie Liebergott Black Box theater.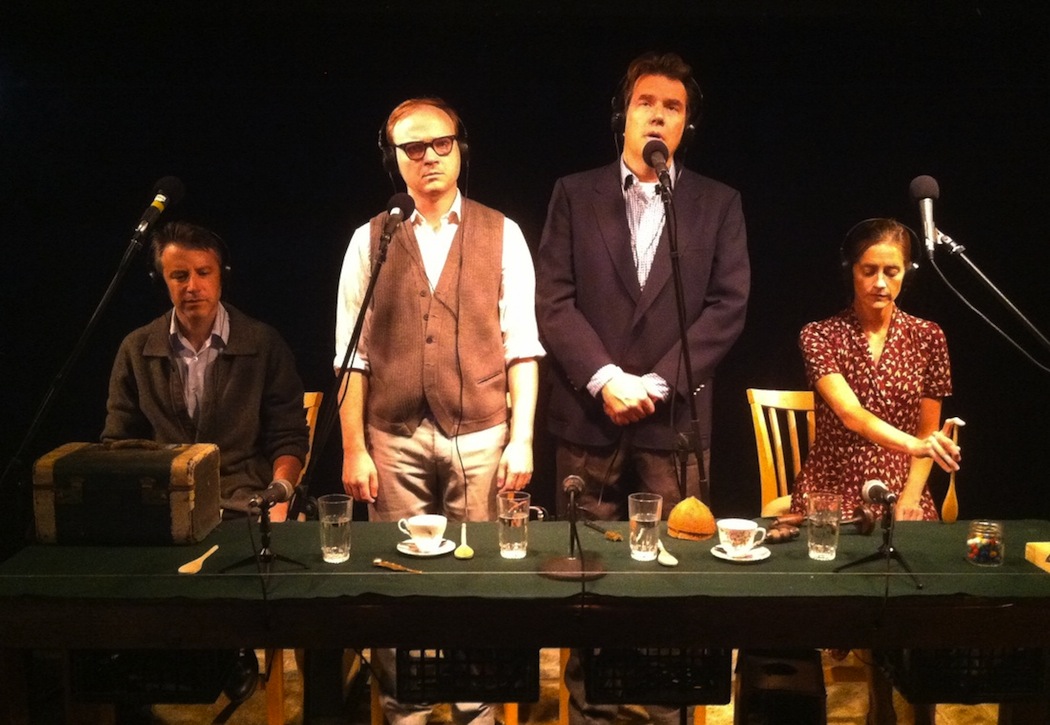 3. "Artist Descending a Staircase," Harbor Stage Company. A lot of theaters have taken to do radio plays, mostly for comic effect. There was plenty of horse-clopping humor in Harbor Stage Company's production of Tom Stoppard's radio play, but there was even more heart, soul and pathos in the troupe's beautifully rendered account of artists looking back at a love affair gone wrong.
4. "Sontag: Reborn"/"Midsummer Night's Dream," ArtsEmerson. As the wand passes from Rob Orchard to David Dower at ArtsEmerson, it's time for the annual salute to what a game-changer ArtsEmerson has been, bringing in great theater from around the world and developing much of its own (See No. 2). Some, like the one-woman show from Moe Angelos and the Builders' Association in New York, recall the kinetic story-telling ways of the old American Repertory Theatre. Others, like the "Midsummer Night's Dream" from England's Bristol Old Vic and the Handspring Puppet Company showed what creative minimalism can do when you have actors as fluent in the Bard as these folks are. Most of the shows on the ArtsEmerson schedule were almost equally creative.
5. "The Tempest," American Repertory Theater. There is still theatrical genius to behold at the new American Repertory Theater under Diane Paulus, as witnessed by Teller's and Aaron Posner's wildly imaginative telling of the Shakespearean tale. All the fun, magical elements didn't sacrifice anything to the text.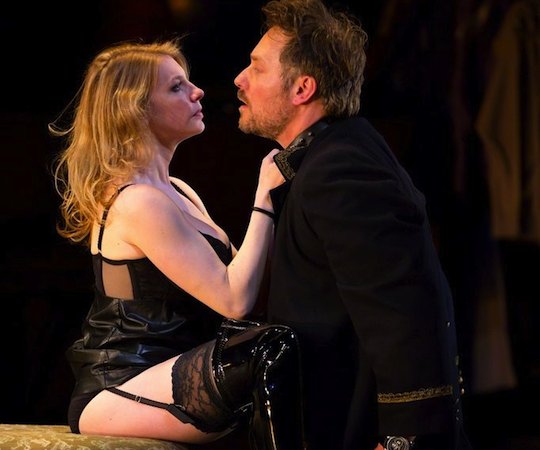 6. "Venus in Fur," Huntington Theatre Company. The Huntington had quite a good year on its mainstage, led by David Ives' erotic, mythic play about an audition that turns the tables on a sexist director who thinks he has the answers for everything. Andrea Syglowski 's voluptuous Vanda has news for you, pal.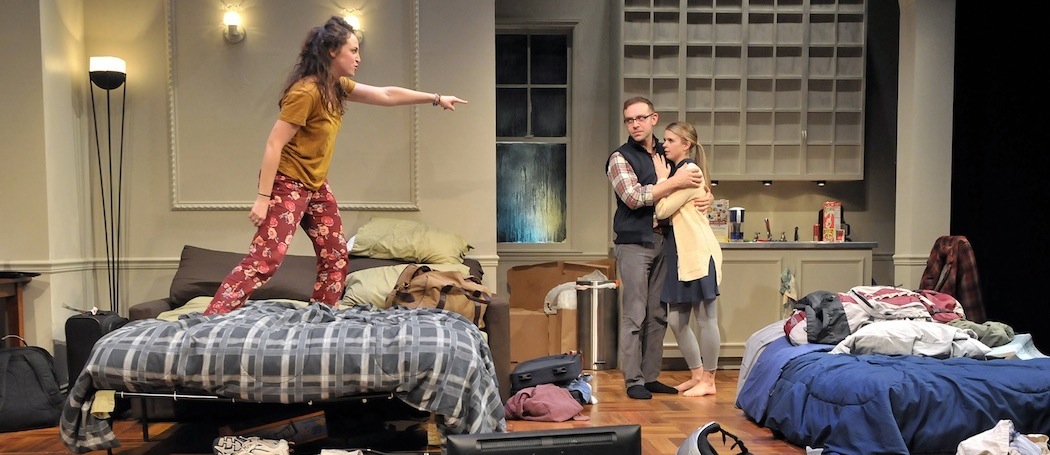 7. "Awake and Sing"/"Bad Jews," Huntington Theatre Company and SpeakEasy Stage Company. A year ago the two theaters combined for "A Raisin in the Sun" and "Clybourne Park," which followed Lorraine Hansberry's story into contemporary times. This year's pairing was accidental, but the debate about Jewish assimilation vs. ethnocentrism in SpeakEasy's "Bad Jews" historically grows out of the yelling matches in the Huntington's "Awake and Sing." That they appeared at the same time and were both excellent productions made the pairing even more provocative.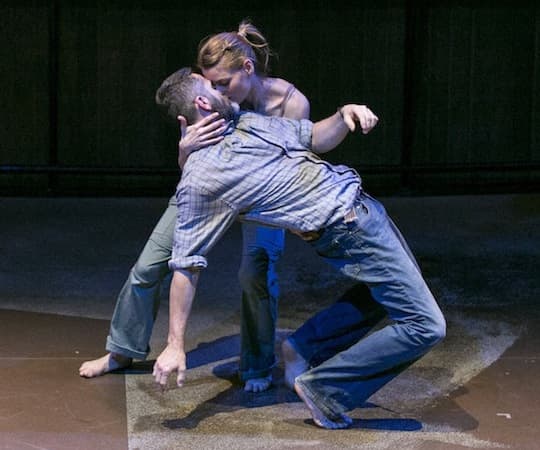 8. "The Shape She Makes"/"pool (no water)," American Repertory Theater at Oberon. If the non-"Tempest" fare at the Loeb Drama Center hit too many commercial and obsessively politically correct notes, there were guts and imaginative story-telling aplenty at the second stage at Oberon — the world premiere of Susan Misner's stunningly choreographed "The Shape She Makes," tracing two generations of mother and child disunions. More recently, the Oberon stage was given over to One Year Lease Theater Company's maximalist use of a minimalist set in Mark Ravenhill's scathing look at young artists' success envy in "pool (no water)."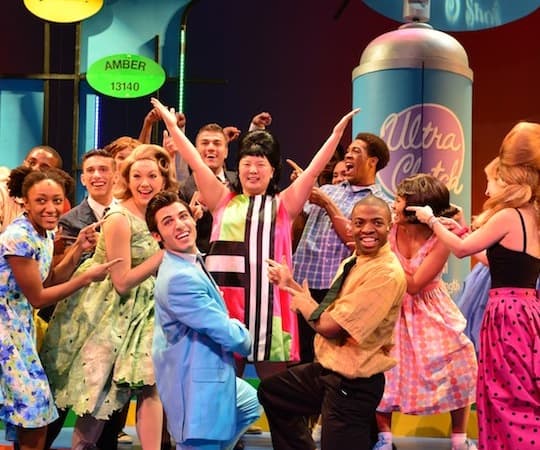 9. "Hairspray," Wheelock Family Theatre. This is the only production on the list that could really be called joyful. Even "The Tempest" has its sadness and ruefulness. But "Hairspray" is not only an ode to the joy of accepting everyone on his or her terms, it highlighted the increasingly impressive job that Boston theaters have done in making diversity more than just a talking point.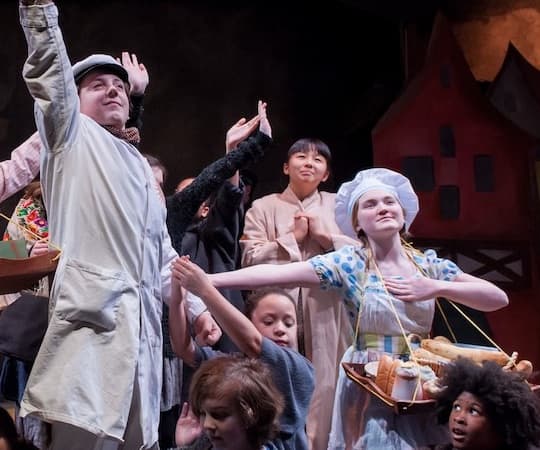 10. "Brundibar," Underground Railway Theatre. Tony Kushner's Holocaust-related musical about how a group of kids learn to stand up to bullies received a bracing production from Scott Edmiston, featuring Jeremiah Kissel and several young local area actors.
11. "The Seagull," Huntington Theatre Company. This was going to mark former artistic director Nicholas Martin's return to the Huntington Theatre Company. When he fell ill Maria Aitken ably stepped in for him and the ensemble responded magnificently to Paul Schmidt's Chekhov translation. Martin passed away two months later, "The Seagull" becoming a valedictory for the great director and all he meant to Boston.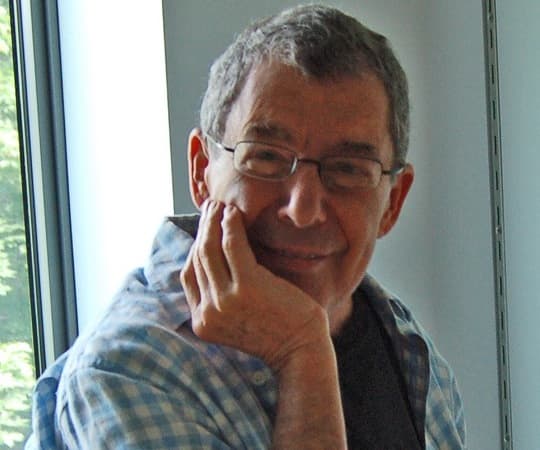 More ARTery Top Choices