On New Album, Oompa Defies The Tragic Story The World Wrote For Her
Remember Queen Latifah as Cleo in the 1996 bank heist film "Set It Off"? Square-shouldered, butch, a smirk perpetually playing at the edge of her mouth. It was Cleo who gifted the film with its title. Dangling the slender revolver proffered to her by an arms dealer like something she had pulled off the bottom of her shoe, she scoffed. "We ain't robbin' stage coaches! I need something I could set it off with."
Cleo died in a blaze of glory, gunned down by a swarm of cops, like Bonnie and Clyde. (And, in her own fashion, like practically every lesbian to grace the screen in the years before or since.) Cleo was the charisma in "Set It Off," the comic relief, though her backstory and motivations were the least visible of the four main characters. Her death was probably the most heroic. But it also seemed written from the beginning.
"I'd never seen a gay, masculine, thick, black woman with … braids on TV before," the Boston rapper Oompa told me on a recent afternoon. We were sitting in the lobby of her building in Cambridge — her apartment was too messy for guests, she said apologetically — chatting about her upcoming album. She calls it "Cleo."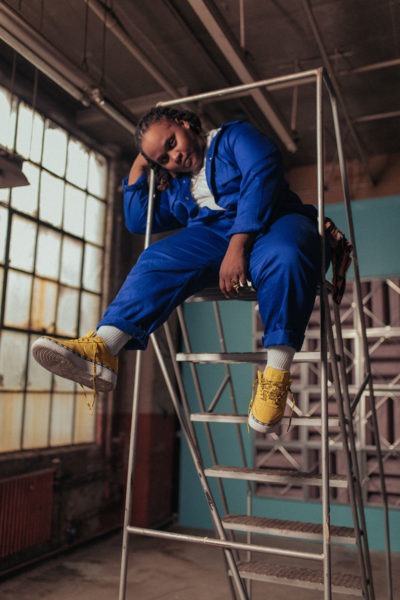 Oompa had always felt a kinship with the character. It seemed to her that Cleo's queerness was her most defining feature, and the source of all her troubles. It marked her from the beginning, doomed her. Growing up, Oompa felt the world saw her the same way. She was tough, boyish, got in scraps. "People didn't care about the context for why I did what I did," she said. "Why I was so angry and why I was so volatile. And I think a lot of people, including myself … didn't expect [me] to make it past 18."
"Cleo," which comes out Aug. 10, is Oompa's second album. It follows 2016's "November 3rd," a precocious debut that earned the rapper a slew of local critical praise. "November 3rd" touched on many of the same themes addressed in "Cleo" — loss, struggle, overcoming. But "Cleo" aims to write a more complete story — for Oompa, and by extension, for Cleo. Or maybe it's the other way around.
Oompa grew up in Academy Homes, a low-income housing development in Roxbury. She was adopted, along with two biological sisters, at age 5 by a single retiree. The woman she called "Ma" lived on a fixed income. When Oompa was 11 or so, she started helping keep track of the family's finances. "Eight hundred thirty-three dollars a month," Oompa said. That was how much they lived on. But her mother never let on that they wanted for anything. Only later did Oompa realize that when they went to the Dominican family's place next door for dinner, it was because they didn't have enough food of their own. That everyone didn't eat bread cereal — bread ripped up in milk, eaten quickly so it wouldn't get soggy. "I didn't feel the stretch for a long time growing up," she said.
Oompa got in trouble a lot — for fighting, and "other stuff" that she declined to elaborate on. There were run-ins with the police. But she loved school, took AP classes, made the honor roll. It was enough to get her to Bucknell University, in Pennsylvania, on a scholarship. Her mother died when she was a freshman. "She was my favorite person," Oompa said. "So, yeah. It was the hardest thing in my life, thus far."
College was a struggle, but at least it got her out of Boston, where it was easy to fall into old, destructive patterns. "I just wasn't home, and that was enough to get me through four or five years," Oompa said. "Where the worst concern in my life was whether or not my 15-page paper was due."
At the same time, it didn't seem fair. Why didn't her friends from home get the same chance? Would their lives have turned out differently? Would they have lasted longer?
There's a lyric about that in "By You," the second single off of "Cleo:" "If there is a wrong place and wrong time for n-----s / Then where is the right one to go to repent?" Oompa was thinking especially of the boys she knew growing up when she wrote that line. "Where's the space for them to figure out their life's purpose, without ending up dead in the process?" she said. "Like, where is the space to mess up?"
Oompa, who got her start in Boston's queer slam poetry scene, has always been a lyrics-focused rapper. Writing gives her purpose. It's like having the perfect comeback. "[You know] the dissatisfaction that comes when someone says something real crazy to you or whatever, like funny or whatever, and you think in the shower about how you would have said this, and that would've been perfect?" Oompa said. "But you ever do the opposite, where either you prepare, or in that moment you just say everything you needed to say, exactly as you needed to say it, and it's the most satisfying thing in the world?"
On "Cleo," Oompa ups her verbal game. She's more ferocious, more expressive, more technical — not to mention confident. Match that newfound braggadocio with her natural tenderness with language, and you get fierce, lyrical passages like this one, from the single "Feel Like Cole:" "Don't nobody hustle harder than me/ I'm in a race with the sun, and then the stars when it leaves/ And I ain't never lost a scrimmage with it, never lost a game/ I done sharpened all my weapons, now I'm cutting out my lane."
Part of the appeal of "November 3rd" was Oompa's clarity of vision, her taste. "I grew up with tons of black music — just like, gospel, R&B, soul, funk," she said, and those are the sounds that undergird her first album, which crackles with the warm nostalgia of bygone days. The production on "Cleo" is more polished, and stylistically it runs the gamut. "Feel Like Cole," with its string-synth sample and heavy, downtempo beat, sounds like Destiny's Child-era R&B; "By You" reminds me of "The Miseducation of Lauryn Hill," at once restrained and raw. Other songs flirt with trap's dark minimalism, or the treacly heat of a slow jam. They all benefit from Oompa's keen sense of melody, her knack for grabbing the ear with a certain phrase or rhythm, and telling it something funny and incisive and memorable.
"Cleo" ends on an up note. "So let it be clear/ In case it is not/ I do this for brown girls and boys on the blocks," she raps on the album's final track. And then later, a mantra: "I'm blessed." No mention of Cleo's glorious death in a hail of bullets. This is the new ending Oompa has written for her album's namesake. She has wiped the slate clean, replaced it with a different story. This could be your life, she says. Take hold of it, write it — it's yours.
---
Oompa's new album, "Cleo," drops on Aug. 10. She'll be performing a release party at The Sinclair in Cambridge that night.