Travel Drops 76% At Boston Logan Airport Amid Coronavirus Outbreak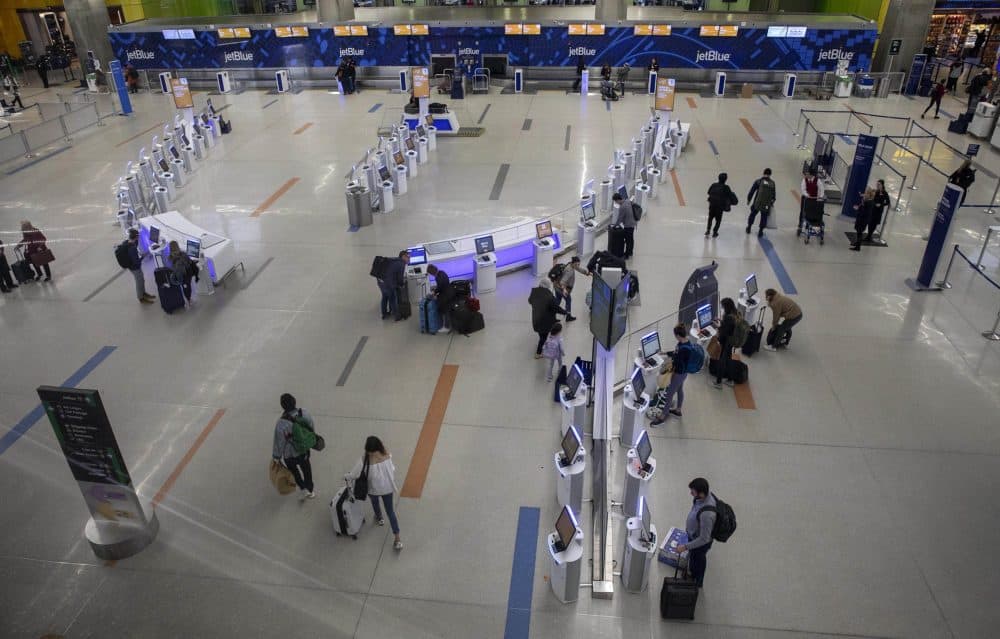 This article is more than 2 years old.
More people appear to be heeding advisories to stay home and avoid non-essential travel during the coronavirus pandemic, at least according to data out of Boston Logan Airport.
Massport data show the number of passengers traveling through Logan fell dramatically for the week between March 16 and March 22: 76%, compared to the same period last year.
That steep drop follows travel reductions ranging from 4.5% to 37% in the previous three weeks.
The decline in travel at Logan comes as coronavirus cases continue to climb in Massachusetts and several airlines have already cut down flights, including JetBlue, the airport's largest carrier. JetBlue said it would cut flights by 40% in April and May, and expects further cuts in June and July.
Gov. Charlie Baker recently asked people who are traveling to Massachusetts from out of state to self-quarantine for 14 days.
Massport spokeswoman Jennifer Mehigan said informational flyers are being given to arriving passengers at Logan, Worcester Regional Airport and Hanscom Field.
There are also signs at the airports urging travelers to self-quarantine. Similar information is also being displayed to travelers at South Station as well as on electronic road signs on interstates, according to MassDOT.
Baker, however, has acknowledged that there is no enforcement mechanism for travelers to self quarantine, saying it's "at this point instruction and advisory."