'Locking Ourselves Down In This Bunker': Child With Paralysis And Nurses Live Out Pandemic Under One Roof
07:48
Play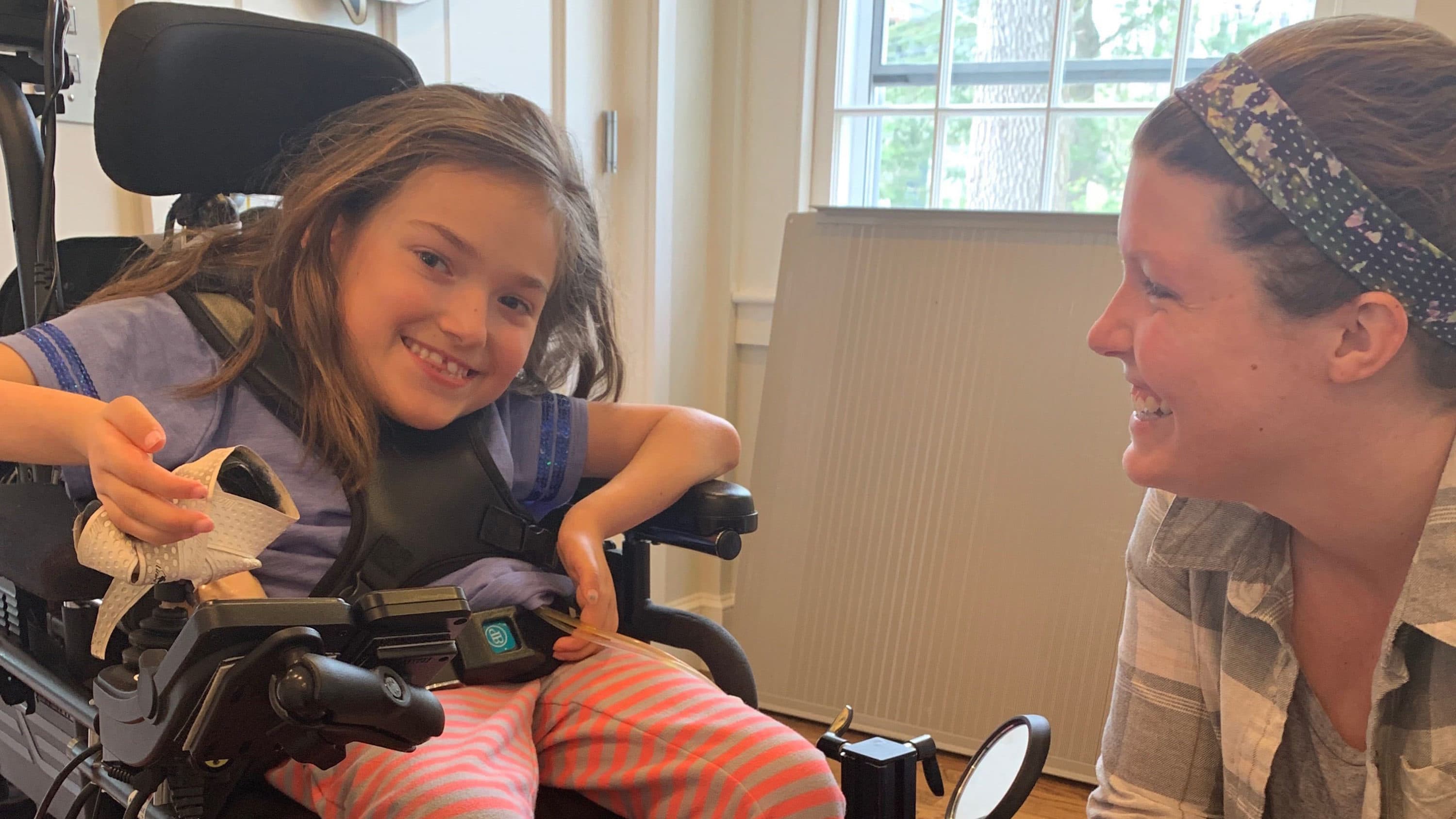 This article is more than 1 year old.
The coronavirus outbreak has changed everyone's life. But it's altered some lives more than others.
Dawn Oates and her family are one example. From Brookline, Dawn and her husband Justin have 10-year-old twins and a daughter Harper, who is eight. Harper suffered a spinal cord injury during her birth. She has no feeling below her neck and needs around-the-clock nursing care. Her lungs are compromised because of her paralysis.
Dawn Oates says the family had to take some dramatic steps to keep Harper safe during the coronavirus pandemic — namely, requiring that the nurses who work for them agree to live with them full-time. The reality started hitting her when she initially read the predictions of how bad the COVID-19 outbreak would get in the United States.
"I thought, wow, I have a daughter who already has chronic respiratory compromise," Oates says. "She's been in respiratory distress in the past, just like what we're hearing in the news in these COVID cases now in the ICU."
Before now, the family had two nurses come into the home each day, out of a team of about half a dozen. Each of the nurses did a 12-hour shift. Oates says her family's home is equipped to do intensive medical care for Harper.
"But what we're not equipped to do is keep people out who are working with other people who are potentially infected," Oates says. "So I thought the only way that I can keep my child safe at home is to have a team who's not moving about the world."
Fairly quickly after the coronavirus started spreading, two of the nurses working for the family developed coughs and had to stop coming to the home. The nurses weren't able to be tested for the coronavirus.
The Oates family now has two nurses and one aide living in the home full-time. Two of them share an apartment over the garage, and the other one sleeps in what is normally Harper's bedroom. The child is now sleeping in the living room. The family also provides the nurses' meals.
Dawn Oates says she recognizes and is humbled by the fact that many families would not have the means to do what her family is doing. And she says a shortage of nurses makes it even harder for many families to hire pediatric nurses to come into their homes.
"I believe [the] pediatric home care population is a very large, very forgotten minority. We are in the shadows," Oates says. "And then we're in last place trying to compete, and we're competing with agencies and hospitals who can pay twice what we are able to pay home care nurses."
"... what drives us to stay this vigilant is not ever wanting to be at the bedside having that conversation again, never wanting to see our child's lips blue, never having to use an Ambu bag to resuscitate our child."
She points out that MassHealth, which, because of her daughter's special needs, pays for 151 of the 168 hours nurses work in her home every week, reimburses at a much higher rate for nurses in hospitals and clinics.
"This crisis was expected to get even worse," Oates says. "And now with COVID, I don't know when this nursing industry will recover."
The family's newest nurse is 28-year-old Kristin Hanifin of Walpole. She says the live-in position with the Oates family isn't what most registered nurses would expect to be doing as their first job out of nursing school.
"Initially, when I was interested in this job, when I met Harper and the family, it seemed like a really great fit. I'm interested in going into pediatrics. So I definitely want to work with a pediatric patient, and being one that has much more intensive needs, I was very interested in that," Hanifin says. "When I started, everything was getting more heated up with the coronavirus. And then when Dawn called to ask if I wanted to move in with them, I just wanted to help a family and a child. And I wanted to also have a nursing job, as well."
Hanifin says she only leaves the house to go in the yard or on walks and steers clear of other people while out walking. She washes her hands frequently and wears a mask when performing respiratory procedures on Harper.
As for having the nurses live with the family, Harper says she likes it. What has changed the most in her life, she says, is "how we have to FaceTime to do classes." She normally attends Dexter Southfield School.
Asked what she's learned about the coronavirus, the 8-year-old says, "We have to stay inside a lot" and that people can get sick.
"I don't really worry about this ... I sort of just feel like I'm not really gonna get the coronavirus," she says.
Dawn Oates says what is most different for the family now is "just the level of stress about what's going to come into our house. Are we safe here? And that's just a thread that runs in the backdrop all the time."
But she points out that since Harper's birth eight years ago, the family has been washing hands right when they come in the house, "using Purell, washing hands again, washing hands again."
Oates says the respiratory team at Boston Children's Hospital has told her to avoid bringing Harper to the hospital if at all possible, because it isn't safe to expose her to all of the illness there. So the family's house is stocked up with N95 masks, oxygen, even a ventilator. Harper uses it as a BiPAP machine (similar to a CPAP machine) to help her breathe at night.
Several times in her life, Harper has gone into respiratory distress from infections in her lungs, including pneumonia that came about as a result of colds. Dawn Oates says Harper doesn't have the ability to cough with force to clear secretions from her lungs.
"We have stood at the bedside having to make the terrible decisions that we've just heard have been outlined in the news in Boston," Dawn Oates says. "Who gets what kind of care? How far are you willing to go to provide lifesaving care to your child?
"And what drives us to stay this vigilant is not ever wanting to be at the bedside having that conversation again, never wanting to see our child's lips blue, never having to use an Ambu bag to resuscitate our child. We are going do our best to make sure that we never have to be in that position again. And if that means locking ourselves down in this bunker, [which] is what we call our home now, then that's what we're going to do. And we'll wait this out."
This segment aired on April 9, 2020.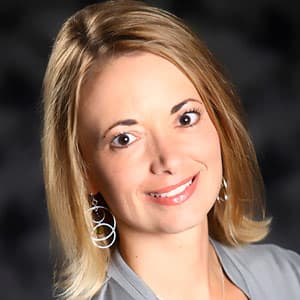 Lynn Jolicoeur Producer/Reporter
Lynn Jolicoeur is the field producer for WBUR's All Things Considered. She also reports for the station's various local news broadcasts.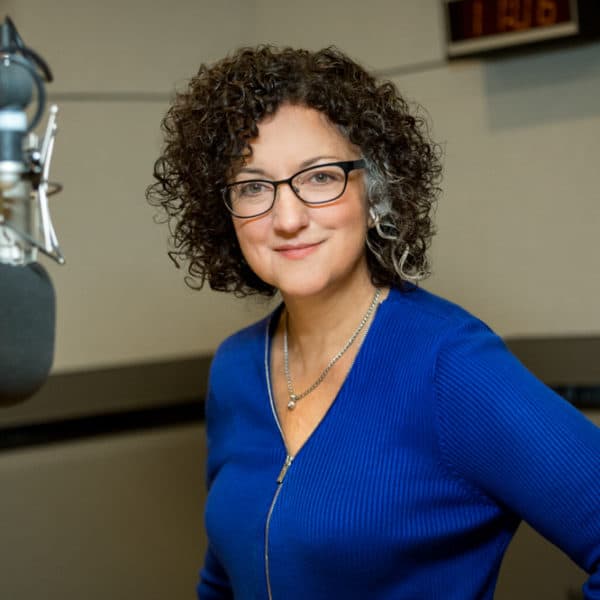 Lisa Mullins Host, All Things Considered
Lisa Mullins is the voice of WBUR's All Things Considered. She anchors the program, conducts interviews and reports from the field.