Your Election Weekend Care Package
It's the weekend before Election Day, which comes with a lot of mixed emotions: excitement, anxiety, fatigue, information overload. You name it, we've probably felt it in the last 48 hours.
To help you navigate all of these feelings, here's a little care package to help you self-soothe ahead of this major political moment.
Take A Breath
In 2016, Dr. Ellen Slawsby told WBUR she'd never seen her patients so stressed by an American election.
Today, amid a raging pandemic, a deepening recession, racial inequities and yet another unprecedented election year, she'd like to update that remark: 2020 breaks the election stress record.
"I'm hearing true fear in the voices of the people I speak with," the Boston-based psychologist said. "Plain and simple: They truly are afraid their lives and their worlds will crumble. They've already lost so much because of COVID – their social support, often their jobs, their finances may be in shambles, their children aren't in school.
"And they just don't see how they can take one more blow."
The American Psychological Association warned that the nation faces a "mental health crisis" in its annual "Stress in America" report released earlier this month. Among several alarming figures, the study found 77% of adults – up from 66% in 2019 – say the future of the nation is "a significant source of stress."
Oof. OK, let's take a breath, everyone. These stressors are heavy, and while breathing more mindfully won't magic problems away, Slawsby, a director at the Benson-Henry Institute for Mind Body Medicine at Massachusetts General Hospital, says small exercises like that can help people build resiliency, maintain control over what they can right now and ward off some of the tough physical, mental and social impacts of stress.
While much of the ultimate outcomes in both politics and the pandemic are beyond any one individual's control, WBUR thought it worthwhile to talk to Slawsby about what more people can do to help manage their mental health. She offered the following tips:
1. Carve out 20 minutes for breathing and mindfulness exercises.
Slawsby recommends practicing some sort of "relaxation response" for 20 minutes a day – even twice a day – to reduce your body's "fight or flight" response. Even if you don't have much time, "mini" meditative sessions could help when a wave of stress hits. These exercises can be as simple as inhaling while uttering a word with a positive connotation (she uses "peace") before exhaling a negative word (her go-to is "tension"), or as involved as guided meditations on YouTube or apps like Headspace. But don't get overwhelmed by how long you should inhale and exhale. Slawsby uses the analogy that it's like picking an ice cream flavor: They are all generally pretty good, and you'll have to find your favorite.
2. Avoid "knee-jerk" reactions to bad news. 
Language, and the logic we apply behind it, can impact our ability to build resilience in times of stress. Slawsby explains with an example: "A knee-jerk reaction is, 'The world is falling apart.' A response might be, 'Let me wait and see what happens.' " Stress, by its definition, is about "the perception of a threat" and the belief that one "cannot cope with that threat," Slawsby says. She suggests that the next time you're under stress, notice the language you use and see if you could find other words to capture the facts of the situation.
3. Move your body – outdoors, if you can. 
Exercise, or even less intensive forms of movement like walking, increase endorphins, which help the body cope with stress. Slawsby recommends things like yoga or stretching. Here & Now, earlier in the pandemic, created this list of simple exercises you can try.
4. Get creative about connecting with others.
We are social creatures whose mental health gets a boost from connecting with others. Slawsby acknowledged that this can be a real challenge because living in a pandemic completely upends what is considered a safe hang out. Earlier this fall, she installed a TV in her garage so friends could be outside but still watch games or shows safely together. She said several clients were at the time innovative about meet ups with loved ones, making park lunches safer by asking everyone to bring their own supplies.
Now, as the weather gets colder and the state faces a rise in cases, Slawsby said people should try to remember that for their mental health, "social distancing does not mean social isolation." If in-person gatherings are unsafe, she encouraged people to set up Zoom or phone dates and make them more fun by centering them around an activity like tea time or, as one client of hers did, making get-out-the-vote postcards in a group. She recommends marking these hangs on your calendar, so that all parties can be best set up to be relaxed when the conversations begin.
5. Seek out (like-minded) company. Set boundaries.
While Slawsby said it would be disappointing for people to forever avoid loved ones with different political views, in the days around the election, it's more than OK – advisable even – to seek out those with similar perspectives and cut down on stress related to political disagreements. It may, she acknowledged, be hard to shut out parents. So she suggested taking steps to politely set boundaries by being strategic. You could say you only have 10 minutes to tell them something specific that is non-election-related. Or, even say directly, "We can talk, but not about politics."
6. Tend to basic needs: good nutrition and sleep are essential right now.
Slawsby said difficulty sleeping is the most common symptom of stress she hears about. She recommends getting a solid eight hours. Here & Now explained earlier in the pandemic why sleep disruptions due to anxiety are so common – as well as a few tips on how to cope with them. On sustenance, she says: "Try to provide yourself with a good diet and not load up on carbs that are going to give you a big high and crash." (If you're craving more on how to have a healthy relationship with food, check out our podcast, "Food, We Need To Talk.")
7. Get a pet.
Ah, cats, dogs and other animal friends really are the greatest. There's quite a bit of science backing up the idea that pets improve one's mental health, and throughout the pandemic, we've seen lots of people seeking out new furry companionship. Slawsby says that simply petting your animal can function as a form of mindful relaxation.
As a final acknowledgement of how difficult times may be, Slawsby says that if stress is so unmanageable it is interfering with your daily life in a significant way, there is help available. The pandemic has expanded remote access to health care services like therapy. In the heaviest of moments there are also emergency resources at hospitals and people willing to help those in a crisis.
You can reach the National Suicide Prevention Lifeline at 1-800-273-TALK (8255) and the Samaritans Statewide Hotline (call or text) at 1-877-870-HOPE (4673). Call2Talk can be accessed by calling Massachusetts 211 or 508-532-2255 (or text c2t to 741741).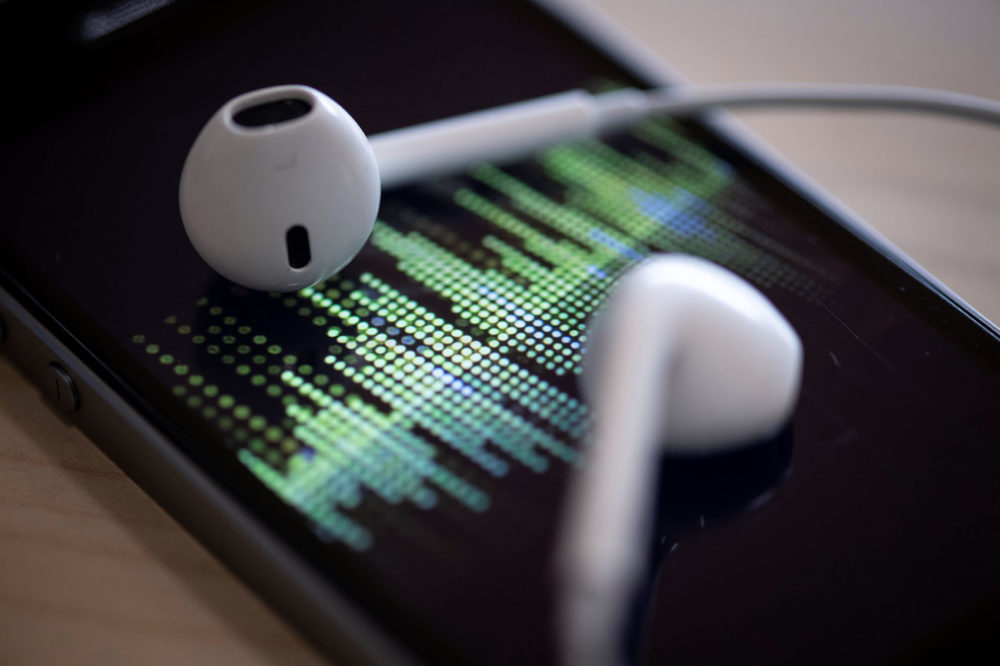 Brain Food: Get Pumped With Podcasts
What better way to get into the Election Day spirit than a podcast? WBUR's podcast team has compiled a list of interesting listens that cover all things politics, from the basics on voting and polling, to the obscure moments in political history that speak to the current moment.
Civics 101: Yep, it's what it sounds like, but not nearly as sleepy as your average college introductory course. The show helps you understand clearly and simply how civic engagement works in the U.S. A recent breakout episode, "Civic Action: Voting, Part 1," is a great place to start, especially if you want a guide from three experts on how voting works in the U.S. and what you should know as a voter in this presidential election.
Endless Thread: This episode, "QAnon Casualties," delves deep into the reality of the QAnon conspiracy theory and its followers, but with a different angle than much of the media coverage about the group of people supporting President Donald Trump. Listen to the story of a follower who got in deep, and then, got out. (Yes, this podcast is a WBUR original – another reason to listen!)

In the Thick: This podcast from Futuro that looks at the latest political news through the perspective of journalists of color will change the way you think about the political landscape in 2020. Try starting with the episode "Free The Vote." The episode unpacks Florida's recent court decision that restricts returning citizens' eligibility to vote and voter suppression nationwide.

Left, Right and Center: "Diaries of a Divided Nation: 2020" is a special project from this KCRW podcast. "Over the past year, a team of audio journalists have documented the lives of seven ordinary people with different views, living in different places, and with different stakes in politics. Each participant has recorded their thoughts and experiences as the extraordinary events of 2020 have unfolded. These are their stories." Give it a listen.
This Day In Esoteric Political History: This Radiotopia show tells you a ton about the present by exploring strange and specific moments of the past. We recommend starting with "Wilson Gets The Flu."
FiveThirtyEight: When it comes to the polls and horse race coverage of the election, these guys are your experts. Listen to this episode on how early voting affects the forecast (in addition to other listener questions).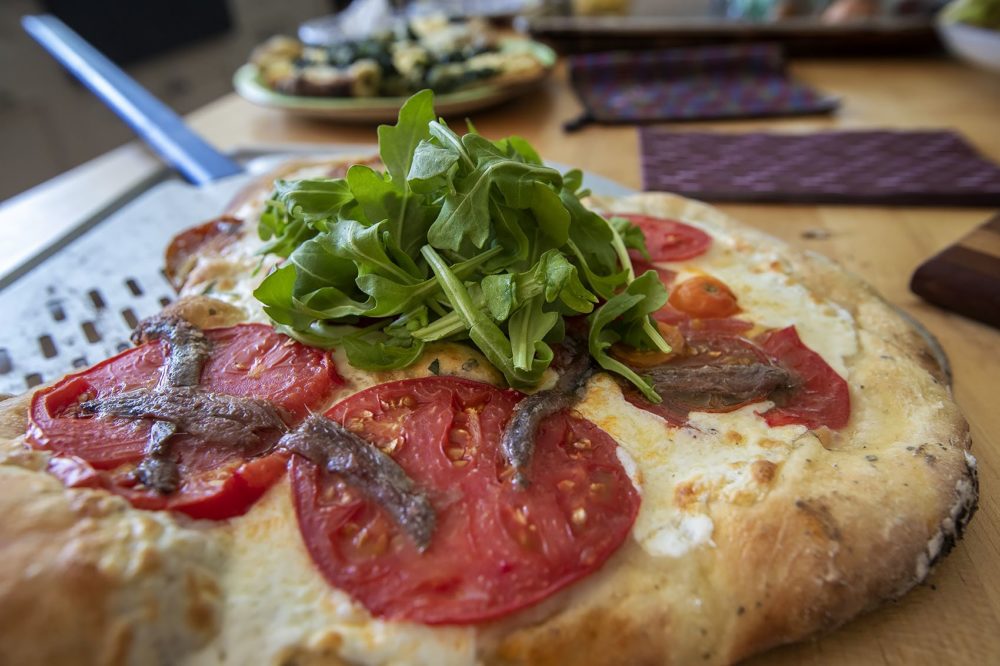 Have A Slice
For journalists, nothing says election night like newsroom pizza. But alas, many of us – like many of you – aren't working from the office yet. So does that mean no pizza? Of course not! Pizza on election night is the little taste of normalcy I think we all need right now. So celebrate voting and making your voice heard with a slice on Tuesday. If you're feeling more adventurous than ordering from your local pizza joint, try making it yourself! Here & Now resident chef Kathy Gunst has some tips for making really good pizza at home:
"Making pizza at home doesn't have to mean heating up a pie from your local pizza joint. It's actually way easier than you might think. Pizza dough in the grocery store used to be inferior, but things have vastly improved in the past few years. Look for a locally-made dough. You can also make your own dough or buy some from your favorite local pizza parlor. In terms of toppings, you can use virtually anything."
Here are two dough recipes from Kathy (one for beginners and one for advanced cooks), as well as three ideas for toppings. 
 Dance It Out
- The Atlantic wants to help you de-stress with an election anti-anxiety playlist. 
- And if you want a throwback, earlier this year we asked our readers what tunes were getting them through the challenging times of 2020. We got so many suggestions that we broke them out into two playlists – one for quiet days and one for loud days – so you'd have something to listen to regardless of your vibe.