Reflecting on our favorite arts and culture moments of 2021
After a year spent indoors, 2021 was one of cautious optimism that saw a return of the events we love and a reopening of the spaces we missed. With vaccines and the wearing of face masks, we were able to once again enjoy live music, theater, museums, community festivals, and more. Below, WBUR's arts and culture team reflects on moments from the year that provided reprieve, whether it was through a trip to the ICA or watching a movie at the cinema.
Artist Firelei Báez's sculpture at the ICA's Watershed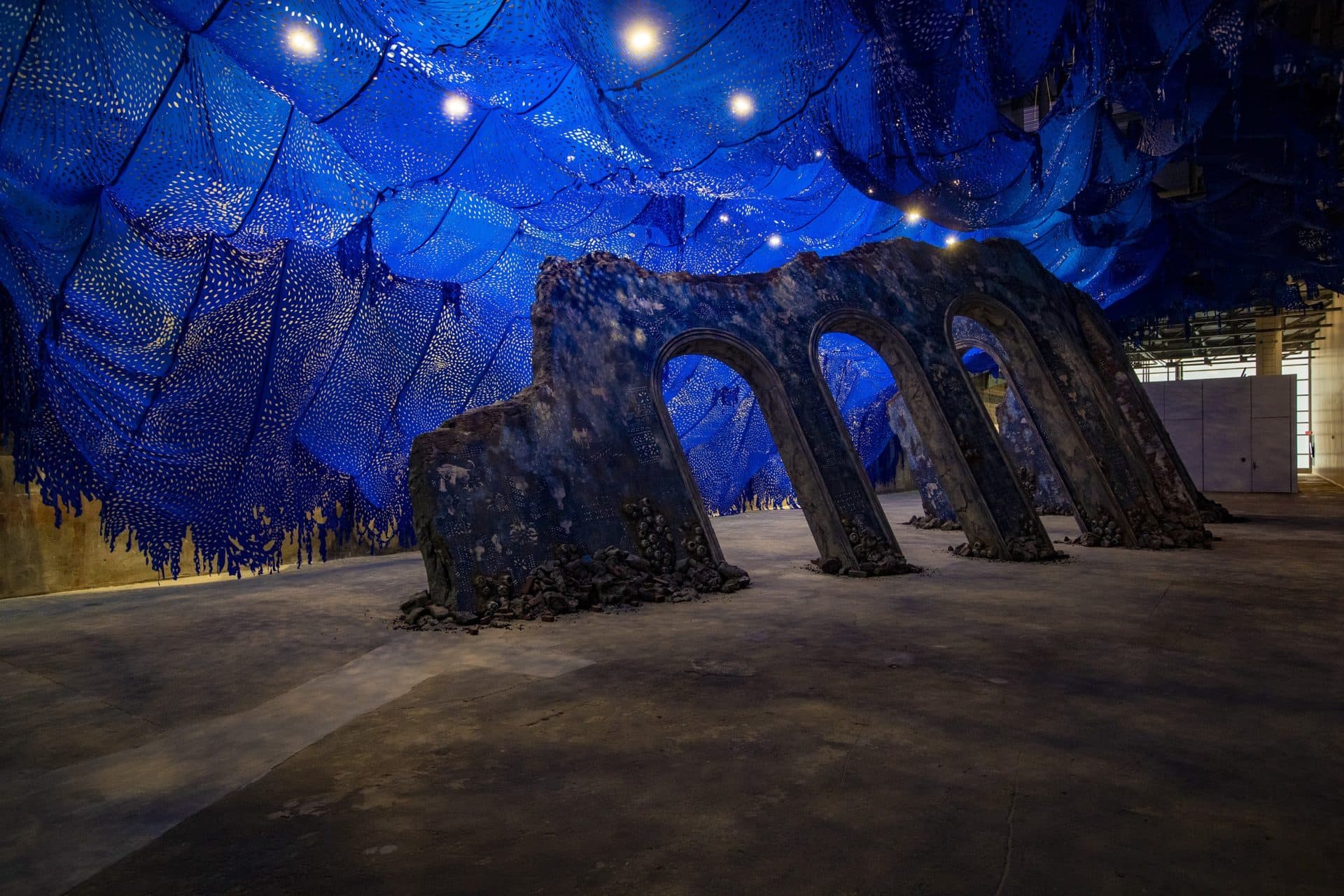 Firelei Báez's massive sculpture that filled the East Boston Watershed this past summer had a long, beautiful title: "To breathe full and free: a declaration, a re-visioning, a correction (19º36'16.9"N 72º13'07.0''W, 42º21'48.762''N 71º1'59.628''W)"
It was one of my first times visiting an art gallery in a year and a half. I remember getting  emotional as I walked in. I had forgotten how much I loved consuming art in-person. I also became increasingly aware of every person in that room at the time, of the air we were breathing, of the monumental sculpture that rose before me inside the ICA's Watershed.
I circled it in awe. It wasn't fully completed at the time. Painters were blending shades of blue, the tarp covered our heads full of holes that made the light play and sparkle against the back wall. I would learn that it contained a multitude of meanings. The indigo, symbolic of a color that represented both the enslaved and their ancestors in west Africa, whose specific technique created this deep shade of blue.
Báez intended the piece to transport its viewers through time and space, between ocean and sky, hearkening back to the ruins of the Palace of Sans-Souci built by Henri Christophe, the first northern kingdom of Haiti.  And then there were the voices, prompted by movement, emerging like whispers from speakers above our heads in all different languages. They were stories of immigrants, who traveled to places far from the familiar. That's when I knew this piece was for me too, for all of us who migrated, who crossed oceans and land to start again. This sculpture represented all of us who dreamed that we would find what we needed at the end of our journey. —Cristela Guerra
---
Jeffrey Gibson's 'Infinite Indigenous Queer Love'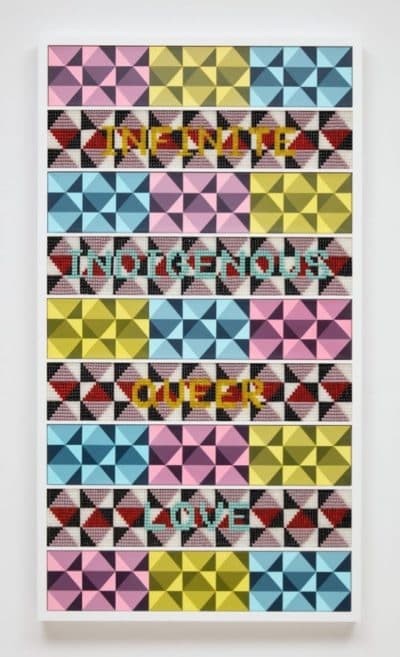 What does it mean to be queer and of color? I think about this all the time as a Black queer artist myself. When I saw that Jeffrey Gibson, a queer Choctaw-Cherokee artist, and his exhibit "Infinite Indigenous Queer Love" was coming to the deCordova Sculpture Park and Museum, I was ecstatic. I am an art lover, that's true, but it's different when you feel an artist or their work speaks directly to your personal experiences. Gibson and his exploration of identity says something important about the times we live in. Often, those of us who occupy multiple marginalized identities must envision our own futures in which we are free.
"Infinite Indigenous Queer Love" does exactly that. I found myself entranced, not just by Gibson's generous use of color and texture but also by the assemblage of different materials into cohesive pieces that exalt love and identity that exist beyond the binaries of gender and sexuality. One of the most stunning parts of the exhibit is the massive hanging fringed pieces, a reclamation and reinterpretation of fringe, a material often used in traditional Native wear. Gibson does not labor too long on the oppressions queer and trans Indigenous people endure but instead seeks to educate through celebration. We are so much more than our pain and Gibson epitomizes that in his work by envisioning a past, present and future in which queer people of color are free. —Arielle Gray
---
Getting lost in music-making
When the pandemic took hold in March of 2020, my band Anadama, like so many others, canceled all our gigs. This is a pretty familiar story, and in this particular case, it didn't cause much damage — none of us relies solely on music to pay our bills. But what vanished alongside it, for far longer than I anticipated, was the experience of making music with other people at all, even in a casual setting.
In October, I had a couple friends, both fiddle players (like myself), over to my house. We drank coffee, swapped tunes, tried to make up harmonies on the fly. At some point, we entered "the zone." How can I explain it? Sometimes, when you are really locked in with the other musicians, it's like you're inside the music. Just floating. I didn't realize how much I had missed that feeling. —Amelia Mason
---
Finding escape at the cinema
One of my favorite rituals is going to the movies by myself. I relish the act of settling into my seat and waiting for the trailers to roll as a din of couples or friends chatting envelops me like a blanket. Soon, the giggles and gasps of perfect strangers mingle with mine. I'm solitary, but not alone.
Of course, the pandemic made those pilgrimages impossible. Like countless film fans, I turned to streaming and devoured as many movies as I wanted at home. And I did that a lot. Most times on my computer. In my kitchen, no less. But as the months stretched on, and winter 2021's maw widened, my craving for large-scale, epic escape became unbearable.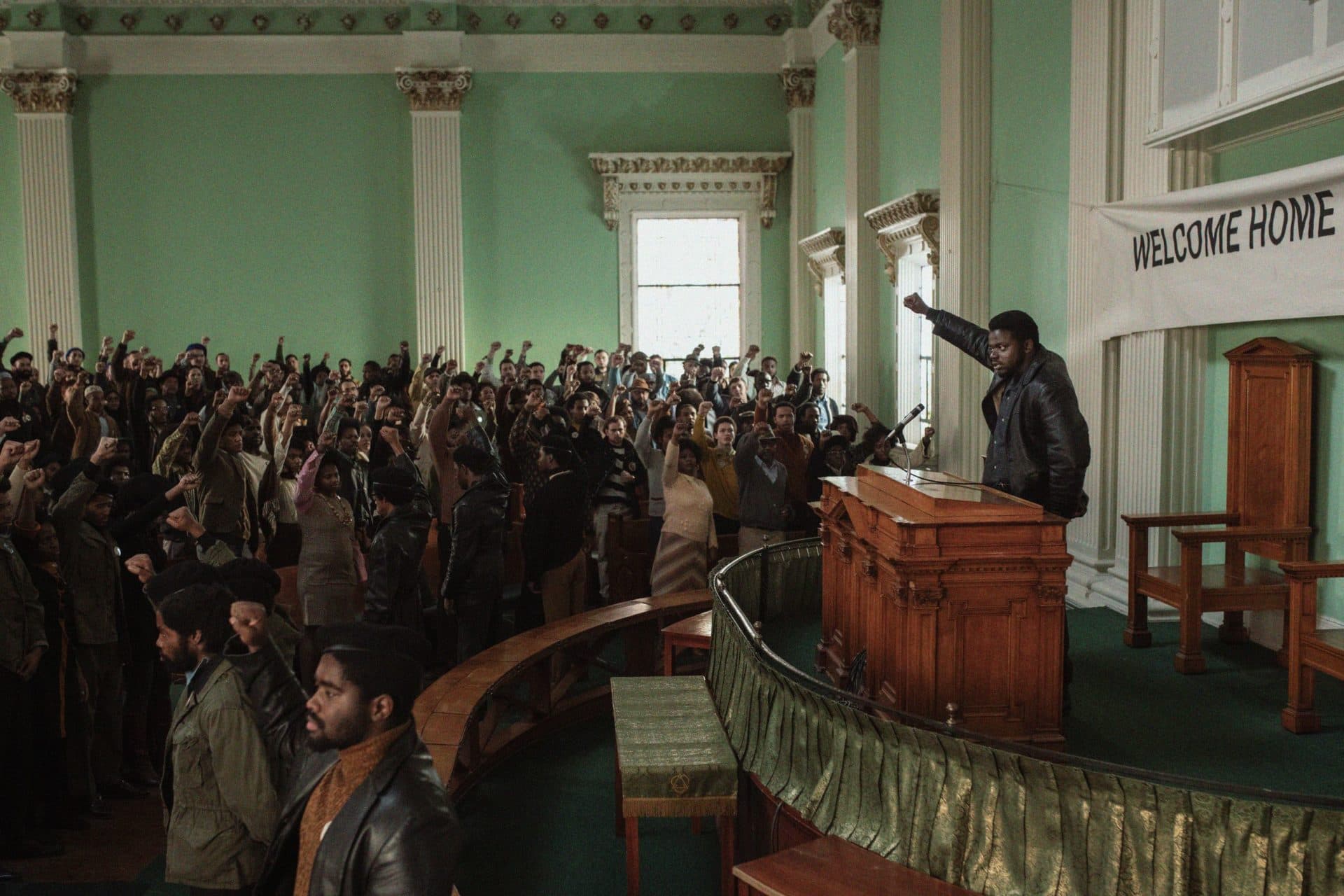 When some theaters reopened, I bit the bullet and set out to get my fix with "Judas and the Black Messiah." I told myself I'd bolt if it didn't feel safe. The theater was empty and silent when I entered. My reserved seat was waiting for me, and I braced for even a small crowd to arrive. But it never did. It was just me, my mask, and the hugest screen I'd seen in what felt like forever.
As the movie unfolded, my synapses fired. Was I over-stimulated? And soon the whole world outside vanished. So did the pandemic. Maybe I did too. The storytelling, acting, cinematography and soundtrack seemed to feed my ravenous soul. Without a single distraction, I communed with that important piece of art and the army of people it took to make it a reality. And I realized I was exactly where they wanted me to be — in a theater — and I thanked them. Then something dawned on me: This might not ever happen to me again. For the sake of all the dedicated creatives in the movie industry, I hope it never does. —Andrea Shea
---
The return of Porchfest
While 2020 was a year of staying at home, in many ways, 2021 felt like the year of waiting. Or anticipation. At the close of 2020, there was hope of a vaccine and hope of a return to the people and spaces we love. And for me, that was embodied when I was able to hang out in my friends' backyard and watch their brass band, Hornography, play for a crowd of strangers during Belmont Porchfest. Being able to spend time with strangers of all ages in a shared experience is magical. It's what I love about many arts events — whether it's going to the movies or seeing a play. But there's something about the freeing nature of live music and seeing others enjoy the moment as well.
And that was the feeling I got when gathering with the dozens of other folks to listen to our friends play a mash-up of cover songs. Kids were dancing with abandon. Bubbles were being blown. Individuals of all ages were gathered around singing along to classics like "Shout" and "Sweet Caroline," and original arrangements of Top 40 hits. For the first time in almost two years, the fear I had been holding onto so tightly dissipated. I was able to relax for a few hours as I spent time with loved ones, in a backyard on a beautiful late summer day. I wasn't afraid of the people around me and the infectious virus they may or may not be carrying. I was able to sit back and take in the experience. And while it wasn't quite a return to normalcy, it was the closest I'd felt to it since the pandemic began. —Dianna Bell
---
Celebrating Día de los Muertos in Chelsea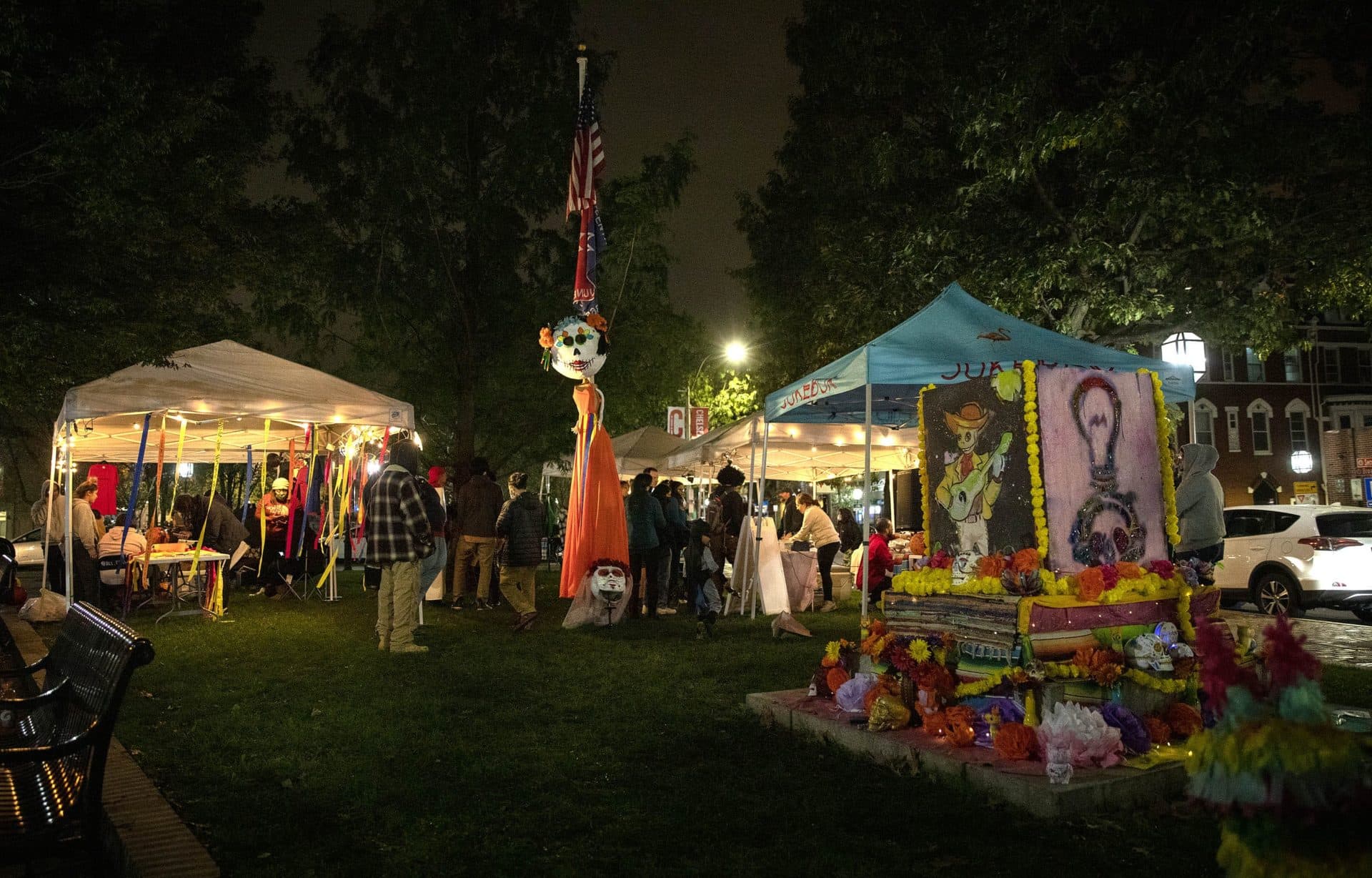 Día de los Muertos is part of my culture, but it's an event I never felt connected to. When I learned Chelsea was having a community celebration, I jumped on this story because I felt that it was a way to learn more about cultural traditions from my mother's homeland, Guatemala.
Día de los Muertos translates to "Day of the Dead," but it's about much more than death. The day is a joyful community remembrance full of storytelling about loved ones who have died. Seeing people come out of isolation to celebrate and remember the people they've lost was truly beautiful to witness. Before the event, I was able to connect with my grandmother as it sparked conversation of how she celebrated this day in Guatemala and how it stopped when she came to the U.S. Throughout the night, I couldn't help but think about how truly gifted we are to have the ability to remember the people we've lost. This story helped me find the silver lining under loss–the stories we carry with us, in our hearts. —Magdiela Matta
---
'Macbeth in Stride' at A.R.T.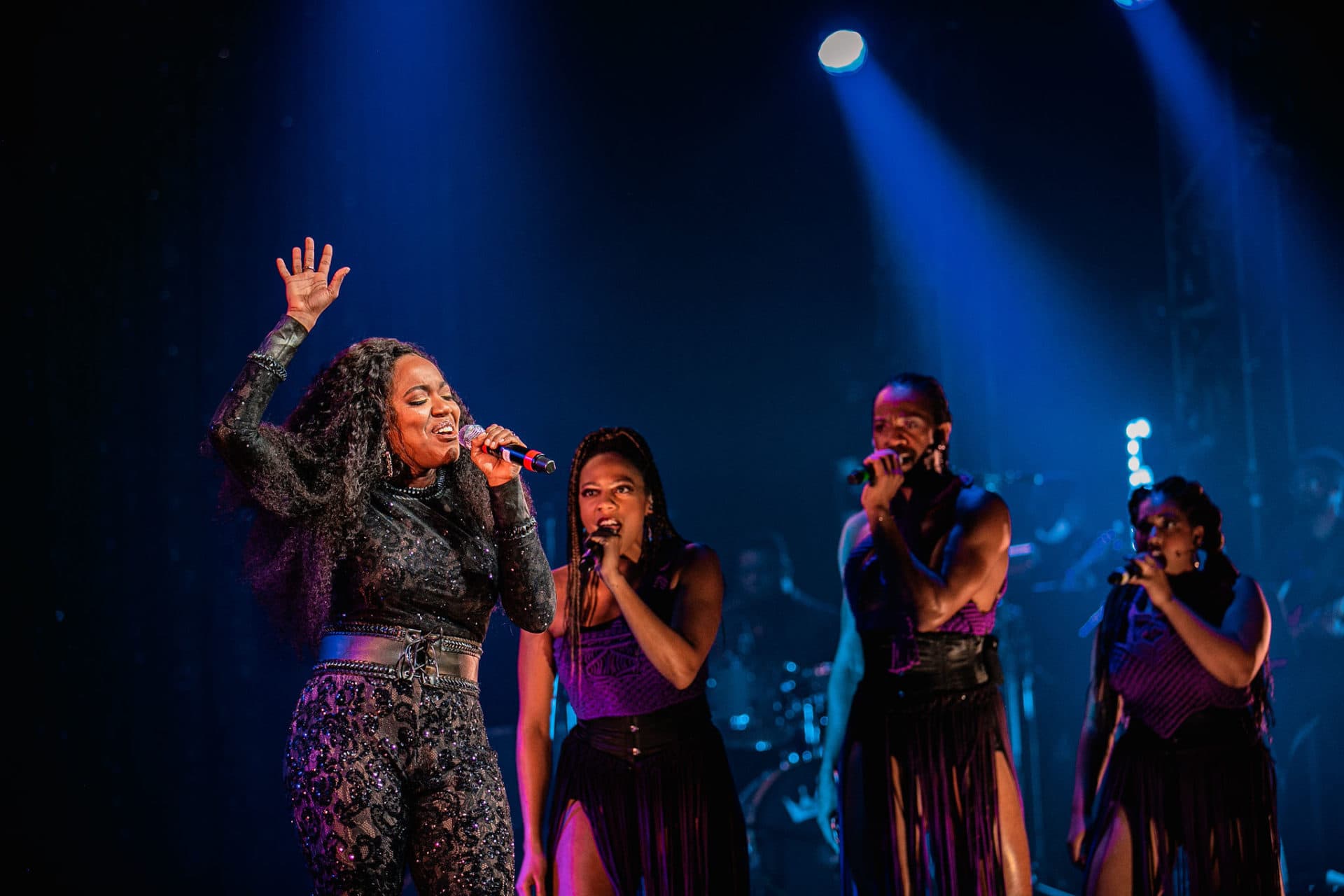 I already feel wistful for the art and performances I saw just weeks ago, before another virus variant started encroaching on our plans all over again.
This fall, as theaters reopened, I relished a different sort of surge—the bolt of energy that comes from a spectacular performance, like that of playwright Whitney White in "Macbeth in Stride" at the American Repertory Theater. She conjured all the excitement of a rock show while simultaneously offering a rigorous appraisal of ambition in Black women. White, and the performers she shared the stage with—especially Reggie D. White—electrified the audience.
This kind of a gathering felt like salve, and now it feels like a fleeting taste of what's likely on hold again as winter, and the next phase of the pandemic, deepens. —Tania Ralli