Forgive And Forget? For Olympian Shirley Babashoff, Maybe Not
Play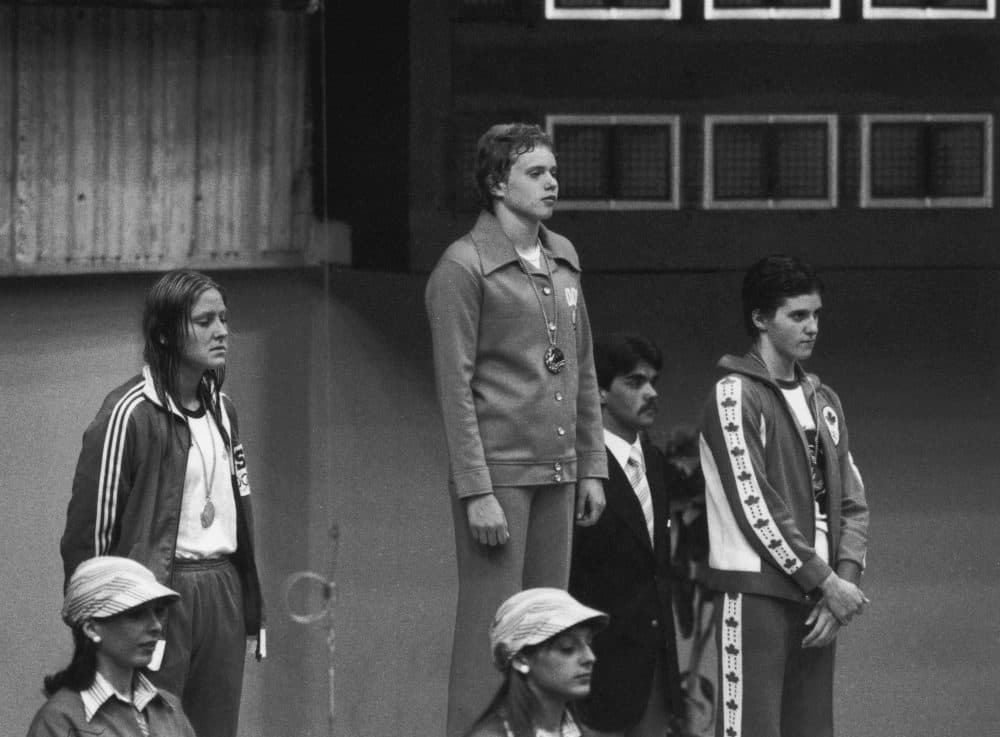 This article is more than 6 years old.
In 1972, when swimmer Shirley Babashoff was 15 years old, she won two silver medals in individual freestyle events and two relay golds at the Munich Olympics. Mark Spitz won seven gold medals at those Games, so it was high praise indeed when people began referring to Babashoff's potential to become the female Mark Spitz. Four years later, she was prepared to be celebrated accordingly, and that opportunity was stolen from her. Forty years later, she hasn't forgotten or forgiven.
'We Didn't Really Know What Was Going On'
Among Babashoff's clearest memories from the run-up to the 1976 Olympics in Montreal is how thoroughly she'd prepared. Before the World Championships in 1973, she began working with a new coach. She was training twice as hard as she'd ever trained.
"And that's when we noticed, when the East German women suddenly started beating us. None of the races were close. It was just the visual of seeing these women, looking like shot-putters and wrestlers. We didn't really know what was going on."

Shirley Babashoff
"I felt super strong, and I was really excited about just showing people, like, how much I had improved," she says. "And that's when we noticed, when the East German women suddenly started beating us. None of the races were close. It was just the visual of seeing these women, looking like shot-putters and wrestlers. We didn't really know what was going on."
At the time, neither did anybody else. It was obvious that the East German women were swimming much faster than they'd done just a year earlier — and much faster than anybody else — despite the fact that, as Shirley Babashoff recalls, their strokes didn't look especially efficient. But they got from one end of the pool to the other more quickly than anybody else. Then they jumped out of the water as if swimming that fast had been easy.
"The East Germans kept coming up and saying, 'Well, the reason we're so good is because we have these new swimsuits,'" Babashoff recalls. "And then they said, 'Well, we're training at high altitude,' and they always had an excuse. But they never told the truth of actually using the little blue pills, which they called vitamins."
Some of them probably didn't tell the truth because they didn't know it. The East German government was systematically feeding the women steroids without telling them what they'd been given. Shirley Babashoff didn't know the details then, but she began thinking that if she was going to beat those women in 1976, she'd better alter her training in college.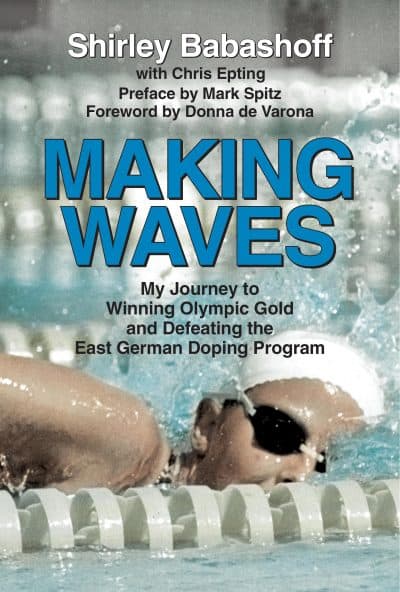 "I just told myself, if I'm going to be swimming against the East Germans, I need to be on the men's team," she says.
The 1976 Montreal Olympics
Babashoff next encountered the East Germans at the Montreal Olympics, where she witnessed some of the unintended consequences of their doping program.
"Well, the funny thing is, like, I think it was the first time that I ever really heard them talk — I'm pretty sure they were told, 'Just don't say anything.' We were just going in to, you know, to change into our swimsuits, and we went into the locker room that we thought was the women's locker room, and then we were changing and we heard these voices, and they sounded just like men," she remembers. "And we just shrieked and said, 'Oh, my gosh, this must be, like, a co-ed locker room or something.' We got dressed really quickly and we looked around the corner, and it was the East German women."
Olympic etiquette dictates that athletes take surprises like that in stride. But Shirley Babashoff couldn't pretend she hadn't seen what she'd seen.
"I was getting on the bus after the practice that day, and a reporter asked me -- they were just swarming the bus — and someone asked me, 'What do you think of the East German swimmers?' And I had mentioned that they were extremely hairy and had really deep voices, and that kind of got me in a lot of trouble."
"I think you might have also mentioned that they would be fine to swim against if they didn't have mustaches, or something like that," I say.
"Yeah, I probably did," Babashoff recalls with a laugh.
Reporters characterized Babashoff as a poor sport. U.S. Swimming sent flowers to the top East German swimmer with a note of apology.
A Traumatic Childhood
It wasn't the first time adults in charge of her welfare hadn't believed what Shirley Babashoff was saying. When she was very young, she was sexually abused, night after night, by her father:
"It's very difficult to talk about," she says. "It's not like it was an uncle that you saw, you know, twice a year, or whatever."
The abuse didn't end until one night when Babashoff realized how strong she had become.
"I just fought him off. I just fought him off," she says. "And I guess he decided it was too much work, and he was just gonna move on. I had a baby sister then. But, I mean, he didn't just, you know, do it to us. He was very active in the neighborhood. He — last year — just got a restraining order for stalking. He's 87."
All those years ago, long before she had begun to dream of swimming in the Olympics, Babashoff tried to tell her mother what was happening.
"Her father was a preacher, so she pretty much got the bible out and showed me, you know, No. 5 out of the 10, the commandments," she says. "No. 5 is, 'Obey your mother and your father.'"
Babashoff says that in order to get through those days, she had to compartmentalize the trauma. She had to do the same with her disappointment at what had happened to her at the '76 Olympics. It couldn't have been easy.
Seeing Silver
"I was 19 years old, and there was an article in Time Magazine that had pictures of all these athletes, and underneath it had their name, and it said, 'winner,'" she says. "And then there was a picture of me, and it had my name, and it said, 'loser.' And it just really bothered me that no one else would come out and say anything about it."
Babashoff did win gold in the 4x100m relay, which has been characterized as the most exciting race at the '76 Games. Her four other medals were silver. It wasn't good enough for those who'd swallowed the hype. While other Olympians built careers on the medals they'd won, Babashoff moved beyond swimming and the fame and notoriety she'd known, at least until the late '80s and the fall of the Berlin Wall. Much later the files of the Stasi, the East German secret police, would become public, and the details of the doping program would be revealed. Even then, Babashoff's role as a lonely whistle-blower wouldn't receive much acknowledgement.
"I'm glad that I'm the one that has the voice to be able to talk about this and, hopefully, help everyone, you know, before they die."

Shirley Babashoff
"Oh, I remember seeing a very small article in the newspaper, maybe a paragraph, and it said, 'Oh, yeah, by the way, Shirley was right.' And that was pretty much it," she says. "But by this time I had my son and I was working at the post office. My life was different, because after Montreal, I really didn't want anything else to do with swimming."
But now? As news breaks about the recent state-sponsored doping of Russian Olympians, Babashoff has written a book, "Making Waves," and she would like to have just one more "thing to do" with the Olympics and with her sport.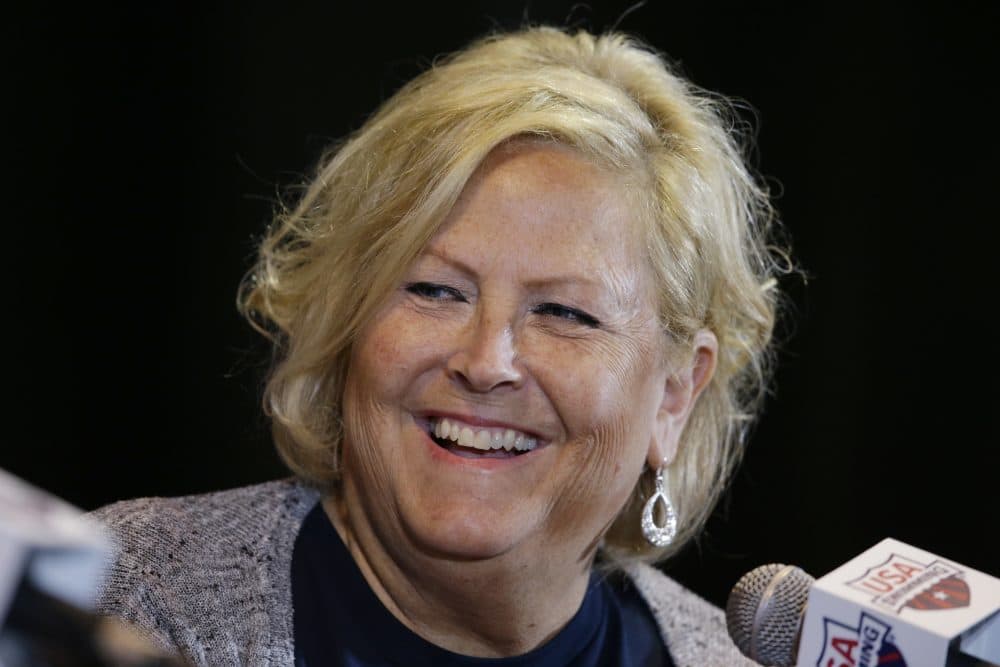 'I'm The One That Has The Voice'
The International Olympic Committee has stripped cheaters of their medals in the past. That action has been based on positive tests that have turned up within a few years of the competitions skewed by performance-enhancing drugs. The IOC has never acted to rectify the results of the systematic doping that occurred in the run-up to the '76 Games. The rationale is that too much time passed between the offenses and the appearance of the evidence necessary to change the record. But what if, at some point, that august body could see its way clear to redistributing the medals that Babashoff and others would have won if the competition had been legitimate?
"Wow, that just sounds so good," she says. "I love that. Yeah, it would be amazing, and I'm glad that I'm the one that has the voice to be able to talk about this and, hopefully, help everyone, you know, before they die. It should be an infinity rule. If you're found out that you cheated 50 years ago, if it's the truth, it should be fixed."
Perhaps it will be. Maybe one day this little lie among so many will be addressed. And if it is, maybe some of the former Olympians opening FedEx boxes and finding medals will call Shirley Babashoff to say thanks.
This segment aired on July 23, 2016.