A Water Crisis In Newark, A Lead Problem Echoing Flint
Play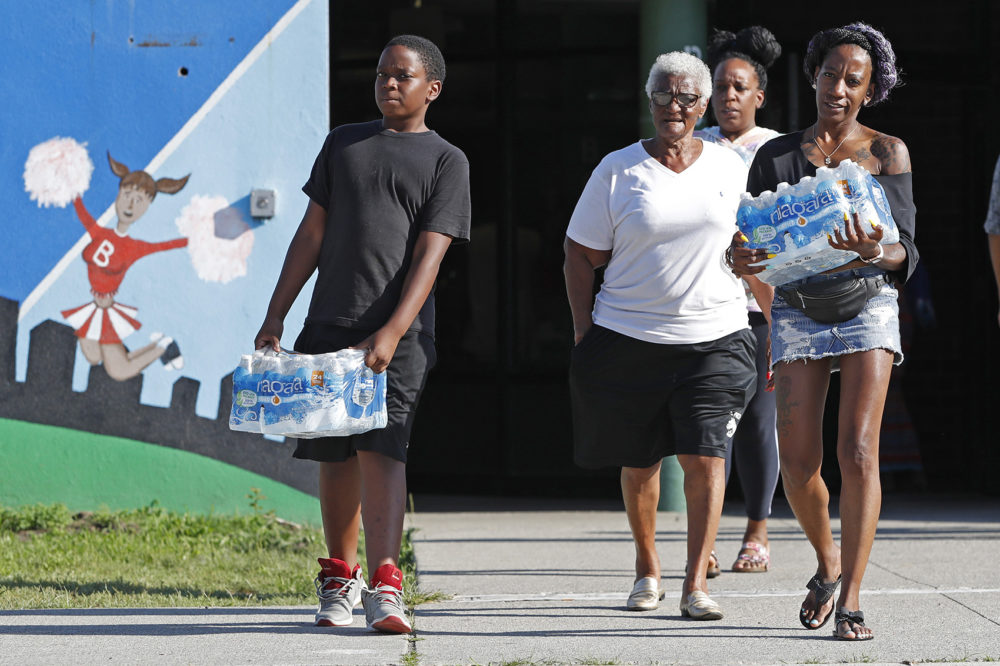 This article is more than 3 years old.
With Meghna Chakrabarti
Newark, New Jersey, residents are lining up for bottled water after lead was found in tap water. We look at crumbling infrastructure and public health.
Guests
Yvette Jordan, teacher at Central High School and resident of Newark's South Ward. She started a group called NEW Caucus in 2012 with other educators to teach students about social justice.
Dimple Chaudhary, senior attorney and managing litigator at the Natural Resources Defense Council (@NRDC). Lead counsel representing community groups in Flint, Michigan, in a lawsuit about lead contaminated drinking water. Counsel in a legal proceeding addressing elevated lead levels in Pittsburgh's drinking water.
Eric Schwartz, assistant professor at the Stephen M. Ross School of Business at the University Of Michigan. He worked in Flint, Michigan, starting in 2016 looking for ways to predict where lead pipes were before digging up streets and yards. He's continuing that work in other cities. (@ericschw)
Margaret Krauss, reporter covering development and transportation issues for WESA, Pittsburgh's NPR station. (@MargaretKrauss)
Phil Murphy, Democratic governor of New Jersey. (@GovMurphy)
From The Reading List
New York Times: "In Echo of Flint, Mich., Water Crisis Now Hits Newark" — "For nearly a year and a half, top officials in Newark denied that their water system had a widespread lead problem, despite ample evidence that the city was facing a public health crisis that had echoes of the one in Flint, Mich.
"Even as the risk persisted in the spring, the officials in Newark, New Jersey's most populous city, took few precautionary measures, instead declaring on their website, 'NEWARK'S WATER IS ABSOLUTELY SAFE TO DRINK.'
"But this month, facing results from a new study, the officials abruptly changed course, beginning an urgent giveaway of 40,000 water filters across the city of 285,000 people, targeting tens of thousands of residences.
"The revelation that Newark is facing a potentially widening public health crisis over tap water has angered many residents and raised questions about whether the city's negligence has placed young children at risk."
WESA: "PWSA Exceeds Federal Lead Levels, But They Are Getting Lower" — "Lead levels for Pittsburgh Water and Sewer Authority remain higher than the federal action level of 15 parts per billion. However, the latest rounds of test results revealed that a chemical additive has reduced lead in water.
"Orthophosphate creates a layer inside of the system's pipes to prevent water from coming into contact with lead, but it takes about six months to reach full effectiveness. PWSA began adding it in April, after an extended oversight bout with Pennsylvania's Department of Environmental Protection.
"Executive director Bob Weimar was hopeful levels would come in below the federal threshold thanks to the treatment, but stressed that even if they had, that's not the goal.
"'Our goal is obviously to take the lead out of the system as quickly as we can and to provide safe water each and every day to the public,' he said.
"Weimar expects the agency to eradicate lead from the system within 10 years."
CNN: "There's lead in Newark's water. A mom worries her 5-year-old is 'being poisoned'" — "Bryce Thomas' toy prehistoric reptiles nosedived into the cold, soapy tap water in the kitchen sink, scooping up schools of imaginary fish, when his mother started weeping in the living room.
"'If I don't advocate for him, the city isn't going to advocate for him,' Shakima Thomas cried. 'I don't trust they're doing everything they can, and I don't trust that they ever will.'
"The water 5-year-old Bryce loves could have profound effects on his health. Though human skin does not absorb lead from water, Thomas fears Bryce could accidentally ingest the water that flows into the family's home while playing. He'd just helped his mom wash dishes under a filter that reduces lead in contaminated tap water, then tiptoed onto a step stool and plunged his plastic winged animals through the floating bubbles.
"Thomas rose to compose herself, another sea of toys around the chair at her feet. She stepped toward the kitchen where Bryce played.
"'They're not advocating for the residents at all,' Thomas said of local politicians. 'Forget the adults. What about the children? Who's looking out for them? He can't go to the City Council and speak on his own behalf. He doesn't even know he's being poisoned.' "
Rolling Stone: "From Flint to Newark to Pittsburgh: Why do American Cities Fail to Protect Our Water?" — "Tell me if you've heard this one before: A U.S. city is facing a public health crisis, after years of denying that it had a problem with lead in its drinking water supply. In 2016, that would have been a reference to Flint, Michigan. This week, it's Newark, New Jersey, where city officials on Sunday resorted to handing out bottled water to affected residents.
"Lead has long been recognized as a potent neurotoxin. The health effects of lead exposure in children include lowered IQ and increased risk of behavioral disorders. Exposed adults are more likely to develop a slew of health problems including nerve, kidney, and cardiovascular issues. Pregnant women and babies are especially vulnerable, as even low levels are associated with serious, irreversible damage to developing brains and nervous systems.
"No amount of lead is considered 'safe,' but the federal government has set a limit of 15 parts per billion in drinking water. At one point, tests in Flint revealed lead levels at over 100 ppb. In July, a test showed Newark water lead levels at 55 ppb. In both cases residents say the city's denials and delays came at a cost to their wellbeing.
"'The mayor keeps saying that this isn't like Flint,' Newark resident Shakima Thomas told Grist way back in November. 'It is the same as Flint in the way that they tried to cover it up. We were victimized by this administration. They gamble with our health. They put politics first before justice.'
"And that pattern appears to be continuing. Some experts say they already have a good idea of where the 'next, next Flint' might be."
Grace Tatter and Dorey Scheimer produced this hour for broadcast.
This program aired on August 22, 2019.