The Impact Of Coronavirus On The Education System
Play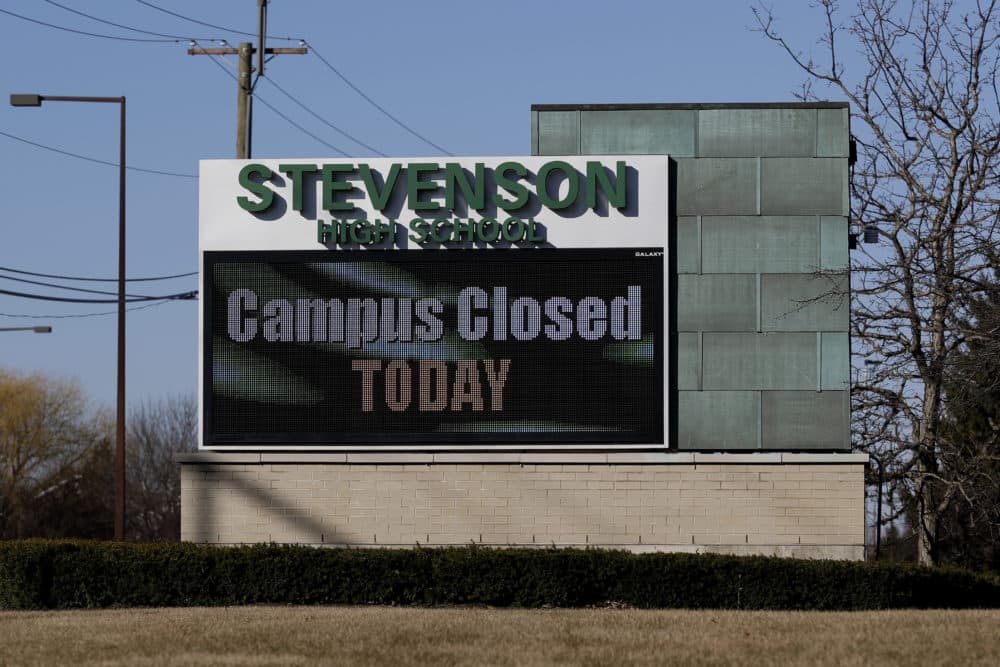 This article is more than 2 years old.
Editor's note: President Trump has now recommended the closing of all schools. Get the latest here. 
---
Coronavirus forces students from elementary school to college out of the classroom. We'll look at the impact on students, their families and the education system.
Guests
Dr. Nathaniel Beers, president of the HSC Health Care System, which is a subsidiary of Children's National Hospital. Member of the American Academy of Pediatrics Council on School Health. (@nbbeers)
Michelle Reid, superintendent of Northshore School District in Bothell, Wa. (@Northshore_Supt)
Dr. Joris Ray, superintendent of Shelby County Schools in Memphis, Tenn., which has closed its schools until the end of the month. (@SCSSuptRay)
Sonja Brookins Santelises, CEO of Baltimore City Public Schools. (@SonjaSantelises)
Interview Highlights
What is the logic behind all of these school closures we've seen in the past couple of days?
Dr. Nathaniel Beers: "It's a really hard decision, and I think, as you said, the preliminary data that we had out of China suggested that children were not getting the virus at the same rates as adults. It is hard to know if that is actually true or if, in fact, kids were not as symptomatic as adults and thereby did not end up getting to the threshold to get tested.
"And so we know that with viruses that children certainly are often vectors of those transmission. And they do, in fact, tend to spread partly because they tend to get in each other's space a little bit more, partly because they tend to share things more frequently than we may as adults. And so what we know is that we wanted to make sure that we created opportunities to reduce the transmission.
"And so schools have been thinking about kids as the vector. In addition, the challenge for schools is that you have to also think about the adult personnel who work at the schools. And so it is a broader challenge for schools who have an adult workforce and a child population who they are serving, in trying to balance all of those and make sure that they can address the needs of the broader community at the home."
On the services schools provide in their communities that may be hard to replace
Dr. Nathaniel Beers: "I think the biggest thing that we forget about occurring at schools is actually school meals. And so we know that those kids who receive free and reduced lunch are at high risk when school closes. What I know many jurisdictions are working through and I'm proud to say that D.C. is one of them, that we've been able to see schools start to figure out how to provide school meals and support for nutrition for children even when they are closed.
"And there has been some movement on the regulatory front that has allowed school districts to be able to recoup the funds that they have for those, which is different than it was even three years ago. I remember when I was the chief operating officer for D.C. public schools and we had 'snowmageddon' in 2016. We decided to reopen schools for feeding before we opened it for instruction. And those were funds that the school district had to support themselves without the federal support for that. And so being able to tap into those resources are really critical.
"In addition, we have to remember that we have many schools that also provide additional wraparound supports for the kids who are in those schools. So, for instance, our special education population are receiving therapy services, whether that's speech therapy, occupational therapy, as well as counseling services to support kids in getting through school. But many of those kids need those services in order to be healthy in their general lives. And so when school is not open, that gap in service really becomes more pronounced.
"The behavioral health needs of our kids are often supported in our schools. And during this period of anxiety and where there's additional stressors on families, we know that there is those additional challenges there as well. And then also there are many schools that are using community health models to talk about wraparound services for the parents that are also in those school buildings. And those are really critical pieces to families survival as well."
On nutrition in schools, and how meal distribution is working outside of school
Dr. Nathaniel Beers: "In D.C. proper, there are 16 schools that have been set up to be able to support those families and allow them to come in and get feeding from the hours of 10 a.m. to 1 p.m. so that families can come in and get that support. And we'll provide those services as a school system locally. And I know that in Montgomery County, they are planning on making announcements later, early this week to again support families in similar ways. And I've heard of several other jurisdictions around the country that are also doing that same type of thing, trying to decrease some of the traffic by making it a wider range than just a half-hour for lunch. But acknowledging that the school can't be open all day long and we don't want people sort of tracking through all the time."
On school closures in the North Shore School District in Washington state
Michelle Reid: "What we did is we closed school for a day in early March to provide our teachers with a day of staff development so that we could have our teachers that were very proficient with technology teach all of our other teachers and staff who maybe weren't as proficient so we could bring an entire school system up to scale online.
"And so our first week of, if you will, classroom to the cloud, our initiative actually went fairly smoothly. As you mentioned, meals and child care also became a priority. So we created a survey for our parents and they had to let us know if they either needed devices, mobile hotspots or in some cases meals, as we're the only source during the day for food for some children. We had a number of families respond in all cases. We've distributed over 4,000 computing devices, 600 mobile hotspots, and we're serving food at 22 locations in the school district.
"What we realized is some of the locations, some of our families couldn't get to. So we've actually added locations and today we'll begin serving or having lunches delivered at 33 sites and in the community. For child care, we've also surveyed our families and we had 280 families that requested child care and we worked with our YMCA and champions partners to have them use five sites within the school district."
On concerns that there may be families that are missing out on services 
Michelle Reid: "We hope not. Word of mouth. We send pretty much every other day communication to our families. We know many of our families have mobile phones or mobile devices that they're able to access the information. And as we widen the net for distribution for food, we're hopeful that we'll be reaching all families."
On learning challenges for students during the coronavirus outbreak
Michelle Reid: "That's our challenge each and every day, whether we're in a coronavirus situation or not, isn't it? And what we've done is we've actually paused our online learning for this week and we're moving into a new iteration as we think about innovation, we're moving into a new iteration, which is project-based week. So we're pushing out resources that enable students to acquire, if you will, knowledge or information. And then we're hoping they'll demonstrate their understanding or applying that knowledge in new and independent ways.
"And we linked some examples. I was very impressed with the elementary student in Taiwan who created the Lego robot to distribute hand sanitizer. So we're asking students to craft projects or craft ideas that might help us in our community during this time of a health crisis. So we're looking forward to all the different projects. As well as we've reminded students about the importance of reading. Warren Buffett has talked about that in many ways. And we're going to be posting a book review site it and creating a Northshore Newbery Award, if you will, having our students share their reviews of different books so we can have a literary conversation as well this week. So we're trying different things and hoping that that will engage our learners across the broad spectrum of developmental stages."
From The Reading List
Education Week: "To Close or Not? How Superintendents Decide to Shut Down Schools" — "With COVID-19 continuing to spread throughout the United States, thousands of superintendents are suddenly becoming fluent in a peculiar new idiom: that of 'social distancing' and 'flattening the curve' of infection to prevent overwhelming medical facilities. Increasingly, they're faced with the tough decision of if and when they should decide to close their schools to stave off transmission.
"So far, the District of Columbia, Kentucky, Maryland, Michigan, New Mexico, Ohio, and Oregon have moved to close all their schools. In other states, absent a direct order from public-health agencies, the decision of whether, and how long, to shutter schools technically falls to superintendents. Many interviewed by Education Week say, though, that they coordinate with other health and safety agencies to gauge impact on their communities at large before making the call.
"'At the end of the day, we'd never make that decision unilaterally,' said Bondy Shay Gibson, the superintendent of the Jefferson County district in West Virginia's panhandle. 'We'd work with the health department, the sheriff's department, the county homeland-security department, and say to them: Tell us what you think—is there anything we're not considering?'"
CBS Baltimore: "Baltimore City Schools Respond To Pandemic, Will Offer Free Meals To Students During Closure" — "Baltimore City Schools officials discussed what parents, students and staff should expect during the two-week closure of city public schools during a press conference Friday morning.
"Gov. Larry Hogan closed all public schools in the state will be closed March 16-27. Baltimore City Schools were previously scheduled to be closed Friday for staff professional development.
"All school activities including school day instruction, child care, health services, enrichment, extra-curricular activities, preschool, athletics and club sports are canceled throughout this period."
The New York Times: "We Don't Need to Close Schools to Fight the Coronavirus" — "Facing an accelerating spread of Covid-19, Italy and Japan have closed schools to impede the epidemic. Some communities in the United States have done so too, agreeing to significantly disrupt people's lives on the theory that it will prevent deaths and serious illness.
"But there is no clear evidence that such measures will slow this outbreak.
"Most of what we know about the impact of school closings on disease transmission relates to influenza, to which children can be particularly vulnerable, sometimes dying or becoming seriously ill from it.
Children are important drivers of influenza infections because they have more interactions with people than do most adults and also give off more of the virus. Closing schools, it is assumed, reduces the number of contacts and thus the rate of transmission."
This program aired on March 16, 2020.