'Tasting Italy' With National Geographic And America's Test Kitchen
16:00
Play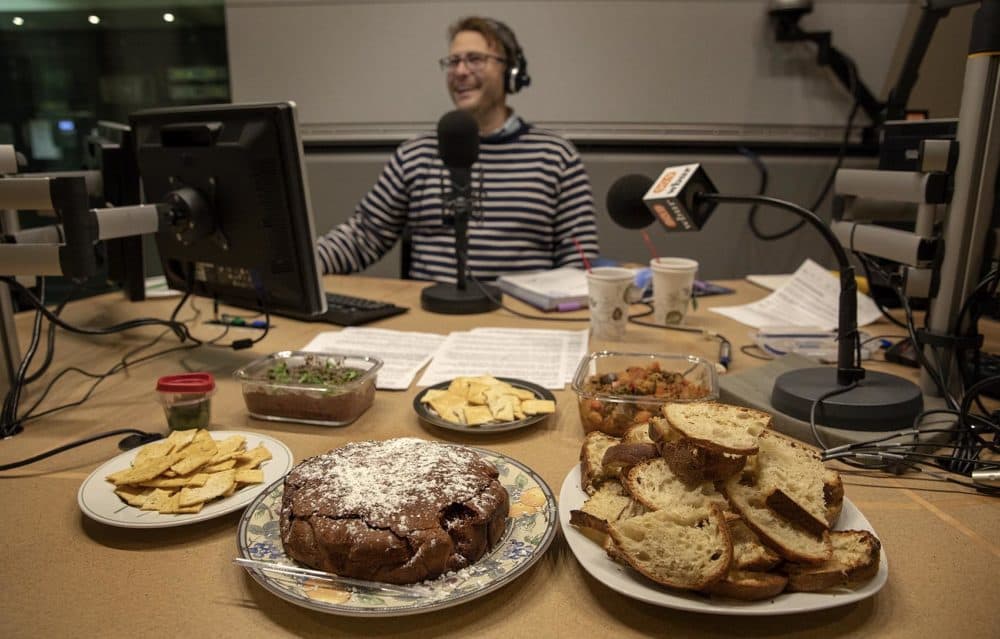 This article is more than 2 years old.
When you hear "Italy," what comes to mind?
If you've been there, probably old stucco buildings, cobblestone streets crowded with Vespas, the warm waters of the costs and the beautiful mountaintop vistas — and, of course, the food.
Italian food writ large is more than just pizza, pasta with marinara sauce and chicken parm. It's a tapestry of 20 unique regions, each with their own characters and unique dishes.
And now National Geographic and America's Test Kitchen have journeyed through the old country and bring us their latest cookbook, "Tasting Italy: A Culinary Journey" — some 100 classic and surprising recipes from Italy.
Guest
Jack Bishop, author and chief creative officer of America's Test Kitchen, which tweets @TestKitchen.
Recipes
Crostini with Chicken Liver Spread
Why This Recipe Works: No Tuscan antipasto course would be complete without crostini di fegatini, which you'll often find served alongside a charcuterie platter and a glass of wine. Unlike French liver pâtés, which are smooth and creamy, Italian liver spreads have a chunky texture—their rustic nature is characteristic of the region's cuisine. Variations on flavors abound, but all have a signature salty element to complement the liver. We chose capers over anchovies for this component, preferring their briny bite. White wine (options such as red wine and vin santo overpowered the other flavors of the dish), sage, and onion were welcome additions. Many recipes cook the livers through until they're no longer pink, but we found that they produced a much better spread when they cooked for only a few minutes and maintained a rosy interior; when cooked quickly, the liver retains its soft, creamy texture and a clean, mellow flavor that blends easily with the other ingredients. We prefer to serve this spread warm; however, it can be refrigerated for up to 1 day and brought to room temperature before serving.
1 (10 by 5-inch) loaf rustic Italian bread, ends discarded, halved lengthwise and sliced 3/4 inch thick
1 large garlic clove, peeled
6 tablespoons unsalted butter
1 small onion, chopped fine
1 tablespoon chopped fresh sage
Salt and pepper
1 pound chicken livers, rinsed, patted dry, and trimmed
1/2 cup dry white wine
2 tablespoons capers, rinsed
2 tablespoons minced fresh parsley
1. Adjust oven rack to middle position and heat oven to 400 degrees. Arrange bread slices in single layer on rimmed baking sheet and bake until dry and crisp, 8 to 10 minutes, flipping slices halfway through baking. While still hot, rub each slice of bread with garlic clove; set aside for serving.
2. Melt butter in 12-inch skillet over medium-high heat. Add onion, sage, and 1/4 teaspoon salt and cook until softened and lightly browned, about 5 minutes. Stir in livers and cook until exteriors are no longer pink, about 1 minute. Add wine and capers and simmer until liquid is syrupy and livers are slightly firm to touch but still have rosy interior, 2 to 4 minutes.
3. Transfer liver mixture to food processor and pulse until coarsely chopped,
5 to 7 pulses, scraping down sides of bowl as needed. Season with salt and pepper to taste. Spread liver mixture on each piece of toast and sprinkle with parsley. Serve.
---
Chocolate-Hazelnut Torte
Why This Recipe Works: Hazelnuts from Piedmont are truly something special with their fine flavor and extremely crisp texture. Although they're beloved in many dishes, the flavor combination of hazelnuts and chocolate, called gianduia, is a Piedmontese favorite. Sometimes gianduia refers to a fudge-like confection that's sold in bar form, sometimes to a spread (think: Nutella), and sometimes to the popular gelato flavor. But it's also a favorite in cakes, and just about any cake from the region that features chocolate and hazelnuts might be called torta gianduia—some are dressed-up and multilayered, while others are low, lush, and glazed. We love the classic rustic version with a crackly, crisp top and a moist, dense interior that's something like a nutty flourless chocolate cake. The taste and texture are dependent on a delicate balance of whipped eggs (for structure and lift), butter, sugar, bittersweet chocolate, and ground hazelnuts. The quantity of nuts was of particular import. We started with 6 ounces of chocolate and 1 cup of nuts, but found the chocolate overpowered the more delicate hazelnut flavor and the texture was actually too moist and fudgy. One and a third cups of nuts was better, but we still felt the cake could be lighter; we found that replacing a small amount of the nuts with regular flour—2 tablespoons—provided a rich, melt-in-the-mouth cake that wasn't overly weighty. All this super-rich cake needed to finish was a dusting of powdered sugar for rustic charm. Serve with lightly sweetened whipped cream.
6 ounces bittersweet chocolate, chopped
1 1/3 cups hazelnuts, toasted and skinned
1 cup (7 ounces) granulated sugar
2 tablespoons all-purpose flour
1/4 teaspoon salt
5 large eggs, separated, plus 1 large yolk
Pinch cream of tartar
8 tablespoons unsalted butter, softened
Confectioners' sugar
1. Adjust oven rack to middle position and heat oven to 350 degrees. Grease 9-inch springform pan, line with parchment, then grease pan sides only.
2. Microwave chocolate in bowl at 50 percent power, stirring occasionally, until melted, 2 to 4 minutes; let cool completely. Pulse hazelnuts, 1⁄4 cup granulated sugar, flour, and salt in food processor until finely ground, about
10 pulses; set aside.
3. Using stand mixer fitted with whisk attachment, whip egg whites and cream of tartar on medium-low speed until foamy, about 1 minute. Increase speed to medium-high and whip until stiff peaks form, 3 to 4 minutes; transfer to large bowl.
4. Return now-empty bowl to mixer and beat butter and remaining 3/4 cup granulated sugar on medium-high speed until pale and fluffy, about 3 minutes. Add egg yolks, one at a time, and beat until combined. Reduce speed to low, add cooled chocolate, and mix until just combined. Add hazelnut mixture and mix until just combined, scraping down sides of bowl as needed.
5. Using rubber spatula, stir one-third of whites into batter. Gently fold remaining whites into batter until no white streaks remain. Transfer batter to prepared pan, smooth top, and gently tap pan on counter to release air bubbles. Bake until toothpick inserted halfway between center and outer rim of cake comes out clean, 45 to 50 minutes. (Center of cake will still be moist.)
6. Let cake cool completely in pan on wire rack, about 3 hours. (Cooled cake can be wrapped in plastic wrap and refrigerated for up to 4 days; let sit at room temperature for 30 minutes before serving.) Run paring knife around edge of cake to loosen, then remove sides of pan. Invert cake onto sheet of parchment paper. Peel off and discard parchment baked onto cake. Turn cake right side up onto serving dish. Dust with confectioners' sugar and serve.
---
Caponata
Why This Recipe Works: Prepared in Calabria and Sicily, caponata, a sweet-and-sour eggplant relish, is a bit different in every village. The dish has been revered for centuries, and it's easy to see why: Bolstered by the bold Mediterranean flavors of capers, olives, raisins, and pine nuts, with celery providing crunch, the vegetable mélange is good enough to eat straight out of the bowl, though it's traditionally served on bruschetta or with grilled meat or fish. (Funny enough, caponata got its name from caupone, the taverns around Sicily's ports where it was originally a seafood dish—a mix of squid, celery, and eggplant.) Eggplant tends to absorb oil like a sponge, so we started by microwaving it on a bed of coffee filters, an effective technique we've used for many eggplant dishes; it works surprisingly well to collapse the eggplant's cells, enabling it to absorb the flavors of the other ingredients rather than the cooking oil. We added concentrated tomato flavor in the form of V8 juice—an unlikely twist, but it avoided the pulpy texture of canned tomatoes. Brown sugar, raisins, and red wine vinegar created the traditional sweet-and-sour profile, while minced anchovies provided an umami boost and briny black olives offered balance. Although we prefer the flavor of V8 juice, tomato juice can be substituted. If coffee filters are not available, food-safe, undyed paper towels can be substituted. Be sure to remove the eggplant from the microwave immediately so that the steam can escape.
11/2 pounds eggplant, cut into 1/2-inch pieces
1/2 teaspoon salt
3/4 cup V8 juice
1/4 cup red wine vinegar, plus extra for seasoning
2 tablespoons packed brown sugar
1/4 cup chopped fresh parsley
3 anchovy fillets, rinsed and minced
1 large tomato, cored, seeded, and chopped
1/4 cup raisins
2 tablespoons minced black olives
2 tablespoons extra-virgin olive oil, plus extra as needed
1 celery rib, chopped fine
1 red bell pepper, stemmed, seeded, and chopped fine
1 small onion, chopped fine
1/4 cup pine nuts, toasted
1. Toss eggplant with salt in bowl. Line entire surface of plate with double layer of coffee filters and lightly spray with vegetable oil spray. Spread eggplant in even layer on coffee filters. Microwave until eggplant is dry and shriveled to one-third of its original size, 8 to 15 minutes (eggplant should not brown). Transfer eggplant immediately to paper towel–lined plate.
2. Whisk V8 juice, vinegar, sugar, parsley, and anchovies together in bowl. Stir in tomato, raisins, and olives.
3. Heat 1 tablespoon oil in 12-inch nonstick skillet over medium-high heat until shimmering. Add eggplant and cook, stirring occasionally, until edges are browned, 4 to 8 minutes, adding 1 teaspoon more oil if skillet appears dry; transfer to bowl.
4. Add remaining 1 tablespoon oil to now-empty skillet and heat over medium-high heat until shimmering. Add celery, bell pepper, and onion and cook, stirring occasionally, until softened and edges are spotty brown, 6 to 8 minutes.
5.  Reduce heat to medium-low and stir in eggplant and V8 juice mixture. Bring to simmer and cook until V8 juice is thickened and coats vegetables, 4 to 7 minutes. Transfer to serving bowl and let cool completely. (Caponata can be refrigerated for up to 1 week; bring to room temperature before serving.) Season with extra vinegar to taste and sprinkle with pine nuts before serving.
This segment aired on December 14, 2018.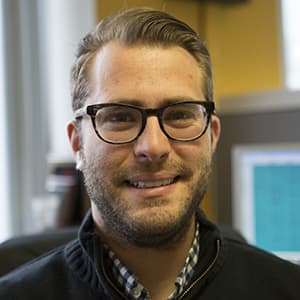 Jamie Bologna Producer/Director, Radio Boston
Jamie Bologna is producer and director of Radio Boston.