When And How Can I Get My Vaccine Shot?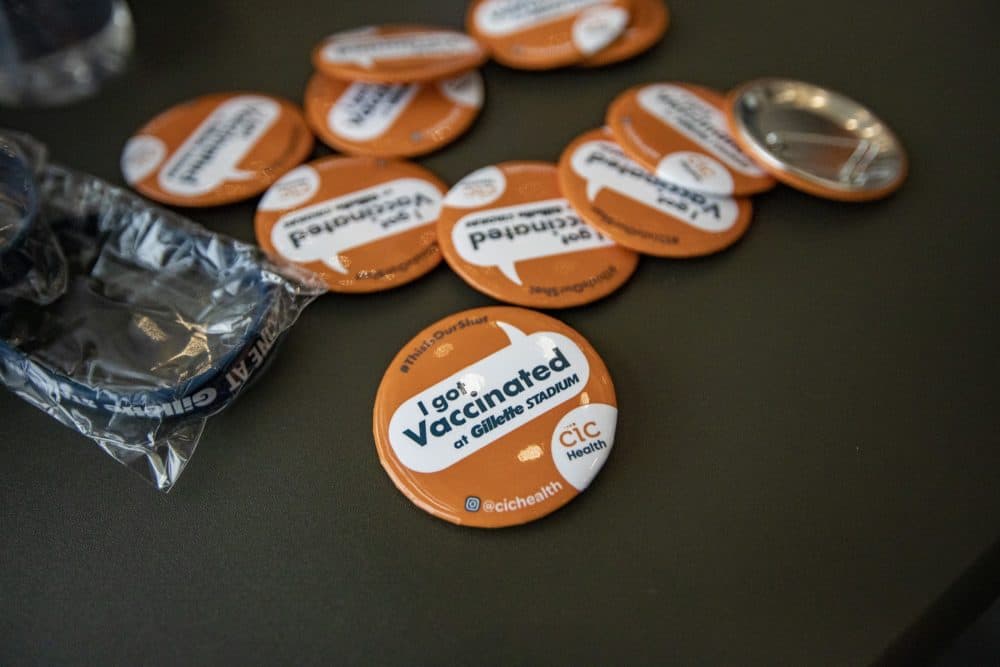 Editor's Note: This is an excerpt from a COVID-19 vaccine special edition of WBUR's weekly coronavirus newsletter. This is part one of three. You can get the other special edition emails, in addition to our weekly vaccine and COVID reporting, in your inbox when you sign up here. En español, traducido por El Planeta Media.
---
We've covered a lot of ground these last few weeks talking about COVID-19 vaccines. Here's what we know so far: All three vaccines available in the U.S. are safe and effective, and they were all developed quickly by employing new technology and being smart about layering steps in the process.
For our final discussion, we're going to talk about the vaccine rollout in Massachusetts, how you can register for your shot(s), where you'll go to get inoculated, what to expect when you do, and what happens after.
The Basics
Yeah, yeah, yeah, we'll get to all that, but first things first: When can I get vaccinated?
Well how's this for timing? On Wednesday, Gov. Charlie Baker laid out the state's eligibility timetable for everyone in the state. In short, all Massachusetts residents over the age of 16 will be eligible for a vaccination by April 19.
But just because you're eligible doesn't mean you'll get your shot right away. All you have to do is ask the folks who have been eligible since February but are still waiting for their dose. Baker has said numerous times, including today, that the state could get more shots into arms if the feds could give them more doses every week.
Here's the newest timetable laid out by Baker:
March 22: Individuals ages 60 or older
March 22: Essential workers from industries including grocery, transit, food and agriculture, utility, public health, public works and sanitation
April 5: Individuals 55 or older
April 5: Individuals with one or more designated health conditions that puts them at high risk for COVID
April 19: The general public
So to review, here's who is eligible right now: people ages 65 or older; people with two or more health conditions that put them at risk of a serious case of COVID; teachers and staff in a K-12 school. Everyone else, mark your calendars using the information above.
The schedule announced by Baker today puts Massachusetts ahead of President Biden's direction that all "states, tribes and territories" must make the vaccine available to all adults by May 1.
How do I make an appointment?
The answer to this question has been a journey, but as of last week, you can preregister for an appointment at one of the state's mass vaccination clinics by visiting vaccinesignup.mass.gov. You'll be prompted to answer a few quick questions about your health, race, gender, etc. You can also select how you want to be contacted: via email, text message or good old-fashioned phone call.
There's no barrier to registering before you are eligible, but the state asks that you hold off until it's your turn.
Then, you wait. When the state has an appointment available near you, it will reach out to let you know. When you get the notification, you have 24 hours to confirm your appointment or you'll lose the slot and get thrown back into the pool with the rest of the preregistrants.
You can still shop around for an appointment elsewhere, even if you're preregistered. There are plenty of local and regional clinics offering vaccinations that aren't part of the preregistration system, including some community health centers. That also includes CVS and Walgreens, which have their own pipelines to the feds for doses. Here's a state map of all the public vaccination locations.
That seems easy. Why have people been so critical of the rollout?
Well, one reason is that before last week, the state would make the bulk of its appointments available for booking on Thursday mornings, leaving a million eligible residents to compete for the few thousand available slots like a digital version of the Oklahoma Land Rush.
The site crashed, hard and more than once, at the start of phase two. The following week, users were shunted into virtual waiting rooms, often with inaccurate wait times. Some stretched into thousands of minutes.
Beyond the technical snafus, the web-based system placed an extra hurdle before people with limited internet access or those who frankly didn't have hours and hours available to sit and wait for an appointment to appear. The initial rollout also led to doses going to a disproportionately white population, although that gap's been closing.
OK, I've made an appointment. Should I take some Advil beforehand to get ahead of the reported pain and fever side effects?
Probably not, but talk with your doctor. There's some concern that taking ibuprofen or other medications to block inflammation could limit the effectiveness of the immune response to the vaccine, which, like, is the whole point of this endeavor. The Washington Post explores this question a little further here.
What about this "COVID arm" I keep hearing about?
We talked quite a bit about side effects in the first of these vaccine emails, but as more people get the shots, we're hearing about specific concerns from readers. COVID arm is a term for significant redness and pain at the injection site that, in rare cases, develops between eight and 11 days after getting the shot. It looks and feels alarming but initial research shows the inflammation is caused by T-cells, which are part of your immune system and exactly what you'd expect from an injection developed to trigger an immune response.
Beyond that basic information, we're getting into questions that require more medical knowledge. If you have questions about the vaccine and your own health — conditions you have, past experiences getting vaccinations or other concerns — talk with your doctor. (We are not doctors.)
Let's Hear From An Expert
WBUR's Martha Bebinger is one of the state's premiere health journalists (and, point of personal privilege, an absolute joy to sit near in a newsroom — when we were allowed in the office, that is). She's been covering the state's vaccination distribution plan since before there's been an authorized vaccine, examining every detail up to and including the dry ice needed to ship the stuff around the world. We asked Martha to provide some more detail on what to expect as this process continues:
Gov. Charlie Baker keeps talking about supply from the feds, and says Massachusetts has capacity to give out more vaccines than it currently receives. What happened and what's going on now? What does that mean for the state?
Baker says the state expects to get about 170,000 new doses this week, a little more than the average 150,000 doses that were expected through the end of March. The supply of all three authorized vaccines is expected to increase in April and May, but demand is overwhelming supply right now. In fact, some people who got their first dose but didn't sign up for a second dose right away are finding those appointments hard to come by. PSA: When you get your shot, make sure to get signed up for your second dose before you leave the clinic.
Do you have any tips or advice for signing up for appointments?
There are essentially two paths to an appointment: through your health center or some hospitals, and through the public vaccination program, which includes CVS and Walgreens. Hospitals and health centers are reaching out to eligible patients. For the public sites, you can preregister (for an appointment at a mass vaccination site) once you're eligible or scan the options on the state's map. There are some independent sites worth checking out, too.
If these shots are free, why do I have to provide insurance information?
COVID vaccination recipients don't have to pay anything when they receive their shots. Your tax dollars helped fund the development of several of the vaccines and are being used now to deliver them. Providers can bill your insurance company for the cost of administering the shot(s) you get, which is why you'll be asked for your insurance info if you have coverage. If you don't have insurance, the state will foot the bill.
Will anyone check citizenship or immigration status when I go to get the vaccine?
The Biden administration says the vaccines must be available to everyone who lives in the U.S., regardless of immigration status. But you will likely be asked for identification when you arrive for your appointment.
What if I miss my second appointment?
In short, reschedule it soon. In the U.S., the recommendation is that you get your second Pfizer shot three weeks after the first. For Moderna, it's four weeks after your first dose. The CDC says you can wait up to six weeks for the second shot of both, but the efficacy of a longer delay has not been studied.
The Baker administration has received some intense criticism around equity in the vaccine rollout. The state was supposed to focus on communities of color and areas that have been hit especially hard by the pandemic, but residents and activists say it hasn't happened. How is the state working to address that concern?
The Baker administration has said it's sending about 20% of the state's vaccine supply to communities with the highest coronavirus case rates and other needs during the pandemic. The state has also launched an outreach campaign to boost vaccine acceptance in 20 hotspot cities. And the Baker administration just designated another $27.4 million for vaccine outreach and administration in hard-hit communities. (Recent reporting from The Boston Globe shows vaccination rates are lagging for Latino residents in hard-hit communities like Lawrence, Chelsea and Holyoke.)
Wait! I still have questions!
➡️ The state has a very thorough FAQ about the vaccine rollout if you want to know more.
➡️ So does Martha: Here's her updated FAQ on the vaccine rollout in Massachusetts. (I recommend bookmarking it, as she's updating it regularly. It has also been translated into Spanish by our good friends at El Planeta.)
How's It All Going?
Here are the latest numbers on vaccinations in Massachusetts, which were updated yesterday afternoon.
Number of people who have received a first Moderna or Pfizer shot: 1,664,173
Number of people who have received a second Moderna or Pfizer shot: 883,407
Number of people who have received a single dose of the Johnson & Johnson vaccine: 62,889
Number of people fully vaccinated: 946,306
Percentage of residents who have been fully vaccinated: 13.73%
In terms of residents fully vaccinated, Massachusetts ranks TKTKTK among the states. But we're TKTKTK when measured by the percentage of residents who have received the first of the two-shot mRNA vaccines. You can see NPR's chart comparing the states here.
The Post-Vaccination World
Once you've been fully vaccinated, you can start doing things you've likely been avoiding for more than a year. According to the CDC, you're considered fully protected two weeks after you've completed the vaccination process (so that's two shots for the Moderna or Pfizer vaccines and just one for J&J).
You can hug your grandkids.
You can get together indoors with other vaccinated family and friends without wearing a mask or distancing.
You can visit unvaccinated people in a low-risk household (meaning no one there has conditions that would make them more likely to get seriously ill from COVID) without wearing a mask or distancing.
You won't need to rush out and get a test if you had close contact with someone who's been infected (provided you yourself are still asymptomatic), or if you traveled outside of Massachusetts.
All of which sounds so good that I get emotional thinking about it.
But there are still restrictions you should follow, according to that same CDC guidance:
Keep wearing your mask and maintaining distance when out in public.
The same goes when visiting unvaccinated people who may have higher risk factors for a severe case of COVID-19.
Or when visiting unvaccinated people from multiple households, like at a small gathering. Skip medium and large gatherings.
If you develop COVID-19 symptoms, get tested.
It's best to continue avoiding travel, especially by plane, unless absolutely necessary. (Sorry.)
That may feel like tempered enthusiasm, but it's progress after a monumentally depressing year. Where we all go from here is something we can now think about in a tangible way, and not the dreamy "what if?" of even two months ago.
We asked our friends at Cognoscenti, WBUR's ideas and opinion team, for their ideas about life after the vaccine, AKA the "new normal" that we all agree won't be like the previous normal. They got 10 experts to weigh in and imagine with us. It's a must read (and listen).
Read The Previous Parts Of The Vaccination Newsletter Series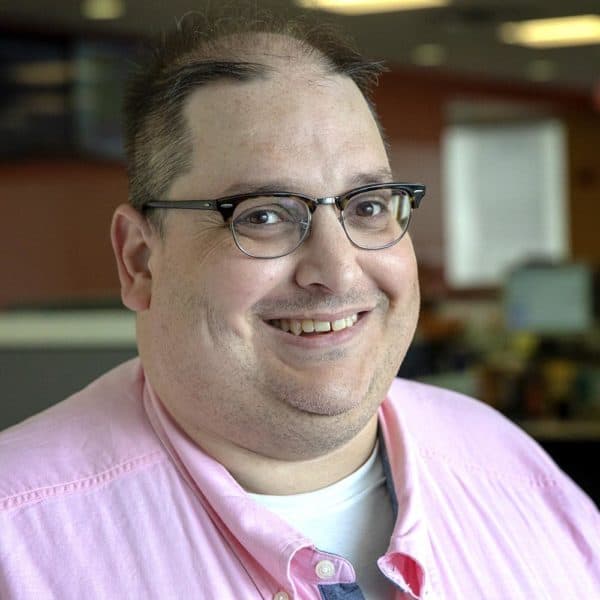 Roberto Scalese Digital Producer
Roberto Scalese is a digital producer and editor.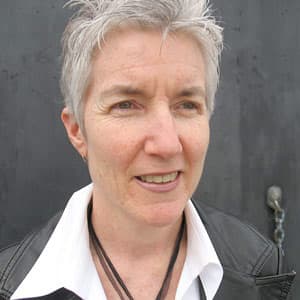 Martha Bebinger Reporter
Martha Bebinger covers health care and other general assignments for WBUR.