Italy's Mont Blanc Glacier Could Collapse As Ice Rapidly Melts, Scientists Warn
Play
This article is more than 3 years old.
The Italian side of Mont Blanc glacier is at risk of collapsing due to increased ice melt linked to climate change, scientists and local officials warn.
A massive chunk of the Planpincieux Glacier on Grande Jorasses peak of the Mont Blanc massif is the cause of concern. About two feet of its ice melts per day due to high temperatures, glaciologist Ulyana Horodyskyj says.
Some roads that pass nearby have been closed as a precaution after a report found new fissures in the ice.
If the popular hiking spot collapsed, 250,000 cubic feet of ice could launch down the mountain, the report found.
"If you've ever been to Walt Disney World, there's the Epcot Spaceship Earth, you know that golf ball structure. Imagine four of those," Horodyskyj says. "That's how big this volume of ice is."
Although it's nearly impossible to predict just how imminent the collapse of Mont Blanc is, Horodyskyj says scientists are doing what they can to monitor just how quickly ice is slipping down the slopes.
She says scientists can utilize radar, satellite images and even time-lapse cameras to keep a close watch on the ice melt.
An "alarmingly wide" crack was detected in the glacier this year, she says. The glacier's fracture is common during the high heat of summer, she explains, but was wider than usual this year.
Mont Blanc, the highest mountain in the Alps, is a temperate glacier, meaning it's not on one of the Earth's poles. This makes it more vulnerable to climate change during a heatwave, Horodyskyj says.
"Glaciers, in general, are highly sensitive to rising temperatures and when you're talking about temperate glaciers, it means the glacier [is] already at its melting point," she says.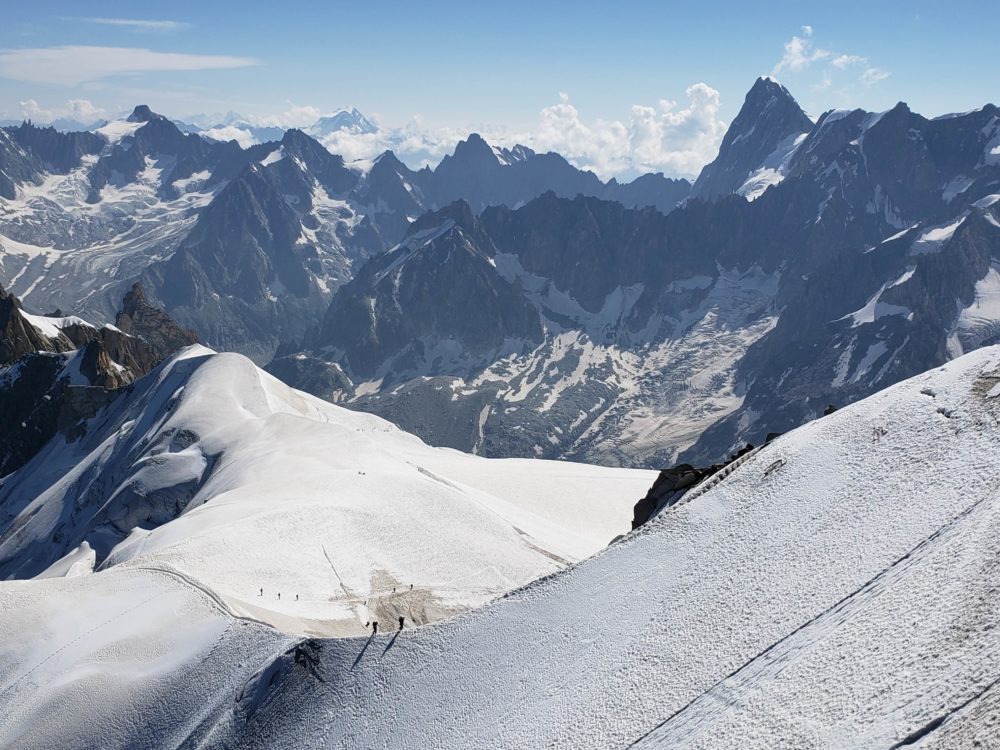 Mont Blanc's melting ice velocity is growing rapidly compared to an average temperate glacier, she says, which can melt ice between four inches to a foot per day.
There's different impacts of losing glacier ice depending on where it's located. For example, Horodyskyj says glacier melt in Greenland or Antarctica can lead to significant sea level rises, as recently reinforced by the U.N.'s Intergovernmental Panel on Climate Change report.
Ice melt on mountain glaciers can affect local communities' water supply, she says.
"You can think about these glaciers as these water storage towers and we're depleting them significantly," she says. "So we're gonna get a lot of water right now. But then it's going to disappear then we have no more water, so that's a huge concern for people living in the mountain villages."
When Horodyskyj and her husband hiked the mountain in the summer of 2018, she was "getting worried about the condition of the ice" because of how balmy the weather was.
Not only were they concerned about melting ice, she says the freeze-thaw process on the glacier caused rocks to "peel off" the mountain.
"You're talking not just about ice hazard, but also rockfall," she says.
As the potential for a catastrophic collapse looms and the urgency surrounding climate change action grows, Italian Prime Minister Giuseppe Conte warned world leaders at the United Nations General Assembly on Tuesday that Mont Blanc's future "must shake us all and force us to mobilize."
---
Ashley Locke produced and edited this interview for broadcast with Kathleen McKenna. Serena McMahon adapted it for the web.
This segment aired on September 27, 2019.