In 'Ready Player Two,' Author Ernest Cline Goes Further Into The Virtual World
Resume
Editor's Note: This segment was rebroadcast on Aug. 5, 2021. Click here for that audio.
Geeks, nerds and gamers are rejoicing as "Ready Player Two" hits bookshelves on Tuesday.
It's the sequel to Ernest Cline's 2011 best-selling futuristic sci-fit novel "Ready Player One." Cline's dystopian world was adapted into a film by Steven Spielberg in 2018.
The first book takes place in a bleak future: The Earth is ravaged by climate change and people spend most of their time inside "OASIS" — a virtual reality world created by eccentric game designer James Halliday. He's a hero in the eyes of OASIS users who are plagued by real-life social problems and crushed by economic catastrophe.
There's even mention of a rogue virus.
Amid the coronavirus pandemic, it may seem prophetic. But the father of two daughters says he doesn't want to see the dystopian world he envisioned on paper to come to fruition.
"I don't want them to grow up in a future like that," he says. "So I'm hoping that I'm not as prophetic as it currently seems."
Set in 2045, OASIS replaces the internet. People in OASIS go to school and work within the realms of virtual reality. In the opening pages of "Ready Player One," Halliday dies, leaving behind his fortune and total control of his brainchild.
Protagonist Wade Watts, only a teenager, is addicted to Halliday's virtual universe. Along with several of his friends, Watts follows the creator's final quest to find Easter eggs hidden throughout OASIS in order to unlock control of OASIS itself.
"Ready Player Two" shows the fallout of their inheritance, Cline says.
"I kind of show them struggling with the ethics and the ramifications of their technology and how it affects people's lives," he says, likening it to the modern-day dilemmas faced by inventors of popular social media platforms.
The second novel hints at the advancement of technology and the dangers that come along with it. As artificial intelligence gets deeper and deeper in the current millennium, Cline says humans "have to be careful" with all technology because it's almost never simply "black or white."
"I think any technology that's that powerful and used by that many people, billions of people around the world, there's always going to be a good side to it and a bad side to it," he says. "So I try to show the characters wrestling with that."
Nine years have elapsed since the publication of "Ready Player One," and virtual reality is no longer science fiction. Companies such as Oculus and VIVE are working to advance present-day virtual reality technology, he says. Cline says they took inspiration from his 2011 novel.
In the early days of Oculus, Cline says the company had a meeting room named after OASIS and gave out "Ready Player One" copies to every employee upon their hiring.
"They told me that there were certain things that I imagined in the book, like things describing the virtual reality interface, that they just lifted wholesale, like Oculus Home," he says.
He considers himself lucky to have imagined virtual reality at the cusp of its explosion, he says.
As technology rapidly evolves, the prognosticator says total immersive virtual reality is "inevitable." In "Ready Player Two," he says he introduced the idea of a brain-computer interface, the "final step in the evolution of video games and virtual reality when the simulation becomes indistinguishable from real life."
Right now, innovators in Silicon Valley are working on brain-computer interfaces and facilitating human trials, he says. People willingly have electronics put into their bodies to test the system, he says.
While that may cause concern for many, Cline says there are life-changing medical applications as a result, such as cameras wired into the brain that help blind people see and cochlear implants that assist those with hearing loss.
The dilemma is knowing how much humans should give up their lives to this advanced technology and when society has reached a point of no return. Virtual reality can become addicting, much like social media is for many. And as the technology improves, "the impulse to escape completely from reality would become greater and greater," Cline says.
Science fiction and fantasy writers often use their platforms to address real-world problems. In his first book, Cline brought awareness to the potential calamity of climate change. In "Ready Player Two," he says he touched on empathy — or the lack of it.
"I think empathy is something we are in dire need of," he says.
In the second novel, he describes an empathy machine as part of the brain-computer interface system. The machine can spur OASIS users to put themselves in someone else's shoes, he explains, something he believes would improve the human species.
"I think it could be hugely beneficial if there was a technology that could teach people to be empathetic. It would make the world a much better place," he says. "I think a lot of the problems that we're facing right now could be traced back to a lack of empathy."
Cline enjoys participating in virtual reality, especially during the pandemic. He says he purchased Oculus Quest headsets for loved ones so they gather together in a shared virtual world while being physically distant. Cline and his wife, writer Cristin O'Keefe Aptowicz, celebrated their wedding anniversary this summer on virtual reality, an event that made it seem like they had "mastered social distancing."
Fans of "Ready Player One" can rest assured that Spielberg had early access to the sequel novel, Cline says. In the director's feedback, Spielberg requested more appearances of his favorite character, Nolan Sorrento.
"I think it's because he's really good friends with Ben Mendelsohn, the actor who portrays Nolan Sorrento in our film," he says. "So I told him I would definitely put more Sorrento in the book and that I would also let Ben Mendelsohn know that Steven was looking out for him."
While not confirmed, Cline says "there's a good chance" the second book will hit the big screen in the future.
---
Book Excerpt: 'Ready Player Two'
By Ernest Cline 
Cutscene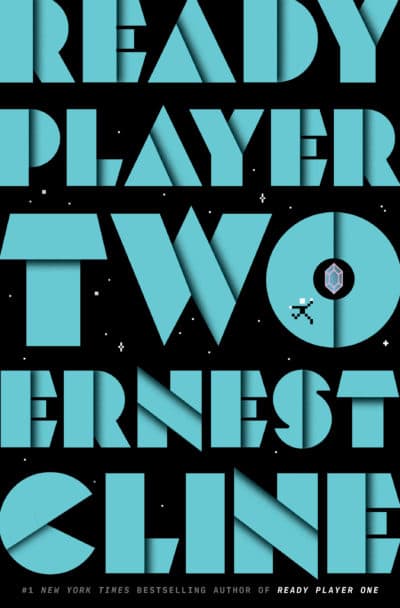 After I won Halliday's contest, I remained offline for nine straight days—a new personal record.
When I finally logged back in to my OASIS account, I was sitting in my new corner office on the top floor of the GSS skyscraper in downtown Columbus, Ohio, preparing to start my gig as one of the company's new owners. The other three were still scattered across the globe: Shoto had flown back home to Japan to take over operations at GSS's Hokkaido division. Aech was enjoying an extended vacation in Senegal, a country she'd dreamed of visiting her whole life, because her ancestors had come from there. And Samantha had flown back to Vancouver to pack up her belongings and say goodbye to her grandmother, Evelyn. She wasn't due to arrive here in Columbus for another four days, which seemed like an eternity. I needed to distract myself until our reunion, so I decided to log back in to the OASIS and try out a few more of the superuser abilities my avatar now possessed.
I climbed into my brand-new top-of-the-line OASIS immersion rig, a Habashaw OIR-¬9400, then put on my visor and haptic gloves and initiated the login sequence. My avatar reappeared where I'd last logged out, on the planet Chthonia, standing outside the gates of Castle Anorak. As I'd anticipated, there were thousands of other avatars already gathered there, all waiting patiently for me to make an appearance. According to the newsfeed headlines, some of them had been camped out there all week—ever since I'd resurrected them in the aftermath of our epic battle against the Sixers.
In my first official act as one of GSS's new owners, just a few hours after the fight ended, I'd authorized our admins to restore all the items, credits, and power levels those heroic users had lost, along with their avatars. I thought it was the least we could do to repay them for their help, and Samantha, Aech, and Shoto had agreed. It was the first decision we'd voted on as the company's new co-owners.
As soon as the avatars in my vicinity spotted me, they began to run in my direction, closing in on me from all sides at once. To avoid getting mobbed, I teleported inside the castle, into Anorak's study—a room in the highest tower that I alone could enter, thanks to the Robes of Anorak I now wore. The obsidian-black garment endowed my avatar with the godlike powers Halliday's own avatar had once possessed.
I glanced around the cluttered study. Here, just over a week ago, Anorak had declared me the winner of Halliday's contest and changed my life forever.
My eyes fell upon the painting of a black dragon that hung on the wall. Beneath it stood an ornate crystal pedestal with a jewel-encrusted chalice resting on top of it. And cradled within the chalice was the object I'd spent so many years searching for: Halliday's silver Easter egg.
I walked over to admire it, and that was when I noticed something strange—an inscription on the egg's otherwise pristine surface. One that definitely hadn't been there when I'd last seen it, nine days earlier.
No other avatars could enter this room. No one could've tampered with the egg. So there was only one way that inscription could've gotten there. Halliday himself must have programmed it to appear on the egg's surface. It could have appeared right after Anorak gave me his robes, and I'd just been too distracted to notice.
I bent down to read the inscription: GSS—13th Floor—Vault #42–8675309.
Hear Wil Wheaton read an excerpt from the book here.
Excerpted from "Ready Player Two" by Ernest Cline. Copyright © 2020 by Ernest Cline. All rights reserved. No part of this excerpt may be reproduced or reprinted without permission in writing from the publisher.
---
Emiko Tamagawa produced and edited this interview for broadcast with Jill Ryan. Serena McMahon adapted it for the web.
This segment aired on November 24, 2020.