US-Mexico Border Homeless Shelter Prepares For Scaled-Back Thanksgiving Feast
05:23
Play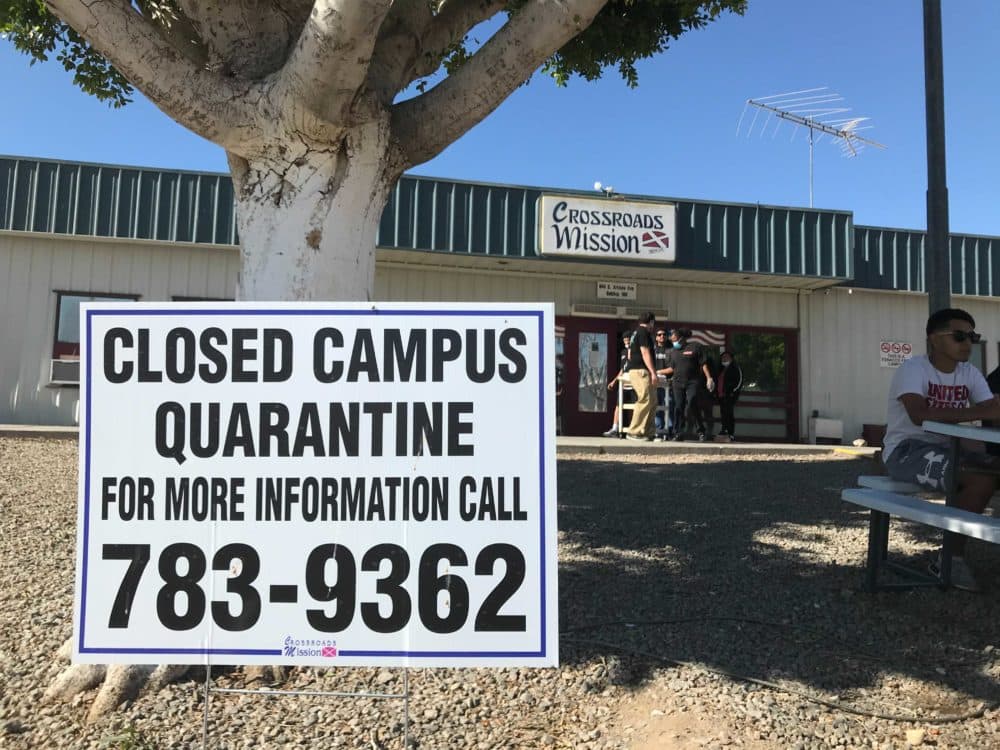 This article is more than 1 year old.
The Crossroads Mission, a homeless shelter in Yuma, Arizona, is a haven to those who call it home.
Just a few miles from the U.S.-Mexico border, the mission has more than 200 beds for men, women and children, and is a refuge for anyone who needs a little help, including a man named Horencio who recently arrived.
"I have a car, so I'm able to travel," he says. "I came from northern Illinois because I want to escape the cold and snow. I came to Yuma." 
Horencio says he mostly lives in his car and moves from place to place depending on the weather. During the pandemic, he's been able to stay healthy, but he says his daily routines have become difficult.
"The libraries have a lot of restrictions, you know, the library's typically where I get my electricity and water," he says.
Before the pandemic, more than half a million Americans were unsheltered. Now the coronavirus has left them with even fewer resources.
Greg Culver, director of the men's shelter at Crossroads Mission, says it's one of the few places in the area that has stayed open for most of the pandemic.
"We're here to help in any way we can. So, you know, whether it be food, clothing, and for a while we had portable showers coming in so people could shower and get cleaned up and whatnot," he says. "So we're doing everything we can to just handle it the best we can and make the best out of a terrible situation."

The shelter received $200,000 in federal emergency money, which has helped it stay open. But Barbara Rochester, the shelter's community affairs director, still worries.
"The churches and the nonprofits that always did fundraisings over the last year and they donate to us nonprofits, well, they haven't done fundraising, so there's no money out there to assist us doing the things that we really need," she says. "We need everything." 
Rochester says the organization has been struggling financially, and they are concerned about the economy like many people across the country.
"But we're faith based here. So we do a lot of praying to make sure that we just think and pray and hope and work toward what we can do to get more things accomplished here," she says. 
The virus itself presents a more immediate challenge. Culver says the shelter had to shut down a few weeks ago when eight people tested positive. They just recently reopened with new safety protocols and rooms for new people to quarantine while they await coronavirus test results.
"If they're a negative, we'll transfer them over to the guest side where we begin our homeless process. We're getting them their IDs, helping them get housing, employment, whatnot," he says. "And if they are positive, we keep them in quarantine for 14 days and then retest them when they come out. And then we start the process of what we can do to help meet their needs."
Right now, the mission's goal is to get as many people sheltered as possible before Thanksgiving. For years, they've hosted a three-day holiday meal that brings volunteers from across the country to serve 3,000 dinners.
This year it's going to be different, Rochester says.
"We're only going to be serving on Thanksgiving Day and Christmas Day, and it's only going to be for the frail, elderly and mentally ill that we will be delivering home-delivered meals to," she says. "We also will be providing meals to-go for our homeless that are here. So we're looking at delivering 500 meals each day."
Rochester says not being able to feed as many people as they used to is stressful for those who work at the shelter.
"That's why we're here: For us to help people over the holidays to help with the depression and suicide," she says. "So we're really keeping an eye on our frail elderly that absolutely have nobody to share the holidays with and their families can't come down. So it's really hard on us here at the Mission." 
Her hopes for this holiday season are that things go back to normal, meaning everyone who helps those who are destitute can work together without restrictions. But still, for the people they serve, normal is still pretty darn tough, she says.
"When you live on Social Security, you make $700 a month. You know, nothing can go wrong in your life because you won't have the money," she says. "So we're always there to say, 'Listen, I know who can help you. Let's take care of this.' So we take care of each other's clients, client by client." 
On Thursday, Crossroads Mission will try to make it just a little easier. They'll wake up on Thanksgiving morning and set out across Yuma serving hot meals to the people who need it most.
---
Cristina Kim produced and edited this story for broadcast with Jill Ryan and Eileen Bolinsky. Samantha Raphelson adapted it for the web. 
This segment aired on November 25, 2020.