WBUR prioritizes the environment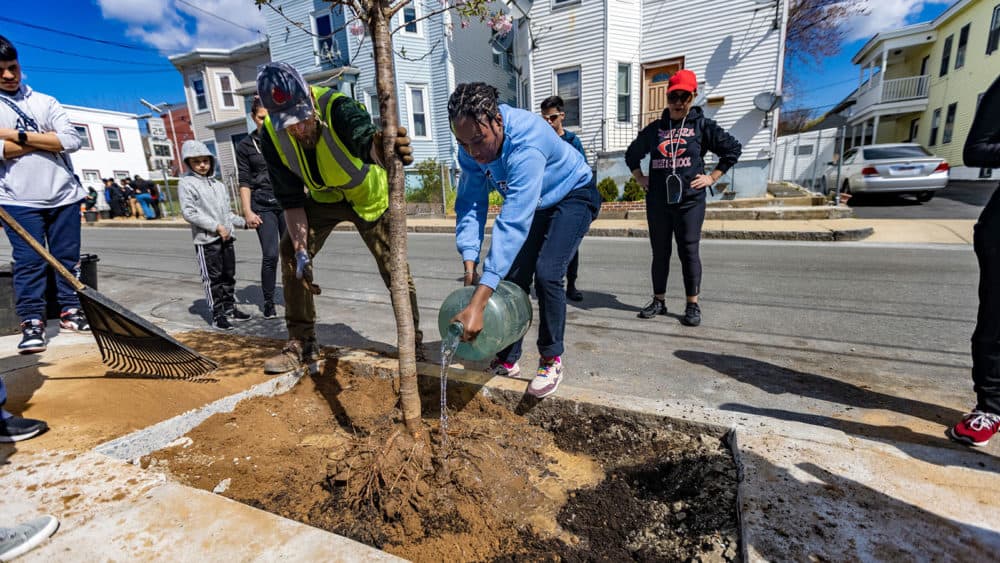 From daily work commutes to the meals on our plates, the issue of climate change is everywhere. Understanding the complex impacts of climate change can help us make more informed and healthy decisions for our families, communities and businesses.
Since WBUR built the Climate and Environment team in 2019, our reporters have stepped up to untangle these issues, filling an alarming gap in environmental coverage at both a local and national level. Thanks to support from donors like you, this year the team has undertaken its most ambitious reporting yet.
Get to know the team
In addition to award-winning journalism backgrounds and deep expertise in environmental issues, our reporters bring well-rounded knowledge of myriad issues, enabling dynamic, multifaceted climate change coverage.
We're delighted to introduce Kathleen Masterson, assistant managing editor, who is a multimedia journalist who has reported on science, the environment and agriculture for more than a decade. She is a familiar voice to WBUR, as she was among the first reporters in the early years of the New England News Collaborative, the regional journalism collective WBUR helped launch. Previously, Kathleen was stationed at Vermont Public Radio, where she covered the environment, energy and agriculture, and received a national Murrow Award for her work. Kathleen enjoys biking in her free time.
Paula Moura joined the team this fall. She was previously a Tow Fellow at FRONTLINE, where she worked on digital stories and as a reporter for the documentary "Police on Trial" about the aftermath of George Floyd's murder. She has covered the Brazilian Amazon extensively, traveling to Brazil to report on carbon credits for ProPublica and on solutions for sustainable economic growth and conservation for Foreign Policy's podcast "Heat of the Moment." She is fluent in Portuguese and Spanish, and is conversationally proficient in Japanese.
Barbara Moran, correspondent, has twice been awarded the National Association of Science Writers' highest honor, the Science in Society Award. Her work at WBUR focuses on climate science and climate solutions, with "as many quirky animal stories thrown in as possible." In between reporting, Moran loves to visit Civil War sites.
Miriam Wasser, senior reporter, was a staff writer for the Phoenix New Times in Arizona before WBUR. She was valedictorian of Columbia University's Graduate School of Journalism and her work has appeared in Boston Magazine, DigBoston and The Atlantic. Outside of WBUR, Wasser has also produced deep reporting into the world of rabbit breeding!

Urgent in-depth coverage
WBUR's Climate and Environment team continues to deliver comprehensive coverage of climate change news, with a focus on local and regional news. "Power Shift: The Future of Offshore Wind," is an in-depth series about the fast-growing industry, its players and what is at stake. The team also produced the series "Boston Under Water," which delved into threatened neighborhoods like the Seaport, what it will take to save them and the community's wide-ranging response to the crisis, from artistic installations to local and national policy decisions.
In addition to providing coverage on the most consequential climate change stories over the last year, the team is now embarking on several initiatives to advance the conversation.
The fight for the EPA on Here & Now
Produced by Grace Tatter and hosted by Scott Tong, Captured is a five-part series that transports listeners to a forgotten Reagan-era scandal.
Anne Gorsuch, a young state legislator from Colorado dubbed the "Ice Queen," was appointed by President Reagan to lead, and quietly dismantle, the EPA.
Gorsuch, mother of associate justice of the U.S. Supreme Court Neil Gorsuch, was met with unexpected resistance from within the agency. Bureaucrats, officials and staff members at the EPA banded together to drop secret documents at playgrounds, find a famous cartoonist to expose her plans and lift up a larger-than-life whistleblower.
The series, which broadcast in September and is available in podcast form, also addresses how the government and corporations can be held accountable for damaging the environment.
Tune in to the series at www.wbur.org/podcasts or wherever you find your podcasts. 

Cooked: The search for sustainable eats
Cooked is a six-part, three-week newsletter course dedicated to helping you understand how to make food choices that will reduce your impact on climate change. While the newsletter has actionable items for everyone, Cooked has information on the New England food scene in particular, including why eating local oysters is good for the planet and how to grow pollinator-friendly plants like swamp milkweed or wild bergamot. (A pollinator-friendly garden attracts bees, butterflies, moths, hummingbirds or other organisms that transfer pollen.)
Says Cooked editor and correspondent Barbara Moran, "Over the course of three weeks, I'll show you what you can do in your own kitchen with your own food to help the planet — and have a good time doing it. We'll call it, snacktivism!"
As a complement to Cooked, Barbara moderated a live discussion in June about creating a sustainable food system in New England.