The Best Theater 2018 Brought To Boston's Stages
Theater critic Carolyn Clay and critic-at-large Ed Siegel reflect on the year in theater across Massachusetts' stages. 
Carolyn Clay
Increasingly in these fraught times, what's on the public mind pops up on the Rialto. There have been fewer theater works aimed at the ticket-buying toffs — whether Oscar Wilde's or A.R. Gurney's — than at the underserved, the undocumented, the economically disadvantaged, not to mention newly charged-up women and the girls struggling to become them.
From Company One Theatre's quirky fairy tale "Leftovers" to American Repertory Theater's vibrant "Barber Shop Chronicles" to the ArtsEmerson-presented "The Peculiar Patriot," a shout-out to disproportionate number of African-Americans who are incarcerated, the urgent concerns of people of color have been addressed. And in "WET: A DACAmented Journey," a talented Dreamer told his piercingly human story.
Between the long-awaited first coming of "Hamilton" and the Huntington Theatre Company's "The Niceties," the question of just who gets to write history was a rock that got turned over and reexamined. And in "Vicuña," presented by feisty Zeitgeist Stage Company, a thinly disguised Donald Trump was hung in satiric effigy.
In "The Humans," presented by the Boch Center, and "Skeleton Crew," at the Huntington, the stresses of a dwindling working class were center stage. Company One's "Wig Out!" and SpeakEasy Stage Company's "Fun Home" shone a theatrical light (albeit with varying degrees of subtlety) on the LGBTQ community. And Alexis Scheer's "Our Dear Dead Drug Lord," presented by Off the Grid, and Kira Rockwell's "The Tragic Ecstasy of Girlhood," at Boston Playwrights' Theatre, took troubling looks at girls growing up amid the tumult of #MeToo.
Of course, an artwork's being topical, or even undeniably right, doesn't make it great (though it may make it necessary). Here are a few we saw in 2018 that were both far from frivolous and close to perfect.
Front Porch Arts Collective and Lyric Stage Company of Boston
Framed as a play within a concert, Daniel Beaty's play sheds a personal light on the great African-American tenor Roland Hayes, who was born to former slaves and grew up to sing for European royalty and in Carnegie and Symphony halls. I admit that I was more impressed with the concert than with the biographical drama skillfully folded into it. But a thrill is a thrill. And Davron S. Monroe's gorgeously rendered, deeply felt delivery of both the operatic art songs and the African-American spirituals that made Hayes internationally famous gave me both goose bumps and a renewed appreciation for live performance in a small space.
---
SpeakEasy Stage Company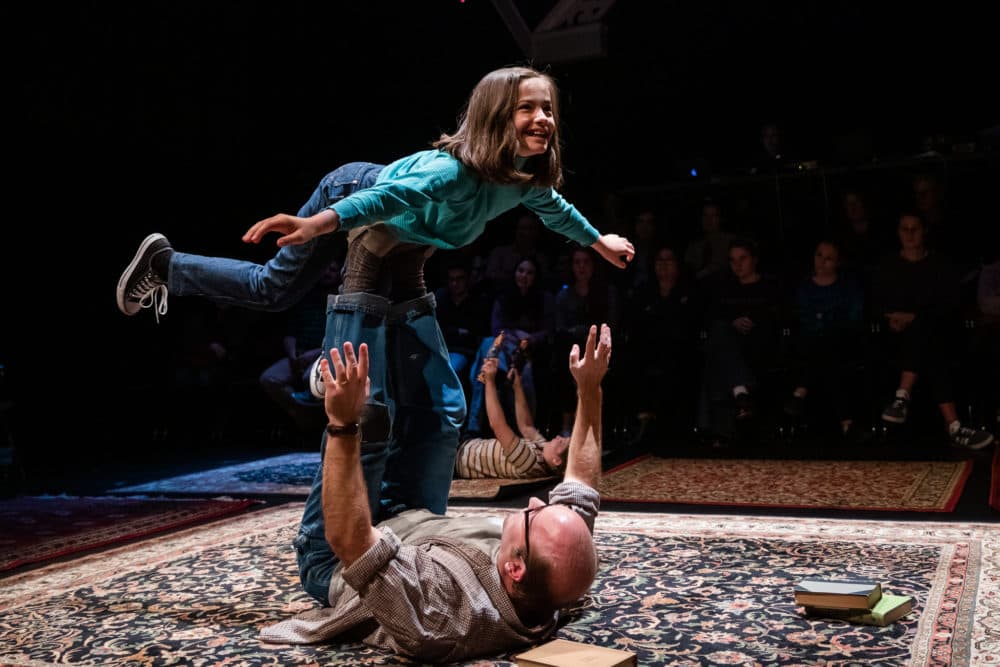 Composer Jeanine Tesori and playwright/librettist Lisa Kron were the first all-female creative team to win Tony Awards for their work on this richly harmonic, emotionally evocative musical based on lesbian cartoonist Alison Bechdel's graphic memoir charting her complex relationship with her distant, explosive, closeted dad. Granted, the national touring version of the Broadway show, which passed through the Opera House in 2017, was more sonorous. But SpeakEasy's more intimate staging, directed by Paul Daigneault on a setting by Cristina Todesco that managed to be lavishly homey, aptly funereal and in our faces, was more touching. And it featured a performance by sixth grader Marissa Simeqi, as Small Alison, that was as piquant as it was showboating.
---
Huntington Theatre Company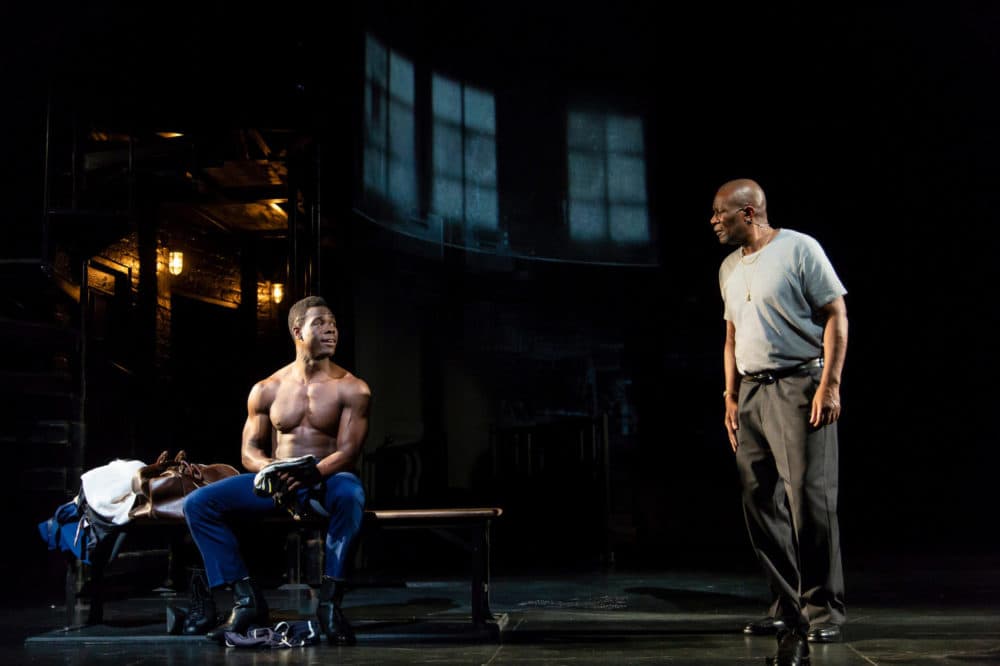 The Huntington Theatre Company, having already hit a distaff high with its diversely cast revival of British dramatist Caryl Churchill's shockingly pertinent 1982 work "Top Girls," packed a potent punch with Pulitzer winner (for "The Shadow Box") Michael Cristofer's Caribbean-tinged classical tragedy built around Emile Griffith, the "brown boy" immigrant from the U.S. Virgin Islands who became a six-time boxing champ but pummeled a rival to death in 1962 after said opponent taunted him about his fluid sexuality. In four-time Tony nominee Michael Greif's atmospheric production, through which wafted the Caribbean children's songs of the boxer's youth, the aging Griffith, in the throes of guilt and dementia, was touchingly, toweringly played by the fiery Shakespearean actor John Douglas Thompson, with a cockily ebullient Kyle Vincent Terry standing in for his younger, quick-trigger self.
---
Cheek by Jowl and the Pushkin Theatre, presented by ArtsEmerson
Even by the standards of Shakespeare's so-called problem plays, "Measure for Measure," in which a young nun is pressured to sleep with a powerful man in order to save her brother's life, can present a problem — or several, all of which are superbly solved in this striking production by the British troupe Cheek by Jowl and Russia's Pushkin Theatre. Helmed and designed by Cheek by Jowl co-artistic directors Declan Donnellan and Nick Ormerod respectively, the production, though it originated in 2013, proved eerily relevant to #MeToo. It also constituted a vibrantly choreographed allegory for a sinister, sneaky and malevolent State. Anna Vardevanian proved a fiery if repulsed (and multiply assaulted) Isabella. And Alexander Arsentyev conquered the troubling role of the "fantastical duke of dark corners," making this baffling background manipulator the stand-in for an intrusive State. This was the most successful "Measure for Measure" I can remember; I didn't even mind that it was performed in Russian with surtitles you had to break your neck to view.
---
Commonwealth Shakespeare Company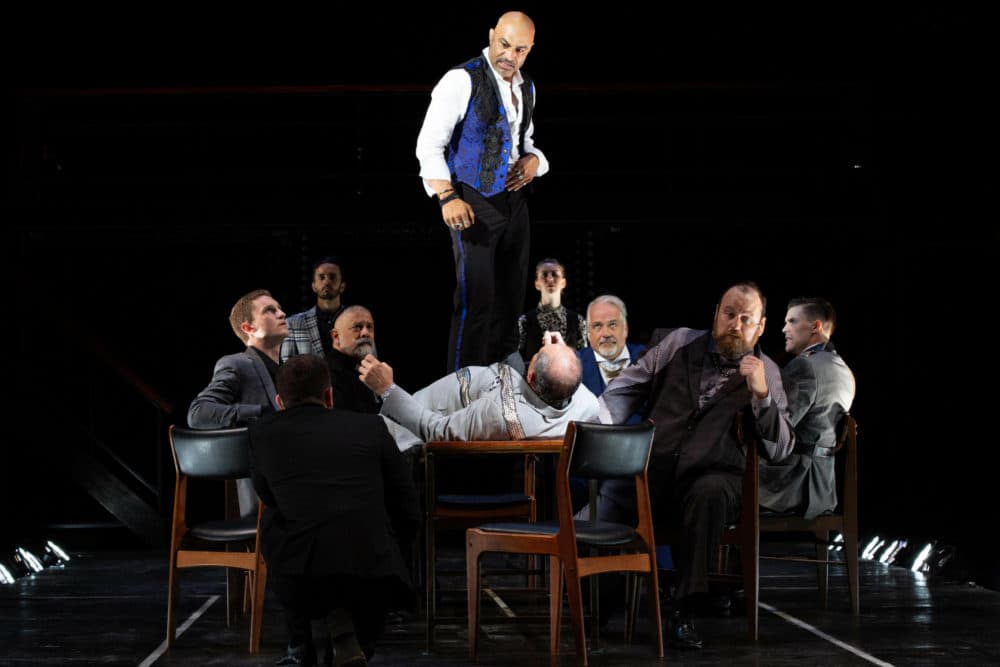 The annual free offering of Shakespeare on Boston Common is always welcome; it is one of the things that make us a civilized city. But Steven Maler's propulsive staging of "Richard III," thick with politics and menace but never overdone (no mean feat when such a large audience must be addressed), proved particularly pertinent and powerful. Played out on, and spilling from, a simple thrust stage, it moved, without obvious underlining, like a Trumpian storm. The title role was commandingly played by classical theater, film and television actor Faran Tahir, whose Richard, limping with the aid of a cane but hardly deformed, made up in ruthless self satisfaction for what he lacked in humpback theatrics and cackling glee.
---
Ed Siegel
The stages from Boston to the Berkshires were notable this year for confronting issues of race in America — even when the subject matter didn't ostensibly seem to have race as its primary concern. It's probably safe to say that no year has seen as many people of color onstage and behind the scenes locally as in 2018, particularly the beginning of the 2018-'19 season. My five favorite plays and musicals of the year in Massachusetts speak to America's troubled racial past and the Bizarro World we now inhabit while pointing toward a more hopeful, less divisive, future.
SpeakEasy Stage Company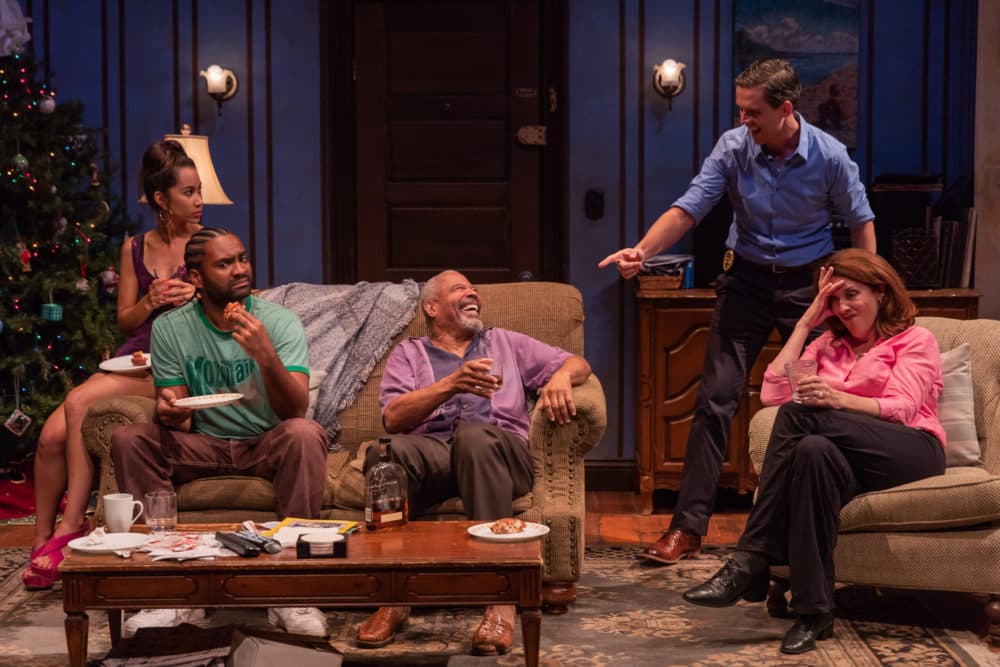 Stephen Adly Guirgis has become one of America's top playwrights and SpeakEasy Stage Company produced his latest, "Between Riverside and Crazy," as beautifully as it did "The Motherf---er with the Hat," in 2012. The 2015 Pulitzer winner centers on an African-American ex-cop holding court in his rent-controlled apartment with a rainbow coalition of eccentrics. He claims he had been shot years ago by a racist colleague. But life isn't so simple in the world of this playwright from Irish-American and Egyptian parents. This world, I wrote in my review, is "Guirgis' new American, darkly comic melting pot where people speak their minds in ways that would make David Mamet blush while finding a sense of community that would make August Wilson or Annie Baker smile."
---
Broadway in Boston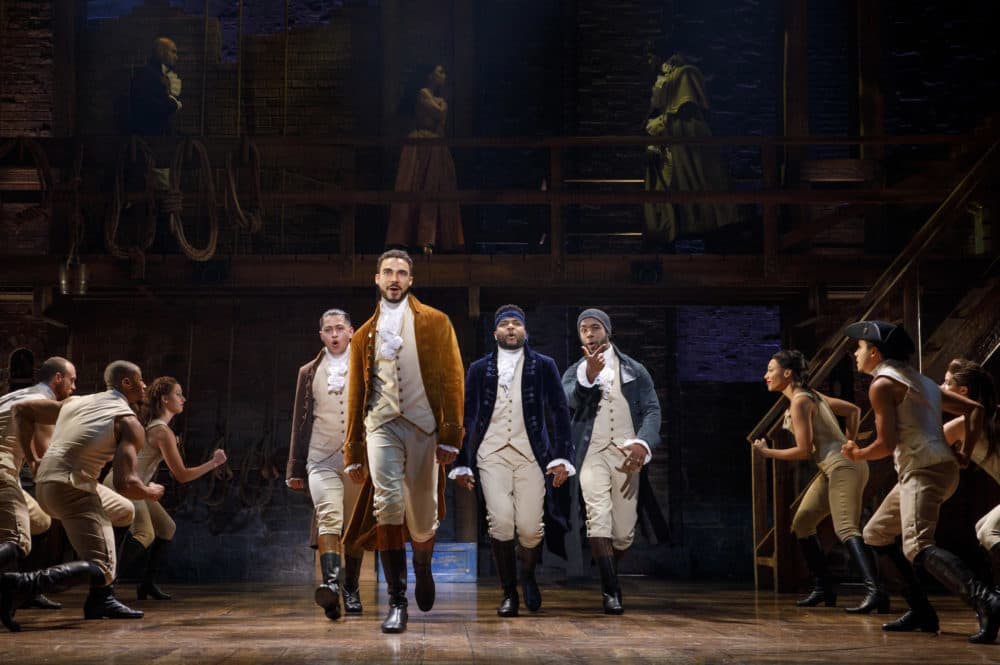 It's great to see a show live up to its hype. Lin-Manuel Miranda, as I said in my review, took Ron Chernow's biography, infused it with first-rate hip-hop, commissioned choreography to match and cast the story of the white founding fathers with a largely non-Caucasian group of actors. People of color were shut out from the room where it happened in the 18th century, but they burst through the door of the Boston Opera House in the 21st when the excellent road company of "Hamilton" came to town. It hardly mattered that the original leads weren't present. This is an ensemble piece and the Boston ensemble was excellent.
---
Barrington Stage Company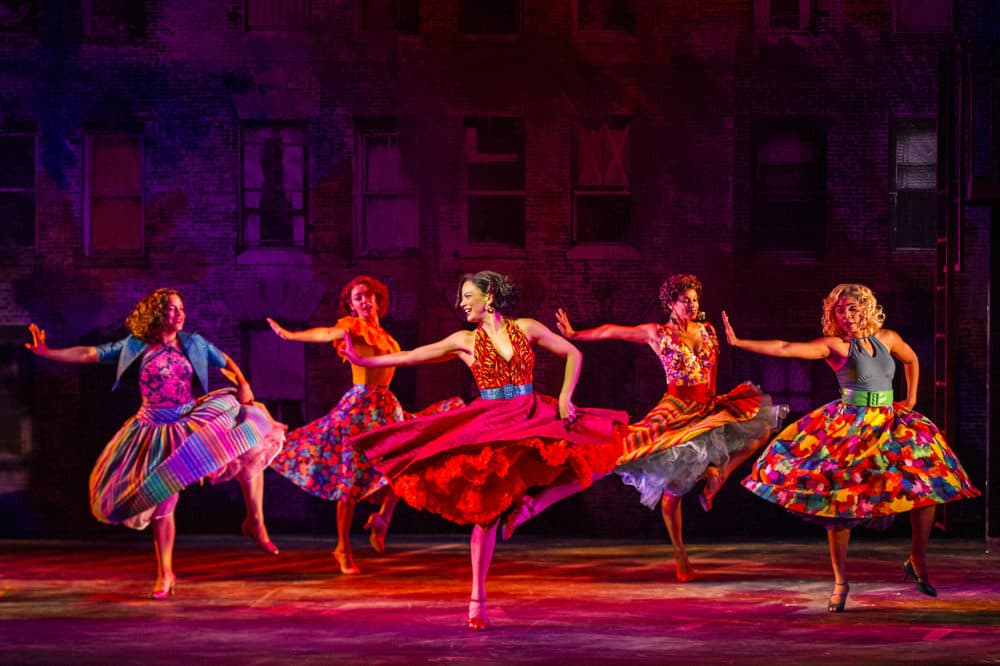 "West Side Story" was the "Hamilton" of its day, incorporating Latin rhythms into an art form that had been dominated by the children and grandchildren of Jewish immigrants — such as the show's all-star creative team of Leonard Bernstein, Jerome Robbins, Arthur Laurents and Stephen Sondheim. The music, dance and story all held up marvelously in the Pittsfield production, as a group of first- and second-generation white immigrants tried to maintain its turf against more newly-arrived Puerto Ricans, played by a mostly Latinx cast. Gee, any similarities between Bernstein's time and ours? Barrington Stage (and the Boston Symphony Orchestra) did Lenny proud in the year of his centennial. I've never seen a more vital "West Side Story."
---
 American Repertory Theater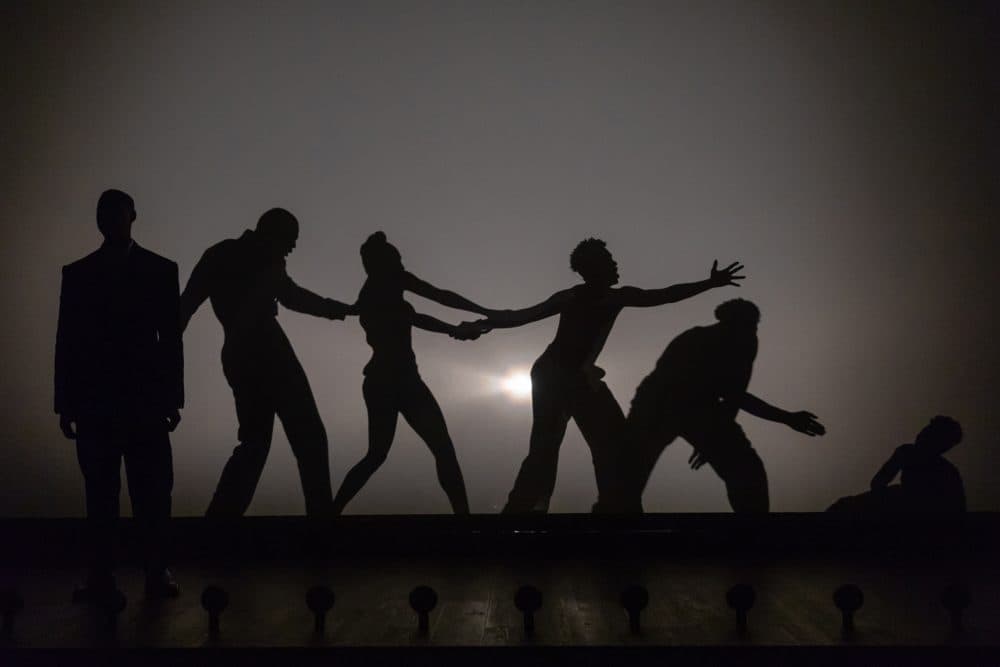 The American Repertory Theater got the 2018-'19 season off to a roaring start with this terrific adaptation — riff, really — on Langston Hughes' poem about "being black in a white world." That lament becomes more a triumphant, artistically gorgeous statement of pride through a transcendent combination of music, dance and spoken word. When the protagonist declares "I am a man" at the end of the show, it's impossible to not stand up and cheer.
---
Company One Theatre
"Hamilton" wasn't the only production to incorporate hip-hop into a theatrical setting in Boston. Company One's world premiere of Idris Goodwin's "Hype Man" centers on an up-and-coming rap trio whose chemistry starts to fray when the white emcee doesn't want to take a stand on police shootings of unarmed black men. But there's nothing didactic about the play, particularly when the threesome perform. No theater company has been more forceful than Company One in pushing the dialogue forward on race and this was Company One at its most forceful — and its most fun.