The 20 Best Movies (And TV Shows) Of 2018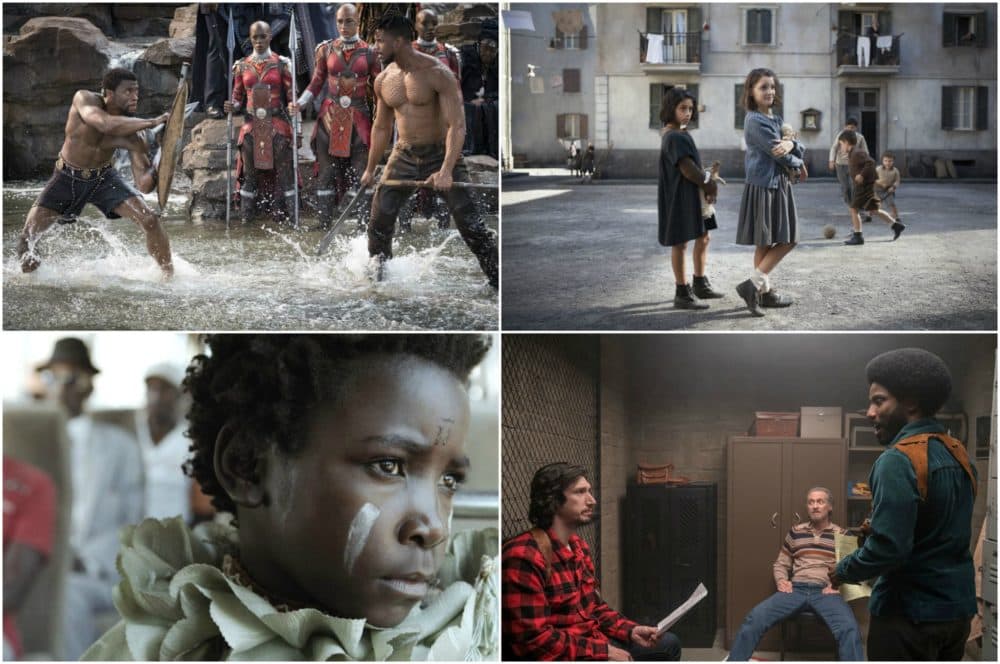 This article is more than 3 years old.
Film critics Sean Burns and Erin Trahan reflect on the year on the big (and sometimes small) screen.
---
Sean Burns
These days when I tell folks what I do they usually respond by telling me how long it's been since they've seen a movie. A lot of them will add that they don't feel like they're missing much. (This is the 21st century equivalent of those people who used to brag "we don't even own a television.") Which is too bad, because if you look beyond the sequels and superheroes at the multiplex there are all sorts of rich and challenging offerings out there — especially in the Boston area, where we're routinely spoiled by the adventurous and exciting programming at the Brattle, Somerville and Coolidge Corner theaters, as well as IFFBoston and the MFA.
My first draft of this list was 25 movies long, so anyone who tells you 2018 wasn't a great year for cinema obviously didn't get out enough. This has been one hell of a tumultuous time both personally and politically, so here are 10 titles that helped me find a modicum of clarity, understanding or even just a little escape.
An austere refinement of the themes Paul Schrader has been wrestling with since he wrote "Taxi Driver" four decades ago, this portrait of a small town priest's spiritual and mental disintegration is the movie that best captured for me what it felt like to be alive in 2018. Ethan Hawke gives the performance of a lifetime as a decent man driven mad upon realizing the extent of his powerlessness in the face of climate change, Big Oil and the ever-silent Almighty. Say amen, somebody. (Now streaming on Amazon Prime.)
Spike Lee's outrageously entertaining buddy-cop comedy finds a true-life, stranger-than-fiction hook for a powerful and provocative exploration of W.E.B. Du Bois' concept of the double consciousness, refracted through entrenched tribalism on all sides of every story. But where most issue-oriented period pieces like this end by reassuring us that such troubles are ensconced safely in the past, Lee's astonishing final sequence drags us into the terrifying present. (Available on iTunes and other VOD outlets.)
Writer-director Lynne Ramsay's nerve-shredding artsploitation flick is a 90-minute panic attack, locking us inside the fragmented mindscape of Joaquin Phoenix's PTSD-ravaged vet as he tries to rescue a state senator's runaway daughter from a Manhattan sex slavery ring. But the plot comes a distant second to sensation, Ramsay's rotgut noir elements filtered through a prism of abstraction as our haunted hero keeps compulsively reliving the traumas that brought him to this moment. (Now streaming on Amazon Prime.)
These six old-timey Western tales from brothers Joel and Ethan Coen might appear on the surface to be unrelated riffs, varying from zany slapstick to heartbreaking tragedy. But look a little closer and you'll find a complete, cohesive journey that brings us (quite literally) to death's door. It's one of the sardonic siblings' fullest expressions of their fatalistic philosophy, according to which life might be just a cruel, cosmic joke but it's a pretty good one sometimes. (Now streaming on Netflix.)
A three-hour epic crammed into 88 minutes, Pawel Pawlikowski's decade-spanning love story is a marvel of economy and precision. In a series of brief, elliptical scenes we witness a destructive affair between two star-crossed Polish musicians whose acts of self-sabotage are continually assisted by the tides of history. Shooting in shimmering black-and-white, Pawlikowski keeps his characters banished to the bottom of the frame, like the whole world's bearing down upon their heads. (Opens in Boston theaters on Jan. 18.)
This blast of absurdist outrage from first-time writer-director Rungano Nyoni plays like a slightly stoned "Crucible" spoof out in the wilds of Africa. There's a whiff of Monty Python in her surreal critique of a culture where wayward women are held responsible for all the wrongs in the world. Nyoni's scatter-gun satire spares no one, from the hustlers peddling ridiculous religious remedies to the suckers lining up to believe them. It's an extraordinary debut. (Coming to iTunes and other VOD outlets on Jan. 22.)
Winner of the Palme d'Or at this year's Cannes Film Festival, the latest family drama from Japanese master Hirokazu Kore-eda sneaks up on you. This initially mischievous portrait of a clan of scrappy underdogs lulls the viewer into a false sense of serenity, and it's only when things begin to unravel that we realize how little we knew about these folks in the first place. By the time it ended I was a wreck. (In theaters now.)
Melissa McCarthy and the wonderful Richard E. Grant slip and slur their way through this catty true-crime caper. Based on the memoir of famous forger Lee Israel, Marielle Heller's adaptation has an acid tongue and a melancholy heart, looking back wistfully upon a vanishing, early '90s New York full of cozy gay bars and dusty, antiquarian bookshops. McCarthy and Grant are like the Joe Buck and Ratso Rizzo of literary frauds, just barely outrunning their luck. (In theaters now.)
A hallucinogenic horror film of terrible beauty, Panos Cosmatos' sophomore effort is an unholy amalgamation of Dungeons & Dragons, prog rock solos, Frank Frazetta paintings and vintage fantasy paperback covers. At its center is Nicolas Cage, probably the only living actor gonzo enough to hold his own amid this visual onslaught. The movie isn't just set in 1983, it feels like a memory of something you might've watched that year on late-night cable after your parents fell asleep. (Available on iTunes and other VOD outlets.)
Writer-director Brady Corbet grandiloquently attempts to sum up a new millennium of mass shootings and pop distractions while Natalie Portman's caterwauling performance peels the paint off theater walls. I know people who hate this movie like it ran over their dog, but I was enraptured by its hubris in depicting "a gaudy and unlivable present that had reached an extreme of its cycle." Maybe not the movie we need right now, but one we deserve. (In theaters now.)
Honorable Mentions: "Blaze," "Don't Worry, He Won't Get Far on Foot," "En el Séptimo Día," "Never Goin' Back," "Nico, 1988," A Star is Born" and "Zama."
---
Erin Trahan
It's been a year of chaotic, stress-inducing headlines. All the movies, documentaries and TV that stuck with me most dealt with some part of that daily reality head on — offering germane commentary that revealed or corrected something bold about our culture or sprinkling a little fun into the discord.
This gloriously creative Zambian movie about an encampment of "witches," and how one young girl is brought into the fold, garnered critical acclaim after its premiere last year. (It's a co-production with a British company, and the U.K. picked it as its representative for the Oscars' Best Foreign Language Film category.) Riveting entertainment from first to last frame, this parody of patriarchy reveals the absurdist extremes humans take to divide women from men and how those actions are laced with genuinely somber consequences. (Streaming on multiple platforms.)
Teenage Tom and her dad were fine living off the grid in an urban forest but the authorities thought otherwise. "Leave No Trace" gracefully questions the commonplace narrative that there is something wrong with rejecting "civilization." Though adapted from a novel, "Leave No Trace" embraces cinema's range of dimensional tools — from casting to shot composition to patient editing — as well as any film made this year. Watching it will make you feel as if you've read a great novel. (Streaming on multiple platforms.)
Elena Ferrante's Neapolitan novels succeed because they work on so many levels — as historic fiction, as a refraction of a complex friendship, as a wildly epic drama with a sprawling cast of interrelated families. The eight-hour HBO adaptation offers a fresh experience of Ferrante's unforgettable world and the inner life of the intelligent narrator, Elena, as she grows from child to young woman in post-war Naples. Like the book, "My Brilliant Friend" slowly draws you in then won't let go. A perfect binge for a leisurely vacation day. (Streaming on HBO.)
What's impressive about Hannah Gadsby's stand-up routine "Nanette," in which she openly weighs whether or not she should retire from comedy, is not the content per se (some funny, some heartbreaking, all at the core of #MeToo), but rather her expertise as a conductor. She so fully understands how jokes work, and who pays the price, that it's as if she's brought on stage a full orchestra and can shift the audience's emotions with the pluck of single string. She does this with a slightly too-long pause or an unexpected burst of rage. Her routine pivots from the political to the personal and back again to underscore that these elements cannot be unstuck from each other — or from comedy. (Streaming on Netflix.)
Before the biographic documentary "RGB," Ruth Bader Ginsburg had been building momentum as a hero of American liberal political dissent. This unsurprising but lively take on her life makes my list because it anticipated, seized on, and has sustained the RGB moment. (It also preceded the fictional version, "On the Basis Of Sex," plus broke box office records for a documentary.) Not only is RBG herself as cool as they come, she planks! At 85! Another similar documentary character stood out this year and seems impossible not to mention — especially since both subjects would see pairing as an act of solidarity rather than a dilution of influence. "The Judge" follows Kholoud Al-Faqih, one of the first women appointed to interpret Sharia law, and likewise shows how a supportive marriage contributed to her career success. ("RBG" is streaming and "The Judge" is streaming on multiple platforms.)
Nadia Murad is one of the most reluctant but memorable film heroines of recent memory. The burden of her grief, both personal and felt on behalf of her persecuted Yazidi people of northern Iraq, for which she enters a global stage to ask for help, never leaves her face. Her weighted expression stands in contrast to a wide swath of documentaries that American do-gooders for taking on causes outside the U.S. to "save" faceless, less-than "others." In "On Her Shoulders" the reverse is true. Director Alexandria Bombach shows Murad's frustration at having to leave home to plea for help, her disgust at how media, for example, demands to know not just that but how she was raped. Instead of a documentary about how America rules, this is a documentary that questions those rules from the ground up. (Watch the film's tour schedule for upcoming dates.)
At first their lives seem too small to merit watching: Artsy, middle-aged white Brooklynites can't have a baby. But then their story opens up and becomes about relationships of all kinds — marital, familial, parental. Where are the boundaries? How do we articulate those lines? Few do, which is why when a superbly-crafted adult drama comes our way, it should be celebrated. Kathryn Hahn, as magnificent as ever playing a 40-something woman who fully inhabits her body, no doubt inspired Paul Giamatti to deliver one of the most sensitive, convincing roles of his career. (Streaming on Netflix.)
It wasn't a pitch-perfect show, but like "Transparent" or "Homeland," "The Americans," which wrapped its sixth and final season this year, was smartly topical and ultimately ground breaking. Yet no matter how many critics held it up, it still felt like "The Americans" flew under the radar. Critics and award guilds rightly recognized the impeccable acting and deep cast but what about Keri Russell's character's political stamina? Her fierce attachment to a distinctly communist ideology was the show's risky, unheralded backbone. It transcended her marriage and near complete immersion into American culture. That's potent stuff, rarely seen on American small screens, almost never seen through the eyes of a woman. (Airing on FX.)
Remember last February's bleak drought of movies — the one that happens every year? The fantastical "Black Panther" crushed the dull dregs of winter into near oblivion with appointment movie-going. (Some fans I know had never bought advance movie tickets in their life until this film.) Plus, people had so much fun! Dressing up, seeing it multiple times in huge groups. And, of course, it's also about a gorgeously conceived alterno-world, both an allegory and vision of hope for how the planet could treat its most precious resources, whether people or vibranium. In a time when theater-going is hanging by a thread, how can we not hail one of the best of cinema experiences of the year? (Streaming on Netflix.)
"Shirkers" may not be a whopper of a "movie" like some on this list, but it's a light-hearted yet poignant story that knows its own parameters. Call it a coming-of-age tale for failures. Sandi Tan had high hopes in her latter teens. She was going to smash Singapore's independent film scene with a bold, colorfully abstract film called "Shirkers," which she wrote after guzzling too many French New Wave films. She enlisted friends and relatives, including one older man whom she considered her best friend. He ran off with the footage and was never heard from again. Twenty years later, the reels turn up and the wound of never having finished the film, or becoming the idealized version of herself, re-opens. Tan revisits the scene, her friendships, and her own wonderfully pompous ego. The film works because the decades have scrubbed some but not all of that ego away. (Streaming on Netflix.)
Special mention to three locally-made documentaries that I have thought about many times since seeing in 2018: Chico Colvard's artful tryptich "Black Memorabilia," (airing on PBS' Independent Lens on Feb. 4), Adam Mazo and Ben Pender-Cudlip's "Dawnland" (which also has an impressive education campaign) and Lisa Olivieri's intimate character study "Blindsided."