George Steel — Bopping To Botticelli And Getting Into A Groove At The Gardner
One night, it's the Campbell Brothers foot-stomping their way through a rocking, bluesy set of their "sacred steel" gospel music. Another it's MIT's Evan Ziporyn's cello concerto version of David Bowie's "Blackstar" with Maya Beiser and a light and projection show. Or a RISE concert with the sensuous singing of Jazzmeia Horn and local hip-hop artist Latrell James.
Then there are the Sunday afternoon concerts that this year featured a traversal of Leonard Bernstein's lesser-known chamber work, Gleb Ivanov's performance of all the Prokofiev piano sonatas and one of the most fascinating chamber concerts I've ever seen, "City of Women," curated by Helga Davis.
These are some of the highlights of an eclectic first season of music programming at Calderwood Hall under George Steel, Abrams Curator of Music at the Isabella Stewart Gardner Museum. A former assistant to Bernstein and a composer-conductor in his own right, the boyish-looking 52-year-old exudes a youthful openness to all kinds of music. His predecessor, Scott Nickrenz, was no slouch when it came to creative programming, either, from 1990 to 2017. Nickrenz programmed much of this year's fall concerts, too, with Steel tweaking along the way before putting his stamp on the spring concerts.
It's Steel, who came in as visiting curator in 2017, in control now, with an adventurous, multicultural mix of genres that focuses on the classical but has a more sustained outreach to different kinds of performance as well as to underappreciated composers and underserved communities. Steel seems dead serious about building on the success of the Gardner's classical concerts to make the museum's audience younger and more diverse.
Every arts administrator talks that talk these days, but Steel has already made his presence felt with the Campbell Brothers' bluesy gospel performance and Davis' "City of Women" interdisciplinary concert that featured a smorgasbord of poets, dancers, classical and hip-hop artists all riffing on the current Botticelli exhibit. In addition, Steel hired Catherine Morris, founder of the Boston Art & Music Soul Festival, AKA BAMS Fest, as manager of public programs (she's also one of The ARTery 25, millennials of color impacting Boston's arts and culture scene).
Morris will be particularly concerned with reaching a younger, multicultural demographic, with a greater emphasis on women artists. "The legacy of Isabella herself is that she really supported other women and I'm always trying to make sure the artists we bring in, the content of their character and what they stand for, really resonates with Isabella personally. The way we have to go about it now is humanizing the experience, touching on social issues, or personal issues that folks can interpret through song and performance that I think will move forward the museum in attracting younger audiences."
Steel wants every performer at the Gardner to feature either a woman or person of color among the composers they're performing unless they're doing a concert devoted to one composer.
Steel's presence hasn't been received well with all. The next concert in the highly-regarded RISE series, curated by Shea Rose and Simone Scazzocchio, will be its last. While Steel says that he tells curators to program "the one thing you think I'll say no to" and to program passionately, that was not the experience of Scazzocchio and Rose, who feel that Steel was not respectful toward them and their curatorial process. "We were supposed to collaborate on music and how to reach diverse audiences," they said in a joint email. "We had different values about diversity, contrasting taste in music, and not the same idea of what 'collaboration' means." 
Steel, who put all of the Thursday night concerts under the aegis of Morris, said he was taken aback by Scazzocchio and Rose's comments. "RISE has been terrific and Shea and Simone have done a wonderful job," says Steel. "I can say we are in the process of expanding Thursday night programs. ... I think that various parts of the Thursday programs weren't really together and we wanted to bring them together under [Morris'] artistic vision."
It's a shame that the Gardner is losing RISE. While Morris' tastes might be similar, it wouldn't have killed the museum to cut two people who've done such a fine job some slack and let them go their own way, particularly if the last Jazzmeia Horn-Latrell James concert is any indication of Rose and Scazzocchio's talents. Sometimes multiple sensibilities are better than one, particularly when the curators have such passionate taste.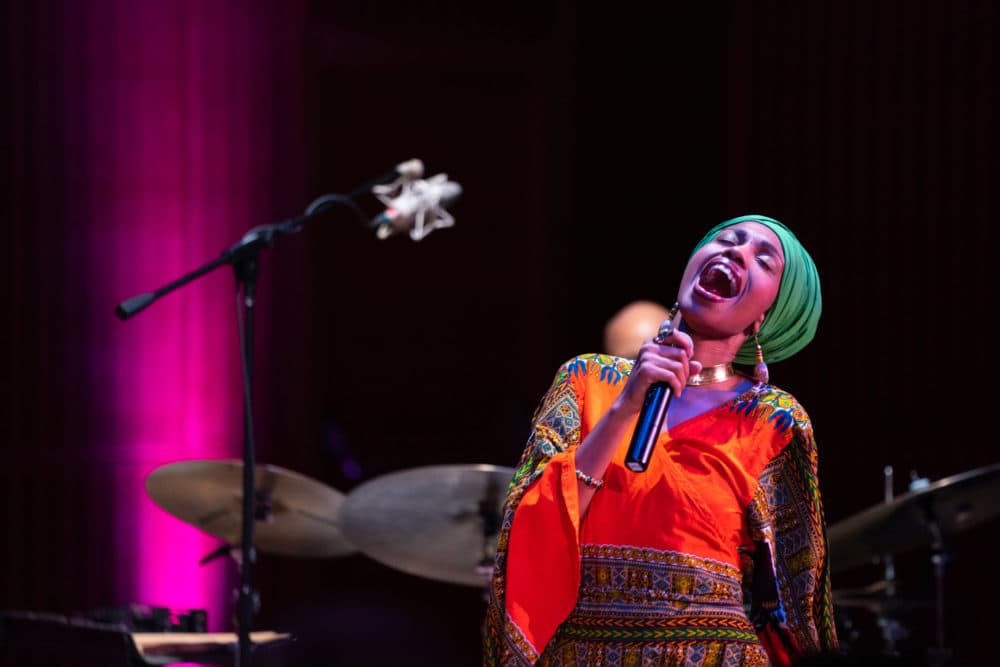 Still, if Steel is to be judged by over-all Gardner programming, his other artistic choices have been pretty terrific. 
Isabella Stewart Gardner, herself, began bringing in musicians and other artists in 1903, making the Gardner's concert series the oldest museum-based musical program in the country. "I think because Isabella herself wanted to embrace dance and music and painting and living and horticulture and architecture, that means this museum has in its DNA a kind of interdisciplinary approach to performance and to art that's very deeply connected."
Steel's résumé is as eclectic as his musical tastes. He ran a similar program to the Gardner's at Columbia's Miller Theater before becoming general manager and artistic director of the failing New York City Opera from 2009 to its demise in 2013. (There are mixed opinions of his role in the loss of "the people's opera." The New York Times' coverage largely gave him a pass while the Wall Street Journal opera critic was highly critical of Steel in "Mad Scenes and Exit Arias.")
Steel is also a composer, conductor, teacher and singer. One of his chief mentors was Bernstein, so eclecticism runs deep in his training. Steel inherited much of the fall programming from Nickrenz, but asked the various groups and soloists to add something from Bernstein for his centennial this season. He also curated a terrific program of Bernstein's songs that included a much more convincing take on "Arias & Barcarolles" than the Boston Lyric Opera's before he conducted a fascinating interview with Lenny's daughter Jamie.
He says Bernstein was "a gigantic influence." He met him singing the conductor-composer's Third Symphony in 1981. In 1988 he collaborated with Bernstein on "Missa Brevis." Says Steel, "His sense of fun, his love of music of every kind, his social conscience, his passionate music-making made a huge impact on the way I write music."
I attended several concerts over the winter and spring and had a blast at all of them. Among the Sunday afternoon classical concerts, A Far Cry featured artist in residence Jessica Myer's riffing off of a museum treasure, Whistler' "Nocturne, Blue and Silver: Battersea Reach," a Bernstein segment from "Serenade" and a piece by the late African-American composer William Grant Still before the group, itself the ensemble in residence, launched into the crowd-pleasing "Pictures at an Exhibition." The Bernstein song cycle a few weeks later accompanied by selections from his musicals, followed by Steel's interview with Bernstein's daughter, Jamie, was one of the highlights of the past Bernstein centennial.
Those concerts are in my classical wheelhouse. What you want from a good curator, or DJ, is exposure to works that you wouldn't have heard otherwise. Perhaps more memorable for me than the classical concerts were a pair of Thursday evening concerts — one with the Campbell Brothers titled "Sacred Steel: African-American Gospel Music" with electric and steel guitars, and the recent RISE concert with local hip-hop artist Latrell James leading into the lustrous jazz vocals of Jazzmeia Horn.
Morris' first Thursday night concert will feature Afro-Native singer-songwriter Maimouna Youssef, also known as Mumu Fresh. Youssef, says Morris, "combines elements of Native American music with soul and funk, jazz but she really speaks to a younger demographic, particularly women."
Here's a collaboration with DJ Dummy:
There's still a way to go in seeing the traditional audience mesh with a younger vibe and vice versa. Attempts to get the older Campbell Brothers audience up and dancing were largely a failure and you don't see a lot of people of color at the more traditional classical concerts.
But that's not always the case. The RISE concert was a delightful demographic mix that made everyone feel welcome. Ditto for the "City of Women" concert. The hope is that someone who's into hip-hop will make a connection to Botticelli and vice versa.
"Our job," says Steel, "is to be professional, trustworthy and knowledgeable curators … you might find music that's comfortable and familiar, [and other] music you find a little too edgy … but we must move forward."