Boston City Councilor Files Order For Information On 'Military Style' Police Weapons And Vehicles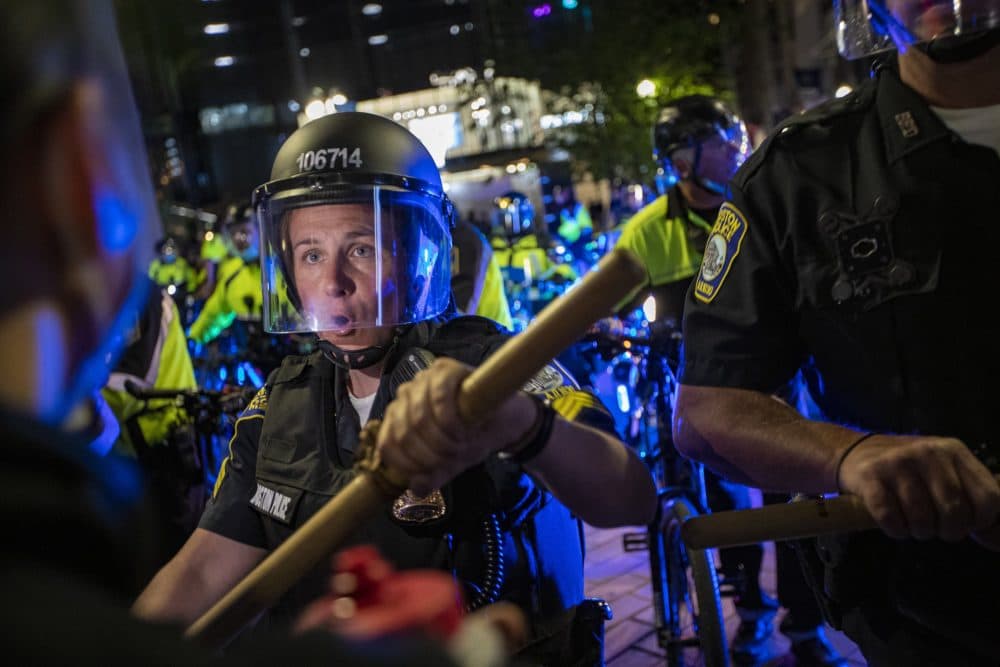 This article is more than 2 years old.
Boston City Councilor Michelle Wu said she plans to use the upcoming city budgeting process to force change in the city's police department.
Wu on Tuesday filed an order requesting information about police expenditures from Mayor Marty Walsh's office. The move comes after more than a week of protests against police brutality in Boston and across the country.
In preparation for the upcoming budget hearing, Wu filed an order requiring Walsh to release information on how many "military style" weapons and vehicles the Boston police department has, and how they may have been used in response to the recent protests.
"I don't know the details about which of those Boston police has or uses, and so that's why we're starting with an information request, to be very specific about what action steps might come [out] of it," Wu told WBUR.
"I know the sight of particularly our downtown streets these days, with military vehicles and armed, heavily armed officers patrolling them, has been rather jarring and unsettling for many Bostonians," she added. "And so it's important to have the conversation in in our city as we're having a conversation nationally."
Wu's order — called a 17F order — is authorized by a section of the city charter that requires the mayor to respond to any of the council's specific requests for information. It must be passed by the full council to become effective.
The order isn't the only sign of increasing skepticism toward Boston's $414 million annual budget on the part of Boston city councilors. On Thursday, the council withheld approval of an $850,000 grant to the Boston Regional Intelligence Center over concerns that a gang database maintained by the center may be used to racially profile black and brown youth in the city.