Juneteenth Rallies Draw Celebrants In Boston And Elsewhere In Mass. Friday
04:21
Play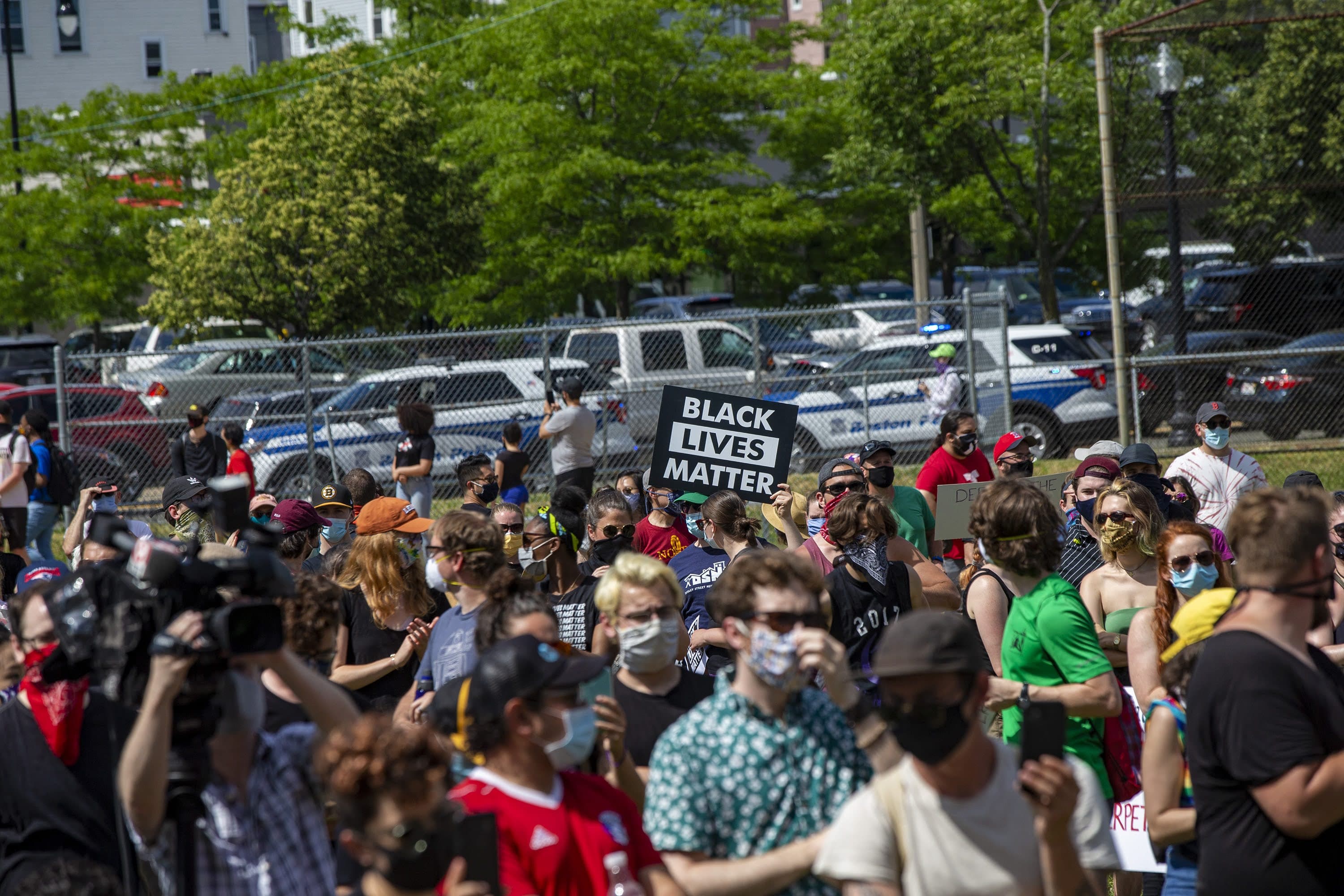 Hundreds gathered Friday at two Dorchester demonstrations on a hot and sunny Juneteenth, to rally for racial justice as the city and nation continue to grapple with police violence against Black people and amid a broader reckoning over civil rights for people of color.
In the afternoon, a crowd assembled at Town Field, for an event organized by Black Lives Matter. The podium was a simple orange ladder. A series of speakers climbed up a few of its steps to address the crowd — organizers, a pastor, a musician, a teacher.
"Why are we fighting for what is rightfully ours?" Pastor William Dickerson said to loud cheers. "We're not asking for handouts ... give us our portion."
U.S. Reps. Ayanna Pressley and Joseph Kennedy III attended the rally but did not make formal remarks. Pressley, in an interview, said, "As far as I'm concerned we have to stay in the streets until laws change."
Pressley, asked about Boston Police Commissioner William Gross's meeting this week with U.S. Attorney General William Barr, said she intends to ask him about it. She said the Trump administration's Department of Justice represents "the absence of justice."
Kennedy, who is running for Senate, said he supports making Juneteenth a national holiday. "We've seen an outpouring of anguish and pain and a call for social justice across the country," he said.
The diverse crowd in Dorchester reflected the neighborhood, including teachers, neighbors and artists. Vanessa LaRocque, a teacher, said she was there as a Black woman and as an educator concerned for her students. And Madeligne Tena Richards, who is Dominican, said she saw this day as a moment for "elevating each other."
"I'm trying to educate my family about systemic racism in this country," she said.
Martha Pena, 25, of South Boston, said she wanted people to focus on Black joy and Black greatness, not just consider Black lives after they are lost.
"I came out here personally for all Black lives, just all around. I think that trans Black women are dying at an alarming rate and that's not a conversation that we're having. So I'm here, as a Black queer woman because we need that representation, and we need to have that conversation."
Local musician Caleb McCoy read lyrics aloud — "God hold the tears of every mother that lost a son" — and later warned of troublemakers he said have turned some recent rallies violent.
"Out-of-towners come to riot and poof, they're gone in a second," McCoy said.
There were a handful of counter-demonstrators just outside the ball field. There was a brief moment when a few of them agitated the crowd. Police gently moved one man in a red cap — carrying a right-wing Three Percenter flag — across the street and away from the chanting crowd. The rally's organizers encouraged everyone to remain peaceful and ignore them.
Numerous other rallies were planned across the state, including one in Brockton, where more than 100 people gathered in front of city hall in the evening. Children read the Emancipation Proclamation from a podium, while a handful of police officers with bikes sat and listened.
Organizer Amy Washington-Winston called this a day "of joy and frustration."
"Black history is American history," she told the crowd. "It's all one. We are citizens. We've been here for a long time. Longer than some non-Black folks."
At the end of the event, attendees and at least one police officer danced together in front of City Hall to the Electric Slide.
In Dorchester Friday evening, a separate gathering drew hundreds more to Ronan Park. Organized by Mass Action Against Police Brutality, it was dubbed "Funk the Police." As if exhaling for the first time in weeks, a mostly young crowd rested in small groups on a grassy hill overlooking another ball field and Boston's waterfront off Columbia Point. Black and white, gay and straight, tattooed and green-haired, their protest signs lay on the grass beside them, as Boston DJ Bob Diesel spun House and funk music from the field below.
Sirad Zahra, a spokesperson for Mass Action Against Police Brutality, said the event was meant to draw attention to Juneteenth and calls for racial justice.
"Juneteenth may be a new thing for some people," Zahra said. "We really want to raise awareness and to work our way to truly being free."
Organizers also called for reopening cases of fatal shootings by police in Boston.
Two mothers who've lost sons spoke at the event. Carla Sheffield, whose son Burrell Ramsey White was killed by police in 2012 at age 26, criticized not only the police but the justice system that fails to hold police accountable.
Sheffield said not all police are bad, but said the good ones must stand up. "We are out here to stop the ones who keep taking our children's lives," she said.
Milania Sanchez, the mother of Ross Batista, who was killed by police in 2013 at age 38, also spoke.
Brock Satter, an organizer of the event, led chants of the names of the young men who were killed. He said the group planned this music event to do something different after two weeks of marching in the streets.
"We wanted to have a different kind of protest," he said. "We want to mix it up so we keep it fresh."
Calls to make Juneteenth a national holiday have been gathering momentum this year, amid protests over the killing of George Floyd by a Minneapolis police officer and numerous other deaths at the hands of law enforcement.
Gov. Charlie Baker issued a proclamation declaring Friday "Juneteenth Independence Day," and said he wants to work with lawmakers to "recognize this important day more widely going forward." Legislation was filed earlier this week to make Juneteenth a state holiday.
This article was originally published on June 19, 2020.