25 Years After '90 MLB All-Star Game, Greg And Gregg Olson Reconnect
Resume
Twenty-five years ago, at the 1990 Major League Baseball All-Star Game, a catcher from the National League and a pitcher from the American League each made their first and only All-Star Game appearances. That was when catcher Greg — with one "g" at the end — Olson first encountered pitcher Gregg — with two "g's" at the end — Olson. Though their lives have been entangled in various ways, they hadn't spoken to each other since 1990 until I got both of them on the line earlier this week.
"Well, it's been a long time since we talked," Greg said. "It's amazing that we really didn't cross paths because there was no inter-league play, but this will be kind of fun."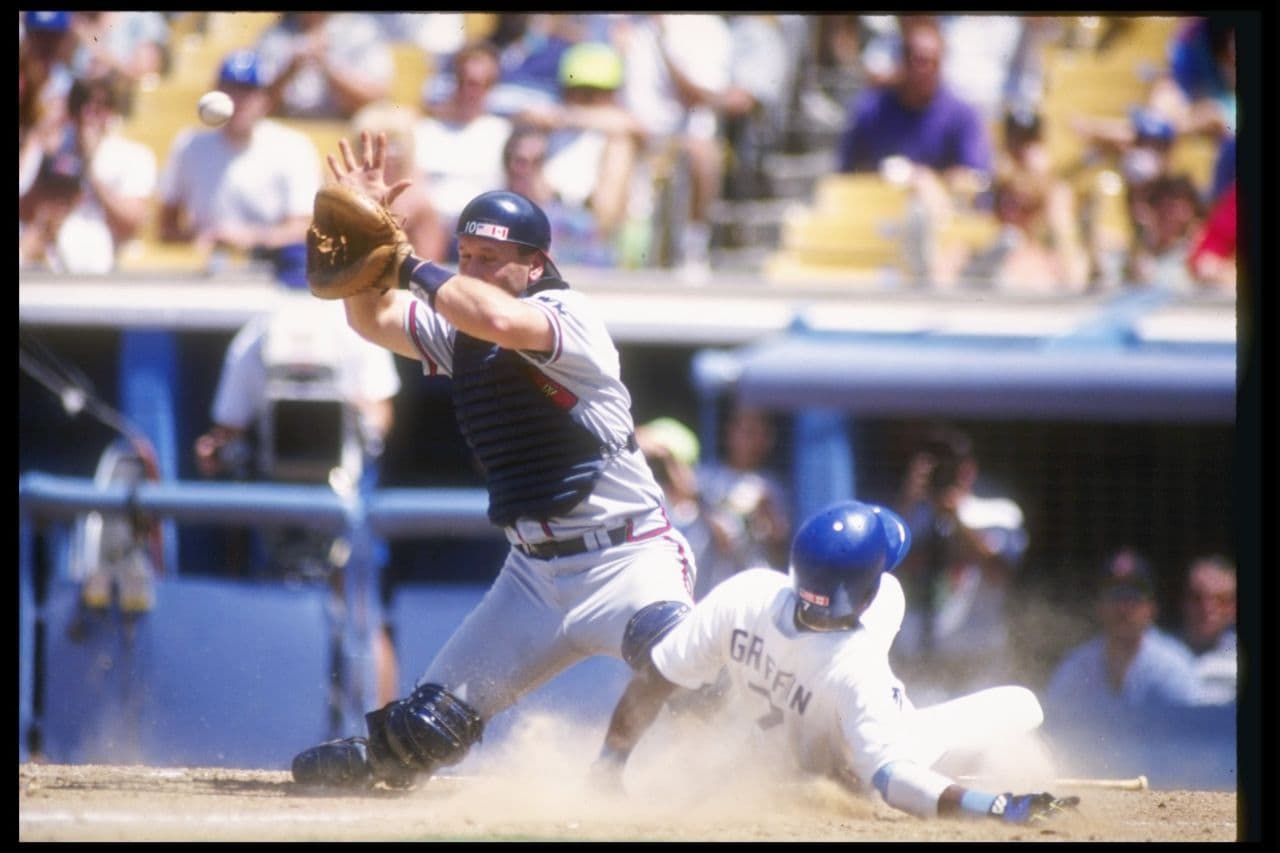 "Yeah, it should be, should be," Gregg said. "We had a couple minutes at the All-Star Game, and that was about the [only] five-minute talk that we had."
At the beginning of the 1990 season, Greg Olson the catcher, 30, was in his eighth full season in the minor leagues. He was thinking about leaving the game. But a series of unlikely retirements and injuries led the Atlanta Braves to call him up, and his lucky streak continued on the field.
"There was a young pitcher some people may know named Tommy Glavine, who ended up being pretty doggone good," Greg Olson explained. "Well, I caught him in Cincinnati one Sunday, and we won the game. Tommy wanted me to catch the next time because he liked the unique way I got low, so I caught the next game, went 3-for-5, we won again, and then the next thing you know, I was platooning with Ernie Whitt.
"Two days later Ernie Whitt broke his thumb and I went from never playing to being first-string catcher. And as you know, at All-Star Games you have to have at least one representative [from each team] and I will be honest: the Atlanta Braves in 1990 were not very good."
Like Greg with one "g," Gregg Olson the pitcher, in his second season of what would be a 14-year-career in the majors, was humbled when he entered the clubhouse for the All-Star Game at Wrigley Field.
"I remember getting to the hotel and they had everything mixed up. I don't know if I got your room, you got mine. I know I got your laundry, you got mine. I got a couple of your messages on the voicemail. Yeah, it was kind of a pain."

Gregg Olson, former MLB pitcher
"Great," until various people began confusing Greg Olson with Gregg Olson.
"I remember getting to the hotel and they had everything mixed up," Gregg Olson said. "I don't know if I got your room, you got mine. I know I got your laundry, you got mine. I got a couple of your messages on the voicemail. Yeah, it was kind of a pain."
Then ESPN stepped in.
"ESPN had him on the set first and then they wanted me to come walking in in the middle of it," Gregg said. "[Said] something like, 'I'm supposed to do an interview here? I'm Gregg Olson.' Took a couple pictures of the Olson and Olson jerseys, and that was about it."
Since they hadn't spoken in 25 years, I decided to ask Greg if there was anything he wanted to ask Gregg.
"Do you receive my cards likewise?" he asked. "Or have you kept your address out of the card collectors' hands? Because I just always wanted to know if you're getting as many cards of me as I'm getting of you."
"Yes, I do," Gregg said. "I get, give or take, two letters a week, three letters a week with you in it. It depends on the mood I'm in. I'll put, 'Wrong Gregg Olson,' but sometimes I'll just throw them back.'"
"I think you both should just sign 'em," I said. "Come on! Make the kids happy."
"Well, I'd need to see his signature first, just to get a decent idea on it," said Gregg, who began his career with Baltimore. "I had a pretty good Cal Ripken [imitation] for a while, so I can do a signature if needed."
Requests to sign cards might be a kick, but Greg was more excited to receive a gratifying -- albeit misdirected — invitation: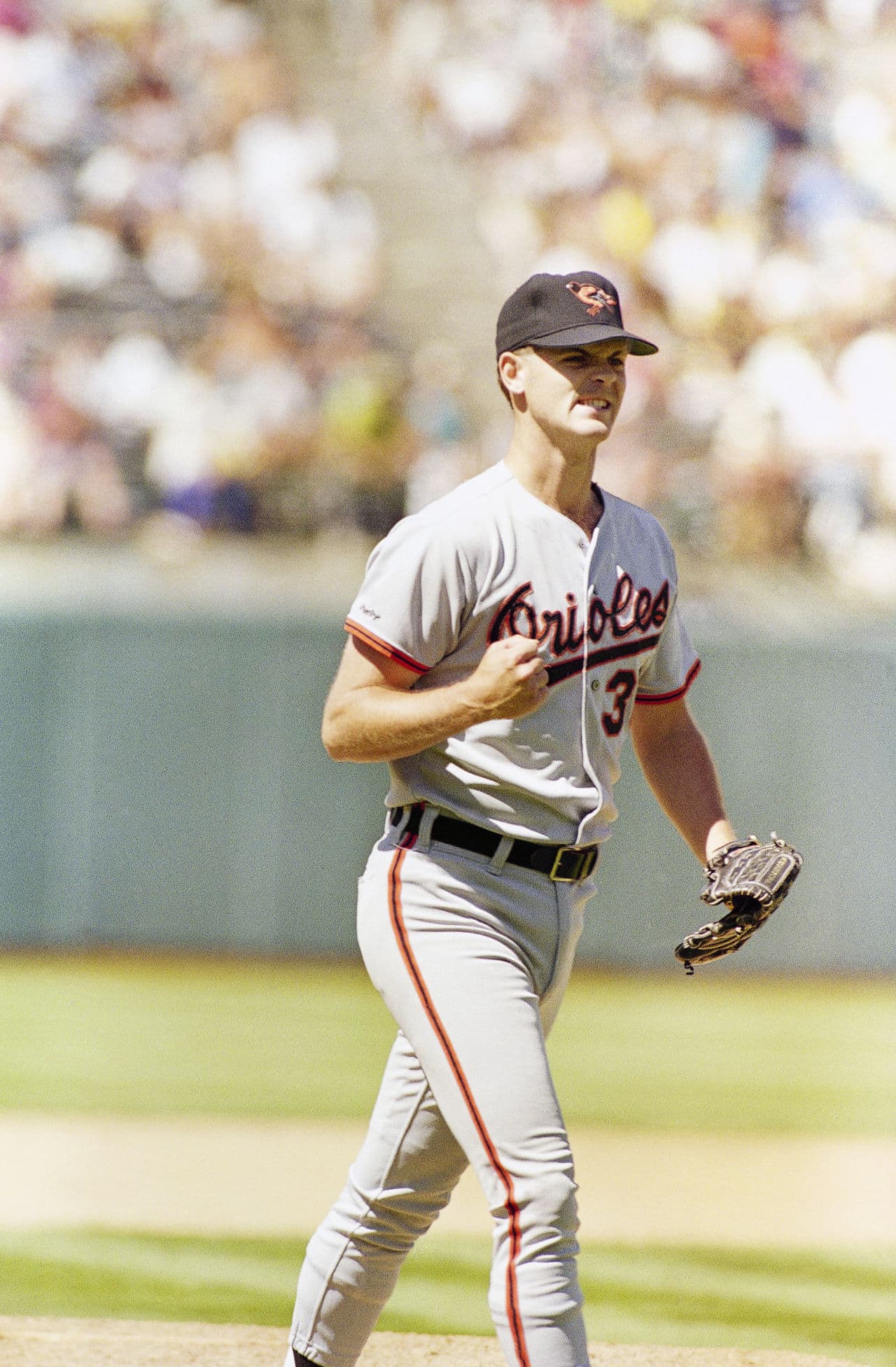 "I got a letter," Greg recalled, "from Roger Clemens saying, 'Come on down, I can't wait to see ya. Come on and play my golf tournament. Love to have you. You just let me know where you want to stay, blah, blah, blah. And give me a call if you want. Here's my cell number.' So I call up and I say, 'Roger, I think you probably want this to go to the other Gregg Olson, but I'd love to come to your golf tournament.' And he laughed."
"Did you get to go?" I asked.
"I didn't go, no," Greg said.
"I got to go," Gregg said. "One time only. I don't know if I did something wrong."
The stories the Olsons had to tell were fun … and did I mention they share the same middle name, which is William  with two "l's"?
Anyway, what was most gratifying about reconnecting Greg to Gregg was the sense that the connection might continue.
"One-G, it was a pleasure talking to you," Gregg said, "and have to find you on the Internet and trade info."
"Thanks Two-Gs," Greg said.
"All right, One-G. Take care."
This segment aired on July 11, 2015.