Former Sen. Jeff Flake Says Future Of GOP Is 'In Deep Trouble' Without 'Central Path' Forward
Play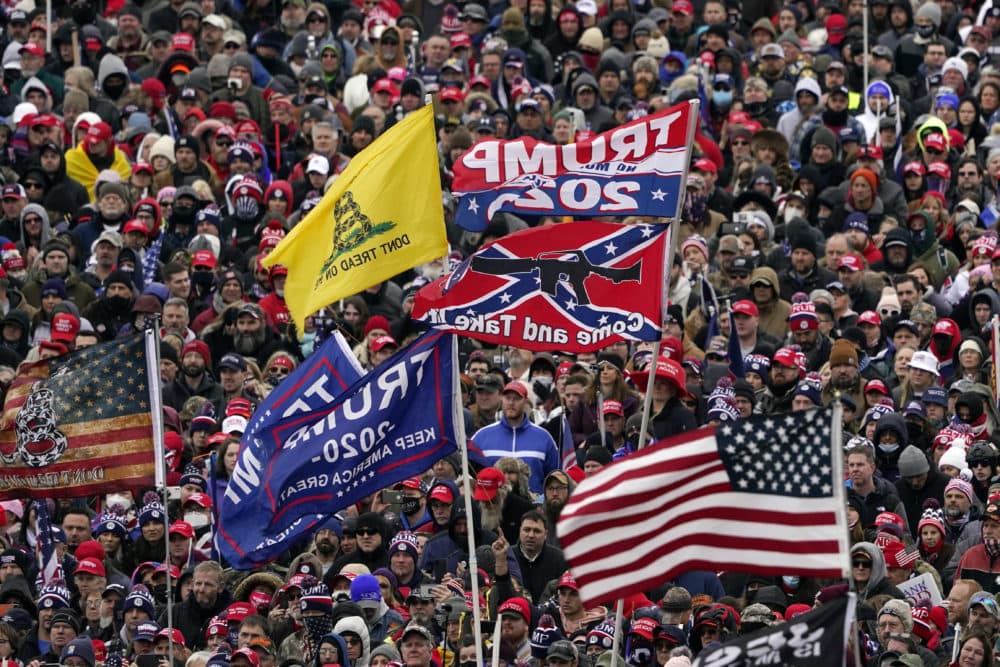 This article is more than 2 years old.
Democrats now control the White House and both chambers of Congress.
But three-quarters of Trump voters believe the former president's fictitious statements that he actually won the 2020 election, according to the Pew Research Center.
And after the insurrection at the Capitol by pro-Trump supporters, many are pondering what the future of the Republican Party may look like, including former Republican Sen. Jeff Flake of Arizona.
Republicans "had plenty of problems before what happened at the Capitol," Flake tells Here & Now. "It's deeper now."
Flake has often been a lone voice on sharing concerns about his party. A day before the mob at the Capitol, The New York Times published his opinion piece claiming Trump and other Trump loyalists in power are "destroying" the Republican Party. He writes that many core values were being undermined in the process, something the nation would pay "a steep price for."
Reshaping the Republican Party will be challenging in the post-Trump era, he admits.
"A good chunk of Republicans believe that this election wasn't free or fair," he says. "... If you don't believe in truth or shared facts, it's really tough to move forward. And for us as a party, it's going to be really difficult."
Interview Highlights
On Trump loyalists in power such as Ted Cruz and his bolstering of Trump's baseless election claims, potential launch to run for office in 2024 and involvement in Capitol mob
"Well, I think certainly politically, when they try to run for leadership positions or for reelection, that people ought to remember [past events]. I thought that that was horribly irresponsible for my colleagues. Many, many did not [support Trump's baseless election claims]. But so many did amplify the president's falsehoods about the election, to go so far as to challenge the vote in the end, and obviously we have to get past that. And if the Democrats govern anywhere near the center, as I think they're inclined to do because that's where Joe Biden is, then Republicans are in deep trouble unless we find a central path somehow because we're going to be marginalized as a party."
On Trump's political future
"I think he'd have a hard time running again, but he may not know that. And he does have support and very, you know, visceral support among a chunk of our base. I think that that will wane faster than he believes it will. Once you lose the trappings of office and the levers of power and let's face it, Trump-ism requires a certain swagger that comes with winning, and when you lose an election and we've lost the House in the midterms, just lost the Senate, you kind of lose that swagger. And so I think that he'll fade away faster than many believe. But still, we have the problem that the base of the party might look for somebody just like him.
On how Republicans can address far-right extremism
"You know, in the past, all the way back to [former Sen. Barry] Goldwater and William F. Buckley Jr. and Ronald Reagan, we were always able to sideline the fringe element, saying that that would be an irresponsible emblem. It's more difficult because it's a bigger chunk of the party now, let's face it. But that's what we have to do. I mean, we need to be a big tent party, but that tent can't include racists or those who believe in white supremacy. So we're going to have a reckoning coming forward but I think we can do it."
---
Chris Bentley produced and edited this interview for broadcast with Tinku Ray. Serena McMahon adapted it for the web.
This segment aired on January 20, 2021.