Looking for a memorable summer read? Here & Now's staff has you covered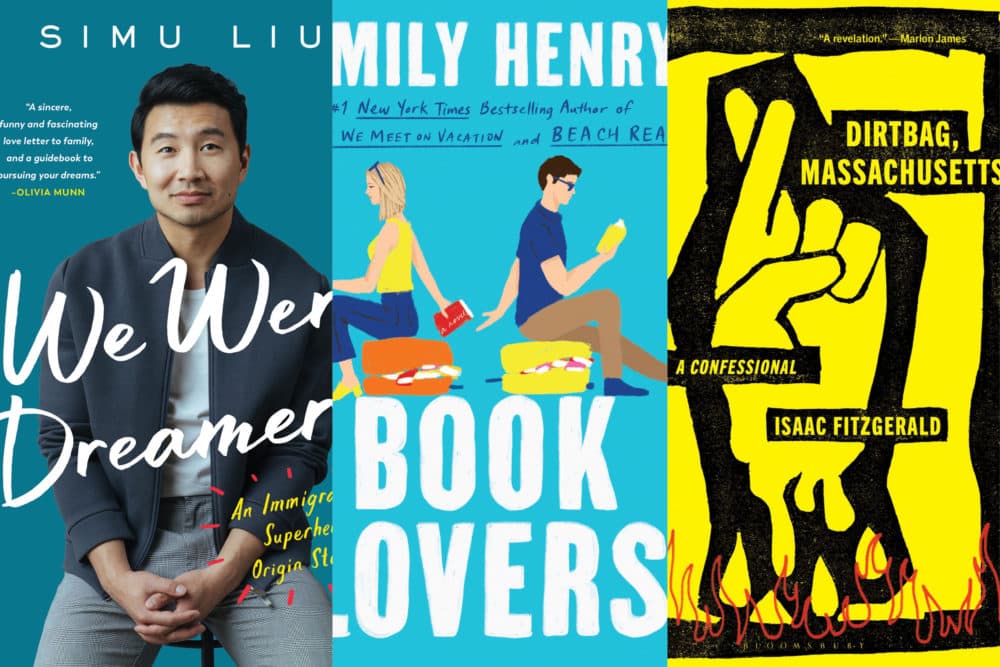 Summer is the perfect season for reading. The golden sun and clear blue skies make it impossible to resist a good book at the pool, by the beach or even on a park bench.
So we recruited some of the folks that help make this show to share their favorite book recommendations.
Not all of the books we chose are light, fluffy summer reads — some may even make you cry. But we hope at least one will make it onto your bookshelf this summer.
Without further ado, the Here & Now summer staff reading round-up:
Here & Now's staff summer reading round-up
Fiction
If you're looking for some historical fiction: 
Digital intern Rosa Jisoo Pyo says, "In 'Homegoing,' Yaa Gyasi accomplishes the literary impossibility of generational storytelling of two half-sisters from Asante. It's a story about where you're from, British colonialism, American systemic racism and forgiveness. A beautiful read. I liked taking my time between chapters and flipping back and forth to see how timelines coalesce and how we are our parents' blood. Cathartic ending."
Digital producer Allison Hagan says, "Published three years before the Roe v. Wade decision, the back cover of 'Play It as It Lays' describes the book as 'an exploration of a woman and a society in crisis.' It's not a fun, light beach read, but rather a book filled with bleak, rich prose that makes you think about where people with uteruses — even wealthy, privileged, white women — can end up in a country that doesn't protect their safety and autonomy."
Senior producer Karyn Miller Medzon says, "This is a beautifully researched and written vision of the chance intersection of the lives of an Iroquois girl, a Wyandot warrior and a French missionary in the brutal 17th-century landscape of what would become Canada. It beautifully melds politics, race, spirituality, colonialism, oppression and hope, as it follows the lives of these characters. Author Joseph Boydon is masterful when it comes to subtlety and complexity — illustrating that no person is just one thing."
This novel centers on an English woman who moves to Kentucky and joins a Depression-era initiative to bring library books by horseback to families living in the Appalachians. Freelance producer Elizabeth Ross says, "The novel introduced me to another time and place and it was an enjoyable and memorable read. I also liked the strong female characters and their love of books and reading."
The novel's main character is Thomas Cromwell, who served as chief minister to King Henry VIII. Producer Julia Corcoran says, "Mantel's writing is wonderful. Even though it's historical fiction and the story is known (the King orders Cromwell to be executed), the novel is suspenseful. Cromwell's a character you grow to know and to root for throughout the series, but the machinations of the crown, the palace intrigue and the unrest in England, makes for such a rich story."
If you're looking for some sci-fi/fantasy: 
Associate producer Kalyani Saxena says, "This series is one of the most thoughtful examinations of the consequences of revolution I've ever read in the young adult genre. Through the lens of a society with dragons, Munda explores questions like 'What does it mean for a revolution when the same structures of the oppressive regime are in place? And what do we do when the next regime comes with atrocities of its own?'
"None of these quandaries have easy solutions and Munda doesn't do her audience the disservice of providing simple answers. The characters struggle to stay 'good' when there's no objective sense of right or wrong. It's the kind of thematic richness I wish all young adult novels had."
Bonus: You won't have to wait long for the series finale. It releases this August.
Arts and culture senior producer Emiko Tamagawa says, "All of these books revolve around Murderbot, a part-human part-robot security unit who keeps getting sucked into helping humans. . For anyone who's ever felt cranky and underappreciated, wanting to veg out in front of the TV, you can identify with Murderbot."
Find our interview with Martha Wells here.
Producer James Perkins Mastromarino says, "Piranesi is a book about a puzzling, ethereal landscape that's constructed like a puzzle box itself — and at its center is a poignant story of resilience."
If you're looking for a mystery:
Senior editor Eileen Bolinsky says, "Penny takes readers to the small town of Three Pines, Canada and its close and quirky residents. Each book in the series focuses on a whodunnit. Penny uses some hysterical lines, subtle politics and will keep you guessing who is the killer while learning about the relationships between the characters."
Guest host Celeste Headlee says, "Two lighter mystery stories. The first one is about a group of seniors in the United Kingdom who end up solving murders. The other is about an immigrant hotel maid who is accused of murder and the people who step forward to help her."
"For my job, I read a lot of nonfiction and books about death, tragedy, malfeasance and the worst that humanity has to offer. When I read for pleasure, I need to laugh and smile and relax. These books are beautifully written (I'm not one to trade enjoyment for bad writing) with characters that are complex and likable."
If you're yearning for some romance:
Arts and culture senior producer Emiko Tamagawa says, "This is a young adult romance, but it's fun and a bit unexpected. A Japanese American girl discovers she's the illegitimate daughter of the crown prince of Japan."
Associate producer Kalyani Saxena says, "Emily Henry simply never misses. Her romance novels feel like coming home and this book about two cynical people in the cutthroat world of publishing is no exception. Henry masterfully builds chemistry and nails the longing and yearning that comes with someone knowing you in a way that no one else can."
Find our interview with Emily Henry here.
If you're seeking realistic fiction:
Digital producer Grace Griffin says, "'Rubyfruit Jungle' is a certified classic and examines lesbianism in a similar format to heterosexual coming-of-age novels. There's so much personal growth and reckoning for the characters it's hard not to keep thinking about this book even long after finishing it."
Senior managing editor Todd Mundt says, "Chee explores the far-reaching impact of sexual abuse on young boys as they reach adulthood, each carrying a burden and trying to reach some kind of personal resolution. Not every summer read should be light."
Freelance producer Adele Sire says, "Donna Tartt is a master at creating atmospheres that change from chapter to chapter as we follow the path and growth of [main character] Theo. There are several stories within this novel. I was fascinated by the presence of the Dutch master's painting of a Goldfinch (which exists in real life) throughout the story. I think it's the best novel I have ever read."
Non-fiction
If you're in the mood for a memoir:
Host Robin Young calls the book, out July 19, "A memoir with the loud beauty of a Dave Eggers read. Here's a bit of a review: 'From growing up in a Boston homeless shelter to bartending in San Francisco, from smuggling medical supplies into Burma to his lifelong struggle to make peace with his body, Fitzgerald strives to take control of his own story.' Don't you want to know more?"
Find our interview with Isaac Fitzgerald and an excerpt from Dirtbag, Massachusetts here.
Host Robin Young says, "This 1974 memoir of a year exploring an area in Virginia explodes with the sensual exhilaration of discovering nature. There was a time when people would gift this book to try to seduce the recipients and cast them under its spell. Just saying."
Arts and culture senior producer Emiko Tamagawa says, "If you're a fan of 'Shang Chi' this is natural, but if you're the child of immigrants, as I am, I think this book will really speak to you and encourage you to ask your parents for their story."
Find our interview with Simu Liu and an excerpt from We Were Dreamers here.
Digital producer Grace Griffin says, "'Somebody's Daughter' has laughably comedic value coupled with intensely immersive self-reflection from the author. In my opinion, it's pretty close to a perfect memoir, tying themes of familial love, self acceptance, and the path to recovery from trauma throughout the numerous experiences the memoir touches on."
Executive producer Carline Watson says, "If you like reading about food and how chefs get to where they are, this is a great read." The dual memoir follows how the authors, a Black chef and a white media entrepreneur, worked together to turn an old segregated Greyhound bus stop into one of the most celebrated restaurants in the country.
Find our interview with Mashama Bailey here.
Senior editor Eileen Bolinsky says, "Neema Avashia was born and raised in West Virginia where her immigrant parents moved for her father's job as a physician for the Union Carbide chemical plant. As a 'queer Desi Appalachian' woman, she struggles to navigate her identity, her politics, and where she and her family fit in with their community."
If you're looking for a slice of history:
Senior managing editor Todd Mundt says, "Schattenberg provides the first real biography of the Soviet leader in English in decades and it illuminates an era in which the USSR rebuilt its economy after the Second World War, while also laying the seeds for its demise in 1991."
Senior technical director Mike Moschetto says, "This book spotlights some lesser-known workers' movements and labor leaders from the early nineteenth century to now: movements led by women, first-generation immigrants, the formerly enslaved, and even sex workers and incarcerated people. The author does a great job portraying the people she profiles as being otherwise ordinary, average workers who had enough courage in their convictions and spoke up when it mattered."
And some music history too:
Managing editor Catherine Welch says, "This book is a collection of biographies on the Black women who shaped popular music with the author's story woven throughout the book. Smith takes us through the evolution of pop music, from the Dixie Cups to Mariah Carey, and how Black women played a key role shaping the sound often without the recognition they deserved."
Managing producer Gabe Bullard says, "The book is a history of modern music with a unique approach. Sanneh has this amazing ability to describe elements of music that you never thought about, but can't stop noticing once you read about them. It changed how I think about music, and how I talk about it with friends."
Technical director Maximillian Liebman says, "This book is about the rivalry of Leo Fender and Les Paul and the history of the electric guitar and how it shaped music history and culture. I loved it and everyone I've already recommended it to has loved it."
If you're looking for something to make you smile:
Associate producer Thomas Danielian says, "Just pictures of adorable animals. You will smile not matter what mood you are in. Sometimes, at the end of a long day, it is hard to pick up a novel and crack on. You can be fatigued. And who does not love pictures of animals being cute?!"
Producer Chris Bentley says, "Ed Yong is a brilliant science writer, distilling complex subjects and obscure research into urgent and frequently hilarious stories. That's on full display here, but it's his deep sympathy for the nonhuman world that makes this book such a surprisingly deep read. Come for the 'gee whiz' fun facts, stay for the enduring sense of communion with creatures large and small."
Find our interview with Ed Yong about An Immense World here.