At Mayoral Forum, Boston City Councilor Tito Jackson Focuses On Inequality
Play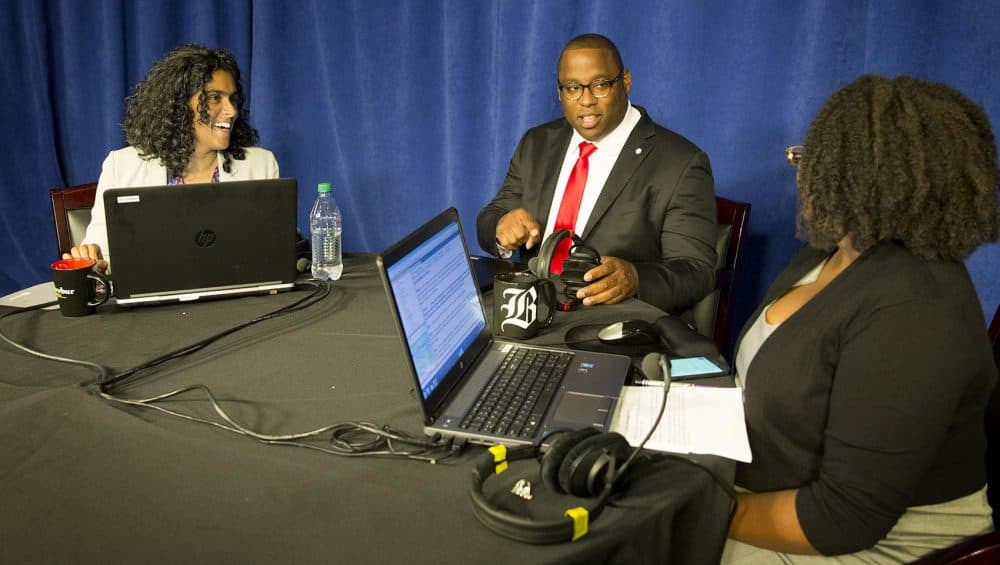 This article is more than 5 years old.
At a forum held at the University of Massachusetts Boston on Wednesday, Boston City Councilor Tito Jackson answered questions and laid out plans for what he would do if elected mayor this November.
The forum was broadcast on WBUR and you can watch it below, or via Youtube:
The first challenger to Boston Mayor Marty Walsh, Jackson said he would push for body cameras for all members of the city's police force. He called the department, as well as the city's fire department, the best in the country, but said he would have officers and firefighters undergo additional training to recognize any implicit biases they hold, including racial ones.
"If we say that we want to be a more inclusive culture in Boston, we must show it in our actions, and particularly with our police department," Jackson said. "Under the Walsh administration, 75 percent of the new officers that have been hired are white, and 90 percent of the new fire people are white."
Veterans have preference for public safety jobs, and Jackson, who is African-American, promised to do a better job than Walsh at recruiting veterans of color to such roles.
Four years ago, Jackson supported Walsh for mayor. However, he now says that Walsh has disappointed him.
"Mayor Walsh has not helped the people who I serve and has not advanced the city of Boston in the right way," he said.
Jackson, a Roxbury resident, also promised to address inequality.
"The life expectancy in Back Bay is 91.9, and the life expectancy in Roxbury is 58.9."

City Councilor Tito Jackson
"I represent currently from a sliver of the Back Bay to Roxbury, and in my district alone, in a two-mile radius, there is a 33-year difference in life expectancy," he said. "The life expectancy in Back Bay is 91.9, and the life expectancy in Roxbury is 58.9."
Jackson says he want to address the increasing gentrification of large parts of Boston. He says he wants to change the requirements placed on developers to include affordable housing in their projects. For example, the annual incomes of people allowed to live in affordable housing.
"When you say affordable in Boston, that generally means $70,000 to $120,000," he said. "That means that the affordable units in a place like Roxbury or Dorchester serve to gentrify the people out of the neighborhood that they currently live in, because in Roxbury, 75 percent of people make under $50,000."
Jackson promised to redefine affordable housing to reflect the median income in the neighborhood of any new project.
The forum — the first of two conversations with the candidates — was attended mostly by supporters of Jackson's. On Thursday, Mayor Walsh will answer questions at a subsequent forum at UMass Boston. We'll broadcast it live on-air and online at 3 p.m.
This article was originally published on July 20, 2017.
This segment aired on July 20, 2017.