12 Plays And Musicals That Mattered In Boston This Year
Troublesome times call for troubling theater. Hence, "Hello, Dolly!" — despite the joyous, candy-colored revival that cakewalked through the Citizens Bank Opera House this past summer — will not be found on this list. Instead, we have singled out plays and musicals, including a few that aren't new, that speak to the currently splintered zeitgeist. We were especially impressed by works that dealt with the ferocity of adolescence and our dealings with the world — from "American Utopia" to the Middle East to the Far East. Doubtless, "Dolly!" has traveled to those places and then some — but to an old-fashioned Broadway melody. Here, then, are 12 productions that got the modern music just right.
Merrimack Repertory Theatre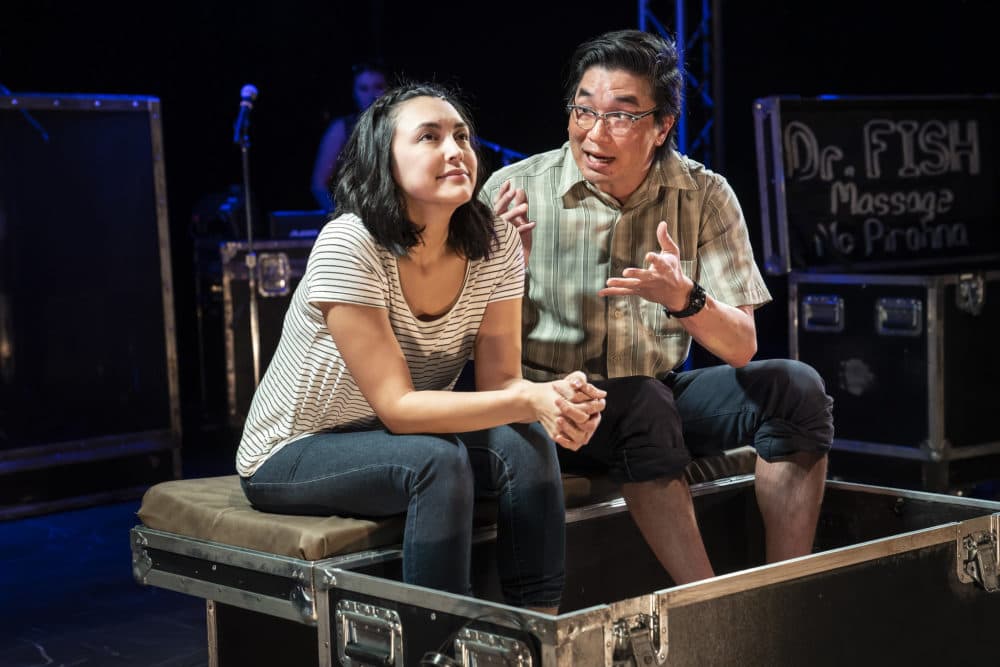 Lauren Yee's 2018 play, seen here in a joint production by Pittsburgh's City Theatre, Chicago's Victory Gardens Theater and MRT, proved an ingenious, intricately woven tapestry of horrific history and family mystery drama. Seamless, it was framed by the buoyant, thunderous songs of the California-based band Dengue Fever, whose mission has been to resurrect the psychedelic rock that was a youthful bulwark of the Cambodian Republic overrun in the 1970s by the Khmer Rouge (which, of course, snuffed out the music along with a quarter of the population). The play's action flips around in time between 2008, when a young Cambodian-American woman is in Phnom Penh working to catch a real-life Khmer Rouge henchman known as Comrade Duch, and the earlier life of her dad, who escaped the ruthless regime in the 1970s but has never talked to his daughter about his experience. We revisit the father's exuberant youth as a member of the Cambodian rock band of the title and the unspeakable things that happened to him and his band mates in the wake of the 1975 crackdown. Audaciously, the dapper if sinister Duch emcees the proceedings. And the actors double quite credibly as the band, ripping through the Dengue Fever songs in both English and Khmer. Marti Lyons helmed the searing yet infectious production.
---
Broadway In Boston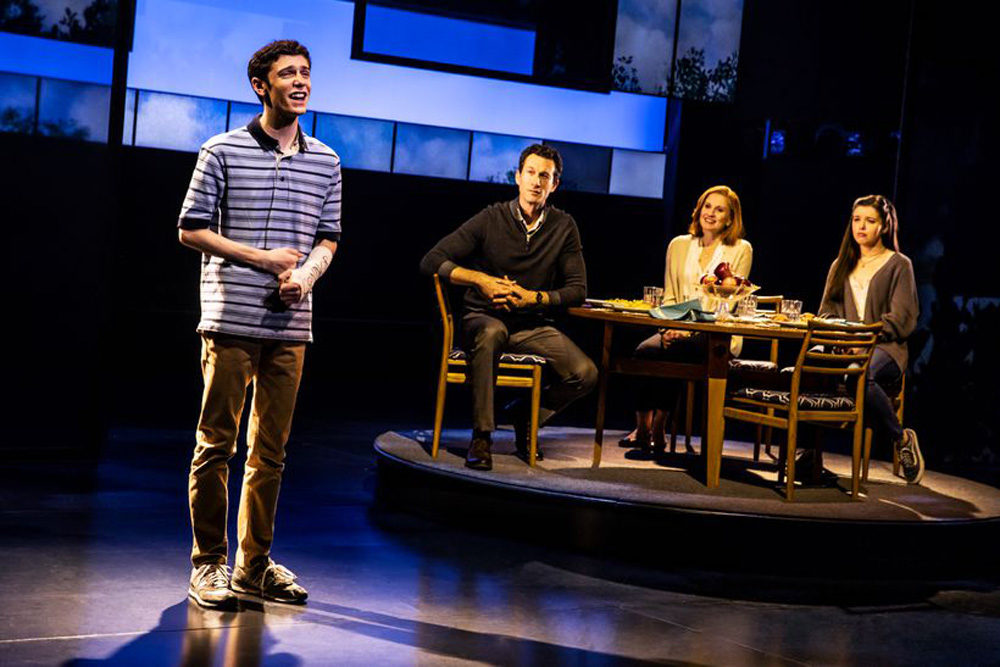 In this Tony-winning musical with book by Steven Levenson and score by Benj Pasek and Justin Paul, the circle of hell that is high school becomes a gaping social-media maw as the titular teen finds himself backed into a lie that goes viral, tumbling the already anxious youth into a virtual stream of prolonged panic. It also leads him to fame as unlikely as the success of this curiously intimate, original musical in which the human action is dwarfed by a moveable, mutating feast of Facebook feeds, tangled tweets and, of course, cascading emojis. Yet it is on the heartfelt human scale that the musical triumphs. At its grief-stricken center is one gangly, troubled teen who feels diminished and invisible — and who yearns to be seen and acknowledged. And in director Michael Greif's tight, fluid, never maudlin national-touring production, he was portrayed by Ben Levi Ross, a young actor possessed of a sweet gawkiness and a lovely tenor that soars effortlessly into falsetto — like an adolescent voice, or a heart, cracking.
---
Huntington Theatre Company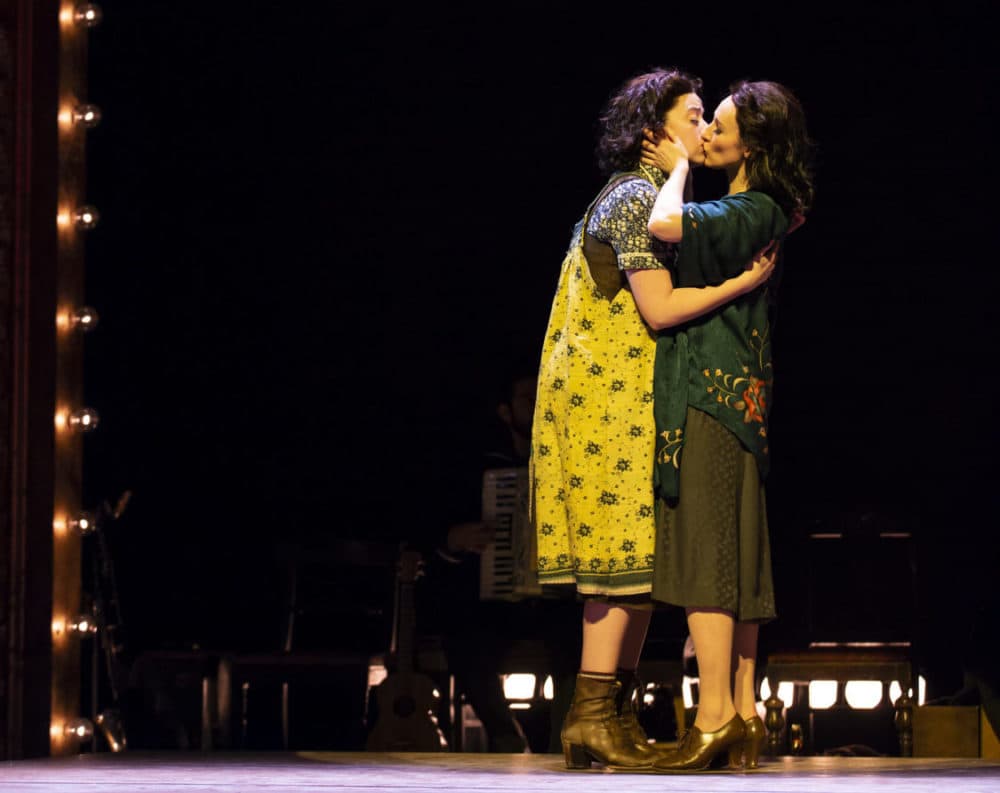 The Tony-nominated 2017 Broadway production of Paula Vogel's 2015 play was gorgeously, grittily remounted for Los Angeles' Center Theatre Group and the Huntington Theatre Company. Shaking the dust from the scandal caused by the 1907 Yiddish Theater classic "God of Vengeance," which included a lesbian love scene and was shut down on Broadway in 1923, Vogel's work proved a lively, fluid piece of stagecraft encompassing the fraught histories of Jewish culture, Yiddish theater, arts censorship and the love that for so long dared not speak its name — all played out to a feverish, toe-tapping klezmer score. Director Rebecca Taichman deservedly won a Tony for her ghostly yet vibrant staging, which played out on an almost bare stage amid stacked suitcases before a looming if muted gold proscenium. The period-perfect ensemble was impeccable, and the ending, a cleansing soak in pouring rain and burgeoning same-sex love, was exquisite.
---
American Repertory Theater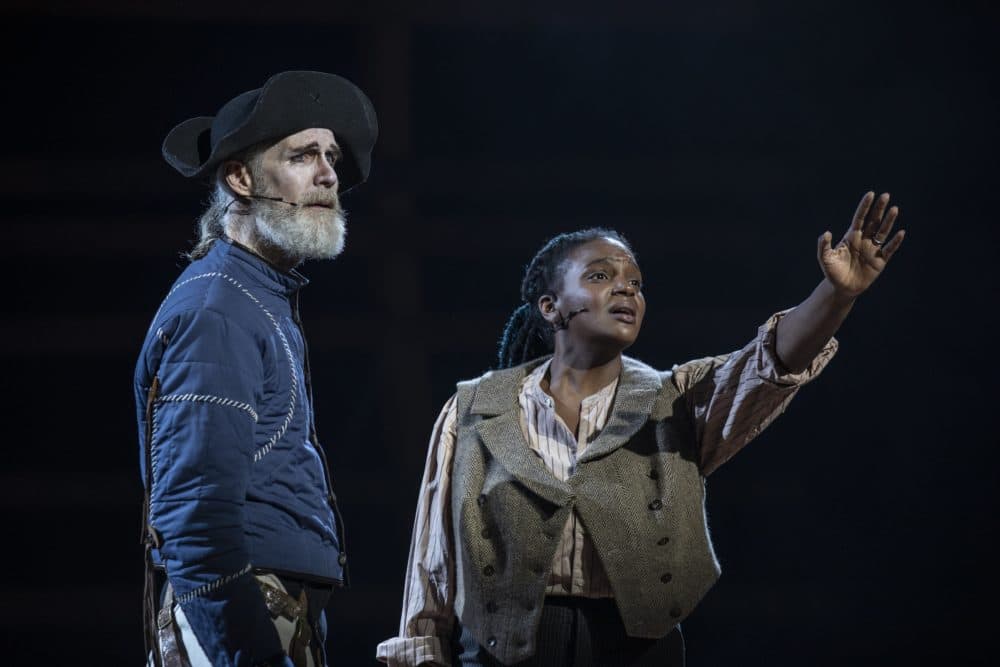 Composer, librettist, lyricist and orchestrator Dave Malloy and director Rachel Chavkin's mighty if quirky musical adaptation of Herman Melville's iconic 1851 novel doesn't run to 600 pages. But it is an epic undertaking: a three-and-a-half-hours-long, singing and dancing riff on the Pequod as a stand-in for America — whether in the run-up to the Civil War or now, when our melting pot is captained by a megalomaniac. Stylistically, the work, like the novel, sprawls all over the place, encompassing not just Melville's allegorical adventure tale but a vaudeville, a jazz cycle and a profane stand-up comedy routine by Captain Ahab's Parsee prophet, Fedallah. Not everything works, but Malloy's score — lush, dissonant, soaring and melodic — is both wonderful and well rendered by the nine-piece band and the diverse cast. And Tony-winner Mimi Lien's set puts us all "in the belly of the whale," its wavy wooden ribs — also the ribs of the Pequod — encompassing the entirety of the Loeb Drama Center auditorium.
---
Israeli Stage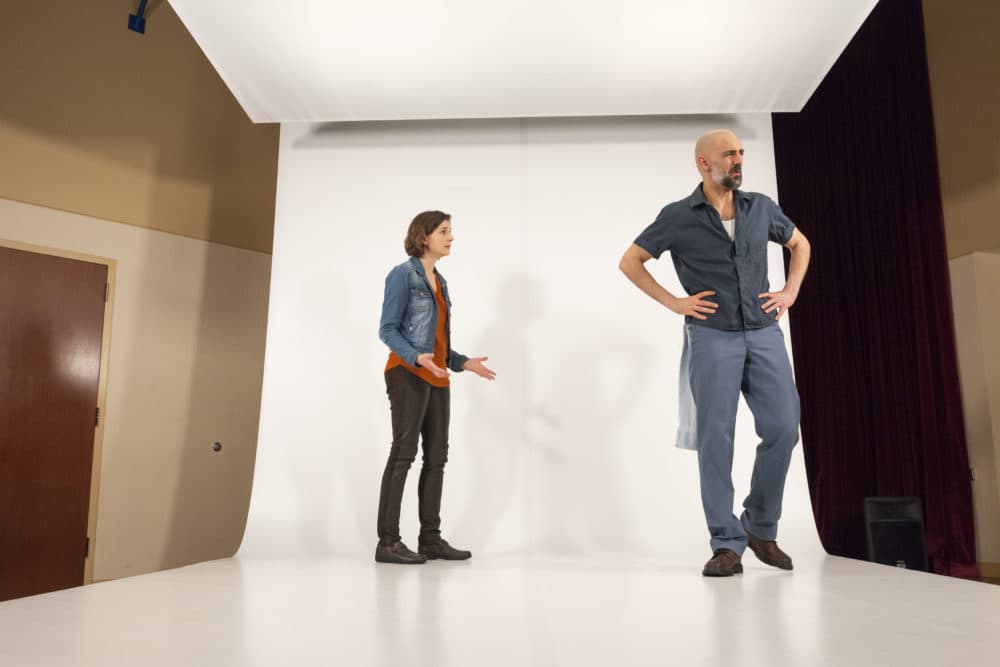 It pains me to report that this enigmatic, penetrating production will be the last by Israeli Stage, which has closed down after nine years of conversation-stirring staged readings and full productions of works by Israeli dramatists. "The Return" was not only the troupe's last hurrah but its first offering by a Palestinian playwright, Hanna Eady, written with his frequent American collaborator, Edward Mast. Brief, cryptic and alive with emotion, the piece takes the form of four tense encounters between a Palestinian mechanic alone on Shabbat duty at an Israeli garage and a Jewish woman who show up seeking not car repairs but redemption — or at least recognition. We are left with more questions than certainties regarding the characters' (or the playwrights') motivations, and some audience members found the dramaturgical deck stacked against the privileged Israeli majority and the Jewish government's fierce, intrusive security apparatus — as came out in the post-performance discussion that followed all Israeli Stage outings. But artistic director Guy Ben-Aharon helmed a staging that was more metaphoric than didactic, its four scenes separated by long ominous chords against which Cristina Todesco's abstract white set pulsed with vivid color. And the performances by Nael Nacer and Philana Mia throbbed less with political pointedness than with yearning.
---
Lyric Stage Company of Boston
This 2016 play, a finalist for the 2017 Pulitzer Prize, marked an impressive dramaturgical debut by writer Sarah DeLappe, who used her youthful experience on a girls' soccer team to create a microcosm of female adolescence. In the playwright's words, the work is "a portrait of teenage girls as human beings" that, in the Lyric staging, proved a stretching, kicking, jumping-jacking whole and the sum of its idiosyncratic parts. Taking the form of a series of chatty warm-ups by the titular team, neatly packed into the 90 minutes allotted a soccer match, the play features random, overlapping dialogue that pings around faster than even the most deftly propelled ball. But what is most striking about it, even if you don't catch every word amid the shifting alliances and butt kicks, is that it takes its nine strong, budding personalities seriously even as it lays out the near-comic cacophony in their heads — fed by parents, politics, schoolwork, social media and a lifetime of shared pop-cultural references. A. Nora Long was at the helm of the fast-moving, high-prancing production set on an AstroTurf slope surrounded by protective netting. And the nine Wolves, most portrayed by recent graduates of respected actor-training programs, were convincing in both their ferocity as a huddled, howling pack and their vulnerabilities as individuals bravely groping toward adulthood.
— Carolyn Clay
---
Ambassador Theatre Group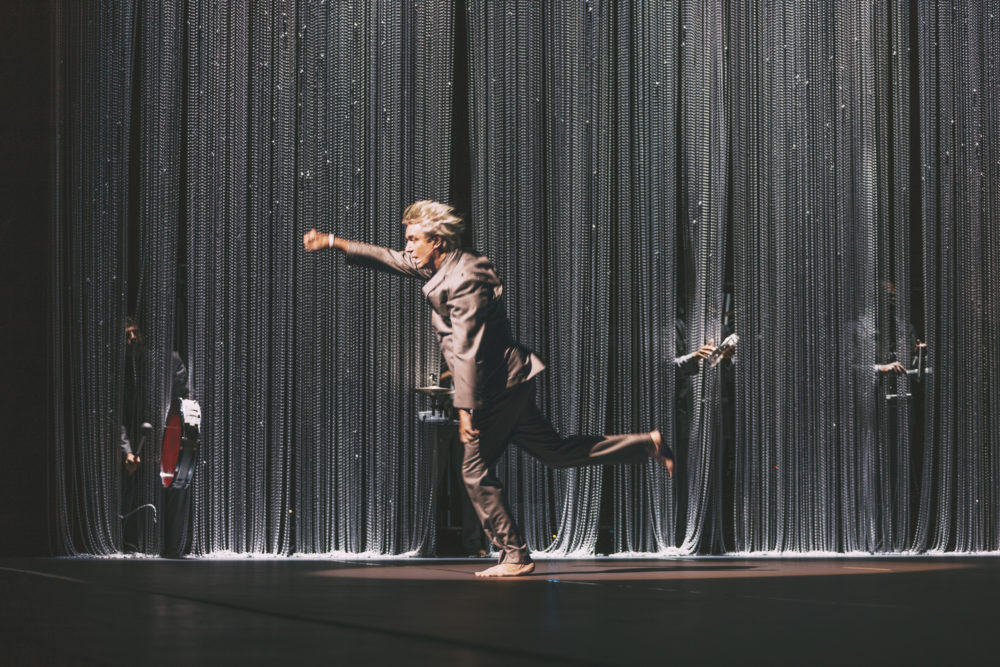 David Byrne's interests — and he has quite a few — have taken a turn for the theatrical in recent years, particularly with choreographer Annie-B Parson at his side. His 2014 "Here Lies Love" at the Public Theater, a deeply immersive musical about Imelda Marcos, was one of the theatrical events of the decade. "American Utopia" wasn't quite in that league — it began life as a rock concert — though it did have Byrne and a company of dancer-musicians tearing up the Emerson Colonial stage trying to make sense out of these strange times we find ourselves in. Byrne's answer to today's divisive politics isn't so much Don't Worry, Be Happy but Do Worry, But Don't Give Up. And don't forget what unites us. I'll dance to that.
---
Moonbox Productions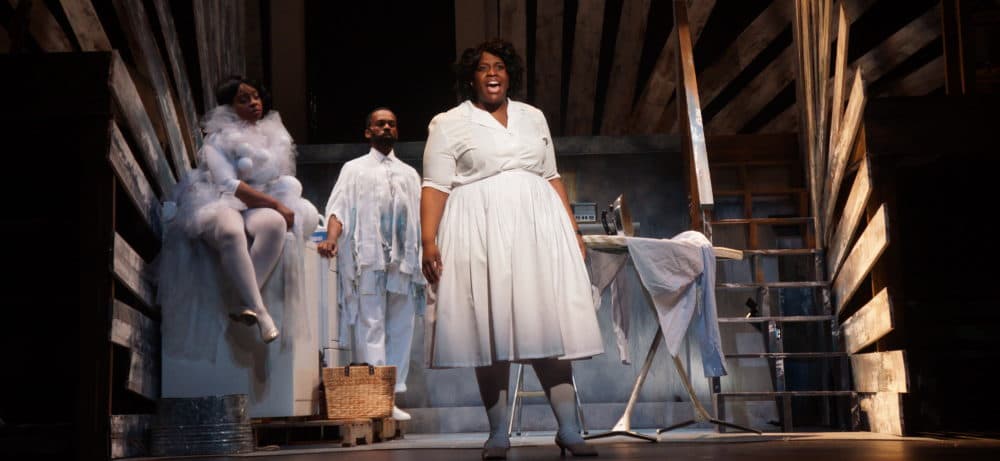 The third great musical of the 21st century, along with "Here Lies Love" and that "Hamilton" fellow, was the inspired collaboration between one of the world's great playwrights, Tony Kushner, and one of the world's great theater composers, Jeanine Tesori. The story is about the relationship between a young Kushner stand-in and his family's maid, as well as the challenges in both their family lives. Kushner treats both the Jewish and the African-American experiences with utmost respect and sophistication, and so does Tesori with an amazing, almost operatic mixture of klezmer, rock, gospel and theater music. Yewande Odetoyinbo, in the title role, and Davron S. Monroe were particularly in tune.
---
Lyric Stage Company of Boston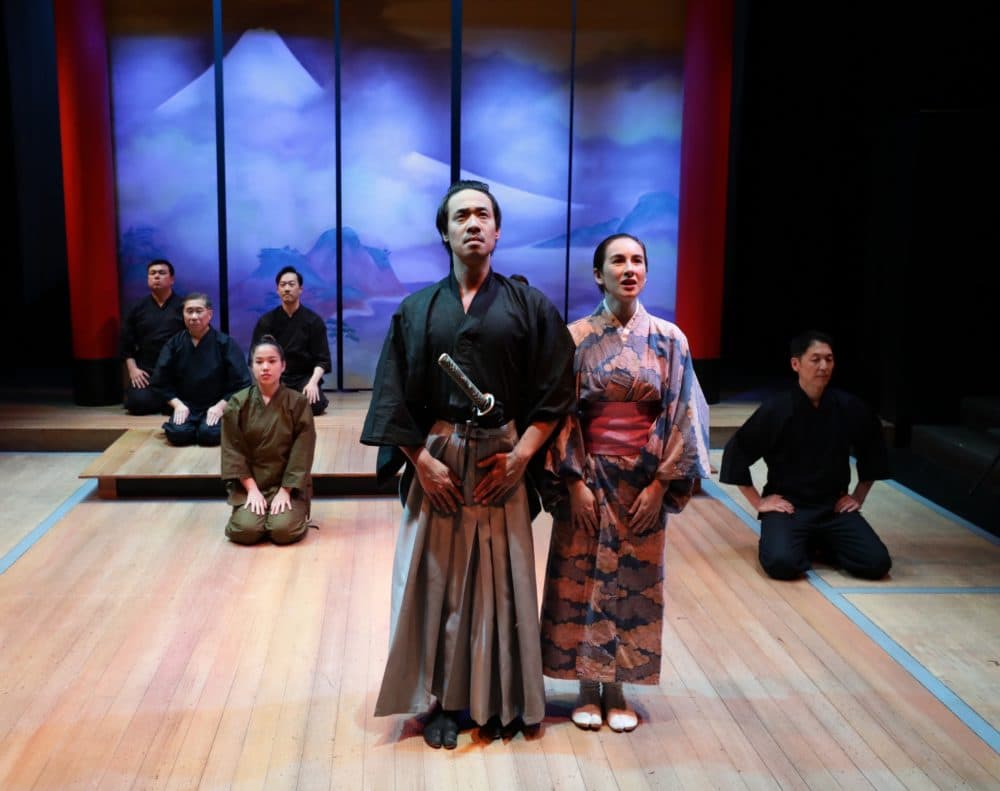 One of the many things that stands out in Spiro Veloudos' historic 21-year term as artistic director of the Lyric Stage has been his championing of Stephen Sondheim musicals, and not just the usual "Little Night Music" suspects. He made people stand up and pay attention with "Assassins" early in his run and finished the Sondheim journey with the difficult but rewarding "Pacific Overtures." Commodore Matthew Perry's cultural invasion of Japan in 1853 is the jumping off point for a score that reflects a broad interest in Eastern music and staging. Veloudos assembled some of his favorite designers for his 10th and last Sondheim as he steps down as artistic director from a theater he made an essential part of the local theatrical scene.
---
Commonwealth Shakespeare Company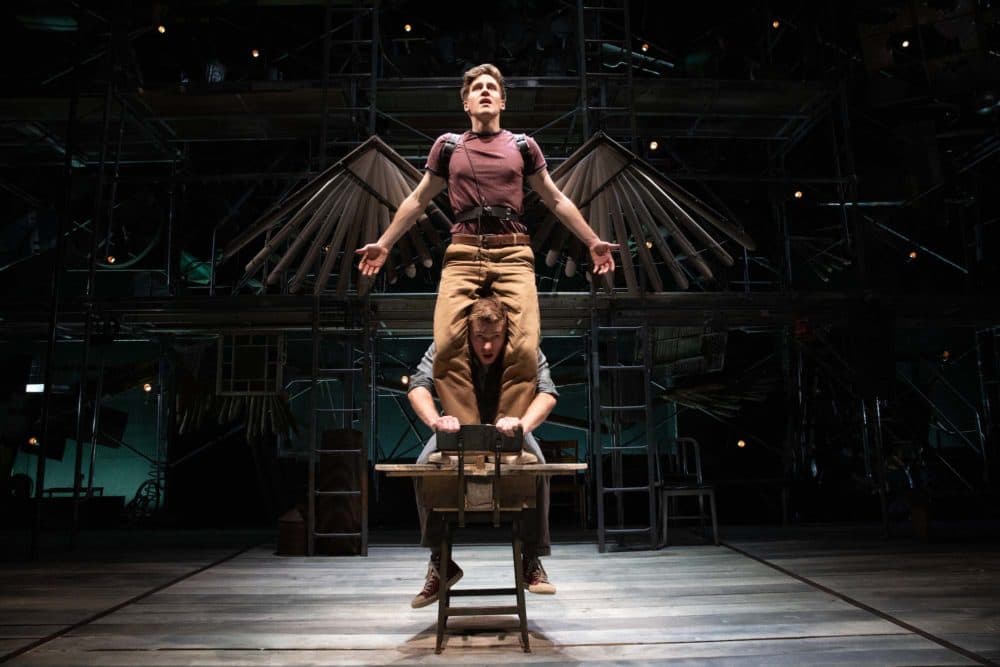 One of the happier developments in Boston theater the past few years was the residency engineered by Babson College and the Commonwealth Shakespeare Company, producer of Shakespeare on the Common. One of the sadder developments in the past year was the demise of that Babson residency. Steven Maler embraced a modernistic aesthetic that brought us sterling productions of Samuel Beckett and Caryl Churchill with top-notch casts. This past year gave us Naomi Wallace's stirring adaptation of "Birdy," which you might remember as a movie starring Matthew Modine and Nicolas Cage. Maler did a fine job of casting the unlikely duo of high-school jock and bird lover with two different pairs of actors, younger and older. It's something of a cliché that the title character teaches the jock to fly, but both the script and staging take so many chances that the spirit soars.
---
American Repertory Theater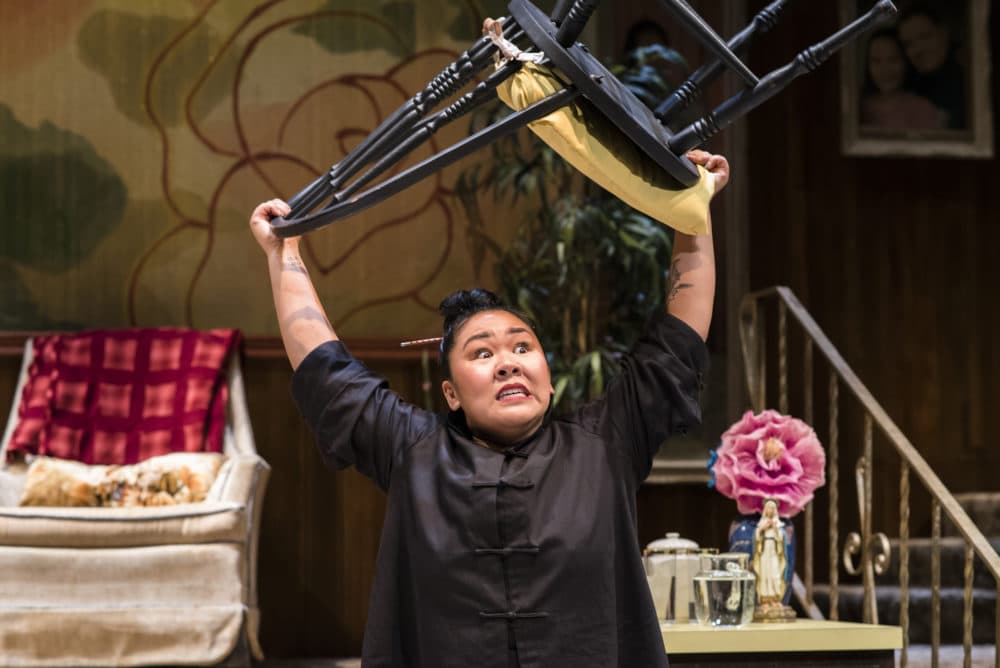 Maybe some creative producer will do with Sara Porkalob what the BBC did with Phoebe Waller-Bridge's "Fleabag" and turn it into a great TV series. Porkalob is as transfixing a presence as Waller-Bridge and her stories are just as cinematic. Where Waller-Bridge, though, talks about a life on the run from her rich parents, Porkalob inhabits two (soon to be three) generations of Filipino-Americans who didn't have it so easy financially. And I do mean "inhabits." She reprised "Dragon Lady" at the Oberon about her grandmother in a cabaret-influenced performance and followed it with the premiere of "Dragon Mama," the gut-wrenching story of her mother, a more traditional voyage into solo performance, but no less emotional as it veers from comic to tragic elements. Porkalob dives not only convincingly into her mother and grandmother but into the men and women in their lives. It's Porkalob, herself, though, who emerges as fully formed, both as a person and an artist. Added kudos to the A.R.T. for "SIX," the rock musical about the wives of Henry VIII, updated for the #MeToo times we live in.
---
Arlekin Players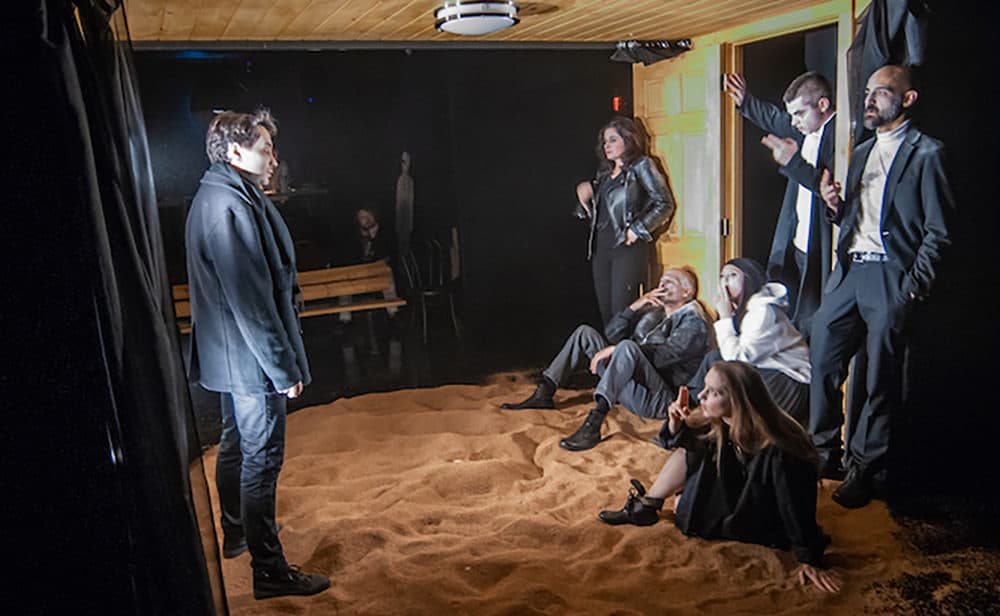 There is an increasing void in the Boston-Cambridge area for the kind of non-representational theater championed by the three Robs — Robert Brustein, Robert Woodruff and Rob Orchard — at the A.R.T. and ArtsEmerson. If you're a fan of this less overtly realistic style of theater then hie thee to the hills of Needham Heights where the Arlekin Players — and play is a big part of their arsenal — inhabit a space that's utterly nondescript from the outside and utterly enchanting and intimate inside. Most of their adaptations spring from the wildly creative mind of Igor Golyak, who this season staged a German avant-garde play, "The Stone," a Holocaust-inspired story about history, honesty and ownership. And more recently, "The Seagull," a meta-ish piece about a troupe of actors working their way through the wonders of Chekhov. I've never felt as close to Chekhov's psychically-damaged characters — literally, since the performers were almost in my lap, but more importantly, Golyak's sense of tragedy mixed with comedy melded perfectly with Chekhov.
---
Finally -- A few shows from Western Mass. I can't not mention:
"If I Forget," Barrington Stage Company
"The Night Alive," Chester Theatre Company
"A Human Being, of a Sort," Williamstown Theatre Festival
"Twelfth Night," Shakespeare & Company
— Ed Siegel