Latest Updates: Boston Adds 240 More Beds To House City's Homeless Population During Outbreak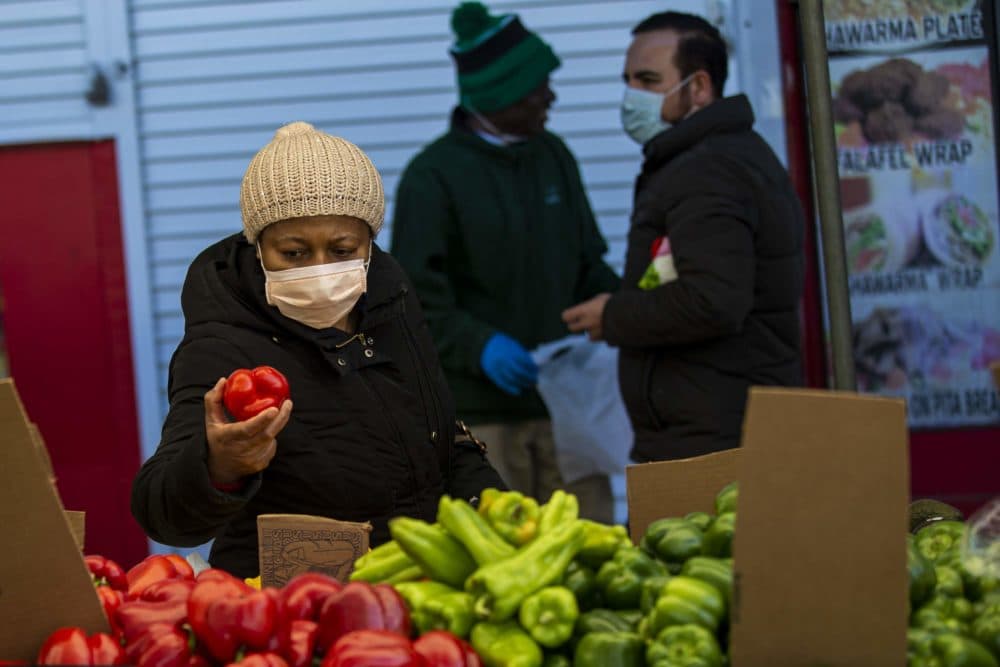 Your 30-Second Briefing
In a press conference today, Boston Mayor Marty Walsh announced the addition of 240 repurposed beds for the city's homeless to ease the burden on shelters and attempt to limit the virus' spread in the homeless community. That includes two new locations: a Suffolk University downtown dorm, with 172 beds, and a former hospital in Brighton, with 70 beds.
Mayor Walsh also confirmed the city had its first case of coronavirus among its homeless population, a resident at the Pine Street Inn shelter.
There are 4,257 confirmed cases of COVID-19 in Massachusetts — a 31% increase since Friday — according to Saturday's figures from the state department of public health, and 9 more people have died, bringing that total to 44. (See our charts and map for a more detailed breakdown.)
More than 35,000 people in the state have now been tested, Saturday's report shows. That includes the state's public health commissioner, Dr. Monica Bharel, who tested positive for the coronavirus on Friday. Gov. Baker says the state will continue to aggressively test people, but that a lack of needed medical supplies is slowing efforts.
On Saturday, Rhode Island Gov. Gina Raimondo ordered residents to stay home and all nonessential businesses to close starting Monday, March 30, and imposed a 14-day quarantine for all out-of-state visitors. The state announced its first deaths related to COVID-19 on Saturday: One person in their 80s died Friday night, the other person in their 70s died Saturday.
President Trump has approved Massachusetts' request for federal disaster assistance, the White House announced Saturday. Gov. Charlie Baker spoke about the request and what the federal assistance would provide the state at a Thursday news conference.
A COVID-19 testing site for first responders only opened Saturday at Suffolk Downs in East Boston.
Gov. Baker spoke Saturday at a Red Cross donation facility in Dedham alongside first lady Lauren Baker and regional Red Cross officials. Baker emphasized the state's ongoing need for blood donations, and Red Cross Regional Chief Executive Officer Holly Grant said the organization needs to collect as many as 600 donations per day to meet hospital needs in the state.
Starting Friday, all travelers arriving in Massachusetts are instructed to self-quarantine for 14 days, Baker announced at a press briefing Friday morning. Travelers coming into the state will receive informational flyers at airports, train stations and other major transportation hubs. There will also be roadside signs instructing drivers to self-quarantine, Baker said.
Baker announced a new partnership Friday between the state Department of Public Health and Boston startup Buoy Health. The company's online symptom-checking tool recently added an option to screen for the coronavirus.
Massachusetts is extending the income tax filing deadline to July 15 amid the coronavirus pandemic.
Two detainees are suing U.S. Immigration and Customs Enforcement (ICE) and the Bristol County Sheriff's Office (BCSO) alleging inhumane conditions amid the pandemic. They are asking for the immediate release of all ICE detainees.
By The Numbers
Massachusetts
44 deaths; 4,257 reported cases. Here's our map and chart showing the rise in reported cases.
More info: Mass. Department of Public Health (DPH).
New England
94 deaths; 6,629 reported cases — more than half of which are in Massachusetts.
More info: WNPR map
United States
2,112 deaths; 122,653 reported cases.
More info: Centers for Disease Control and Prevention (CDC).
Worldwide
29,957 deaths; 634,835 reported cases.
More info: The World Health Organization (WHO)
Editor's Note: Organizations tracking these numbers often update once per day. WBUR updates these numbers as they become available.
What To Know
Several measures to help those affected by the coronavirus have been announced:
Massachusetts is offering emergency recovery loans of up to $75,000 to small businesses.
The city of Boston launched a new fund for families in need of assistance. It has a $20 million funding goal.
The legislature is weighing bills to help municipalities keep running, from allowing workers to begin immediately collecting unemployment benefits, and to letting municipalities to extend their existing budgets on a month-to-month basis.
The state will provide $5 million to local boards of health to help combat the outbreak.
Massachusetts Attorney General Maura Healey has filed an emergency regulation banning price gouging of essential products and services.
General Information
What To Read
Boston is putting zipties on its basketball hoops in an attempt to discourage nonessential public gatherings, Mayor Marty Walsh said in a Sunday press conference. Other city governments had already begun to implement such measures.
Personal protective equipment is no longer just for medical professionals. As coronavirus continues to spread rapidly in the U.S. and authorities get serious about physical distancing, surgical masks and latex gloves have become a common sight around Boston.
Boston opened a coronavirus testing facility dedicated to first responders on Saturday at Suffolk Downs, formerly New England's last thoroughbred race track.
Boston's residents are still out and about — just maintaining a safe 6 feet between one another, per physical distancing guidelines.
MBTA ridership has dropped sharply as the coronavirus outbreak has worsened in Boston.