Latest DPH Figures Show 11,736 Cases, 216 Deaths In Mass.; All State Prisons On Lockdown After Third Inmate Death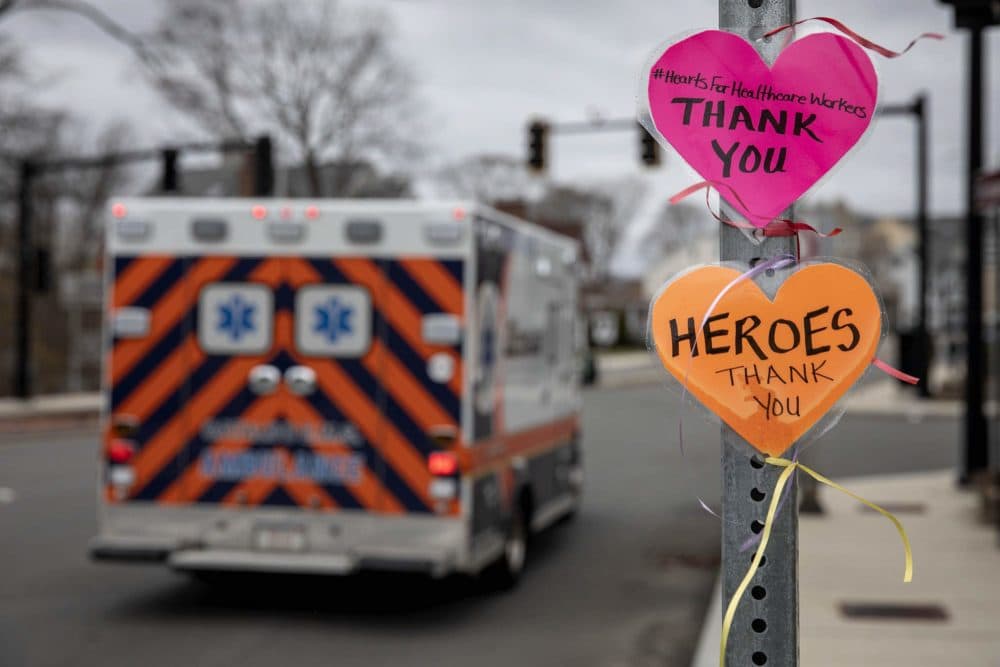 Your 30-Second Briefing
24 more people have died in Massachusetts due to the coronavirus, bringing the state's death toll to 216, according to figures from the state Department of Public Health out Saturday. There were 1,334 new confirmed cases reported, raising that total to 11,736; 1,068 of those patients were hospitalized. Nearly 69,000 people have now been tested, according to state health officials. (See our charts and map for a more detailed breakdown.)
All Mass. prisons are under lockdown after a third prisoner in the state died from coronavirus on Saturday, the state Department of Correction announced. The lockdown comes a day after the Massachusetts Supreme Judicial Court ruled that some prisoners can be released from state jails and prisons in an effort to stem the spread of COVID-19.
In his daily briefing Friday, Gov. Charlie Baker announced a new initiative with Boston-based Partners in Health to start an ambitious effort to "get out ahead" of COVID-19 by tracing anyone who is at risk for contracting the disease.
The state investigation into the Holyoke Soldiers' Home, where 22 veterans have died — 16 of the dead testing positive for the coronavirus — is just getting started. But interviews with staffers there tell a story of poor decision-making by leaders that likely contributed to the virus' spread. Meanwhile, two veterans have died at Holyoke's sister facility in Chelsea.
Maine and New Hampshire joined the fast-growing ranks of states approved for federal disaster relief on Saturday.
Nine people detained by U.S. Immigration and Customs Enforcement (ICE) at the Bristol County House of Correction are going home after ICE voluntarily released six people and a federal judge ordered three others released due to the coronavirus pandemic.
The state is halting plans to temporarily turn a skilled nursing facility in Wilmington into a COVID-19 recovery building after test results revealed that nearly half of the residents slated to leave tested positive for the illness.
Plans to transfer radioactive spent fuel at the Pilgrim Nuclear Power Station in Plymouth to steel-lined dry casks will go on as scheduled despite the coronavirus pandemic, the company decommissioning the now-closed plant said.
By The Numbers
Massachusetts
216 deaths; 11,736 reported cases. Here's our map and chart showing the rise in reported cases.
More info: Mass. Department of Public Health (DPH).
New England
394 deaths; 18,722 reported cases — more than half of which are in Massachusetts.
More info: WNPR map
United States
6,593 deaths; 277,205 reported cases.
More info: Centers for Disease Control and Prevention (CDC).
Worldwide
56,985 deaths; 1,051,635 reported cases.
More info: The World Health Organization (WHO)
Editor's Note: Organizations tracking these numbers often update once per day. WBUR updates these numbers as they become available.
What To Know
Several measures to help those affected by the coronavirus have been announced:
The City of Boston is making rent vouchers available for families of Boston Public Schools students who are facing economic challenges.
Massachusetts is offering emergency recovery loans of up to $75,000 to small businesses.
The city of Boston launched a new fund for families in need of assistance. It has a $20 million funding goal.
The legislature is weighing bills to help municipalities keep running, from allowing workers to begin immediately collecting unemployment benefits, and to letting municipalities to extend their existing budgets on a month-to-month basis.
The state will provide $5 million to local boards of health to help combat the outbreak.
Massachusetts Attorney General Maura Healey has filed an emergency regulation banning price gouging of essential products and services.
General Information
What To Read