An insider's look at the WBUR newsroom fellowship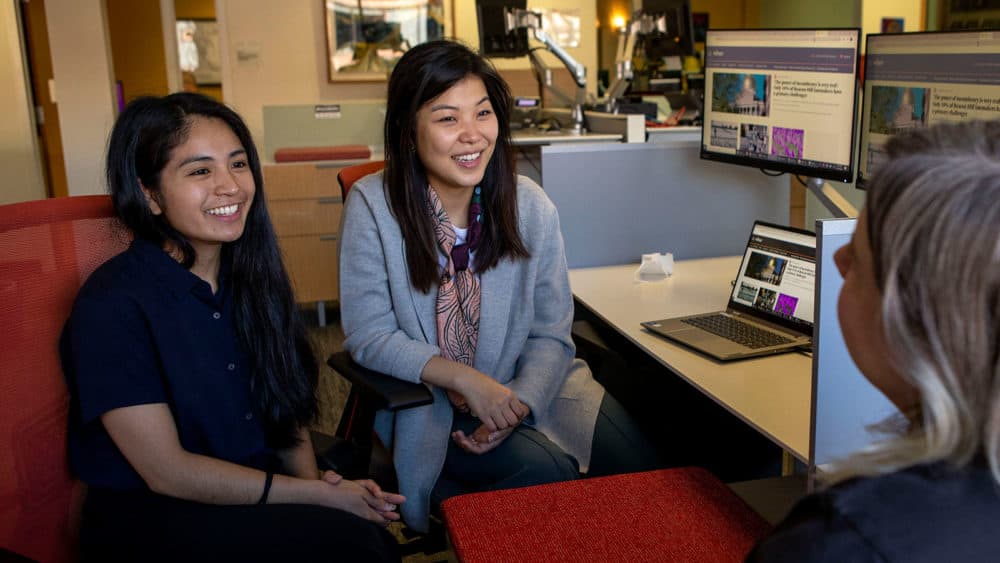 Aimee Moon says it proudly, a smile emerging as she remembers.
"I'll talk to folks and tell them I work for WBUR as a fellow." She pauses, enjoying the warmth of a cherished, excited reply before she says aloud: "And they'll say, 'We are radio people!'"
Passionate audio storytellers like Moon and Vanessa Ochavillo seek out WBUR for our yearlong newsroom fellowship. Now in its third year, the program provides full-time, hands-on training for emerging journalists who rotate across different teams to learn the ins and outs of public media production.
With a reputation for audio journalism and a broadcasting legacy, the key at WBUR is – of course – sound. Ochavillo says she'd learned all about decibel levels in her journalism courses, but training by Jon Cain of "All Things Considered" instilled in her what makes the final cut.
"It's not until the fellowship that I had the assurance of what was actually good sound that would meet the test to go on air," she says.
The fellowship has also been a "full circle" moment for Moon, who says the best practices she once studied have become intimate moments between hosts and guests inside the studio.
"They're tearing up, or they're reminiscing or reflecting on something that's in the news that's real and personal to them," describes Moon. "Being witness to what's happening on air has been an incredible experience, and that's something that I really hadn't had outside of this fellowship."
Moon and Ochavillo share highlights from their fellowship experiences in the interview below, which has been edited for length and clarity. Applications for our 2023 fellowship are now open.
Let's introduce you to your fellow public media enthusiasts. (Pun intended.) We'll start with names, hometowns and hidden talents. Go!
Vanessa Ochavillo: I can start! I'm Vanessa Ochavillo. I'm originally from Guam, the U.S. territory, but I spent the last nine years before the WBUR fellowship in the San Francisco Bay Area, where I went to college. A hidden talent of mine… It's a little rusty, but I do hip-hop dance.
Aimee Moon: I'm Aimee Moon. I grew up in Queens, New York City. And a hidden talent… I'm really into scrapbooking. After I had my son, I was trying to preserve those memories. That habit has fallen off in recent months, but it's something that I hope to pick up again.
When you applied to join our WBUR community, what did you find most compelling about our newsroom fellowship?
AM: One draw was the ability to rotate across different desks and departments. It's a pretty singular opportunity to be able to experience so many different parts of the newsroom at one time. But the fellowship's focus on highlighting underrepresented voices was really important to me, too. I think, so often, that's something that's a "nice to have" – opposed to a central focus. The fact that it was built into the fellowship was critical for me.

VO: My goal after graduating was to work in audio. It was the format and medium that I really loved when I was in my master's program. I found that the audio podcasts or feature stories that I was producing were the first times my family members could fully comprehend what a story was about – versus having to read an article. For people for whom English isn't their first language, I found audio to be very accessible.
Your positions rotate to support different newsroom teams. Give us the rundown on each rotation.
AM: I can start! My first rotation was with the newscast team, providing on an hourly basis the most important news of the day. It was really a great introduction to the newsroom and understanding how to deliver, in a very short period of time, critical content to our listeners.
The second rotation was with "Radio Boston." That was a really interesting experience for me to work so closely with a seasoned host like Tiziana [Dearing] on both news stories and in-depth portrayals of what life is like in Boston and in Massachusetts. Being able to book guests and prep interviews, hearing stories that I've pitched come to life on the air, was really exciting.
VO: The third rotation is with the digital team, and it's surprisingly multifaceted because there are so many touch points in digital: social media, website, newsletters. There are a lot of moving pieces. We cull through the different news coming in on a daily basis and make the editorial decision of what we want our readers to see wherever they find us.
For the last rotation, I'll speculate a little bit! Neither Amy nor I have experienced it yet, but we will in October. That's the reporting rotation. We get assigned to one of the desks, like business, health, environment, education or general assignment. We'll produce the longer stories and features that reporters on those desks are known for. I'm very excited for it!
What skills have you built on, and which are entirely new?
VO: We're all skilled interviewers, but I've seen the interview used in different ways now. With newscast, for example, you're producing scripts that are 15 seconds to a minute long. So your interviews are very efficient, no more than 10 to 15 minutes on the phone. But then you get to a local news show like "Radio Boston" and you're doing pre-interviews and exploring topics. When I was studying to be a journalist and working at my first job, I was keen on becoming a better interviewer, and now I realize it depends on the context in which you're interviewing people.

AM: The fellowship really gave me the opportunity to build on things that I'd only tried out or dabbled in while in journalism school. One, for sure, is writing for an on-air host, or recording your own voice for air and being in a studio. I think that was probably the most exciting part of being part of newscast: filing spots and being able to learn how to write for the ear and for radio, but also being able to practice delivering the content in an easily understandable way. I've also had that stereotypical audio experience where you see the reporter under a blanket in their closet trying to record a sound bite! Those types of situations are very real, and being able to navigate that kind of challenge while you're just working day to day was a really fun part of the fellowship.
Do you have a favorite piece of coverage and/or project so far?
AM: I can go first. I think it was one of the first newscast spots that I wrote, which was converted into the first digital post that I wrote. It was a really fun piece for arts and culture about a local student that had created a musical on TikTok celebrating a Korean folktale. Being able to talk to someone about their passion and share that with a wider audience that might not have seen it otherwise – introducing something to them that was new, but also deeply rooted in our community, in the Korean-American experience here in Boston – I think that it was probably one of my favorite projects to work on.
VO: The one I'm thinking of is a story that I first covered on the newscast desk. It was about the Stellwagen Bank National Marine Sanctuary celebrating its 30th anniversary. I'd spoken with the photographer who curated the exhibit. This guy had an interesting story that I knew needed a little bit more air time. Later, when I was on "Radio Boston," I approached the same photographer to be a guest on the show. And it was something that Tiziana, the host, really enjoyed, because he [the photographer] was a natural storyteller. It was cool seeing how a story can be translated across different types of coverage in the newsroom, but also I think it was just interesting to experience what it's like when you have a hunch that something deserves a little bit more time.
Can you reflect on the hybrid office experience?
VO: I love that WBUR is flexible. The message that I've gotten from the different teams is, "We'll make anything work." I've found that it's not impossible to do the work from home, but I do like going into the office. You can't compare recording yourself under a blanket at home to recording in a really nice studio with a sound engineer right across the glass from you.
AM: When I was with "Radio Boston," I was in the office quite a bit. But the rest of the rotations have been pretty flexible with going back and forth from home. As a parent, the flexibility has been really critical for me to attend to my work responsibilities but also my home responsibilities. But as Vanessa mentioned, there's really no substitute for being in the studio.
What excites you most about the future of audio storytelling?

AM: The ways that people engage with audio will definitely change because of how we access it, going from the radio to phones and other devices. The fact that the format keeps evolving means that the delivery and the content that we provide is going to continue to evolve as well. Moving with that is an exciting process, right? Of thinking about people's appetites for long form versus short form, whether they desire to have multiscreen, multiaudio experiences transition from their cars to their homes. It all forces journalists to provide their service in the most relevant way. It keeps us on our toes!
VO: Dan Mauzy once mentioned that a lot of work had gone into making WBUR a modern public media organization. And I didn't quite know what that meant at the time. Now, I realize that what I think he meant then is that WBUR isn't just a radio station. Through my different rotations, I see all that's gone into the digital presence that we have. Generally, I think audio is always going to be a powerful medium to share stories. But where the developments lie will be in the ways that we translate what we do in audio to other formats for wider distribution.
You both bring rich international experiences to the newsroom. Can you speak to the ways those perspectives support or enhance your local journalism in Boston?
AM: While I was in journalism school in 2019, there were tremendous street protests among people in Hong Kong. It was part of our assignments to go out and talk to demonstrators. Living in a place like Hong Kong, which has a blended history between Asian culture and Western culture, the appreciation for free press encompasses the entire spectrum. I think being a journalist in the midst of that really has informed my desire to be able to connect with people on the ground that can speak authentically to a free press about what's happening. The stories in Hong Kong were being covered in the New York Times and around the world, but I really felt like our local, independent newspapers or our Cantonese speaking journalists were the ones that we needed to turn to first and foremost to hear what was happening.
VO: Because I still have a pulse on news in Guam and the Bay Area, it spurs ideas for what I should pay attention to in Boston and vice versa. For example, Guam is an island with lots of coastline, so the stories that we cover here in Boston about the receding coastline, sea level rise and innovations like the emerald tutu are things that I think about.
What are your WBUR recommendations for folks who aren't yet listeners, readers or supporters?
VO: I listen to "Morning Edition" every morning. At first you're groggy, but then you hear Rupa[ Shenoy]'s voice giving you the news.
AM: I have to give a plug for "Radio Boston." From my time behind the scenes, I know the show has a lot of heart in the way that it deals with topics that are relevant to the people that live here. Tiziana [Dearing] deals with delicate topics with such nuance and grace that I think I don't hear very often in a lot of news coverage. During my rotation, we covered the commemoration of Juneteenth and the overturning of Roe v. Wade. The thoughtfulness with which the team tackled these topics is unique, and I'd definitely recommend people tune in to learn about why these things are relevant to us as a community.