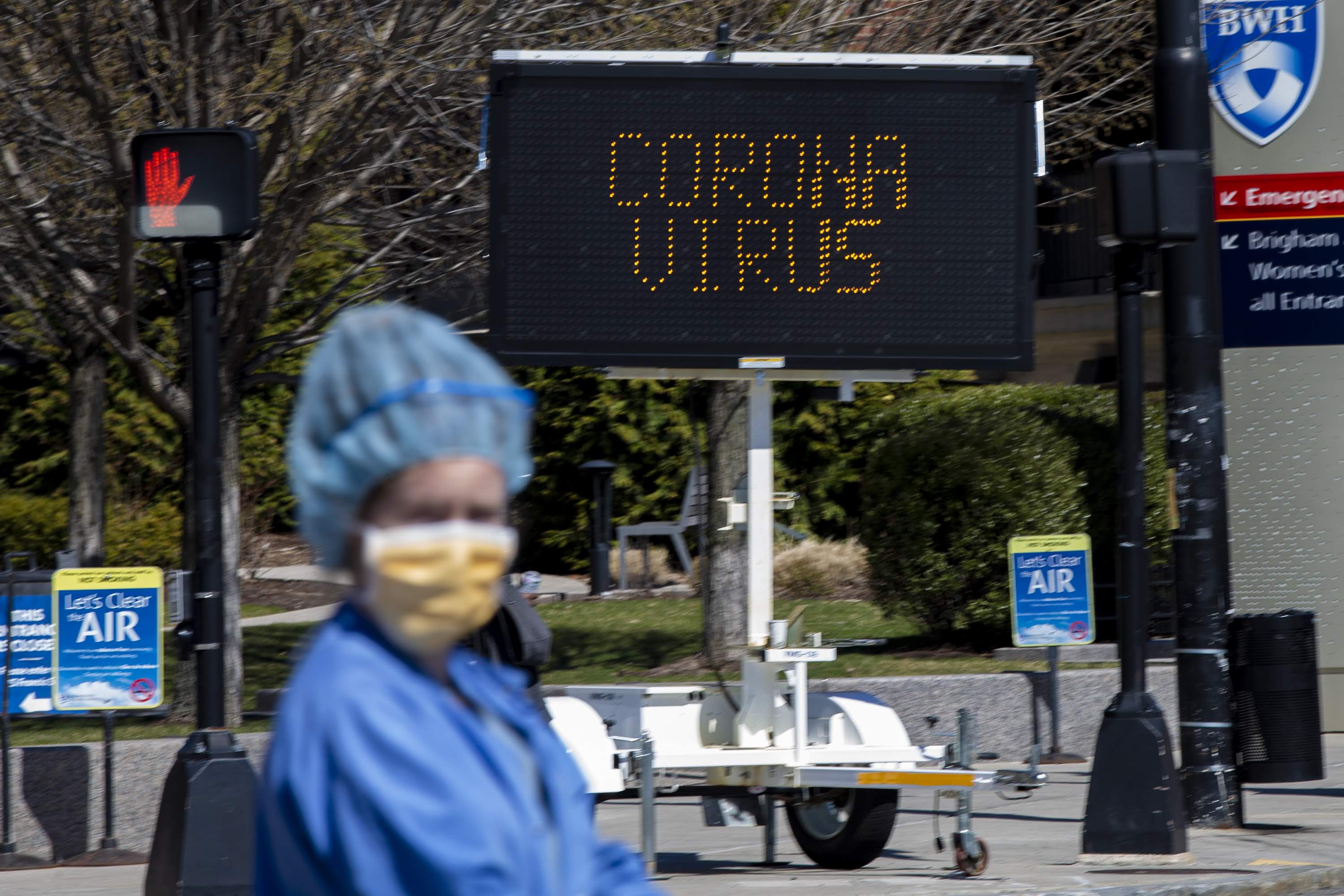 2020 Photos: The Year In The COVID-19 Pandemic
---
This article is more than 1 year old.
Pandemic. Politics. Protest.
Those were the central issues that dominated 2020. Our photographers selected images from our coverage that best capture and illustrate those major storylines of 2020.
Below are the images that told the story of the pandemic. We also have photo highlights of the year in politics and in protests. You can find a complete collection here of more than 100 of the very best shots WBUR took in 2020.
---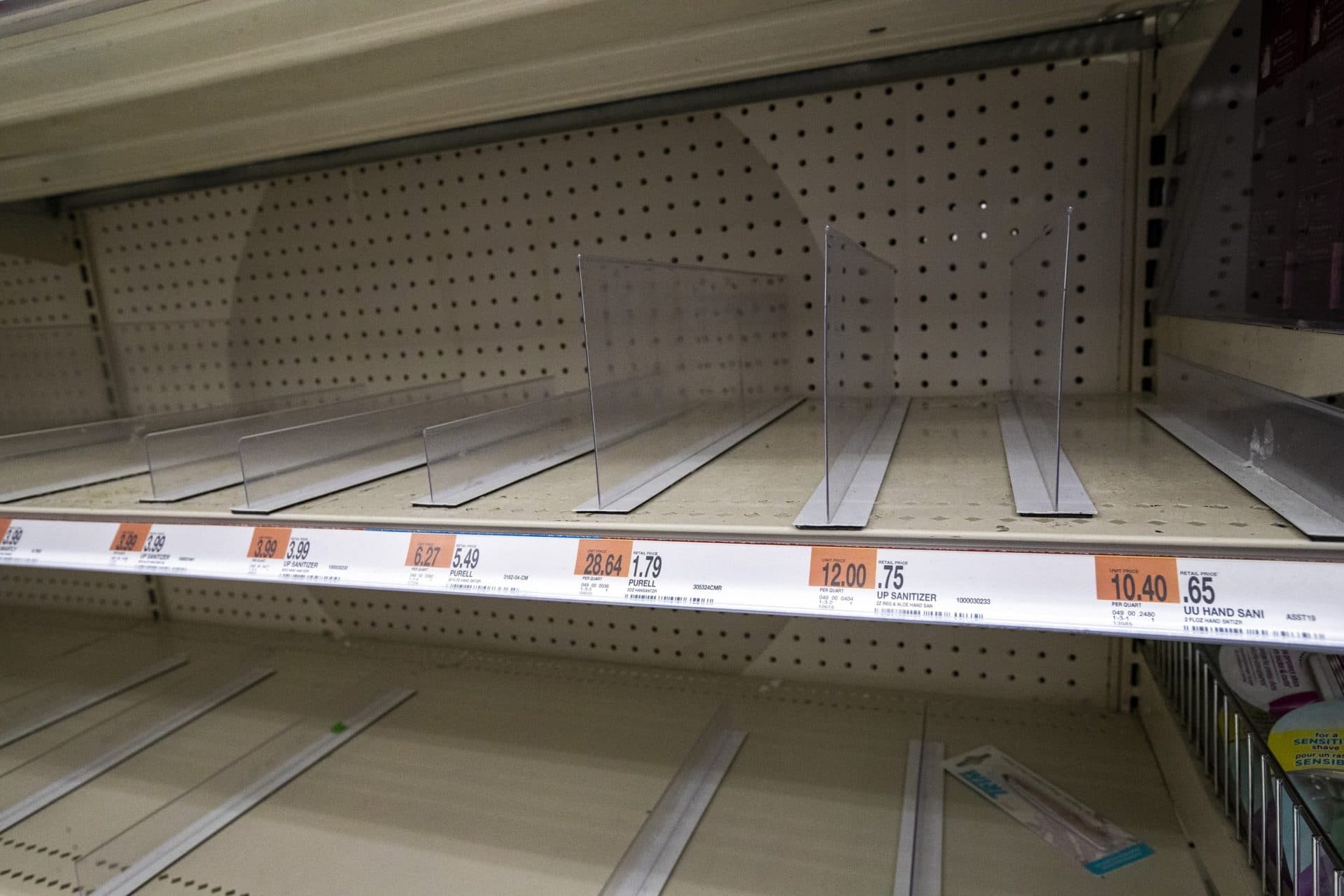 Feb. 5 | All of the hand sanitizer for sale in the Target in Watertown was quickly wiped out as people stocked up to prepare for the arrival of the novel coronavirus epidemic in the U.S. Within weeks, grocery stores would experience a surge in people "panic-buying" food and supplies.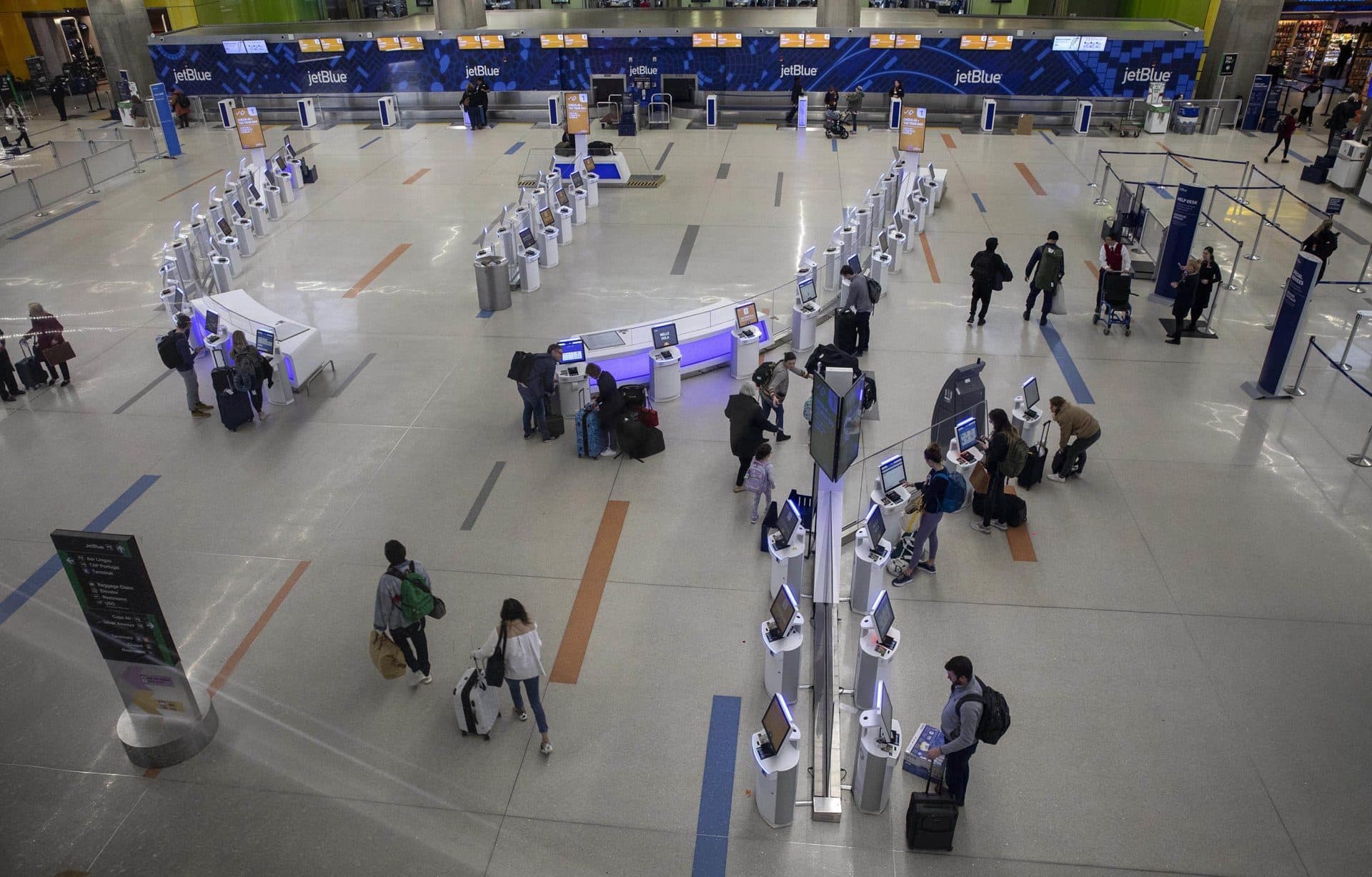 March 12 | Light passenger traffic passed through the JetBlue check-in area at Logan Airport and travel lagged as businesses and schools began to shut down as fears of the coronavirus grew.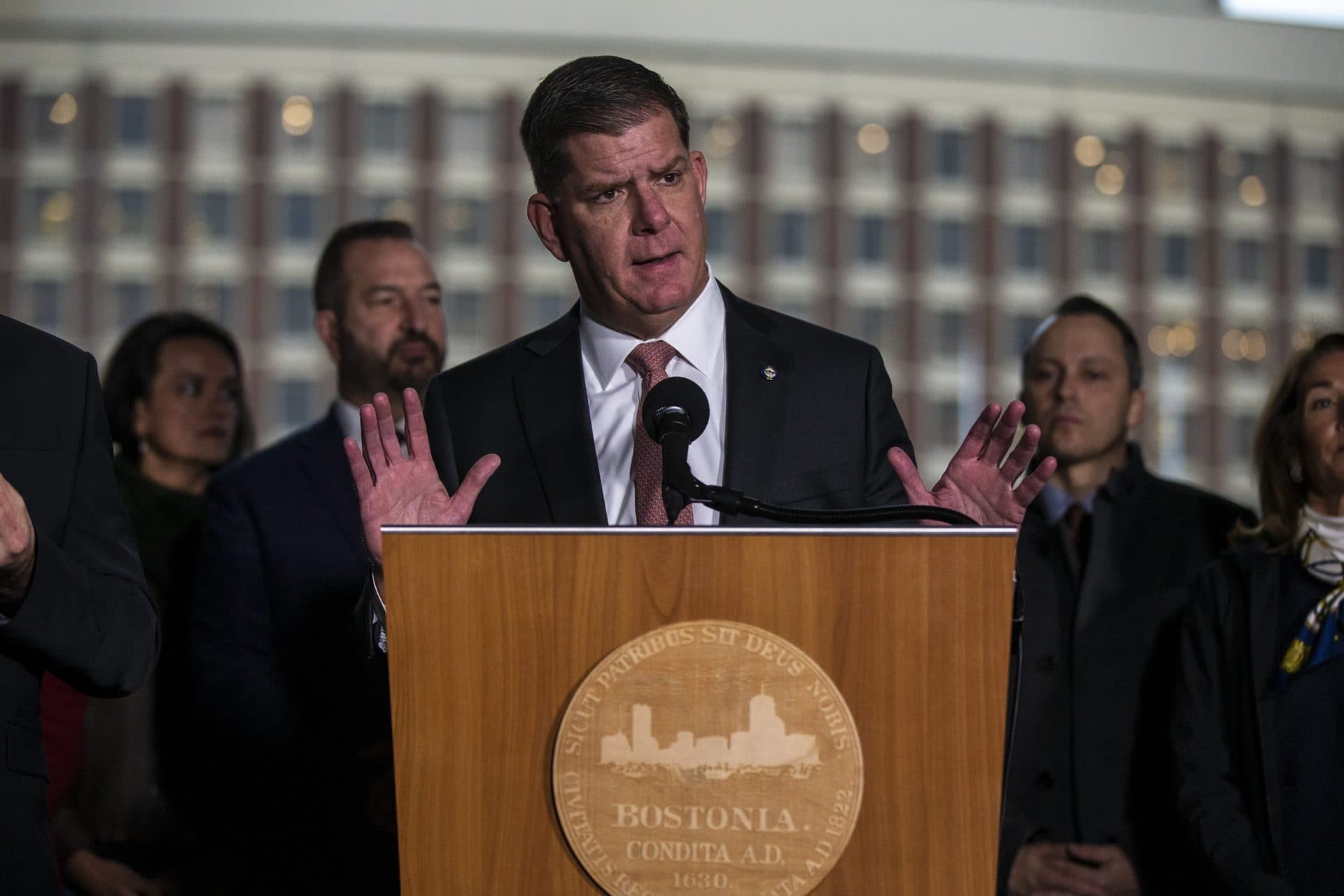 March 13 | Boston Mayor Marty Walsh announced the postponement of the Boston Marathon, which was pushed back to September because of the pandemic. The 2020 race was later canceled entirely. The BAA said in October that 2021's race is also postponed to at least fall 2021.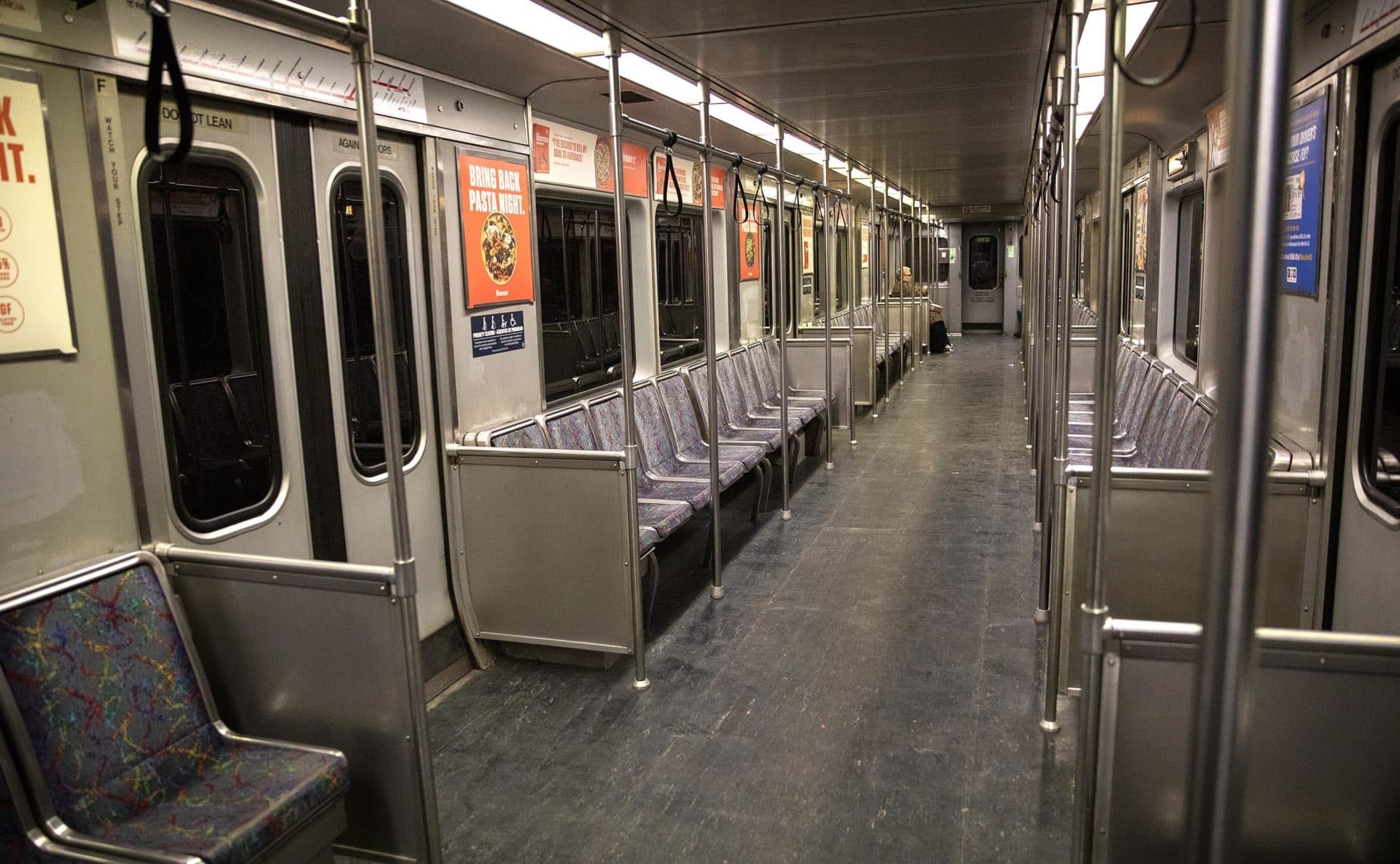 March 16 | Empty seats on an MBTA Red Line train near Central Square at lunchtime. Public transportation saw a huge drop in usage as the state began to shut down to slow the spread of COVID-19.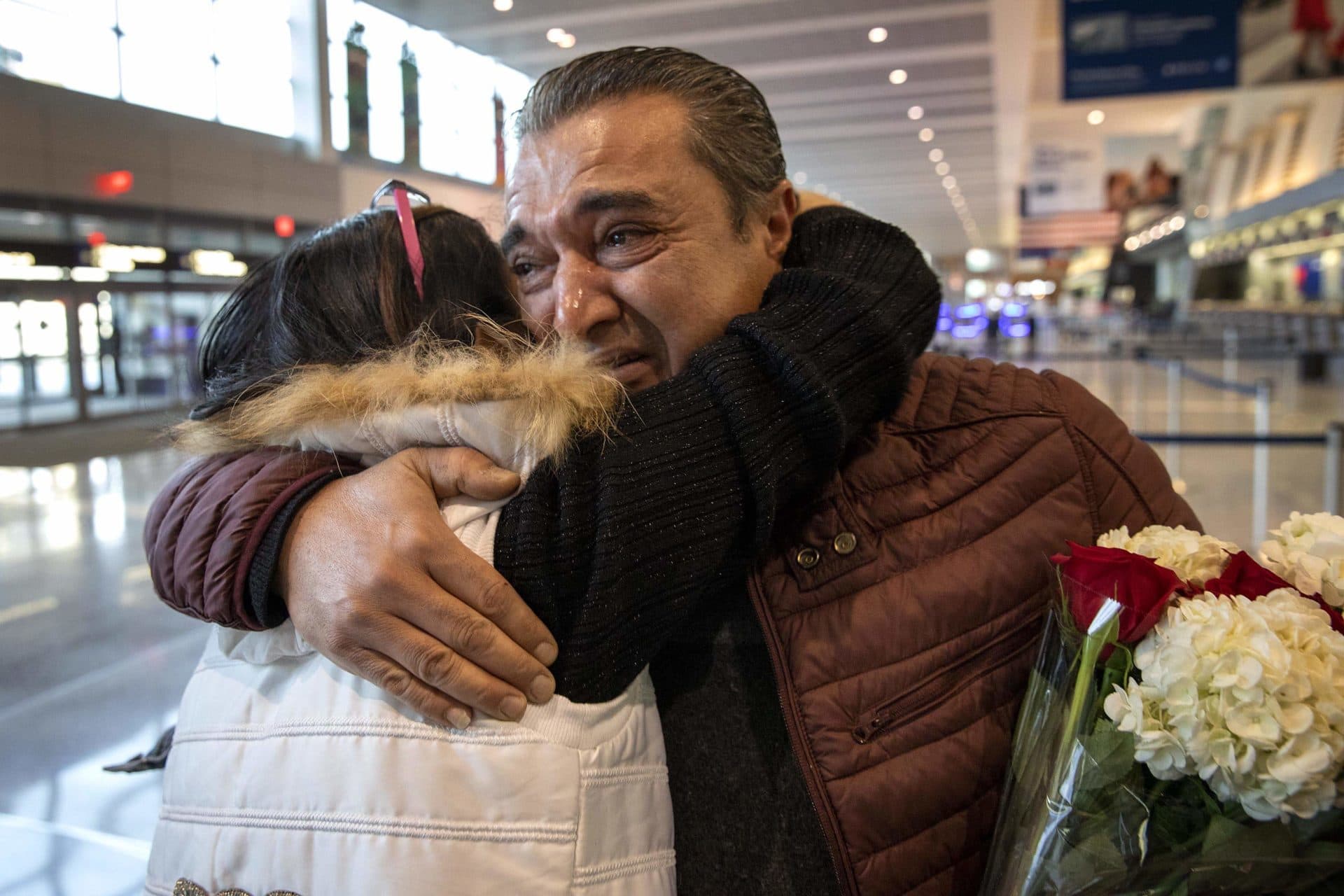 March 18 | Alaa Issa hugs his sister Lina, as she and her family arrive at Logan Airport. They were among the last refugees to be resettled in Massachusetts after the United Nations indefinitely suspended resettlement travel for refugees due to the coronavirus pandemic.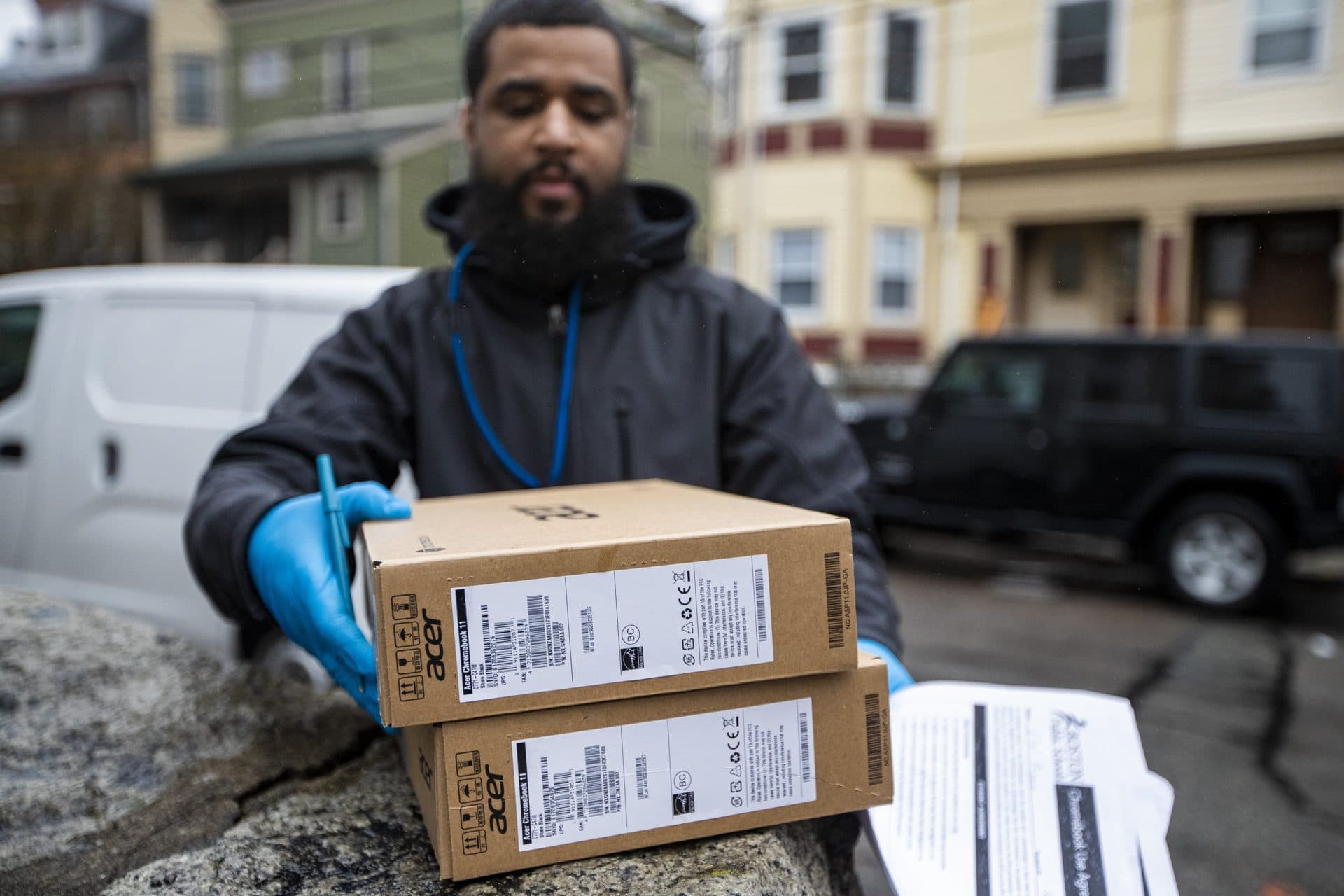 March 19 | Giscar Centeio prepares to deliver two Chromebooks to students living in Roxbury.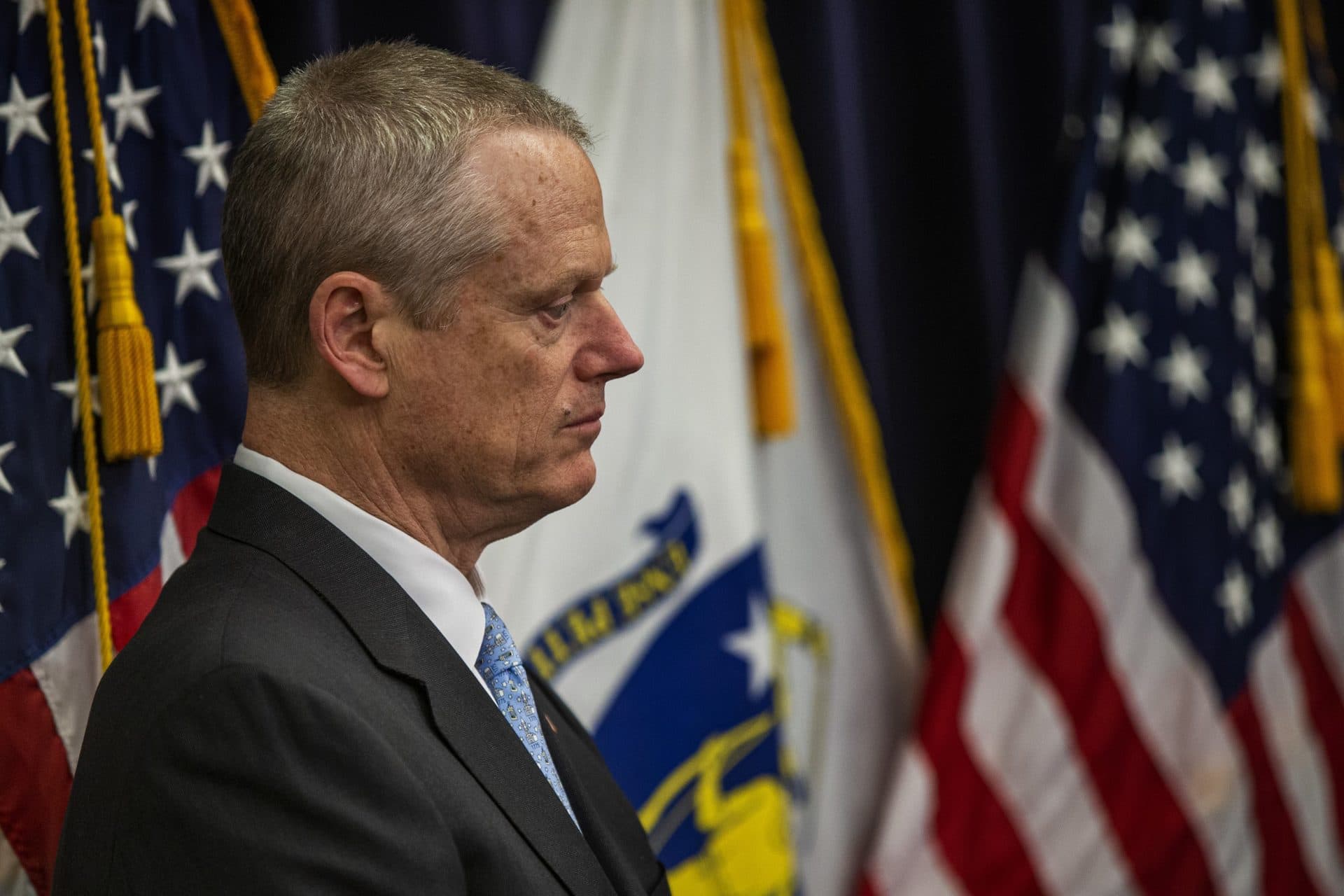 March 20 | Gov. Charlie Baker stood and listened as Lt. Gov. Karyn Polito spoke to the news media during their daily coronavirus briefings. On this date, state health officials announced the first death in Massachusetts linked to COVID-19.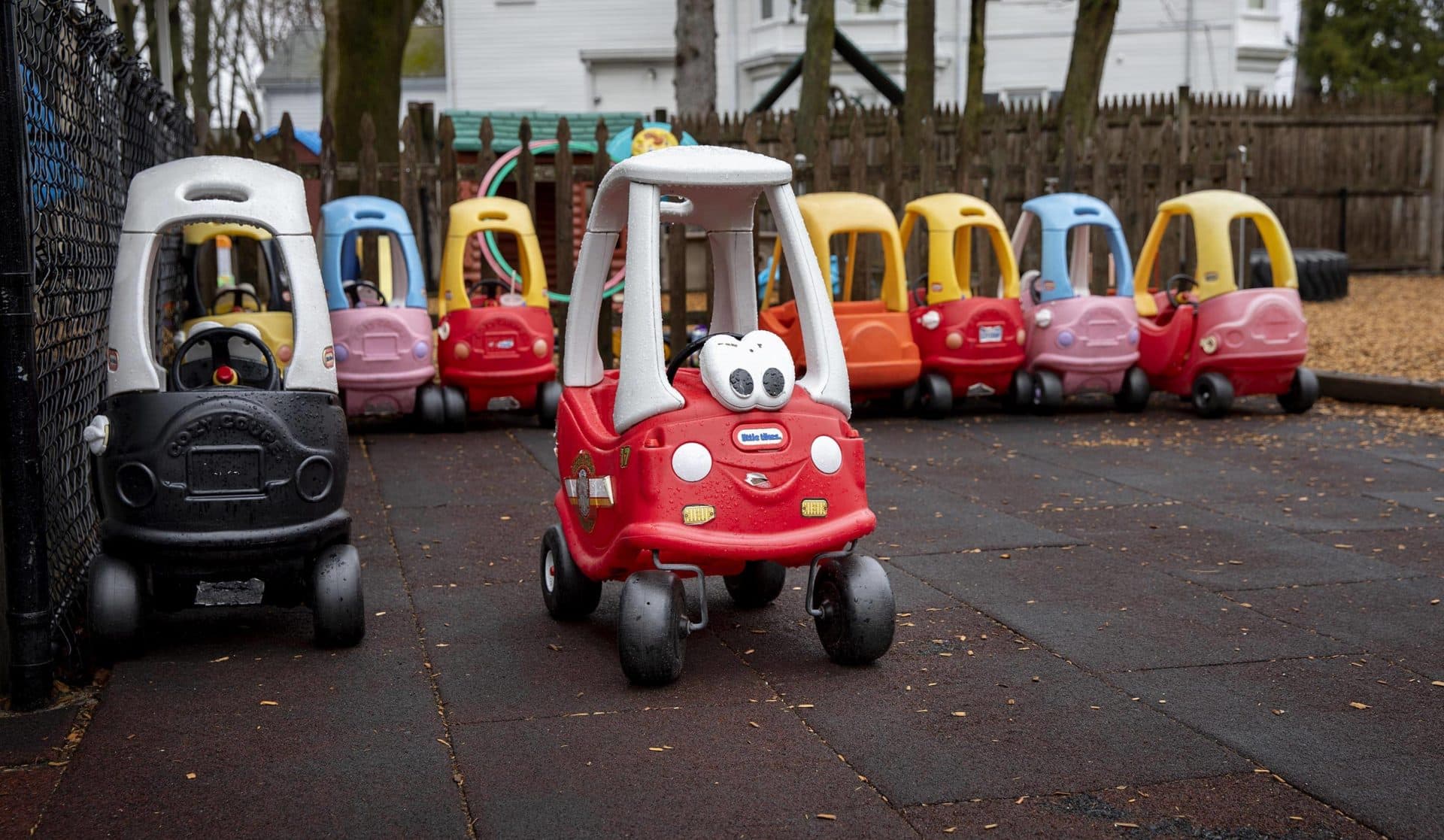 March 20 | All vehicles remained parked at the Waltham Day Care Center. The center closed as a precaution against the spread of COVID-19.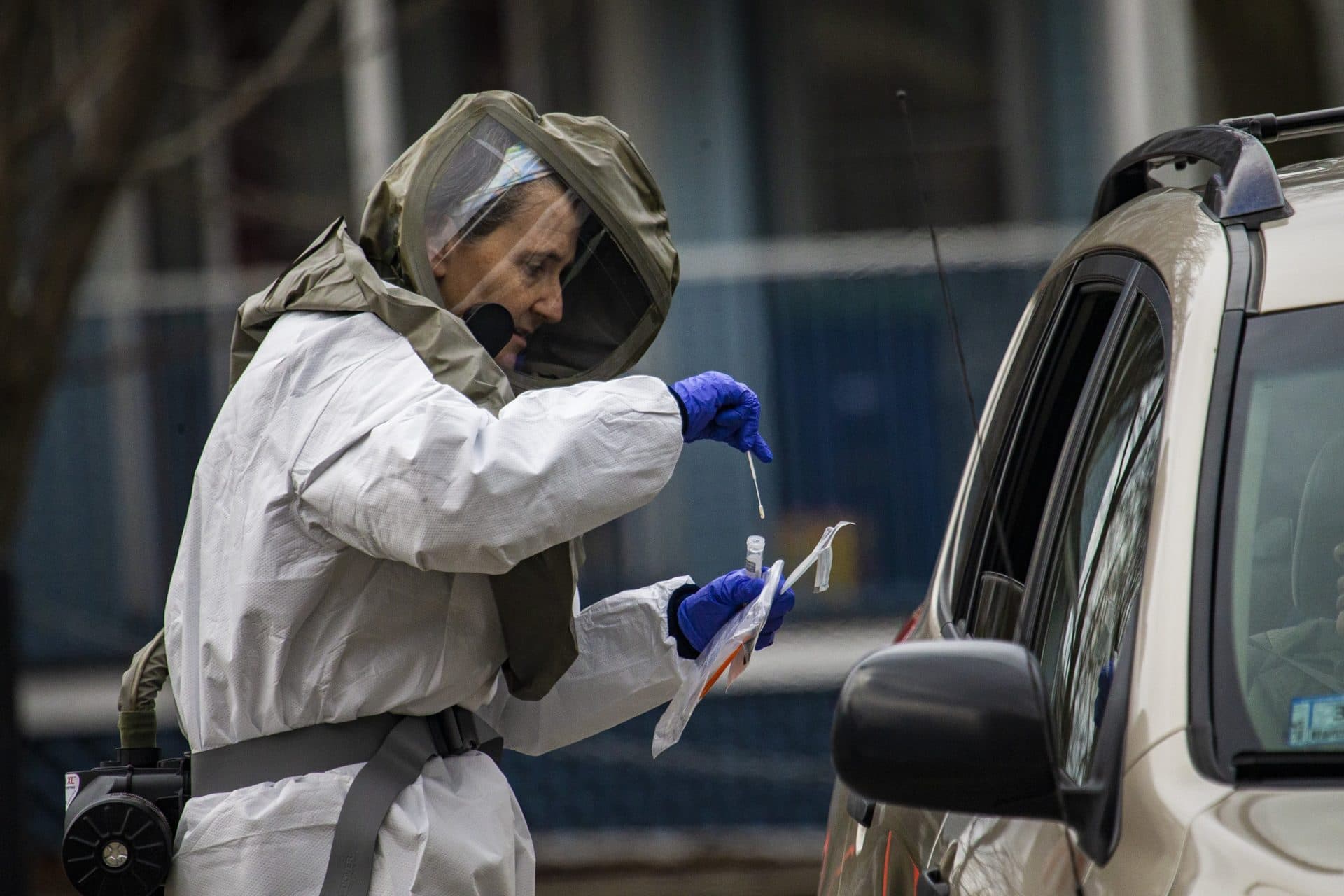 March 22 | A health care worker in a hazmat suit put a cotton swab into a vial after taking the sample from someone being tested for COVID-19 at a drive-thru testing area at Somerville Hospital.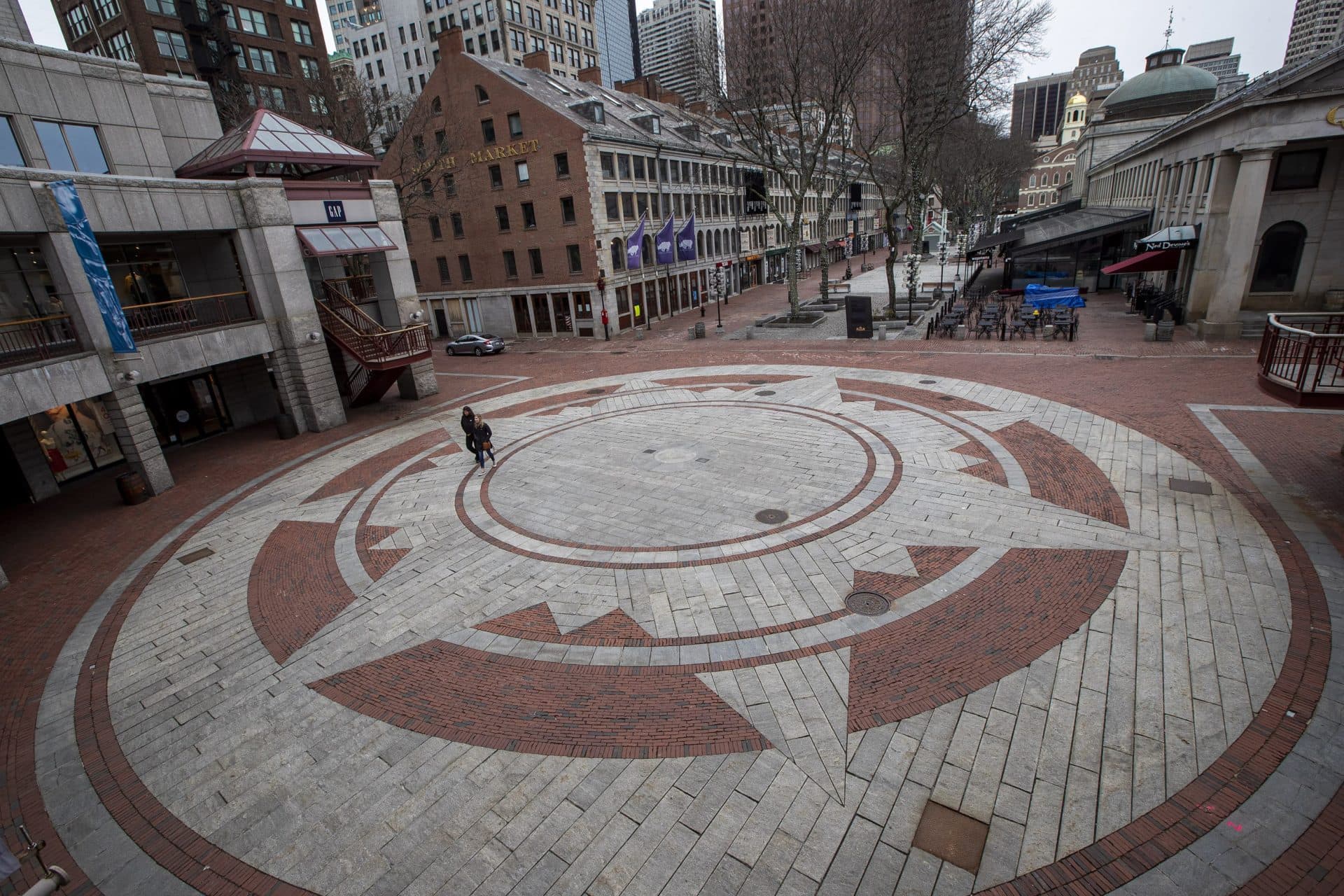 March 23 | With not many stores open, Quincy Marketplace was deserted.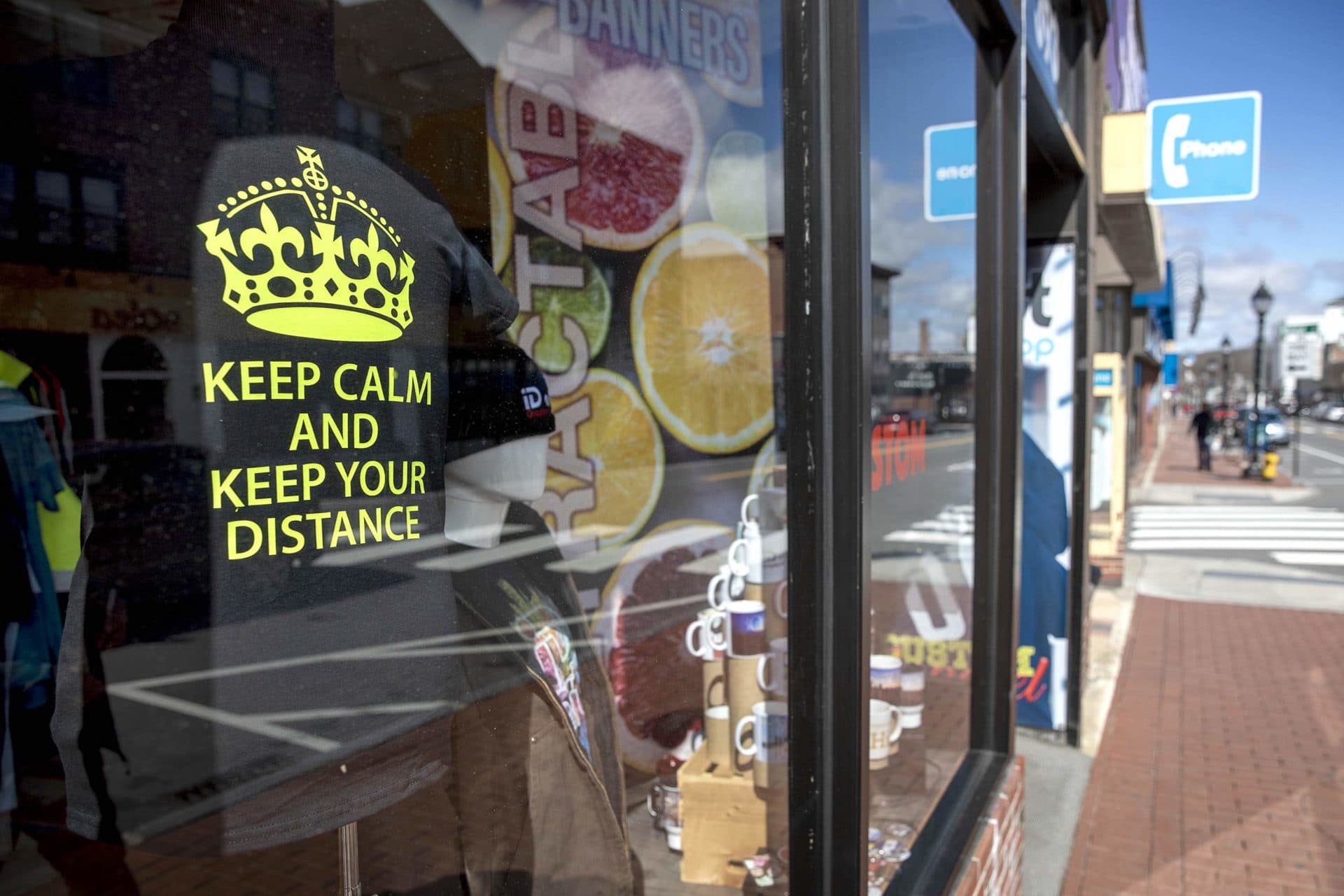 March 24 | A T-shirt in the window of the iD art GraphicsShop said "Keep Calm And Keep Your Distance," reflecting the mood on Moody Street, Waltham.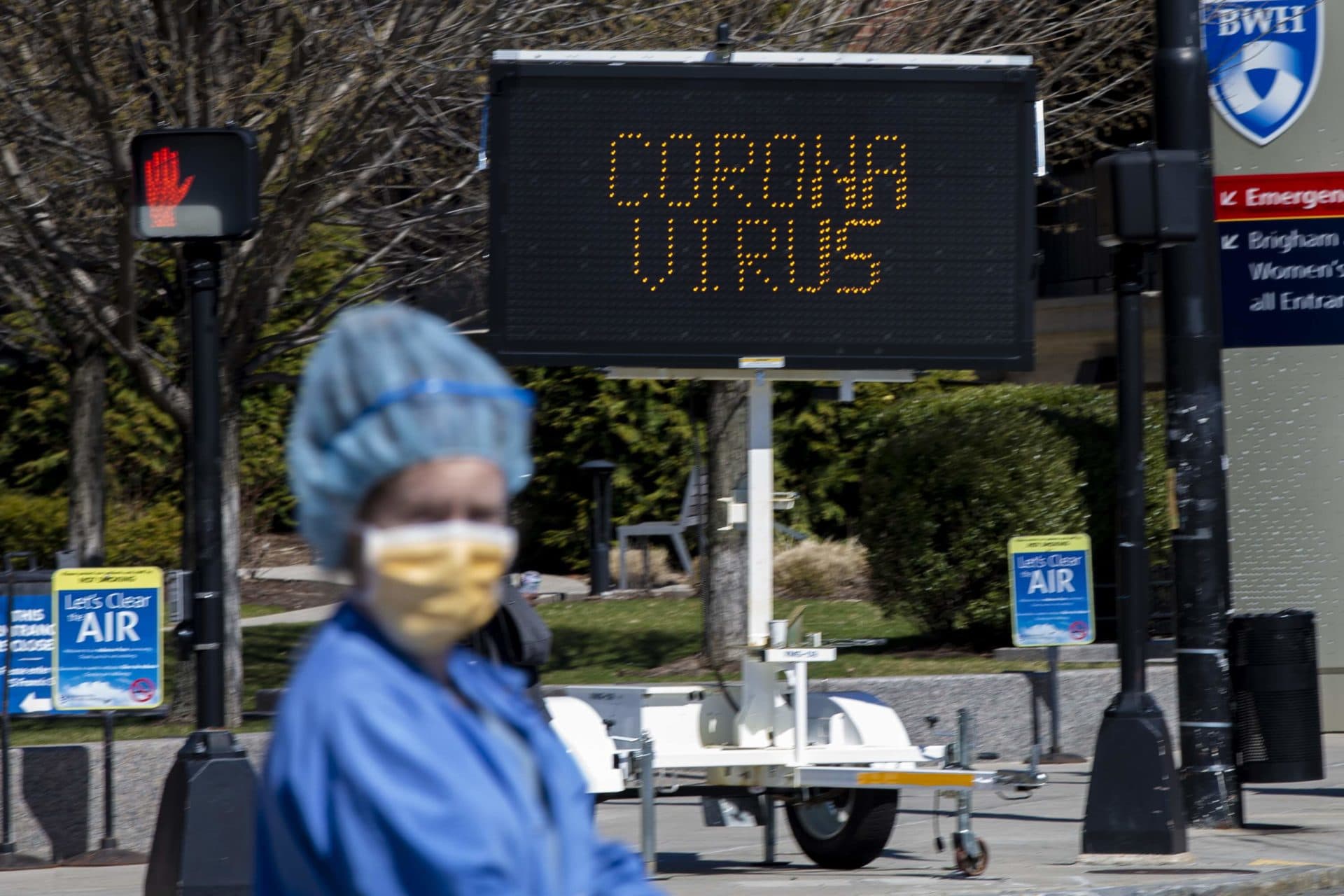 March 27 | A health care worker at Huntington Avenue in Boston.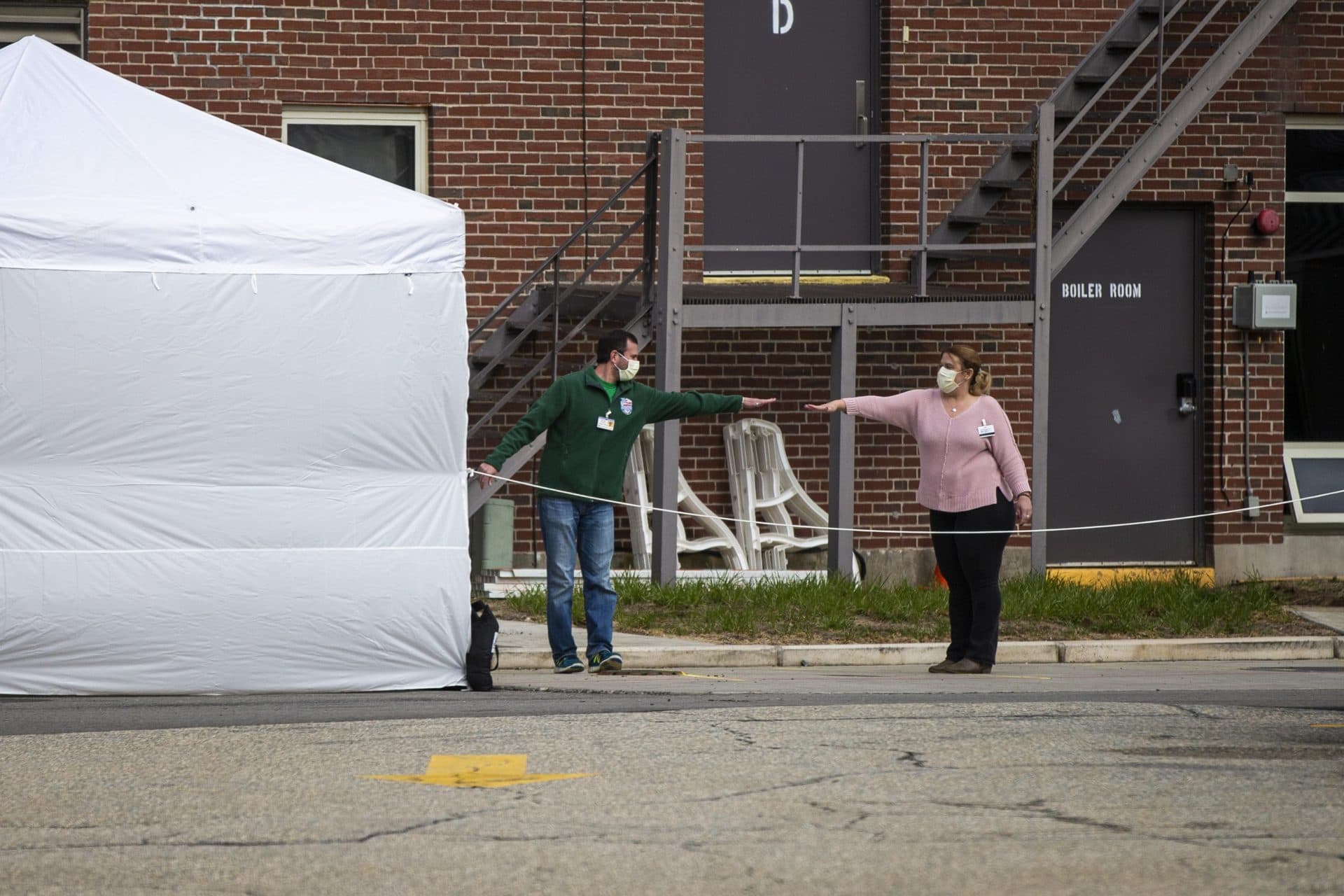 March 31 | Two employees of the Soldiers' Home in Holyoke reached out to each other to say goodbye without touching. The long-term care facility, which exclusively housed veterans, was the center of a COVID-19 outbreak that eventually killed 76 residents.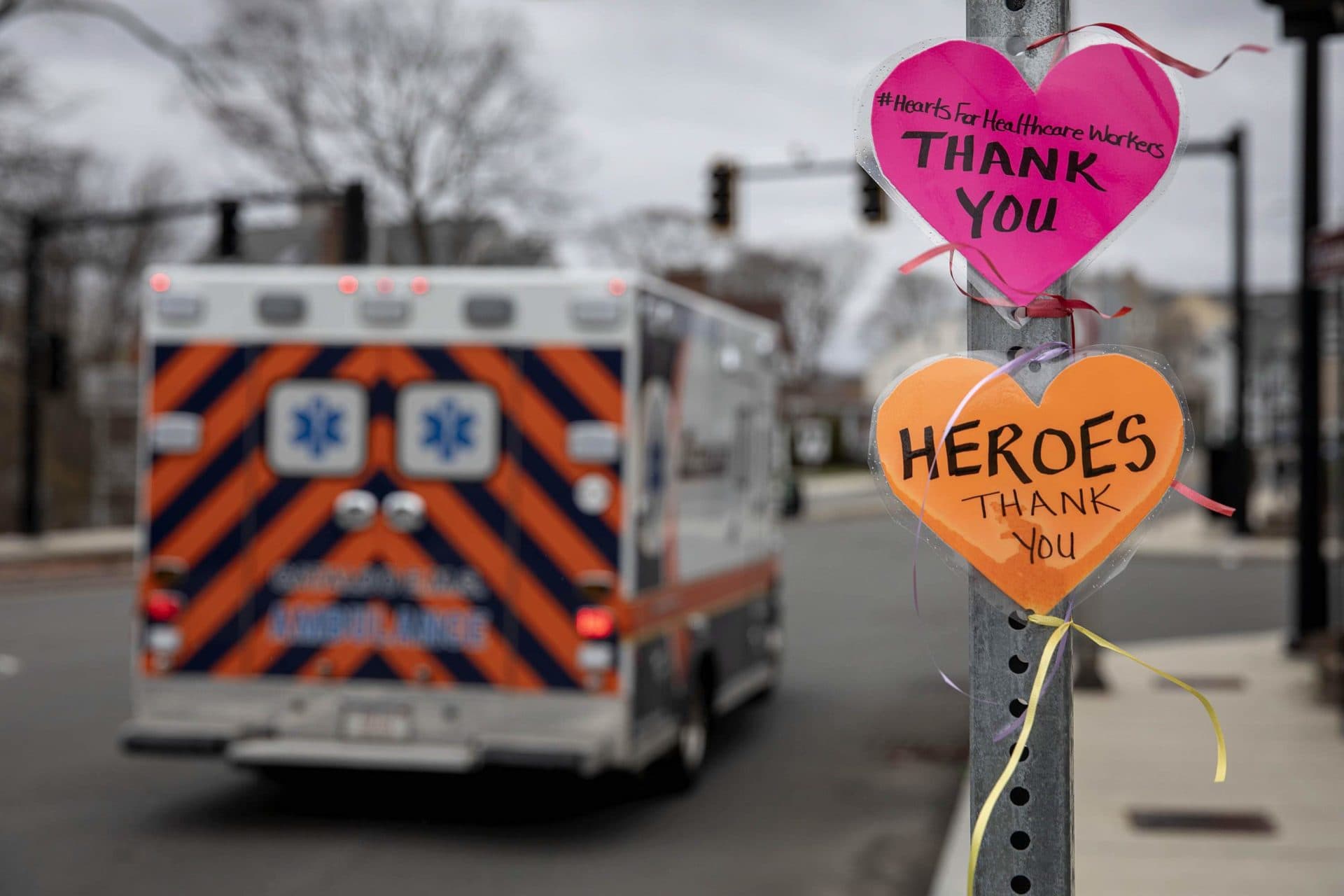 April 2 | A message left on a street signpost by the Melrose Wakefield Hospital.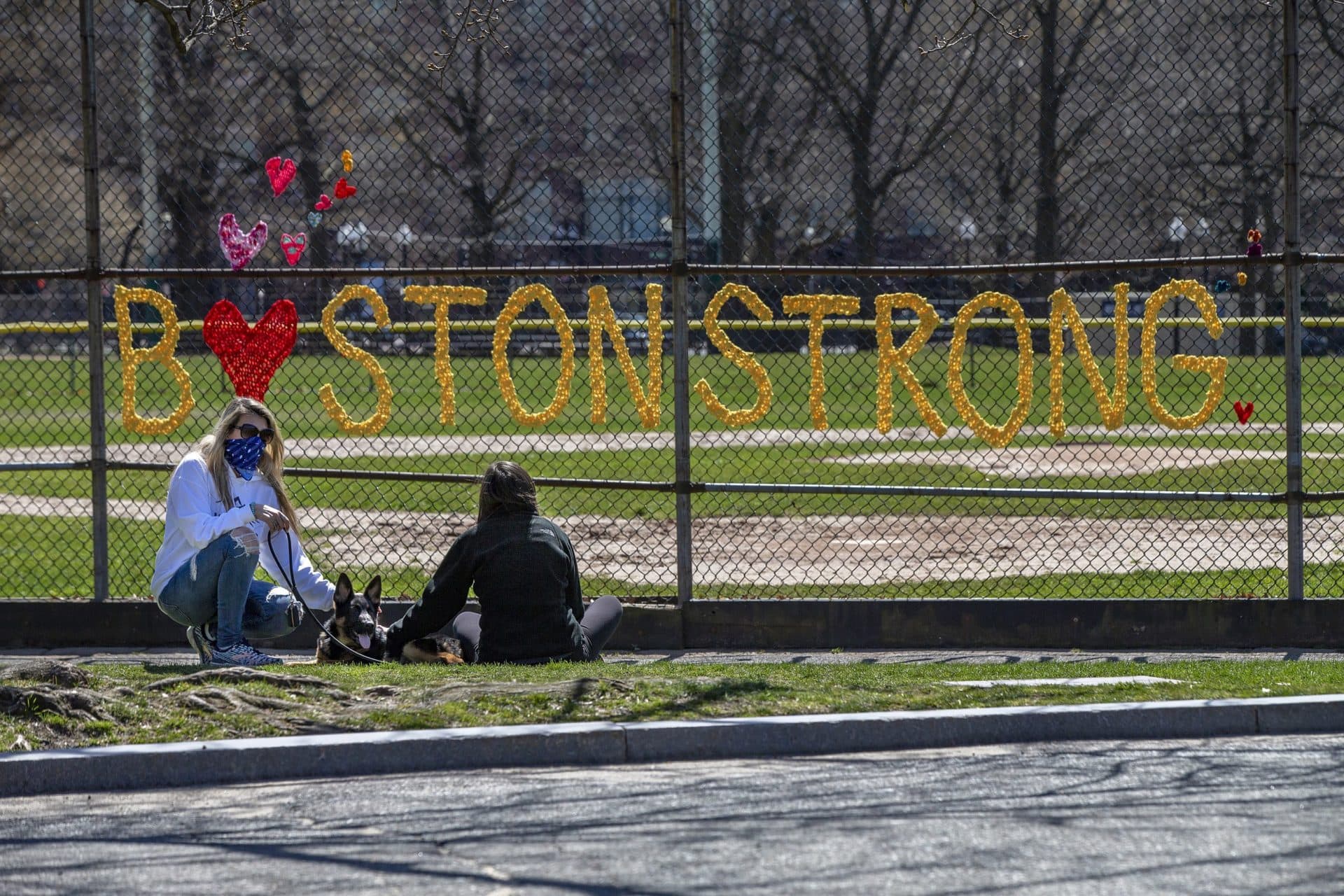 April 5 | Bex and Vanessa Kennedy sat with their German Shepherd Niko in front of a yarn sculpture on the fence on Boston Common.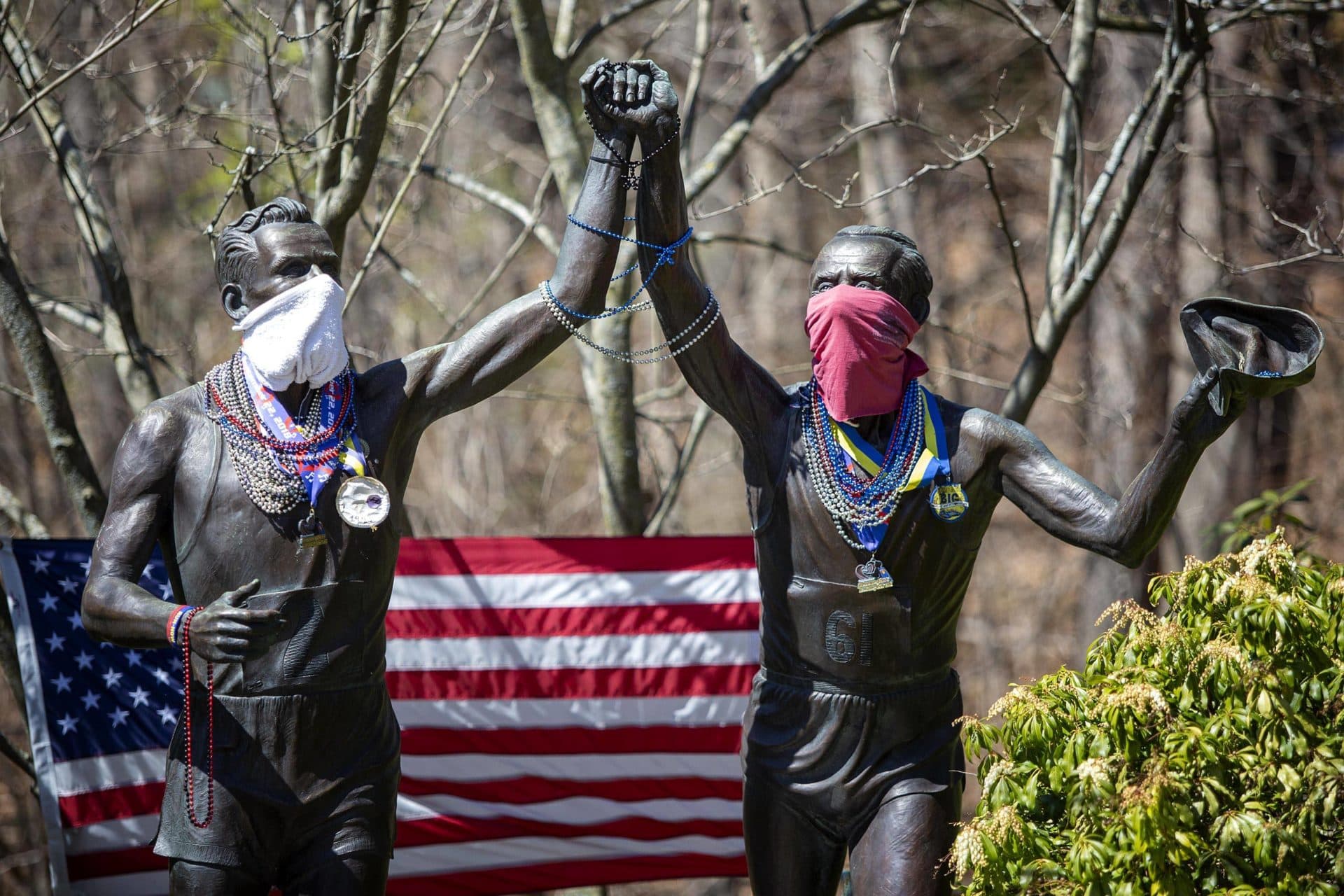 April 6 | The two versions of Boston Marathon runner Johnny Kelley, ages 27 and 84, wore masks at the "Young at Heart" sculpture on Commonwealth Avenue in Newtonville.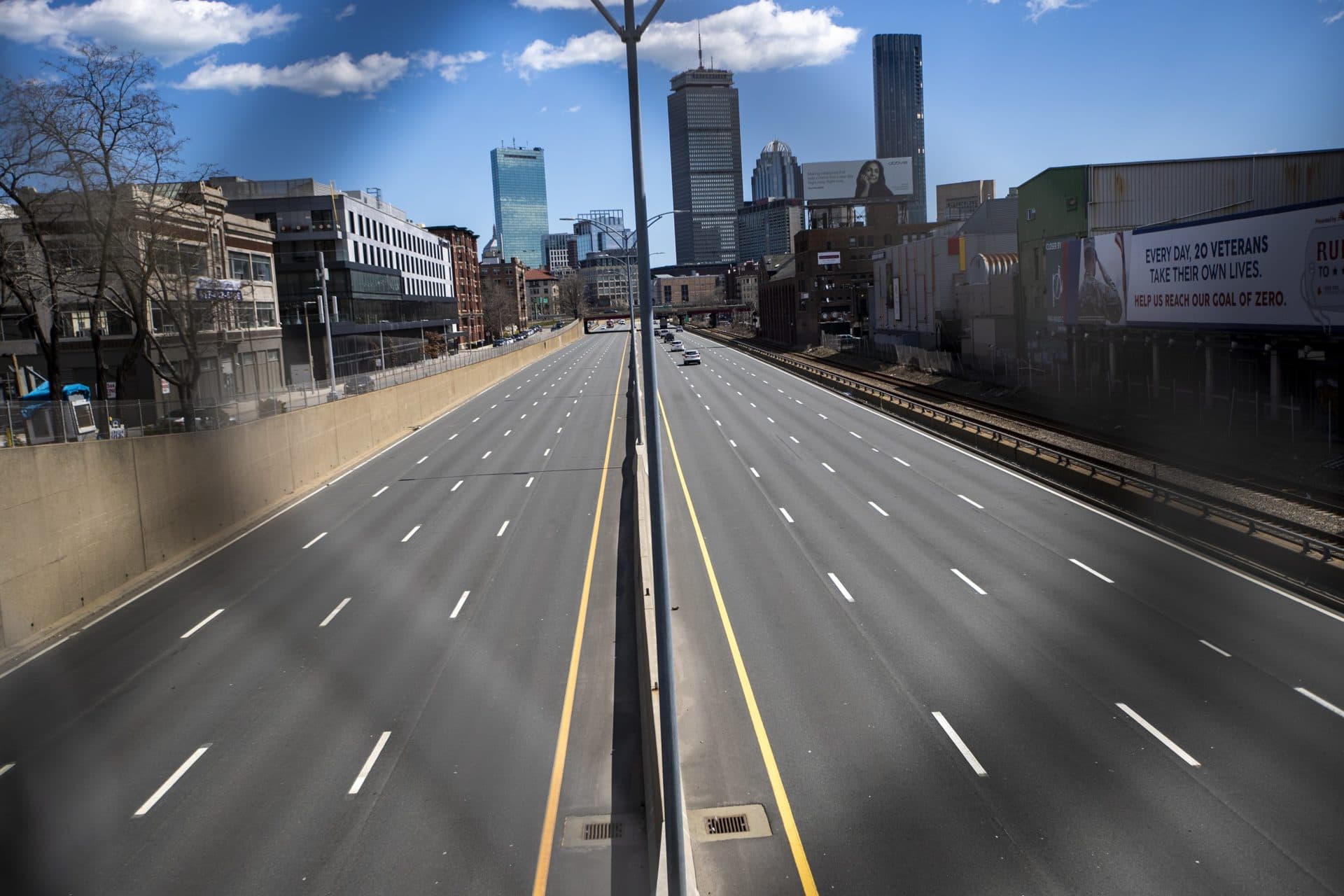 April 7 | Traffic was very minimal midday on the Mass. Pike due to the coronavirus outbreak.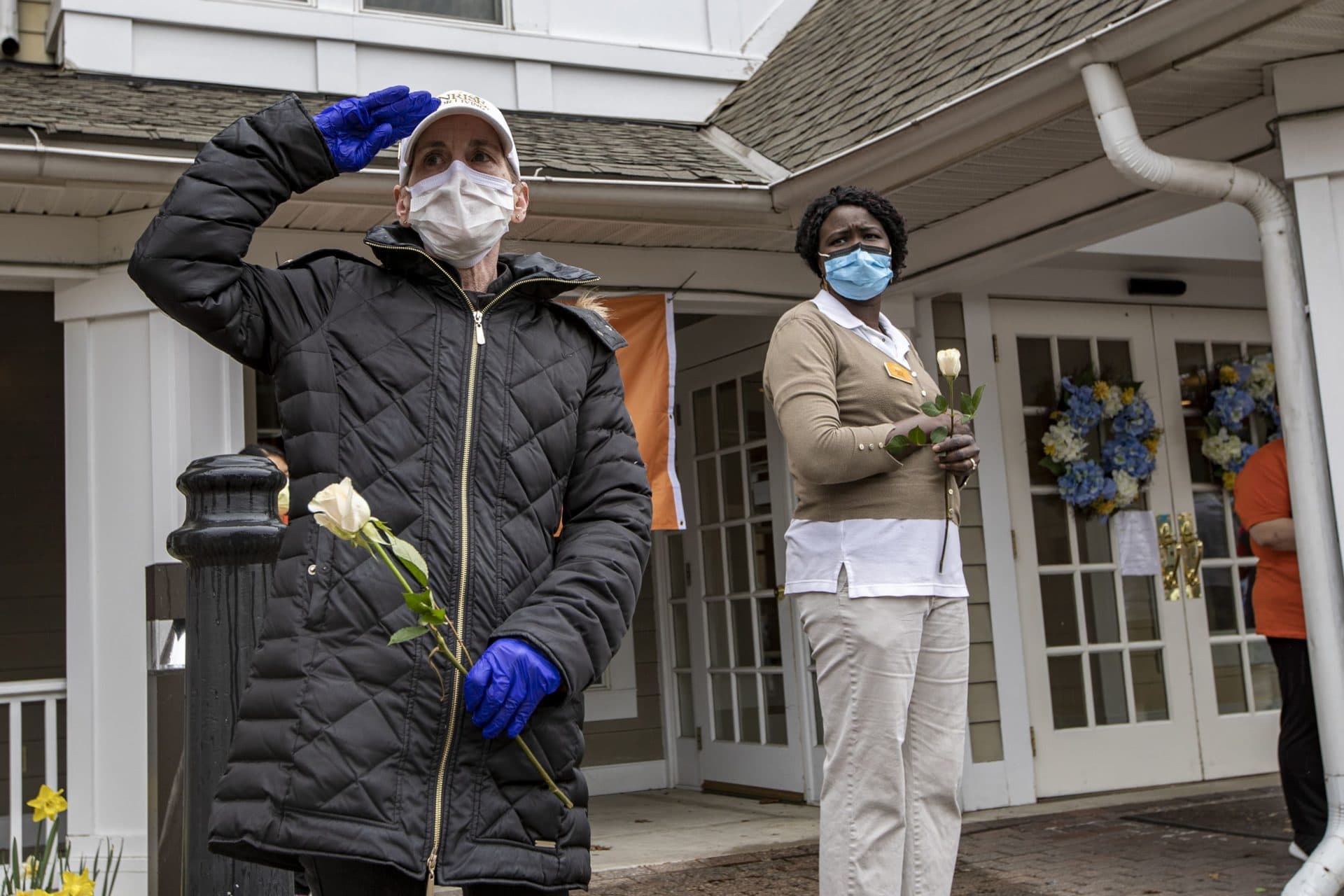 April 8 | Cheryl Bento saluted as the hearse carrying her longtime friend Mary Foley's body passed by Sunrise Senior Living in Arlington, where Foley used to live.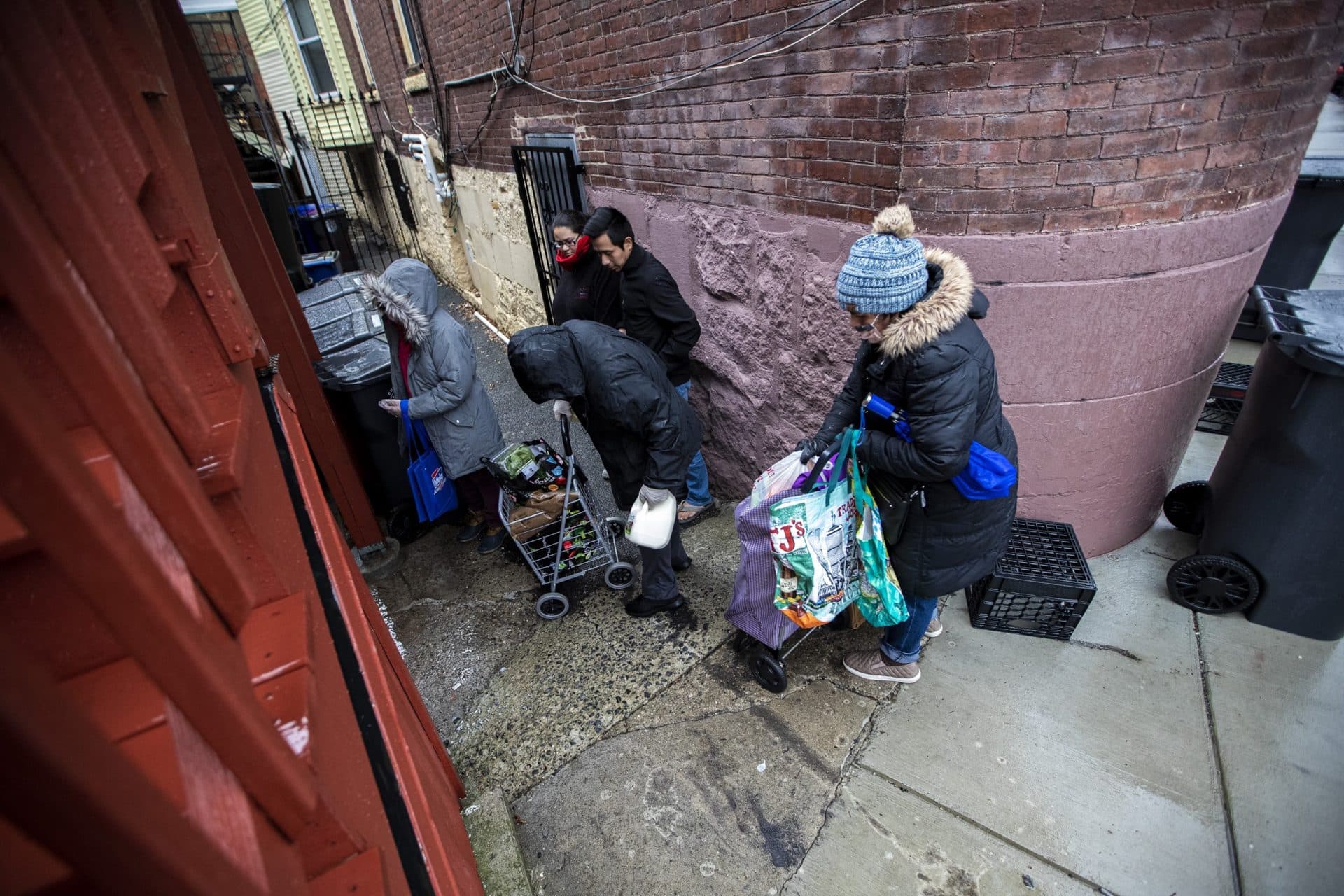 April 9 | Chelsea residents left the back entrance of Pan Y Cafe with their carts full of groceries, where the Chelsea Collaborative distributed food for families that needed it. The city emerged as a hotspot for the virus early on in the pandemic here, with many of the city's workers considered "essential" under state rules.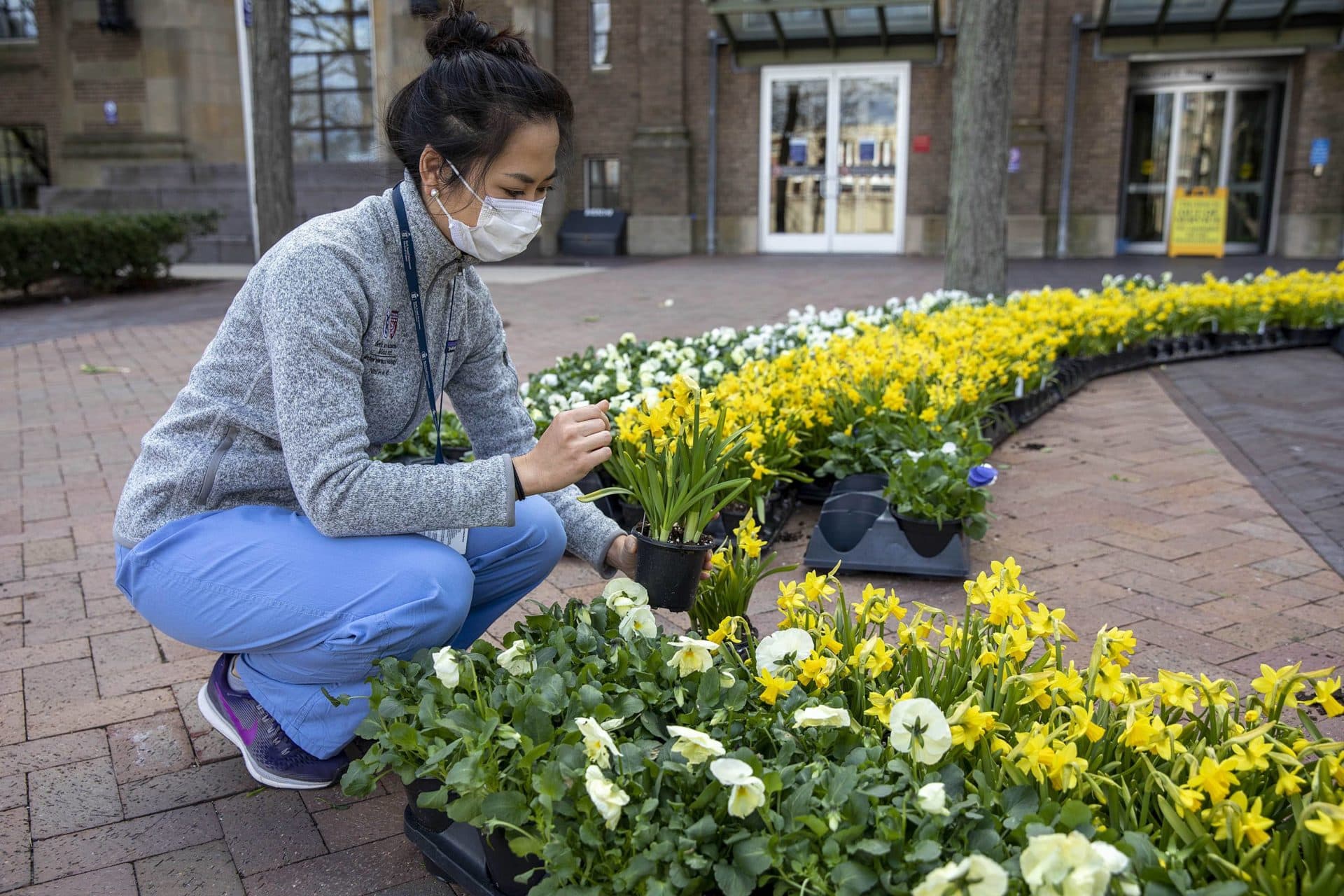 April 10 | Radiology resident Nhi Vo looked over a carpet of daffodils left for medical workers at the Beth Israel Deaconess Medical Center by Boston-based floral company Cityscapes.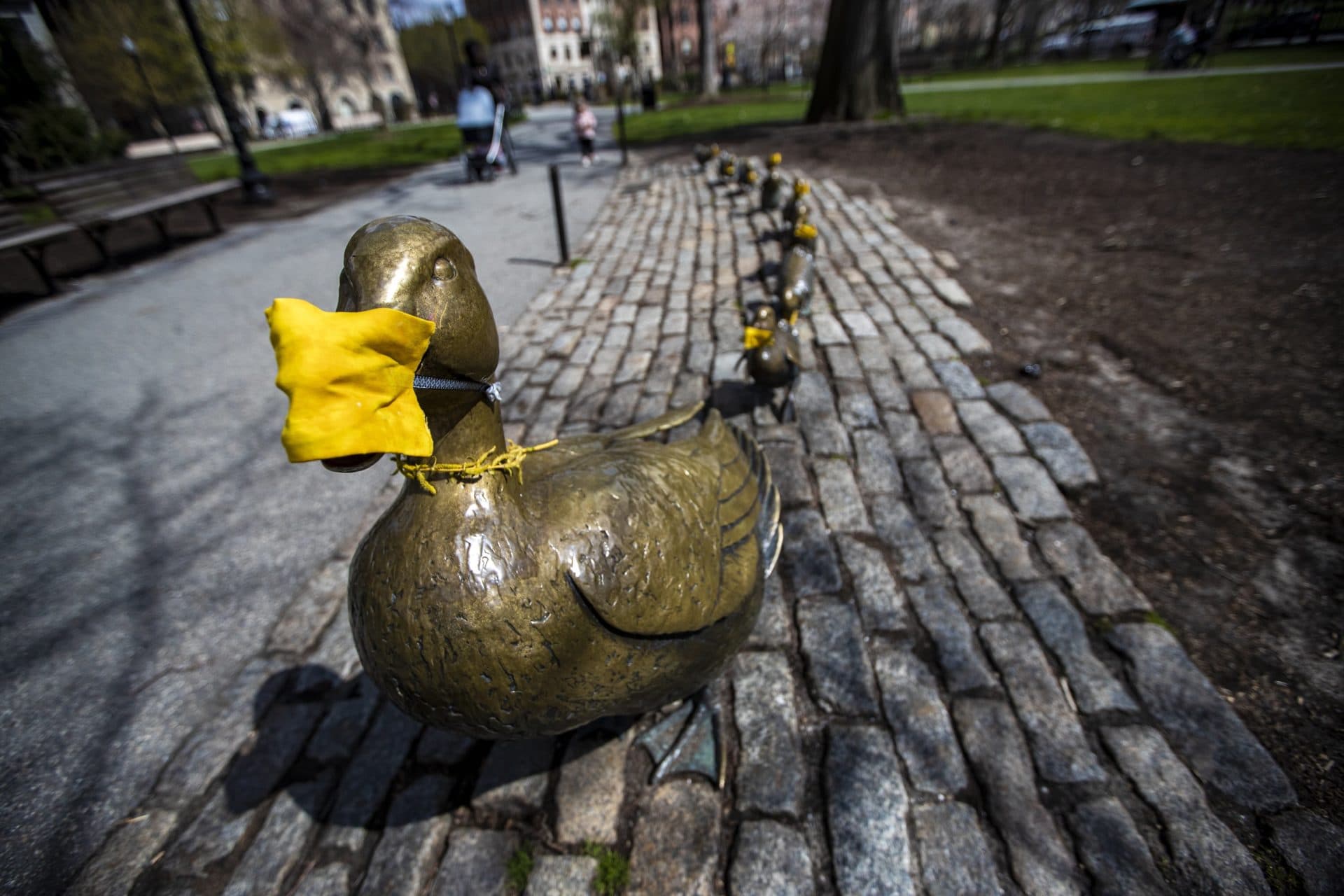 April 10 | All of the ducks of the "Make Way For Ducklings" sculpture in the Boston Public Garden donned yellow masks on an April day.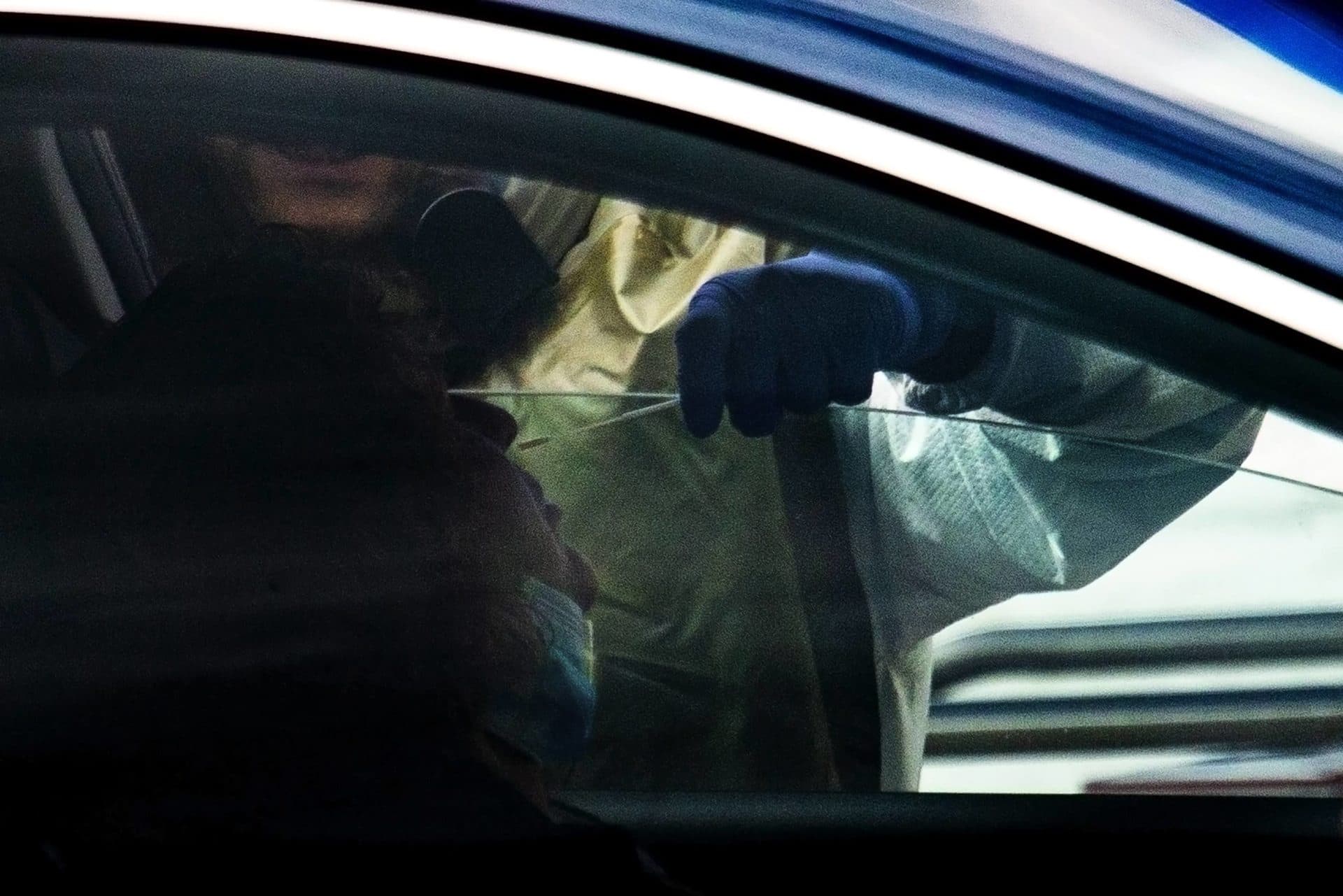 April 10 | A healthcare worker performed a nasopharyngeal specimen collection at the drive-thru COVID-19 testing site at Somerville Hospital. At that point in the crisis, securing enough testing swabs was a greater challenge.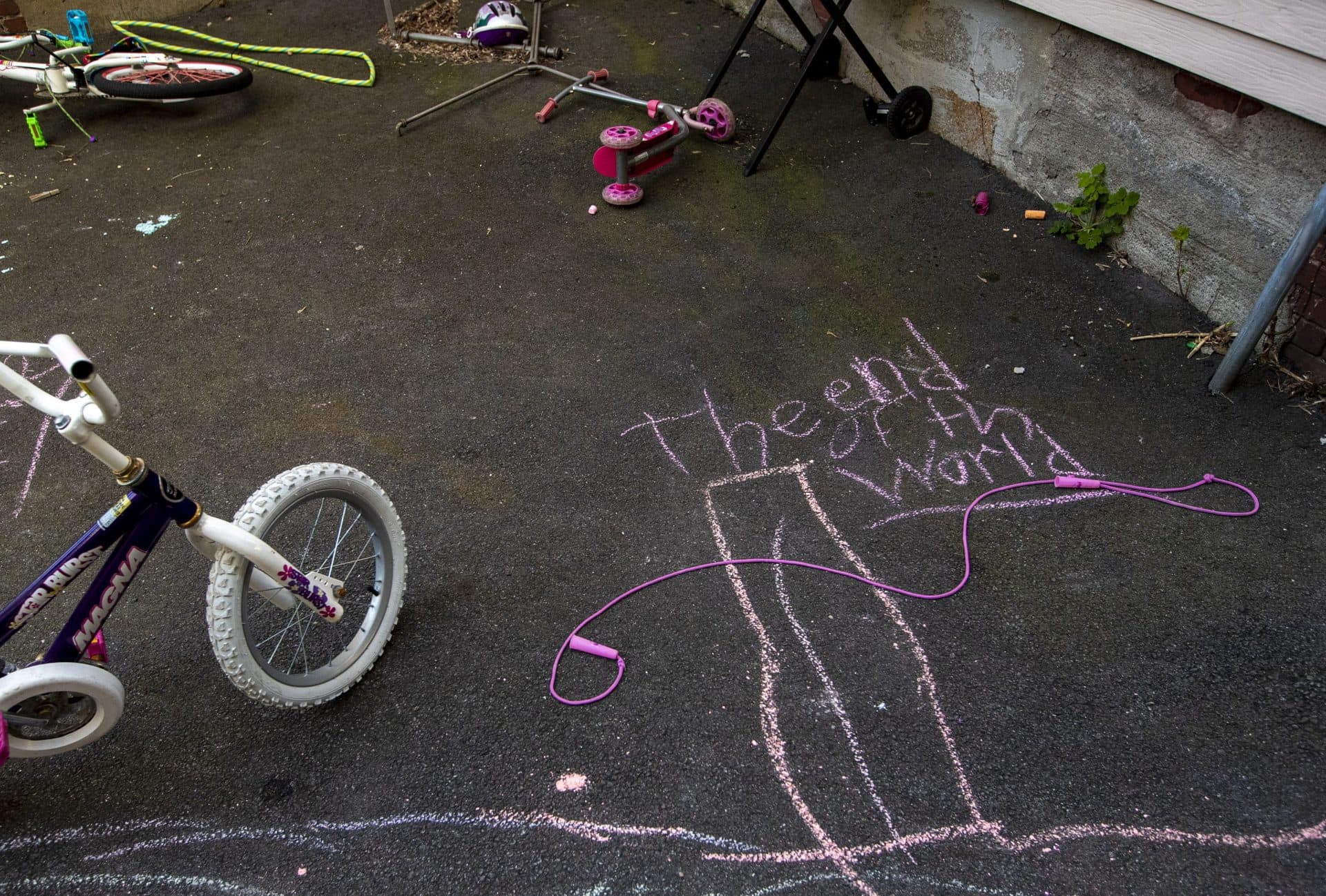 April 12 | A children's chalk drawing in the backyard of a Somerville apartment house  on Easter Sunday.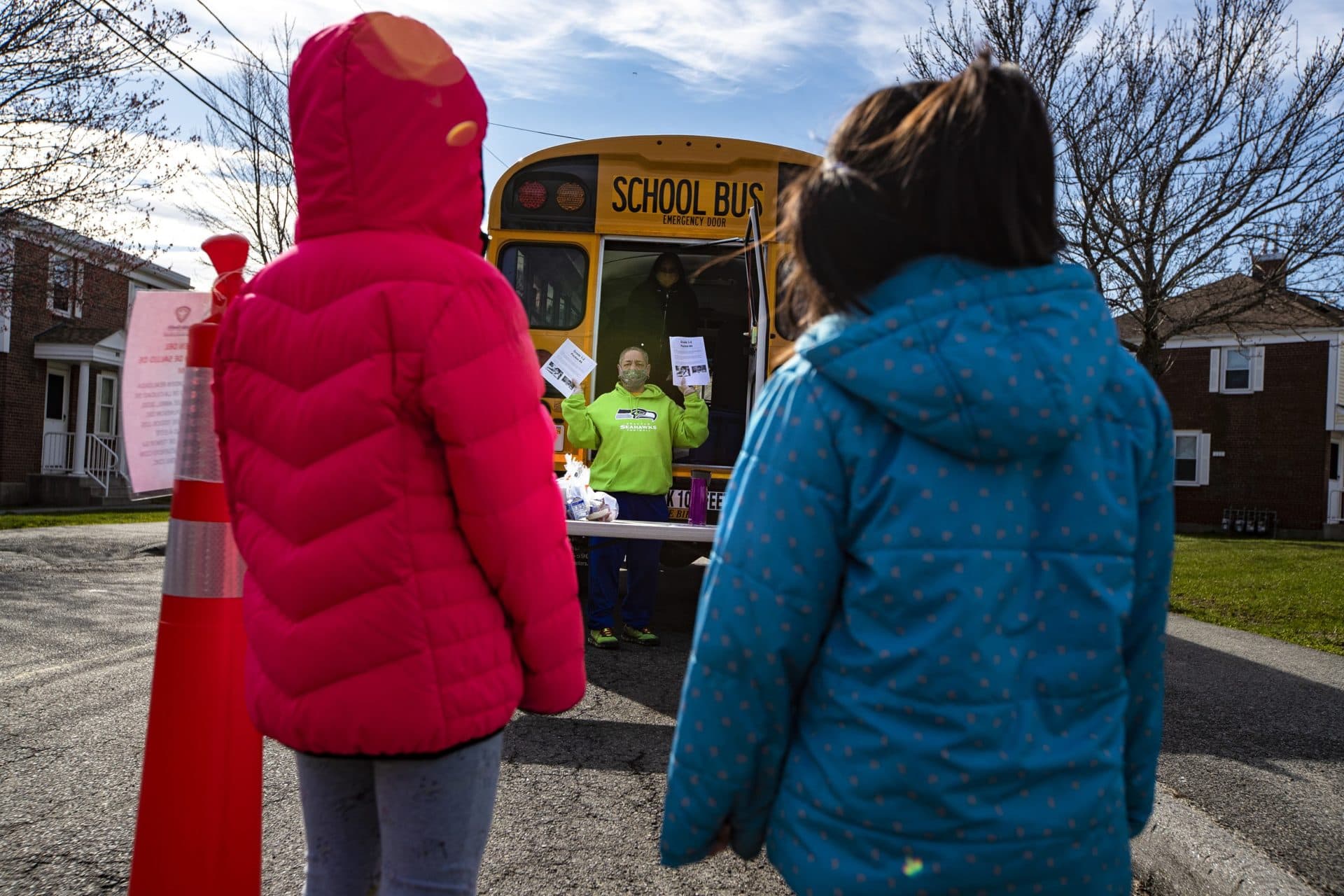 April 14 | In Salem, two students wait as physical education teacher Evelyn Oquendo held up learning packets, asking how many they needed. Oquendo was there to hand out the packets for online school work. The city at the time was also handing out breakfasts and lunches for all children under 18 at designated areas around the city.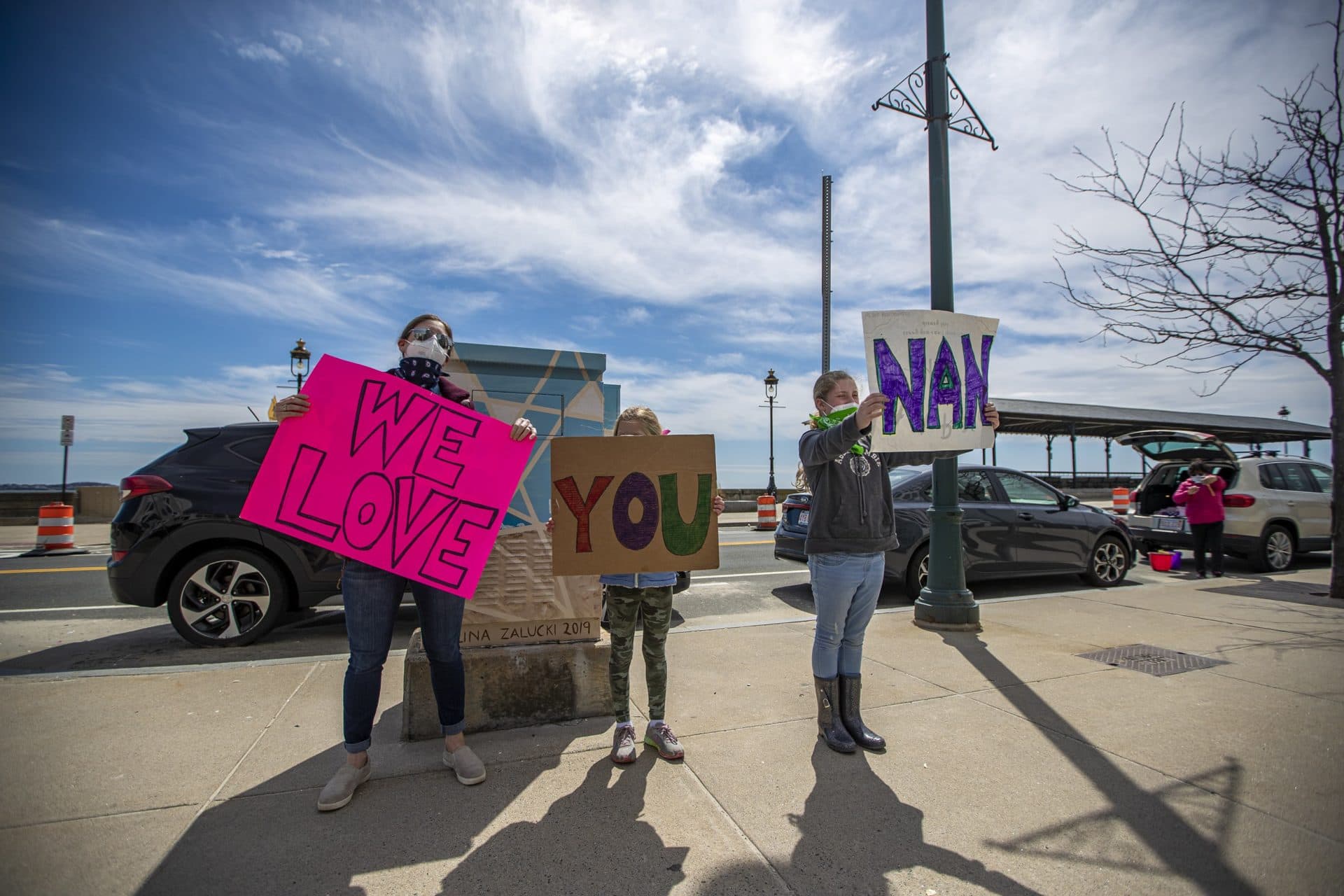 April 14 | Jess, Gabby and Frankie Iovanna of Duxbury waved signs to their grandmother Nancy Iovanna as she looked out the window of her room at the Jack Satter House in Revere.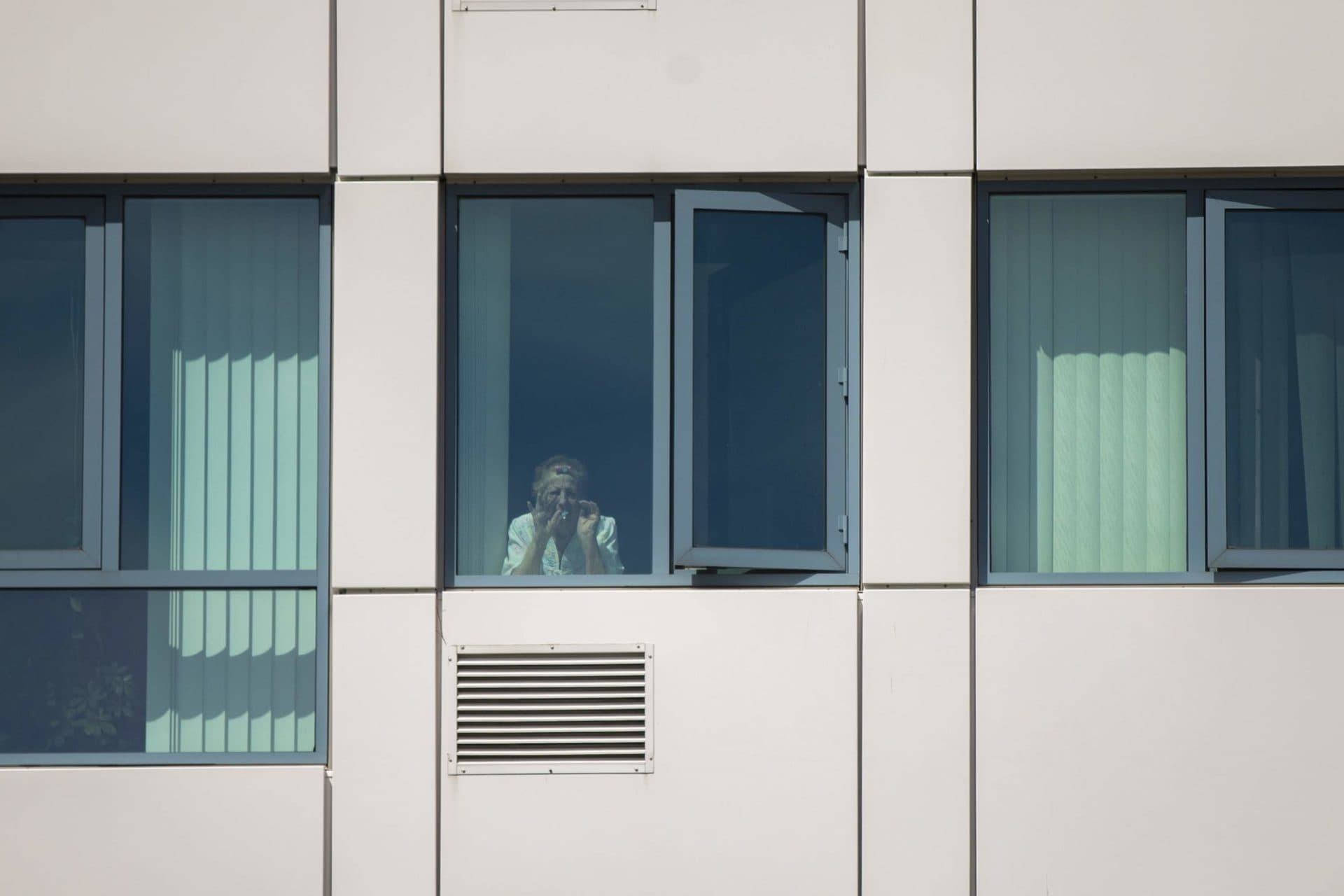 April 14 | Nancy Iovanna waves back to her family.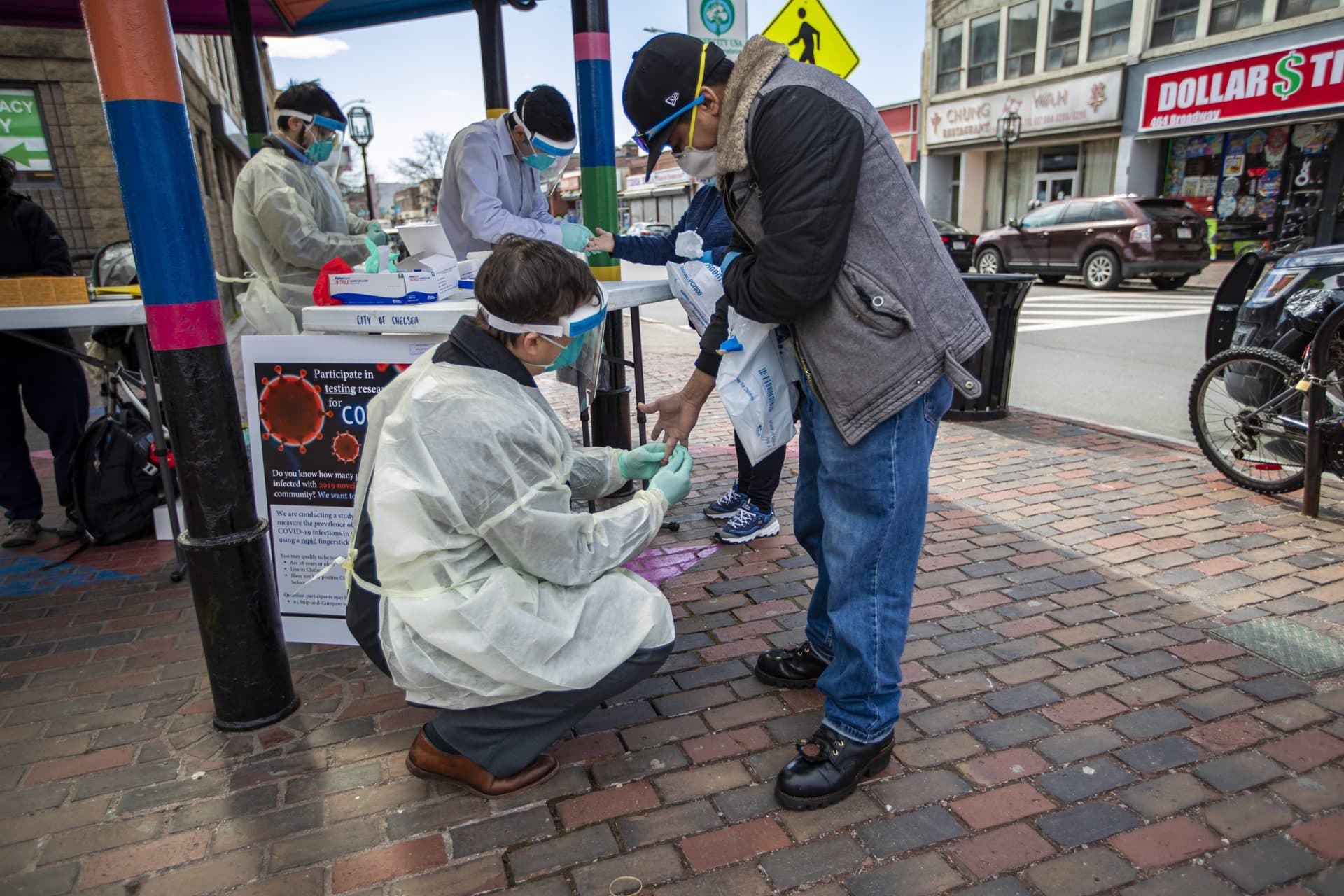 April 14 | Dr. John Iafrate, a pathologist at Massachusetts General Hospital, took a blood sample from a Chelsea resident at a pop-up testing facility in Bellingham Square. MGH was conducting a study by collecting the antibodies of Chelsea residents who had not tested positive for COVID-19, with the hope they would be able to measure the prevalence of infections in the community.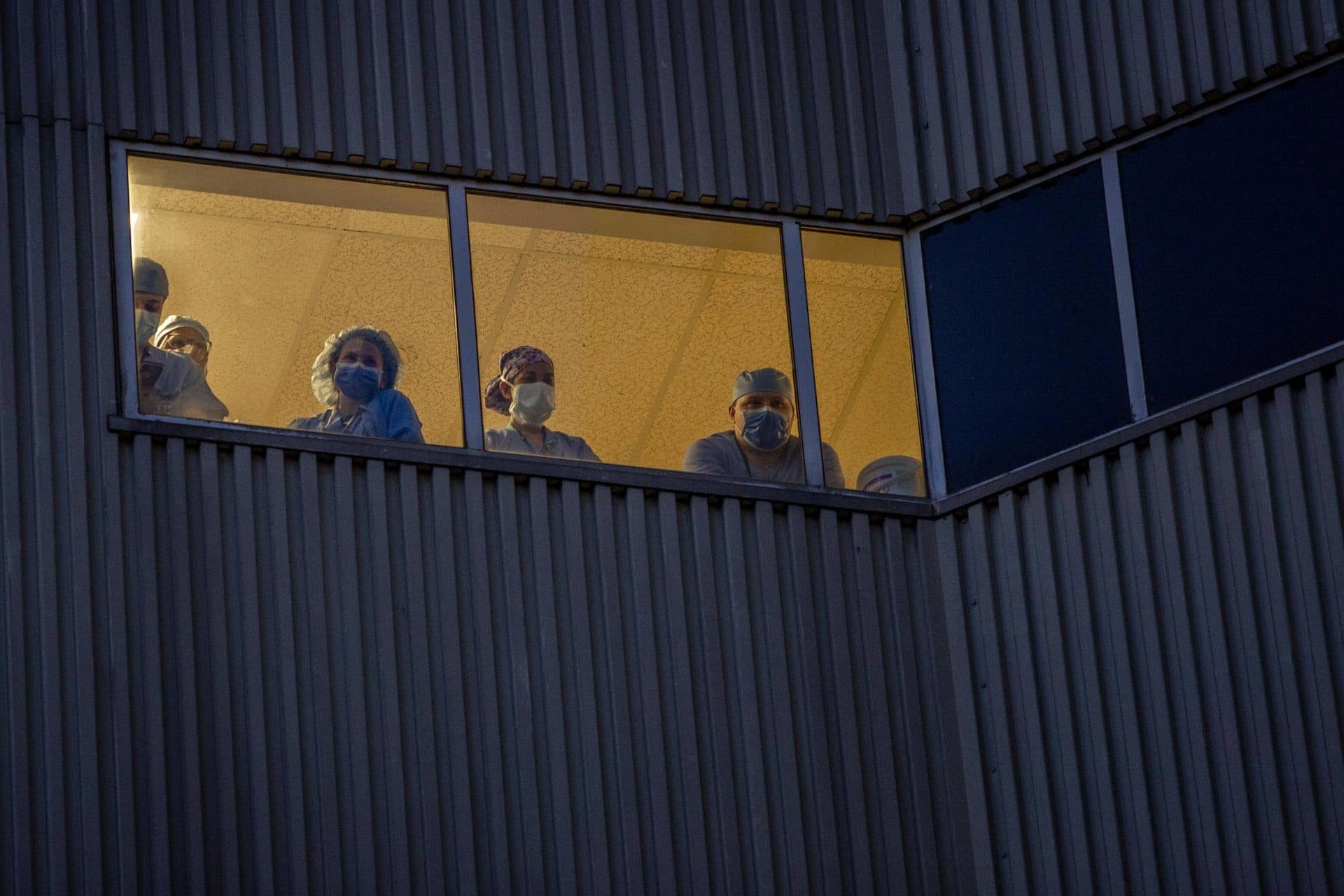 April 15 | Medical staff watched from an upper floor window of Tufts Medical Center as a line of Boston emergency vehicles with lights flashing and horns blaring in support of health care workers drove by.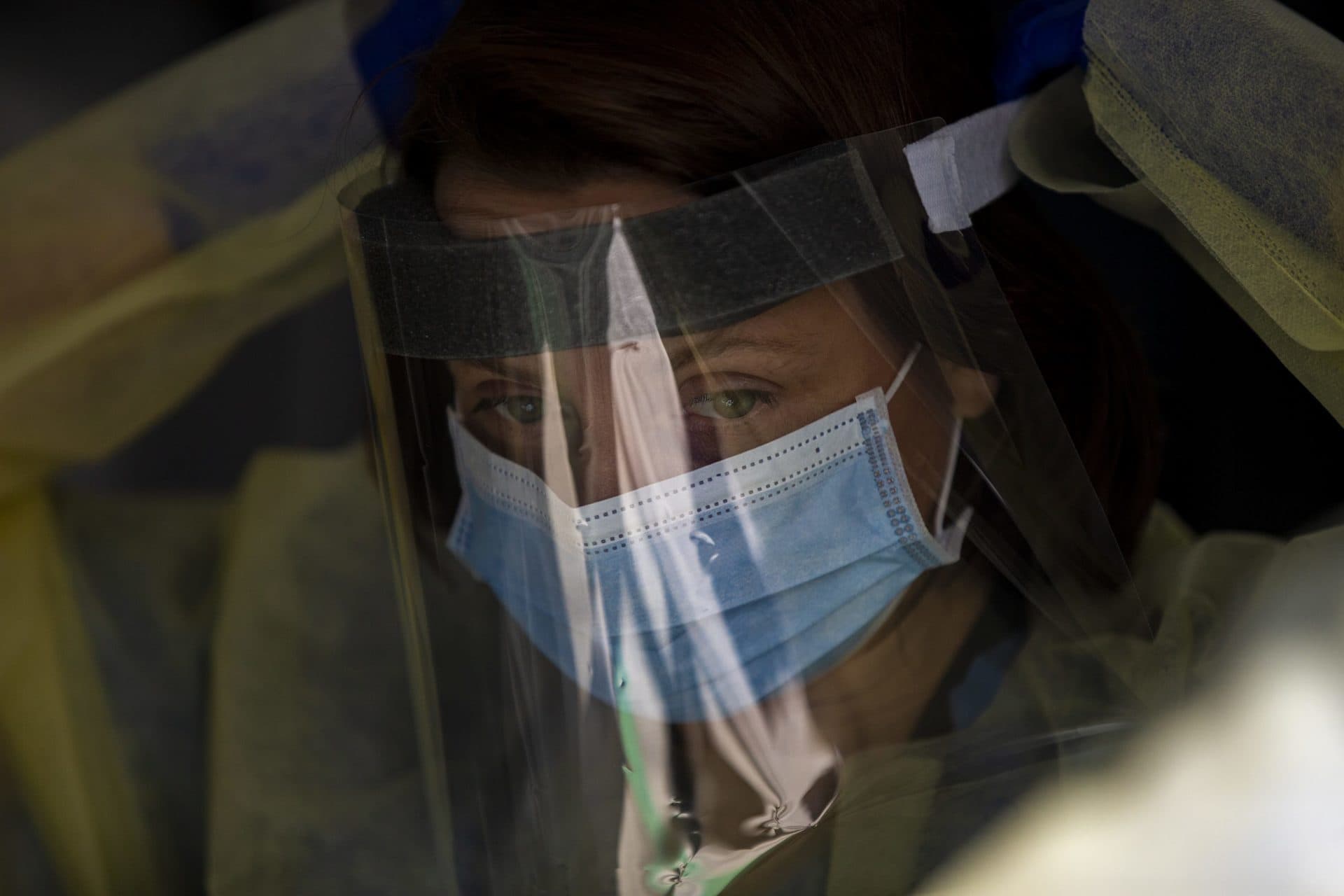 April 16 | Dr. Melissa Nass of Boston Medical Center prepared for an examination by fitting on a face shield. BMC pediatricians were doing home visits using an ambulance as their examination room to do check-ups and vaccinations.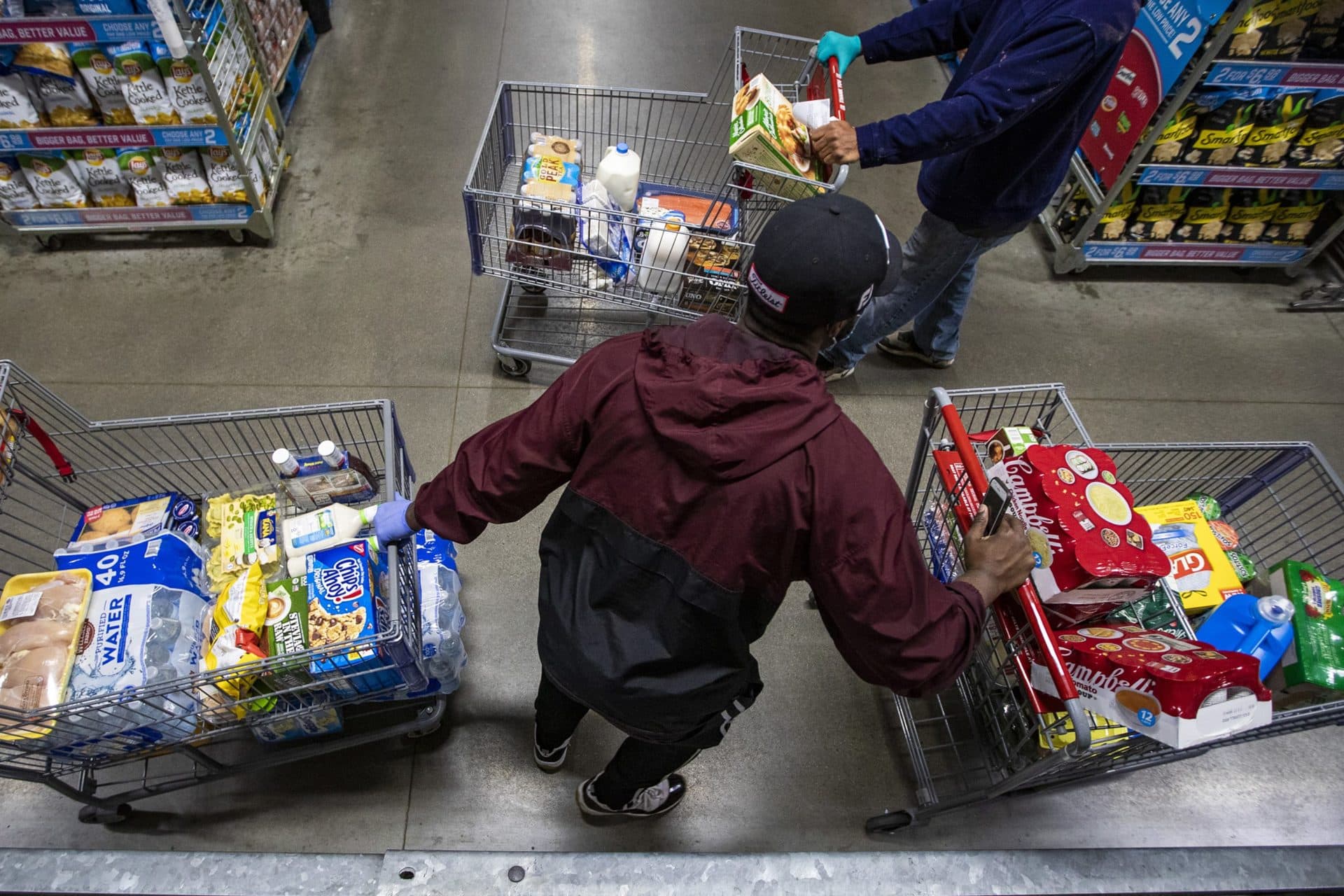 April 21 | Instacart shopper Shamar Martin wheeled two carts through an aisle at BJ's Wholesale Club in Dedham, fulfilling three orders simultaneously.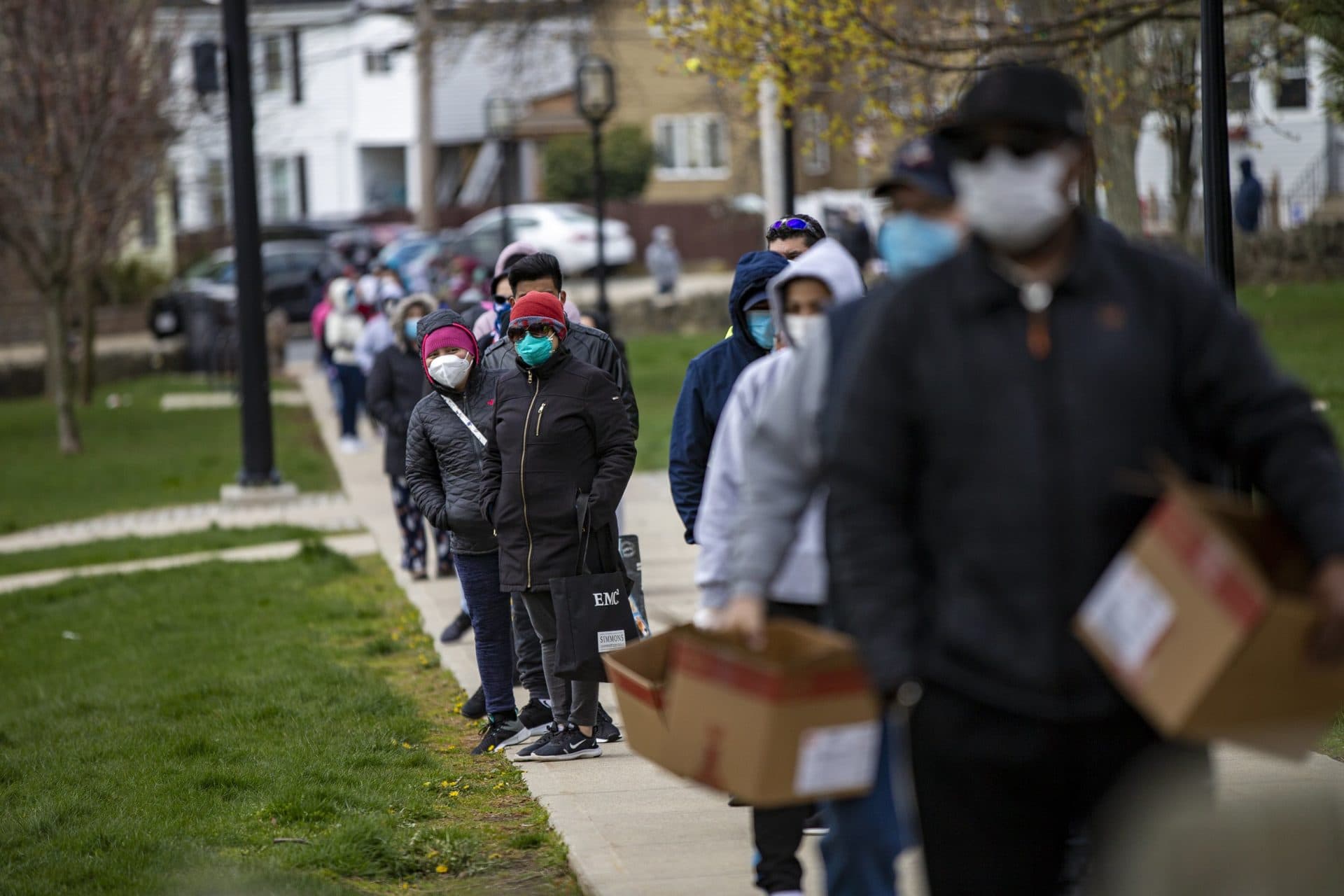 April 22 | At a pop-up food pantry at Washington Park, Chelsea residents stood in a line that extended through and around the park.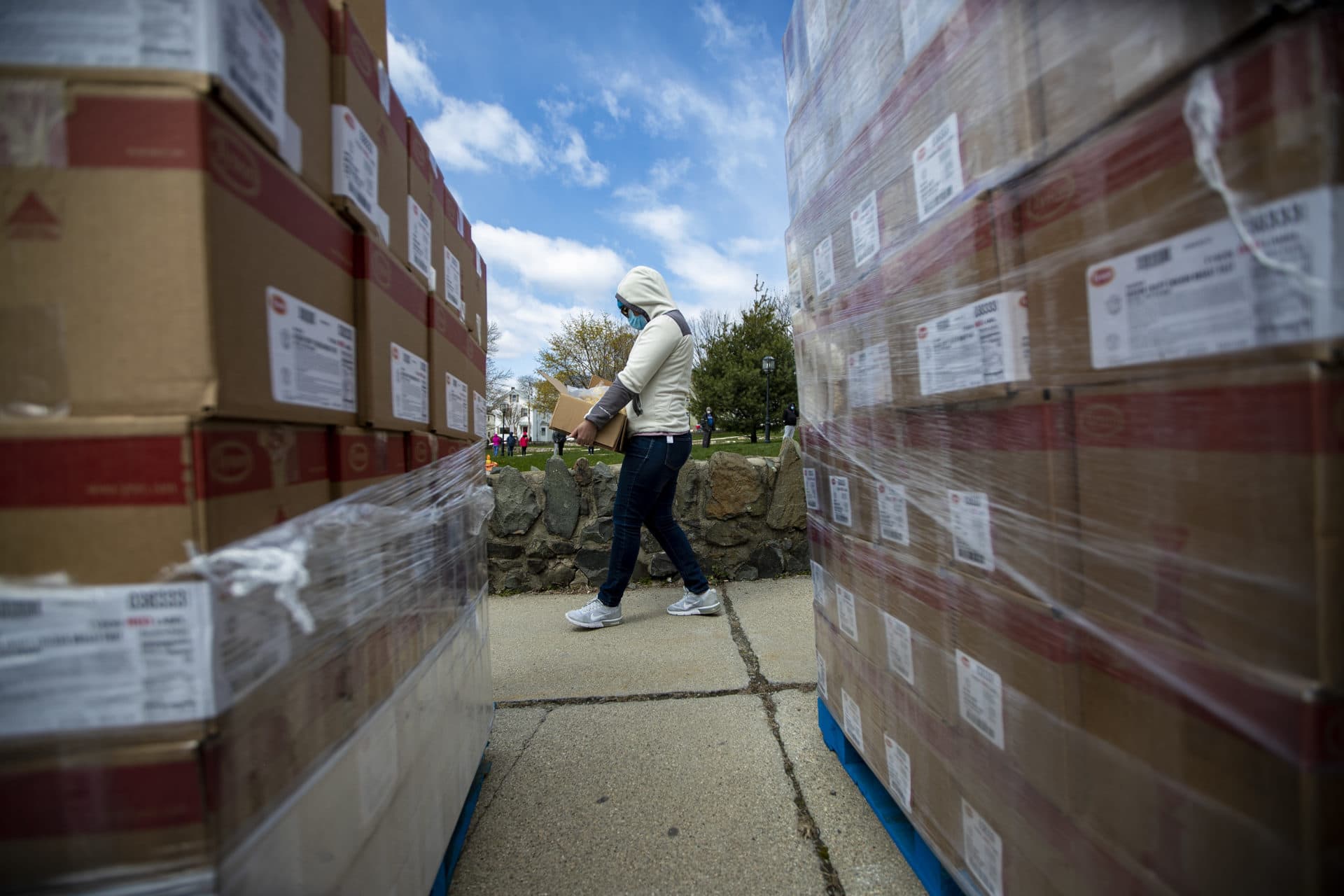 April 22 | A Chelsea resident carried a box of food supplies as she passed two pallets of donated breaded chicken patties for a pop-up food pantry at Washington Park.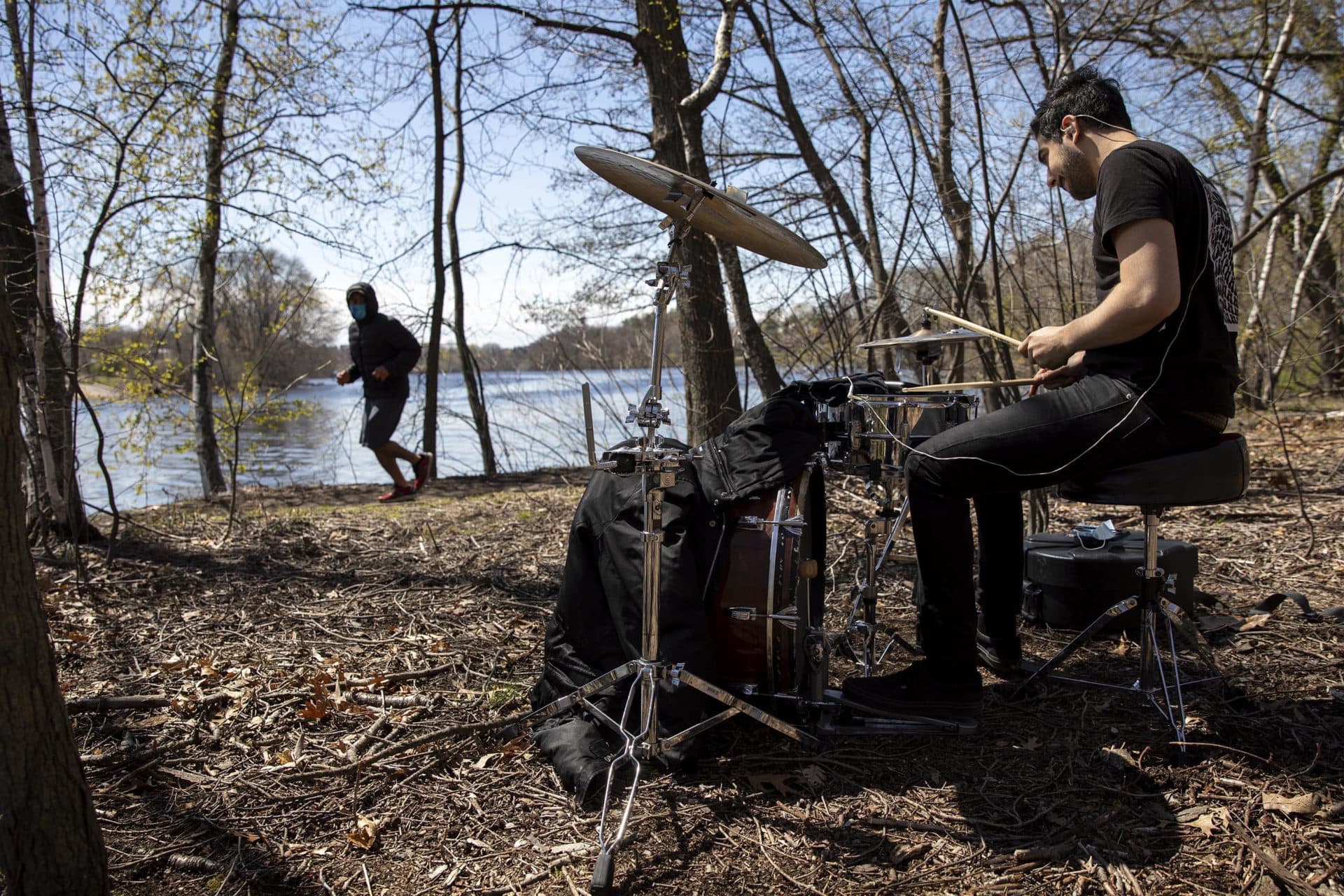 April 29 | A runner glanced up from his run along the Charles River to see Sander Bryce drumming in the woods. Bryce, 28, began drumming in the woods on nice days for his own mental health.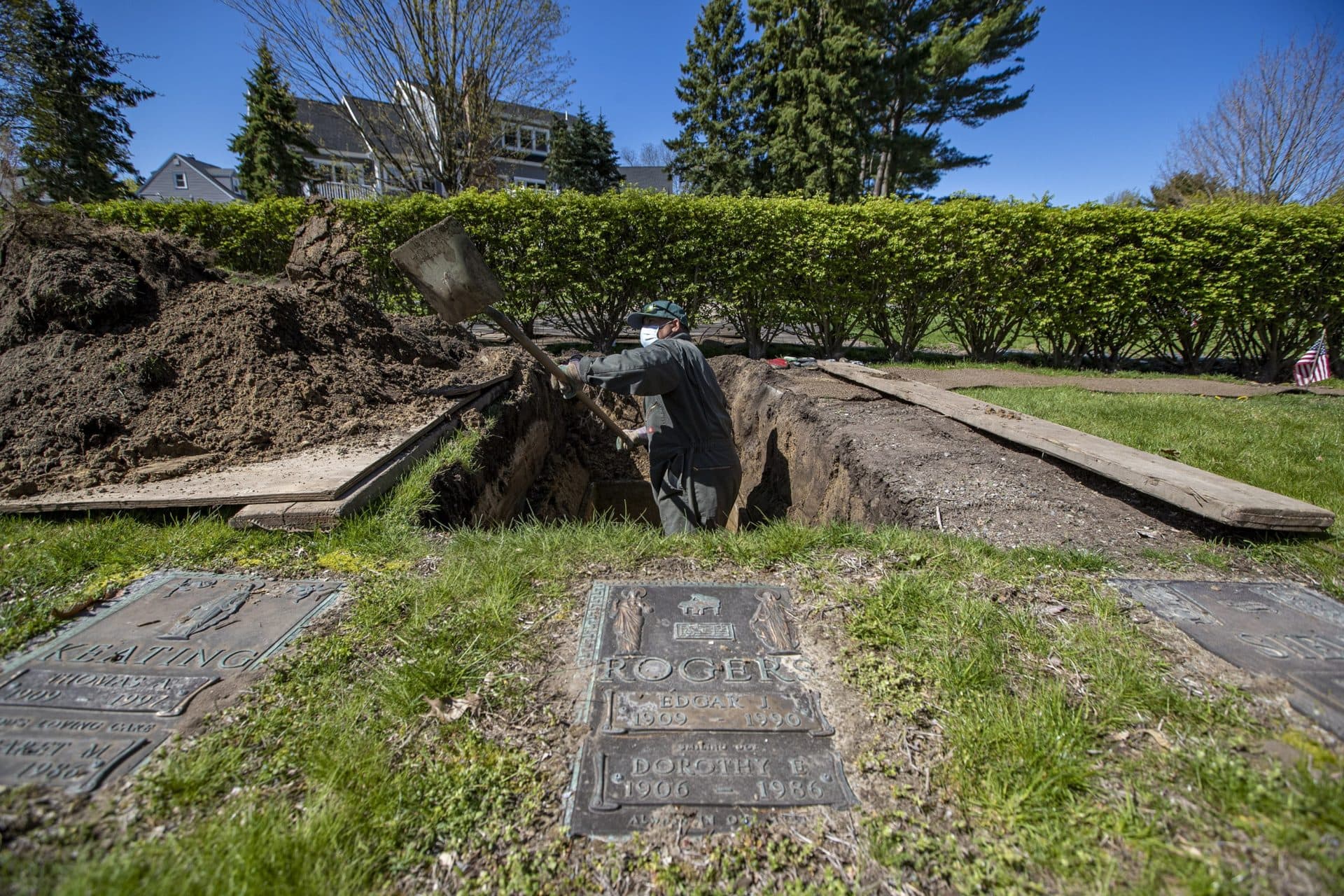 May 4 | Roberto Arias dug out a grave site at Woodlawn Cemetery in Everett, one of 10 sites being prepared that day. Workers at the time said generally they prepare five to six sites a week; in April, during the pandemic, they averaged eight to nine per day. As grave diggers adjusted, so did funeral homes.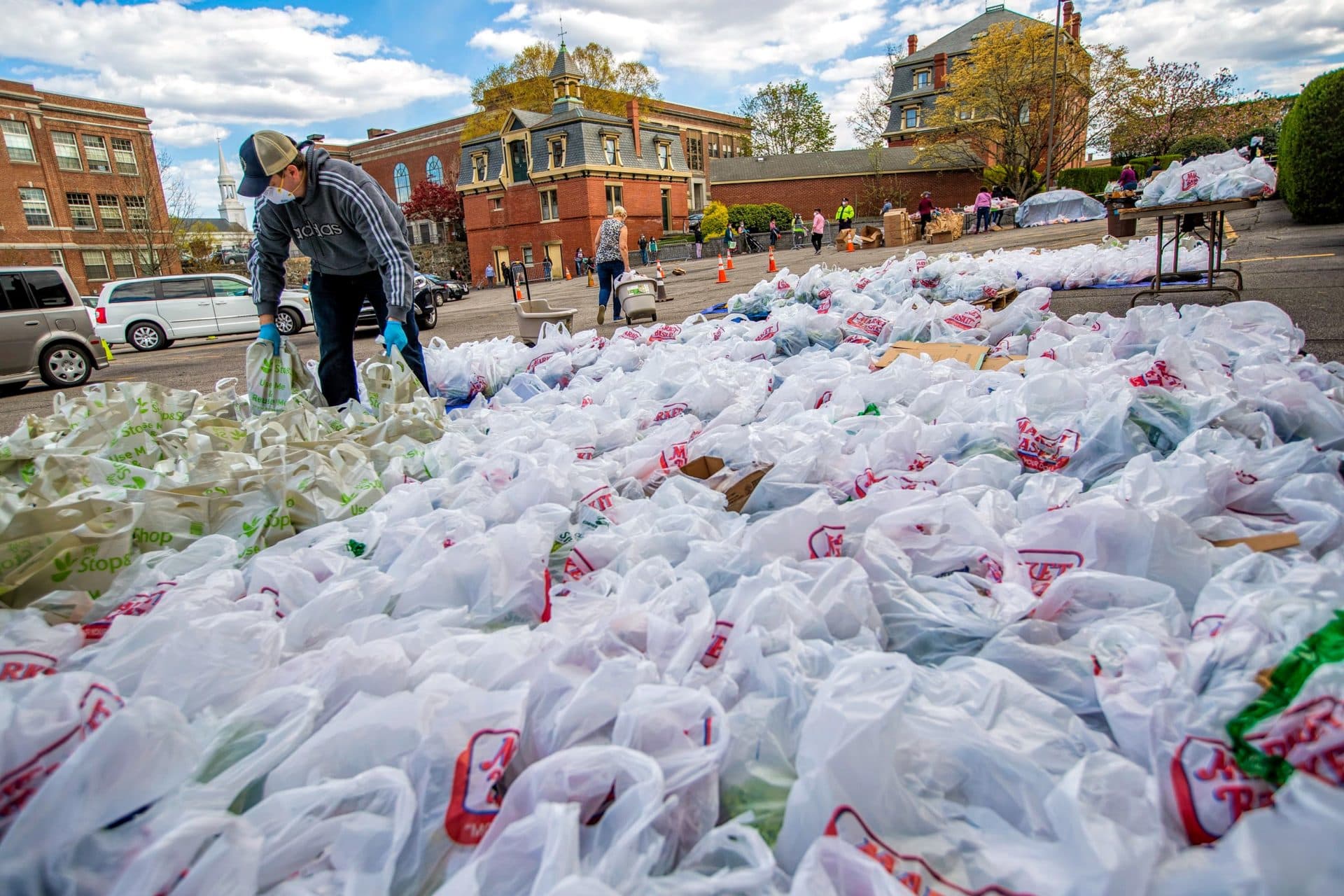 May 7 | A volunteer picked up bags of food among the prepared grocery bags at a food pantry at St. Mary Parish, in Waltham. People lined up on foot and in their vehicles, where nearly 3,000 bags of groceries were passed out to families in need. This year was harder than ever for people struggling with food insecurity.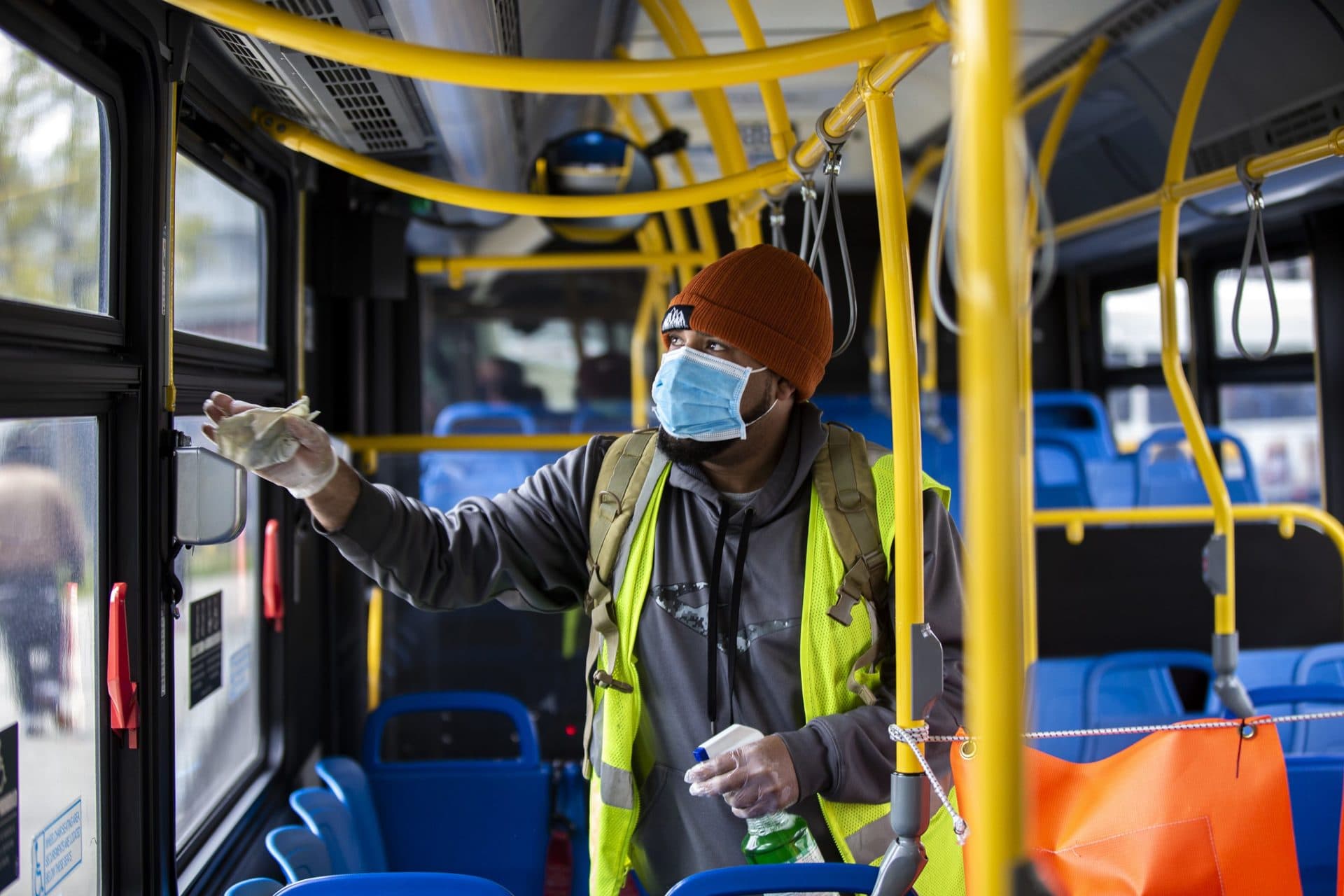 May 12 | Marino Diaz Cruz wiped down the surfaces inside an MBTA bus with disinfectant after it pulled into Ashmont Station from Jackson Square.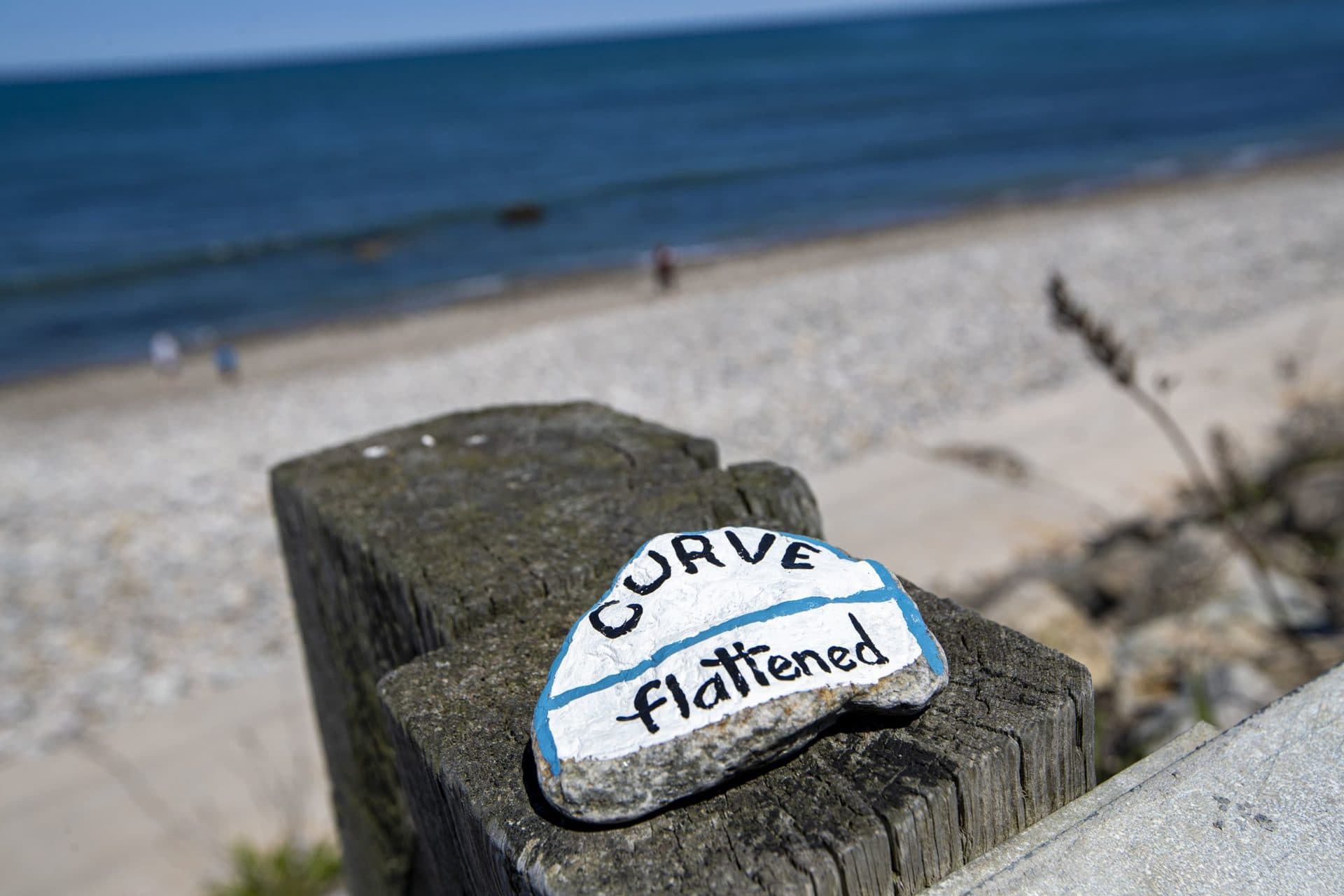 May 20 | Brightly painted rocks with messages inscribed on them in response to the pandemic were left on top of the guardrails at a virtually empty Brant Rock Beach in Marshfield.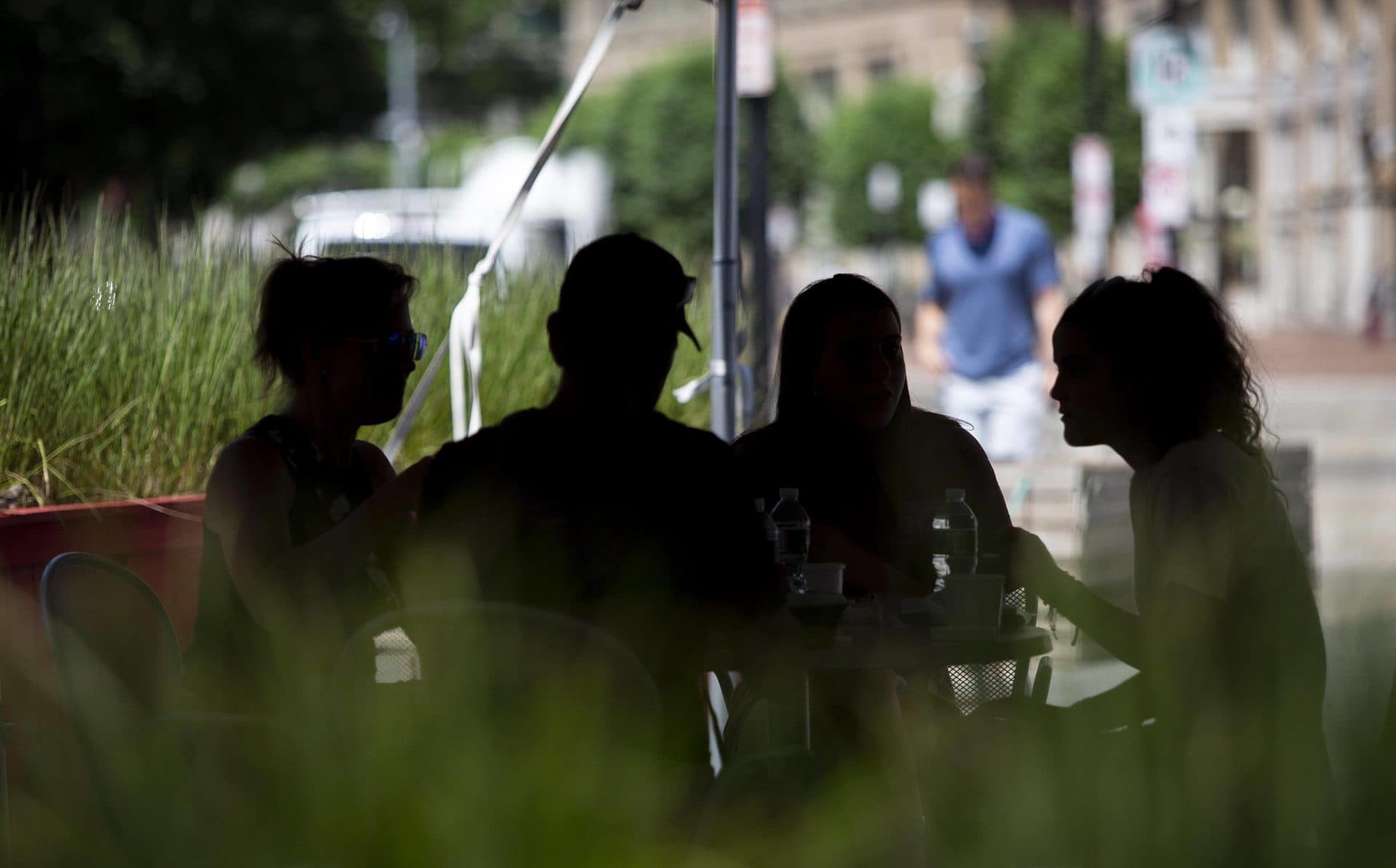 June 8 | On the first day restaurants reopened, guests ate in the shade outside James Hook & Co on Atlantic Avenue in Boston.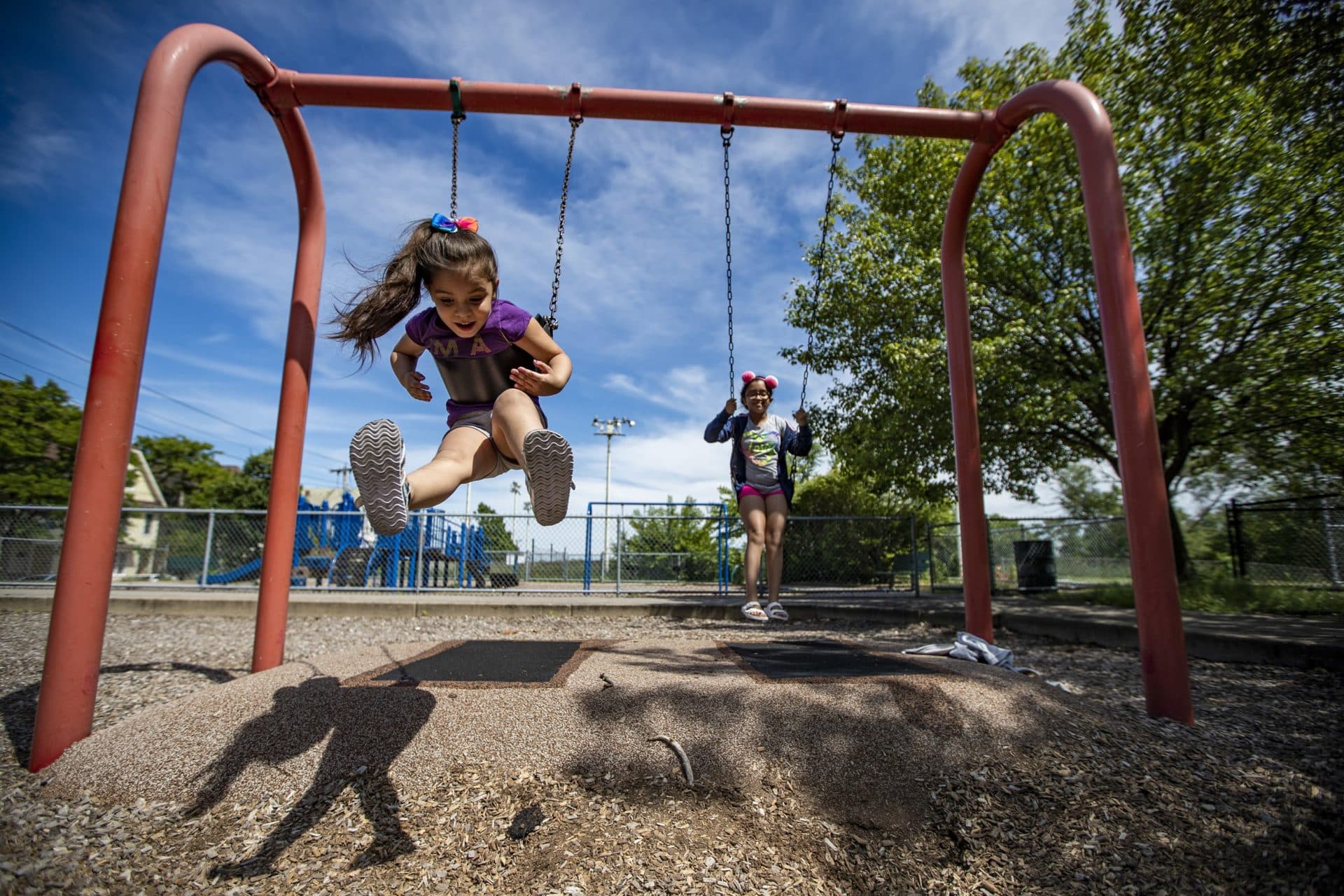 June 15 | Sisters Leylanise Santiago, 5, and Liseyda Santiago, 10, played on the swings at McLaughlin Park in Mission Hill on the first day playgrounds and parks were open to the public since being shut down because of the pandemic.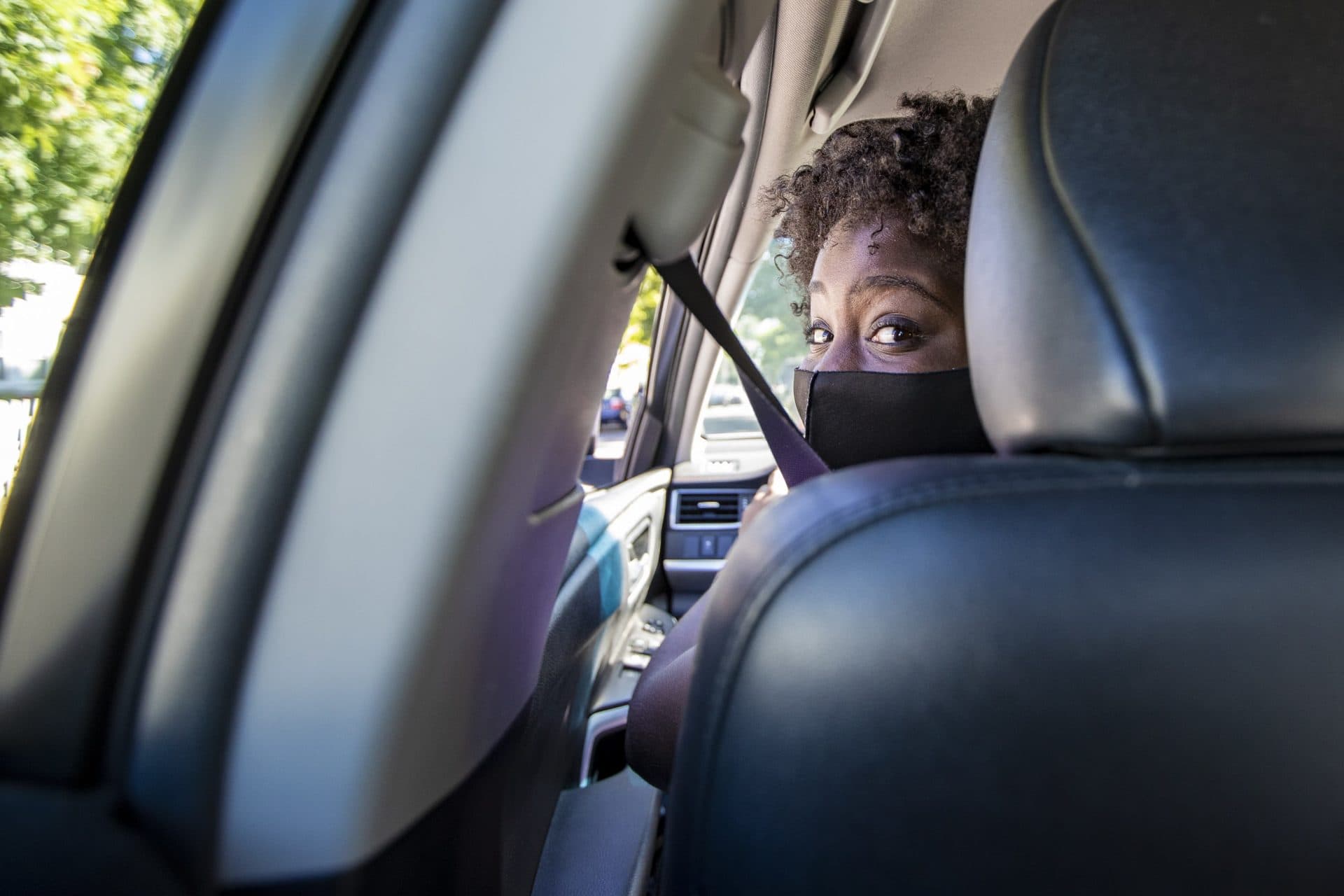 June 17 | Tahlia Tah looked for oncoming traffic before she attempted to parallel park during her driving lesson with Domingo Montiero.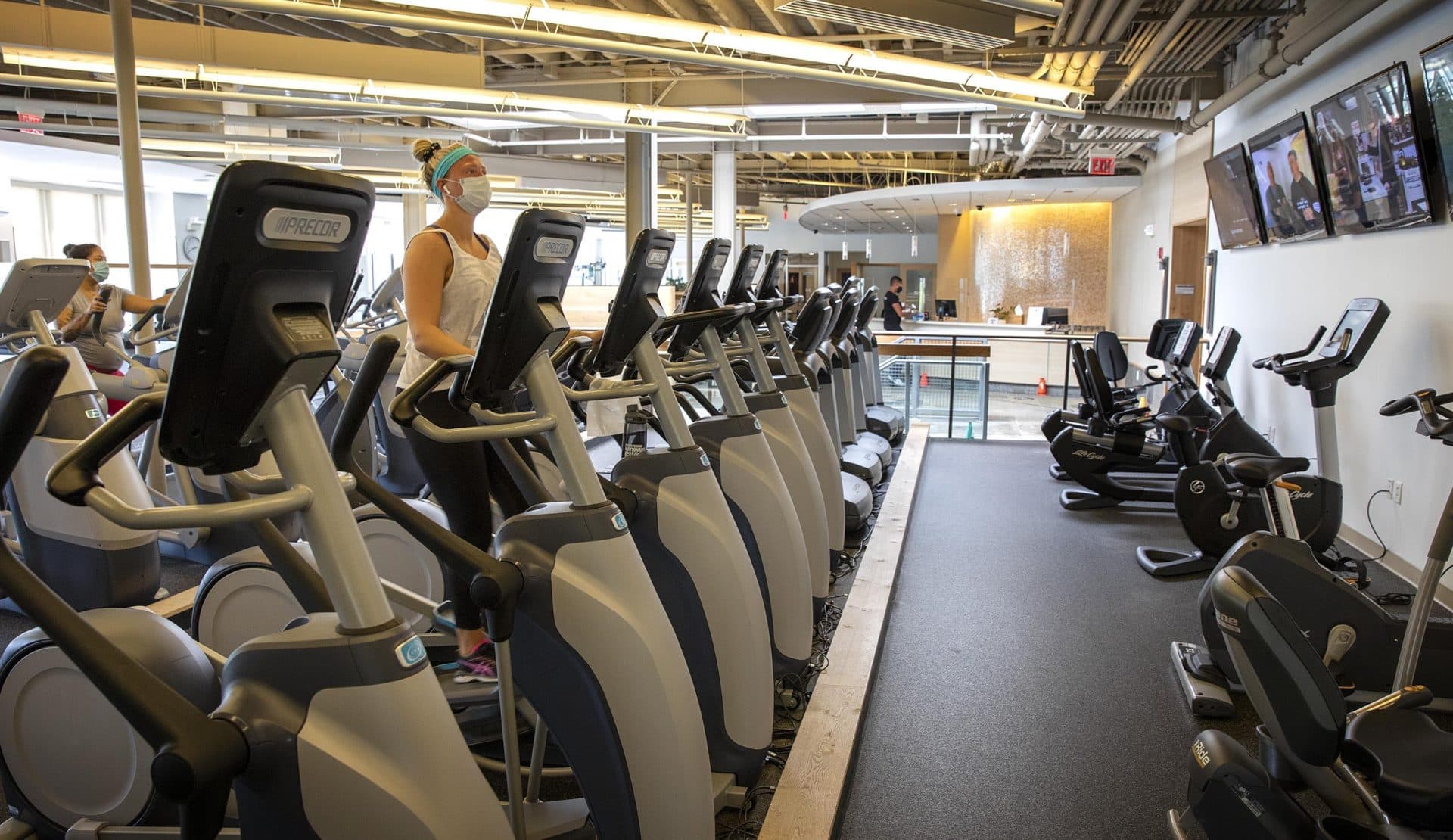 July 6 | As gyms in Massachusetts start to opened up again, Courtney Nowicki from Brookline got back to her workout at Healthworks in Coolidge Corner.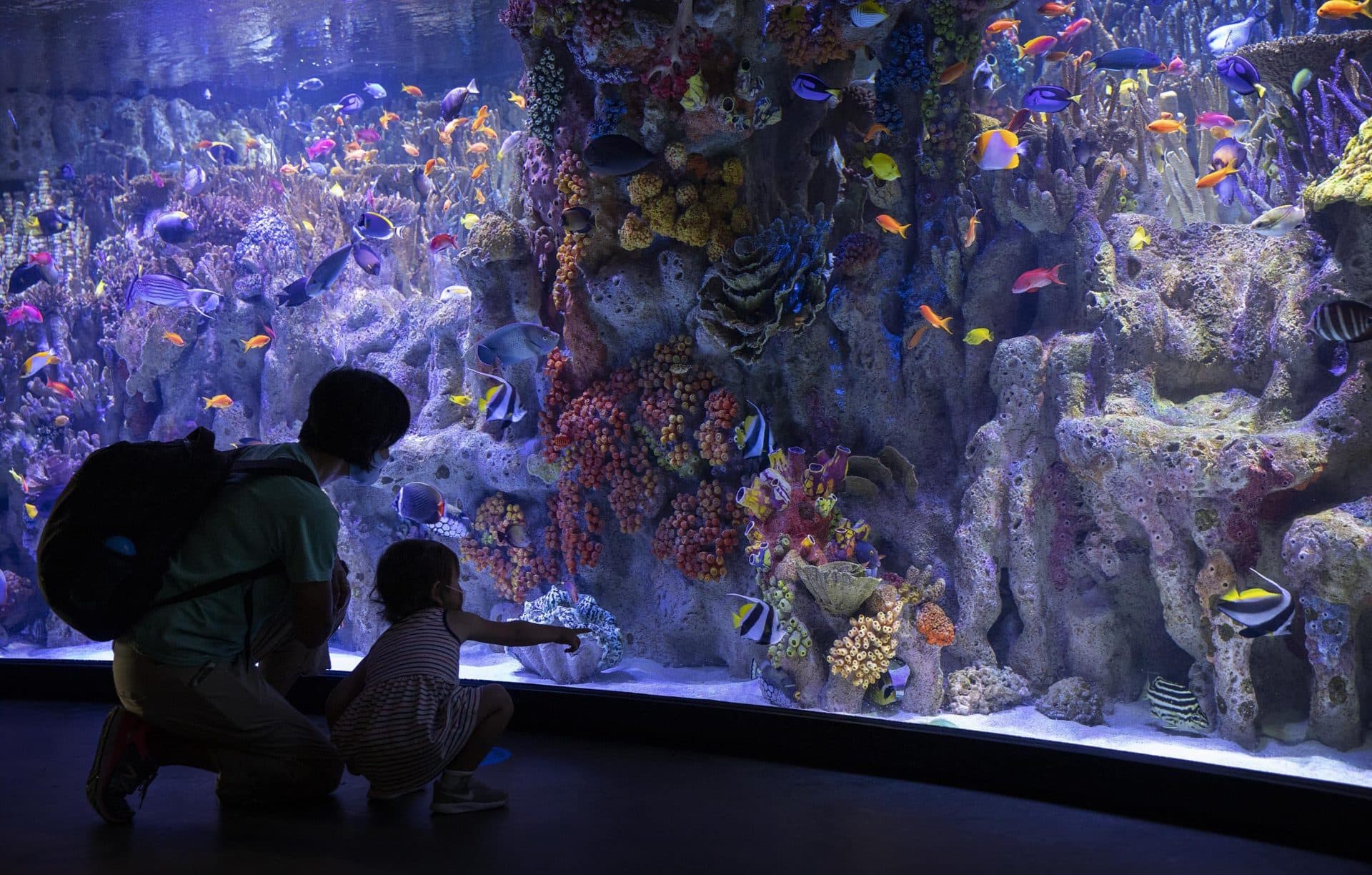 July 15 | When the New England Aquarium opened for the first time since March,  these visitors, wearing masks and following social distancing instructions, looked at fish in a tropical fish tank.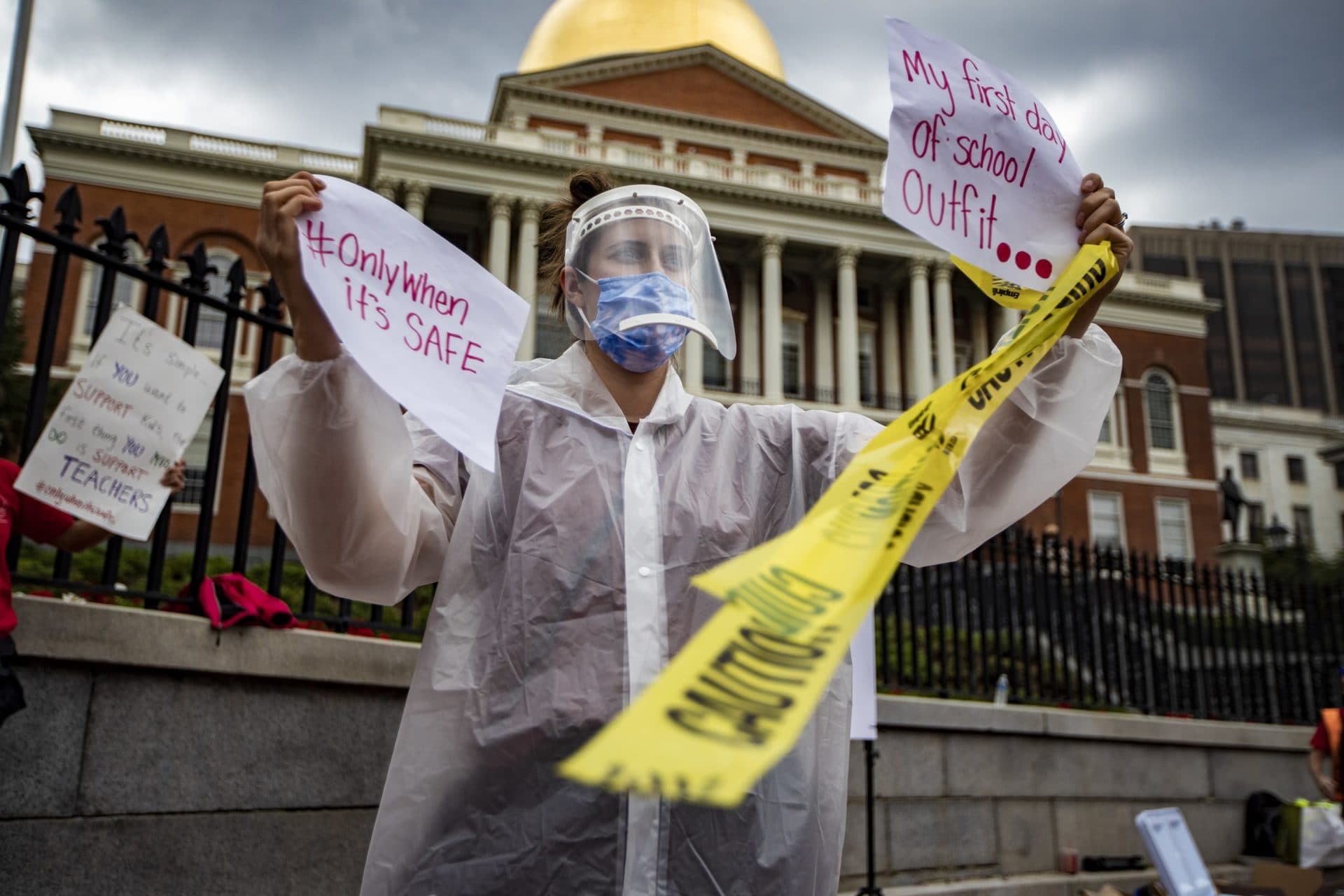 Aug. 19 | Hundreds of members of the Massachusetts Teachers Union attended a rally at the State House demanding Baker safely reopen schools.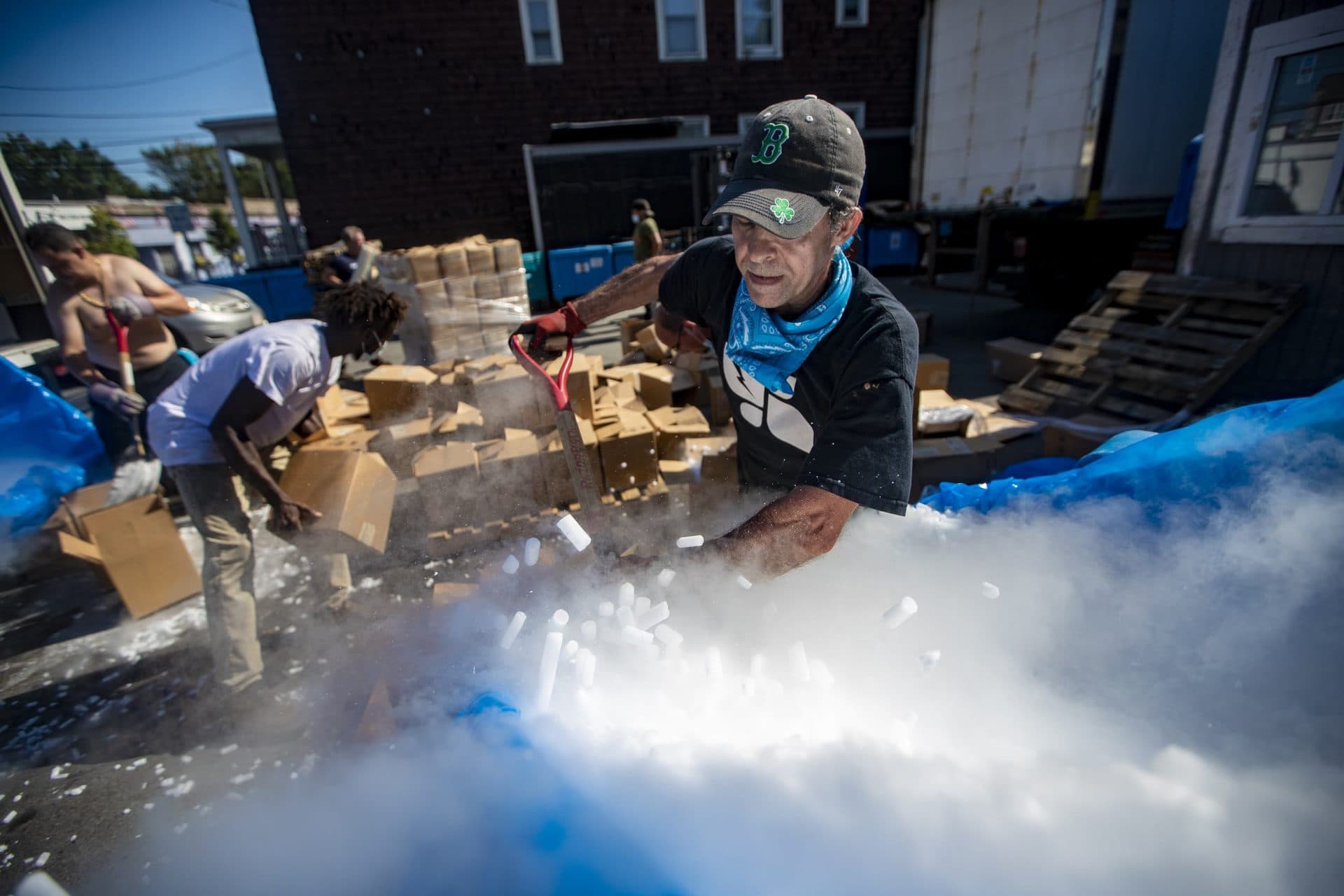 Sept. 4 | Workers at the Acme Ice Company in Cambridge loaded 50,000 pounds of dry ice into boxes to be shipped out to various pharmaceutical companies in the area for storing vaccine samples of COVID-19. Because of the pandemic, there is a national dry ice shortage, due to the ramping down of ethanol production, since not as many drivers are on the road and purchasing gasoline.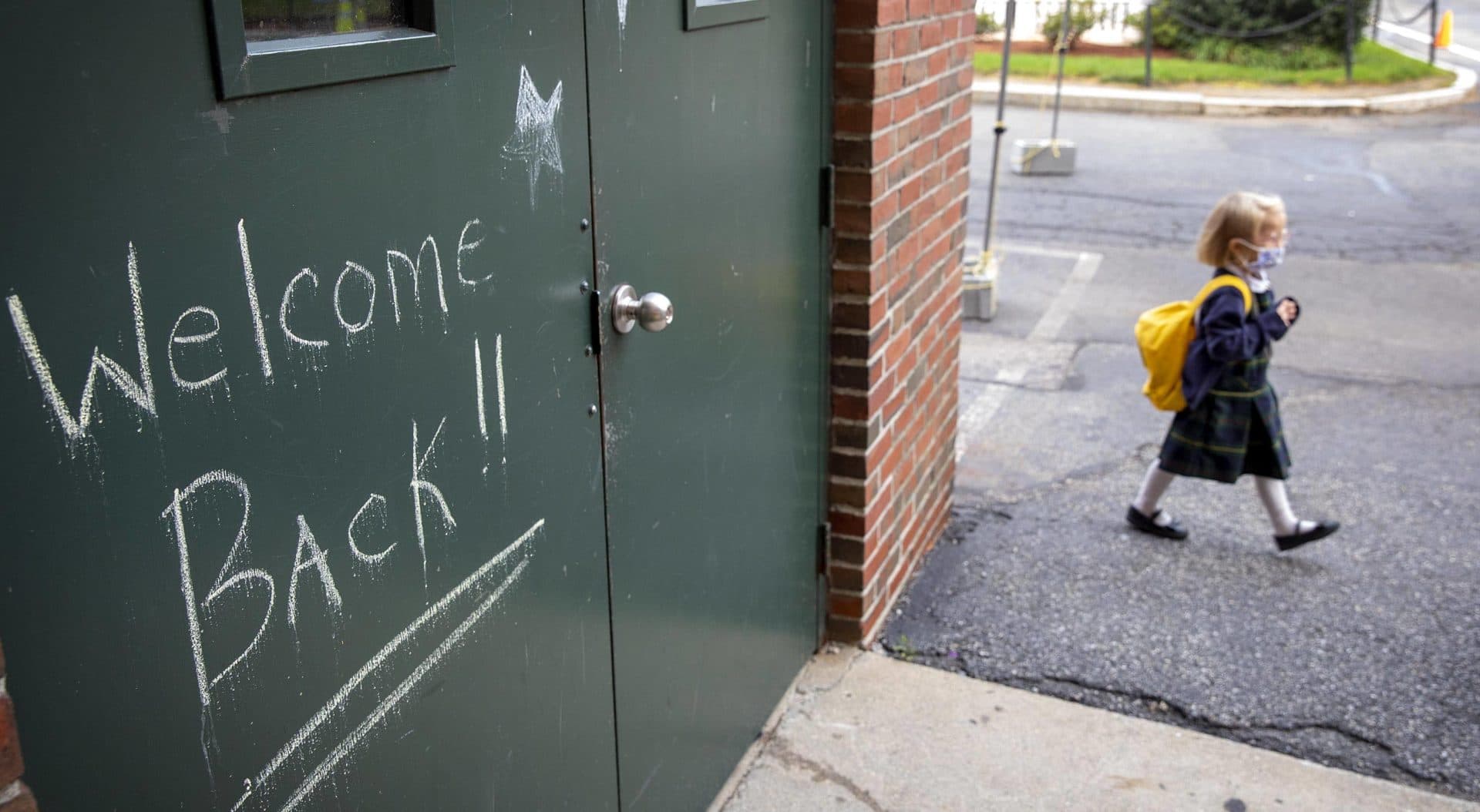 Sept. 17 | A chalk message, splattered by rain, welcomes students back to St. Peter School in Cambridge.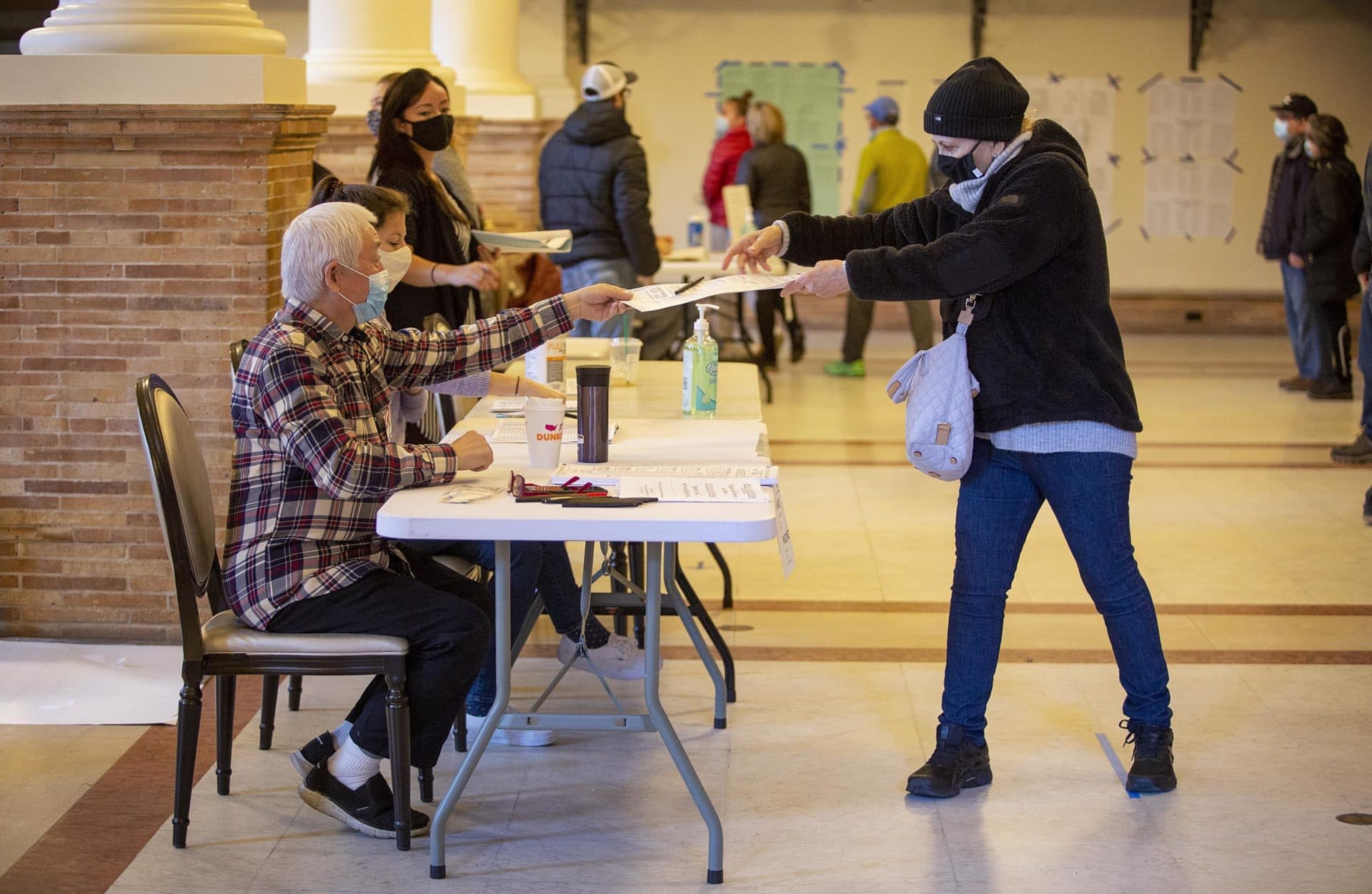 Nov. 3 | A voter kept social distancing in mind as she picked up her ballot at the Boston Public Library on Election Day.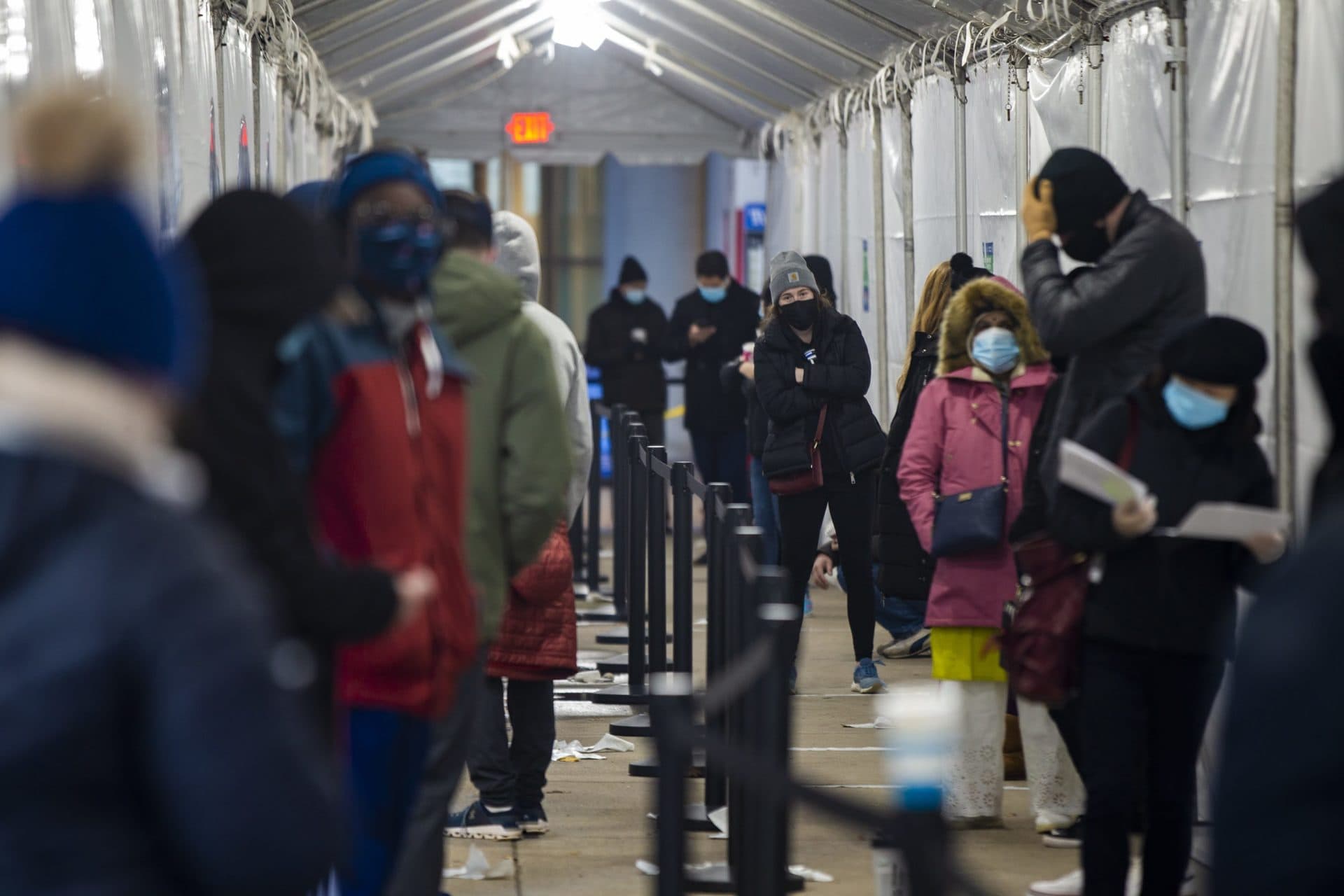 Dec. 2 | A woman looked toward the front of a long line of people waiting for coronavirus tests outside of the Tufts Medical COVID-19 Testing Center on Tremont Street. Testing facilities were inundated with people who planned to travel for Thanksgiving, and the lines stayed long even after the holiday.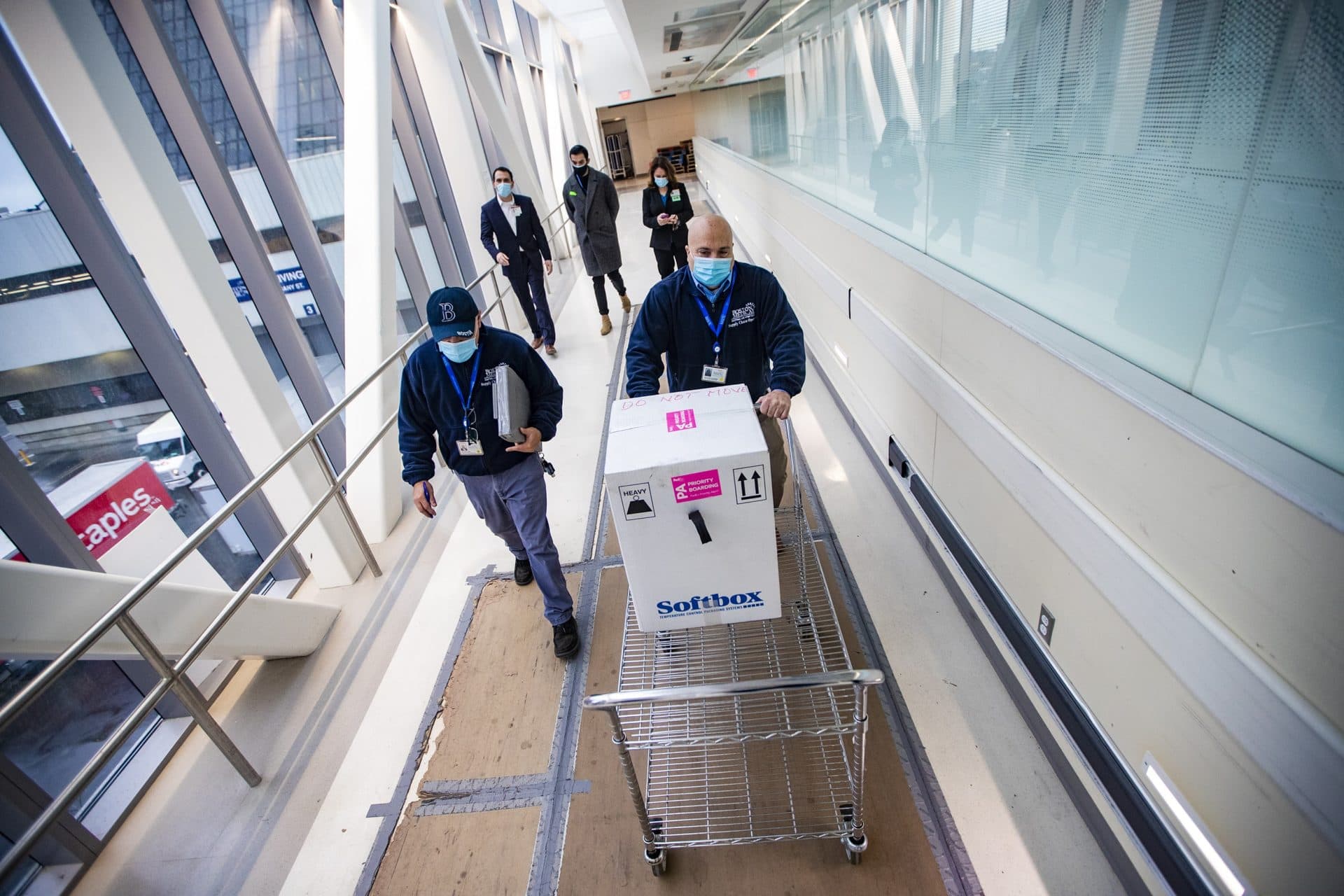 Dec. 14 | Boston Medical Center pharmacy technical worker William Senior removed two trays of Pfizer's COVID-19 vaccine, each containing 975 doses, from the box the vaccines arrived in that morning.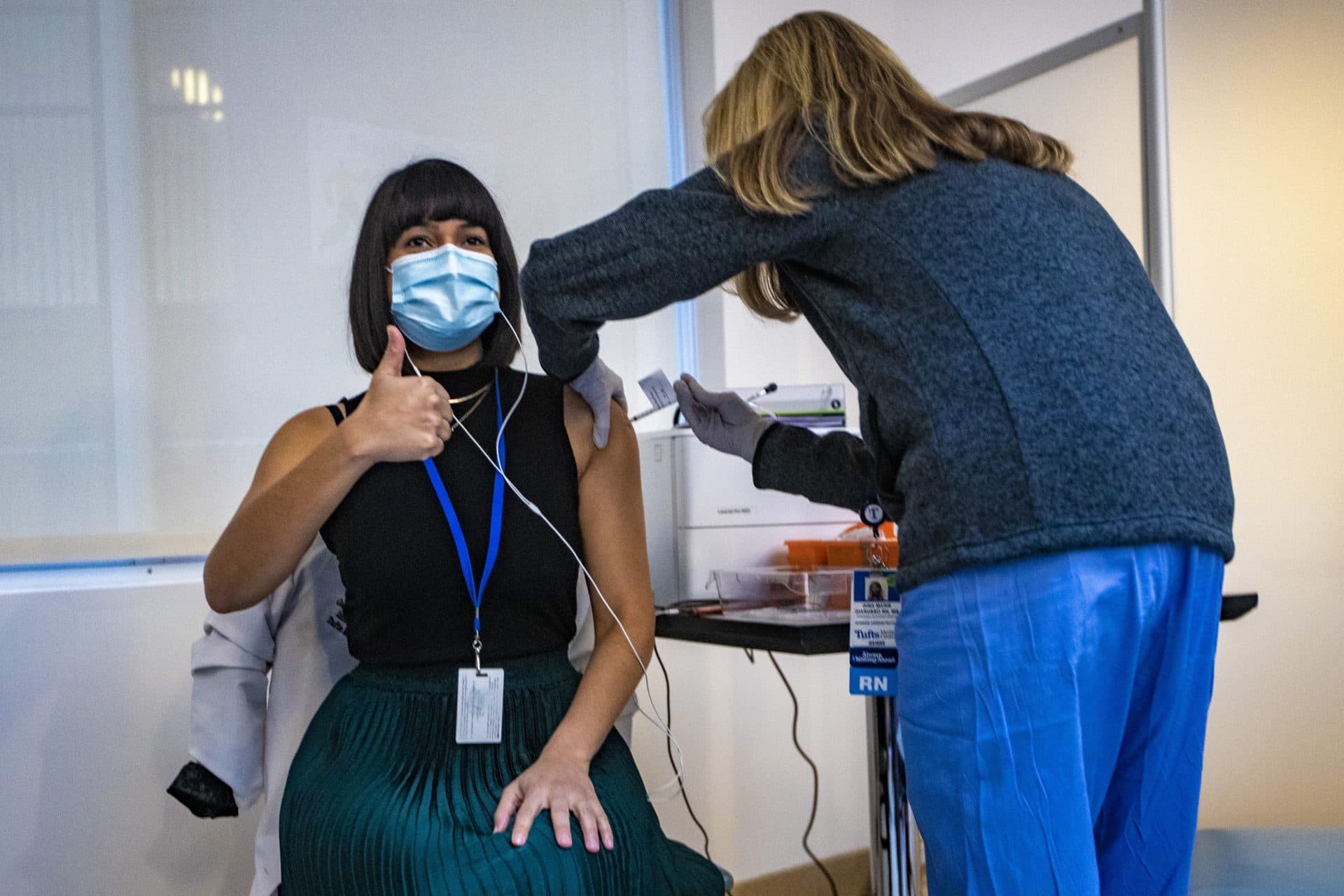 Dec. 15 | Dr. Gabriela Andujar Vazquez was the first Tufts Medical Center hospital employee to receive Pfizer's COVID-19 vaccine.