Photos: Mass. Amid The Coronavirus Crisis
---
In many respects, the coronavirus is invisible. But the pandemic's repercussions are plain to see in nearly every aspect of life.
WBUR photographers Jesse Costa and Robin Lubbock have been documenting the crisis since the outbreak began to worsen here in Massachusetts. Below, we've collected some of their images that show how the pandemic is affecting the state and the measures people are adopting to limit its spread.
---
'The New Normal'
This spring is different.
At a time of year when many Massachusetts residents are getting outside and shaking off the winter cold, strict "social distancing" measures have kept people apart and largely restricted them to their homes — leaving normally bustling streets, restaurants and public gathering places eerily empty.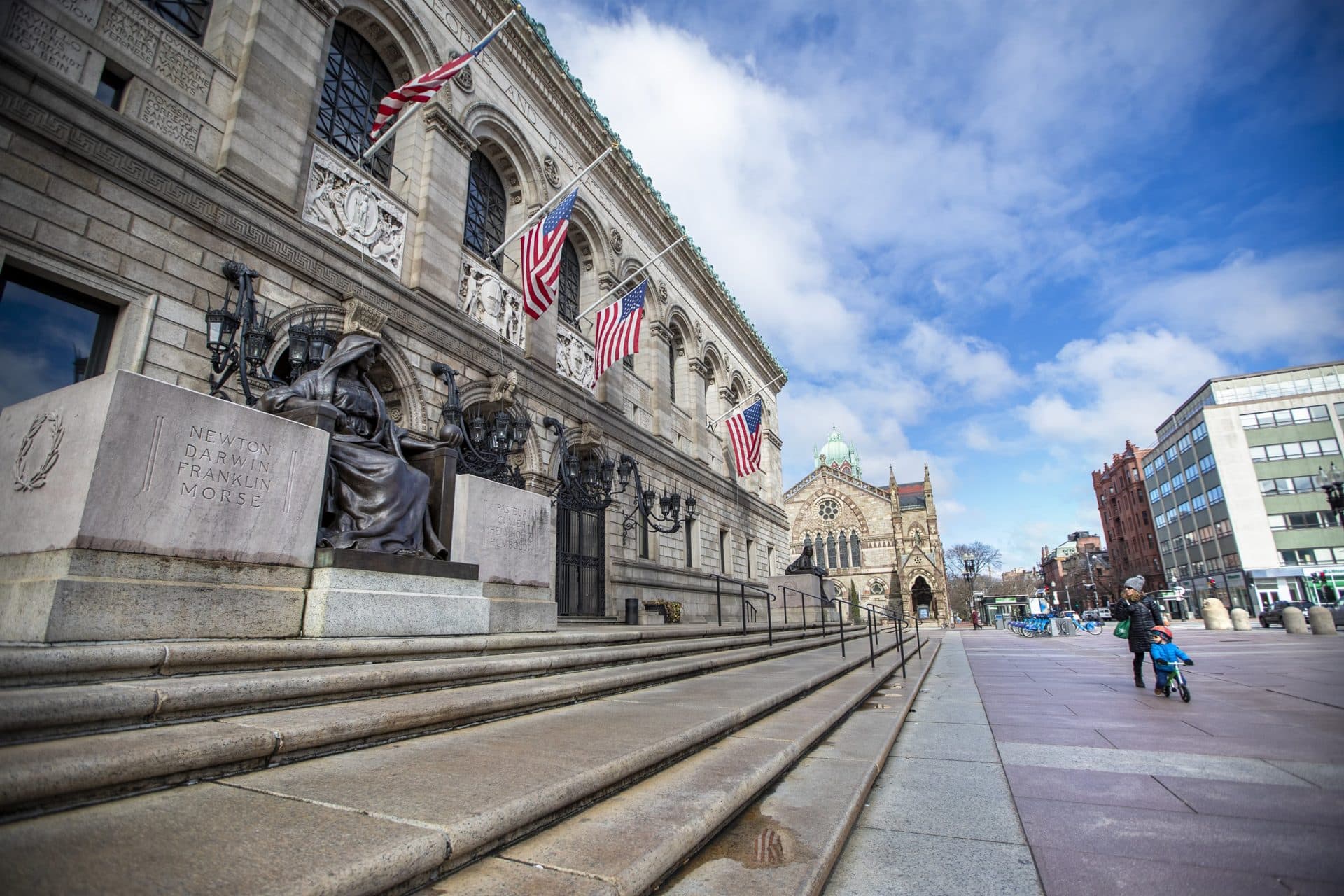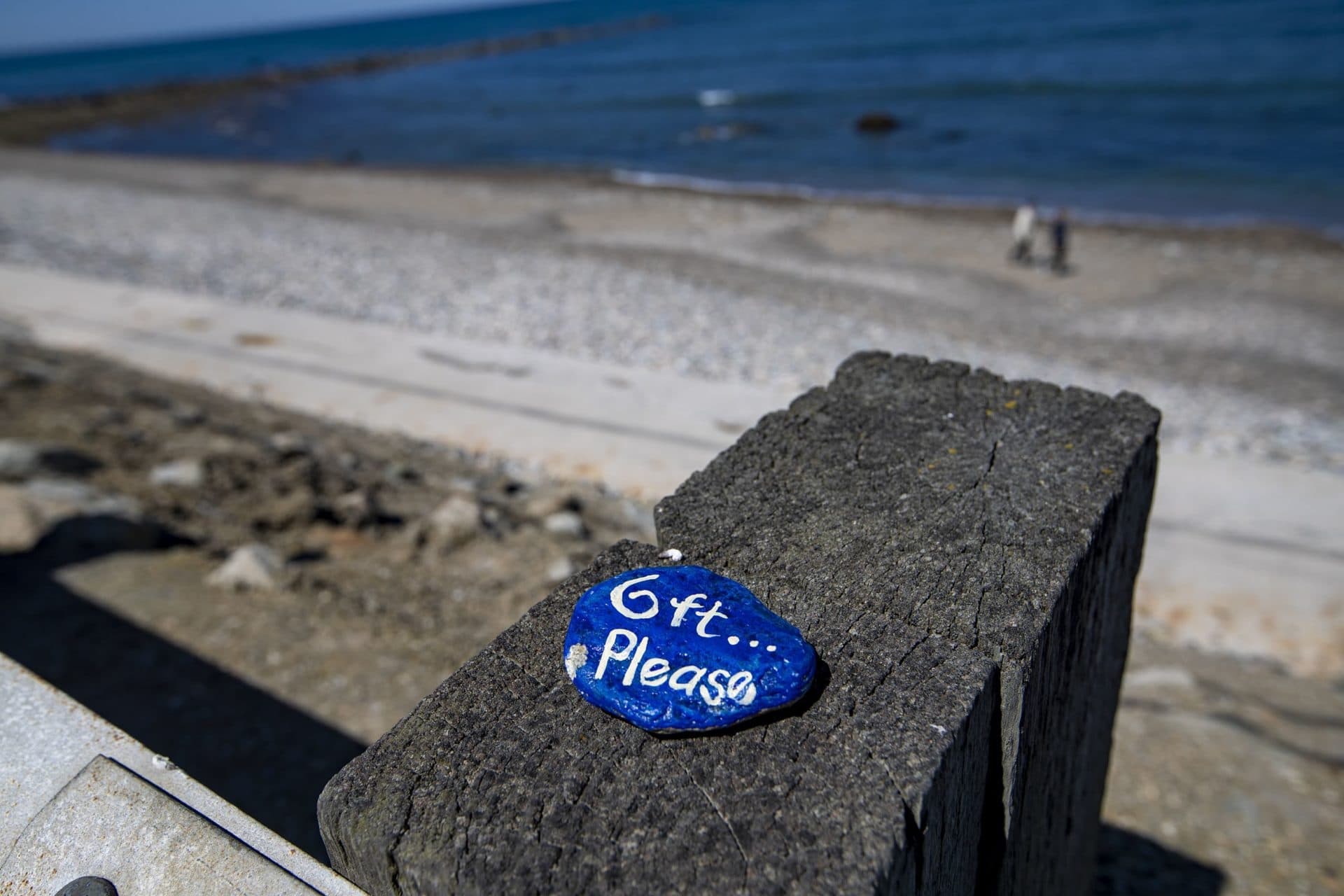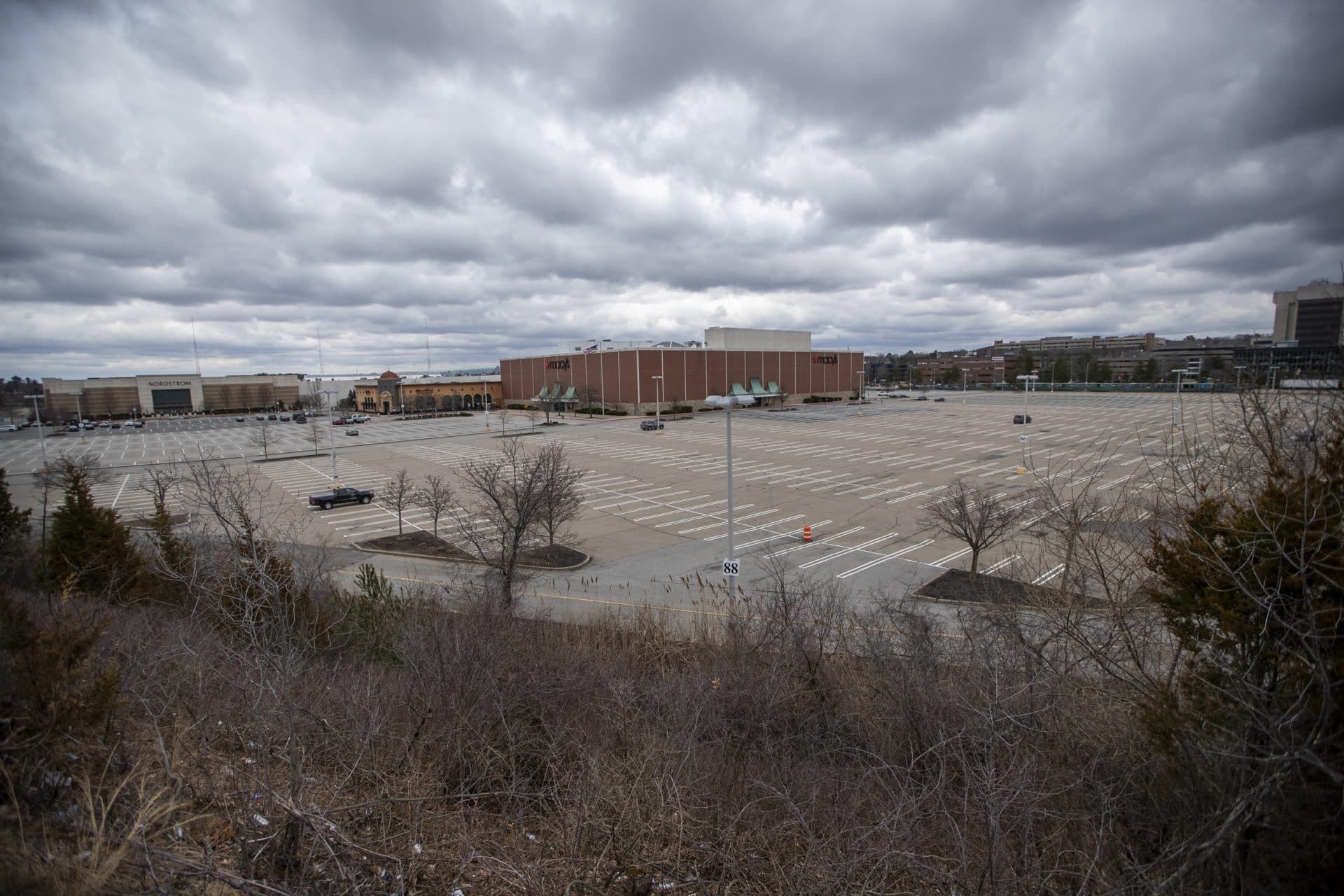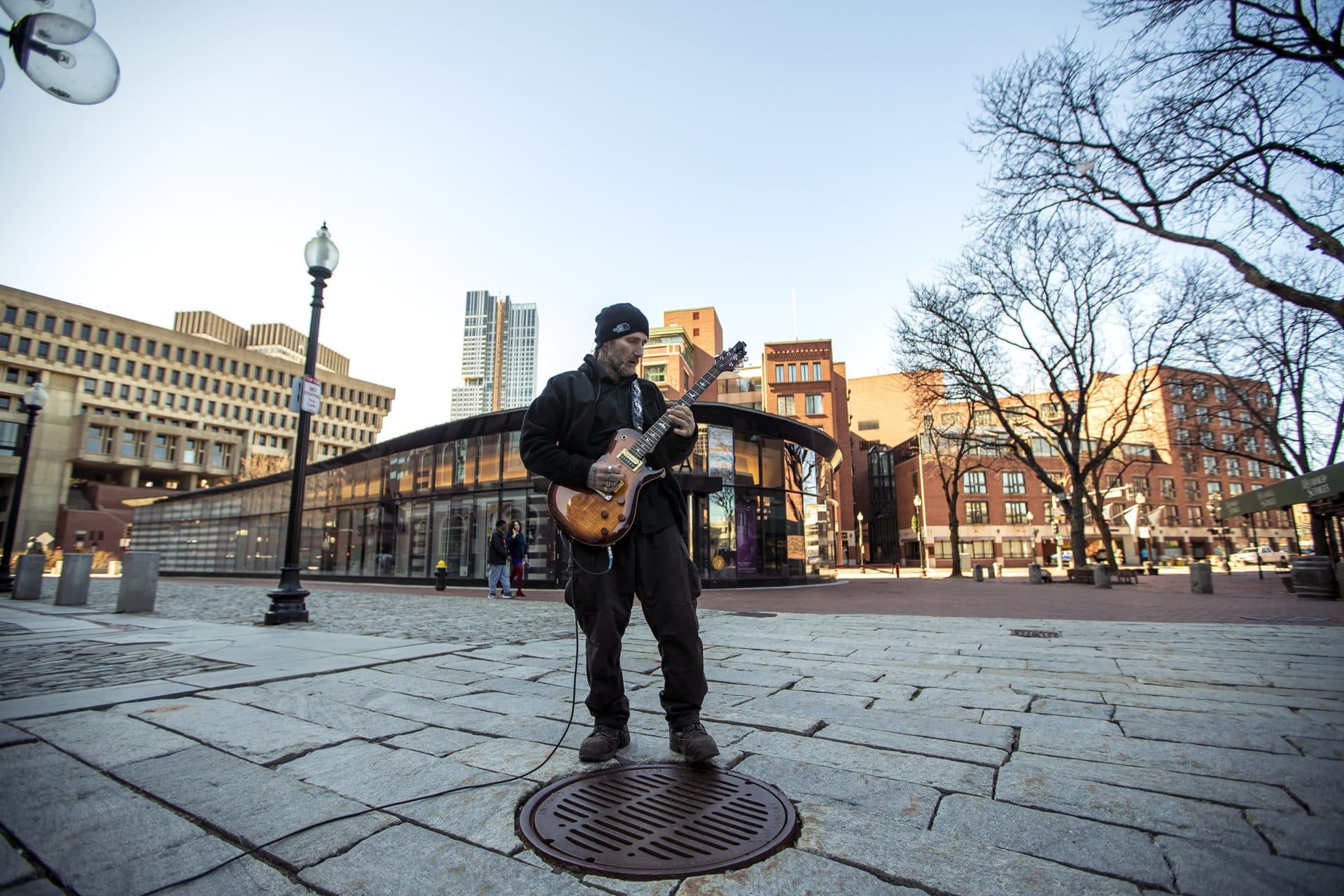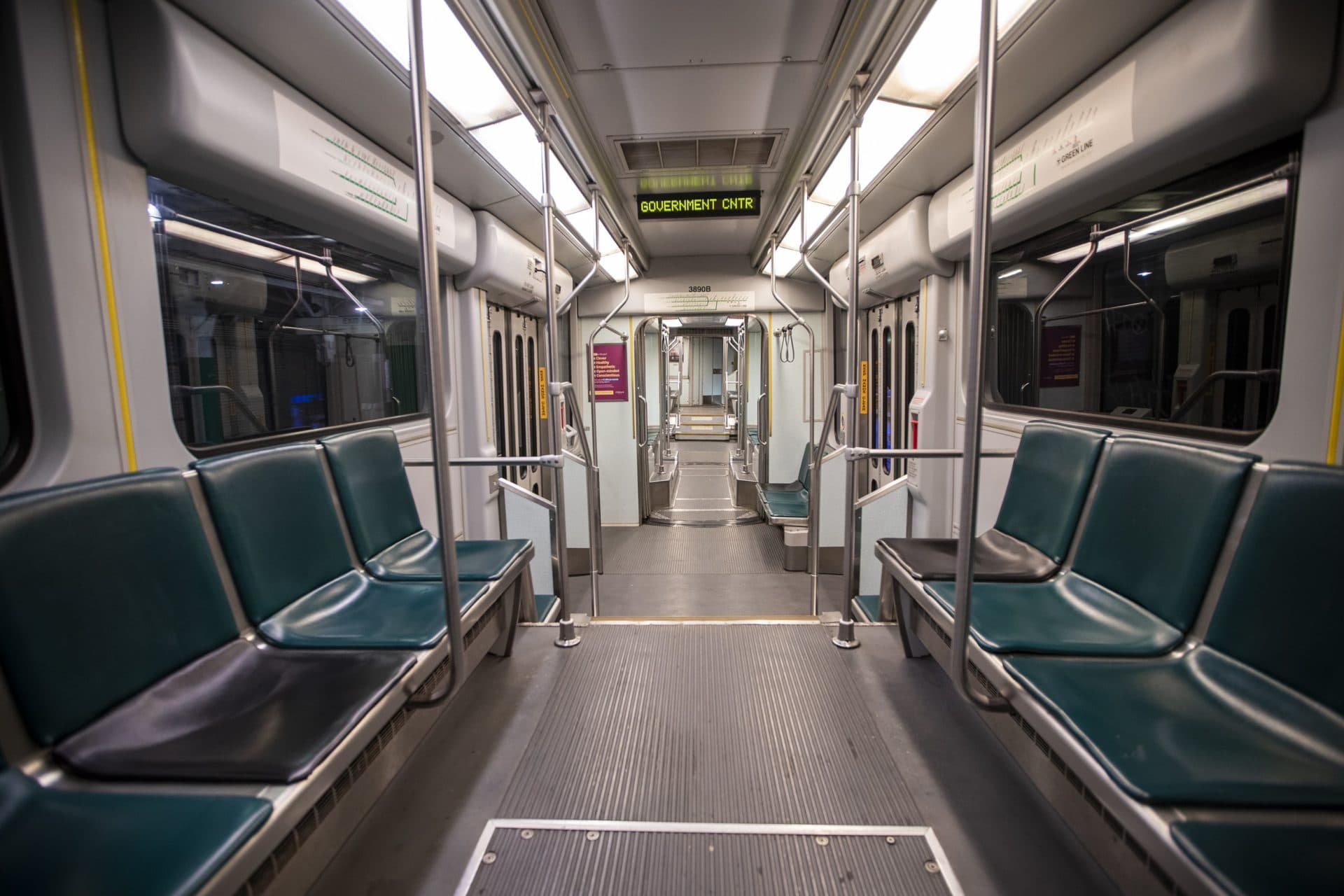 On March 15, Gov. Charlie Baker closed schools, banned eating inside bars and restaurants and halted any gatherings of more than 25 people. Then on March 23, Baker ordered all non-essential businesses and organizations to close for at least two weeks. That closure was later extended through at least May 4.
These measures to stop the virus' spread have also dealt a devastating blow to the state's economy. As of May 14, more than 1 million Massachusetts residents have filed new claims for unemployment benefits.
The governor said Massachusetts' approach to reopening the economy will be measured, cautious and data-driven. A four-phase plan was announced on May 11.
In the meantime, businesses are watching, waiting and weighing what steps to take to stay afloat.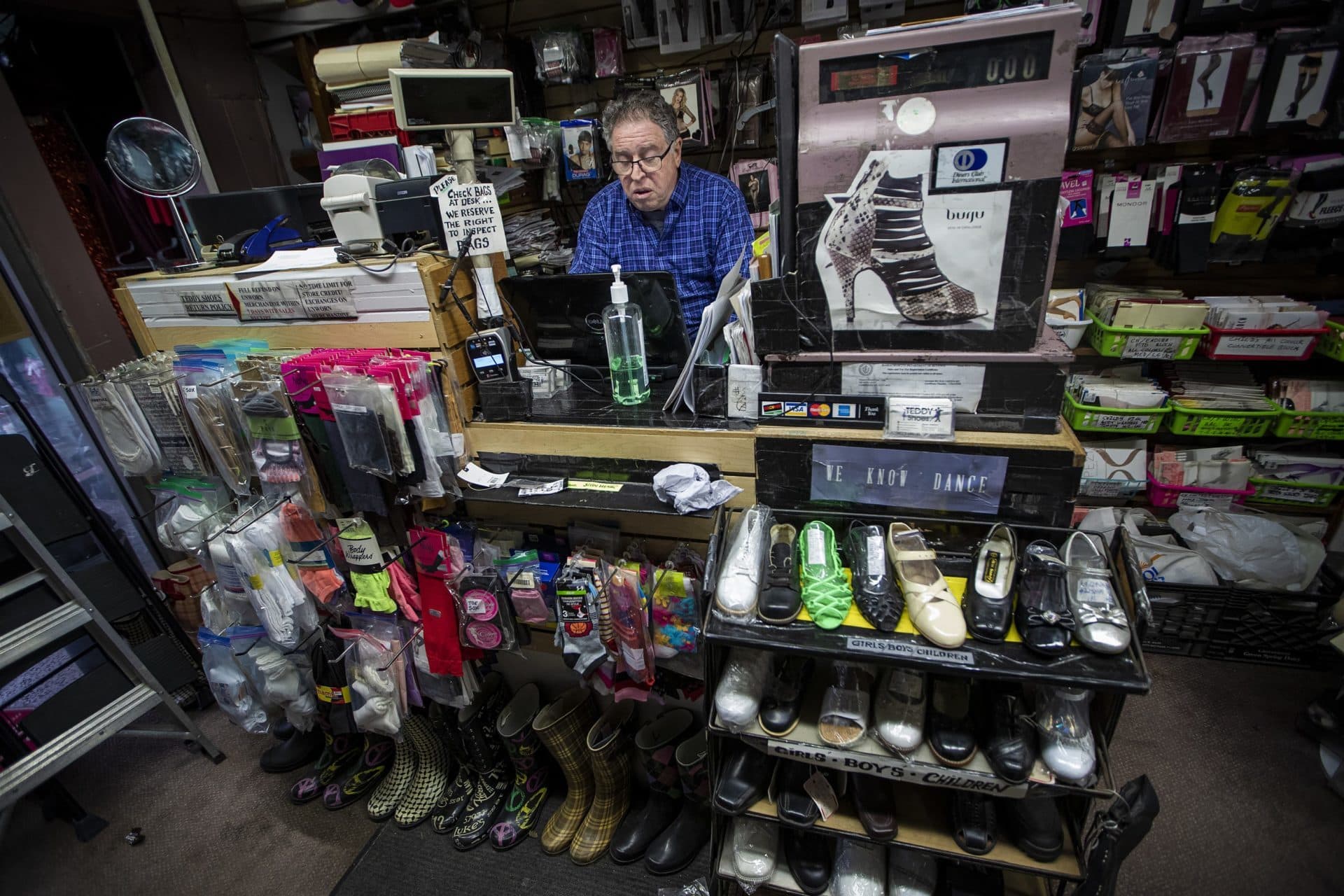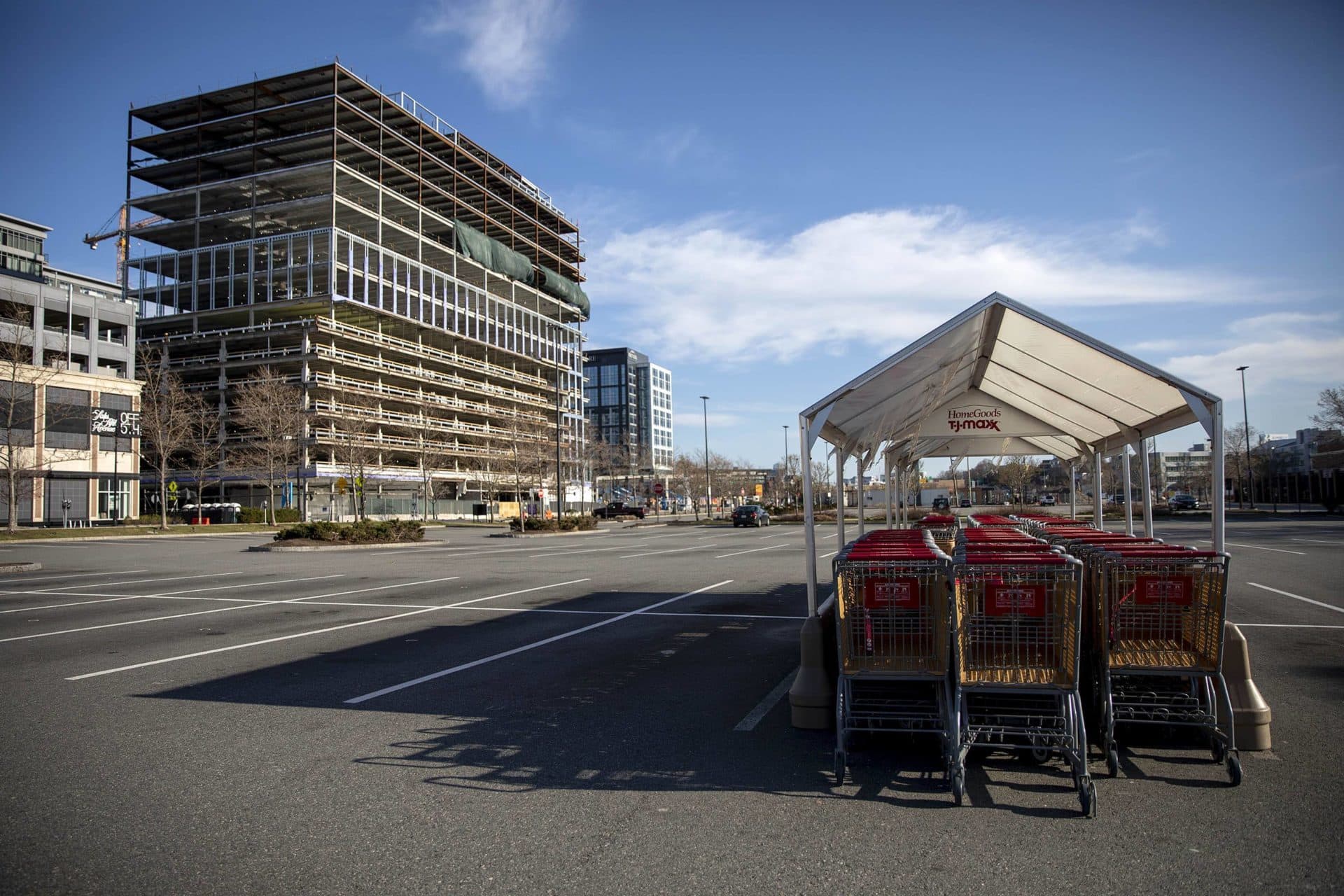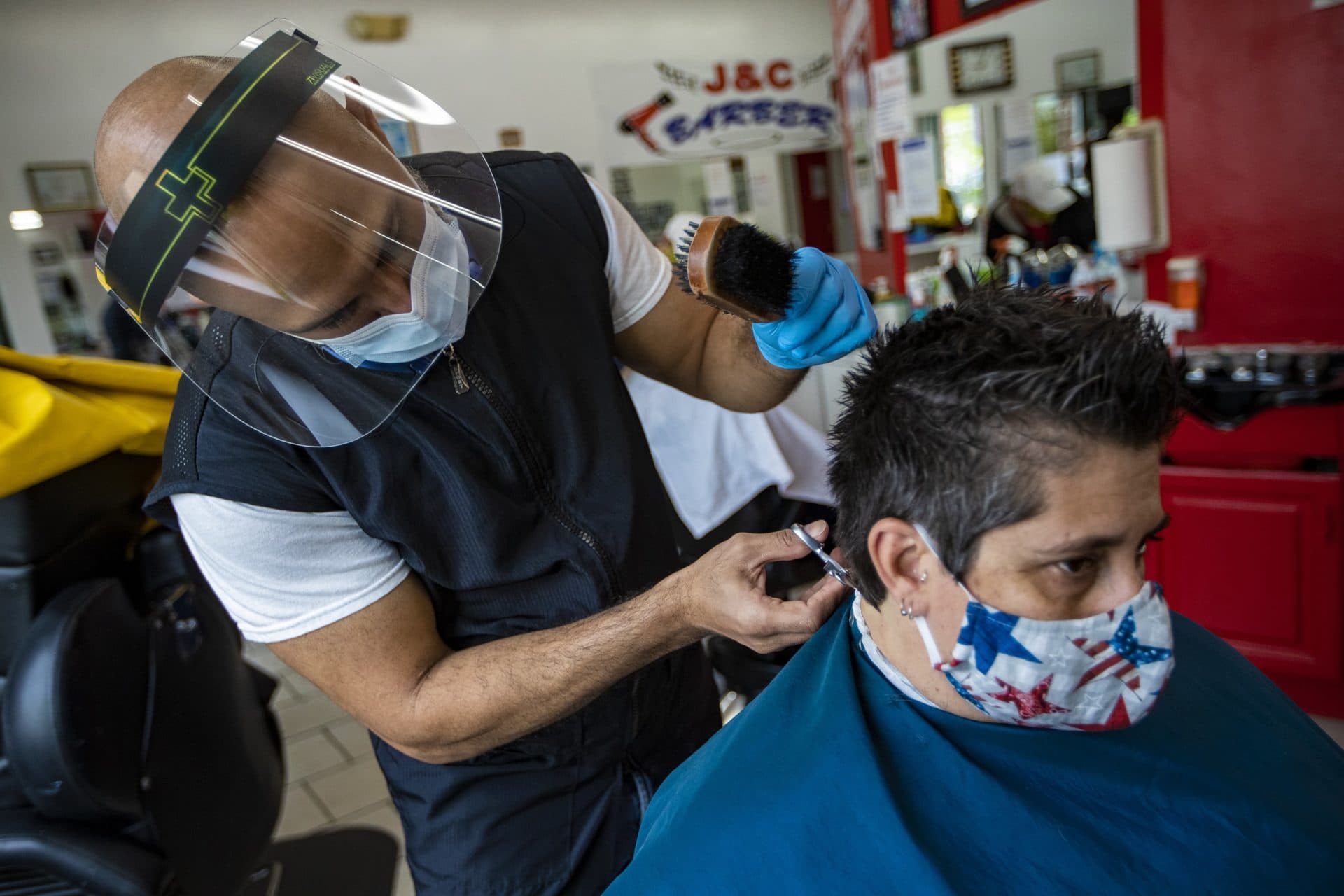 On March 27, Gov. Baker announced that anyone arriving to Massachusetts from out of state would be advised to self-quarantine for two weeks.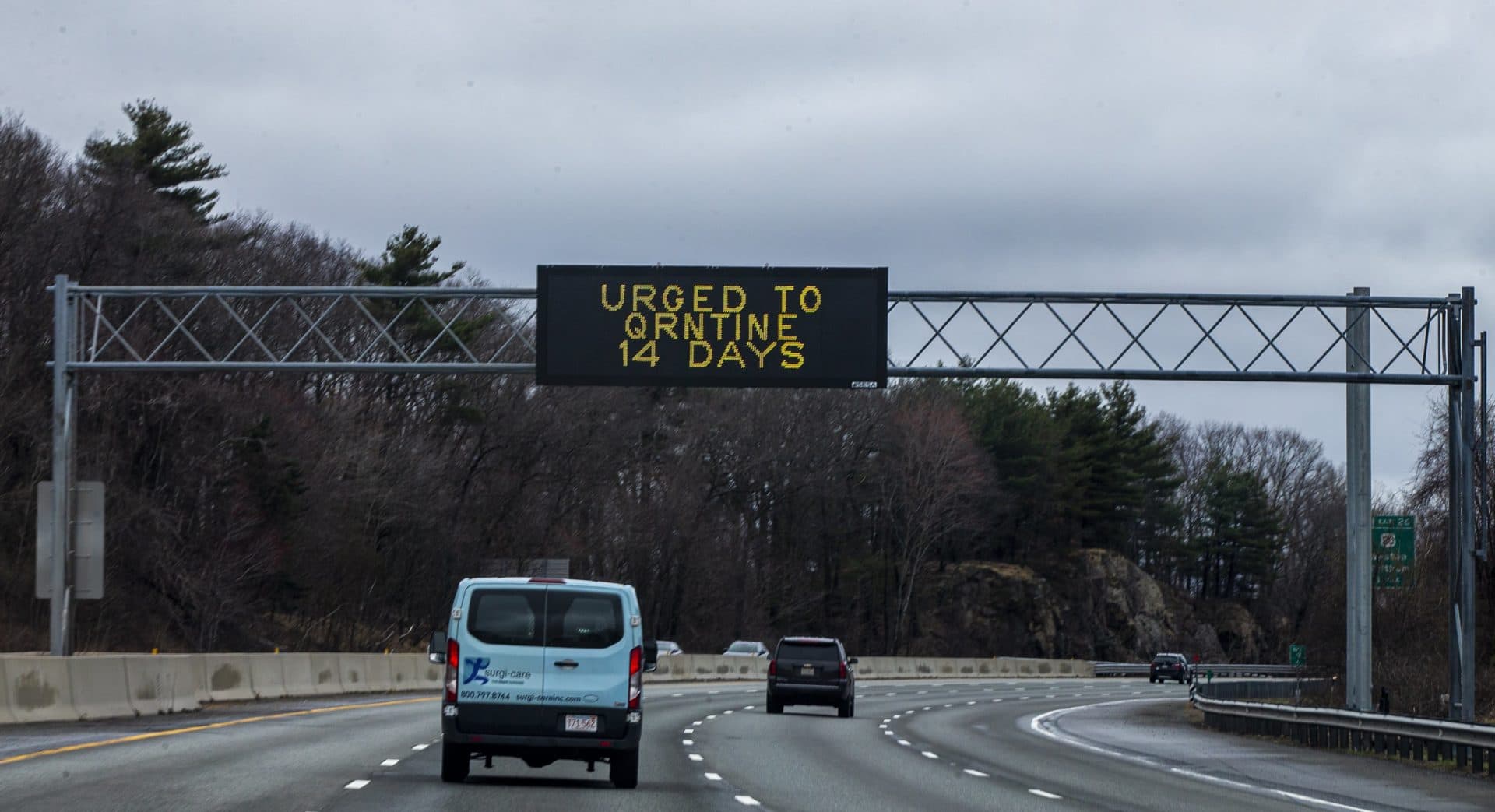 The pandemic has added a sense of risk to daily activities once done without a second thought — from a quick walk outside, to a trip to the grocery store, to a ride on the T. Masks and other face coverings have also become commonplace. (On May 6, a statewide mask order took effect.)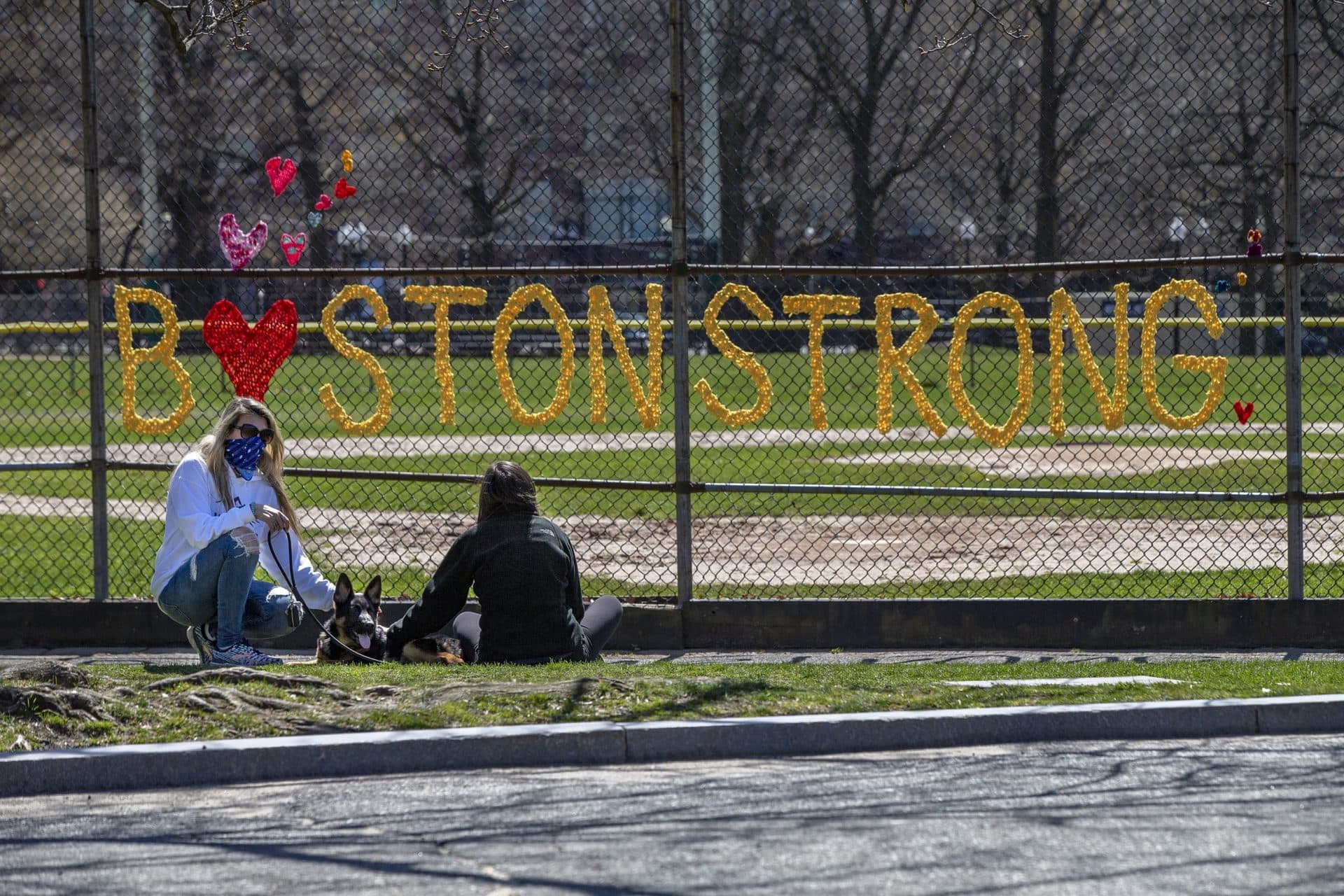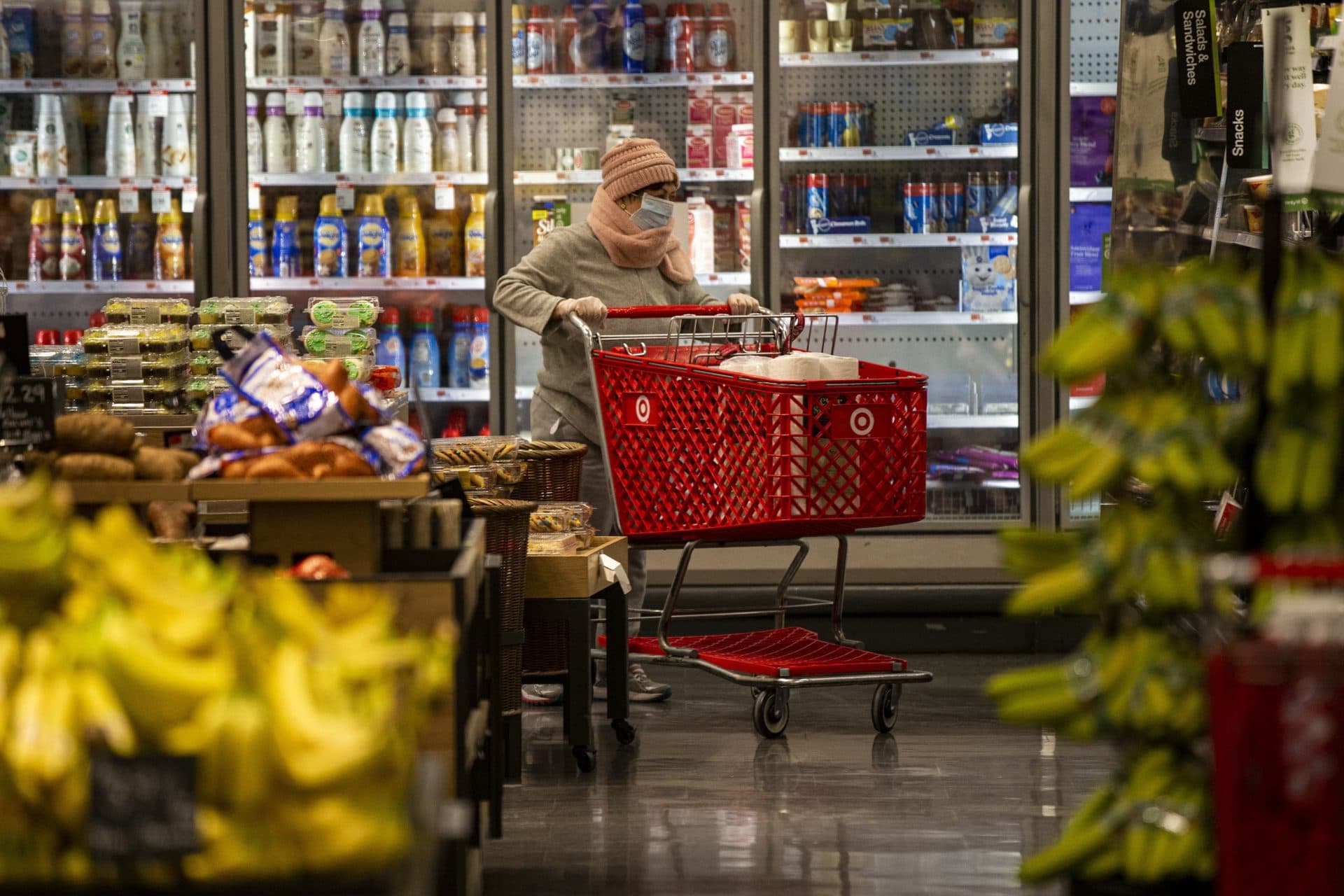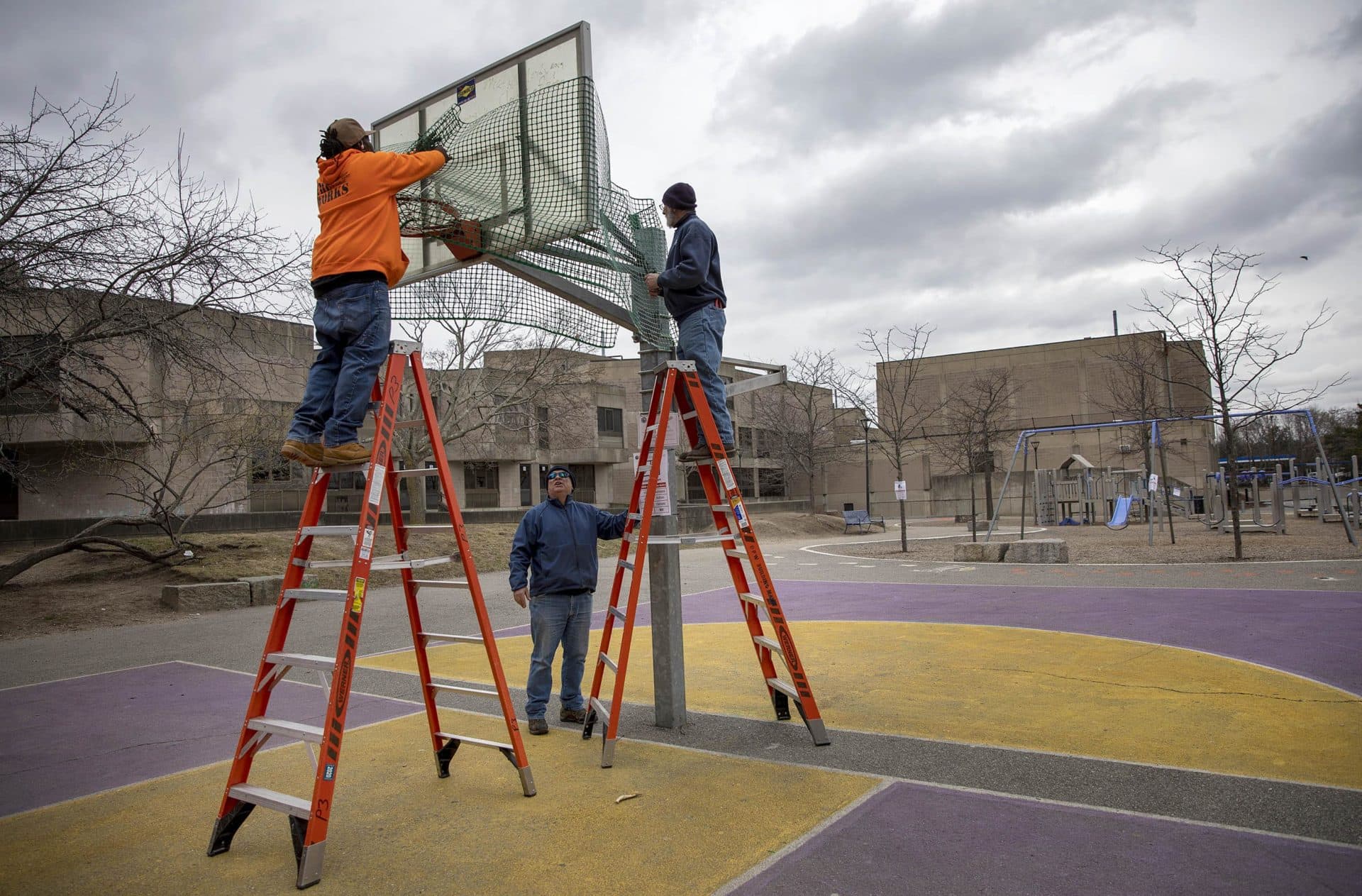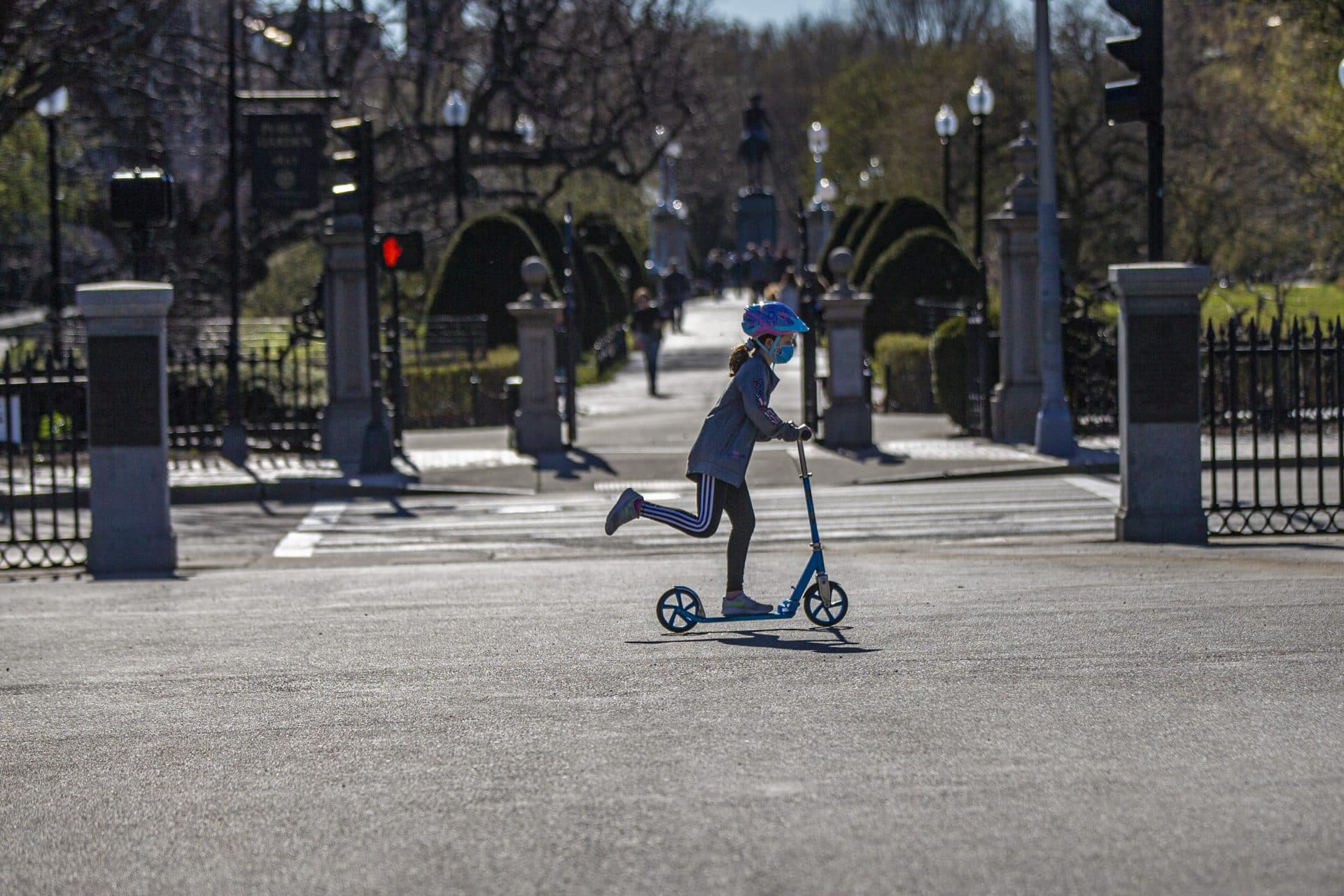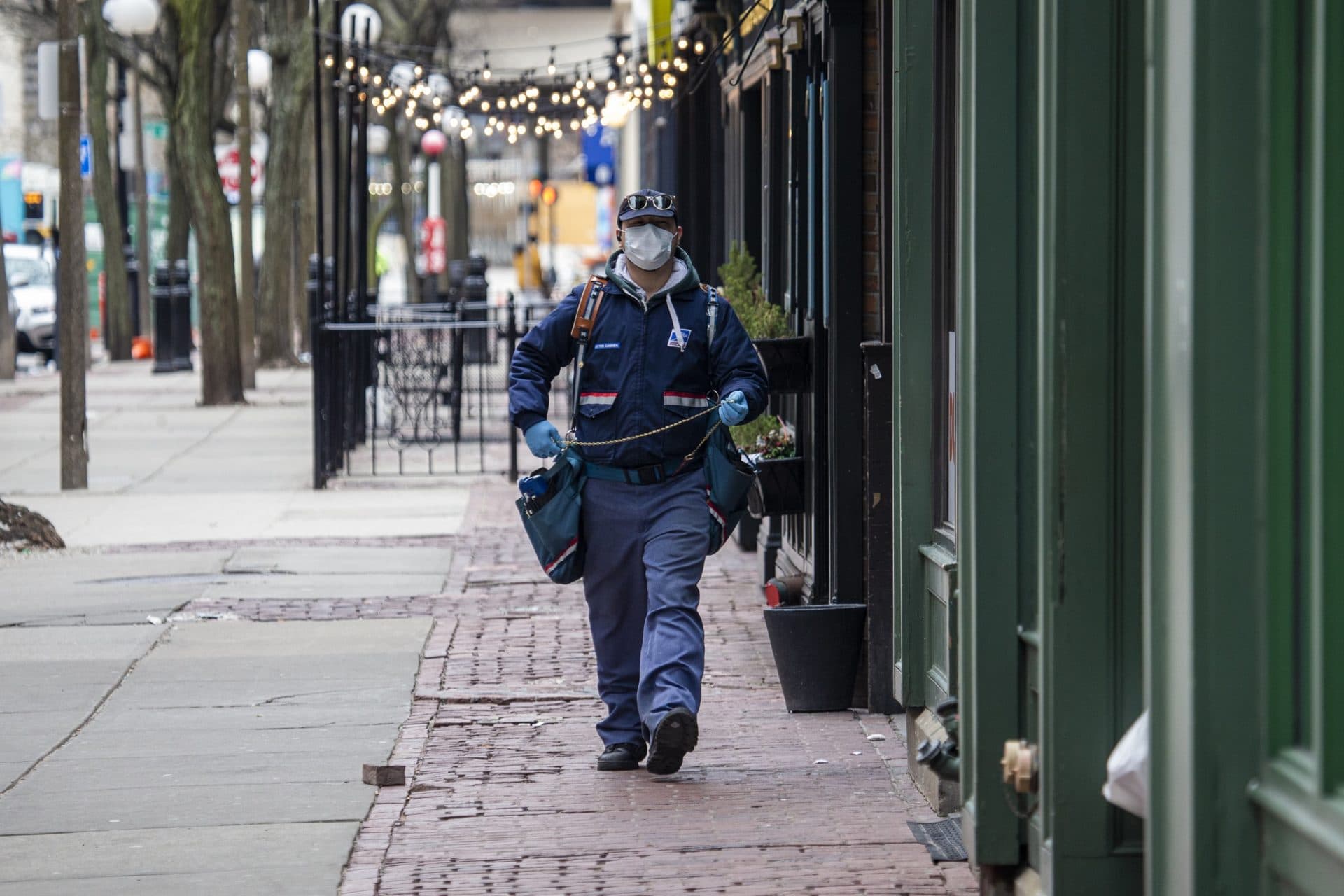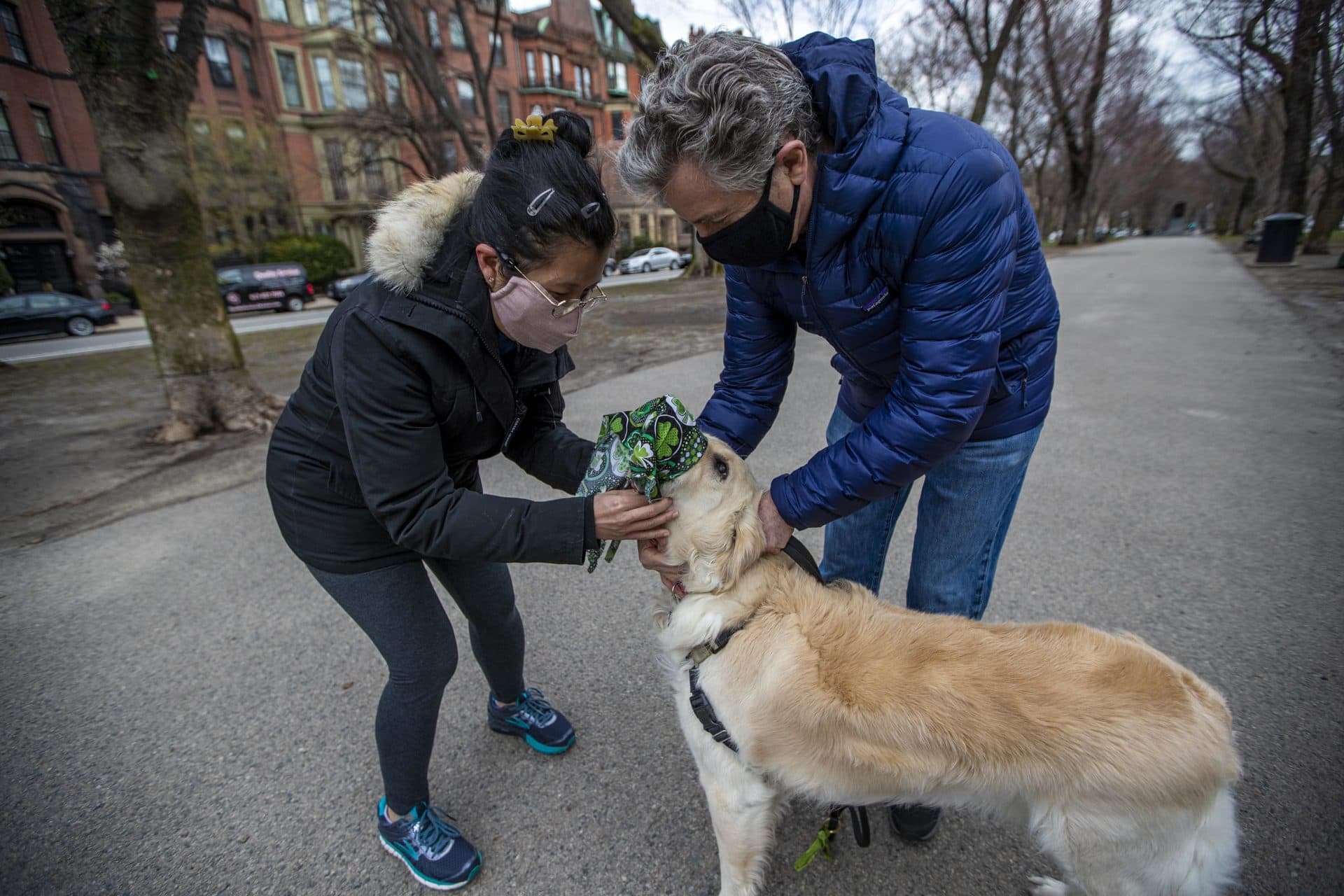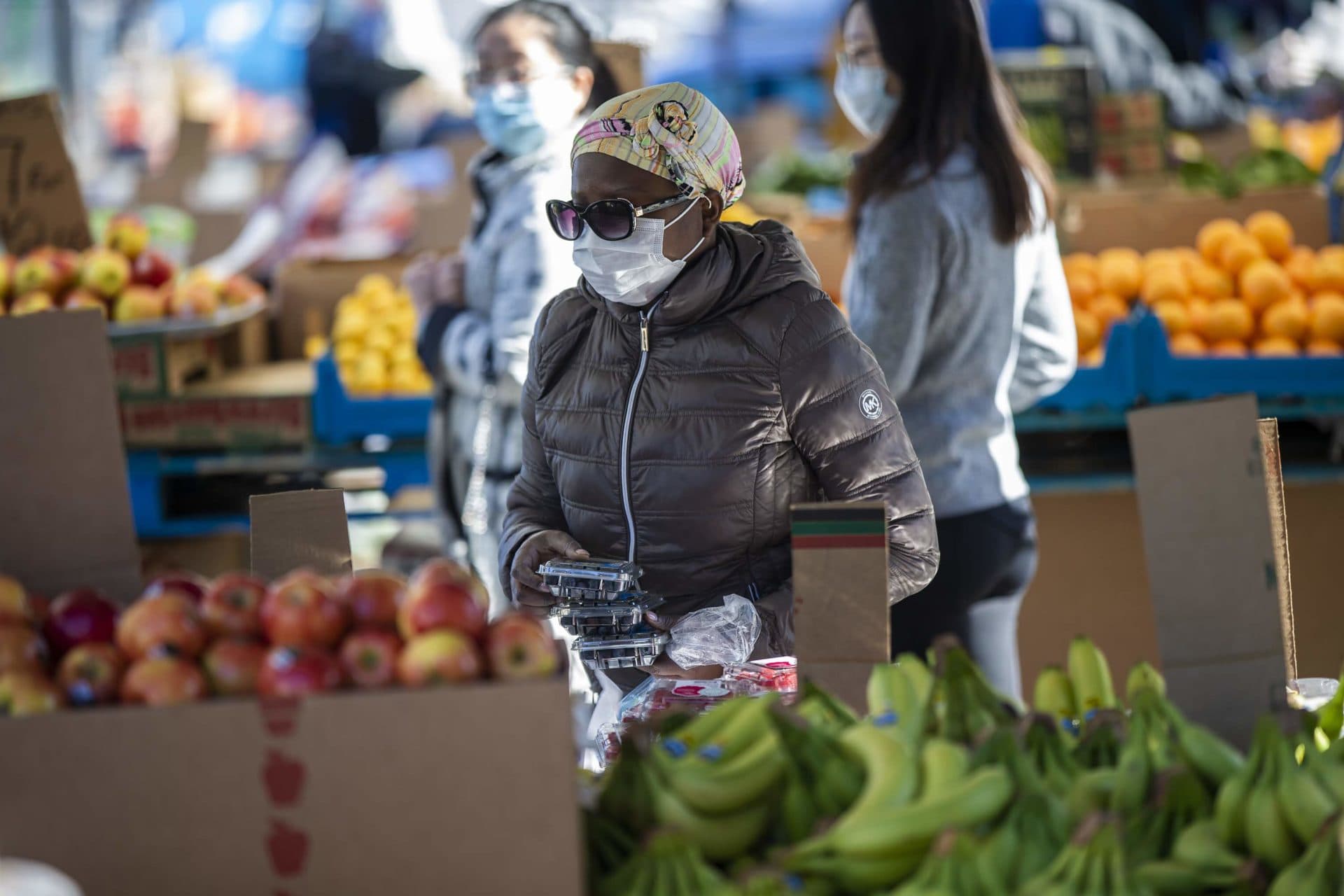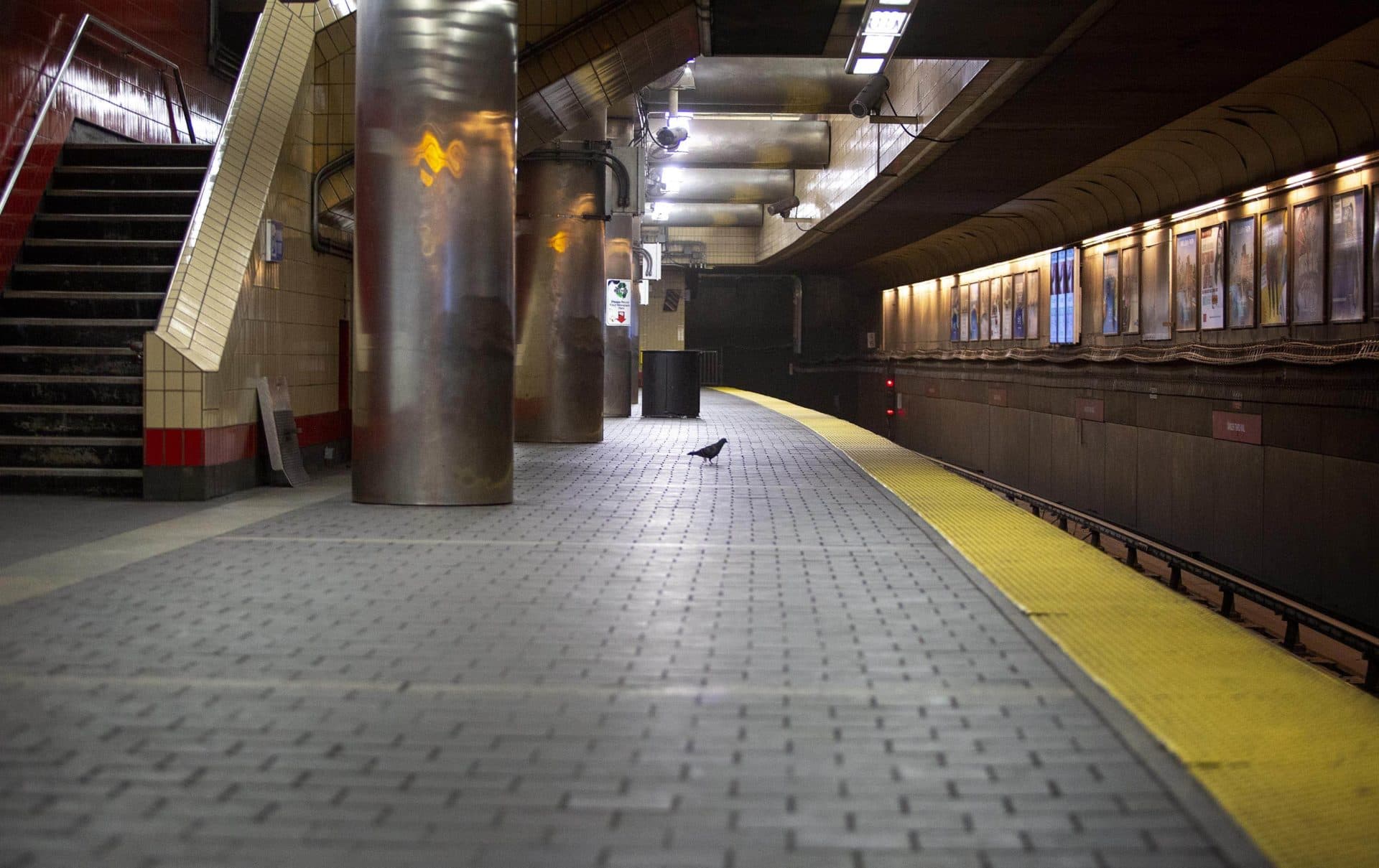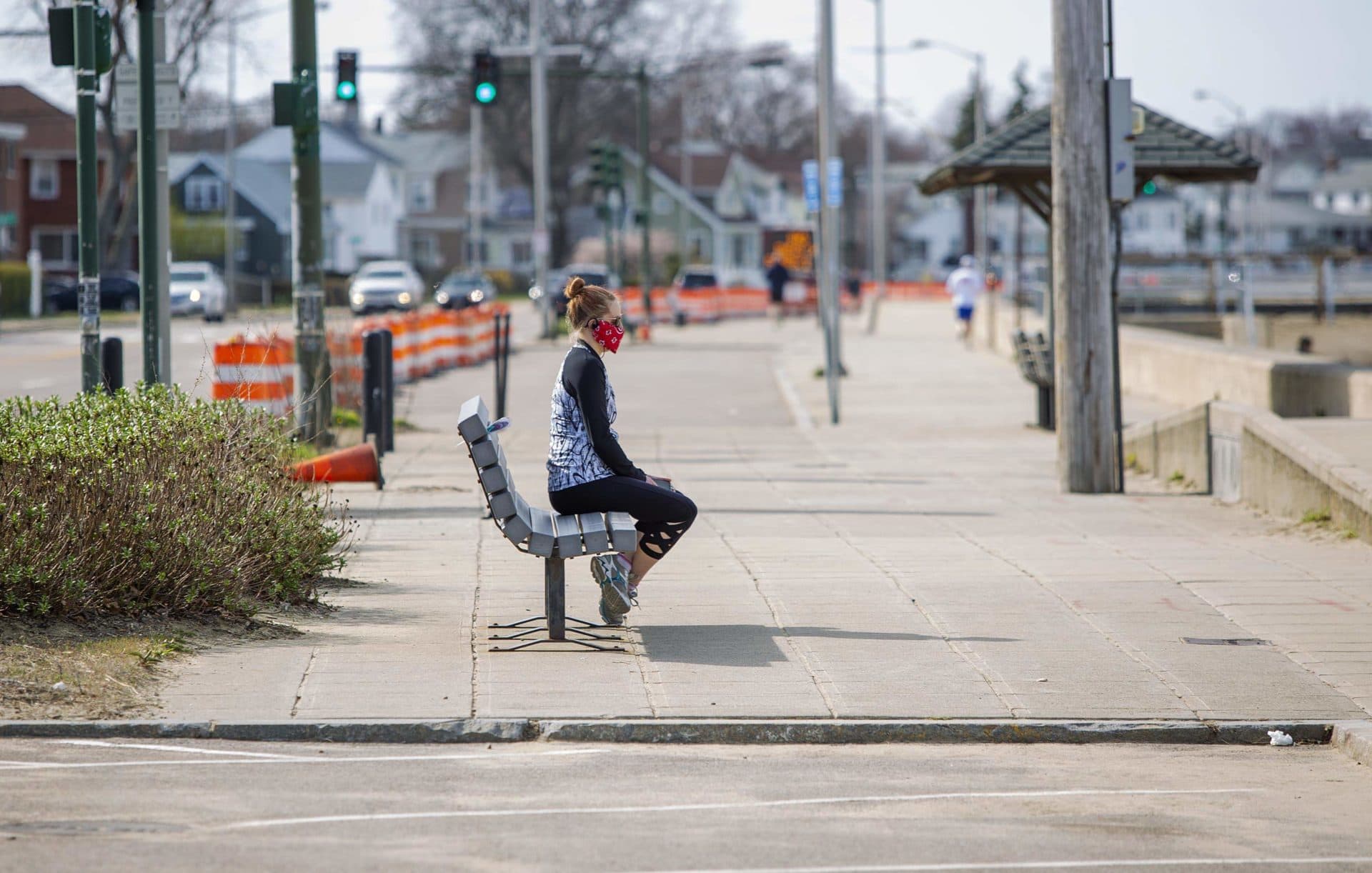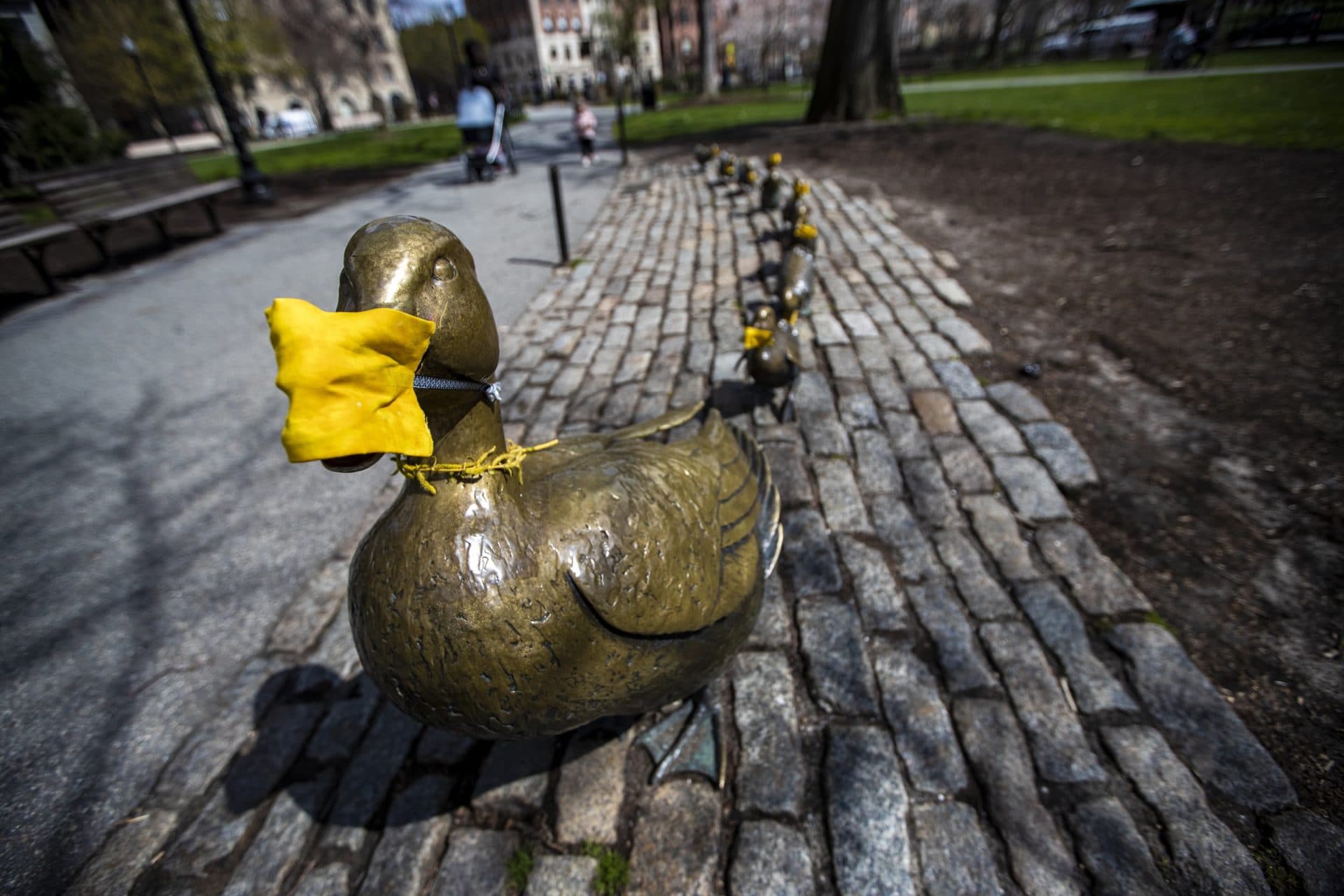 Spring rituals like the Boston Marathon, opening day at Fenway Park and the start of the Boston Public Garden swan boats season have all been put on hold.
"Running rewards consistency and resilience. So does life," 2018 Marathon winner Des Linden wrote for WBUR's Cognoscenti. "Keep your heads up. Lend a hand to the people around you. If we act like champions, we will all win."
After initially being postponed from April to September, the 2020 edition of the race has been cancelled — a first in its 124-year history.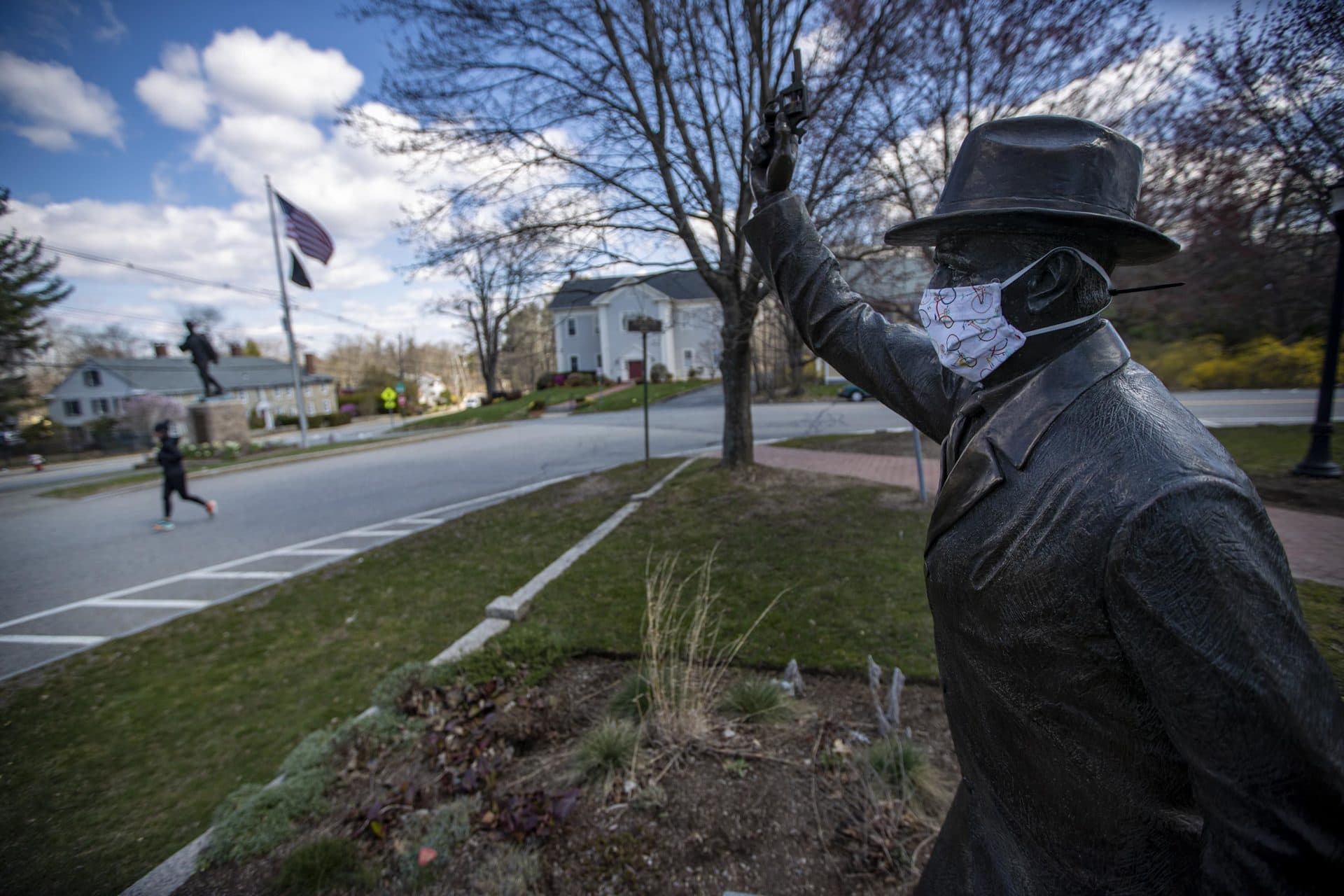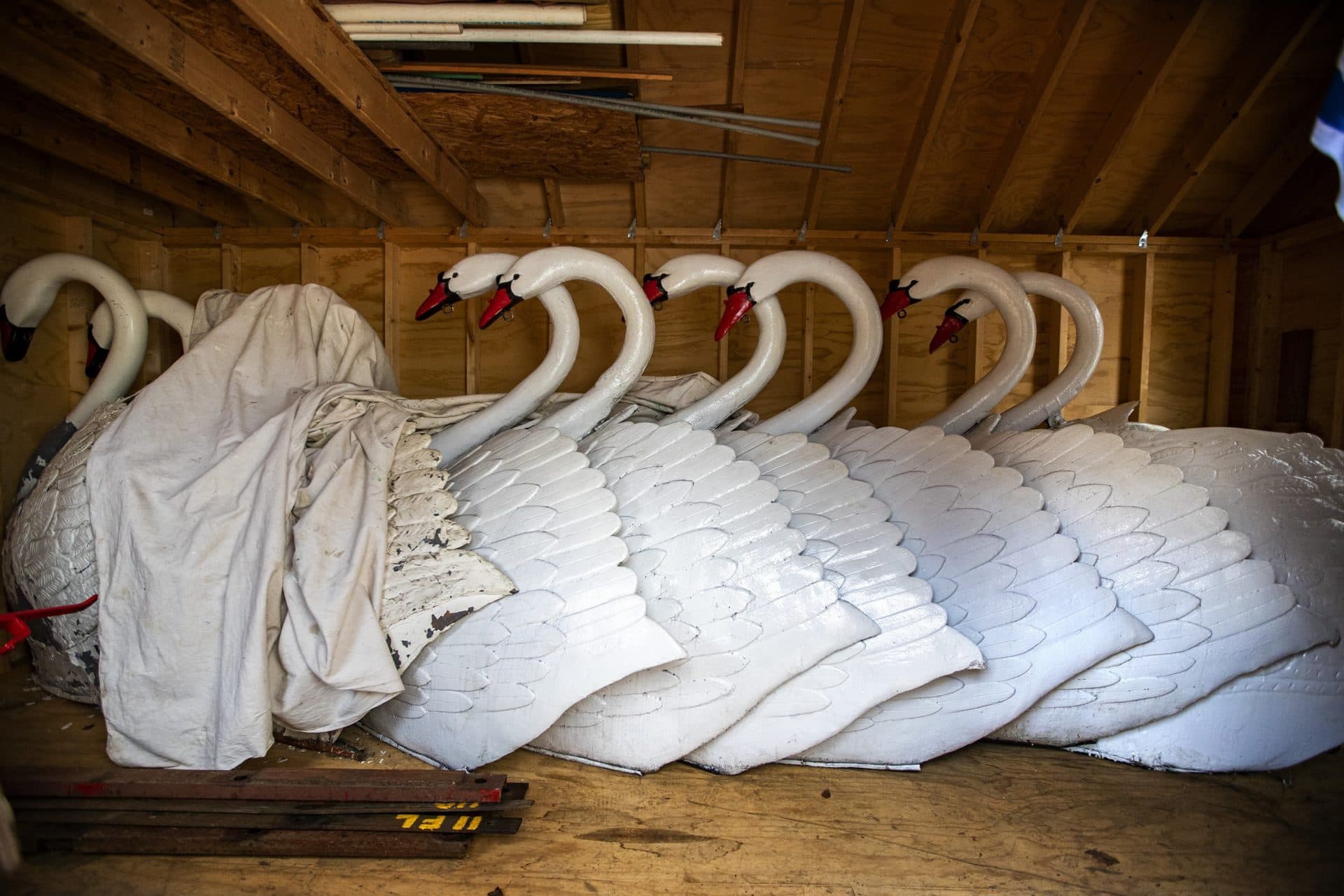 Medical Workers On The Frontlines
The coronavirus pandemic has strained Massachusetts' health care system like never before, and frontline medical workers are at the epicenter.
Thousands of hospital beds in the state are occupied by coronavirus patients, while field hospitals have been established in cities across the state to bolster capacity. Medical workers must carefully put on layers of protective gear — the acquisition of which has been an ongoing source of tension for state and hospital officials — to safely administer care.
"I do not want to be sick, and I don't want to make other people sick," said Jairo Suarez, a medical interpreter from Worcester, "including the patients I see."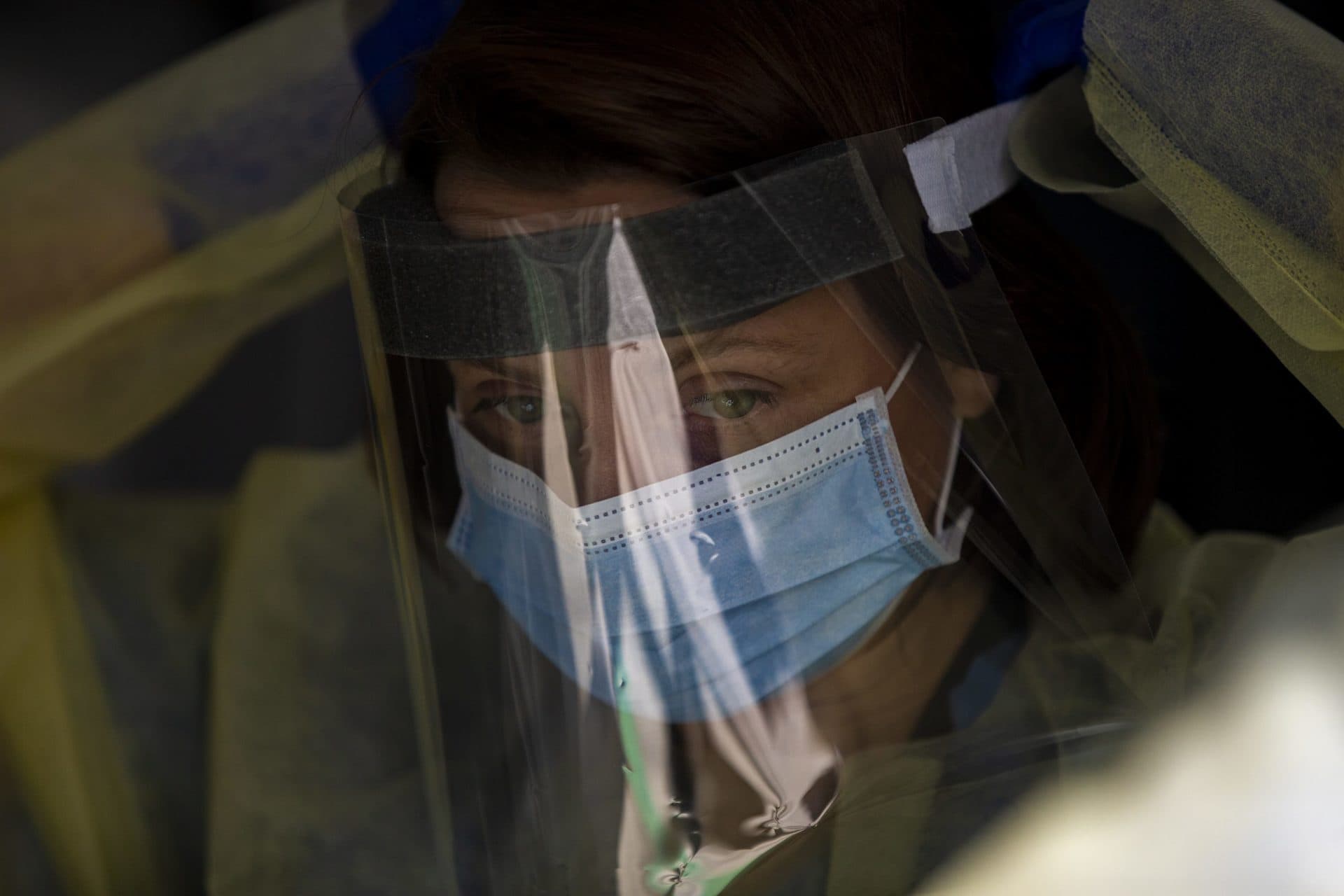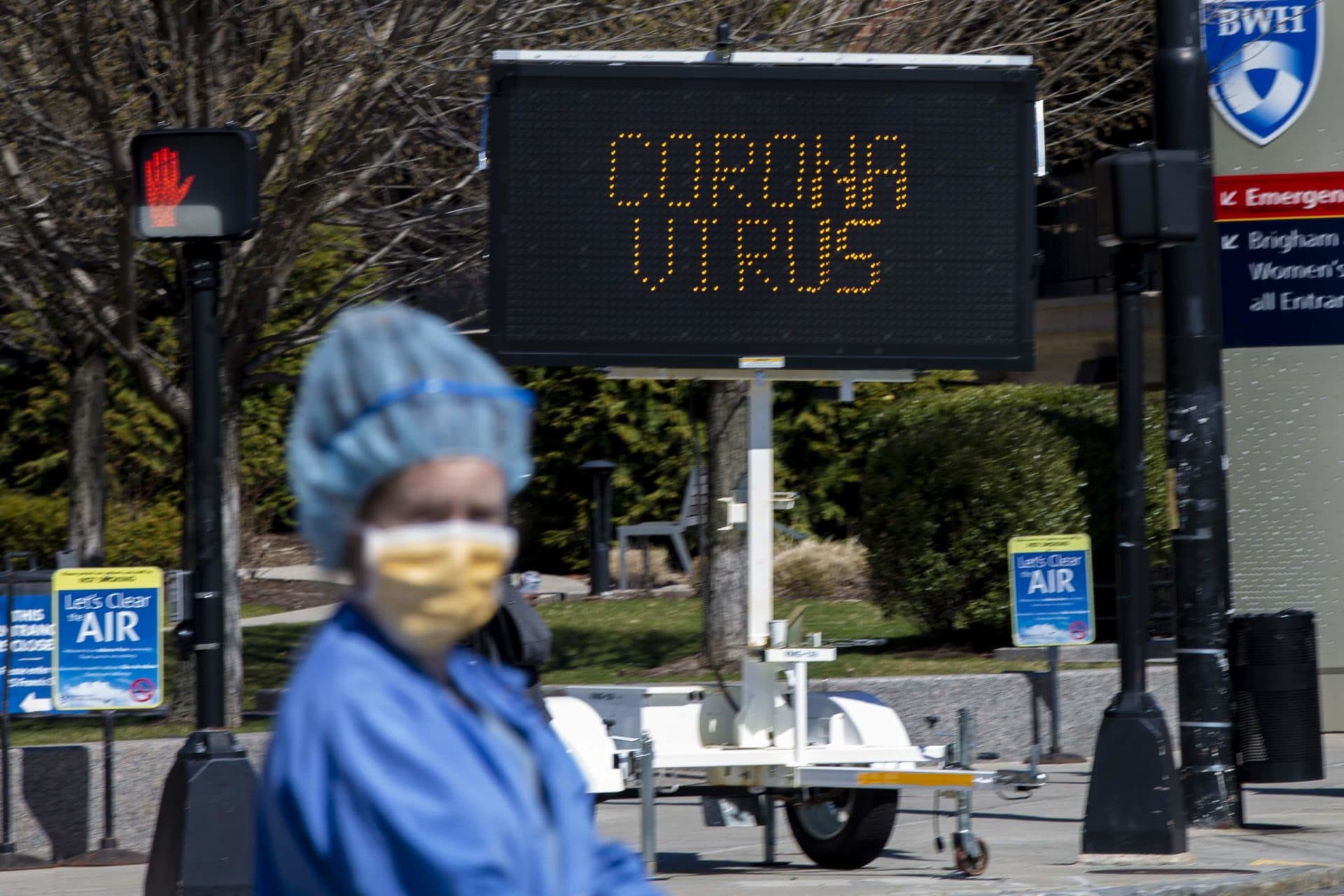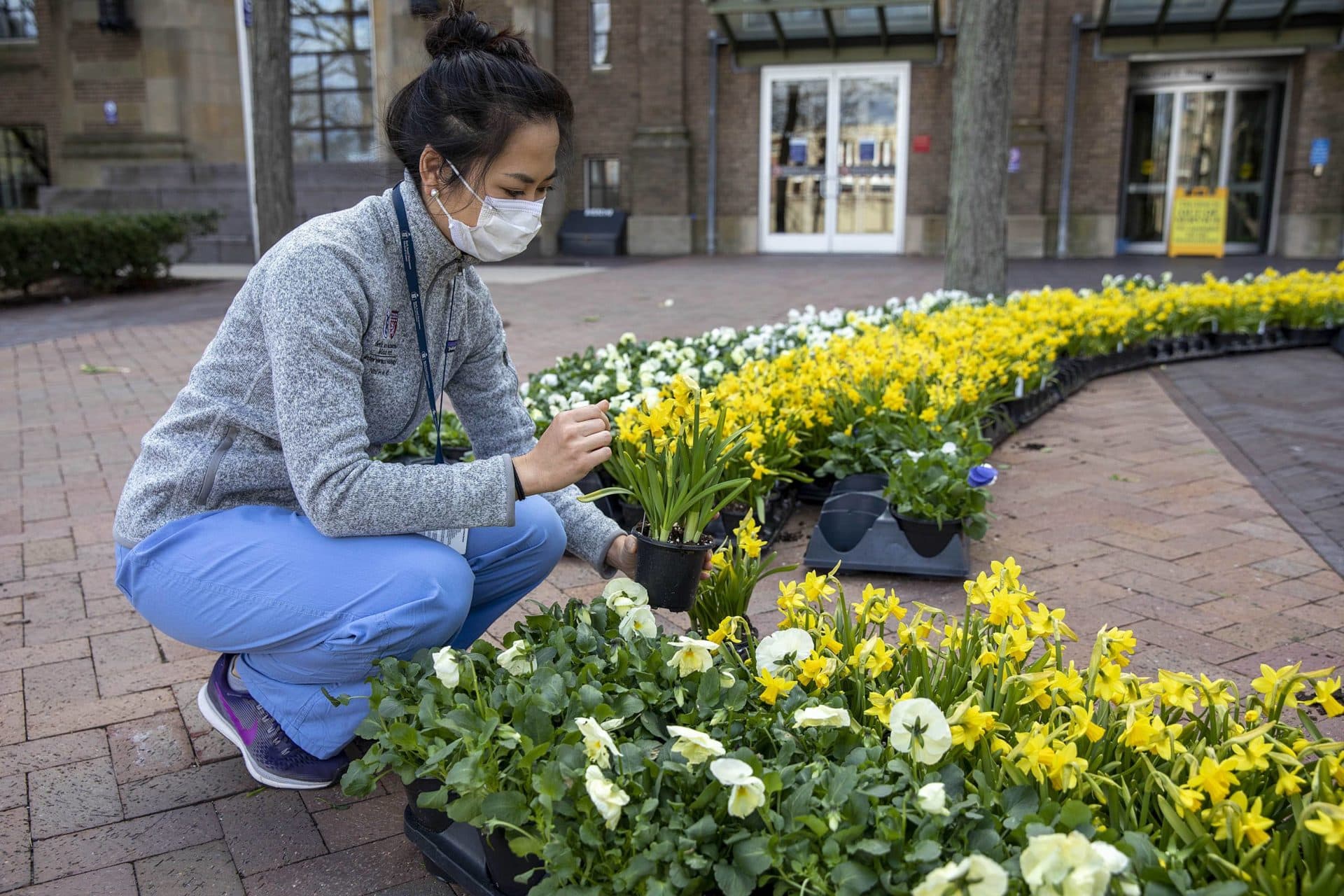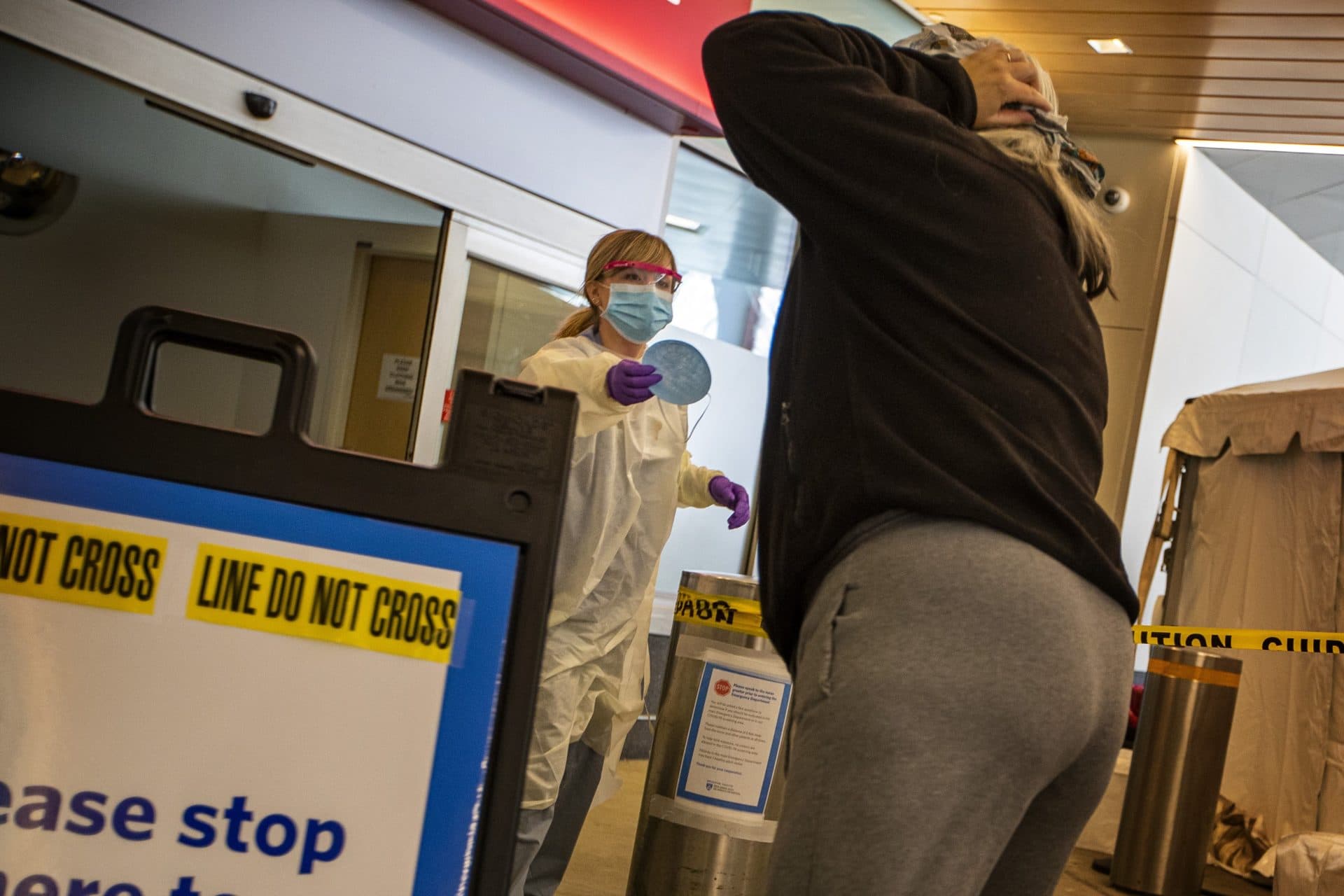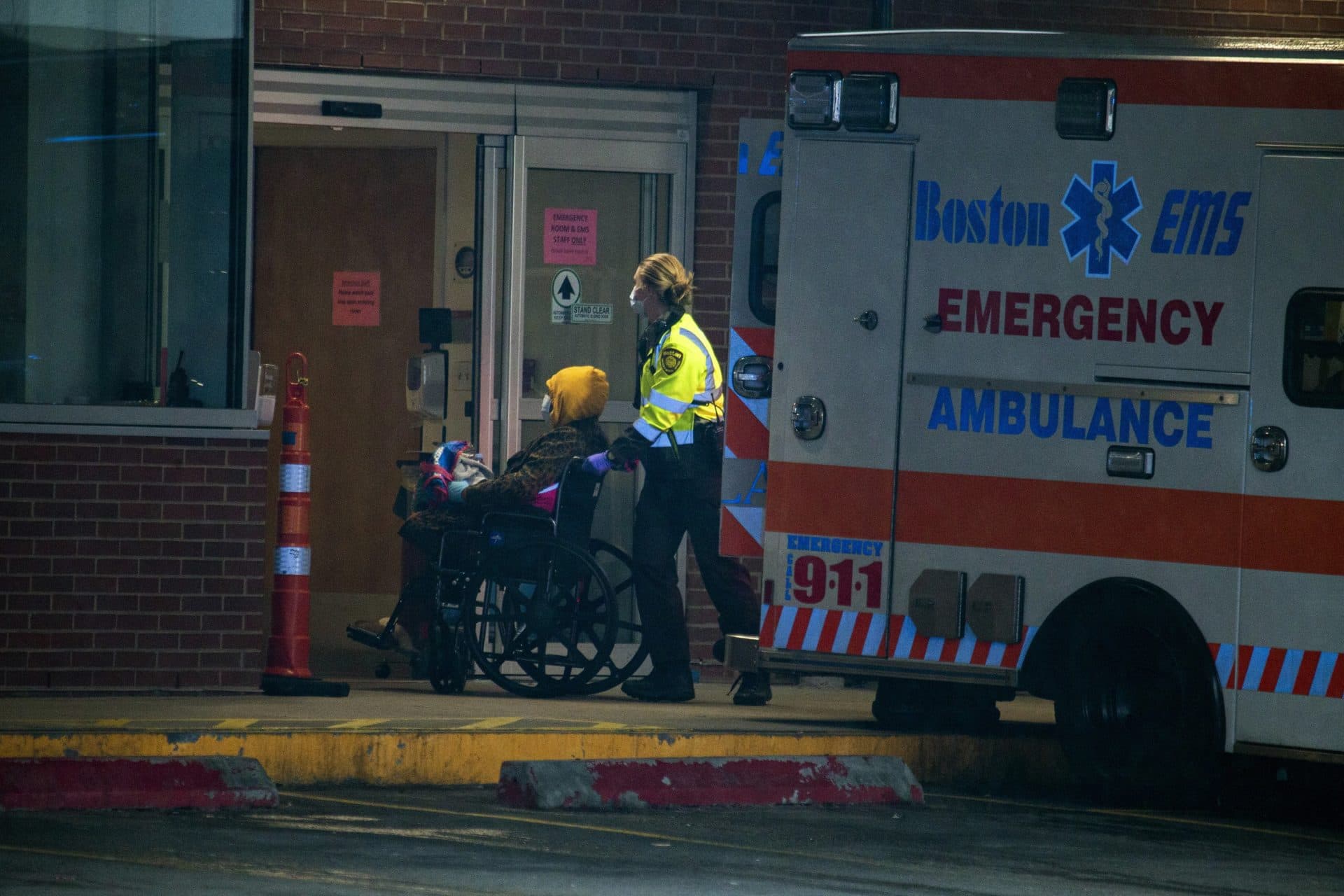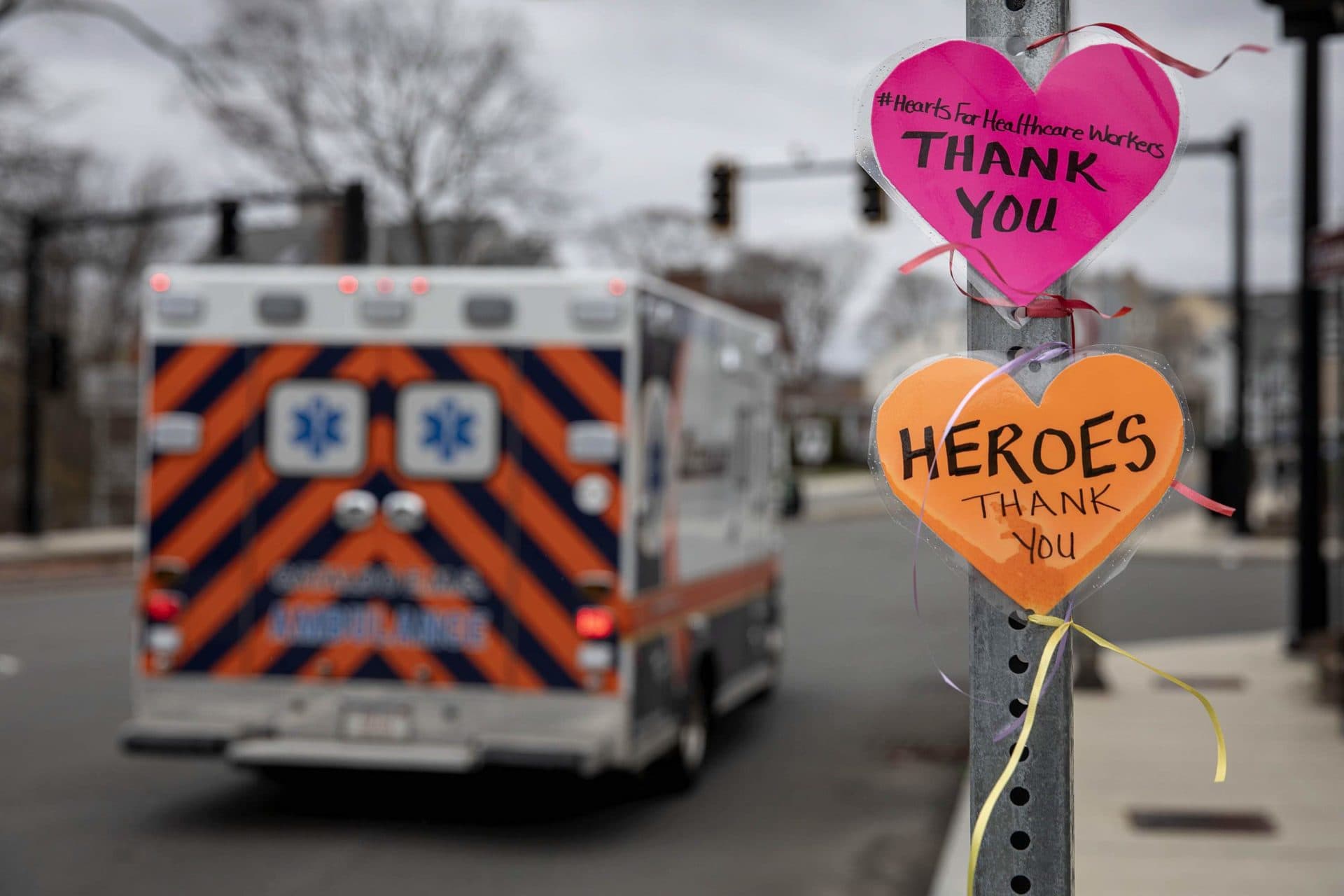 On April 15, Boston public safety officials — including police, fire and EMS — drove by Tufts Medical Center to cheer on the hospital's health care workers, some of whom stood outside to wave to the small parade. Others watched from the windows above.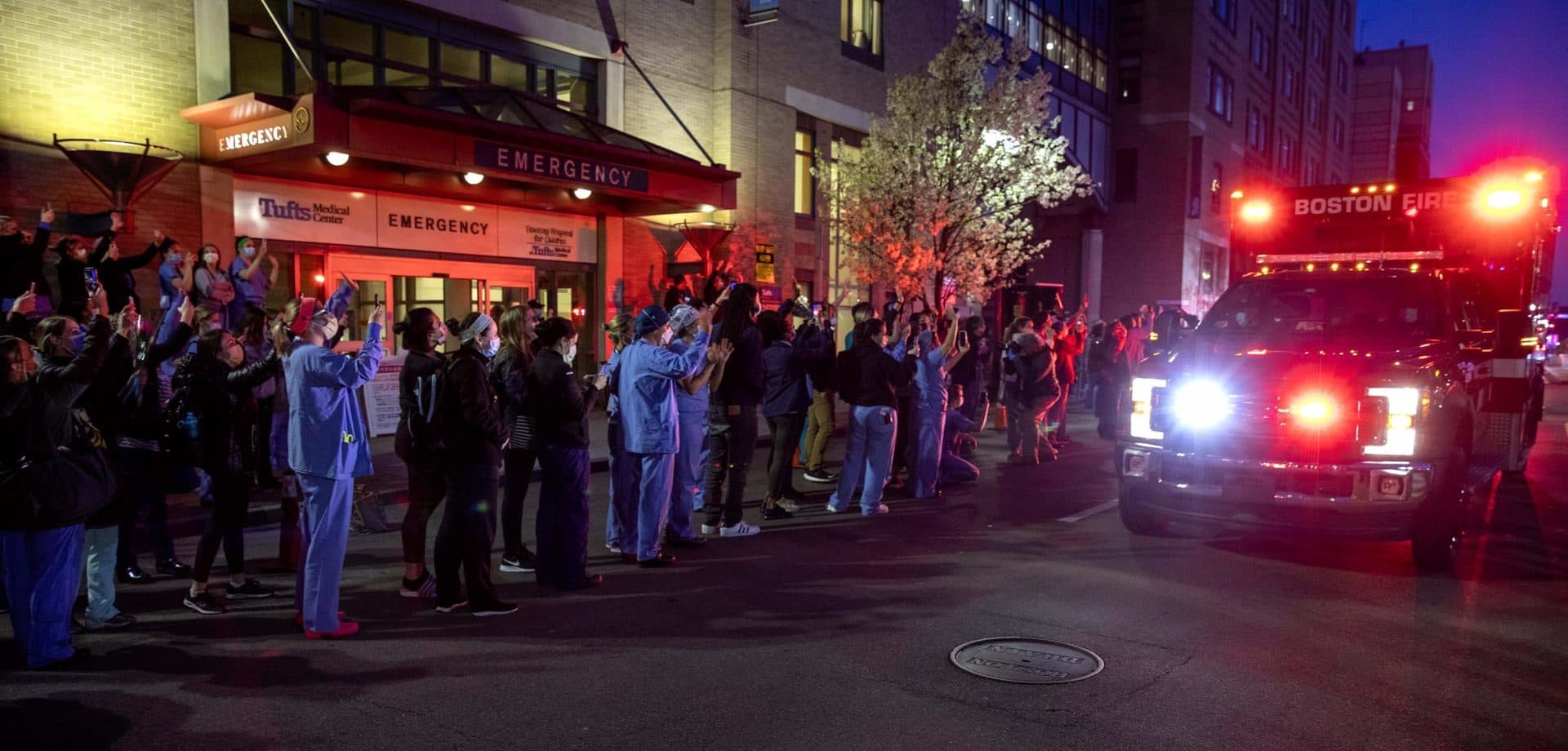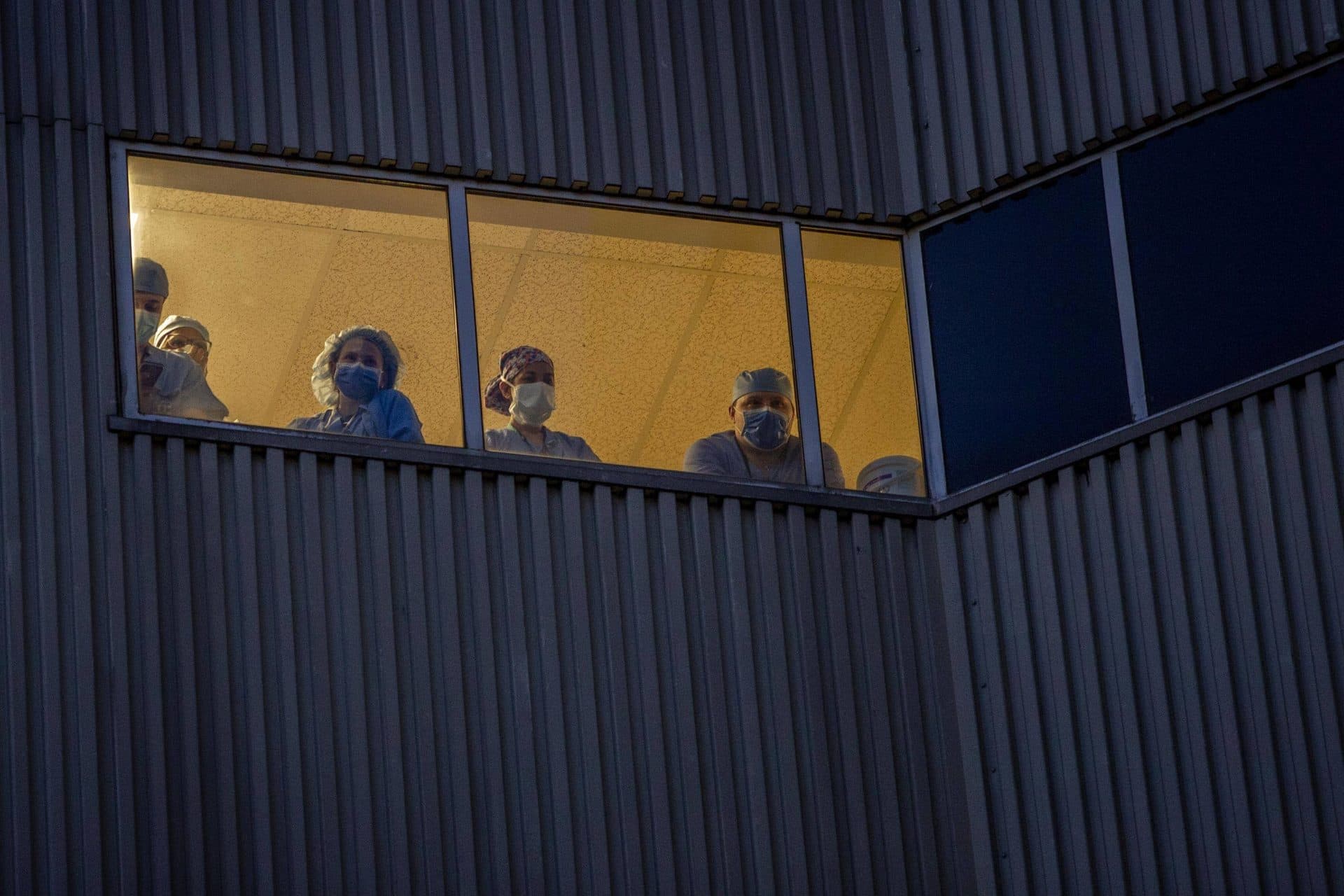 Hundreds of thousands of people in Massachusetts have been tested for the coronavirus. Health experts and state officials say widespread testing and tracking are key to containing the disease.
"More tests means more people know for sure whether they have COVID-19," Gov. Baker said during one of his near-daily press briefings in March. "And from there, those who test positive can work with their health care providers and others to take the steps that they and we need to limit the spread."
Drive-thru testing sites at hospitals and other locations have opened in Massachusetts in an effort to expand access. The Baker administration has also launched an initiative, called contact tracing, to track down people who have tested positive, determine their recent close contacts and get both groups to isolate until they are no longer contagious.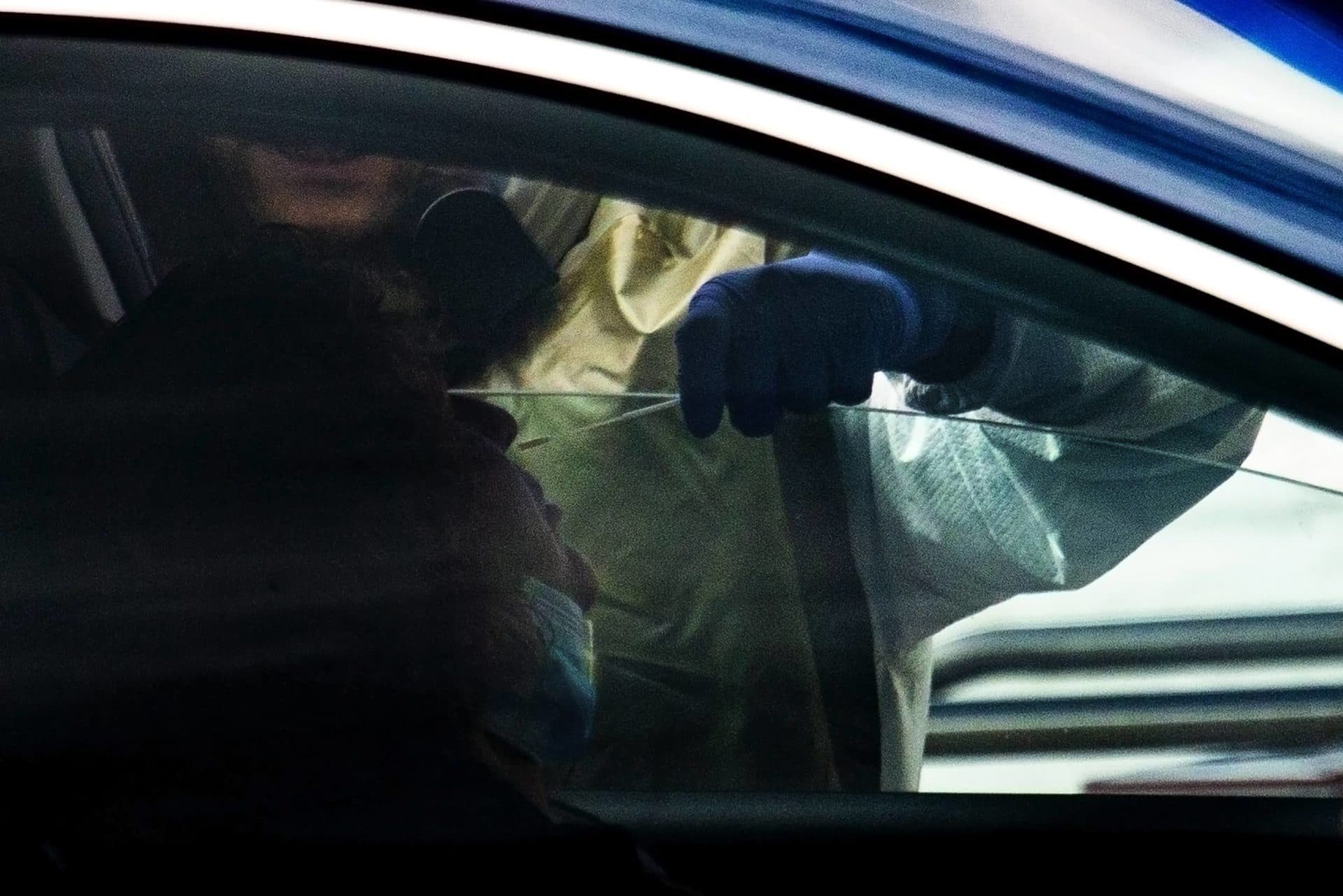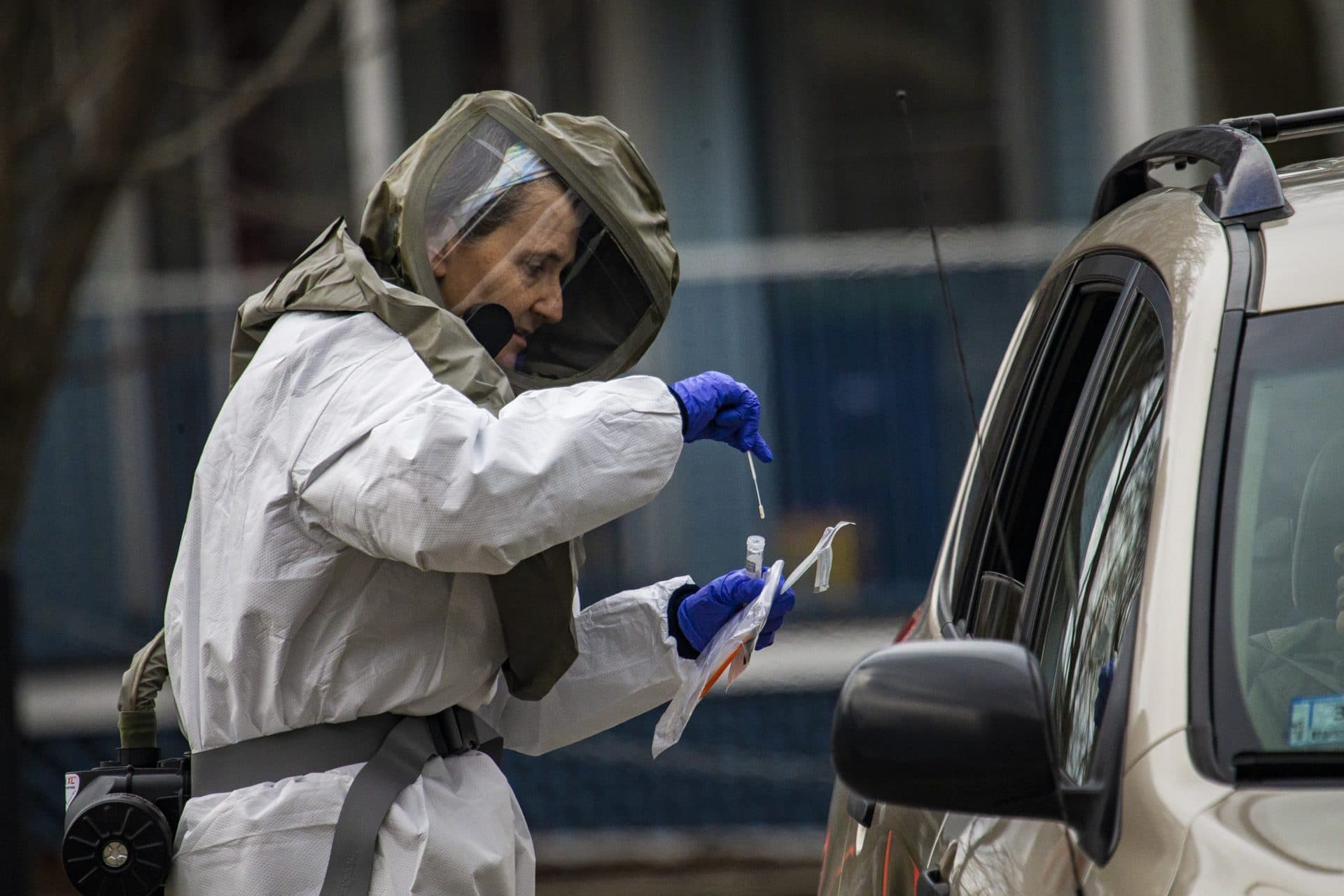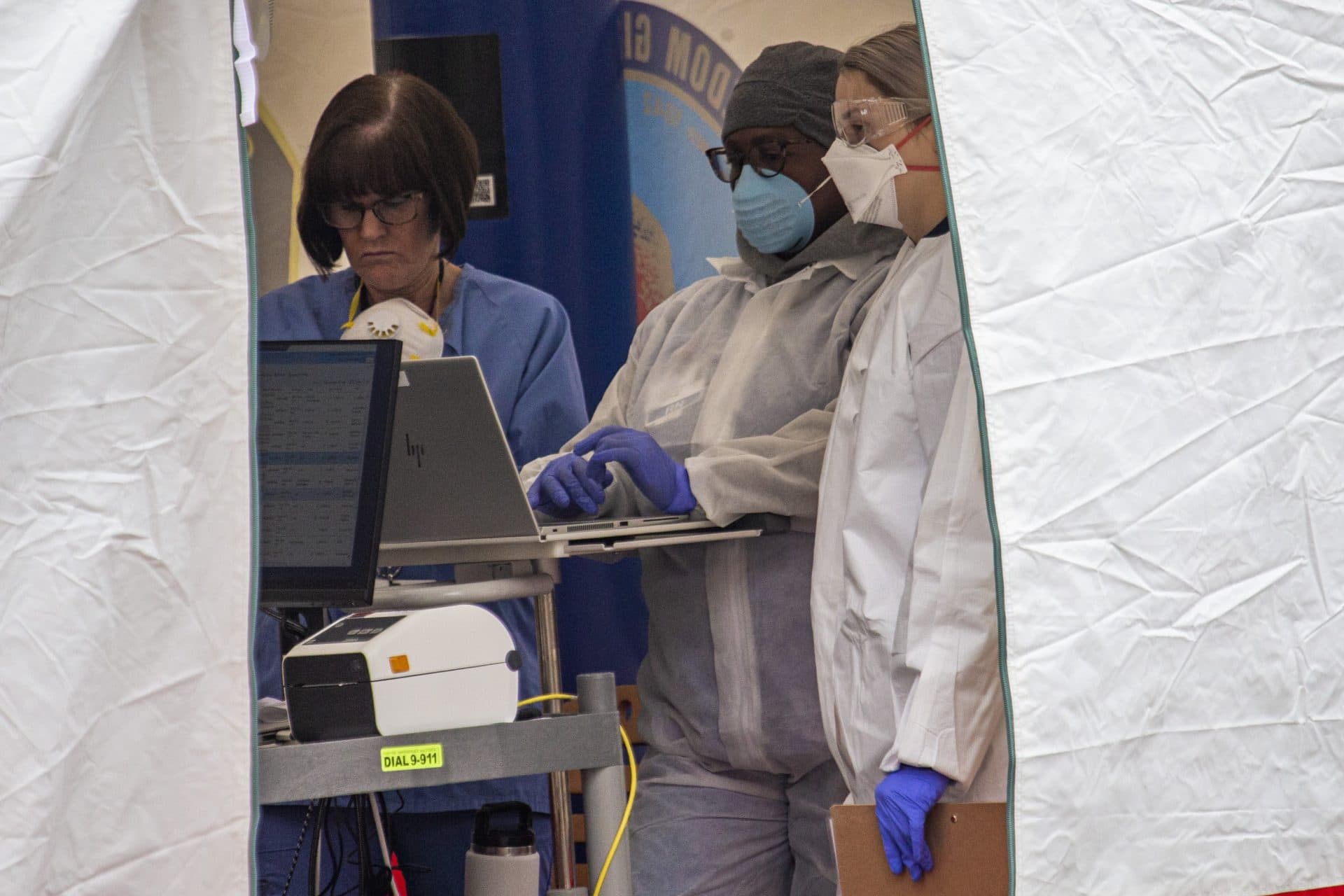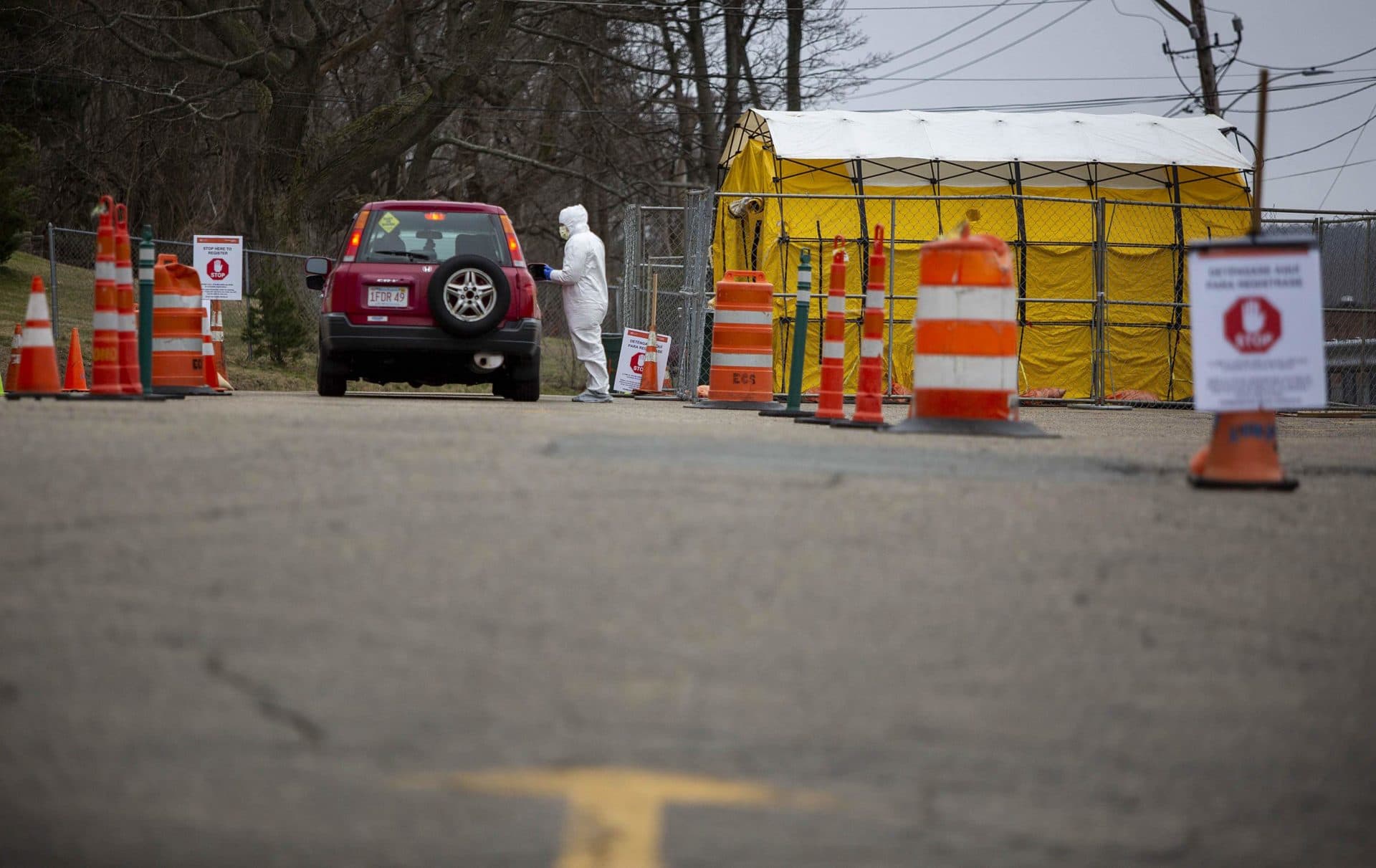 The state and the City of Boston have set up dedicated testing sites for first responders like police officers, firefighters and EMS staff. That cohort has since been expanded to include grocery store workers. Dedicated sites are up at running at Suffolk Downs in East Boston, Gillette Stadium in Foxborough and the Big E fairgrounds in West Springfield.
On April 14, Mayor Marty Walsh announced that the first Boston Police officer had died from COVID-19 complications. Officer Jose Fontanez was a 29-year veteran of the department.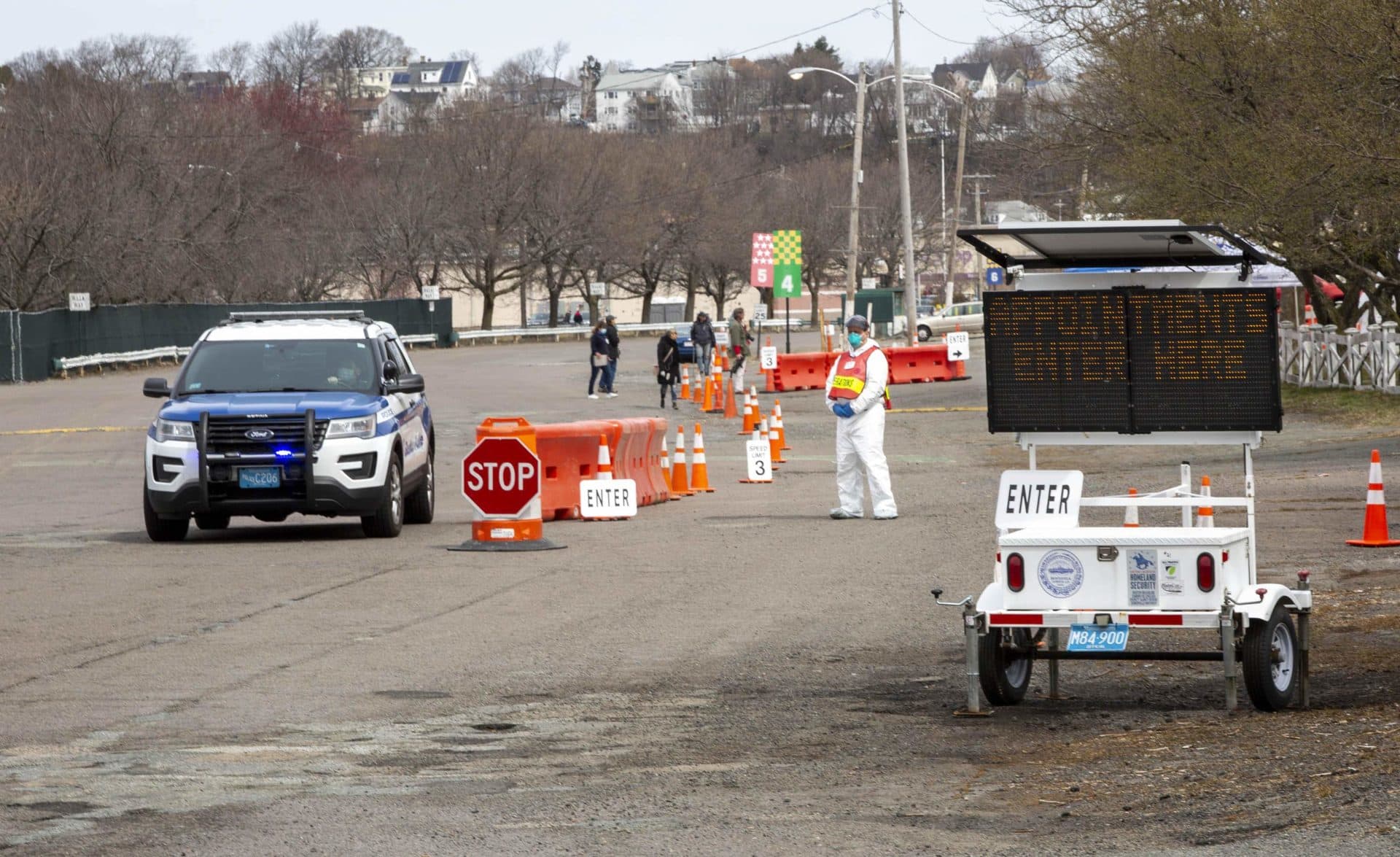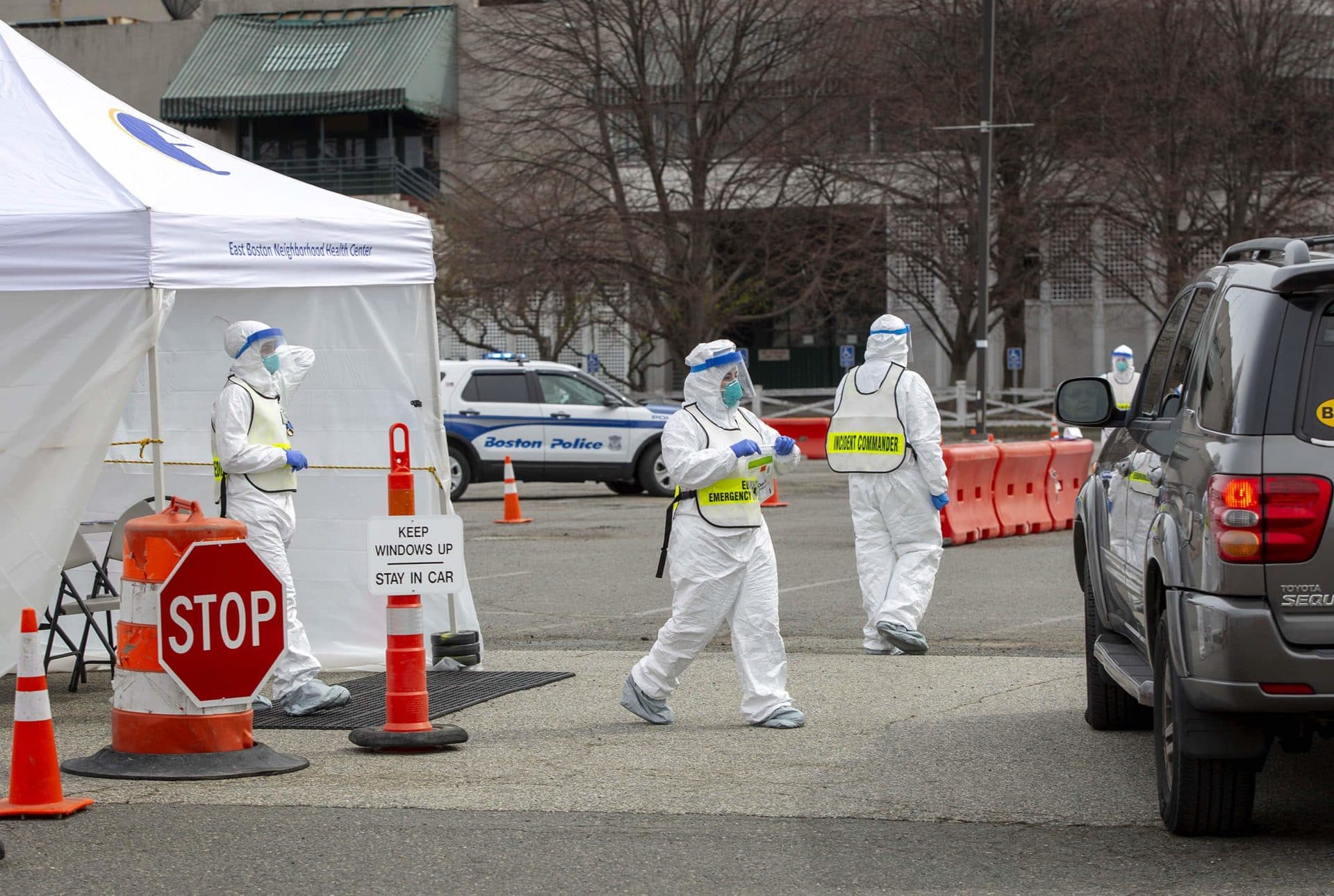 Nursing Homes Struggle With High Case, Death Numbers
Long-term care facilities and nursing homes have been the site of some of Massachusetts' most virulent and deadly coronavirus clusters. The facilities are especially vulnerable to the virus because of factors like residents' age and the close proximity in which they live.
The outbreak at the Holyoke Soldiers' Home, a state-run long-term care facility for elderly veterans, gained national attention and sparked three separate investigations to examine what went wrong: one initiated by the Baker administration, another by Attorney General Maura Healey and a federal probe led by Massachusetts U.S. Attorney Andrew Lelling and the Department of Justice's Civil Rights Division.
More than 70 veterans at the home have died due to COVID-19 complications. Soldiers' Home staff told WBUR that leadership botched the response to the outbreak.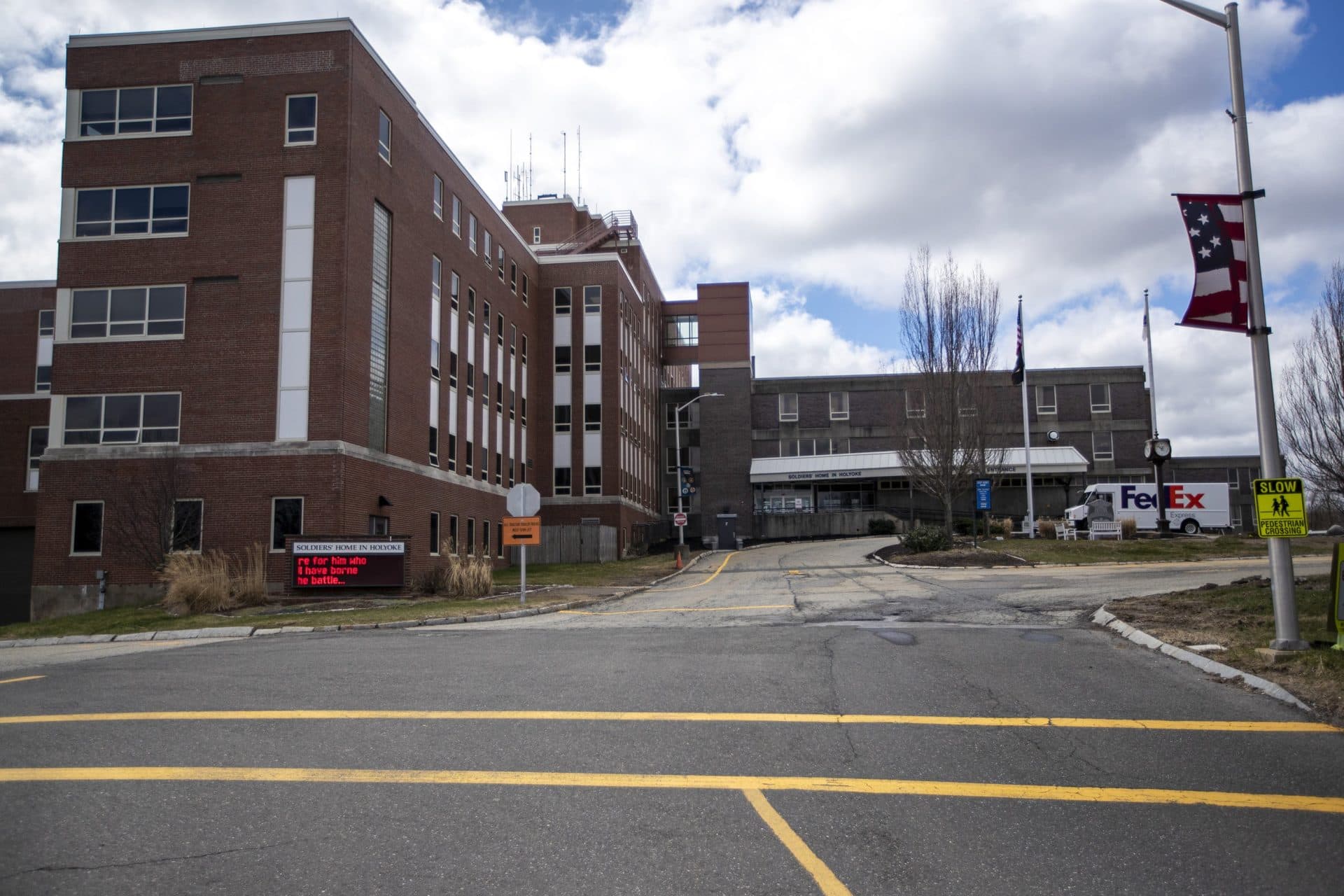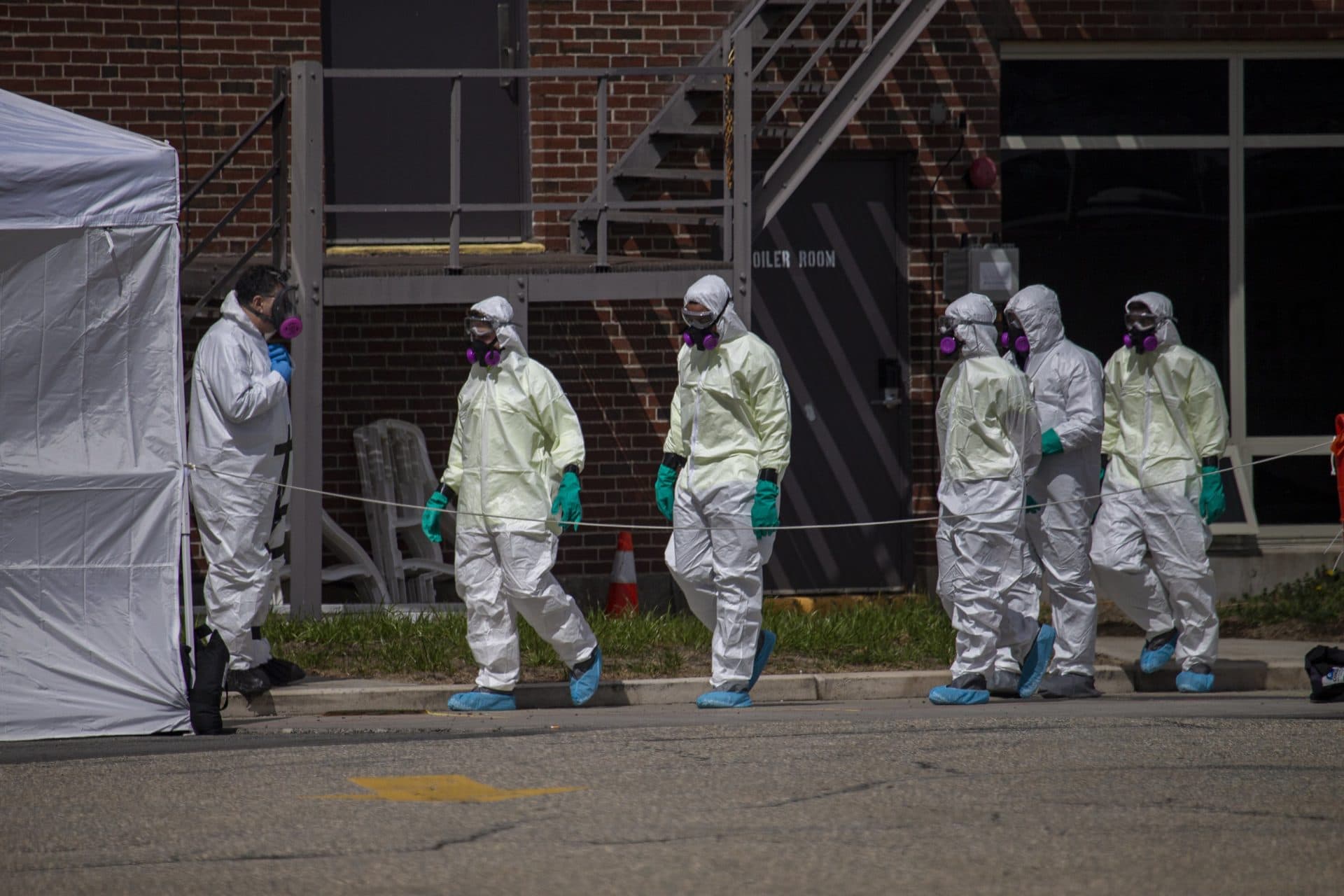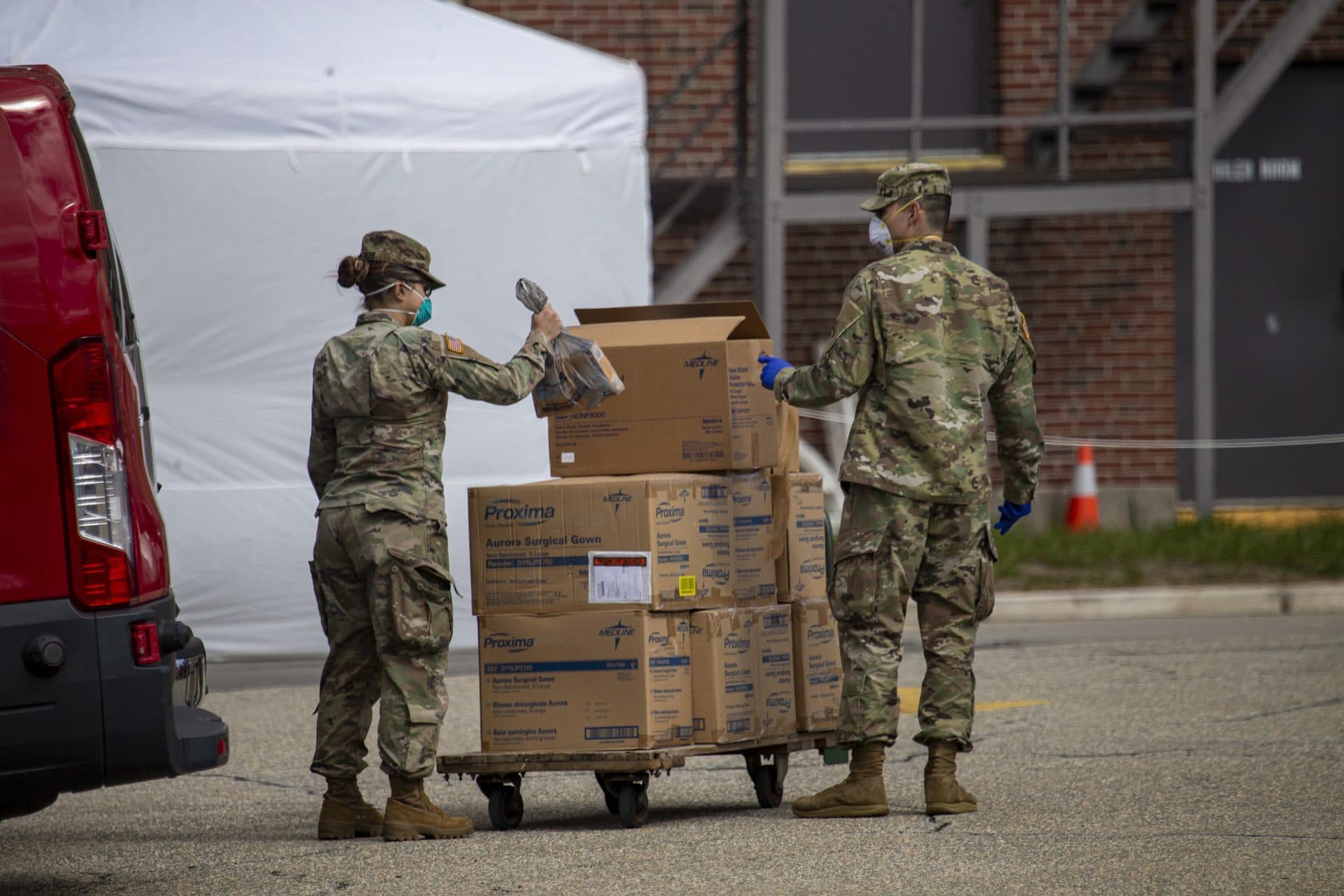 Nursing facilities are restricting in-person visitation, placing an added emotional burden on families who want to see loved ones but also keep them safe.
In early June, state officials said visits could resume — with strict guidelines still in place.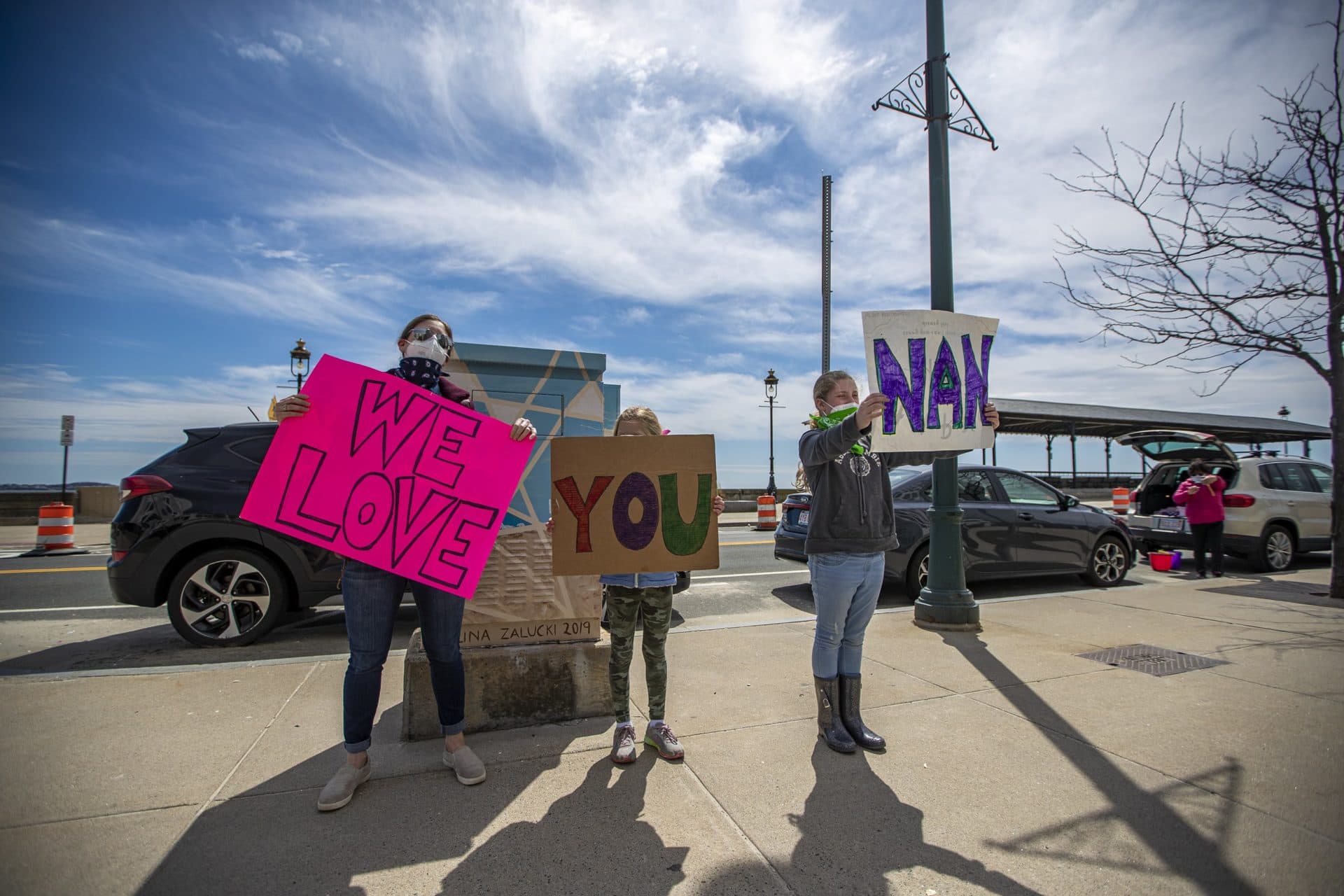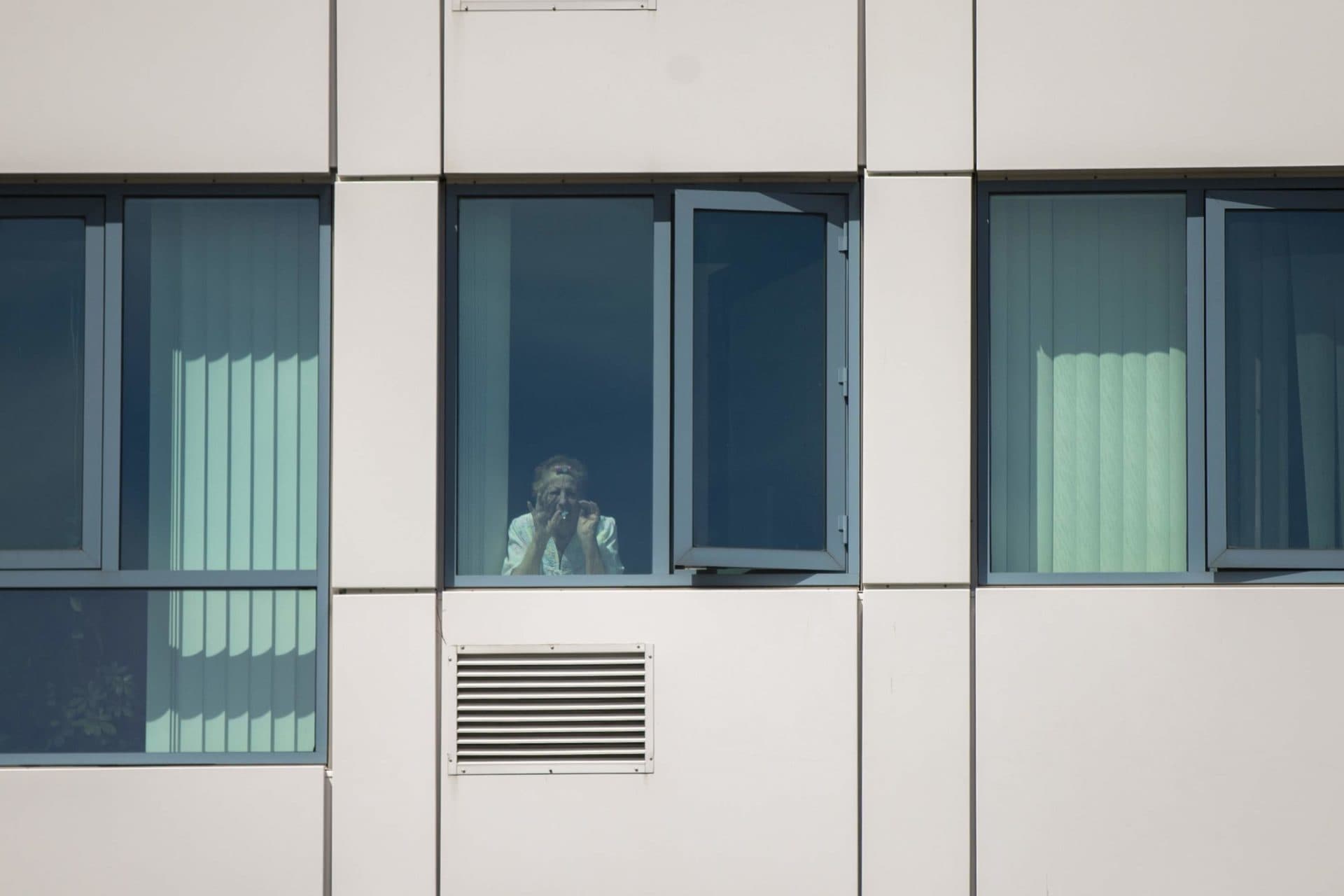 Students Of All Ages Leave The Classroom
Massachusetts students will not be back at school in person this academic year due to the coronavirus.
Gov. Baker made that announcement on April 21, extending the state's public and private schools closure through the end of the year. The widely expected move followed an initial three-week closure implemented on March 15, which was then prolonged to at least May 4.
"At this point in time, there is no authoritative guidance or advisories with respect to how to operate schools safely and how to get kids to and from schools safely," Baker said.
The story is no different when it comes to higher education. In March, colleges and universities began shuttering their campuses one after another, moving coursework online and instructing students not to return following spring break. Some university facilities in Boston and elsewhere were repurposed into field hospitals or housing for first responders and people who are homeless.
Some colleges say they expect to be able to reopen for the fall semester. But the economic impacts and uncertainty caused by the pandemic are taking a toll.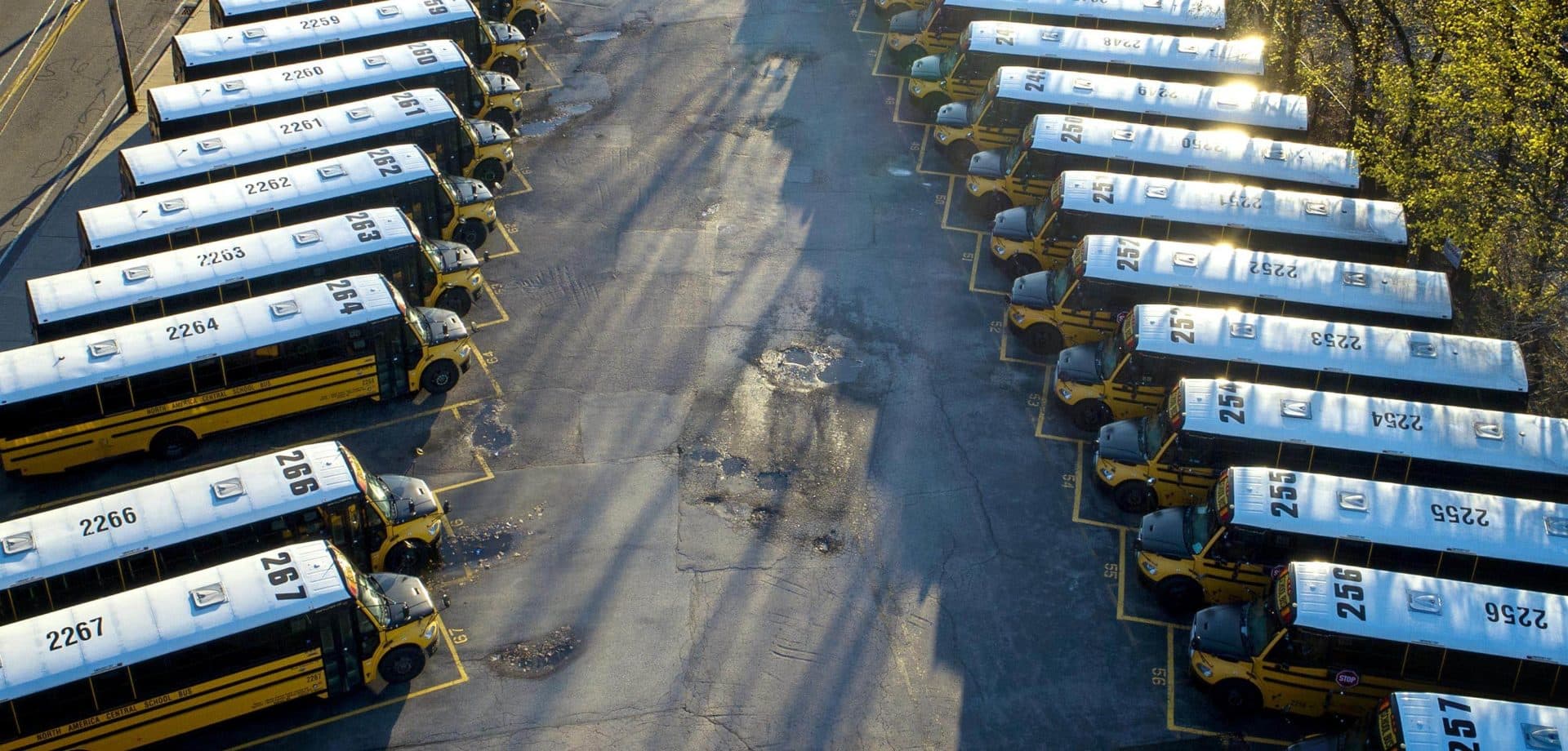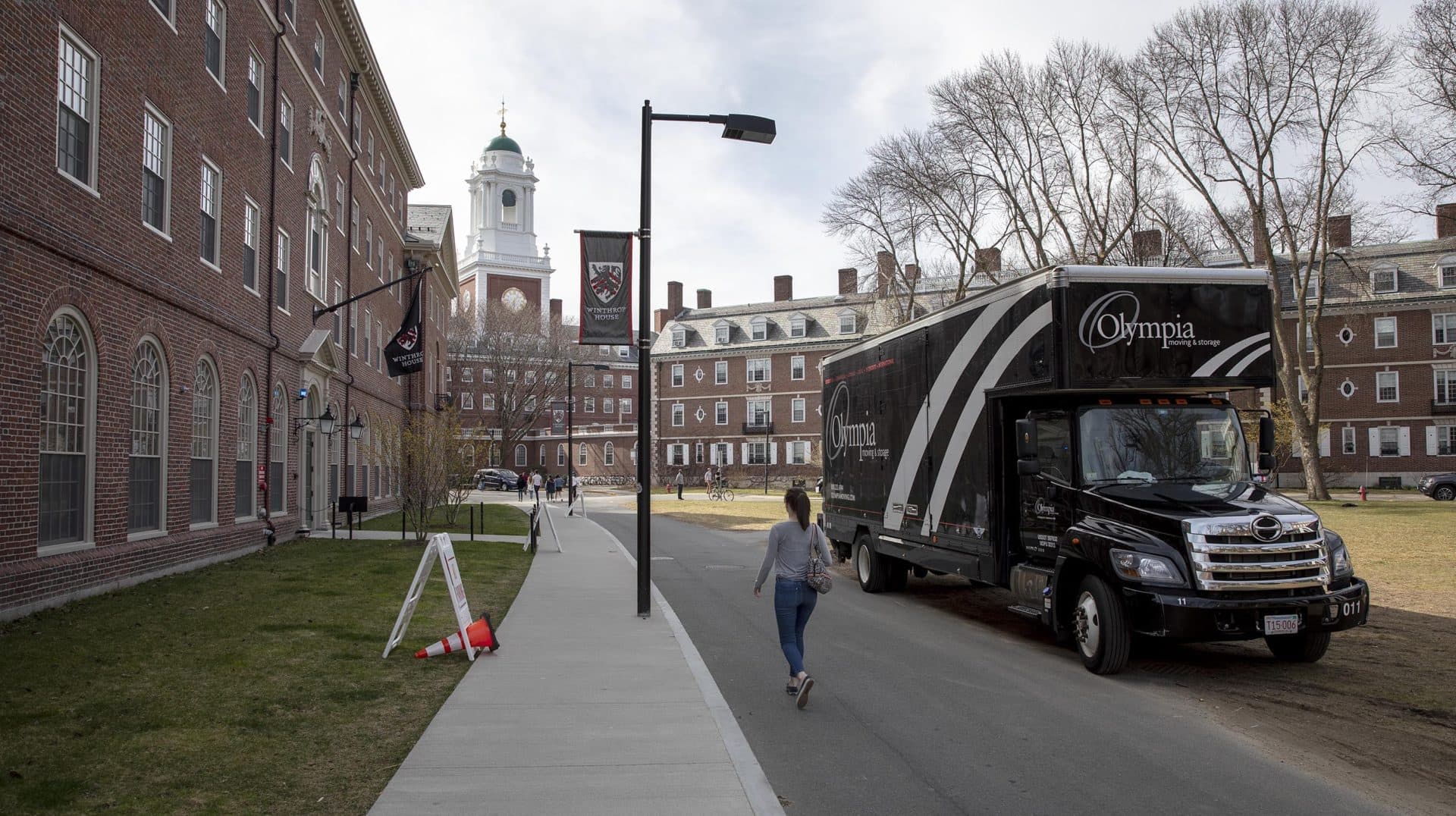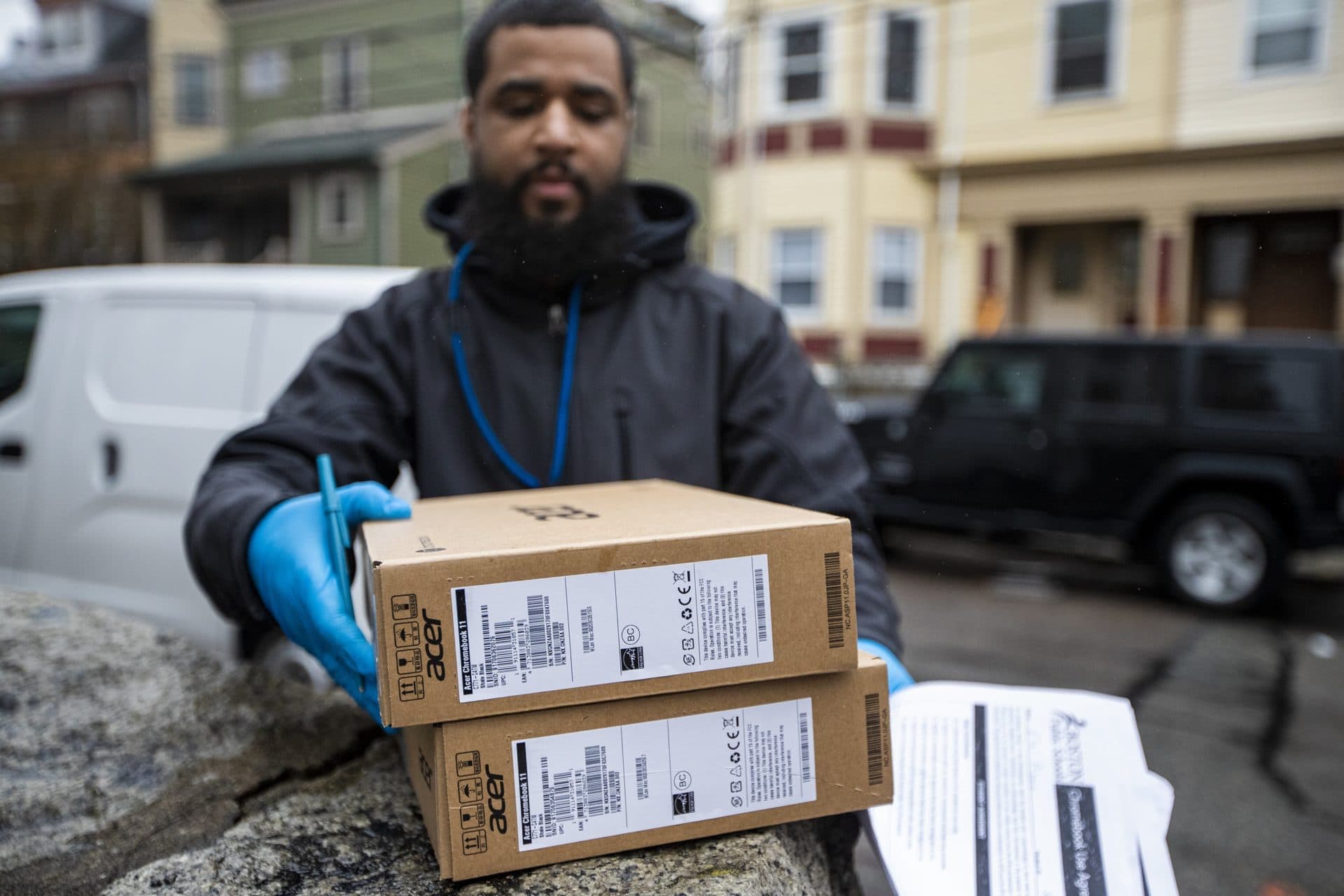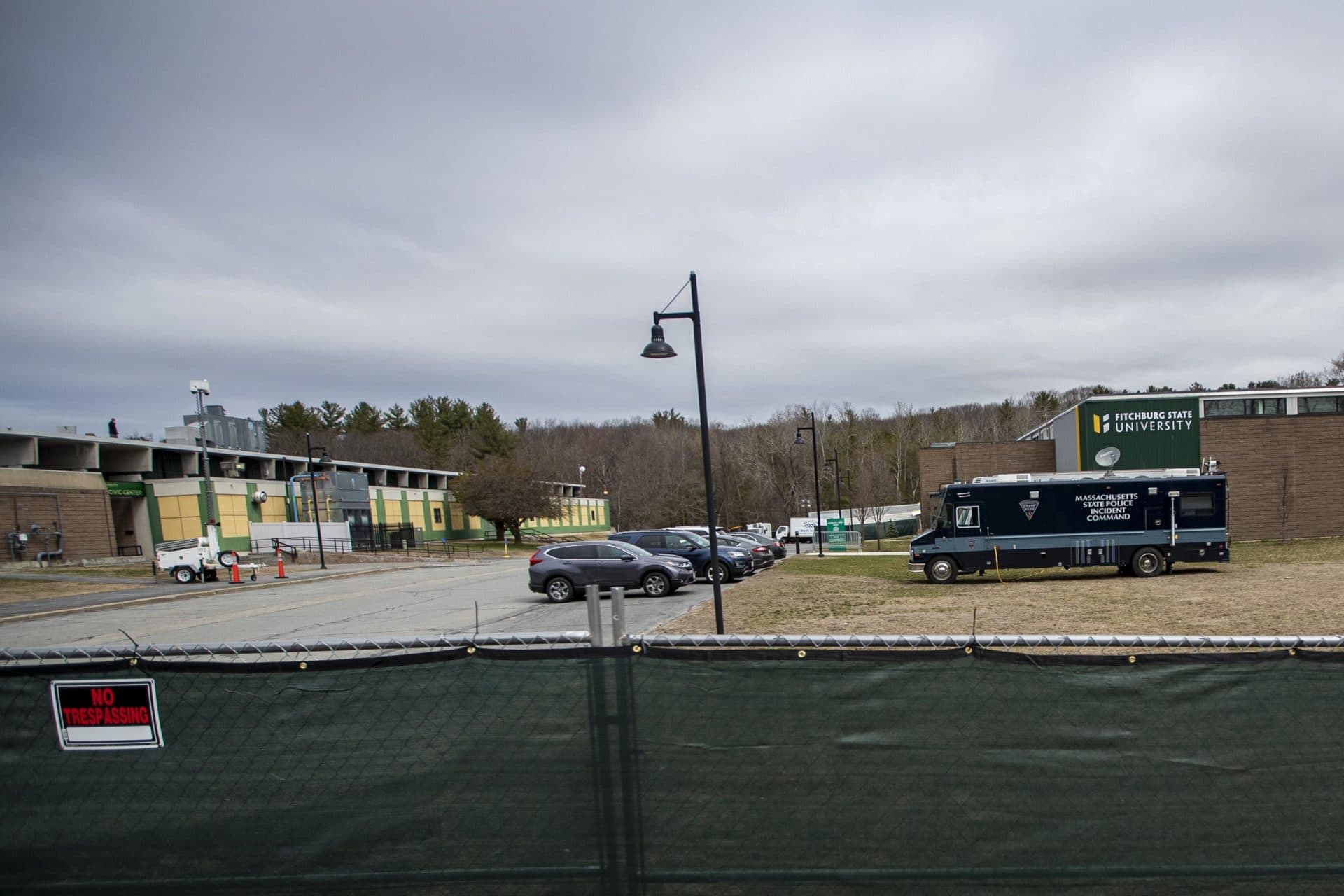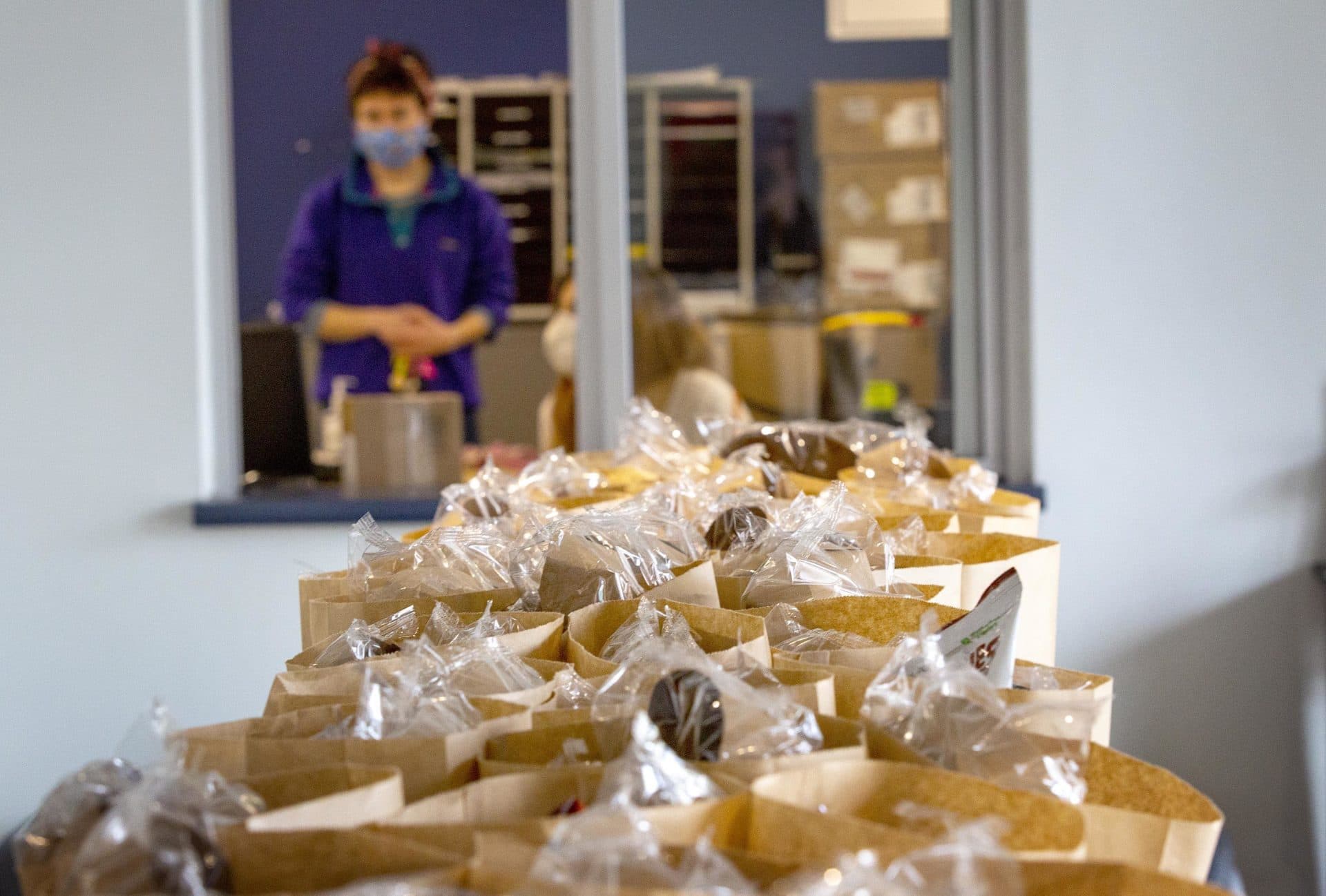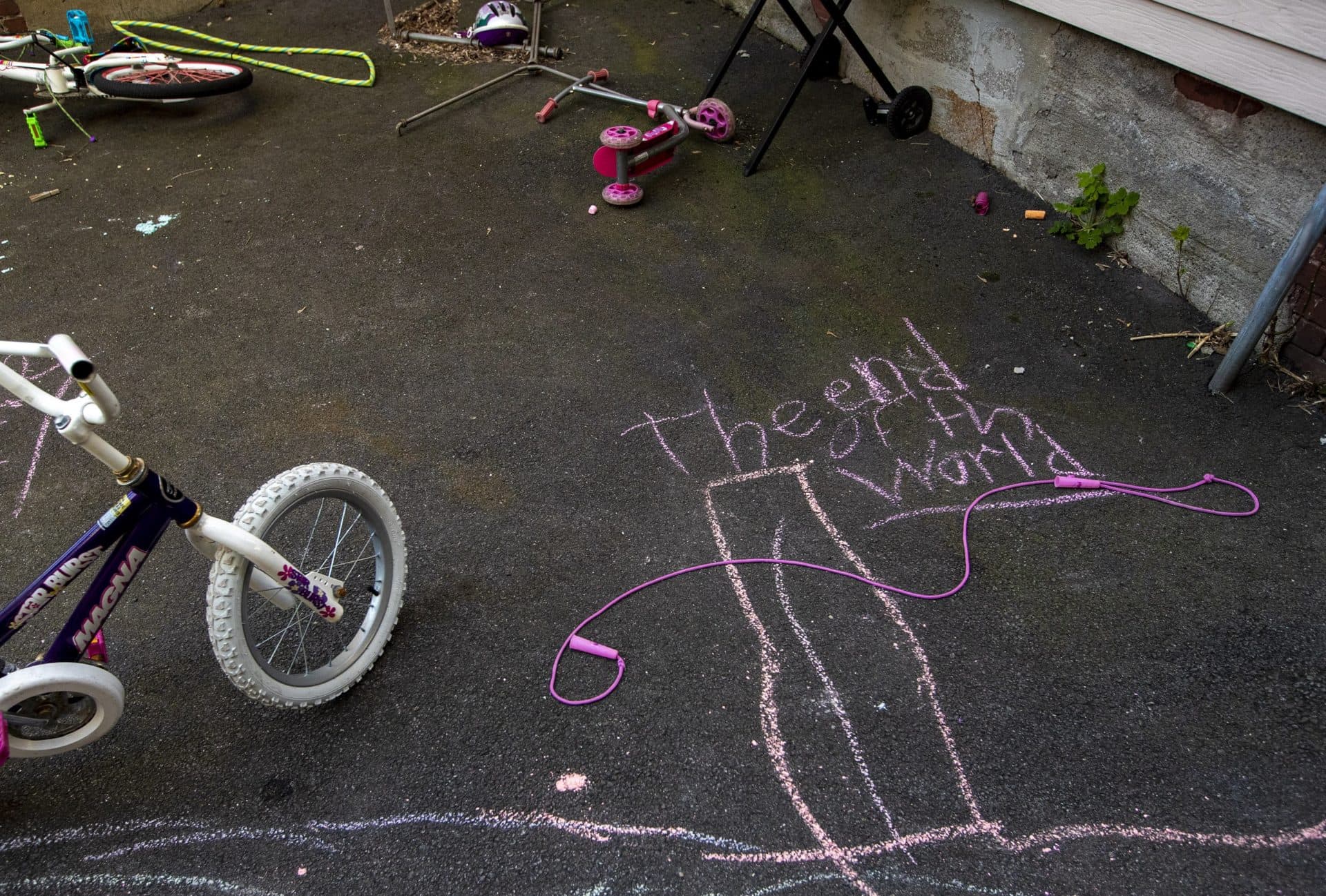 Chelsea Becomes A 'Hot Spot'
Chelsea — a densely populated city of about 40,000 that neighbors Boston — has by far the highest rate of coronavirus infection of any city or town in Massachusetts.
More than 60% of residents in Chelsea are Latino. Almost half are immigrants. Chelsea's labor force is also mostly comprised of workers considered "essential" under the governor's stay-at-home advisory. The outbreak there has revealed shortcomings in state resources for non-English-speaking residents. (In early April, Massachusetts launched a Spanish-language unemployment site and began offering text alerts in Spanish.)
Gov. Baker said his administration has been working with city leaders "on an almost daily basis" to contain the situation.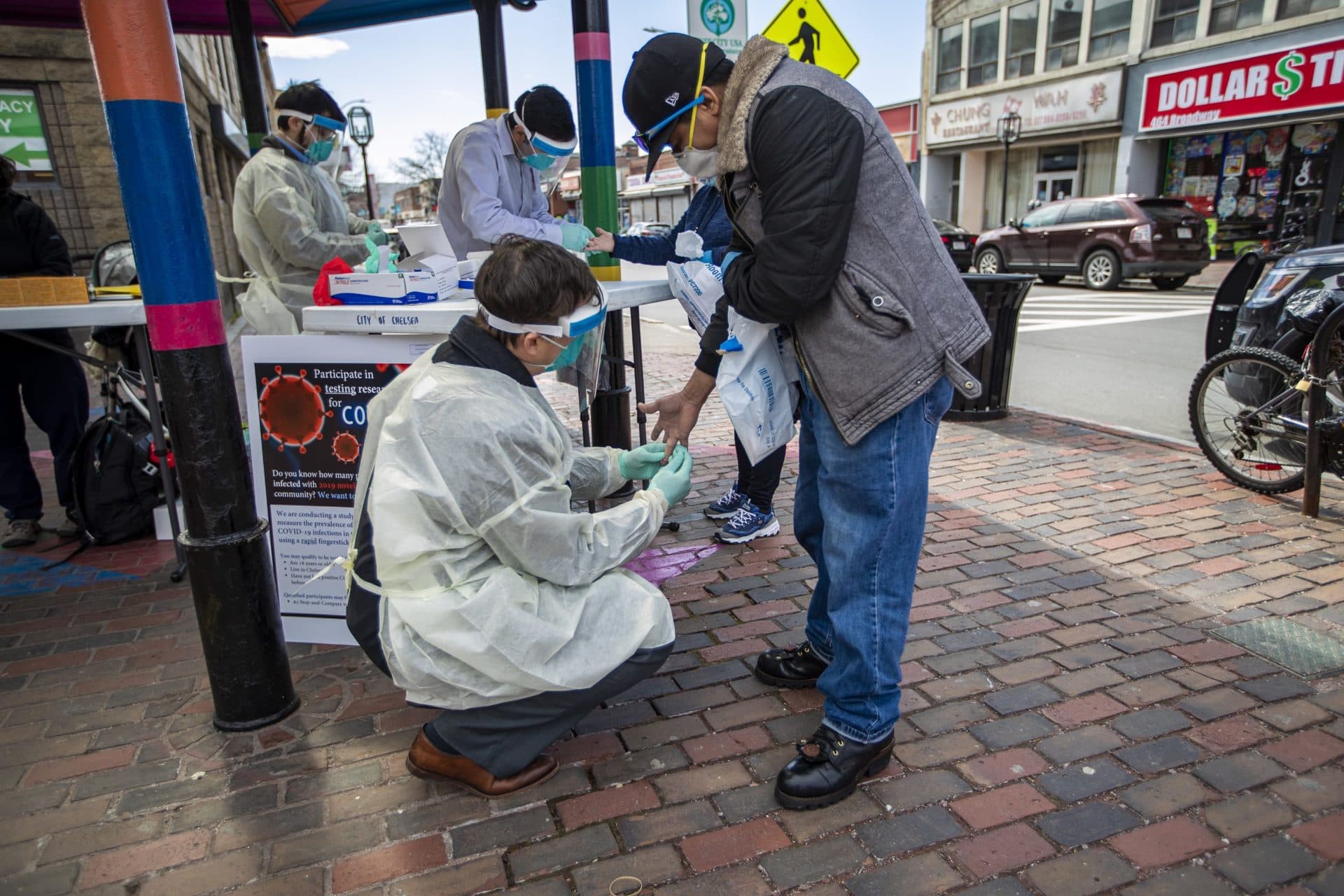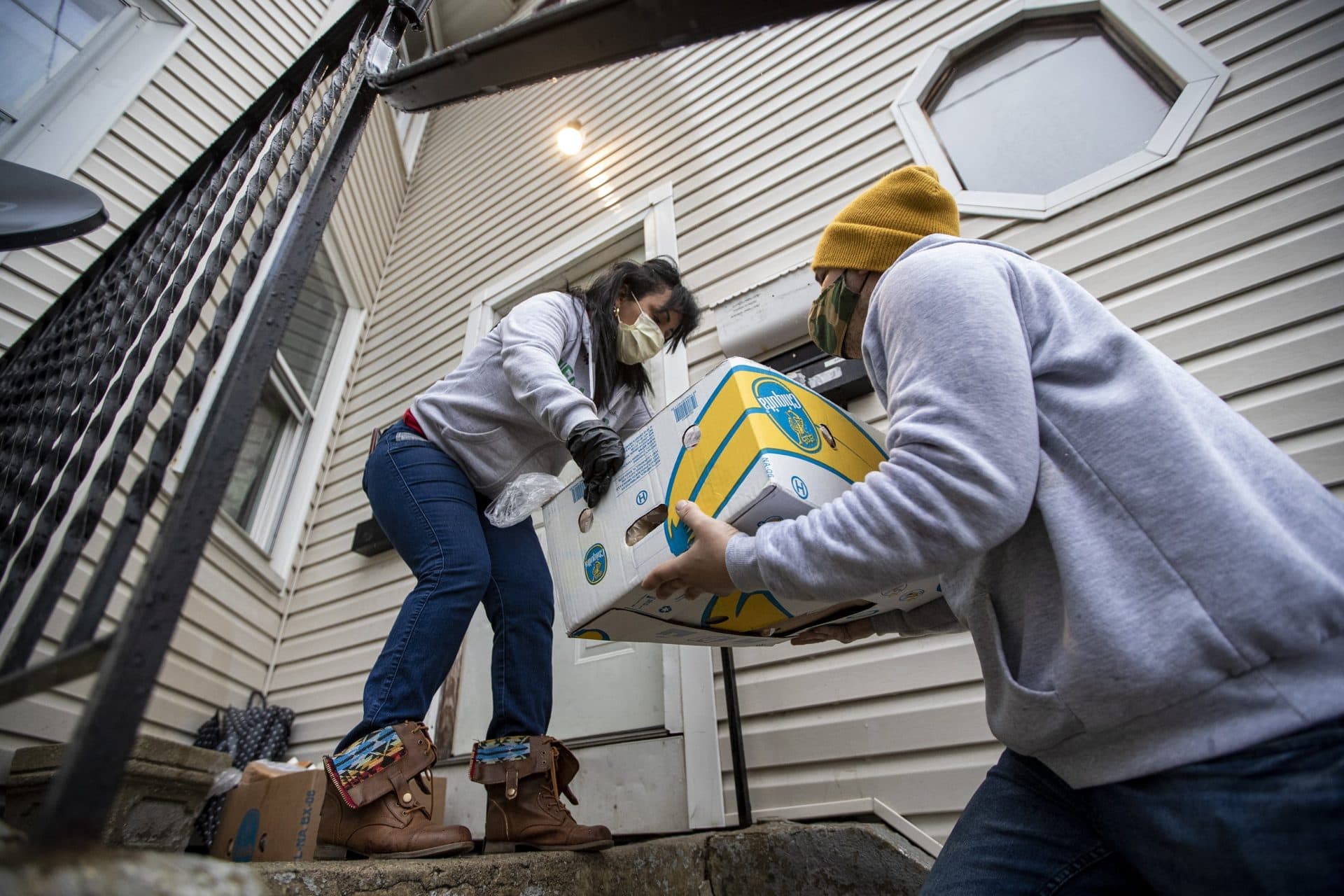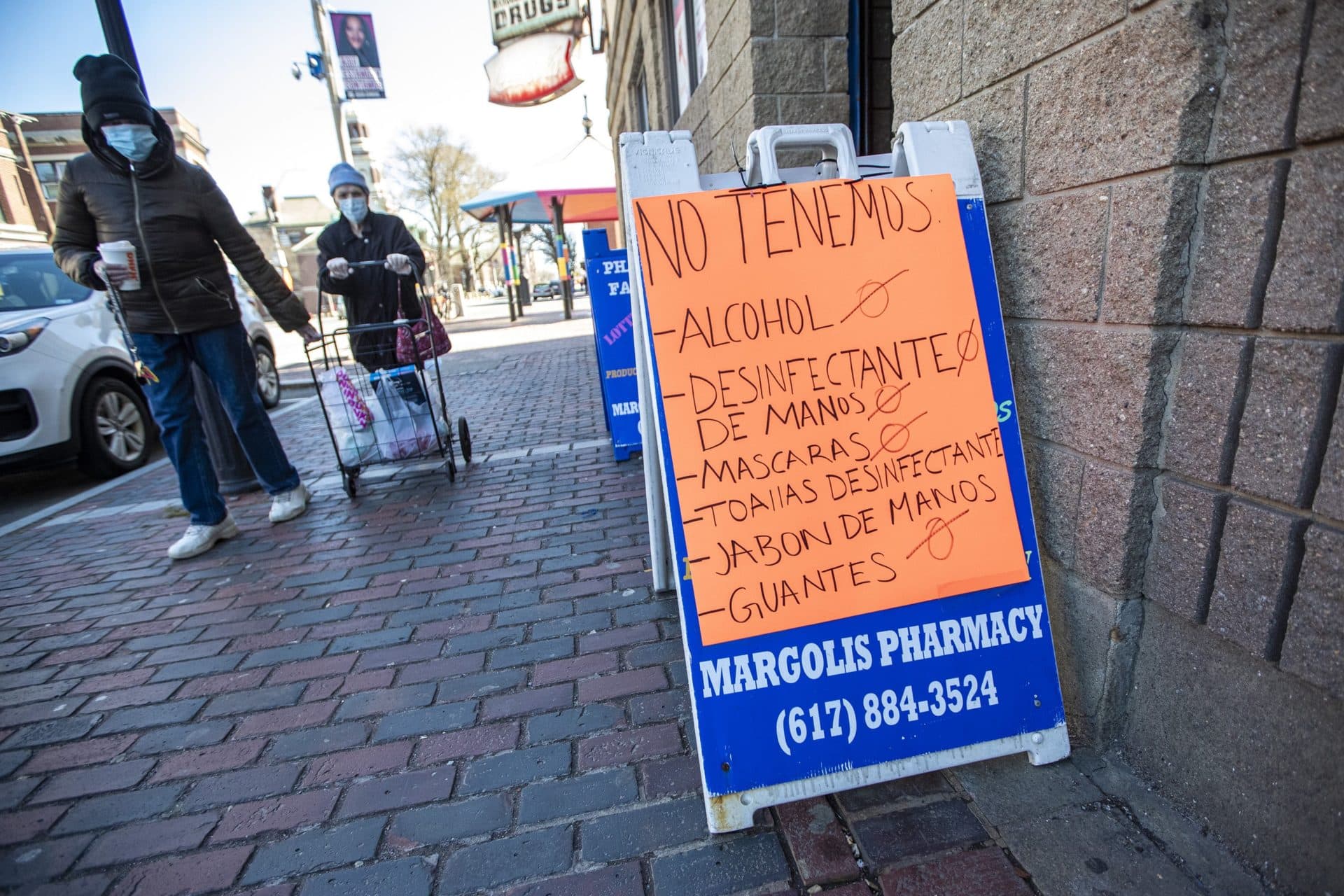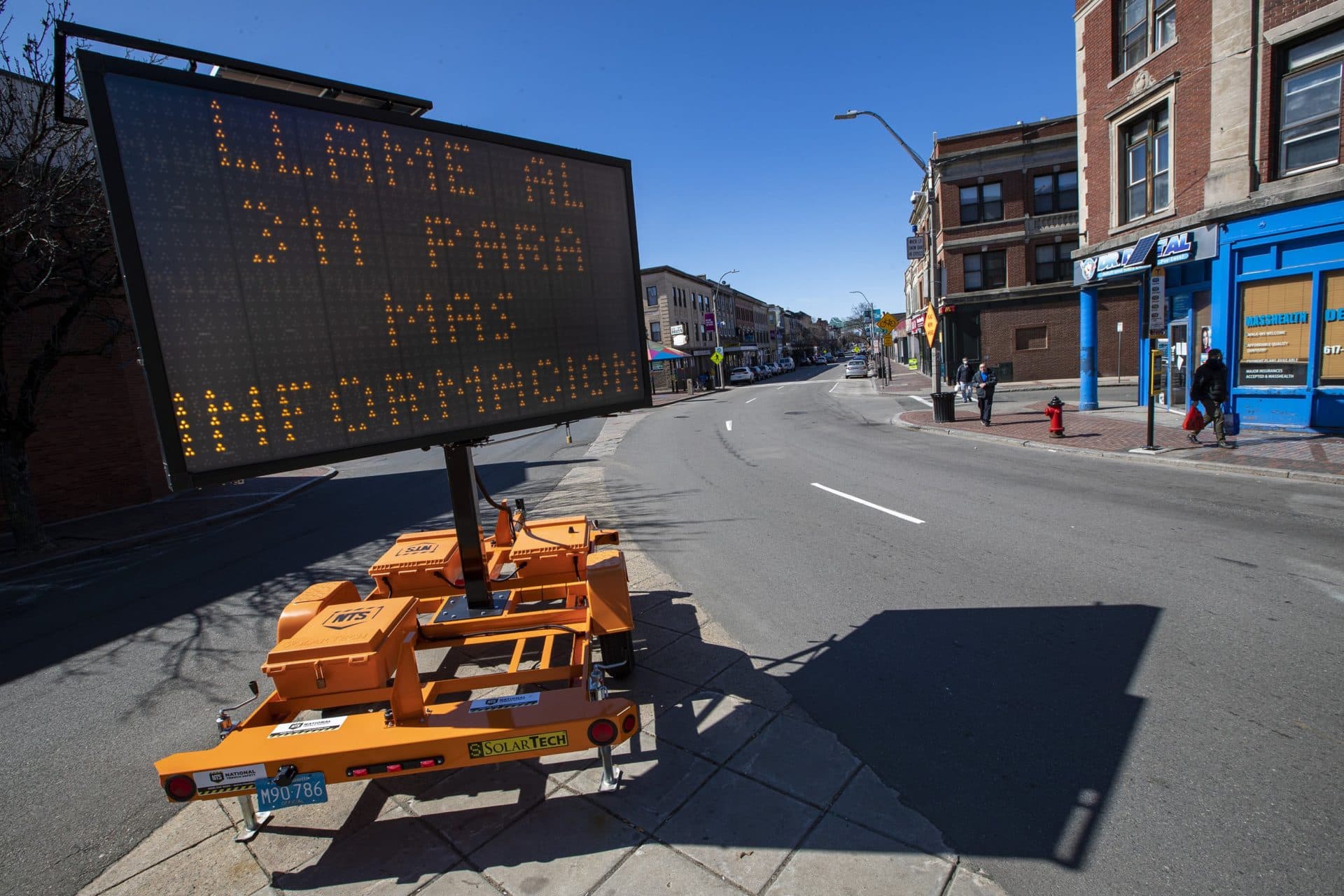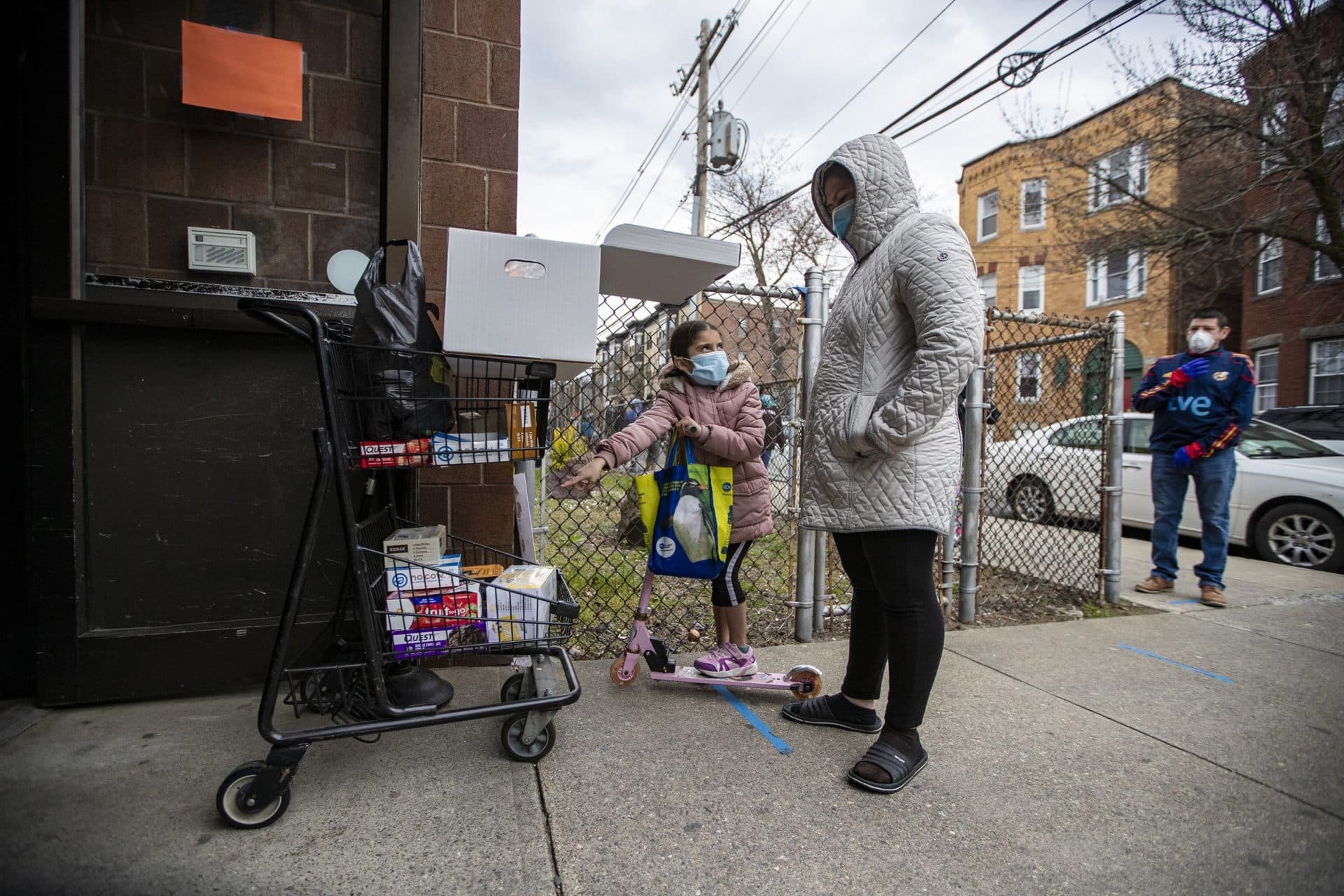 This article was originally published on March 24, 2020.