The Photos That Helped Us Tell 2017's Stories
This article is more than 5 years old.
As we count down to that glittery ball drop, it's time to reflect on yet another year. And, for many, it's been a fireball of a year, both startling and dazzling. In case it's all been a blur, we're looking back at the sharp images that helped us tell the stories — big and small — of 2017.

Jan. 21 | A day after the inauguration of President Trump, as his supporters reveled in their win, protesters in cities around the world, including in Boston, flooded public concourses in support of women's rights. Organizers of the Women's March on Boston Common  and police estimated about 175,000 people — many sporting caps to create a sea of pink hats — rallied peacefully.
---

Jan. 29 | Izzy Berdan cheered during a protest at Copley Square in Boston as demonstrators gathered to oppose Trump's initial executive order temporarily halting immigration from seven predominately Muslim countries.
---

Feb. 2 | A research team at MIT's Laboratory for Atomistic and Molecular Mechanics made a big discovery using a material found in the tiny tip of your pencil. Here, team member and research scientist Zhao Qin sets up an experiment.
---

Feb. 7 | After the Pats' comeback win in Super Bowl LI, Gov. Charlie Baker declared the following Tuesday "New England Patriots Day" to celebrate their victory. Here, three quarterbacks — Tom Brady, center, Jimmy Garoppolo, left, and Jacoby Brissett, right — greet fans from duck boats during the parade.
---

Feb. 23 | Youth activists from across Massachusetts gathered at the Old South Church in Boston's Copley Square to demand political leaders increase funding for jobs for young people and reform the juvenile justice system. Adam Foss, a former Suffolk County assistant district attorney, asked members of the crowd to raise their fists in solidarity with the rally's mission.
---

March 1 | From our series, "Red Voters In A Blue State," on the more than 1 million Massachusetts residents who voted for Trump in the general election, we visited the Whistle Stop Restaurant in Hardwick. Local Trump supporters like Bob Sanderson, Bill Ward, Paul Mailhot and Bob Bousquet, seen from left to right, had been meeting there every Wednesday to talk politics.
---

March 1 | We met 4-year-old Tuka Al-Nassar and her family at their new home in Westfield in 2015 to hear about their harrowing 5,000-mile journey from Syria to western Massachusetts — and why the family believed there was "no going back." This year, we visited them again and spoke to them about how they've found a community in Westfield.
---

March 3 | In an installation called "Listen Hear: The Art of Sound" previously at the Isabella Stewart Gardner Museum, artist Elisa Hamilton and several Boston-area teenagers invited museum-goers to open their ears to the sounds of their lives.
---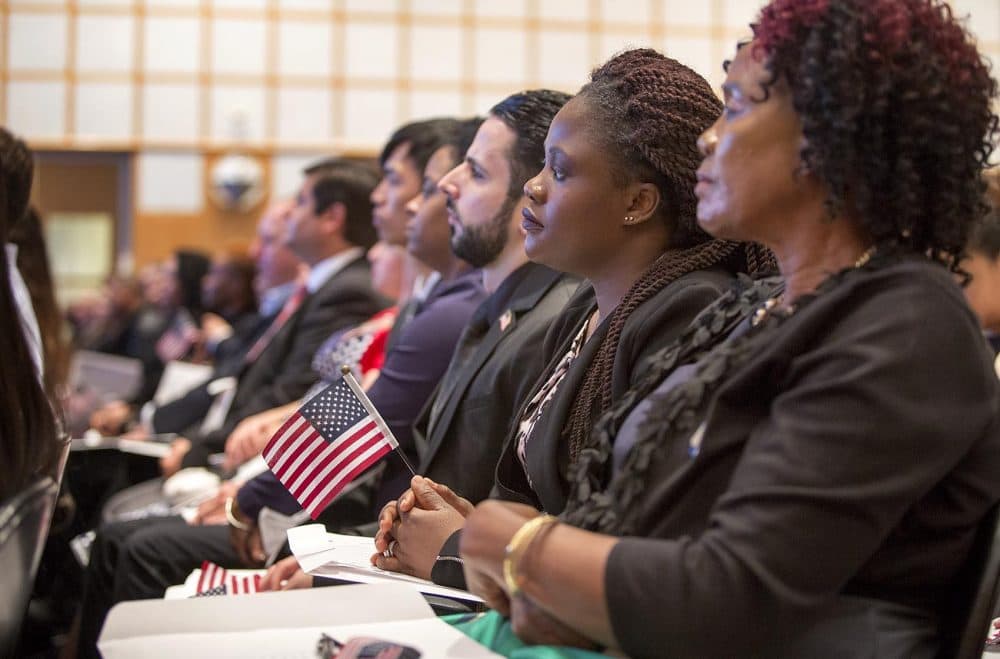 March 8 | Marie Claire Kum, from Cameroon, held a U.S. flag and listened intently at a naturalization ceremony at the JFK Museum in Boston. Immigrants from Morocco, Venezuela and dozens of other countries sat side by side as Mohamad Ali, CEO of Boston-based Carbonite, shared his own immigrant story.
---

March 8 | Noelle Cocoros held a sign reading "U.S. Out of My Uterus" during a rally at Downtown Crossing as part of a national strike called "A Day Without A Woman" that sought to spark conversation about the socioeconomic impact women have in the U.S. The event took place on International Women's Day.
---

March 14 | Boston has for sure had worse winters than 2017. But, just as many hoped winter's wrath had ended, the state was hit with a fast-moving and intense snowstorm. Here, a man in a wheelchair battles the snow and wind while passing City Hall Plaza on Cambridge Street.
---

March 22 | Hundreds of firefighters from across Massachusetts attended the funeral of Joseph Toscano in Watertown. The fallen firefighter had collapsed while battling a house fire.
---

March 28 | The hanging of nasturtiums at the Isabella Stewart Gardner Museum is an annual signal that splashes of color will soon dissolve New England's gray shroud. Here, Stan Kozak, left, the museum's horticulturalist, and Leland Eglin gently passed one of the plants over a balcony into the museum's courtyard. Kozak said the Gardner likes to get the delicate flowers up by Mrs. Gardner's birthday in April.
---

April 11 | Pete Lareau gives a haircut to Randy Elwell at Pete's Barber Shop in Townsend, where he's been cutting hair in the same spot for 56 years. We spoke with some of his clients about the early weeks of the Trump administration.
---

April 16 | The Men's Elite Division and Wave 1 take off at the start of the 121st running of the Boston Marathon.
---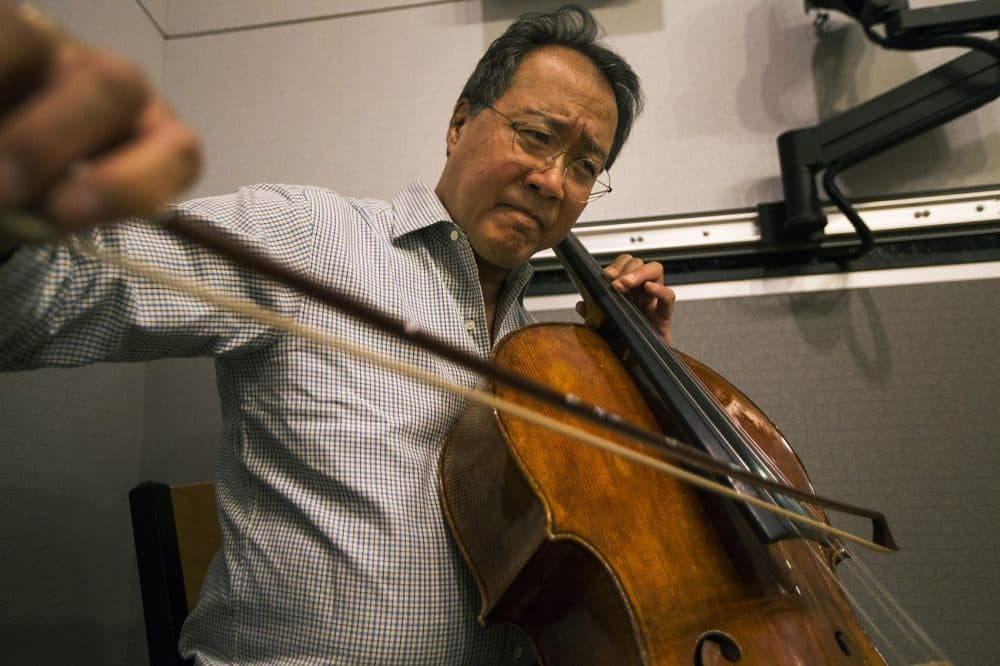 April 20 | Yo-Yo Ma performed with Chris Thile and Edgar Meyer in the WBUR studios. They had teamed up for a new album, "Bach Trios."
---

April 20 | Marc-Anthony Aviles threw up his hands while training at the Level Ground Mixed Martial Arts Center in Dorchester. The gym's mission is to help youths — especially those with hard lives at home — learn jiu-jitsu in a safe and supportive environment.
---

April 22 | Harvard students, faculty and alumni arrived to meet with MIT protesters as they continued to the Boston Common during the March for Science Rally in support of scientific research.
---

April 26 | As fentanyl deaths in the state rose, people like needle exchange worker Emily Moulton, left, and Tapestry Health Director of HIV Health and Prevention Liz Whynott experimented with new tools — like these thin strips of plastic — to help drug users' avoid overdose by testing for the deadly opioid before they get high.
---

May 9 | Asa Zabarsky filed through a rack of suit jackets at Keezer's Classic Clothing in Cambridge. The store had been a fixture in the city for 122 years. It closed its doors for good on July 1.
---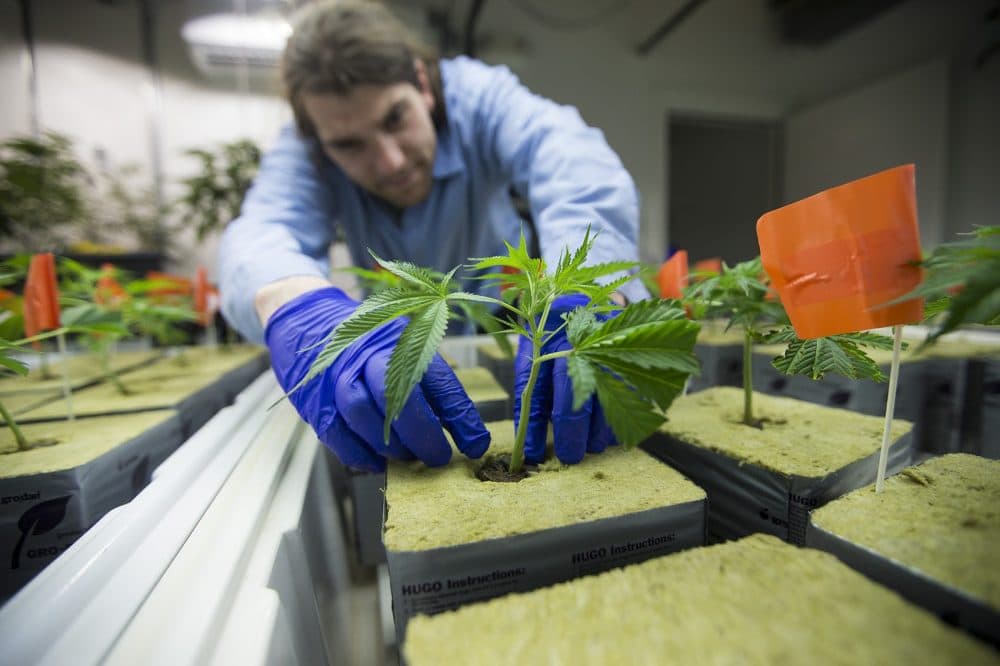 May 11 | We toured NETA, a medical marijuana provider, and its growth and cultivation center in Franklin, where a staffer transplanted seedlings in the nursery. Throughout the year, politicians, regulators, marijuana enthusiasts and opponents have watched as the state gears up for the sale of recreational pot and the birth of what is likely to be a multibillion-dollar industry in Massachusetts.
---

May 23 | Black students at Harvard put together the university's first-ever Black Commencement. The additional ceremony was created to honor "the struggles, the hardships, the jubilee, the families and friends of black and African diaspora students here at Harvard University," one of the organizers said.
---

May 26 | Hillary Clinton, seated next to Wellesley College President Paula Johnson, spoke at her alma mater's commencement. She talked about losing the 2016 presidential election, and also the uncertainty she felt as a college freshman.
---

May 26 | With their hands in the air, concert-goers at Boston Calling enjoyed a far bigger — and muddier-- event than in years past. The music festival moved this year to its new location at Harvard's Athletic Complex in Allston.
---

June 10 | Crowds of people, some in elaborate costumes, packed Boston's streets for the city's 47th annual Pride Day Parade.
---

June 13 | Docked in Menemsha on the fishing boat Diversion, Marvin Benitez dumped crabs into a bin to prepare them for sale to retailers and restaurants on Martha's Vineyard. WBUR heard from local fishermen about their thoughts on permit banks as a way to ensure affordable access to expensive fishing rights.
---

June 15 | On vacation from Colombia and visiting the Institute of Contemporary Art in Boston, Maria Alejandra Garcia Velez and her daughter, Maria Jose Cortes Garcia, approached the shoelace artwork by Nari Ward called "We the People." The exhibit focused on political discourse around immigration, offering museum-goers a look at the naturalization process in America.
---

June 21 | Two-and-a-half-year-old Robbie Klein, who has hemophilia, drew a chalk line to play basketball. As federal lawmakers sought to repeal and replace the Affordable Care Act, families like Robbie's feared they wouldn't be able to afford his treatment. In late September, Republicans ended their last-ditch effort to replace Obamacare, for now.
---

July 12 | Hundreds of nurses lined the sidewalks in front of Tufts Medical Center in Boston in what the union said was the largest nursing strike in Massachusetts history.
---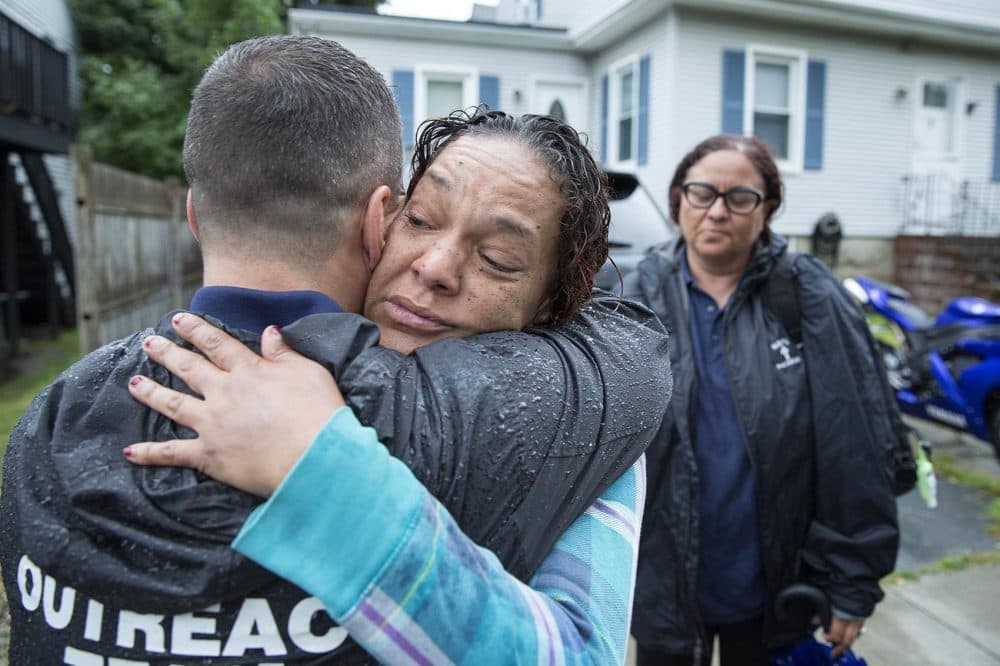 July 13 | In New Bedford, an opioid outreach program searches for people who have recently survived an overdose. Tenelle Pina, one of the people the outreach team was looking, hugged pastor Jamie Casey and told him she wanted to go into detox. The following day, she walked to Casey's office, and an agency found her a detox bed.
---

July 27 | As part of our series on climate change, WBUR traveled to the Outer Banks of North Carolina to observe damage to the shoreline and hear predictions about how rising sea levels will affect its beaches. Here, people fish off the Herbert Bonner Bridge, which is slated to be replaced by a new 2.8-mile-long bridge designed to have a 100-year life span. A coastal geologist warned against building the new bridge, saying the two islands it connects won't exist in 100 years.
---

Aug. 16 | A cyclist crossed Commonwealth Avenue Bridge on the first morning of its reopening after being closed for three weeks for repairs.
---

Aug. 19 | Days after a deadly confrontation during rallies in Charlottesville, Virginia, thousands of counter-protesters descended on Boston Common to demonstrate against a self-described "free speech rally," whose far smaller group of participants ended its event early. The rally and counter-protests drew a large police presence, including these tactical police officers who marched in full riot gear.
---

Aug. 21 | The first full-blown solar eclipse to sweep the U.S. from coast to coast in nearly a century dazzled Bostonians on a fine summer afternoon. On the sidewalk in front of the Boston Public Library, people shared protective glasses so they could glimpse the celestial wonder without damaging their eyes.
---

Aug. 23 | If you wanna work in the Massachusetts bivalve business, you gotta know how to bolt. Once those (sea)suckers are out of the water, the countdown begins to keep bacteria at bay. James Kearns, center, pulled a cage of oysters from beneath the floating dock. He then began a race to crate, count, bag and ice the oysters within the hour-long time limit allowed to ship them safely to Boston.
---

Sept. 13 | Marine veteran Jeff Buckley looked on as workout participants did band pulls in the basement of the All Dorchester Leadership Program, an organization founded to ease racial tensions among Boston teens.
---

Sept. 29 | In the Machine Shop at Olin College in Needham, junior Claire Kincaid used a plasma cutter to inscribe a poem for a friend on a sheet of metal.
---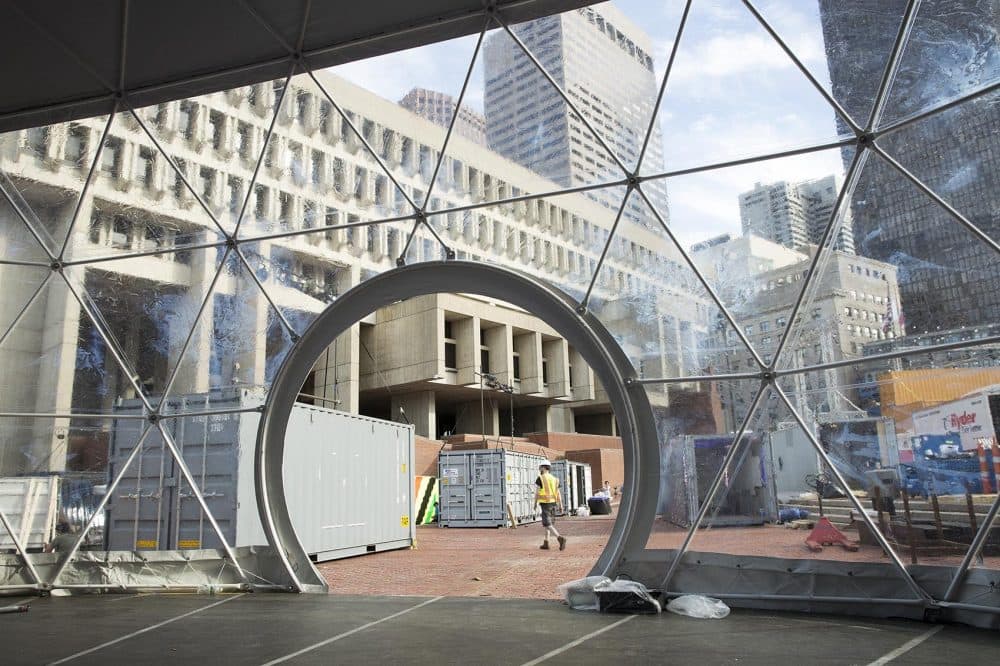 Oct. 10 | Geodesic domes were constructed on Boston's City Hall Plaza for HUBweek.
---

Oct. 12 | WBUR went to Puerto Rico to report on the aftermath of Hurricane Maria. Here, beach workers walk along a street in Punta Santiago.
---

Oct. 14 | While her father, Francisco Rodriguez — a Salvadoran man who entered the country illegally in 2006 and worked as an MIT janitor for several years — remained detained by ICE, 10-year-old Mellanie Rodriguez discussed the family's struggles. Here, she and her grandmother shopped for school supplies. Francisco's deportation from the U.S. is halted in an appeals court. On Dec. 20, Francisco's lawyer said he would soon return home while he awaits his case.
---

Oct. 27 | The owner of Townsman in Boston, chef Matt Jennings visited WBUR to cook regional recipes and talk about how he lost 160 pounds.
---

Nov. 7 | Boston Mayor Marty Walsh applauded with the crowd after easily winning a second term against his challenger, City Councilor Tito Jackson.
---

Nov. 21 | The Pine Street Inn, Boston's largest homeless shelter, made meals for 2,500 people this Thanksgiving. Here, Eberidy Velazquez placed a wrapped pan of turkey meat ready to be stored for Thanksgiving Day.
---

Nov. 30 | After racially offensive Snapchat videos made by current and former Brookline High students surfaced, outraged students and teachers, including freshman Ramon Perez, staged a walkout in protest.
---

Dec. 21 | Darrell Jones embraces Rev. William Barry, who he calls "Dad," following his release on bail after serving 32 years in prison for a murder he maintains he did not commit.
This article was originally published on December 21, 2017.