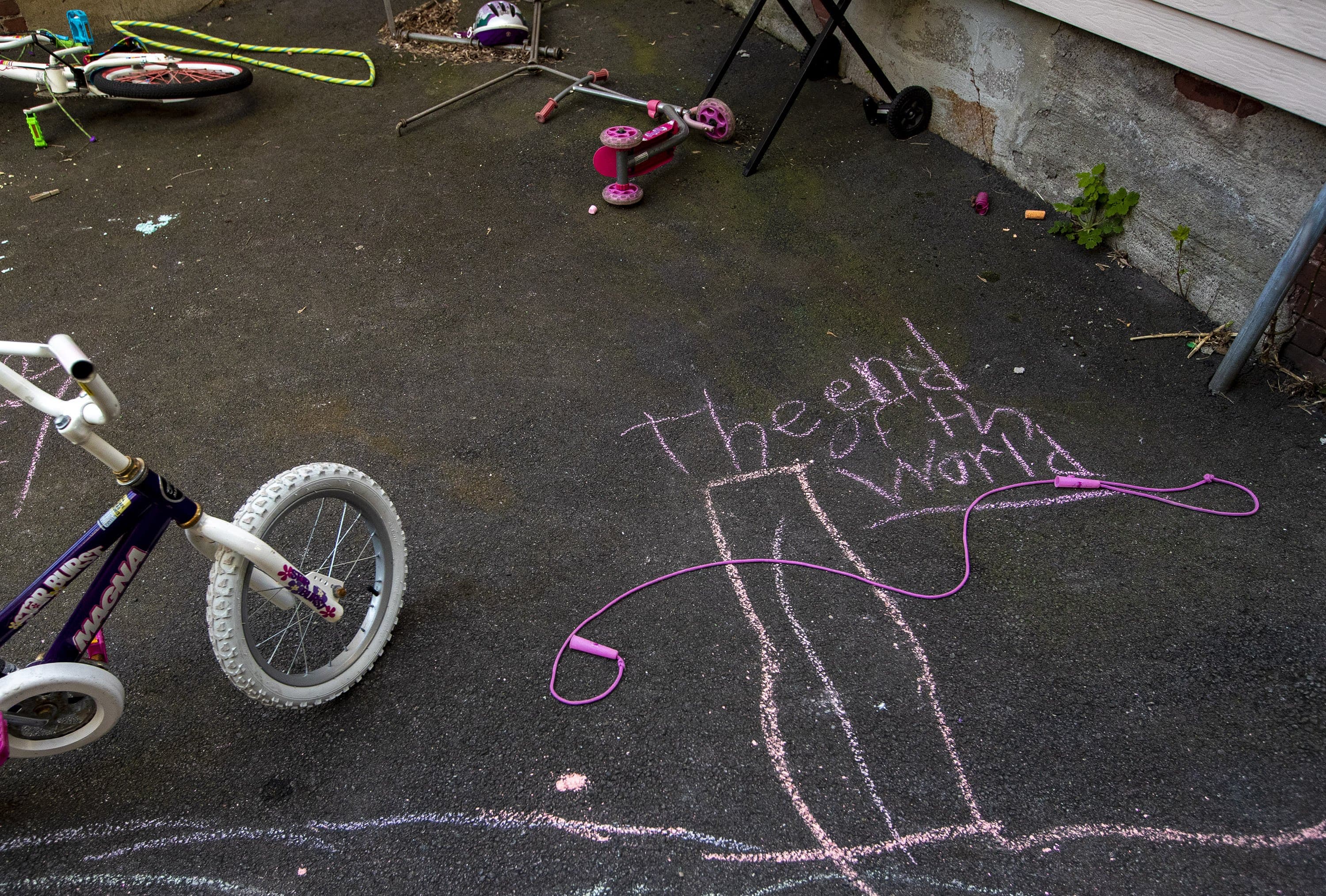 Masks, Shutdowns, Uncertainty: 6 Months Of Coronavirus, In Photos
---
Today marks six months since Gov. Charlie Baker declared a state of emergency in Massachusetts, as the number of coronavirus cases began to rise. The virus darkened the last gasp of winter, spiked in the spring here, and now as summer ends, looms large over a new school year. The state is bracing for continuing economic consequences and a potential second wave.
The last six months have brought us not only social and economic upheaval but also widespread protests against racism and police brutality, and a presidential campaign unlike most of us have ever seen.
It has been an extraordinary six months.
Six months of washing our hands, staying six feet away from others, of masks.
Six months of illness, of death, of fear. Six months of uncertainty.
Six months of Zoom and FaceTime calls with people we may not see in person for a long time.
Six months of neighbors helping neighbors, of bright spots in the dark.
We've watched our state go from hard hit to mostly in control; we've watched city streets empty and then fill with people again, eager to see what this new world looks like.
We've looked back through the images our photographers have created over the past six months to compile this post. Our photo review here is by no means comprehensive — but it is illustrative of what life has been like at the mercy of the pandemic.
March 10: Gov. Charlie Baker declares a state of emergency as coronavirus cases spike.
---
March 12: Jack McCaghren and Luke Snyder, students at the University of Pennsylvania, arrive at Logan Airport from Amsterdam. International students begin to head home, and students studying abroad scramble to get back to Massachusetts.
---
March 13: Boston Mayor Marty Walsh announces the postponement of the Boston Marathon for the first time ever. The marathon was outright canceled at the end of May.
"We've shown before that no matter what the challenge is to our marathon and to our city, we are Boston strong. And that's what we will be again this year."

Boston Mayor Marty Walsh
---
March 14: Shoppers clear the shelves at Trader Joe's in Cambridge.
---
March 16: Baker closes all public and private schools until April 6, and bans eating inside bars and restaurants. He also bans gatherings over 25 people. Restaurants like Trina's Starlite Lounge in Somerville had to pivot quickly, selling what they could before they had to close their doors to in-person dining.
"... We need to treat this and recognize that this is not a sprint. This is going to be a marathon."

Gov. Charlie Baker, after announcing the state closure of schools and certain businesses
---
March 17: Fears of the pandemic and the cold weather keep most people inside in March and April, with a few exceptions. Typically bustling city streets are silent. Daily life looks completely different.
---
March 22: A health care worker in a hazmat suit places a cotton swab into a vile after taking the sample from someone at the drive-thru COVID-19 testing area at Somerville Hospital.
---
March 24: Anyone who can work from home does, emptying out parking garages and public transportation. Essential workers take extra measures to keep themselves and their families safe.
---
March 31: Outbreaks begin at several state-run long-term nursing homes for elderly veterans. By the end of March, at least 13 residents at the Soldiers' Home in Holyoke die of the virus; Baker hires an independent investigator to determine what happened. Deaths begin to hit the Chelsea Soldiers' Home, too. Ultimately, the report, released in June, finds "utterly baffling" management missteps that likely contributed to the outbreak. Baker fired the Holyoke facility's superintendent, Bennett Walsh, and the Secretary of Veteran Affairs Francisco Urena resigns. In total, more than 75 veterans die at the Holyoke Soldiers' Home.
"They should have been getting ready to isolate people. Instead, what they did was condense people."

Joseph Ramirez, CNA and vice chair of the employee union
---
April 2: A message left on a street sign by the Melrose Wakefield Hospital. As the state and hospitals struggle to secure personal protective equipment for first responders and medical personnel, some Massachusetts hospitals ask for donations and residents find creative ways to display their support for those on the front lines of the pandemic.
---
April 8: As schools remain closed across the state, districts quickly pivot to try to ensure children who depend on schools for meals can be fed.
---
April 14: The reality of the pandemic sinks in as people find new ways to show up for loved ones vulnerable to the virus. Here, Jess, Gabby and Frankie Iovanna of Duxbury hold up signs to their grandmother, Nancy, as she looks out the window of her room at the Jack Satter House in Revere.
---
April 21: Baker declares schools closed for the rest of the school year. By then, most students have been learning online for weeks, including college students. It's a challenging time for students and their parents or guardians, many of whom are balancing full-time jobs on top of quasi-homeschooling their children. For some, just getting access to the internet is its own challenge.
"This whole experience has made me appreciate in a new way how important it is to actually be with students, because you can't just talk to them over a remote connection and hope that they're understanding what you're saying."

Max Ehrenfreud, graduate teaching fellow at Harvard
---
April 24: Joe Markarian waves as a parade of well-wishers in cars drive by on Galen Street in Watertown to celebrate his 100th birthday. His wife Florence had died of COVID-19 a few weeks previous, making the celebration bittersweet.
---
May 6: The governor issues a mask order, which says everyone in the state must wear a mask if they can't physically distance from others in public, with exceptions for those who can't because of a medical condition and children under age 2.
---
May 22: The pandemic's economic impact hits many in the commonwealth hard. In Waltham, the Watch City Market food pantry, which used to offer food monthly, goes weekly. The lines stretch across a giant parking lot.
---
May 25: Leuris Luna gives a haircut to a customer at J&C Barber Shop in Roxbury, the first day of reopening. Under the state's phased reopening guidelines, hair salons and barber shops are among the first businesses allowed to operate.
---
May 26: Outraged over the killing of George Floyd, about 1,000 protesters gather at Peters Park in Boston. They join dozens of protests nationwide, which kick off a national movement decrying police brutality; in Boston, protests and marches carry on for most of the summer.
"I'm in a perpetual state of anger, and I think that's OK for right now. I think the only thing to be is angry, and I think we have to figure out a way to move and exist in that anger and keep it moving."

Tah-Janay Hayes of Boston
---
May 31: Thousands of people march from Nubian Square to the State House, calling for justice and an end to police brutality. After hours of a peaceful protest, police clash with protesters, deploying tear gas and pepper spray.
---
June 8: Under the second phase of the state's reopening plan, restaurants can now host in-person dining outdoors.
---
June 15: Children across the state rejoice as playgrounds are allowed to reopen. Sisters Leylanise, 5, and Liseyda Santiago, 10, play on the swings at McLaughlin Park in Mission Hill.
---
July 1: Quincy Market reopens. But a July poll shows that only about a third of small businesses in the state have been able to reopen. Most report losing at least a quarter of their revenue in 2020.
---
July 6: Because of the pandemic, a new law allows voting by mail for both the state 2020 primary and general election.
---
July 10: As COVID-19 cases stayed low throughout the summer, some cities and towns had persistently higher case rates than the state average. Gov. Charlie Baker rolls out the "Stop the Spread" initiative, which includes free testing in these communities regardless of symptoms. Here, a health care worker directs a Chelsea resident how to insert a swab up her nose for a COVID-19 test at a pop up site in Chelsea Square.
---
July 13: Under phase three, gyms in Boston and almost everywhere else in the state are allowed to open again — with many restrictions.
---
July 24: The Red Sox begin playing a very condensed season, with no fans allowed at Fenway.
---
July 29: The beach is a popular destination this summer, as the risk of transmission, if people stay away from each other, is thought to be fairly low. Keeping your distance is a good idea with sharks, too.
---
Aug. 1: Eurie Stamps grew up in Cambridge and was killed by a Framingham Police officer in 2011. Amid nationwide protests against police brutality over the summer, the Justice for Eurie march in Cambridge calls for the police who killed Stamps while they were looking for another man to be held accountable.
---
Aug. 13: Schools start to develop and release their plans for the start of the school year in September. A WBUR poll finds about half of the parents surveyed prefer a hybrid model of remote and in-person learning.
---
Aug. 12: 2020 is a census year, and despite the pandemic, tallies still need to be taken. In Boston and across the country, some worry that not everyone will be counted in historically undercounted communities, like those with large numbers of immigrants and people of color.
"They have the right to be counted, they have economic and political rights. So, that's why we're trying very hard to give food, be friendly with them and also emphasize the importance of participating in the census."

Patricia Montes, director of Centro Presente
---
Aug. 19: Three of the state's largest teachers' unions rally outside the State House in Boston demanding that the school year start remotely, with in-person teaching phased in later once health and safety standards are met.
---
Sept. 1: Primary election day arrives. Things are different as many cast their ballots by mail or voted early in person. Some voters said despite the hand sanitizer and masks, things felt pretty normal.
---
Sept. 1: Some things have changed dramatically due to COVID-19, but the Sept. 1 move-in day in Greater Boston is not exactly one of them. At the same time, however, rents in the city are declining for the first time in years.
---
September: A classroom at the West Somerville Neighborhood School sits empty over the summer, still decorated from the last day school was in session, March 12. Teachers, administrators and staff are getting ready for kids to come back into the classroom. Depending on the school district, students won't actually be in the buildings for weeks.