The Photos That Helped Us Tell 2018's Stories
This article is more than 4 years old.
From storms to the Sox, from tears to cheers, here's a look back at the photos that helped us tell many of the stories of 2018.

Jan. 4 | During the first nor'easter of the year, Joe Ferry of Rockport — above — fights wind gusts as he runs out onto a flooded T Wharf to retrieve his car before it's submerged by ocean water. Below, graphic designer Pradit Sakkara walks through the storm along Commonwealth Avenue in Boston.

---

Jan. 12 | Dawn Morris carries a batch of pączki, a traditional Polish doughnut, offered at DJ's European Market & Deli in Dorchester. South Bay is one of the neighborhood's biggest developments in years, but it's only the latest chapter in the transformation of the area that includes the Polish Triangle.
---

Jan. 30 | Before taking the helm as manager of the Red Sox, Alex Cora requested the front office support an aid mission to the hurricane-ravaged island of Puerto Rico. Cora arrived with team members and executives — plus nearly 10 tons of supplies and $200,000 to help his hometown of Caguas fix its electric grid.
---

Feb. 6 | We toured a federal law enforcement training center in Brunswick, Georgia, to see how U.S. Customs and Border Protection members are trained. Much of the training takes place in simulated real-world scenarios, like the one above.
---

Feb. 26 | Police tape hangs around the Winchester Public Library after the murder of 22-year-old Deane Stryker. She was sitting in the library studying when 23-year-old Jeffrey Yao allegedly stabbed her. Yao has pleaded not guilty.
---

Feb. 28 | Isidro Macario waits at security at Logan Airport as his travel documents are processed by ICE officers before boarding his flight to be deported to Guatemala. Isidro, a Guatemalan citizen, is the oldest brother who also doubles as a parent to his three younger brothers, who are U.S. citizens.
---

March 2 | Another nor'easter lashed Massachusetts, flooding low-lying coastal areas and bringing heavy rain and high wind gusts to the region. Seawater rose in many locations, including in downtown Boston. Above, floodwaters seep under the doors of 66 Long Wharf. Below, waves crash over a Scituate seawall.

---

March 13 | Students across Massachusetts walked out of classes, marched, and rallied in solidarity with a national day of activism calling for stricter gun laws. Here, students march across Boston Common to the State House.
---

March 22 | The movie "Black Panther" smashed records at the box office, and it also sparked a boom in African clothing. Ebby Ihionu works on a pleated dance skirt at Elegance African Fashions in Dorchester.
---

March 23 | José Mateo teaches students at the Ballet Theatre in Cambridge. After 32 years he retired as artistic director of José Mateo Ballet Theatre.
---

March 24 | During a March for Our Lives rally at Boston Common, Marjory Stoneman Douglas High School senior Leonor Muñoz, right, hugs her sister, Beca Muñoz, after she recounts her experiences on the day of the shooting in Parkland, Florida, that killed 17 people. Beca, a student at Northeastern and a former Stoneman Douglas student, also spoke at her sister's side.
---

April 4 | Tears fall down Hope Coleman's face as she discusses a federal civil rights lawsuit she filed against the city of Boston, seeking to hold officials accountable for the fatal shooting of her only son. Terrence Coleman, a 31-year-old black man with a mental health disability, was shot by a Boston police officer in 2016. The Suffolk County district attorney had ruled the officer was justified in fatally shooting Coleman.
---

April 16 | The 2018 Boston Marathon sure was a rainy one. Here, marathoners run up a plastic poncho-littered Hereford Street not far from the finish line.
---

April 30 | John Broderick, a former chief justice of the New Hampshire Supreme Court, speaks to Salem High School students about mental health awareness.
---

April 26 | From Yawkey Way, back to Jersey Street. City officials voted to change the name of the street adjacent to Fenway Park, after a request from the Red Sox. Current Sox owner John Henry reportedly has said he's "haunted" by what he called the team's racist past under longtime former Sox owner Tom Yawkey.
---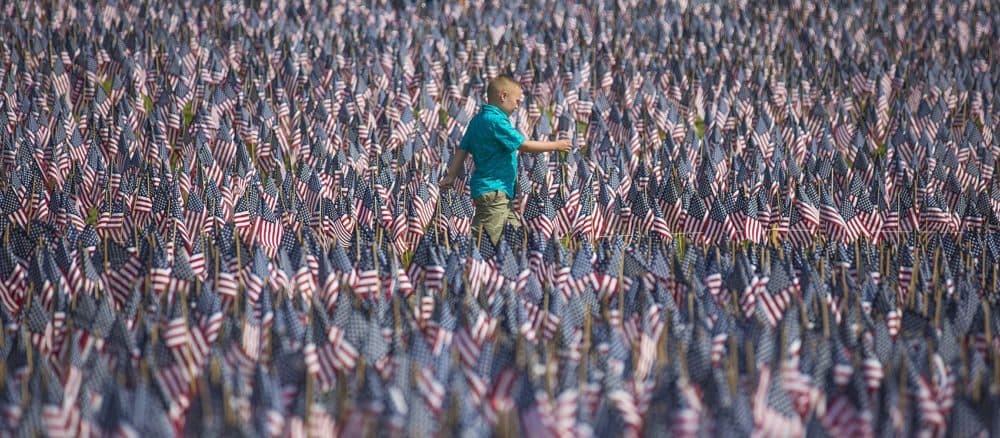 May 23 | A young boy walks down the path through the Fallen Heroes Memorial in the Boston Common. Each year some 37,000 American flags are planted on the Common ahead of Memorial Day — one flag for each person from Massachusetts killed in battle since the Revolutionary War.
---

May 27 | Tyler, The Creator performs during the Boston Calling Music Festival.
---

June 19 | Farmers and local food advocates have banded together to build a new, state-of-the-art processing plant in Westport that they believe will be a better slaughterhouse. Above, pigs keep cool out of the midday sun in their shelter at Copicut Farms in Dartmouth.
---

June 23 | We traveled with a Democratic congressional delegation to Brownsville, Texas, which lies along the Rio Grande and the border of Mexico. The politicians were there to see for themselves the effects of President Trump's family separation policy. Here, a 3-year-old from Honduras peers through a fence at the U.S.-Mexico border while her family waits to apply for asylum.
---

June 26 | A drone view of Plum Island, where residents are debating how to deal with erosion.
---

July 13 | During a swim program, 22-month-old Charlotte Joshi climbs out of the pool during a toddler swim class at the YMCA in Waltham.
---

July 20 | An emotional and grieving Cindy Chesna follows the casket of her slain husband, Weymouth Police Officer Michael Chesna, as it's brought out of Saint Mary of the Sacred Heart Church in Hanover. The suspect, who allegedly killed Chesna and an elderly bystander, was ordered held without bail.
---

July 30 | This summer marked the second installment of the Commonwealth Avenue Bridge replacement project. Above, a crane lowers a steel beam into place as part of the construction to replace the westbound side of the bridge.
---

Aug. 13 | We met with two families in Honduras, to speak with them about their experiences being separated from their children by U.S. immigration authorities after attempting to cross the border. Here, 6-year-old Hector Galvez carries a beach ball on his way to a pool.
---

Aug. 17 | Boston Marathon winner Tatyana McFadden speeds around a track in Wellesley after she passes 9-year-old Maddie Wilson. McFadden's dominance has inspired the next generation of wheelchair racers — girls like Maddie.
---

Aug. 21 | Dancers at Boston GLASS' Vogue Hour are preserving the vintage underground art form of voguing, which was pioneered by queer black and Latino youth in 1980s New York.
---

Aug. 27 | In the latest school safety demonstration, a student models a gas mask at a back-to-school fashion show — of sorts — at Boston City Hall Plaza.
---

Aug. 29 | A visitor sits in one of the inner circles of an art installation by Teresita Fernández, called "Autumn (…Nothing Personal)," in Harvard Yard.
---

Aug. 29 | Children cool off in the Rings Fountain on the Rose Kennedy Greenway.
---

Aug. 31 | Bryce McDougall enters the world, cradled by a team of doctors and nurses, who turned him around and pulled him out to give parents Melisa and Shaun get what they wanted: a vaginal delivery at South Shore Hospital.
---

Sept. 4 | A Michael Capuano supporter crosses the street with signs in the early morning on Primary Day. Below, Ayanna Pressley speaks after her victory over Capuano in the 7th Congressional District Democratic primary.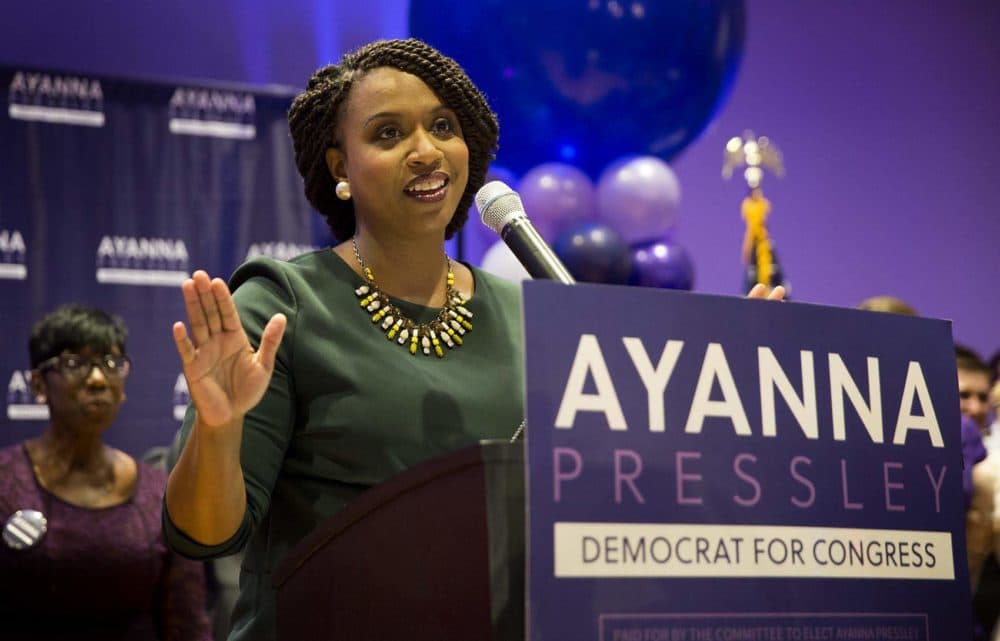 ---

Sept. 8 | Sports memorabilia authenticator John Martino runs through the process of authenticating Rafael Devers' game-worn jersey after a Red Sox-Astros game at Fenway Park. For every game, MLB's authenticators are ready to certify items for sale. They'll tag bats, balls, bases, jerseys, retired pieces of the Green Monster, champagne bottles from playoff celebrations — pretty much anything.
---

Sept. 17, Sept. 22 | WBUR visited Puerto Rico last year, in the wake of Hurricane Maria. A year later — and with the death toll at 2,975 — we returned to the island to check on its recovery. Above, a man waits for an opportunity to grab his rooster as it's engaged in a cockfight with another rooster on a street in Toa Baja. And below, a man fishes off the edge of a pier in Punta Santiago.

---

Oct. 1 | Protesters against then-U.S. Supreme Court nominee Brett Kavanaugh listen to speakers on the steps of Boston City Hall.
---

Oct. 10 | Washington Tower casts a shadow on Mount Auburn in Mount Auburn Cemetery.
---

Oct. 19 | Diego Pizarro, a youth worker at the community organization Roca, stops to talk with a young man in East Boston District Court. In recent years, Roca has created a specific outreach program for Central American youth.
---

Oct. 24 | Six-year-old Nicholas Field of Newton leaps in the air to high five Big League Brian on Jersey Street before Game 1 of the World Series. The Red Sox went on to win their fourth championship in 15 years.
---

Oct. 30 | At the "William Forsythe: Choreographic Objects" exhibit at the Institute of Contemporary Art in Boston, Niya Doyle enjoys herself climbing through the installation "The Fact of Matter," where viewers are invited to traverse the space using only the dozens of rings suspended from the ceiling.
---

Oct. 31 | A Red Sox fan falls from the top of a bus shelter in Copley Square after the Red Sox Rolling Rally.
---

Nov. 1 | Scientist Robert Buchsbaum holds a root of a Phragmites australis plant at the edge of the marsh at the Massachusetts Audubon Society's Rough Meadows Wildlife Sanctuary in Rowley.
---

Nov. 6 | Dino Rowan, left, and Kelsey Barowich, center, supporters of the "Yes on 3" campaign, celebrate victory when it is announced voters upheld a state law that protects transgender people in public accommodations.
---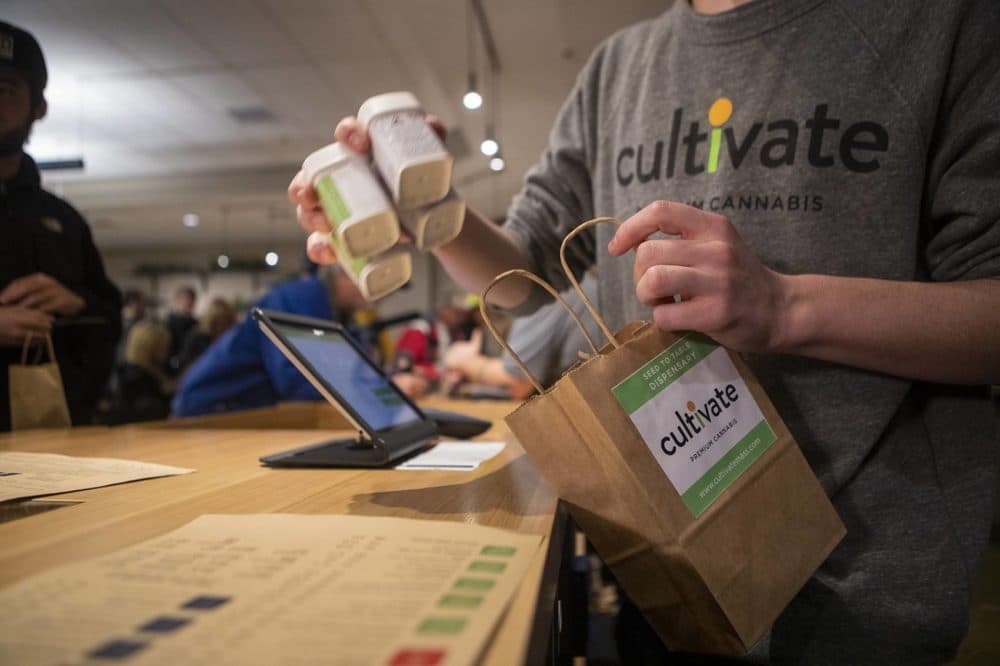 Nov. 20 | In Leicester, a Cultivate worker bags up product during the first day of recreational marijuana sales in Massachusetts. Lines were long at Cultivate and New England Treatment Access in Northampton, the first shops to open.
---

Nov. 30 | Spherical Analytics CBO Chris Rezendes points at a screen with a video of codfish passing through a fishing net at the UMass Dartmouth Oceanography Operations Lab at the state Division of Marine Fisheries. Researchers and company owners are focusing on how innovation could change the seafood industry.